6 of the Best Wedding Card Designs India That Are Totally Worthy of Your Big Fat Indian Wedding
If you are looking for the perfect wedding card for your wedding, you have landed at the right place. We have picked out some of the best wedding card designs India has ever seen. Take ideas from these and flaunt the coolest wedding card.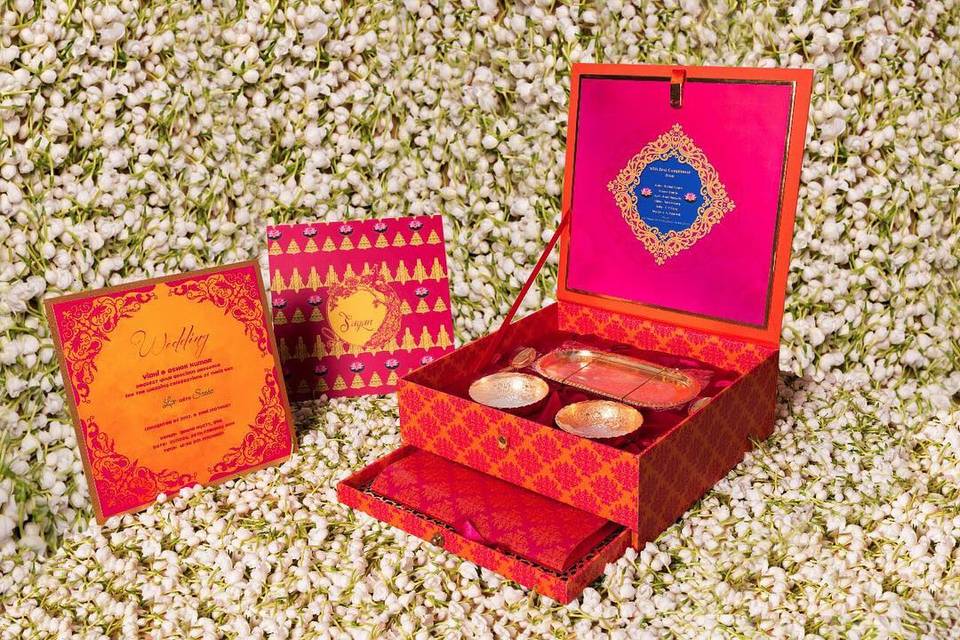 Finding the best wedding card designs earlier meant browsing through endless tiny shops and crammed lanes at one or the other wedding card markets in one's city. It could be Chandni Chowk or Chawri Bazar for Dilliwalas or Crawford Market for Mumbaikars and so on. But times have changed and the wedding card designs India always loved and opted for have changed with it too.
Now nobody wants those simple cards with flowers and pictures of religious deities printed on them. You know, the ones with different coloured leaflets describing the different functions and with the same old text? Yes, millennials are now steering clear from all of that and moving on towards more modern cards. Even though the essence of those cards is traditional, they look and feel very contemporary, just with a touch of all things Indian. The matter of wedding card designs India has changed too. It is easier and breezier and something that everybody who reads it can easily connect to.
Well, we know you are wondering by now why we are going on and on about wedding card designs and not showing you any. So, without further ado, here's presenting to you the best and coolest wedding card designs India, these are the ones you should be taking inspiration from when picking your wedding invitation. So, here goes. the list of wedding card designs India.
1. Simplicity at its best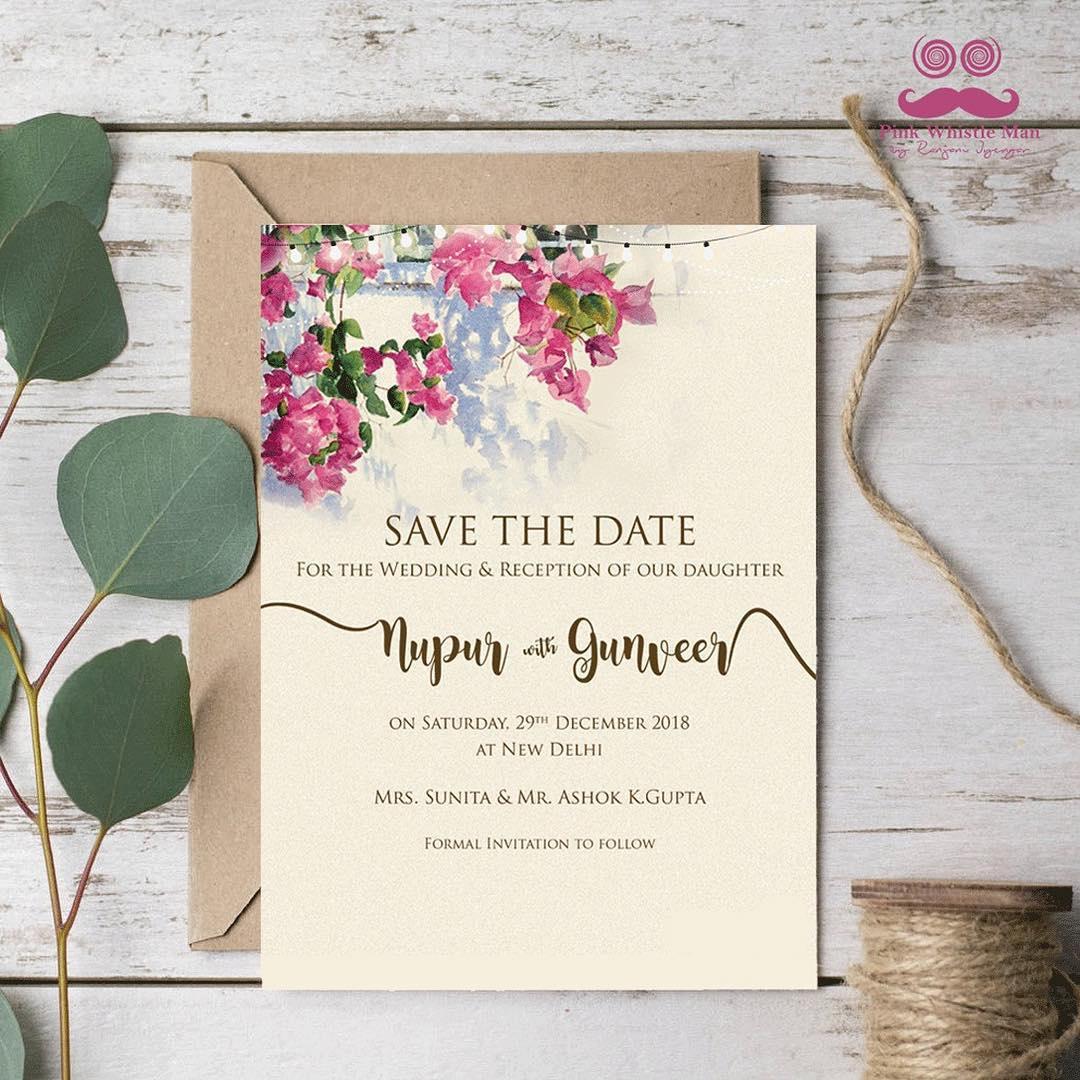 Gone are the days when people just automatically picked the flashiest or the blingiest wedding card designs at the drop of a hat. Flashy does not say cool anymore, simplicity does. If you want to opt for a very simple and understated wedding card design, then something like this is what you should go for. Especially if your wedding is going to be a closed and intimate affair, then this wedding card with small flower patterns on the sides will be perfect. Minimal and oh-so-pretty!
2. Box it up, baby!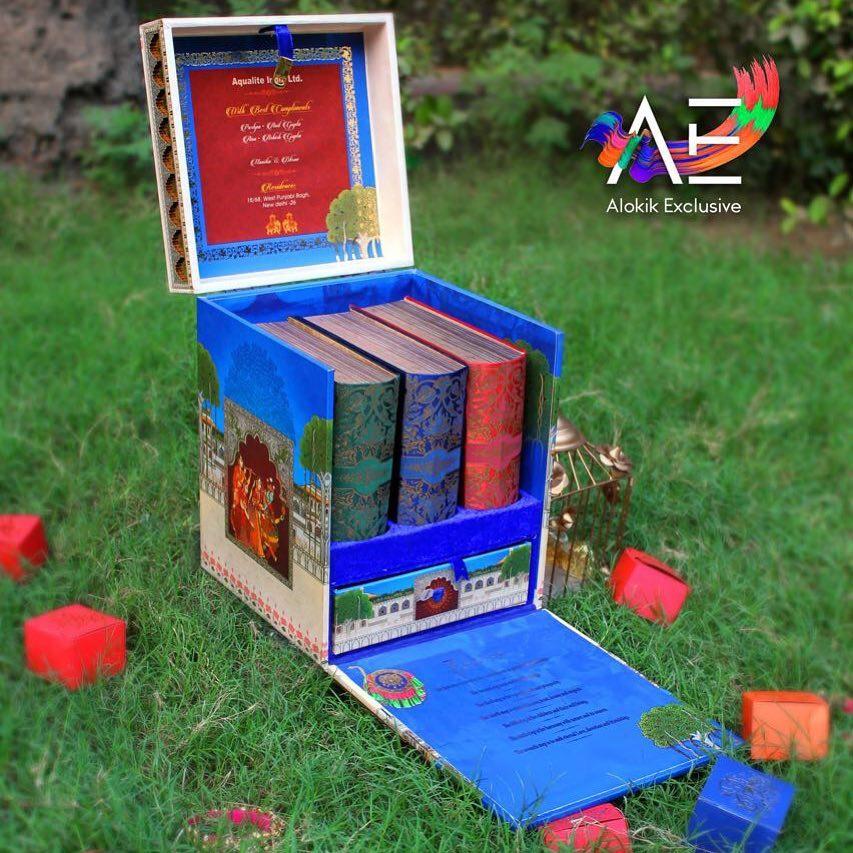 Going for all things royal and grand for your big day? Well, this wedding card design is what you should be looking for to start the festivities with. The box pattern is fairly new in the wedding market and most people opting for a grand affair are going for something like this. If simple is not your thing and you believe in making it large, then this is for you. You can place either books, or photo-albums or even sweets in this box along with the invite and your guests will never be able to forget your wedding or your wedding card.
3. Indian touches and all things nice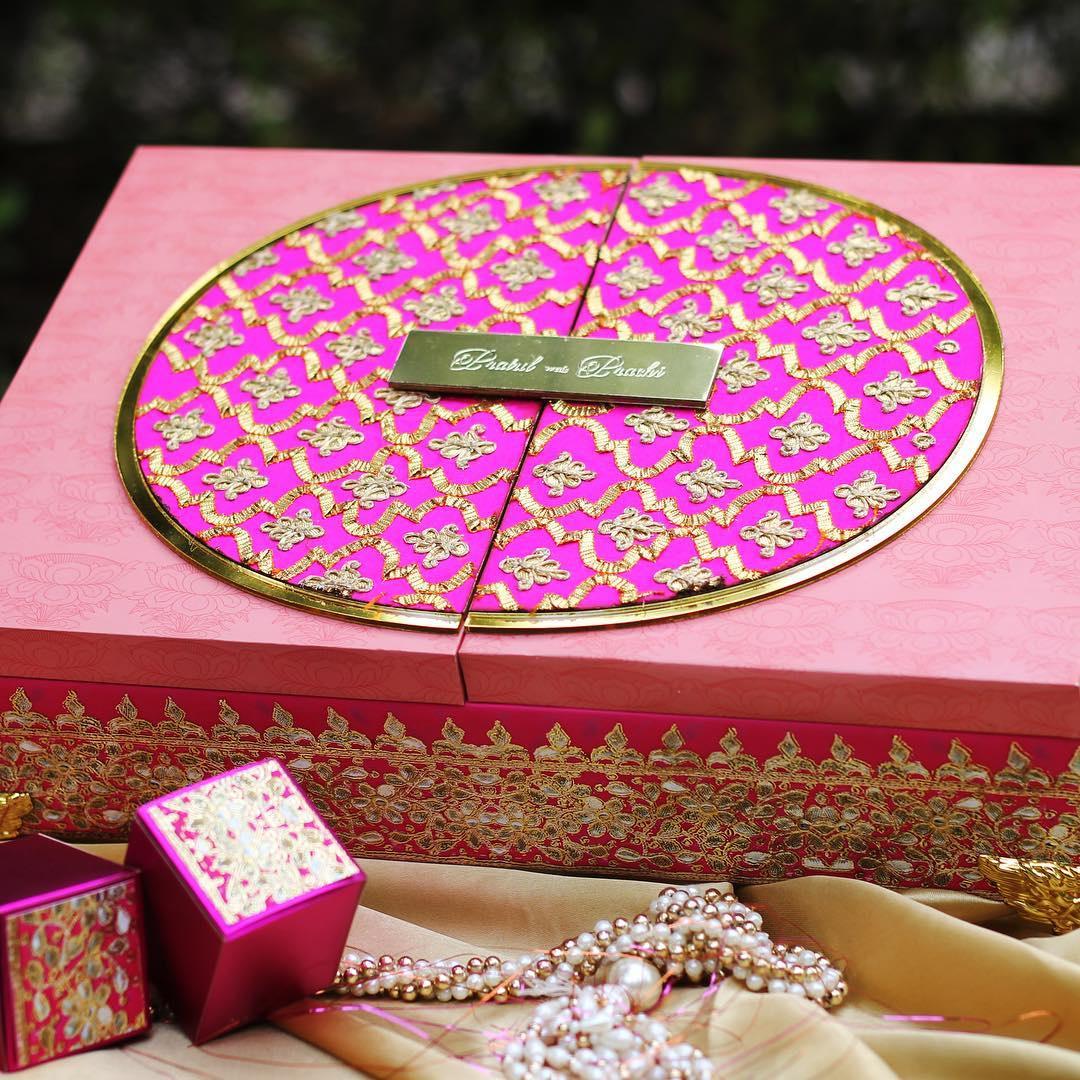 Now, now! We all know that nothing describes India and its culture better than colours and intricate work. This beautiful boxed wedding card design is gorgeous. It is modern, but yet the intricate Gota Patti work on it makes it look very traditional too. You can put a few trinkets in the box along with the invite, like Paan, a small religious deity or even hand painted showpieces. All of these will go amazingly with the theme of this wedding card design.
4. Understated and oh-so-classy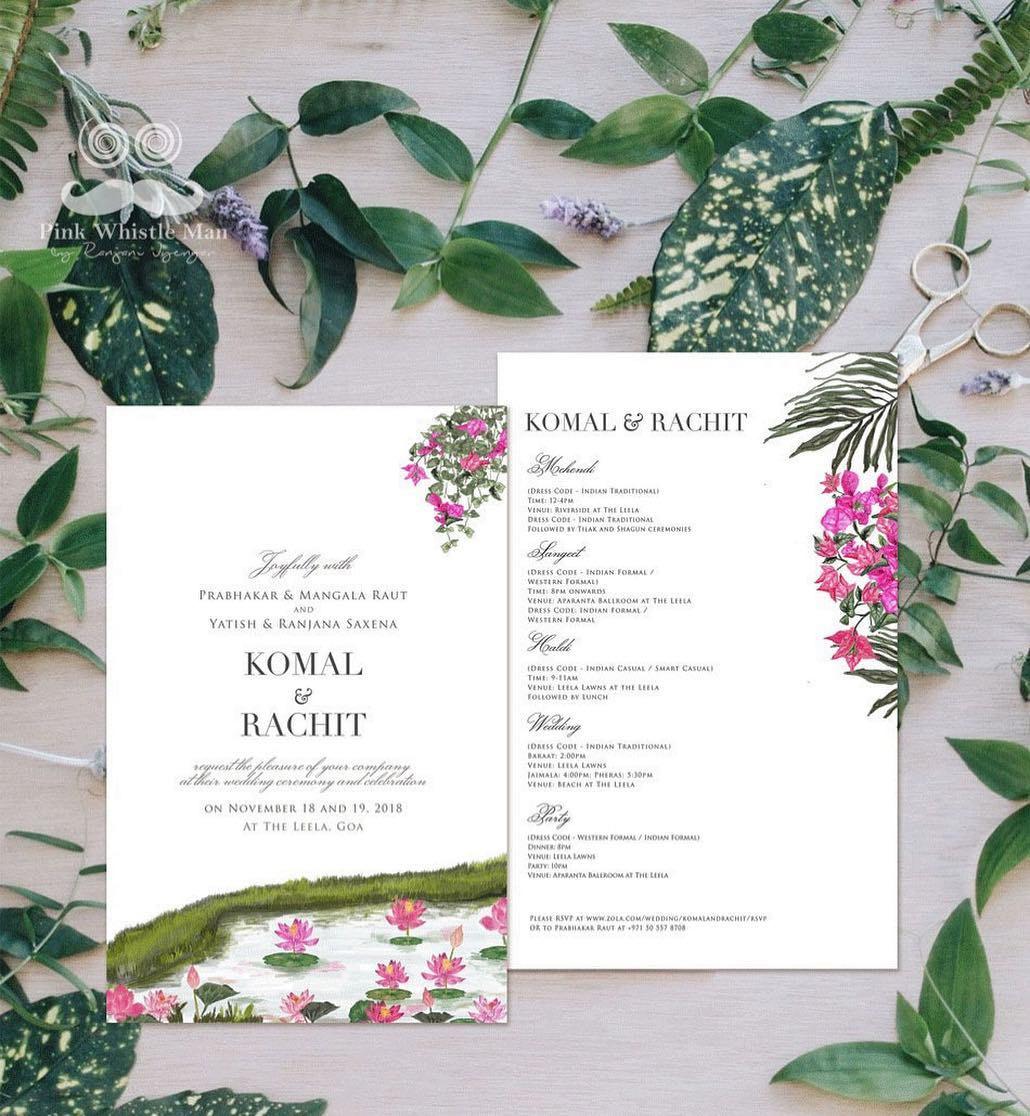 If you think about it, there really is no need for a wedding invite to have too many leaflets. All you really need to tell your guests are the details of the venue, timings and all the functions that are taking place. This gorgeously minimal wedding card design is a perfect example of how to put all the useful information in the most efficient yet superbly classy manner. It looks great and saves paper. Double yay, we say!
5. The one with a basket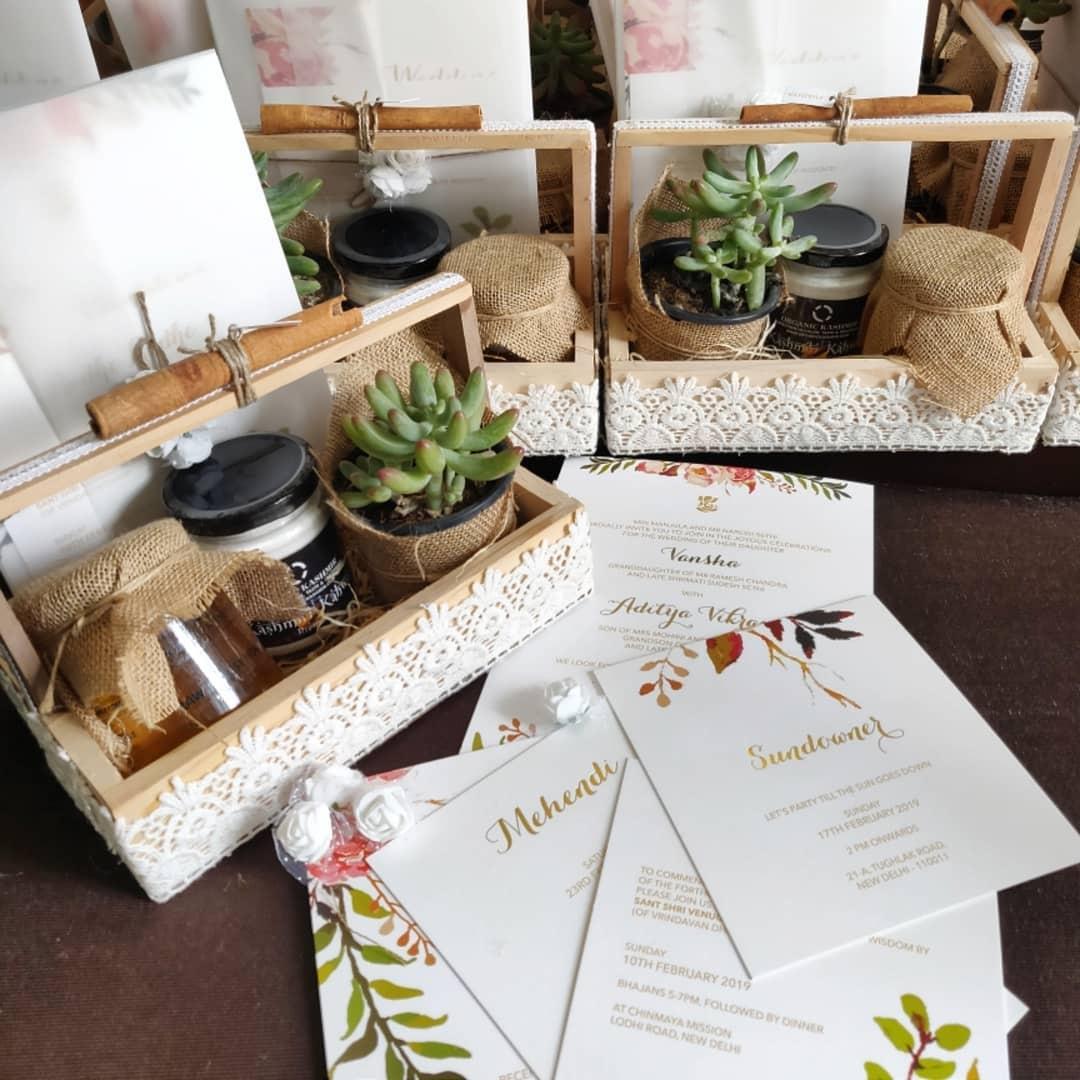 Oh, this has got to be our favourite kind - the wedding card that comes with amazing goodies. If you have the right budget for it, and you want to pamper your special guests, this is the wedding card design you should choose. A basket along with the invite that has some goodies like scented candles, chocolates, maybe some wine, dry fruits and you get the picture, right?
6. Floral delight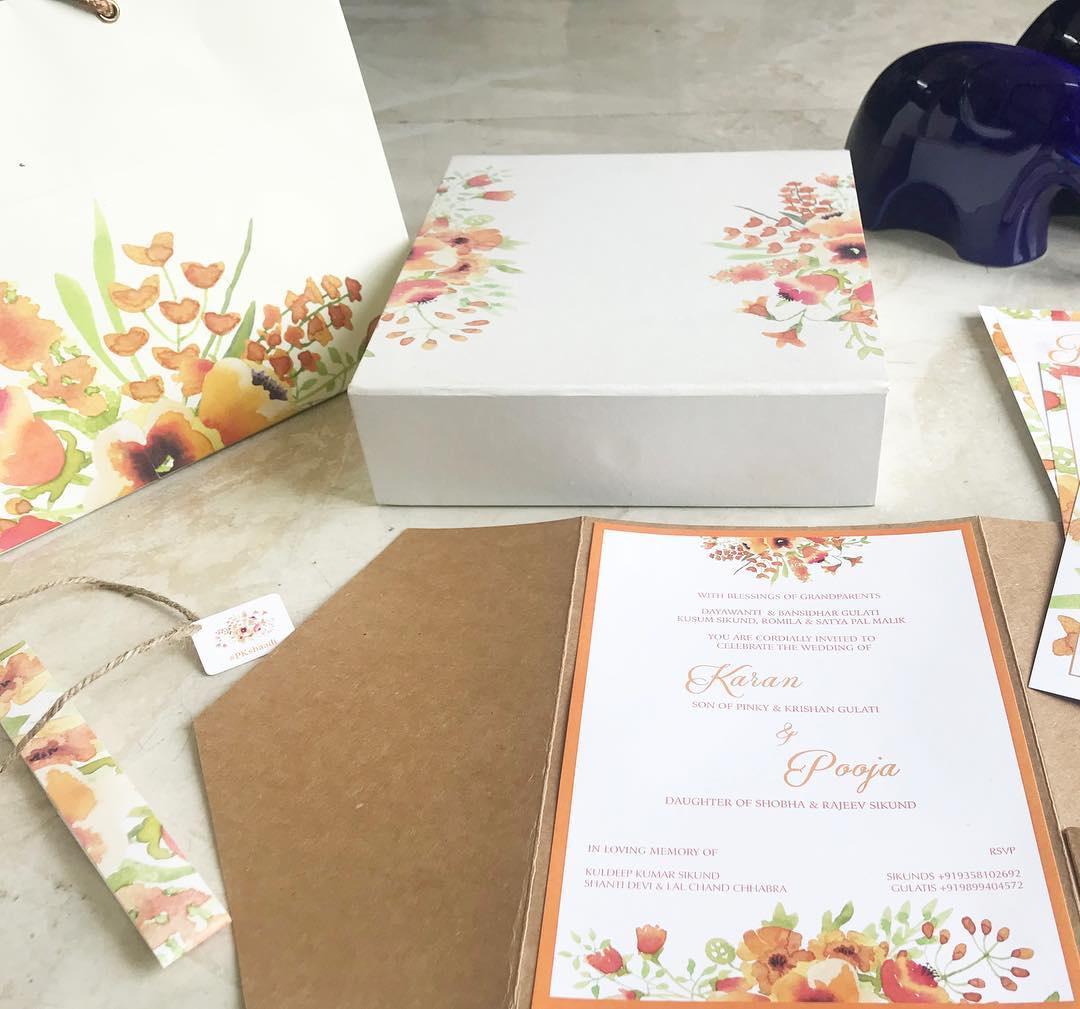 Last but not the least, this is just right for the couple who want to pick a wedding card design which is a mix of classy yet grand at the same time. This floral design in pastel colours is so soothing to the eyes and so pretty. The invitation comes inside a box and is done up beautifully with a string. Again, you could maybe keep some chocolates or sweets inside the box with the invite, or just let it be. It works well both ways, so take your pick.
Don't you just love all these amazing wedding card designs India? Aren't they the best and coolest wedding card designs you have ever seen? Well, they sure settled well with us and we hope they sparked that light of inspiration in you for you to pick up a cool wedding card for your big day.
Which one of these wedding card designs India is your favourite? Let us know in the comments section and also feel free drop in any suggestions that you might have!