19 Wedding Card Box Ideas That'll Make You Want to Get Married Today!
When you're thinking about personalising every aspect of your wedding, don't forget about the wedding card box designs! We've curated 19 amazing ideas for you, along with why they're so cool!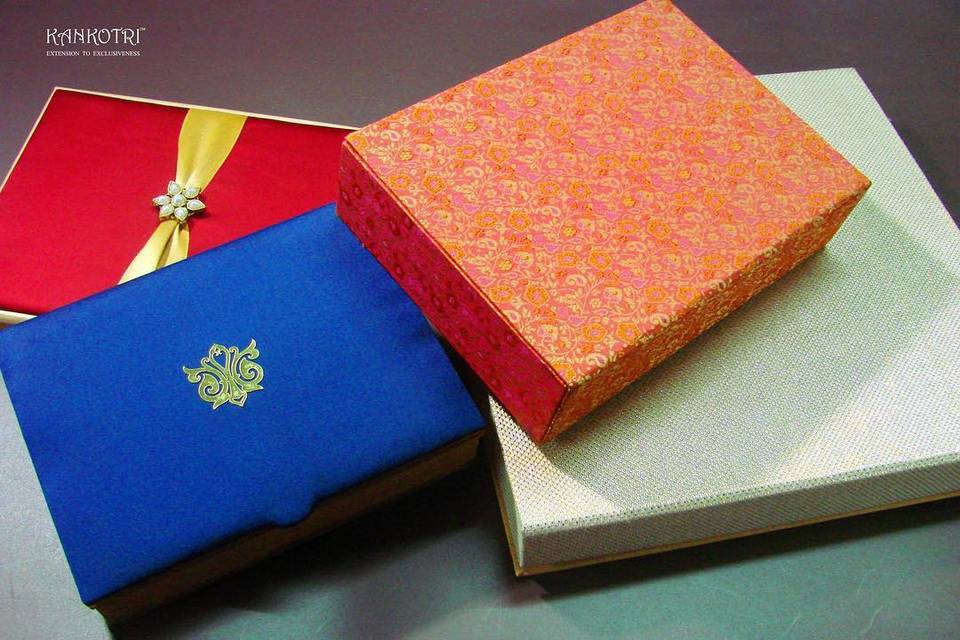 Inviting scores of people you love to your wedding is no joke! You must hunt down a wedding card box that not only looks great, but also exudes an aura that perfectly defines you and your fiancé. Additionally, it must offer enough room for you to be able to put all the accompaniments you want. While you're shortlisting vendors that can craft a bespoke wedding card box, don't forget to check out the ideas we've narrowed down for you! From quirky boxes to luxurious ones, we've got them all! So, start adding these names to your wedding list!
1. Beach, please!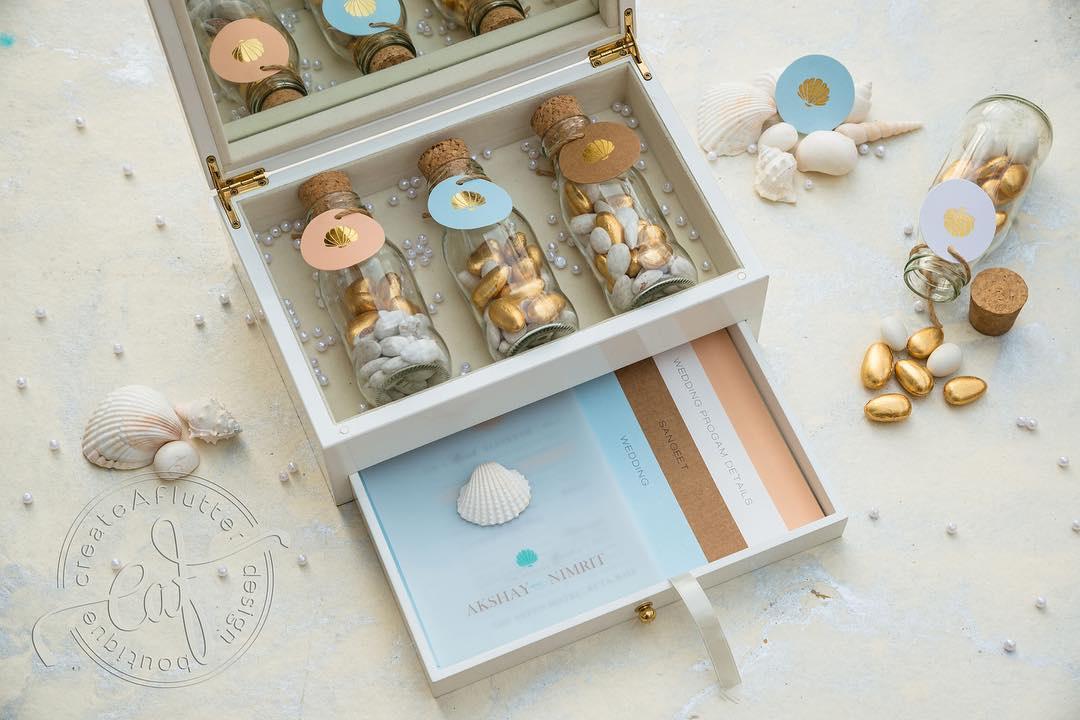 Image Courtesy: CreateAflutter
If you and your spouse are planning to have a beach wedding in Goa, then your wedding card box should reflect the same! This beautiful box will transport your guests straight to a bohemian beach, with visions of foamy waves, seashells, and sand in their heads.
2. Au Naturel!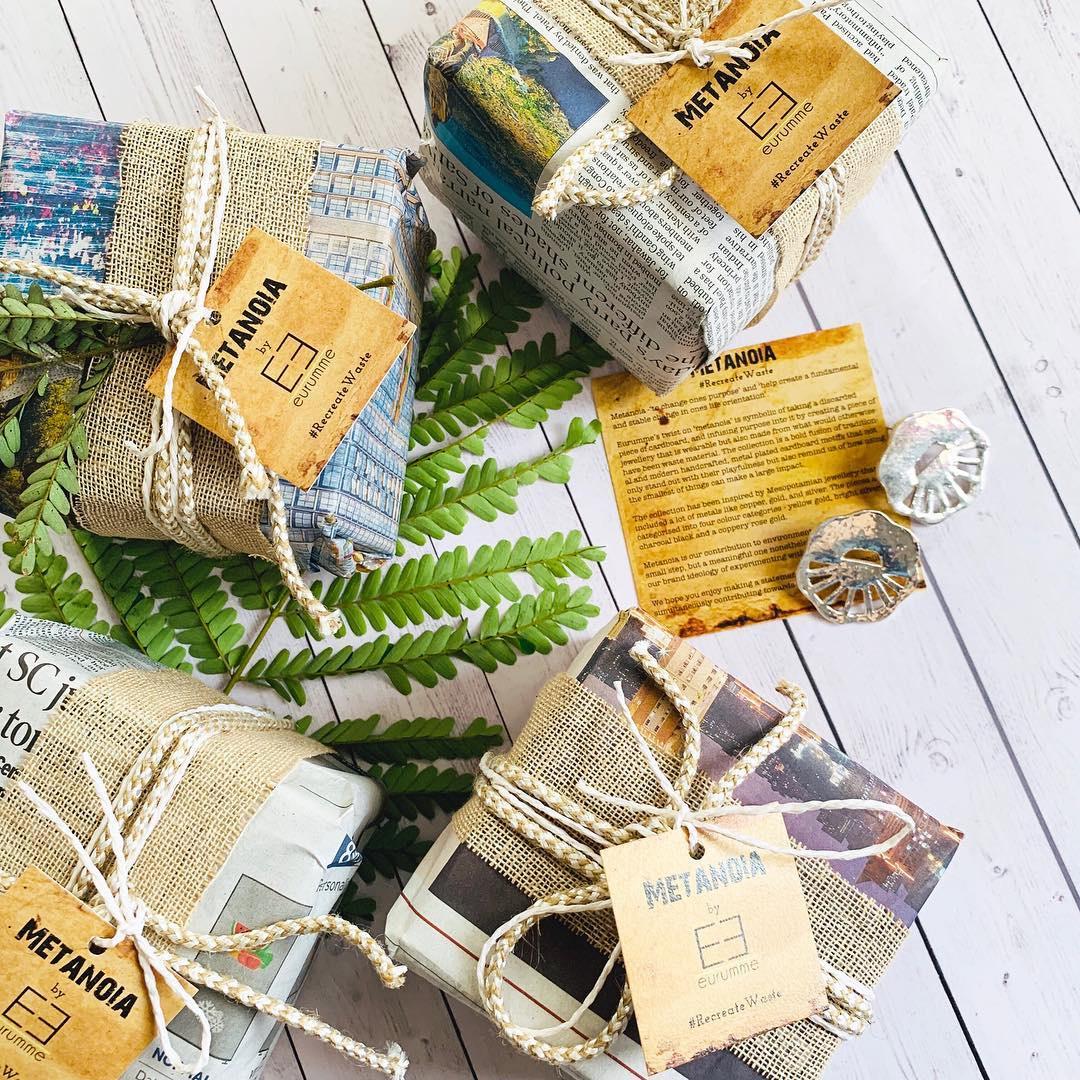 With recycled newspapers, pieces of gunny fabric and rope, this wedding card box is a fantastic idea for couples who believe in going green. Many couples today gift their guest's seeds in an effort to save the planet. If that is something you believe in, then pick an organic route!
3. A pop of pink!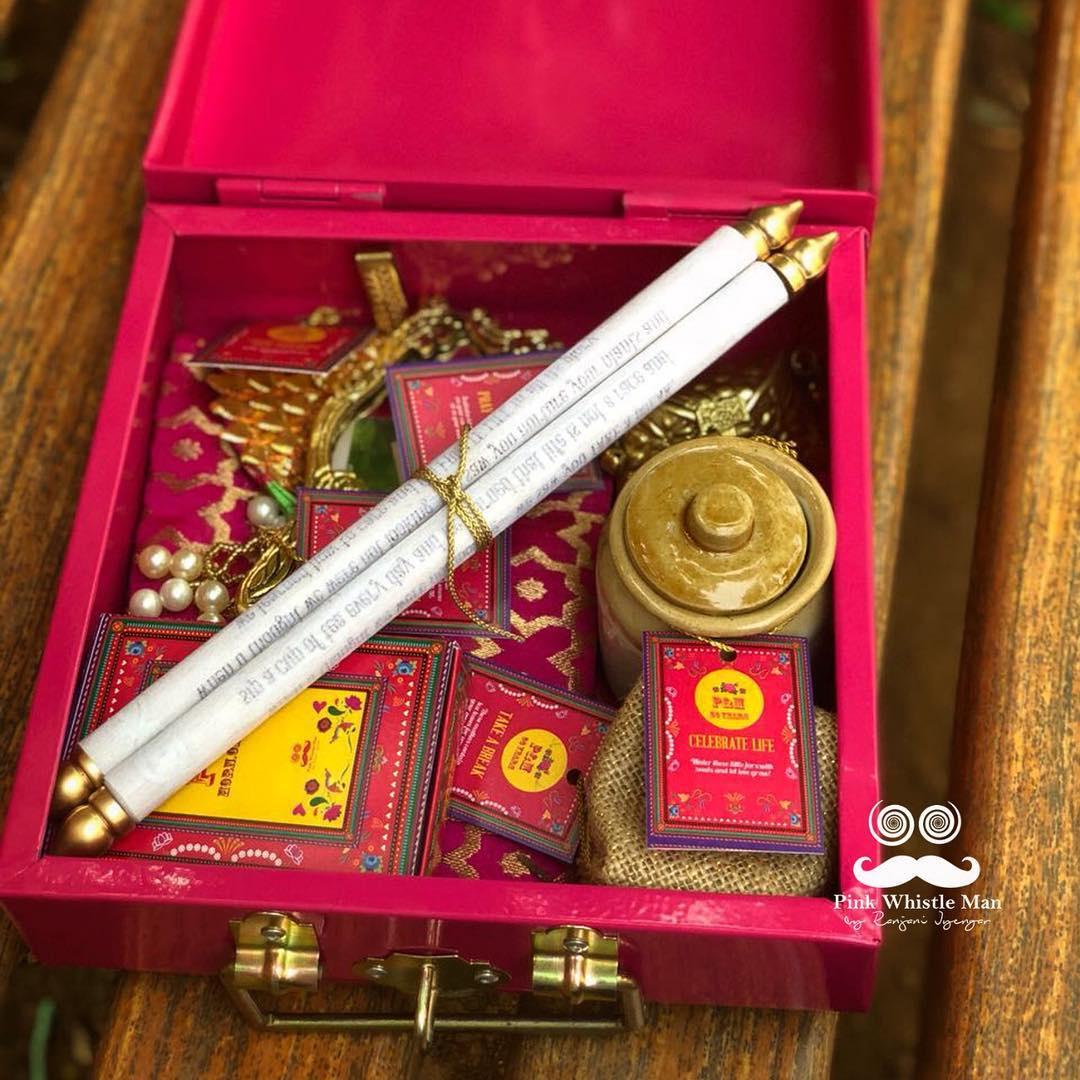 This lovely pink box is ideal for brides who love expressing themselves through colour. With enough space for multiple add-ons and even a scroll invite, this box is a great option for creative couples.
4. Check Mate!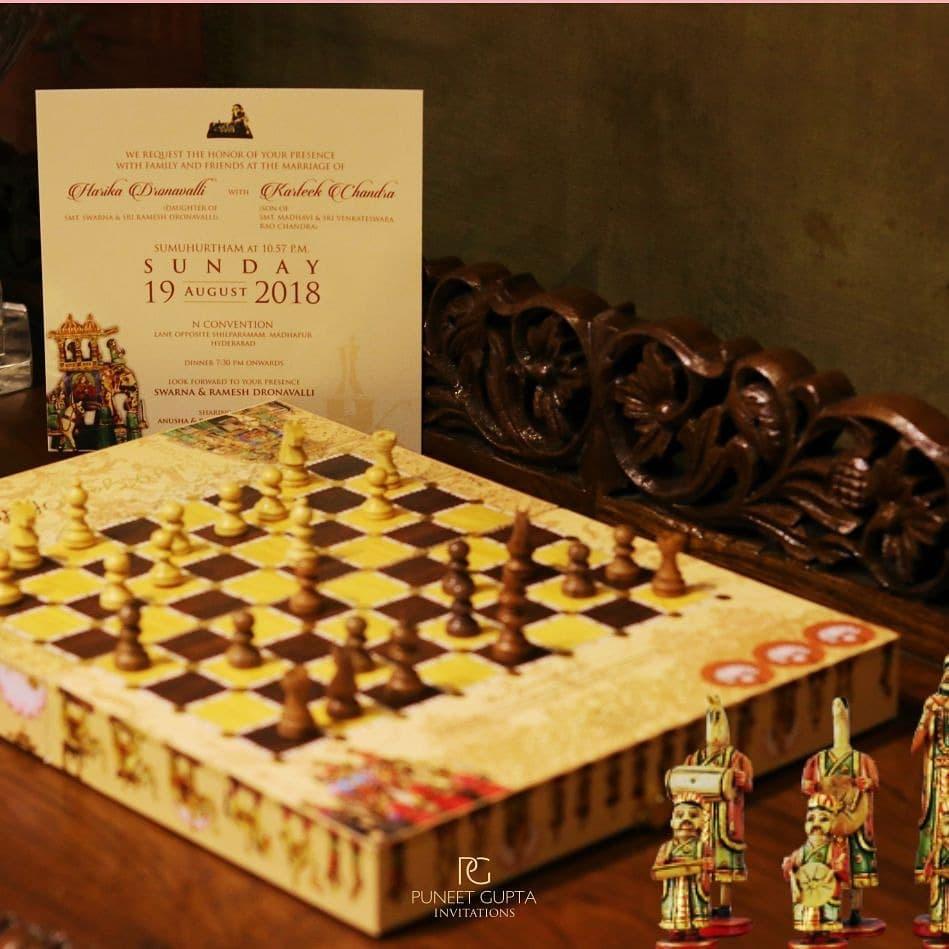 An ornate chess board wedding card box serves two great purposes. The first is that it helps you deliver your wedding card invitation. The second is that it gives your guests a beautiful chess board for them to play the game on!
5. Ethnic All The Way!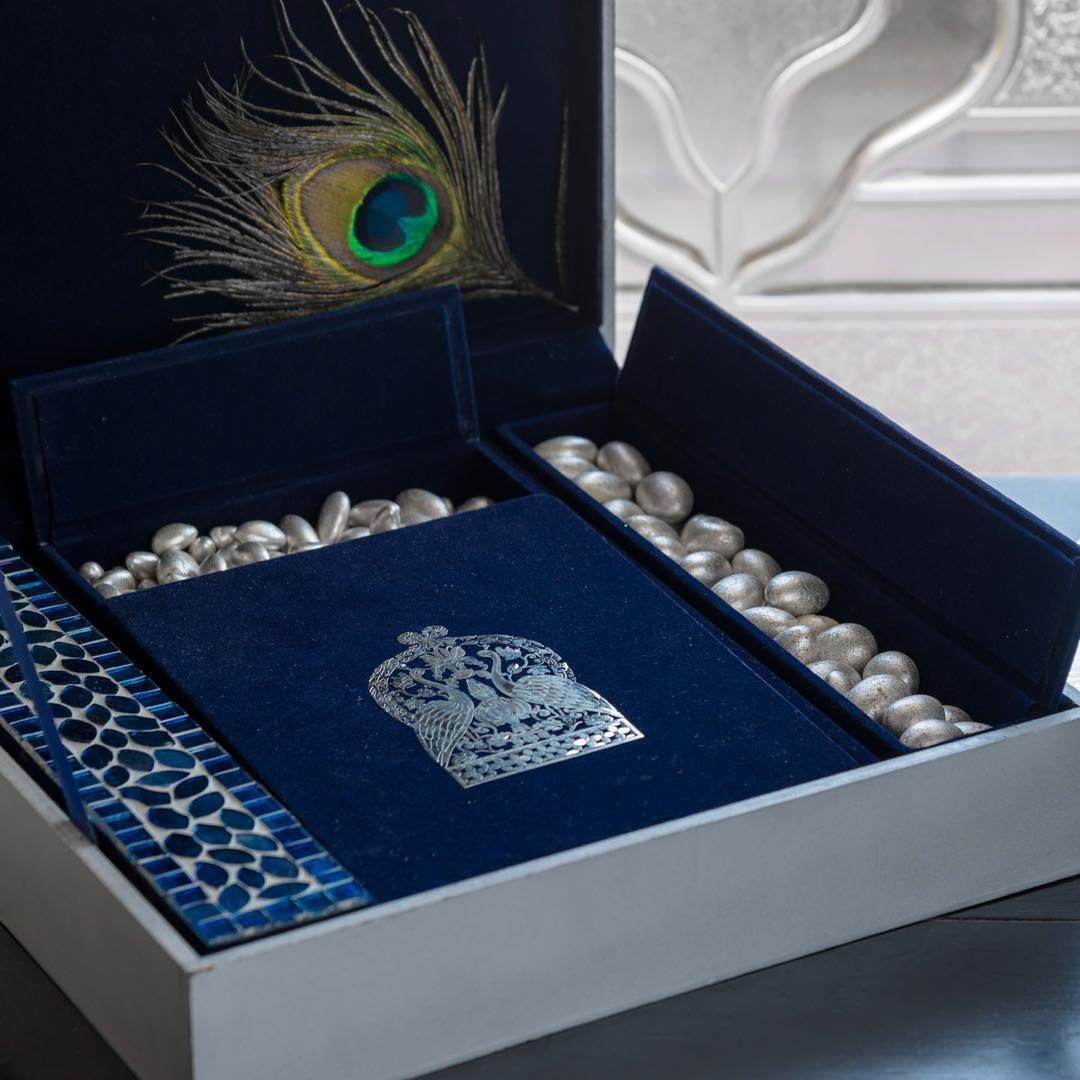 Image Courtesy: CreateAflutter
Nothing's more traditional than a midnight blue and silver themed box. This one comes with peacocks embossed on the lid, along with silver pearls.
6. Monopoly Theme!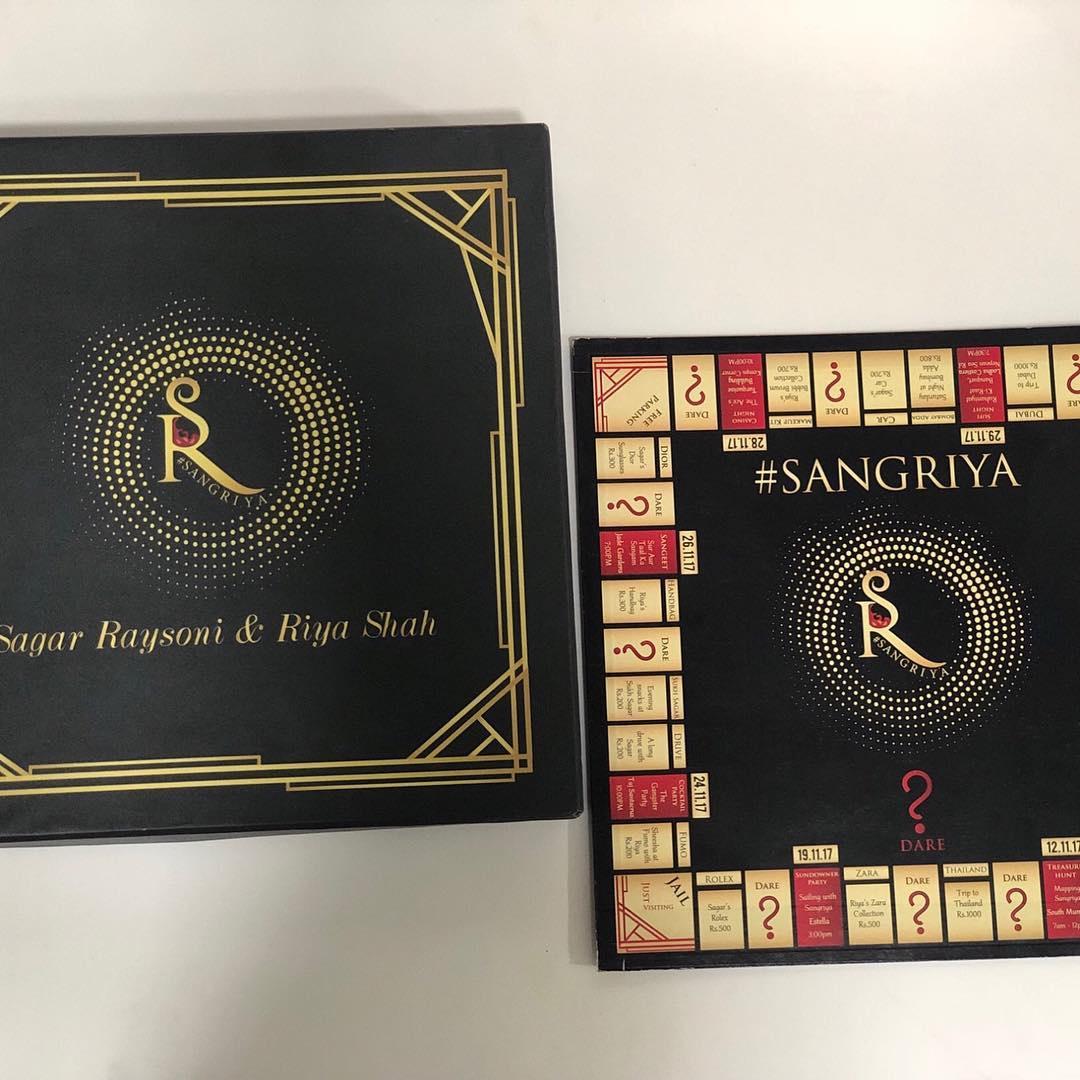 This Monopoly themed wedding card box is ideal for couples who want to inspire a bit of nostalgia while sending out invites. After all, everyone's childhood featured this fun game at some point!
7. A Match Made in Heaven!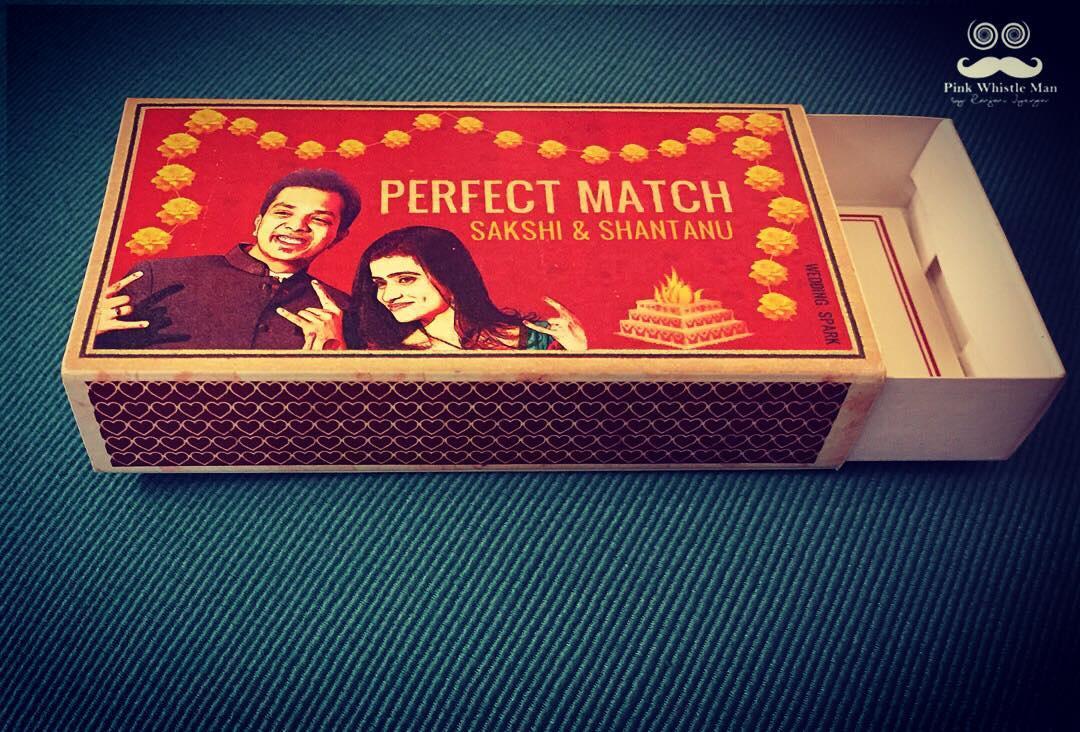 Want a wedding card box that perfectly shows off what a great match the two of you are for each other? Why not choose one that offers the fun of a pun!
8. A Theme That Ties Into The Whole Wedding!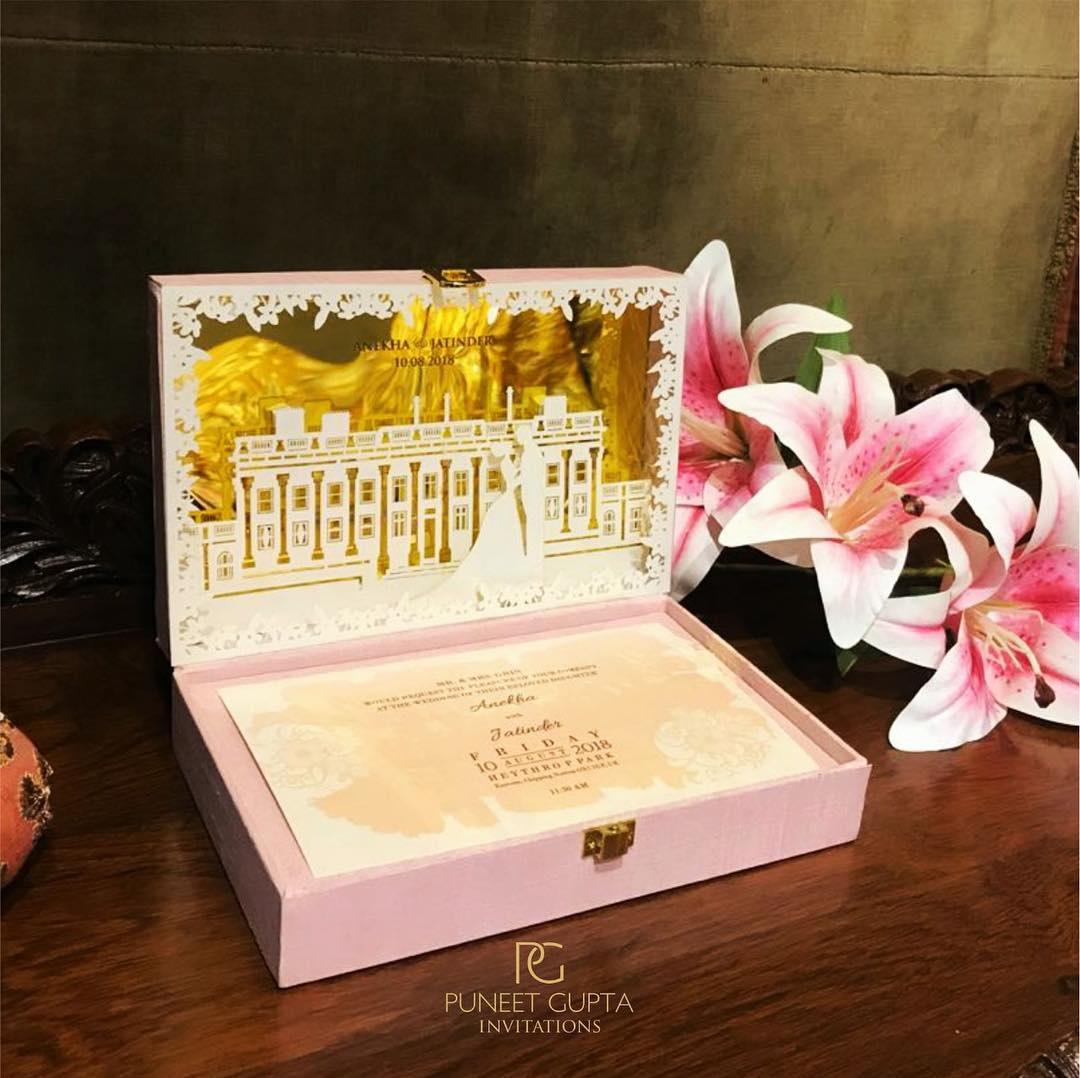 If you are looking for a design that ties into the theme of your wedding, then a box that uses your venue as the focus of the design should work well. This is a great idea for couples getting married at forts or palaces (like Neemrana Fort or Chomu Palace)
9. Sacred Geometry!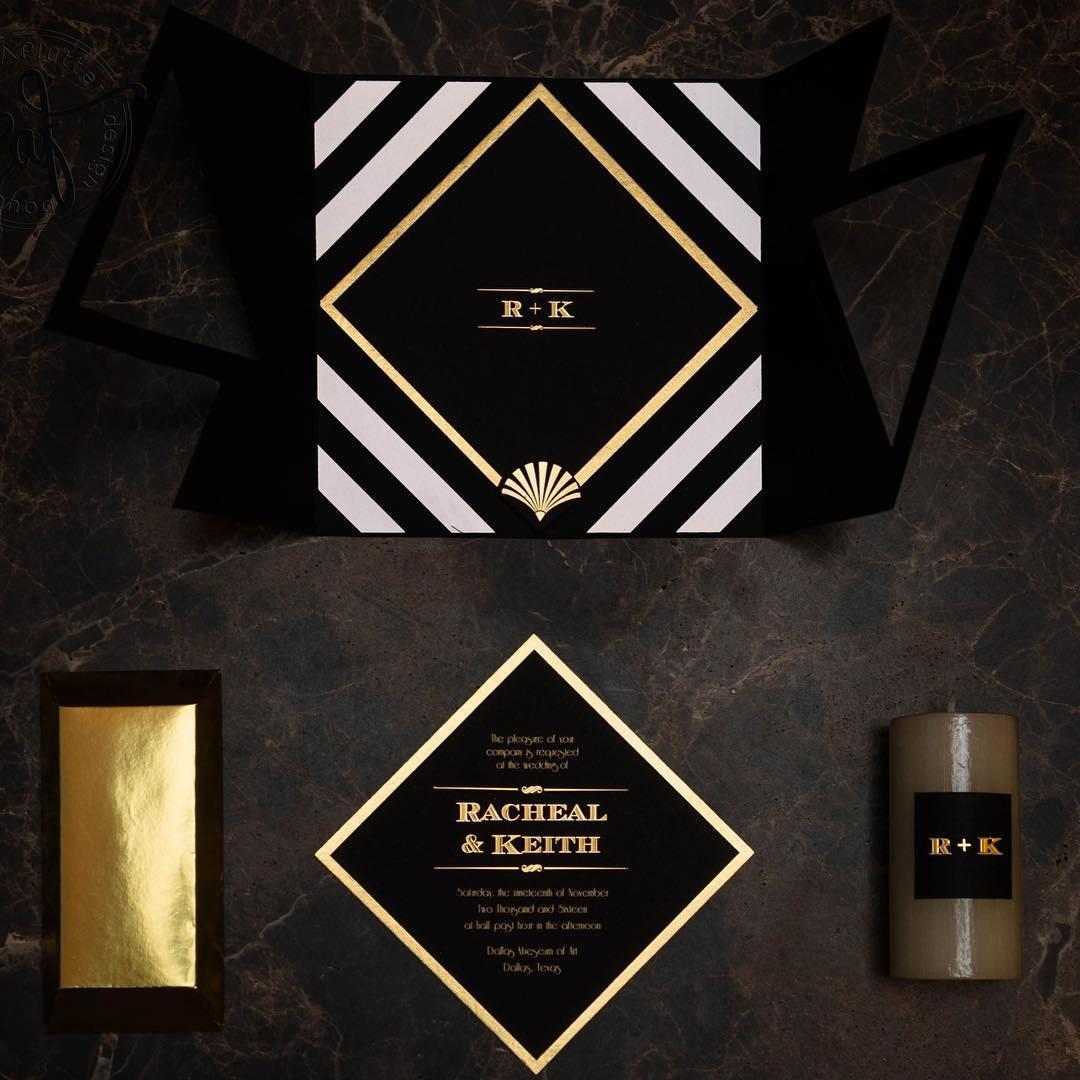 Image Courtesy: CreateAflutter
Nothing beats the aesthetic of a geometrical, monochromatic design. If you love a structured design and want a modern wedding card box, then this is it!
10. Classic and Elegant!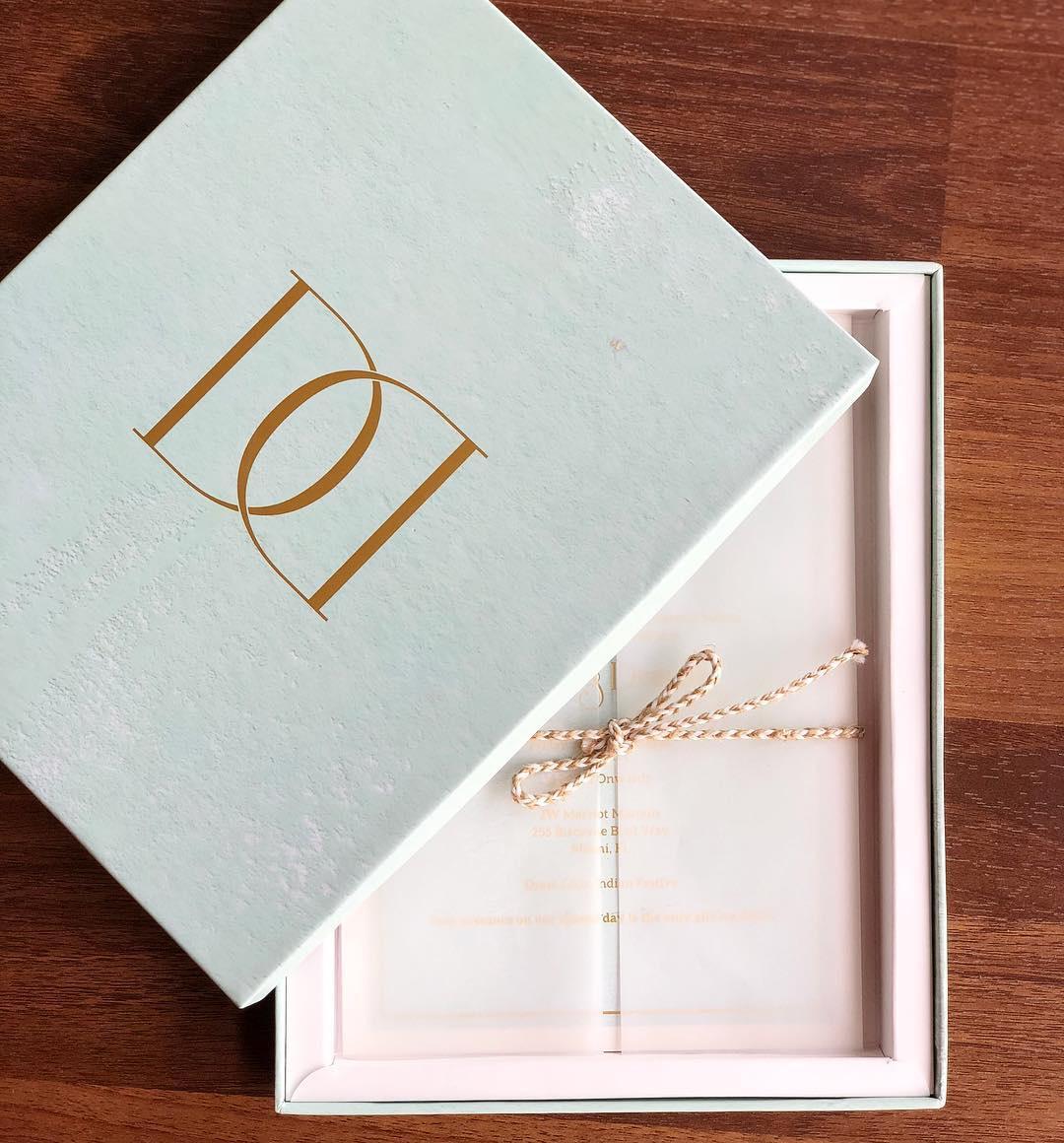 This gorgeous cream wedding card box is ideal for couples that want a clean, upscale look that doesn't try too hard. Have your initials embossed on the cover and you're good to go!
11. Hexa-Gone Girl!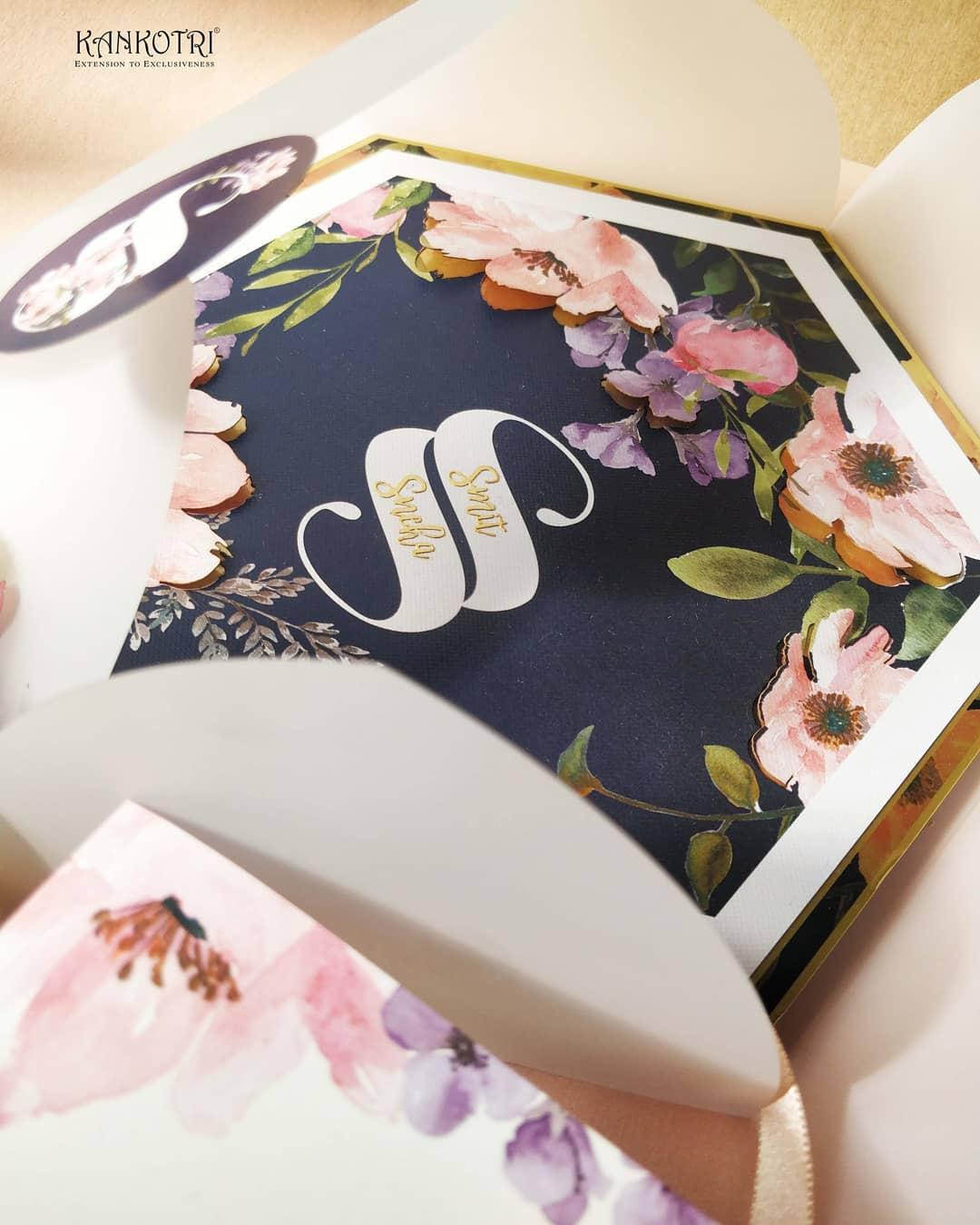 When designing the ideal box to hold your invites, remember that you don't have to stick with the traditional rectangular shapes. This luxurious hexagonal box with a floral print is a great example of this!
12. The Palanquin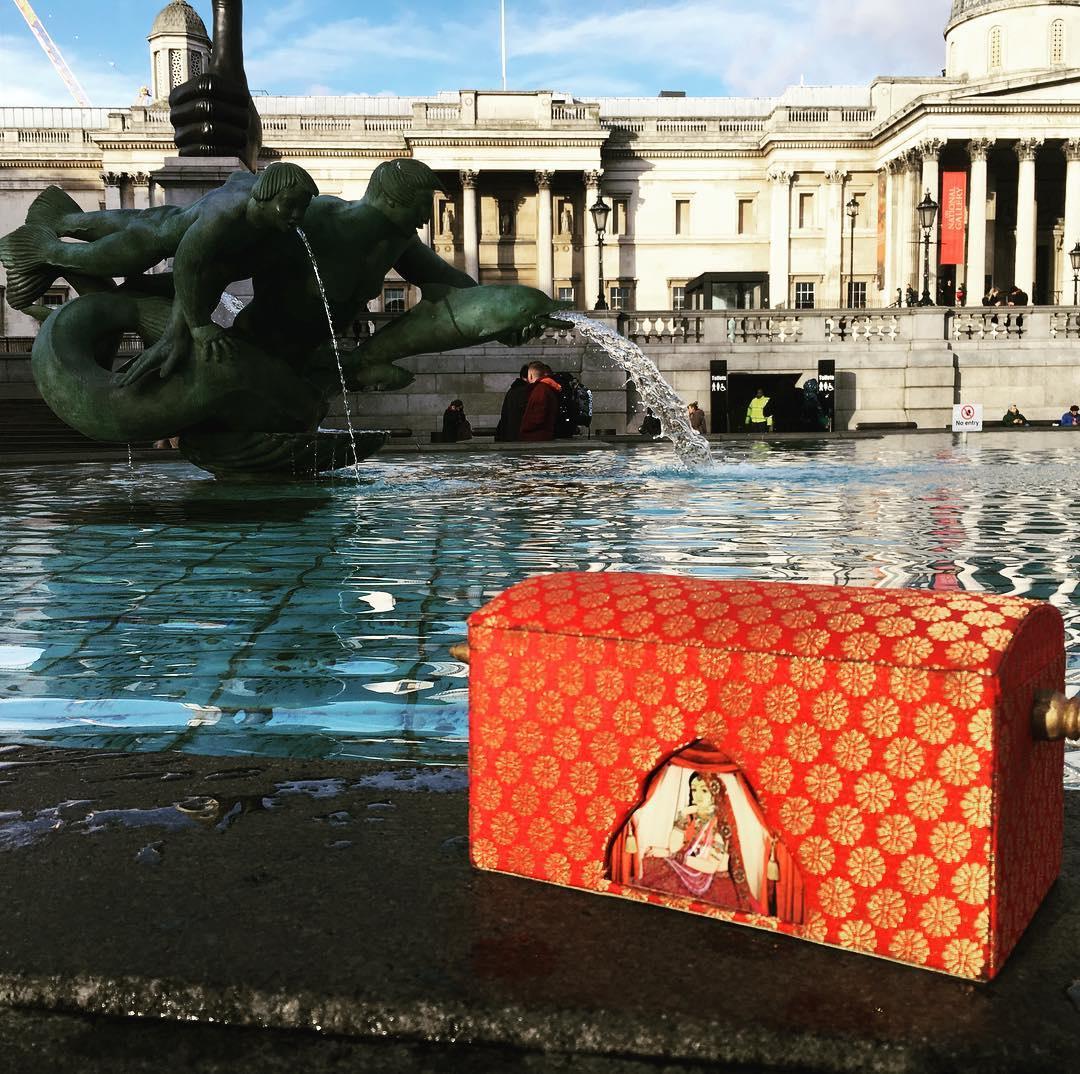 Palki's are still a part of many modern marriages, even if they're purely ceremonial! There's something lovely about the bride sitting in a beautiful palanquin that takes her away from the venue. If your family is not planning to put you in one, you can always put your cards in an ornate one!
13. Handcrafted Wood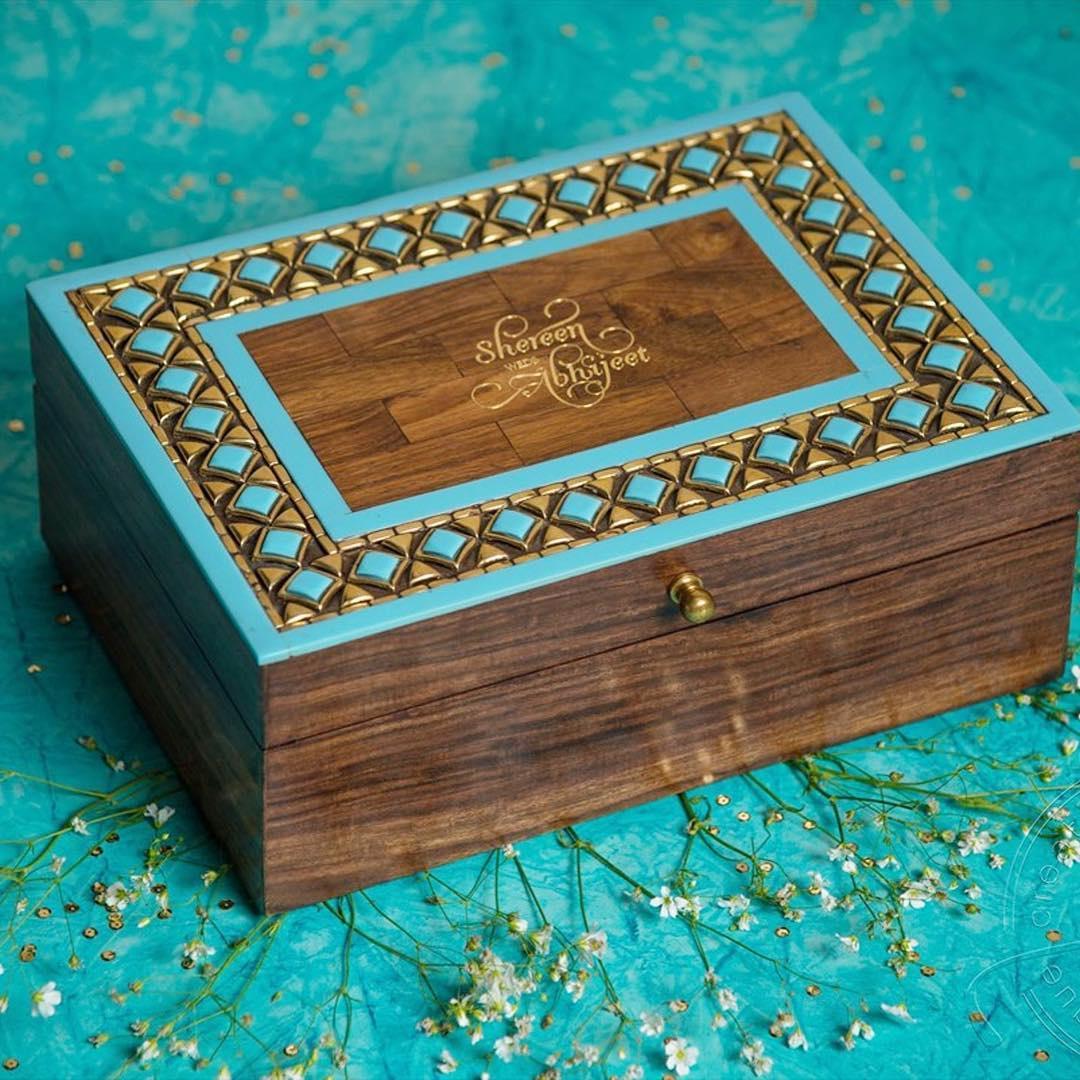 Image Courtesy: CreateAflutter
A handcrafted wooden box can be a great way to deliver invitations. This one's decorated with lovely blue tiles that add a pop of colour to the design.
14. Traditionally Red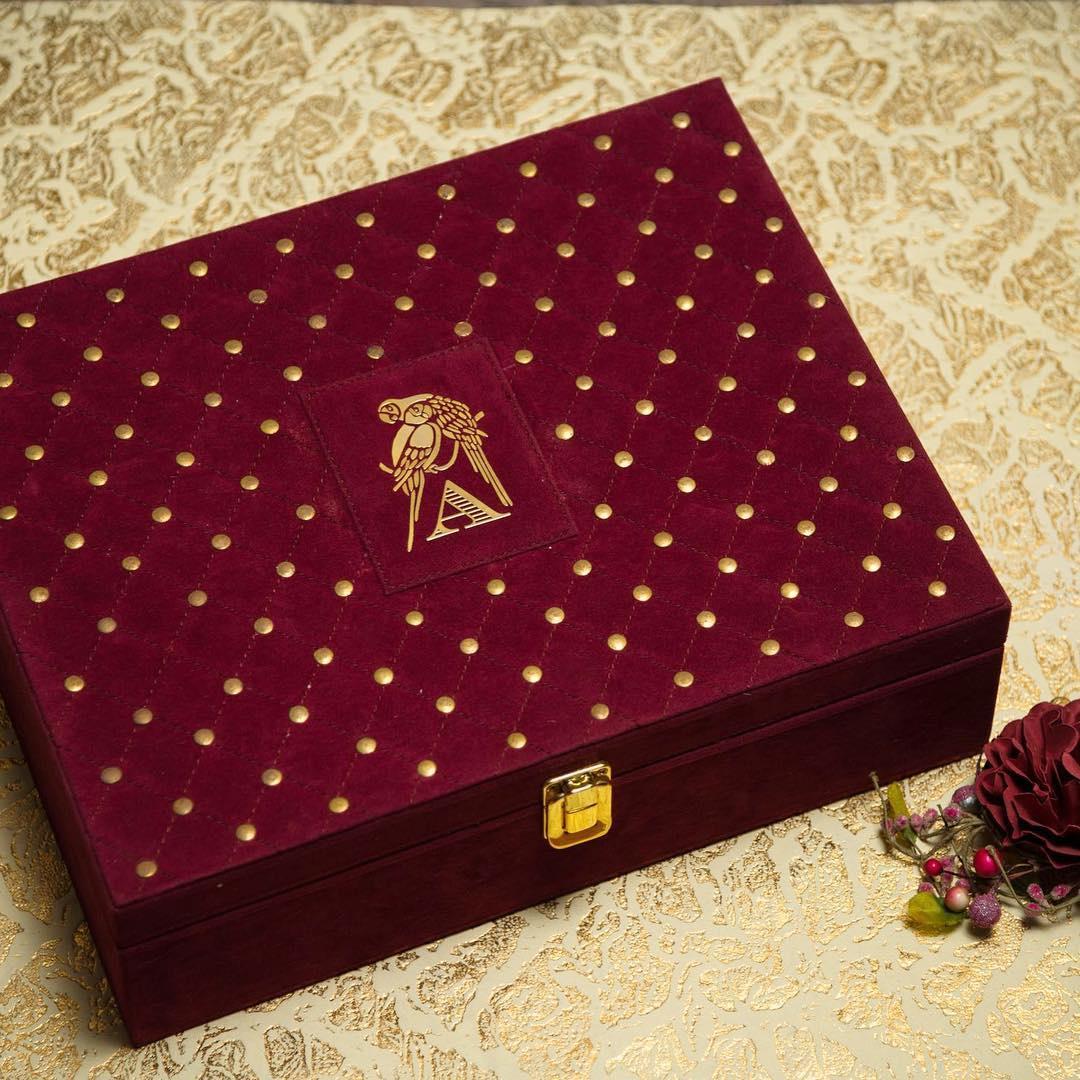 Image Courtesy: CreateAflutter
Associated with fertility, love, and marriage, red is a colour that features heavily during the Hindu Brahmin wedding. This red velvet box is a great way to incorporate traditional elements into your wedding card box without going overboard with the ethnic touch.
15. Pastel Pizazz!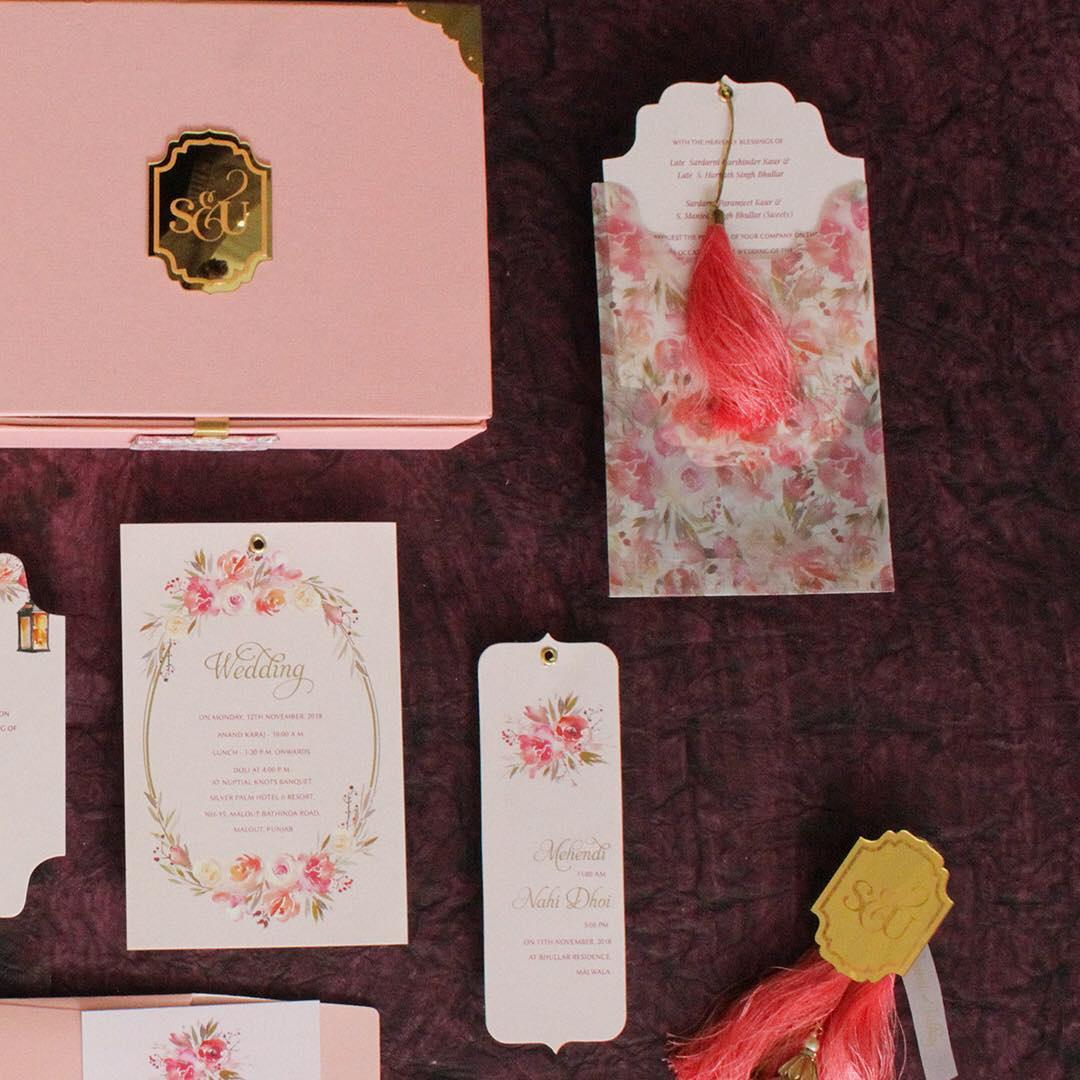 Image Courtesy: CreateAflutter
Pastels are a huge part of modern wedding aesthetic. So, ensure that your décor is cohesive from the get-go with a pastel invitation box.
16. Tiny Box!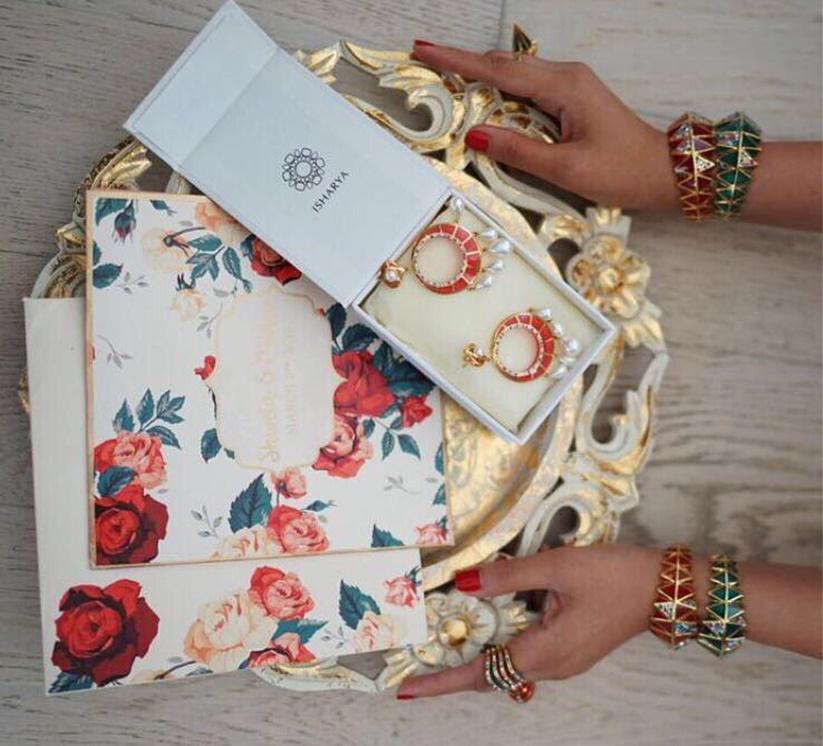 All good things come in small packages! Ditch the giant box and go with a small one that holds a great token gift! For your cards, you can go with a Thaali presentation as seen above!
17. Vintage Florals!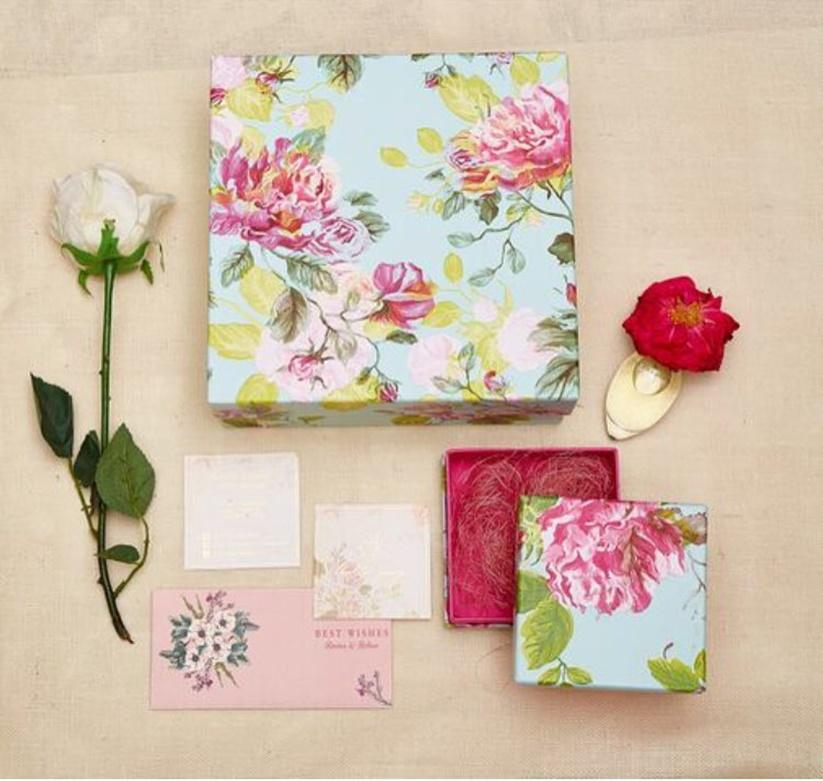 Vintage themes with floral prints are another popular aesthetic that features during the wedding season. These adorable boxes are a great way to incorporate them!
18. Funky and Retro Themes!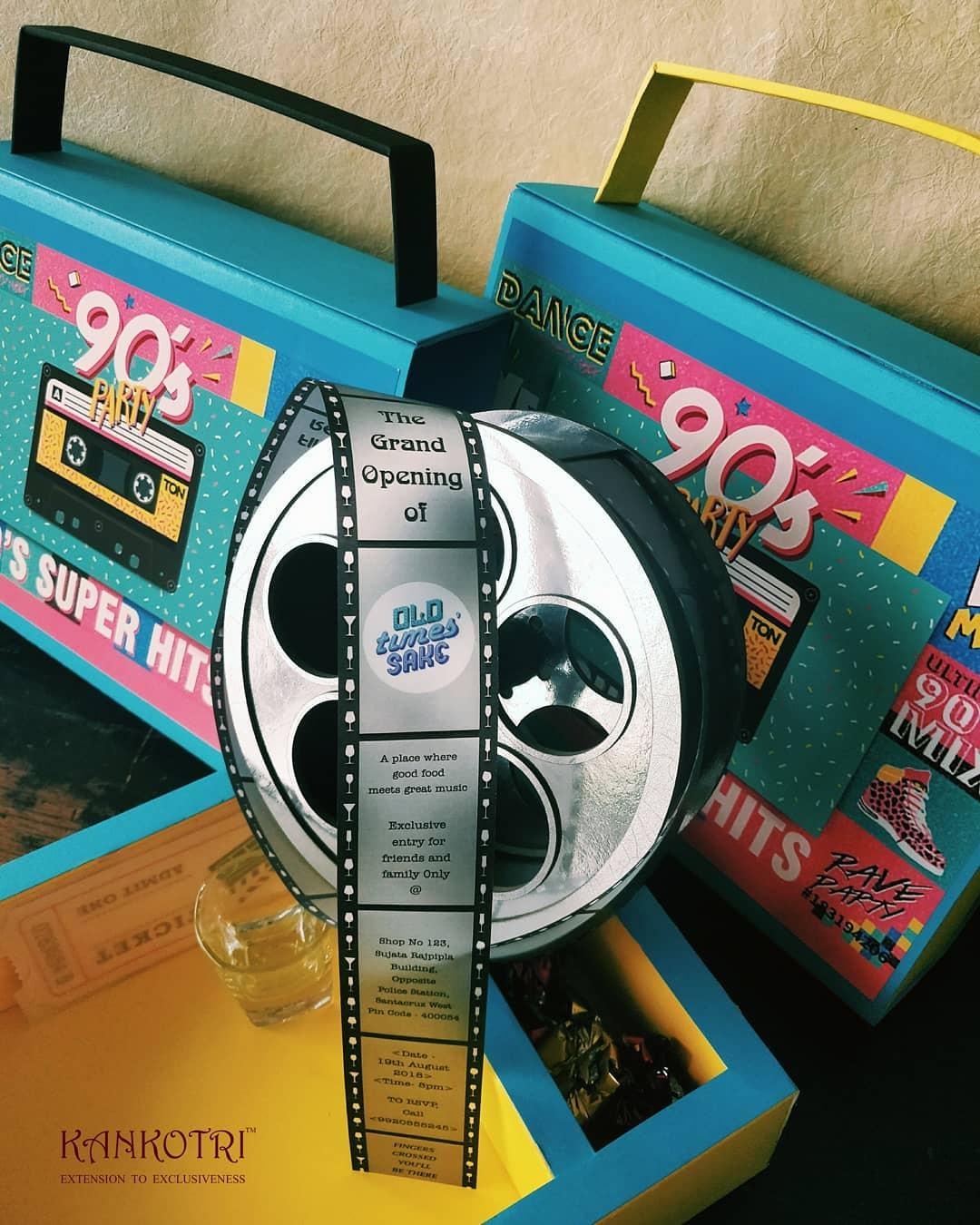 Do you and your fiancé share a love for music or film? This retro wedding card box can help you share your passion with the whole world!
19. Think outside the box!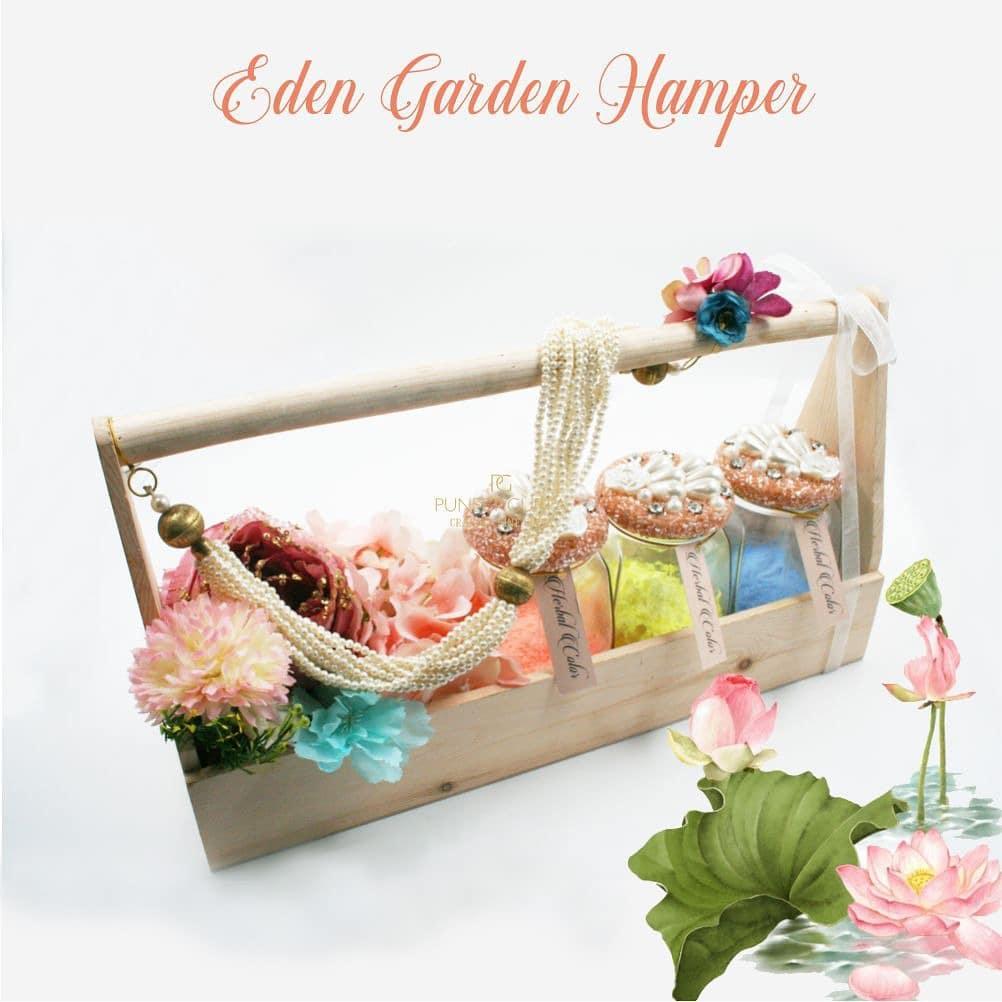 Your wedding card box doesn't have to be a literal box! This hamper uses mason jars to deliver sweets and traditional accompaniments, with enough space for flowers, cards, and anything else you want!
Want your wedding card boxes to stand out the way these do? Get in touch with our wedding vendors to design a great box!