Host a Wedding Worthy of Royalty at the Chomu Palace!
Want the royal wedding you've always dreamed of? Why not host your functions at the Chomu Palace in Jaipur?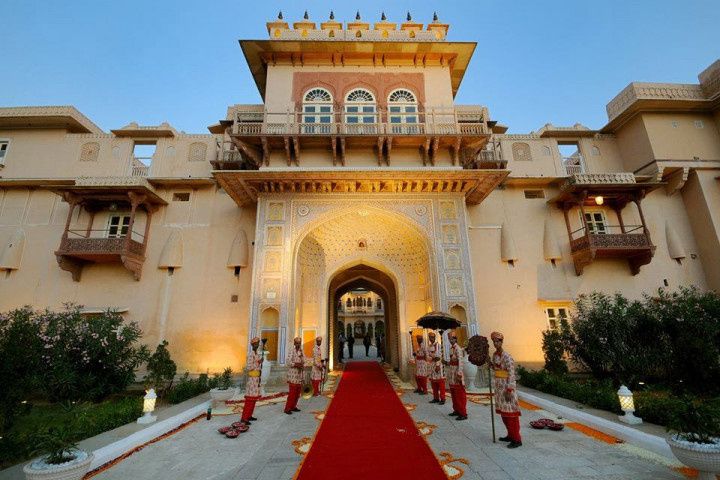 Indian weddings are filled with grandeur. From the décor to the bridal ensemble, everything screams opulence. This is why heritage hotels are often great venues to host your wedding. After all, what better way to celebrate one of the most special nights in your life than by having your functions in a regal setting? If you are in the process of hunting down the right venue, then you must consider the Chomu Palace in Jaipur. This heritage hotel with its classic Rajasthani architecture will certainly stay in your memories forever.
What is the Chomu Palace?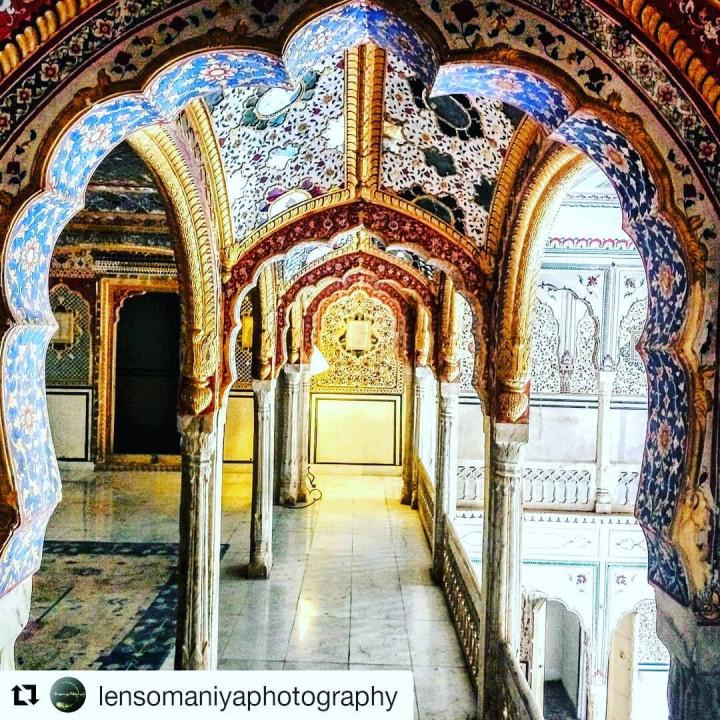 The Chomu Palace is a 300-year-old royal palace in Jaipur that has been converted into a luxurious heritage hotel. With spacious lawns and elegantly decorated banquet halls, this venue can accommodate anywhere between 200-1000 guests, making it ideal for small and large weddings alike. Furthermore, the hotel also offers accommodation and can fit 70 guests, which means that you must also consider other accommodation if your out-of-town guests exceed that number. As this palace is located right at the outskirts of Jaipur, your guests staying in Jaipur can easily travel to it and find it.
Planning your wedding functions at the Chomu Palace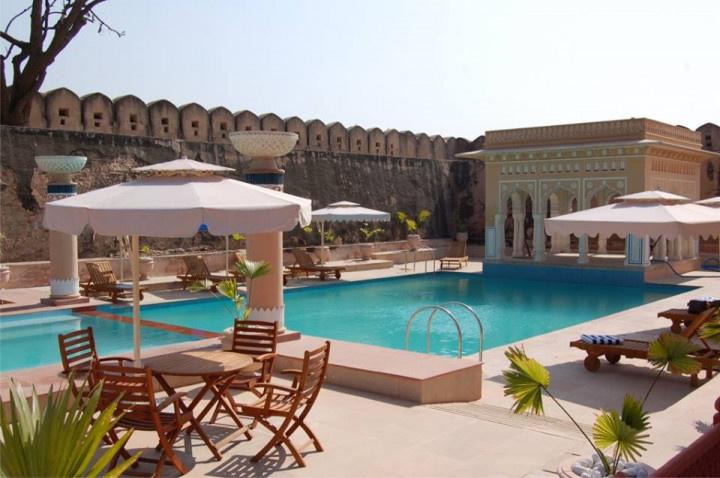 Apart from the lawns at this venue, the Chomu Palace offers two main banquet halls – Rang Mahal and Swaran Mahal. Their poolside area and main courtyard are also available for events. Here's how you can plan out your functions at this venue:
1. Sangeet – Poolside Cocktail
If you're looking to host an exciting Sangeet or Cocktail, then the poolside area is the ideal venue. The area has ample space for a dance floor and music set-up. Brides looking for a more modern take on the Sangeet can also host a pool party, however, this would be a bit more appropriate for a Hen night.
2. Mehndi – Day function in the lawns
The large, sprawling lawns at the Chomu Palace make for an ideal Mehndi venue. The hotel does offer décor services and you can speak to them about tents and seating, as well as whether you can get folk singers to help you create a unique ambience during the function. Bright, happy décor will look stunning set against the backdrop of the palace itself.
3. Youngsters Night – Sheesh Mahal Lounge
The Sheesh Mahal lounge area is ideal for a low-key youngster's night. With impeccable mirror and glass décor, this venue will transport you to an era of courtesans and Kings. You can even take your fashion cues from the era and create a fun, unique evening for all your friends and family. As this lounge is a little on the smaller side, it is ideal for functions with shorter guest lists, which is why it is apt for an informal party.
4. Wedding – Main Courtyard or Lawns
Both, the main courtyard at the Chomu Palace, and its lawns are great spots for the main wedding. However, the aptness of the same depends on the size of your wedding. If you are planning an intimate function with fewer guests, then the courtyard can be the ideal space for you. On the other hand, if you've got a large guest list and need tons of space, then the lawns will suit your needs far more.
Does the Chomu Palace offer catering services?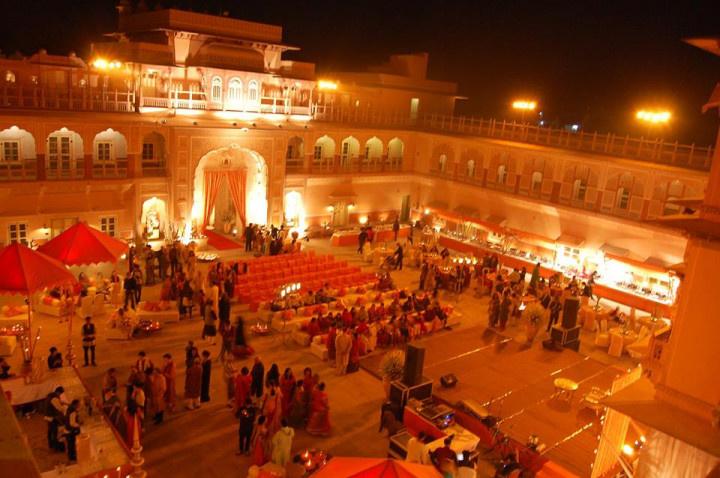 Yes, they do offer their own in-house caterers for any event. According to their own sources, this hotel can provide you with a smattering of Indian cuisines like Gujarati, Goan, North Indian, street food, South Indian, and even Maharashtrian food. Moreover, they also offer a range of international cuisines for you to choose from. These include Mexican, Italian, Chinese, continental and Thai. They also offer menus that are altered to comply with Jain beliefs.
They also offer alcohol and various packages for the same for you to choose from based on your budget. While booking this venue, it is essential to note that they only allow in-house catering. So, you must take some time out to sample their food before finalising this spot. After all, you don't want to end up with inedible food on your plate on the most memorable night of your life!
If you are looking for a venue that shows off regal lifestyles and exudes an aura of sophistication, then you must certainly make a trip to the Chomu Palace to consider the same. If you live outside of Jaipur, then this can be a great excuse to have a destination wedding in one of the most historic cities in the country!
This venue has not disclosed its prices, so you must speak to their administration to find out more about that! If you're open to hosting your wedding at a historic venue, check out the Neemrana Fort Palace too!
Don't forget to get in touch with our wedding photography vendors to document your special night!