7 Marriage Card Designs for the New Millennial Couples, Embedded With the Gorgeousness of Rich Cultural Heritage
From quirky to simple, pastels to vibrant, a marriage card design has evolved manifold from its past. They are an essential part of weddings as they set the mood for the event. We bring 7 beautiful cards to make your wedding even more extravagant!
Judging by the pretty envelope, colour, size, shape or even the handwriting, we tend to figure out that it unmistakably is an invitation! Although people do send invites for birthdays and anniversaries, the essence of a marriage invite is in itself is joyous of all. The wedding is a grand occasion and a social gathering that involves all your friends and family members from all over the world whose presence you anticipate and whose blessings are much awaited for your big day. The marriage card designs are each unique in its own way and they are a perfect representation of your eagerness to see your near and dear ones at your wedding.
Yes, with so many options of marriage card designs today, it definitely is a tedious task to choose the perfect one. However, it is important to put one's best when selecting one for a wedding as it reflects the tone of the couple and their families. We all will agree in unison that a wedding undeniably is a celebration like no other and the marriage card design heralds the event and builds up the excitement level. Here, we will explore various culture-based marriage card designs.
1. The Hindu marriage card design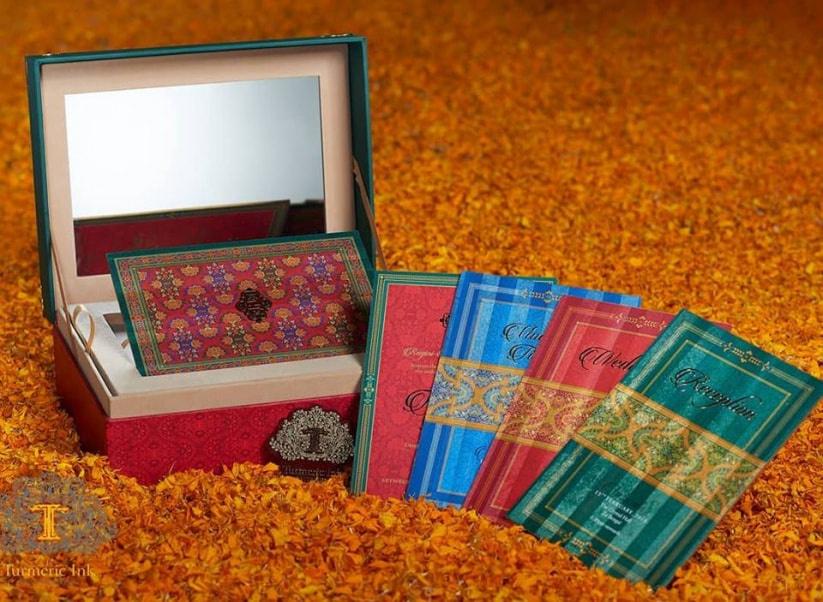 Known as Nimantrapatran, a Hindu marriage card commonly is a vibrant one with beautiful colours and motifs. A Hindu marriage card design typically is one which begins with the mention of God, and eh designs imprinted on top of it are also of Lord Ganesha or a symbol of Swastika, thereby seeking his blessings on the auspicious occasion. It usually begins like;
A sentence or two on the importance of the event – 'Marriage is the beautiful and eternal binding of two lives, two loves, two hearts. It is the most wonderful, mystical moment which marks the beginning of a beautiful love story'
The invitation – Seeking the blessings of the Almighty, (the names of Parents), We cordially invite you and your family to celebrate the union of our beloved daughter/ son ……….. with …….Daughter/Son of …….
Date:
Venue:
Time: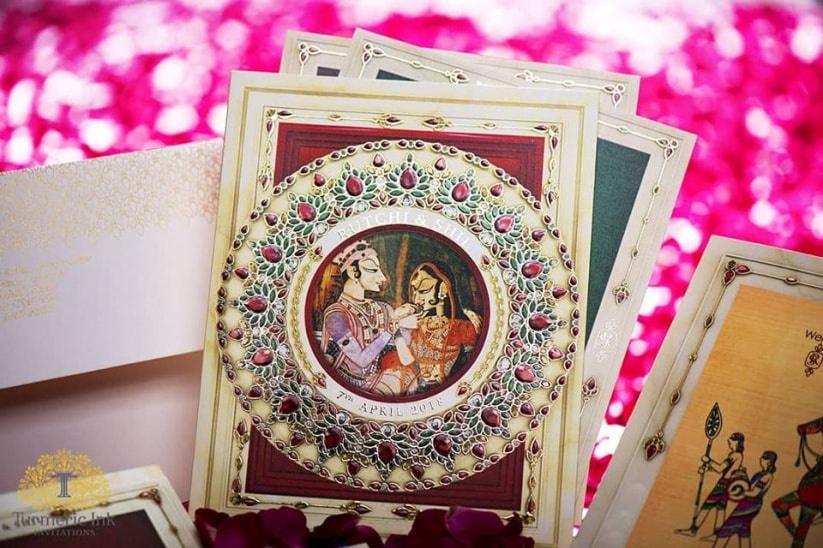 2. The South Indian marriage invitation design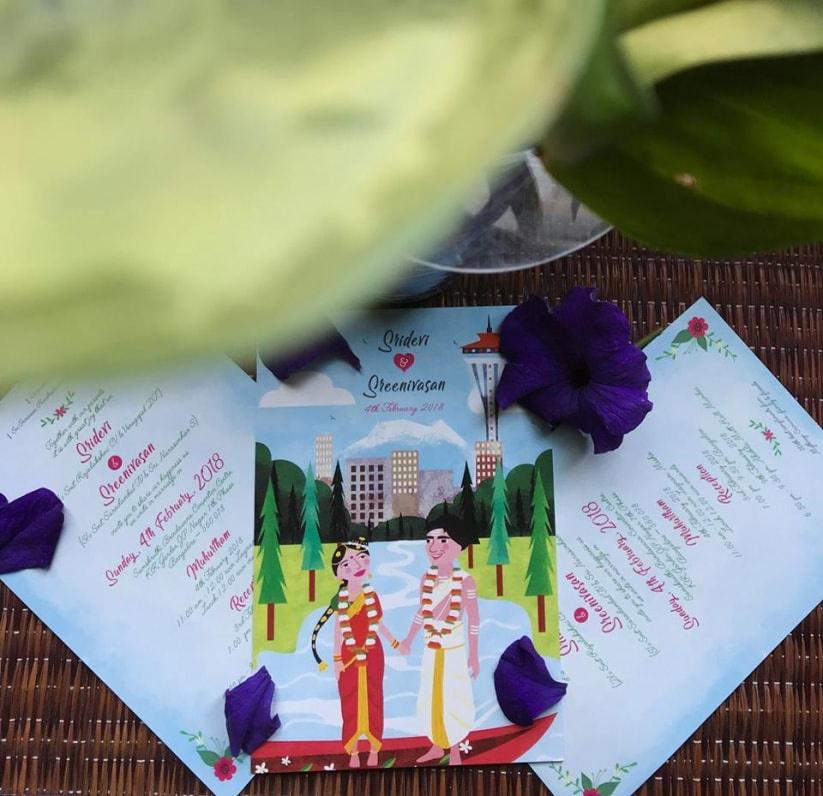 The strikingly different aspect of a South Indian wedding invite is that they mention the educational qualifications of the bride and groom. It may not be a mandatory affair, but it is prevalent particularly among the Tamil Brahmins and non-Brahmins. Apart from this, there are no major differences from the conventional wedding cards. They usually opt for two cards, one in their native language which has an image of God and has a more traditional touch to it, and other in English. However, the one made in English is rather contemporary and crisp. It does not include imagery of God but might have a leaflet that tells about the couple's love story along with the invitations of all the events. The one in English has a formal feel to it and the regional language marriage designs of the card give it more warmth and abide by the traditional ways of the wedding ceremonies.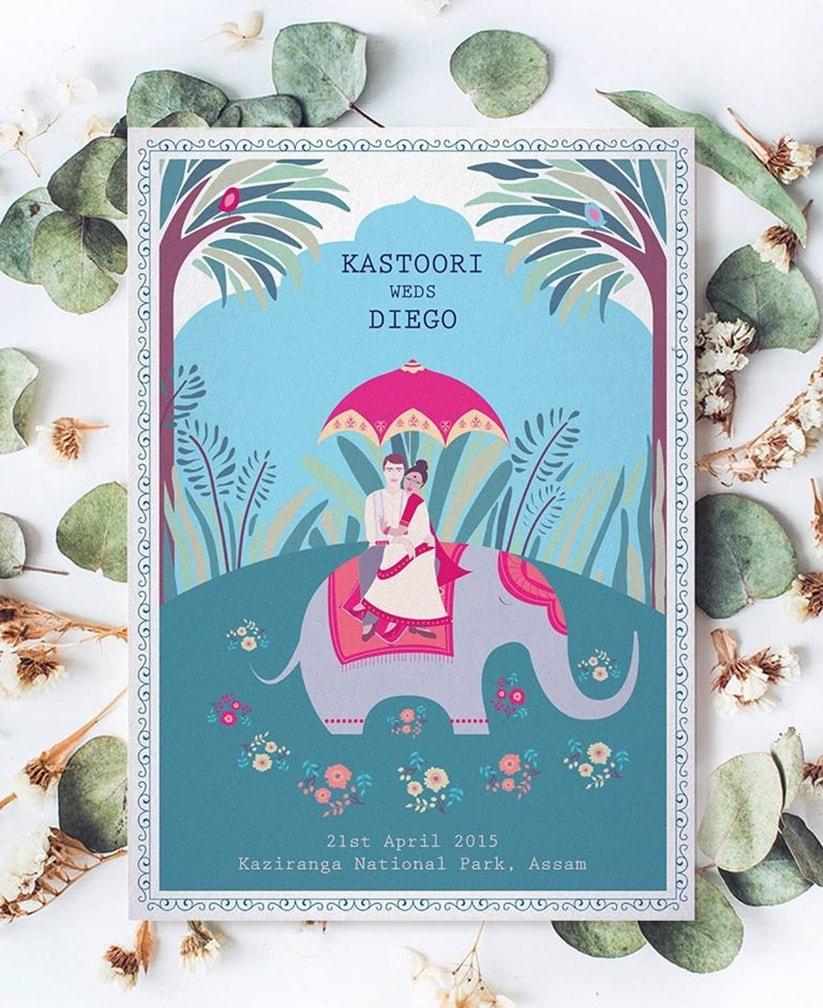 3. The Goan marriage card design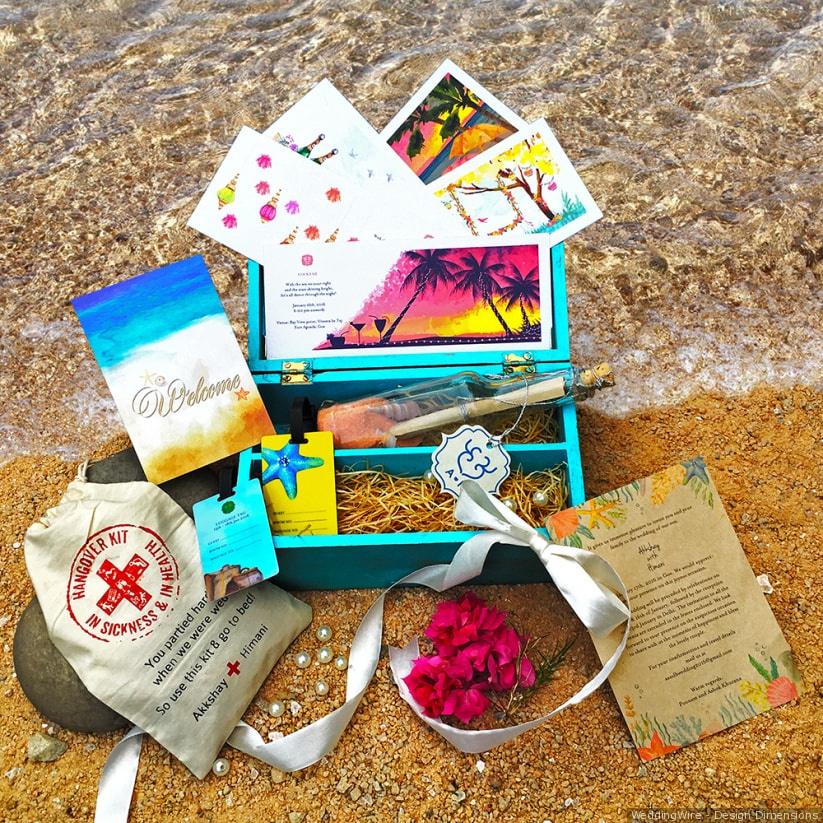 Goan weddings typically will either be a white wedding or a Konkani wedding. Therefore, if it is a glorious white wedding, the invite will be a crisp one, including the Church invite and a party thereafter. However, a Konkani-style wedding invite might be an elaborate one. The various rituals that take place in a Konkani wedding can also be explained in a leaflet attached to the wedding invite. A white wedding invite is usually in pastels and lighter shades, whereas the Konkani themed wedding invite will be a vibrant one, accentuated with beautiful motifs, accompanied by some traditional Goan sweet. The millennial marriage card designs also include wedding invitation boxes with funky and quirky goodies inside that include edible and non-edible things.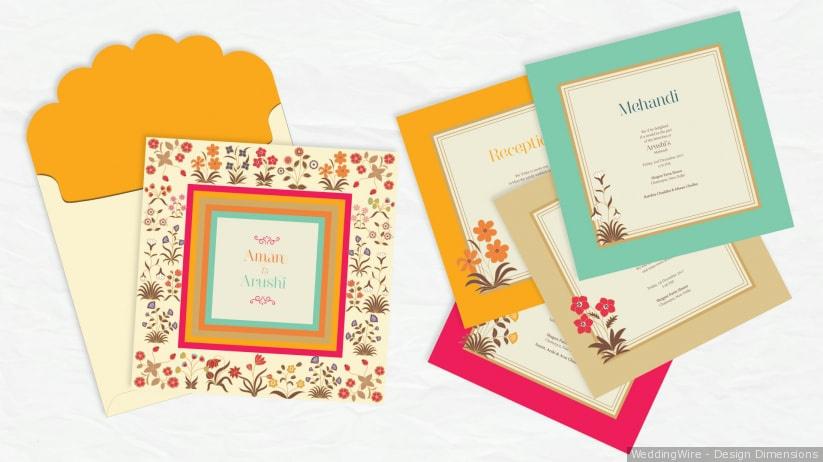 4. The Muslim marriage invitation design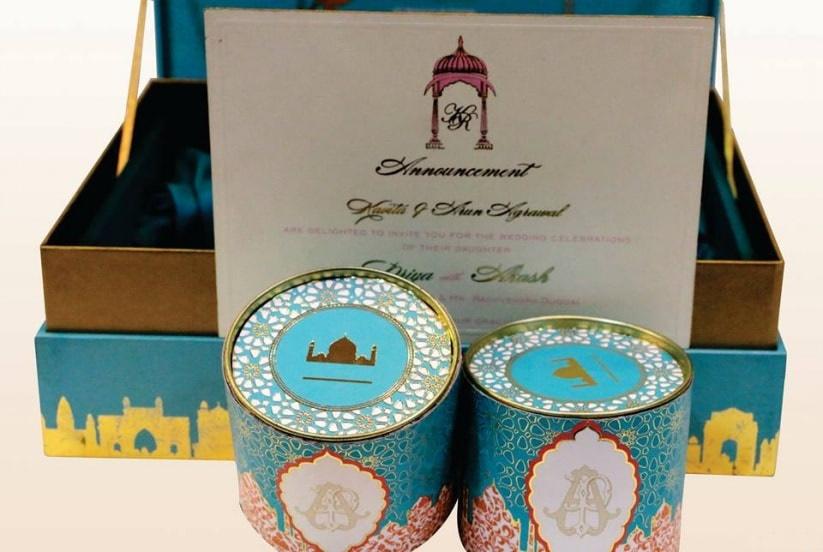 A Muslim wedding invite usually has the star and crescent moon or Allah or Bismillah symbol on the fore page. Their invite also begins by seeking the blessings of Allah. However, the point of difference in a Muslim wedding card from a Hindu card are the colours. They are usually seen opting for the shades of green and golden. Their basic colours of choice range from bright colours in deep and rich shades to the subtle ones that include off-white and so on.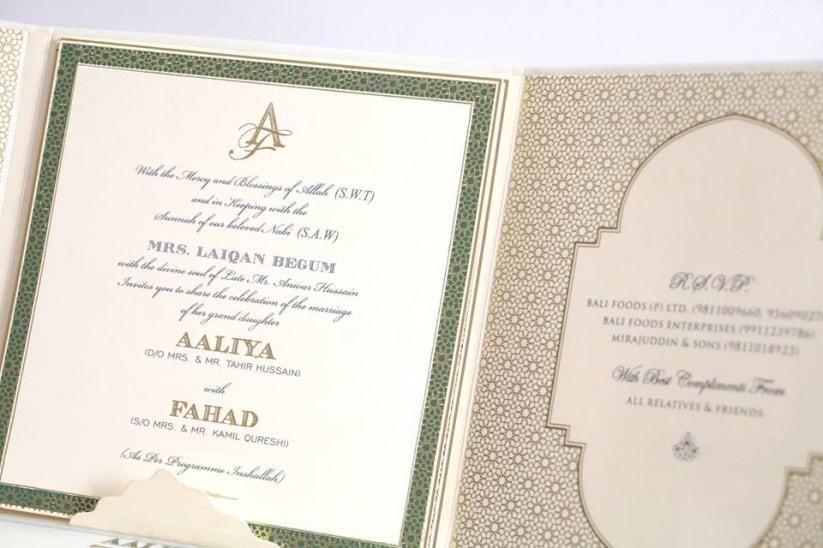 5. The Sikhs marriage card design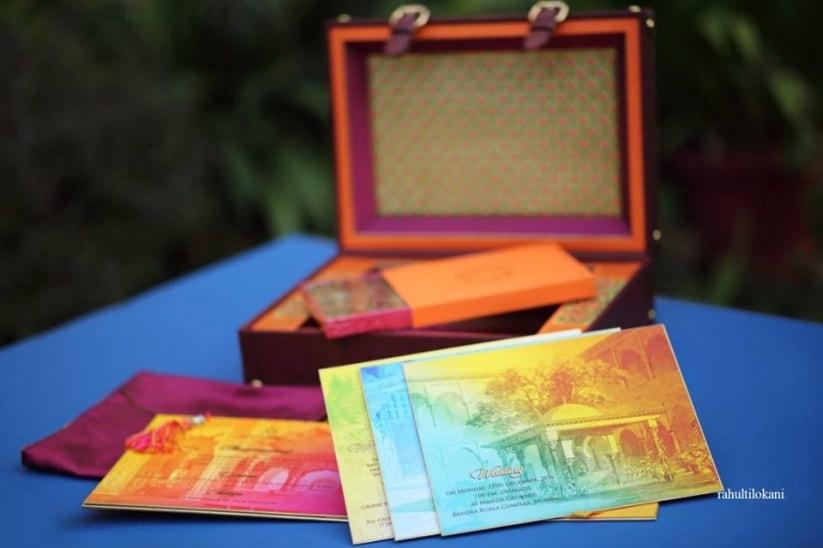 Known as Anand Karaj, a Sikh wedding includes various ceremonies. Therefore, it is crucial to include a wedding invite for each occasion in the wedding invite box. Just like all other religions, a Sikh wedding card also begins by seeking the blessing of Guru Nanak, or a Shlok from their holy book.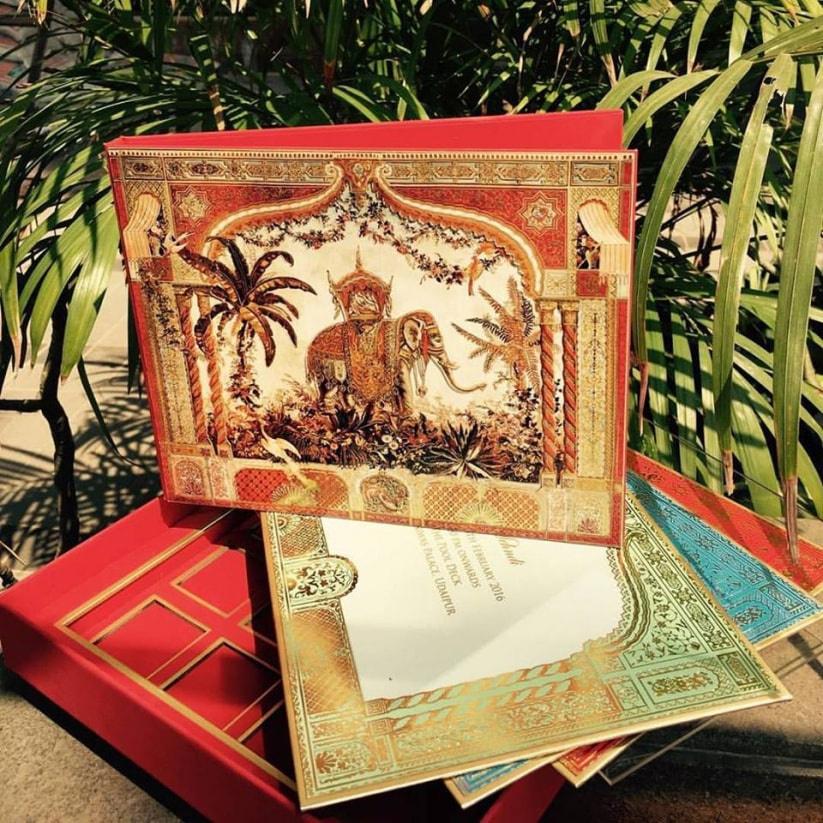 6. The Bengali marriage invitation design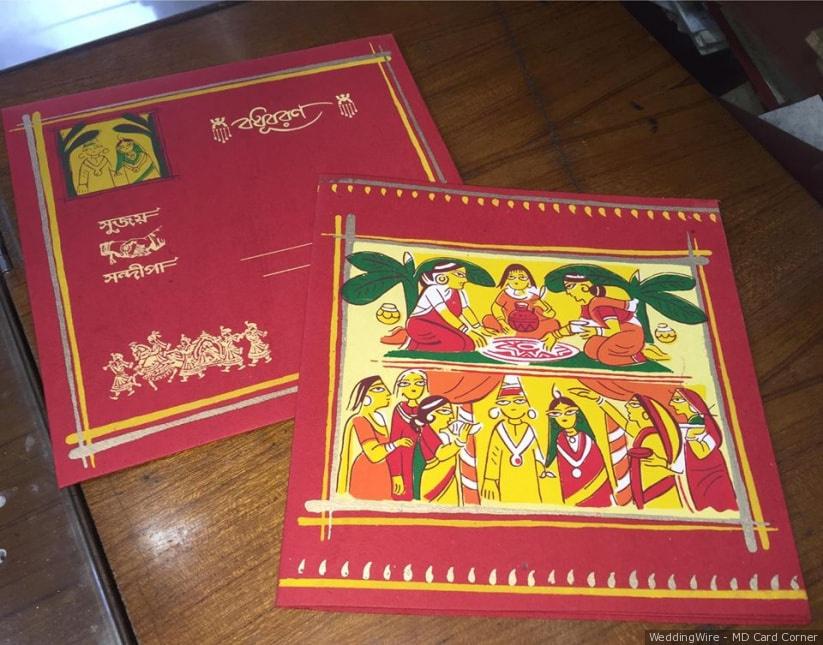 Bengalis are known for their traditional sentiments and are therefore reflected in their wedding invites too. Their wedding invites are mostly seen in reds, maroon, magenta, fuschia, and other such bright colour. To add a fun element, many couples also add quirky taglines like 'when Roshogolla met Pani-Puri'! However, even with all the modern elements, a Bengali wedding invite is incomplete without the mention of God and the Shankh.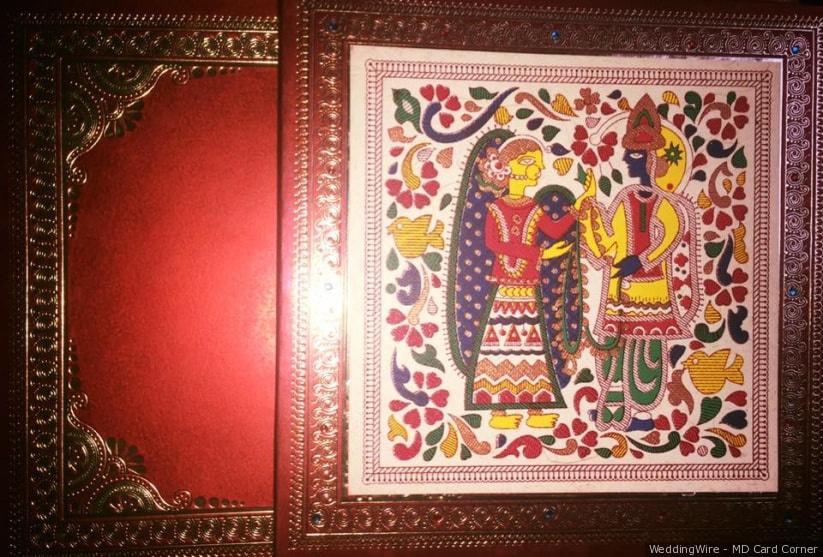 7. The Grand Rajputana marriage card design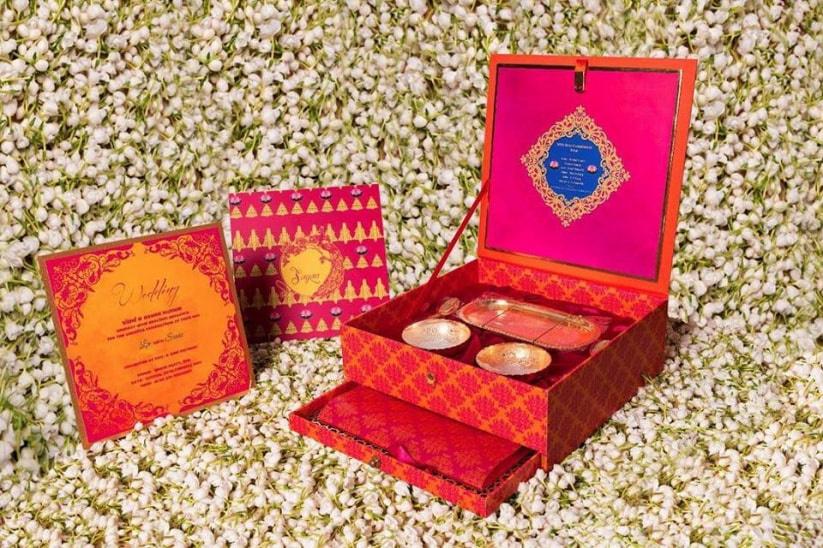 A Rajputana wedding is all about horses, gigantic drums, shehnai and all things royal! To match with the wedding ceremony, a Rajputana marriage card design has to be regal. They usually send out wedding invite boxes which hold the invitation card along with items like sweets, idols, candles, plants, etc.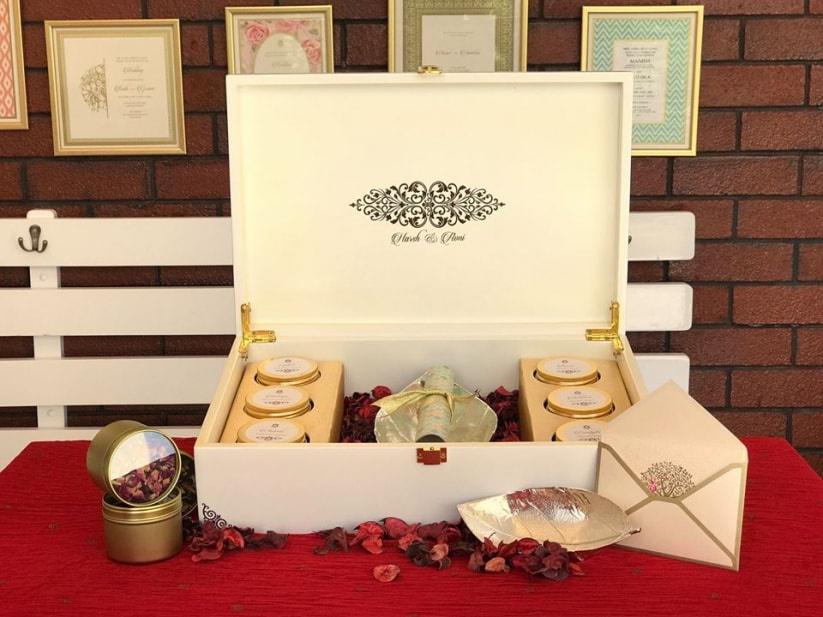 Therefore, selecting the perfect marriage card design is extremely important as it reflects the aura of the bride and groom along with their families.
To get hold of some of the top wedding invitation vendors, look it up here.