Simple South Indian Wedding Invitation Wordings for Friends That You Must Check Out Before Drafting Yours
If you are looking for South Indian wedding invitation wordings for friends, you're just at the right place. Find out what makes these wedding invitations so special, now!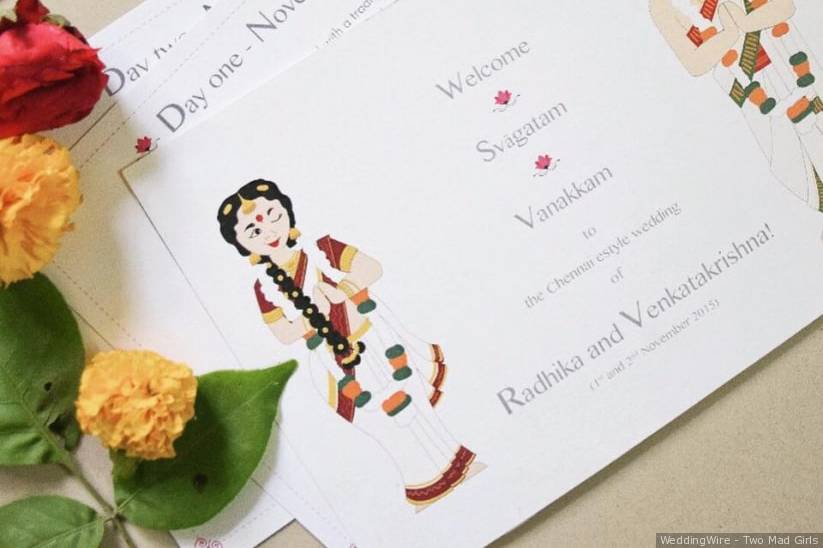 Invitations mark the beginning of your wedding preparations and it's one of the first things you want to tick off your to-do list. If you are a South Indian bride and your wedding is just around the corner, well, fret not, we're here to help you out. From South Indian wedding invitation wordings for friends to different elements of South Indian wedding invitations - you can find all the information right here, right now to finalise your cards. Check it out.
Conventional Elements In South Indian Wedding Invitations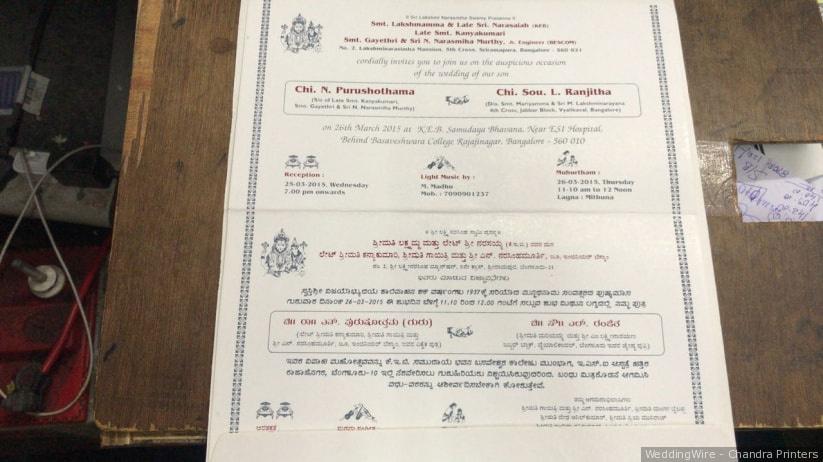 If you're worried about South Indian wedding invitation wordings for friends, we've chalked down the conventional elements of these cards, especially for you. Take note and don't forget to include these elements in your invitations.
1. Educational Qualification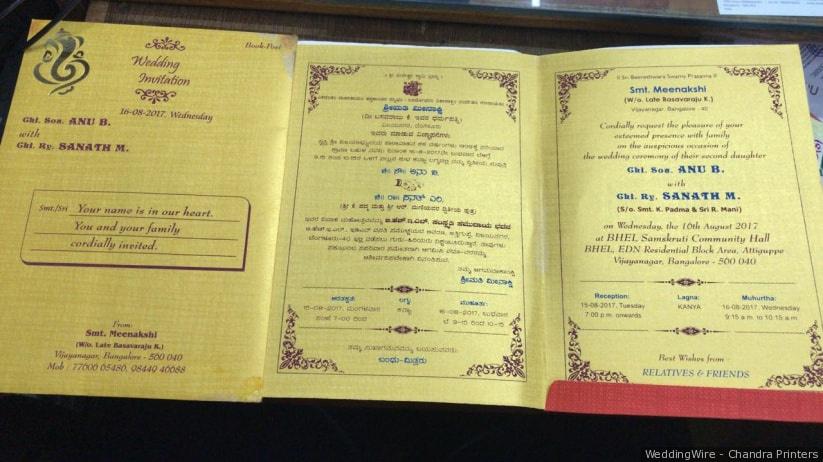 A lot of South Indians, particularly Tamils and Tamil Brahmins, or people who hail from Tamil Nadu give significant value to the educational qualifications of the bride, as well as the groom. Vigya from Carded Love told us that, "Once, we had to do an invitation card where the bride and the groom were doctors. The family had specifically asked us to mention their entire qualifications and colleges they both graduated from." So yeah, yours, as well as your groom's educational qualifications, can be a part of the South Indian wedding invitation
2. Two Versions Of Cards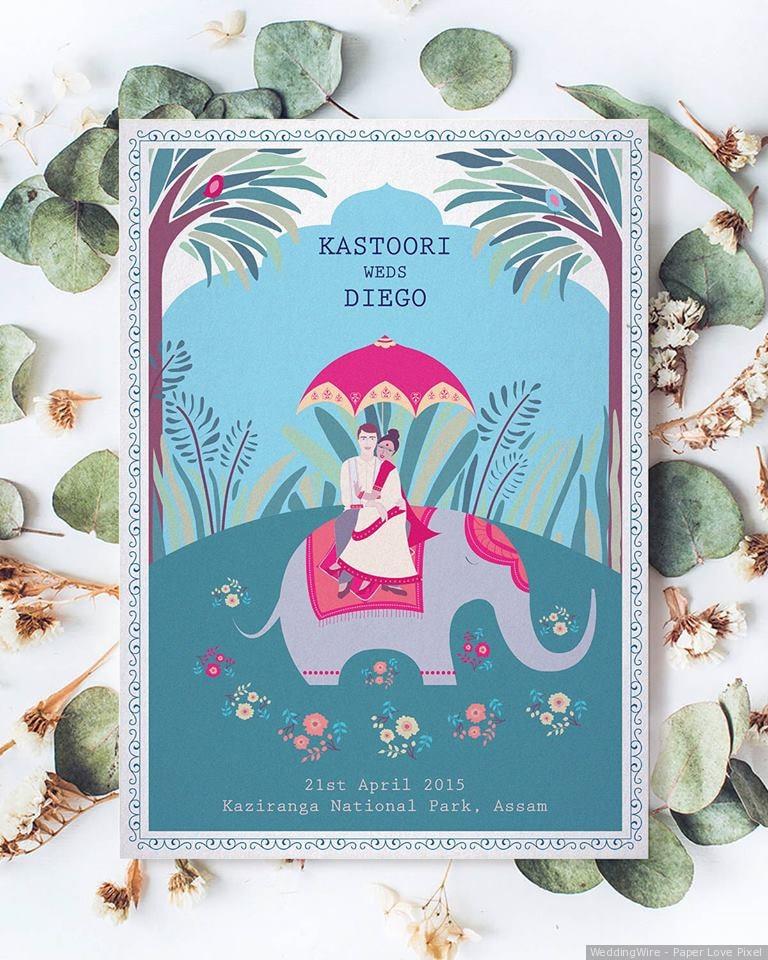 Most South Indian families opt for two versions of the cards. One is done in English and the other one is done in their native language. "While the card in their native language is traditional and usually low on cost, the other one is more modern. It includes florals prints, contemporary designs and watercolours etc. The traditional cards are for relatives, whereas, the moderns ones are usually reserved for friends, family friends, and the younger crowd," said Vigya. And so the English one can have funky South Indian wedding invitation wordings for friends.
3. Ancestor's Village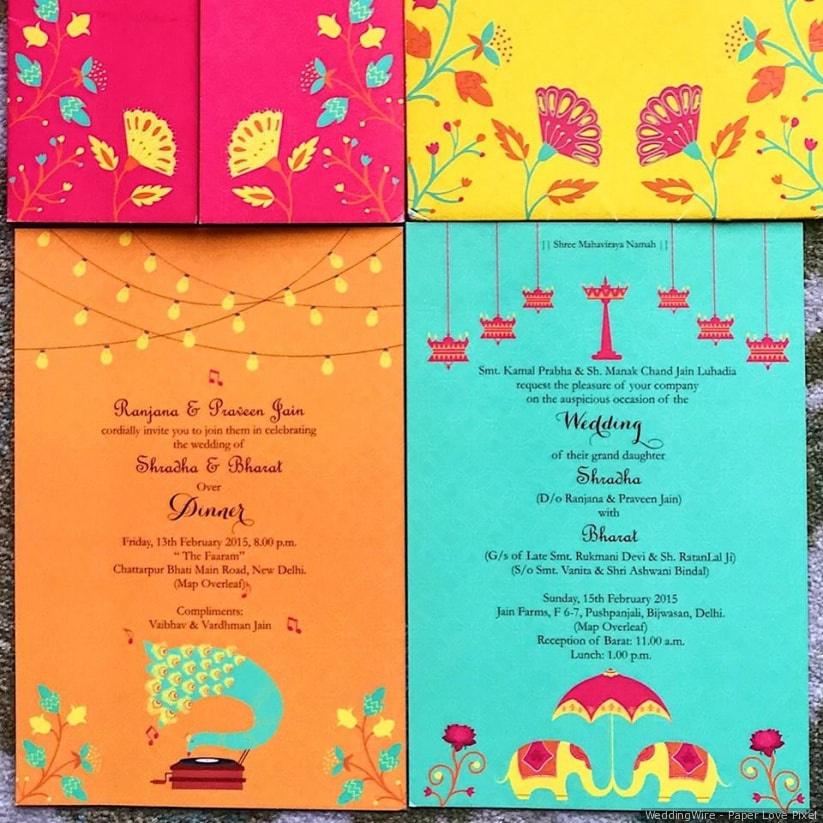 If there's one thing you can't forget to include in your South Indian wedding invitation wordings is mentioning your ancestor's village. Every card, whether it's in the native language or not, will include a sequence where right below bride and groom's names will be their grandparents' names as well as the entire ancestor's village location.
Contemporary Elements In South Indian Wedding Invitations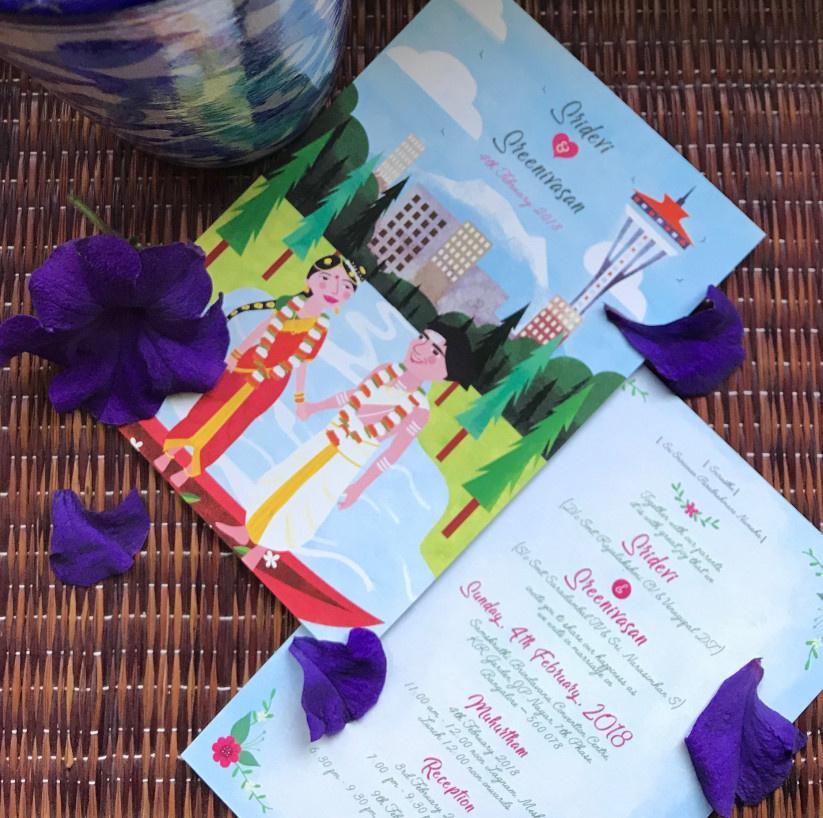 Yes, there's a contemporary aspect to South Indian wedding invitation wordings and you need to know about it.
1. A Love Story Leaflet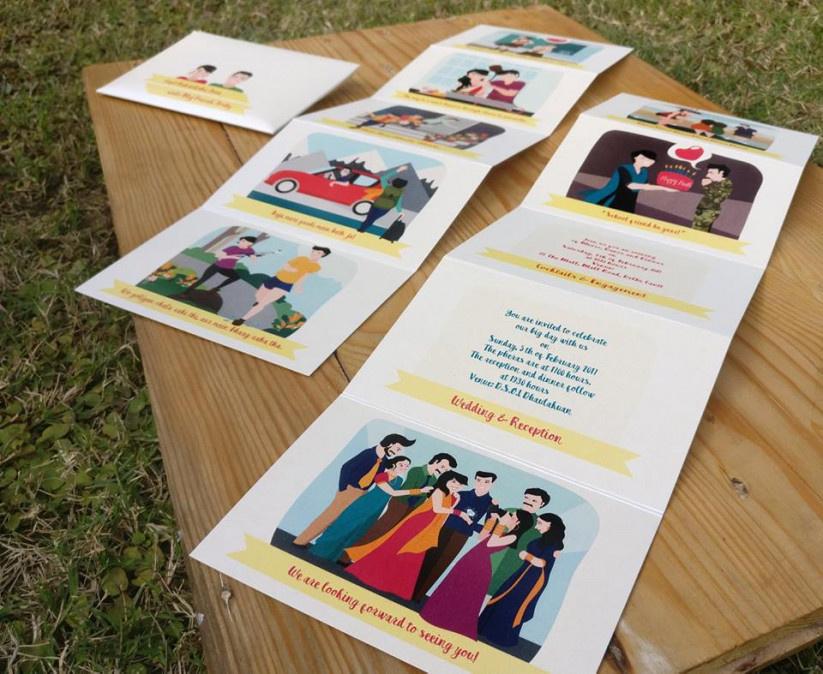 Traditionally, South Indians don't have an engagement ceremony and hence, your cards can include a love story leaflet instead of an engagement function one. The love story leaflet will be a part of the English card and with modern designs. Your South Indian wedding invitation wordings for friends can be as casual or mushy as you like it. It makes your wedding card a memorable one and people love this personalisation.
2. Seal On The Envelope
Another fun element of a contemporary South Indian wedding invitation is the seal on the envelope of your card. "My husband and I decided to put a super cute seal on our card envelope that said Tam-Brahm. A lot of people called us and said that they loved this tiny detail. I think it's great if you can include these small things on your wedding cards. There are so many unique ideas to explore and experiment with," said Sree Suresh, a WeddingWire bride who got married a few years back.
3. Theme Wedding Cards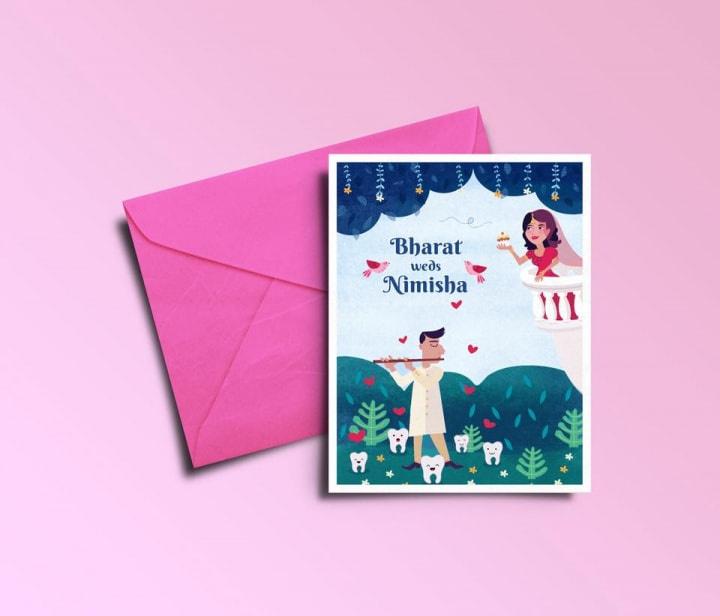 Theme wedding cards have been on the market for a long time and they are here to stay. A lot of couples go for offbeat theme wedding cards and well, you can too. Asha from Paper Loves Pixel told us that, "I've always been doing offbeat invitation cards for couples. I once worked on an e-invite that had a Harry Potter theme. These cards are really unique and end up being a cute piece of art or even as a memory that few customers have framed and kept in their lovely new homes."
What Makes South Indian Wedding Invitations Different From Others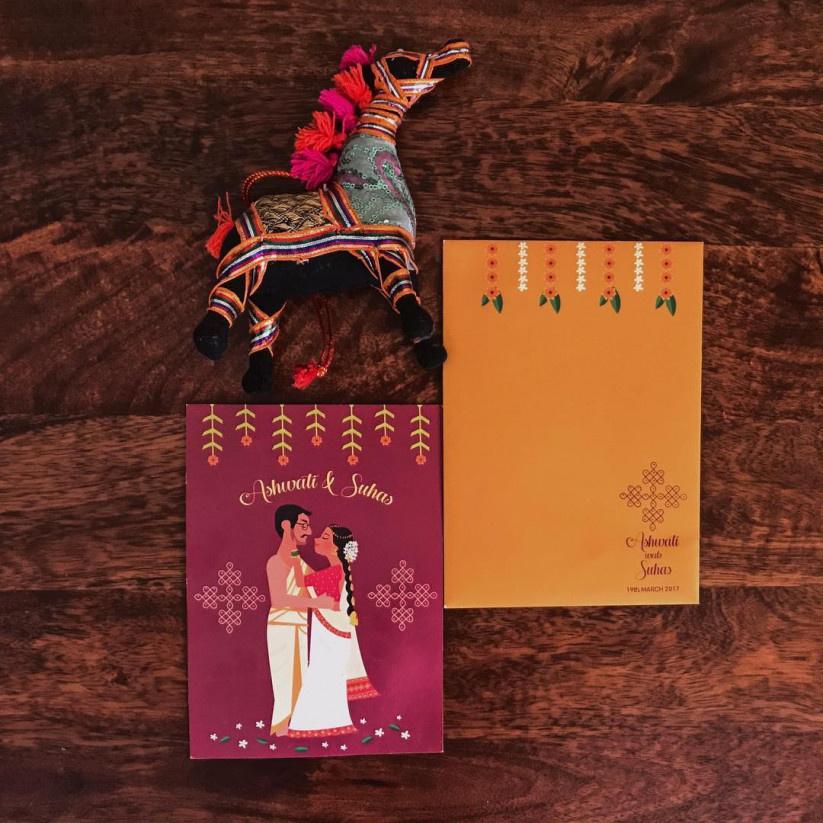 1. Simple Invitations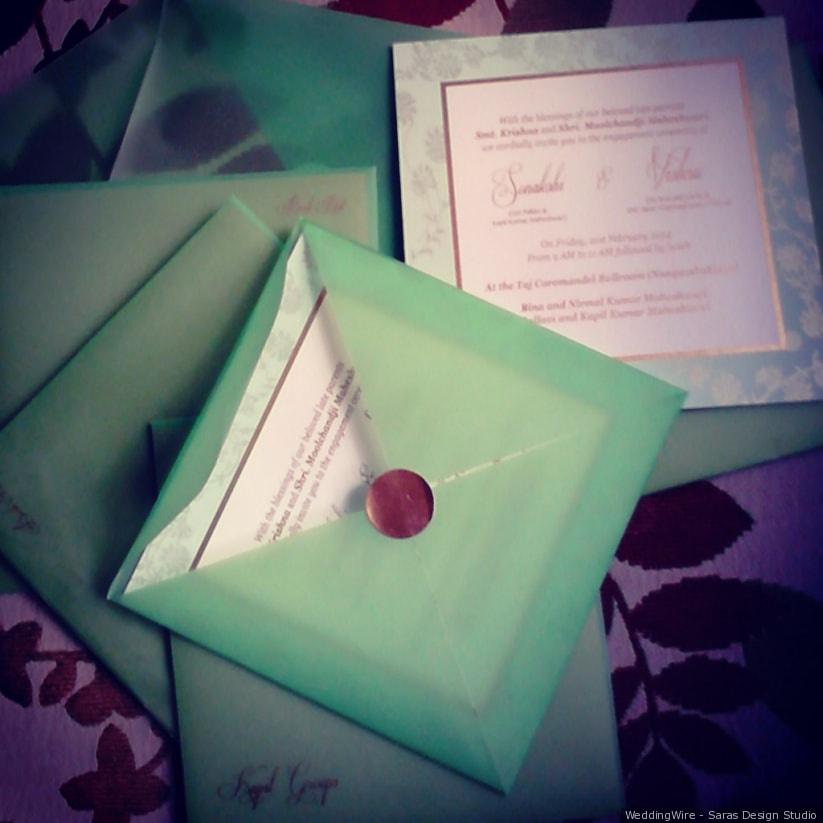 "The invitation cards for South Indian weddings are a bit simpler and less grand. They most likely want to showcase their love story in the cards," said Asha. Unlike, North Indian, South Indian couples like to keep everything simple and sweet, especially in the English version of the card.
2. Illustrations And Not God Imagery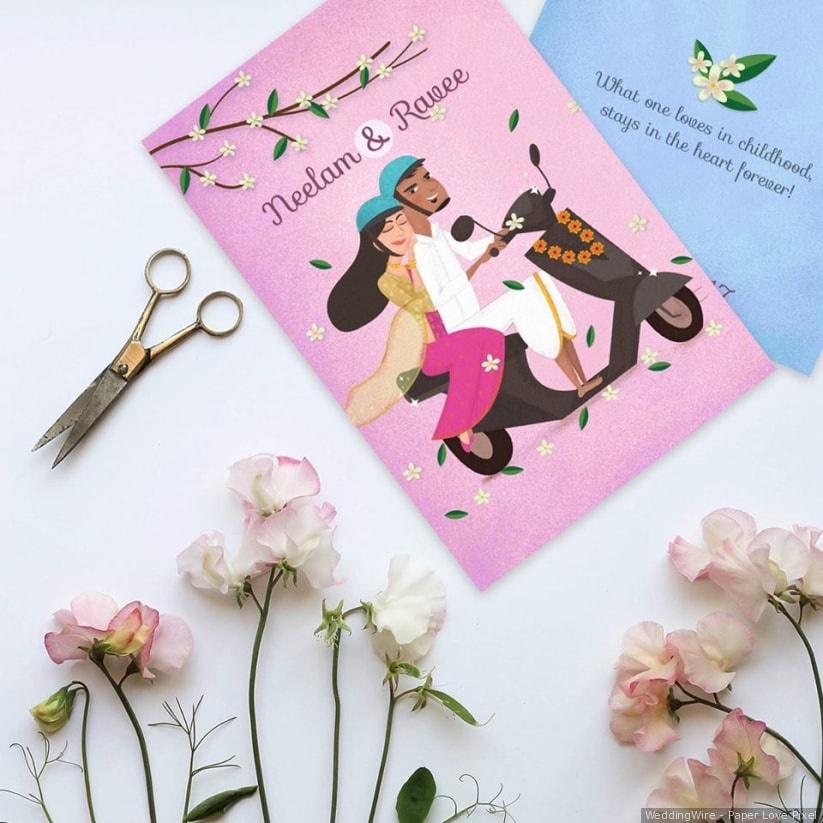 Lately, a lot of South Indian couples go for illustrations instead of God imagery in their cards. If they are getting two cards made, they keep God imagery in the traditional, native language cards. Whereas, the modern versions have illustrations, pastel colours and themes to go with fun South Indian wedding invitation wordings for friends.
We hope you now have a clear idea of South Indian wedding invitation wordings for friends, the elements of a card as well as different things you can experiment with. You can thank us, later.
So what are you waiting for? Hire a wedding invitation designer for a beautiful invite, now.