Here's All the Detailing in Muslim Wedding Invitation Cards That You Can Use to Craft Your Own
Want to know all about the significant elements of Muslim wedding invitation cards? Here is all you need to know about different styles and types of an Islamic wedding card and ideas to get creative.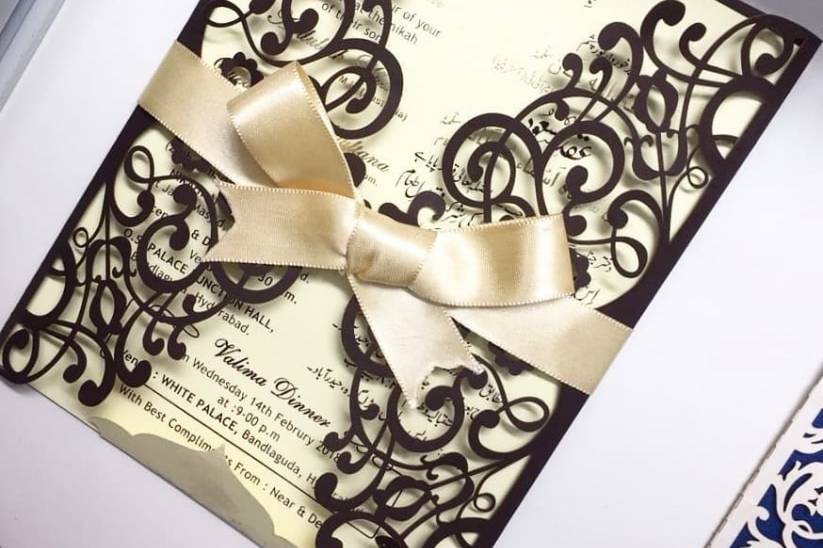 Wedding invitations represent the official declaration of two souls uniting forever. And traditionally, every wedding invitation card consists of some particular signs, writings or icons. You must have often wondered what do those symbols and motifs on an invitation card really mean, haven't you? Like a butterfly or Shankh symbol on Hindu wedding cards and a crescent moon on Muslim invitation cards. Read on to know all about the signs and symbols, their significance and how to use them aesthetically on Muslim wedding invitation cards, both, traditional and contemporary.
The symbols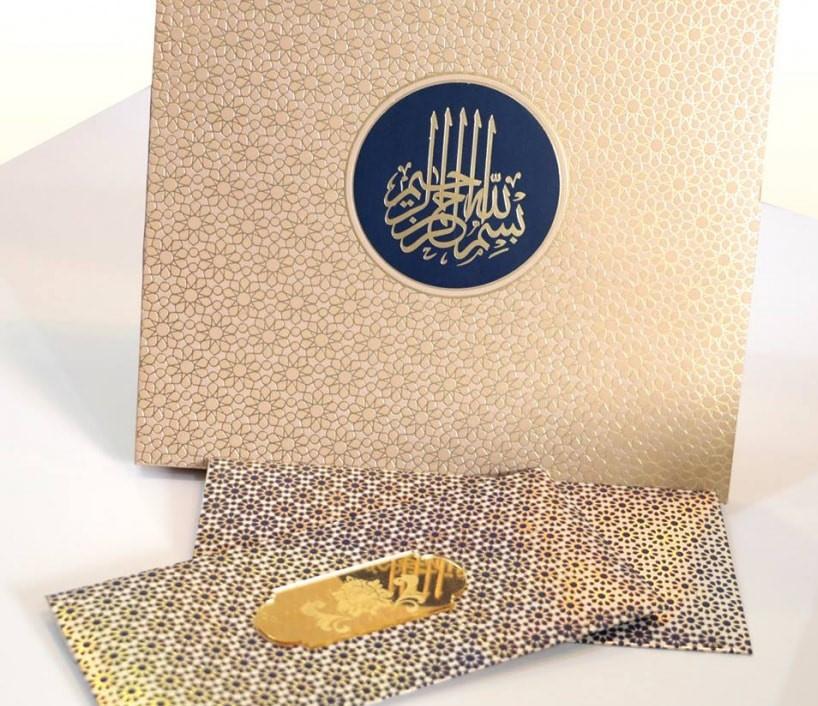 You will find certain symbols or icons on Muslim wedding invitation cards. There is a significance of each of those signs in terms of a wedding. Let's find out what are they:
Allah symbol - The Allah symbol is an essential part to be included in Muslim wedding invitation cards. The Allah symbol signifies the holiness and divinity of the sacred matrimony. It is printed on wedding cards with the belief that the to-be-married couple will be united with love, happiness and understanding.
The star and crescent moon - The star and the crescent symbol on Muslim wedding invitation cards signify the faith on the Almighty. The star and the moon sign also mean complete faith in God and asking for His blessings for a happy marriage.
Bismillah symbol - Depicting the true spirit of Holy Quran, the Bismillah symbol is included in almost all Muslim wedding invitation cards. This sign primarily signifies the blessings and support from the Almighty.
The colours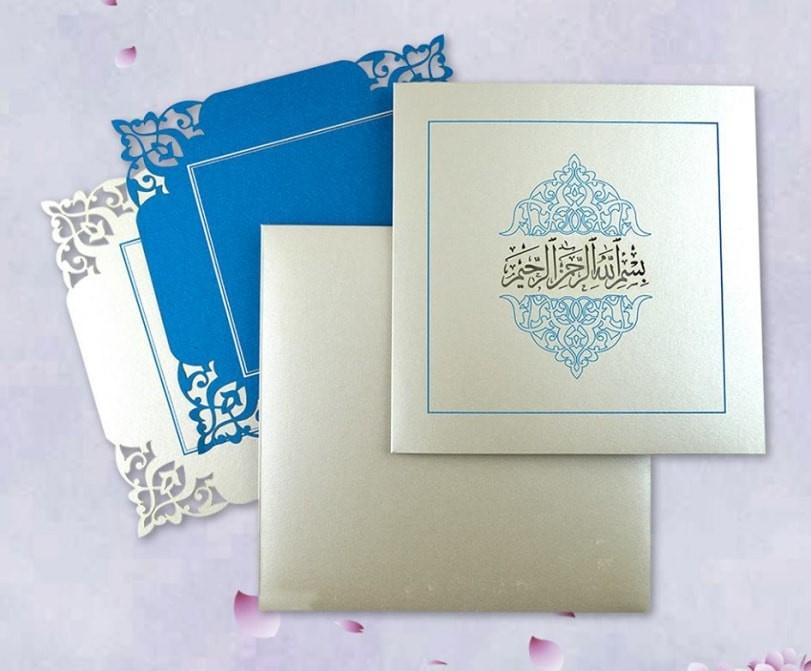 The most popular colours used in Muslim wedding invitation cards are green, golden, cream and red. Although many couples are going for different colours and shades, these four colours are usually the most preferred. The significance of each colour according to Muslim traditions and beliefs are: red symbolises fertility; green is a representation of religious faith, and cream denotes purity of mind and heart. However, subtle colours like silver, different hues of blue from light to royal and even peach and pink as the pop-up variants of their basic shade cream is used as a gorgeous millennial twist to the conventional colours. The designs can have contrasting shades of dark or light colours based on the base of the Muslim wedding invitation cards to make it prominent and stand out.
The card material and designs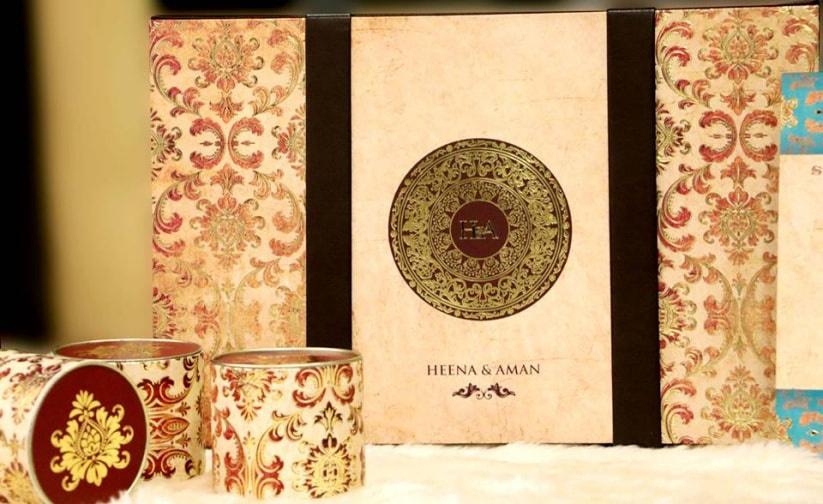 Silk, velvet, satin, handmade paper and metallic paper are the most commonly used materials in Muslim wedding invitation cards. These materials are mainly preferred because of their elegance and grace. The vintage look and feel from these materials enhance the aesthetic aura of the invitations and in fact, they speak of the royalty that the wedding is all about.
As for the designs, incorporating floral patterns (especially rose) and peacock motifs are very common in Islamic wedding cards. Look for some beautiful card designs by Minhaj Art Centre and Indian wedding cards who design creative and gorgeous wedding cards at par with your taste and requirements. You can add a personalised design and touch to these mainstream ones to make the card more close to your emotional investment that is vested in beckoning your friends and family to bless you and grace the big day with their honourable presence.
Best of both worlds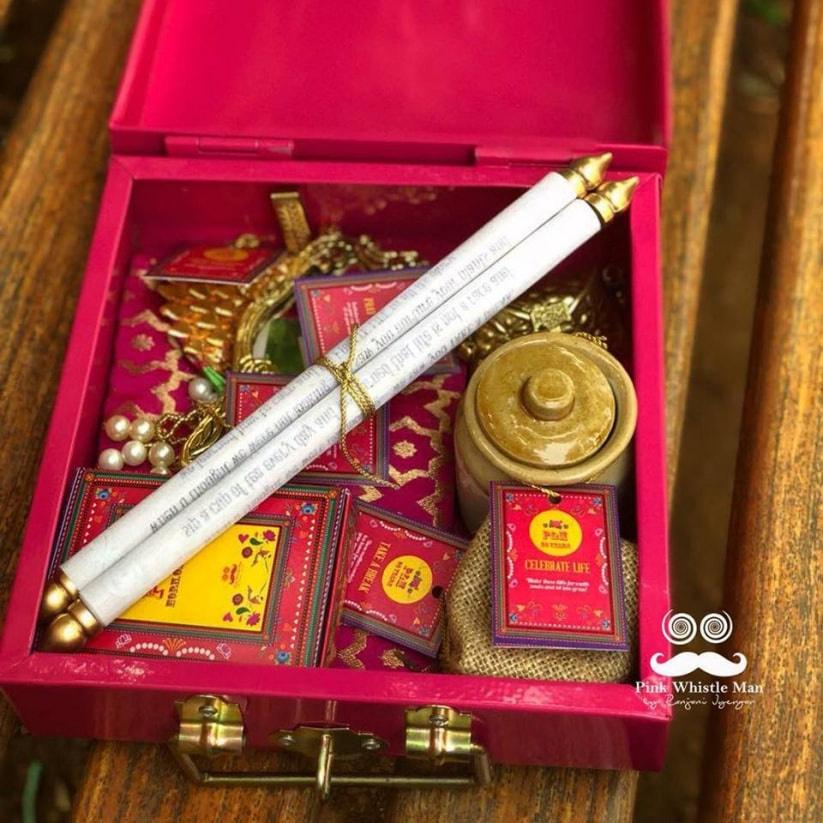 If you're torn between the traditional wedding card styles and contemporary designs, there's good news for you. You can have both! Here are a few ideas where you get to enjoy the best of both worlds while choosing Muslim wedding invitation cards for yourself:
Scrolls - Vintage is never out of fashion. Add a little regal touch to your wedding invitations by opting for invitation scrolls. It's stylish, classy and it gives the feel of a good old "Farman". Your invitation card will be in vogue with contemporary designs and colours while upholding the essence of the history of these rituals.
Add-on cards - Another interesting trend catching on among the millennial couples is the inclusion of matching add-on cards along with the wedding invitation card. Include separate cards for "Save the date" "RSVP" as well as "Mehndi", "Nikaah", "Walima" etc. This would keep the traditions intact while adding some modern elements to your invitations.
Digital invites - Prepare exclusive video messages, webpage or e-invites including every Islamic wedding invitation component in them. For example, if you're sending a wedding invitation through Whatsapp, don't forget to incorporate the traditional symbols or icons. Take a look at digital invitation designs by PINPRO and The wedding studio by Oh!SoBoho for exciting ideas.
A few essential wordings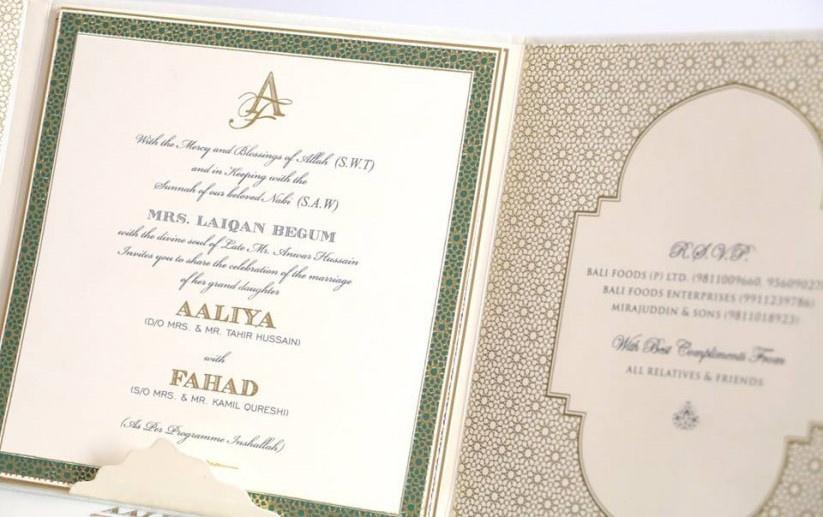 Almost every Muslim wedding invitation card follows certain decorum when it comes to the invitation wording. For example, it usually begins with the name of Allah and invoking His blessings on your auspicious day:
"In the name of Allah, the most beneficial and merciful
Mr Syed Mohd. Rashid and Mrs Zareena Rashid
Cordially request the company of (Invitee's name) and family
To grace the joyous occasion of the wedding reception of
Their daughter
Kulsum
With
Zunaid
Son of Mr and Mrs Kazi Nazrul Aslam
DATE:
VENUE:
TIME:"
Or sometimes it could be a Mehndi invitation just for the ladies!
"Rasm-e-Heena
Of
Nadia
Invited by:
Sehr, Kulsum, Uzma, Shakeela and Mezba
On November 22, 2018
7.00 pm onwards at Sainik Farms
P.S. Ladies only please!"
Wedding invitations are your way of announcing to the world that you've finally made the decision of taking the big leap of faith and begin the new journey together with the man who has your heart and you want your loved ones to be a part of your celebration. For them who have invitees spread all across the globe, you can choose digital invites for the sole reason that it is more convenient to send an e-invite rather than a physical one for which you have to rely on the delivery vendors for its safety. But whether it's a digital invitation or a paper one, the core idea is to make your guests feel wanted and that their presence on your occasion will be appreciated; to share your happiness with them and ask for their good wishes and blessings.
So take cues from the article for creating unique, innovative yet simply beautiful Muslim wedding invitation cards that carry your message across in the right way to your near and dear ones.
Do you need help for designing your own wedding cards? Get in touch with our wedding invitation specialists right now.