Create the Perfect WhatsApp Wedding Invitation Message Now
Did you know WhatsApp wedding invitation messages are one of the most popular ways of sending invites in today's world? Read on to know how you can send one too!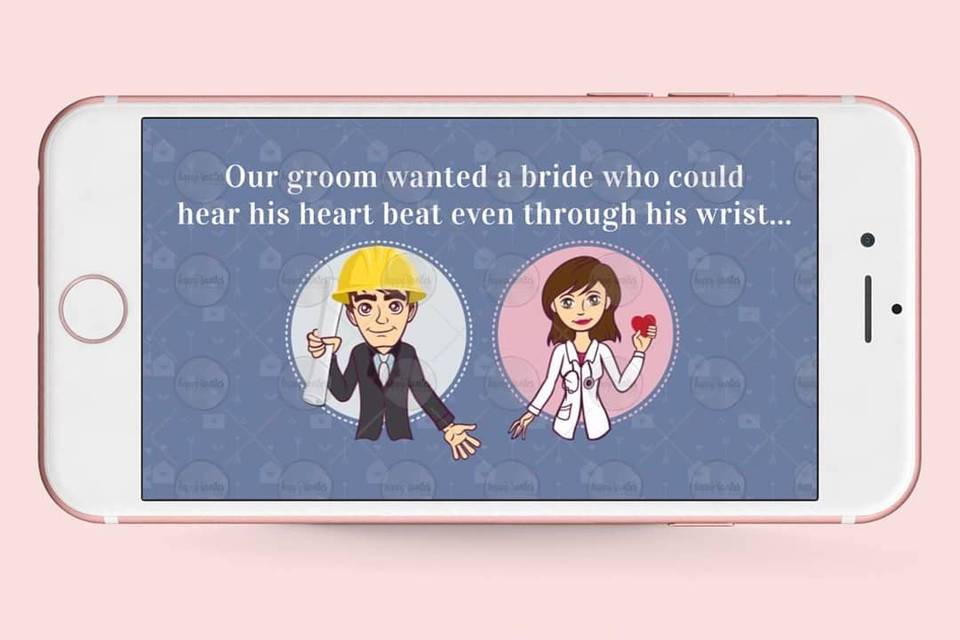 We will have to pretend we are older than we actually are to say there's a lot that has changed when it comes to the millennial way of doing things. This statement also includes weddings and the way wedding invitations are sent out. Earlier they were only printed cards on paper where certain family members were assigned to the task of handing them out by visiting each household that is on the guestlist personally. However, nowadays invitations have evolved and other alternatives like boxed invitations with wedding favours inside them have come into the picture.
While the world of weddings is fast evolving and anew trend pops up every season, you must be wondering what could you do apart from the traditional wedding cards for your own big day preps or for your BFF's wedding or maybe for your brother's wedding? The world is turning to digitisation more and more, in fact, we have an entire app dedicated to helping you plan a wedding online from the comfort of your couches. This is exactly why we suggest you try your hand at sending out Whatsapp wedding invitation messages.
Most people these days are dependent on WhatsApp as one of their primary mode of communication in their day to day lives. Making the most of this very fact, invite your wedding guests through a Whatsapp wedding invitation message. We will help you create a flawless WhatsApp wedding invitation message for your friends and family. Read on to know the answer to all your "How-tos".
How to Create Whatsapp Wedding Invitations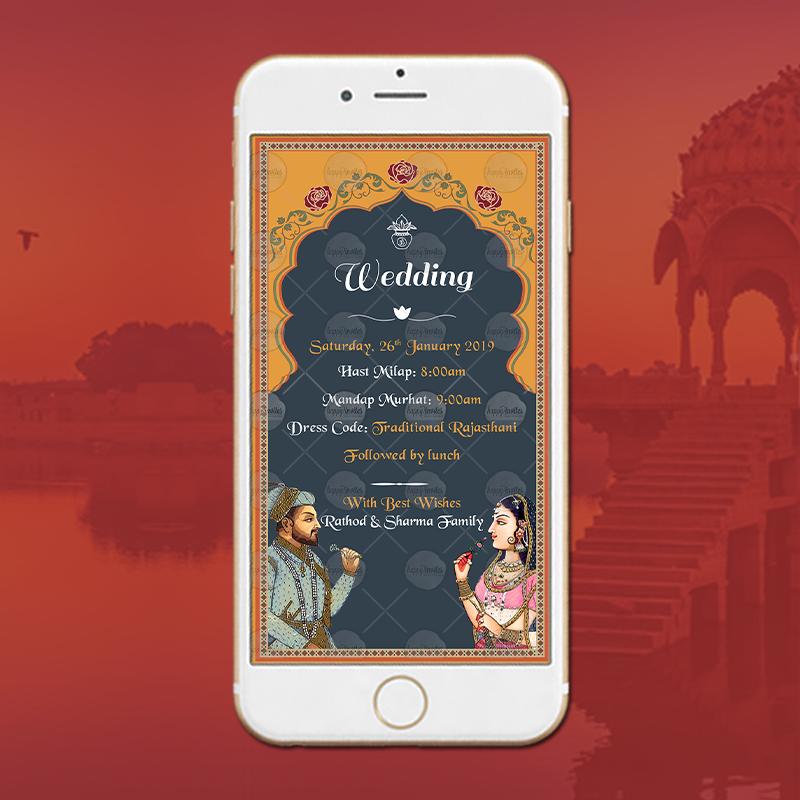 Be it a simple WhatsApp message to your BFF reminding her about her duties to a family group on WhatsApp to discuss the plan for wedding shopping - WhatsApp has been that bridge we all are grateful for helping us communicate with ease, especially after going through the unprecedented times that 2020 brought. We found ourselves sending WhatsApp invites to our friends and family to dress up and participate in the virtual wedding ceremonies streaming through Zoom and other similar apps. WhatsApp wedding invitation message to friends, family and even colleagues have become a new trend and how!
Now there are certain WhatsApp invitation rules and etiquette that need to be considered before being able to frame the perfect WhatsApp wedding invitation message and we are here to guide you through it all to make that one in a million WhatsApp marriage invitation that you can send to your loved ones asking for their presence on your wedding.
You can create the invitation templates online for free on various websites and apps like Canva, Evite, PSPrint, PicsArt, Photoscape and so on.
The content for your WhatsApp wedding invite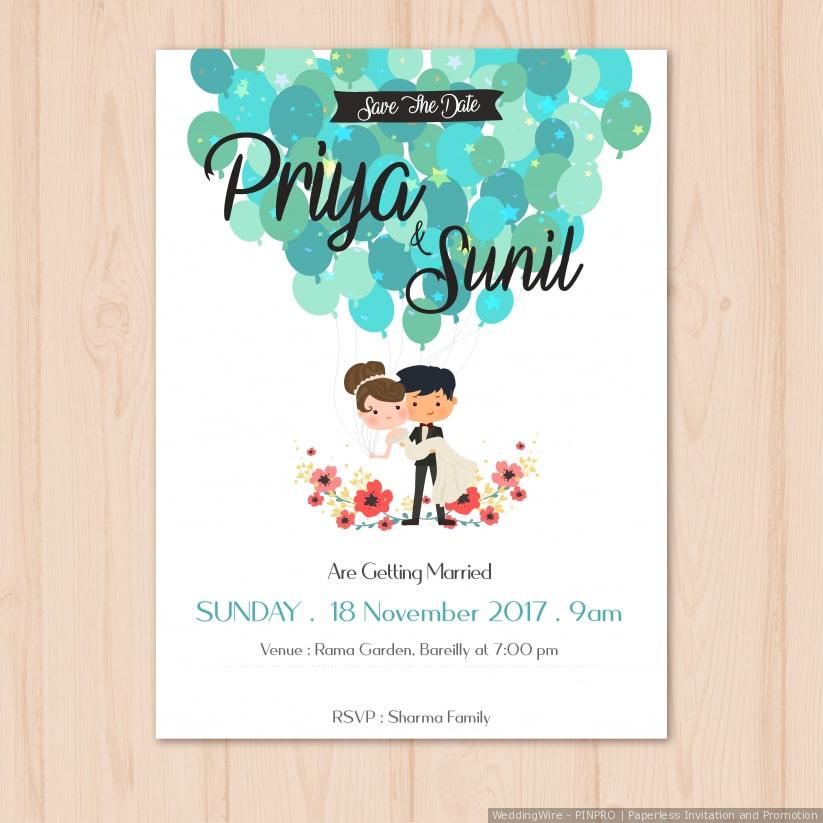 Your Whatsapp wedding invitation message should be something personal, warm and straight from the heart but not very casual. You can keep it fun by adding personal quotes like "He finally popped the question and she definitely said yes! We are tying the knot on..." Or "After dating for 5 years and travelling over 5 countries together, we have finally decided to tie the knot on...!"
Don't forget to add the correct time, date and venue for the wedding invitation before sending them through! You can also attach a Google Map links of the venue for ease of access of the guests. For instance, take a look at the WhatsApp wedding invitation message template below:
"Mr Rahul & Mrs Shikha Kohli
Are pleased to invite you to the wedding of their daughter
Richa
&
Ranjeet,
Son of Mr Jiten & Mrs Radha Singh
Which will be held on:
Saturday, 8th March 2020
05:00 pm - 09:00 pm
At JW Marriott, Delhi
Your presence will be much appreciated
Regards"
Now the above mentioned WhatsApp wedding invitation script is a more formal one, on behalf of the parents which is the conventional way. You could also make it super fun and quirky by adding a personal touch like:
"She finally said yes!
After going to 75+ restaurants and numerous dates, we have decided to tie the knot!
Its finally happening on the 8th of March 2020 at JW Marriott, Delhi.
Time: 05:00 pm.
Your presence is much-awaited"
What to send? A video or an image?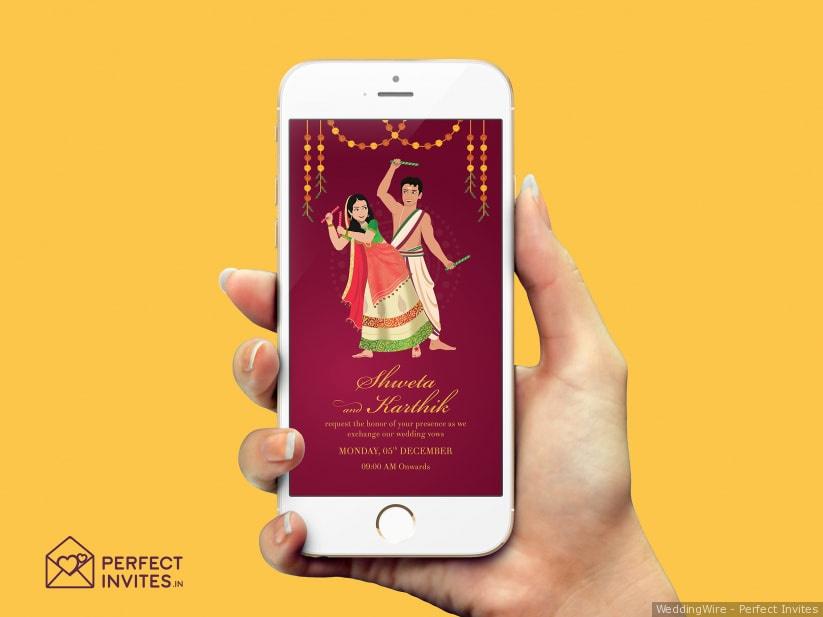 Now that your Whatsapp wedding invitation matter is sorted, the big question is whether you should send out the invite in the form of an image or a video. We like to believe that you should save your pre-wedding video shoot content for social media. Go for an invite in the form of an image instead! This way you can add the address and date on the image and it is easier for your friends and family to understand the venue and other details.
Should it be an illustration or an image?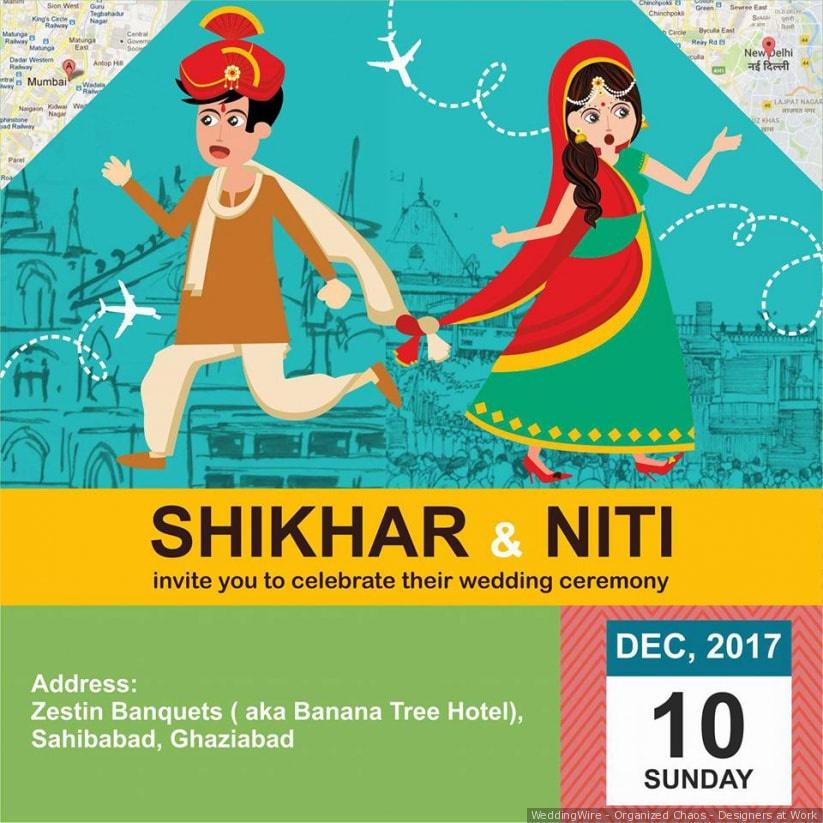 A wedding invite in the form of an image usually contains the save the date concept. Why not do something different this time around? You could get your graphic designer friend (don't we all have one) to create an illustrated card for you!
You can personalise the card to your liking, such as, if your fiancé is a PUBG fanatic, you can illustrate him as playing PUBG in a groom's attire and you staring at him from behind. And as far as your Whatsapp wedding invitation message is concerned, you could add some quirk related to the same theme. This way your message can be the shortest possible and conveyed in a crystal clear manner. Details become easy to skim through and simple to remember with an illustration.
How long should your Whatsapp invite be?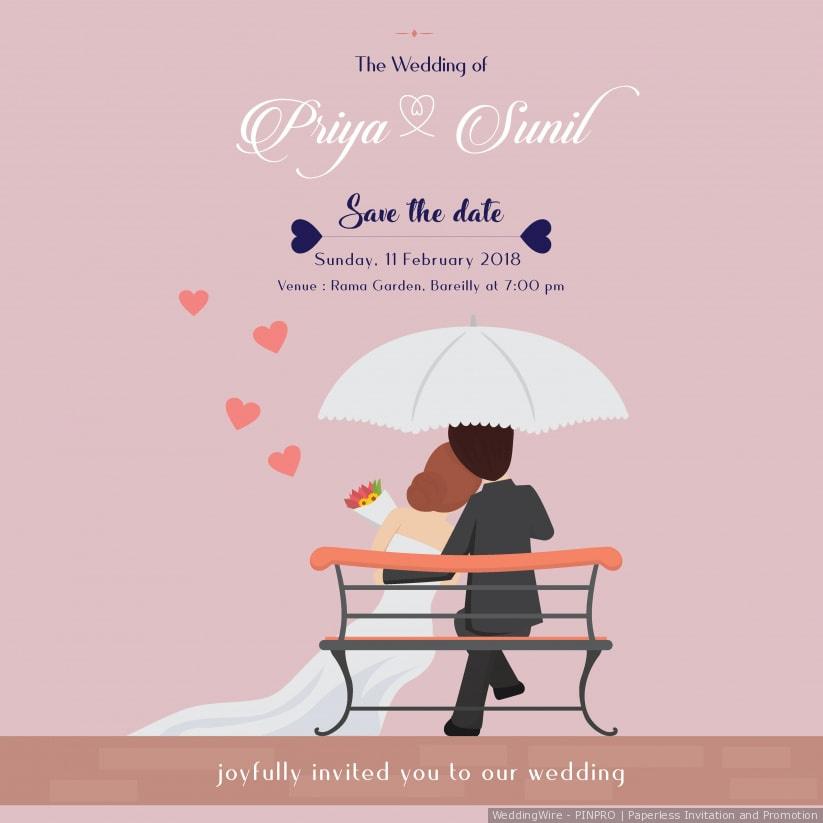 Keep in mind that the point of sending a Whatsapp invite is that it is quick, cost-efficient and hassle-free. Keep your Whatsapp wedding invitation message as crisp as you can. You don't need to add everything that a traditional wedding card would contain like your parent's names and educational qualifications, as required in traditional South Indian wedding invitations.
You should simply add a quote and the location, time and date of the wedding. You can physically type out a little more detail along with the image. You could say: "We are happy to announce that we are tying the knot and we'd love to have you be a part of the celebration..." or you could even use a song quote to give it a quirky twist.
Whom to send & not to send the invite to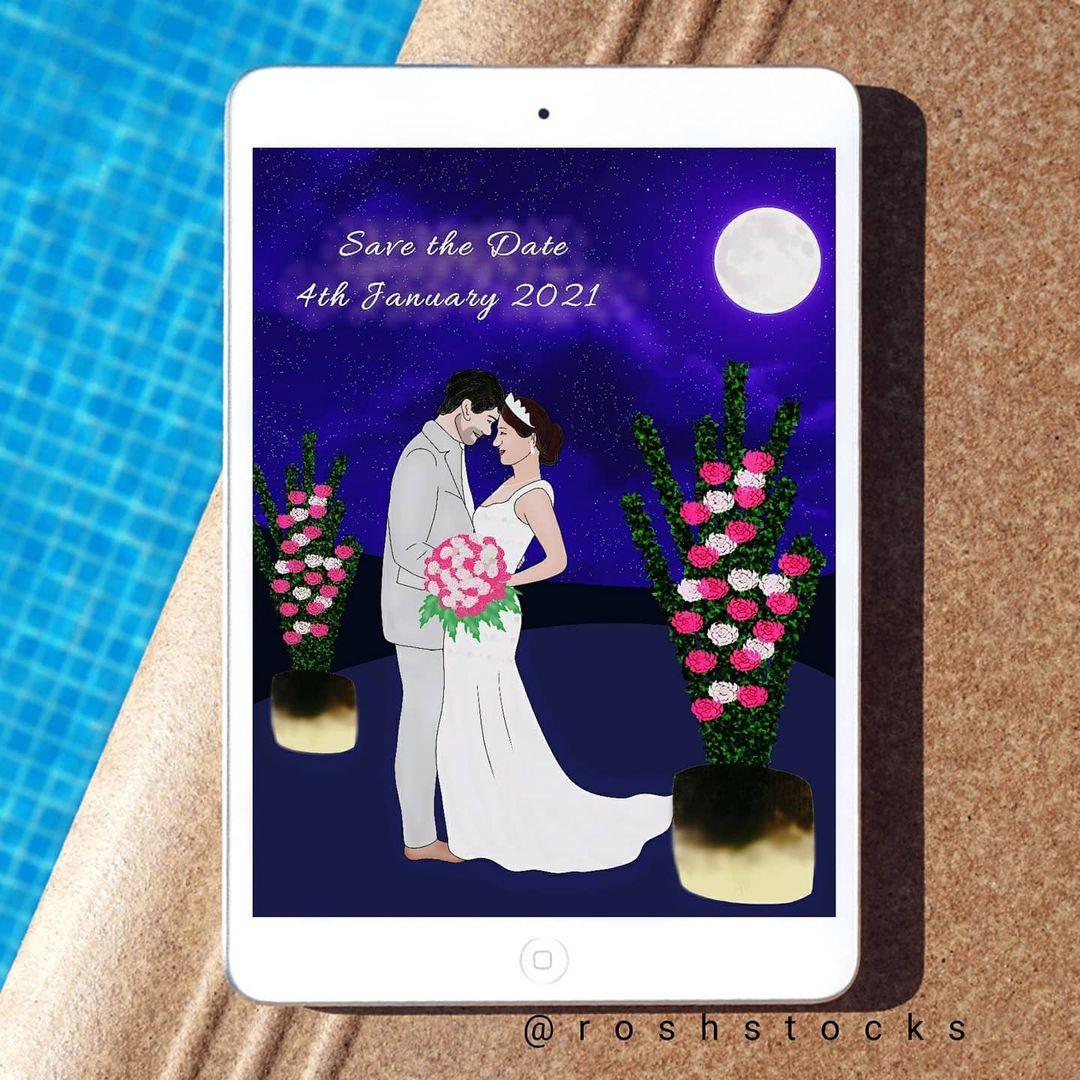 Image Courtesy: Rosh Stocks
Make sure that you send out the invite personally to people you want to invite and not in a Whatsapp group. Your friends wouldn't mind receiving your wedding invitation on Whatsapp but some of the elders might not be so open to the idea. Thus, it is best if you omit the elders of the family or a few of your parent's friends circle from sending a Whatsapp invite, as they might not be so tech-savvy.
You could print out a few traditional cards with different content from your Whatsapp wedding invitation message and send them to the non-active members of your guest list! Thus, it will be a win-win for all.
Other new trends and ideas for a digital invite!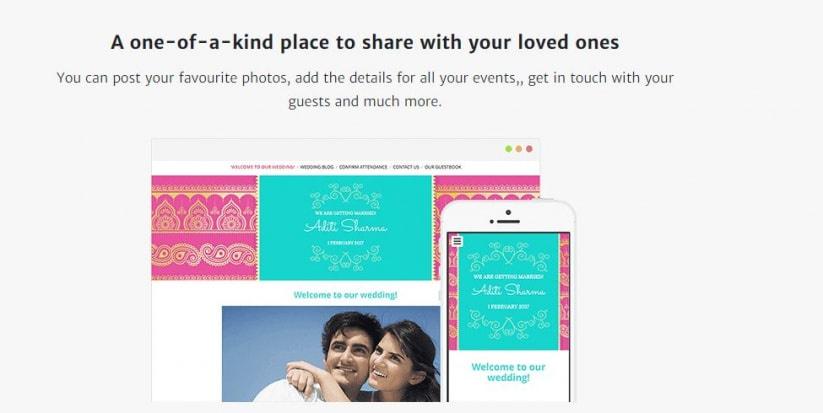 The other ways that you can send out a wedding invitation is by making a website of your own. This website can contain your pre-wedding shoot and the Whatsapp wedding invitation message as well. You can also add a timeline of your relationship and your story about how you met and fell in love! You can simply log on to WeddingWire for this and get your own wedding website made. Also, not only this way is cost-efficient but also saves a lot of time and is a super creative idea for a wedding invitation! Everything will be done with just a click of the button while you are resting at home. A website would also give you the facility of knowing the actual number of guests attending your wedding ceremonies with the help of the RSVP feature.
The bare-bones - Crafting a Whatsapp wedding invitation message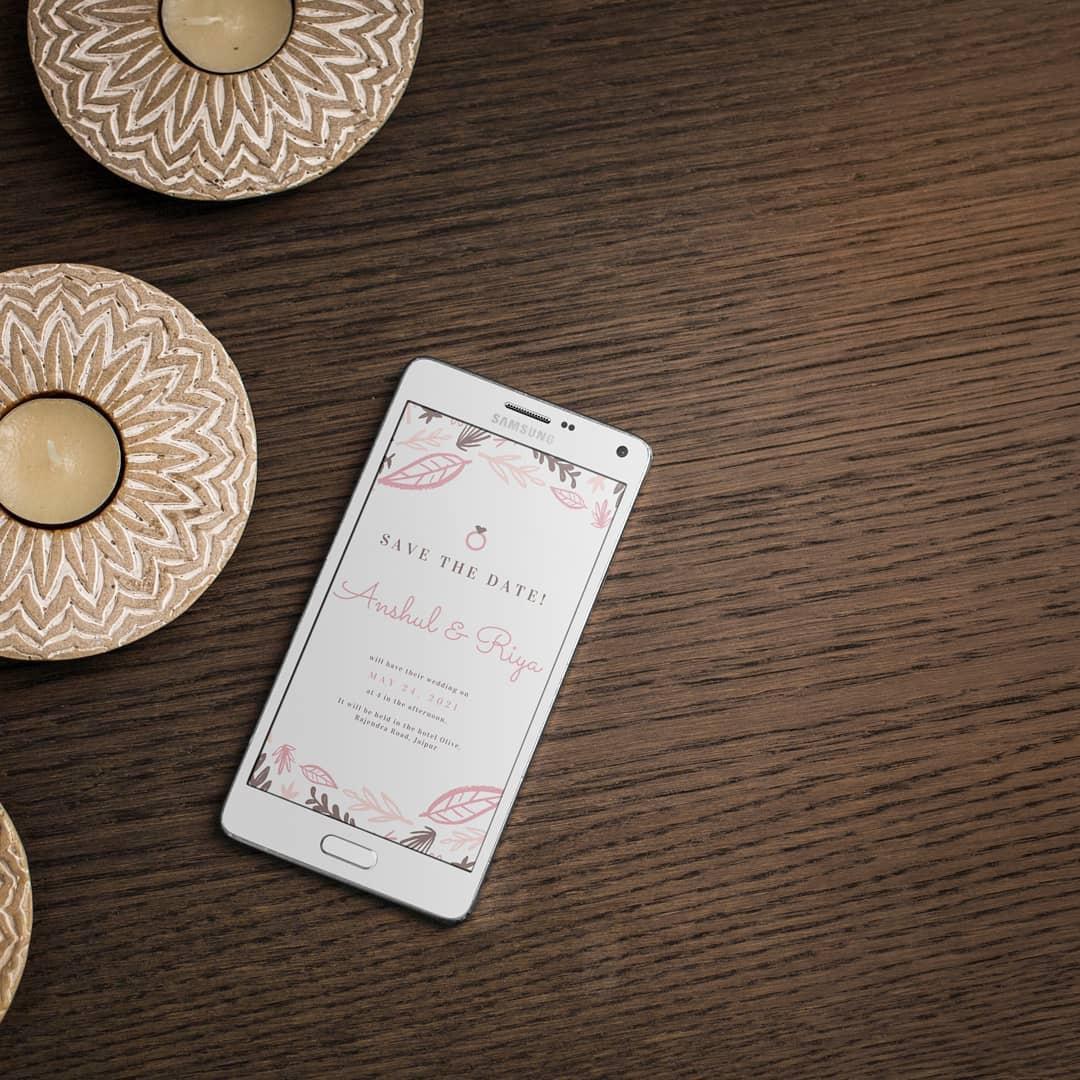 Image Courtesy: Send It Invites
Now that we've explored all the details that impact a Whatsapp wedding invitation message, let's now get down to everything that you can include in your special message. Apart from the core wedding card matter, this includes all the visual details that make for a unique invite. Do note that these details are specific to a digital invite.
These details lead to a stellar first impression on a Whatsapp wedding invitation message -
Moving, visual elements
One of the best scoring elements for an e-wedding invitation over a conventional, printed card is the ease with which we can include audio-visual elements to it. These include GIFs, videos, illustrations, sound bytes and even comic files to your existing cards.
Monograms
Adding a grand monogram or a distinctive signature to your card is expensive for a printed invitation, as it occupies a lot of prime space. However, it's a pretty easy (and impressive) addition for an e-invite. It also adds a stroke of personality to your message.
Visual personalisations
Imagine having caricatures on your Whatsapp invitations. Again, this is quite easy to achieve, provided you've cracked the right digital invitation vendor for the task. Include close resemblances or comic turns for the to-be-wed couple and enjoy the smiles you're bound to receive for them alone.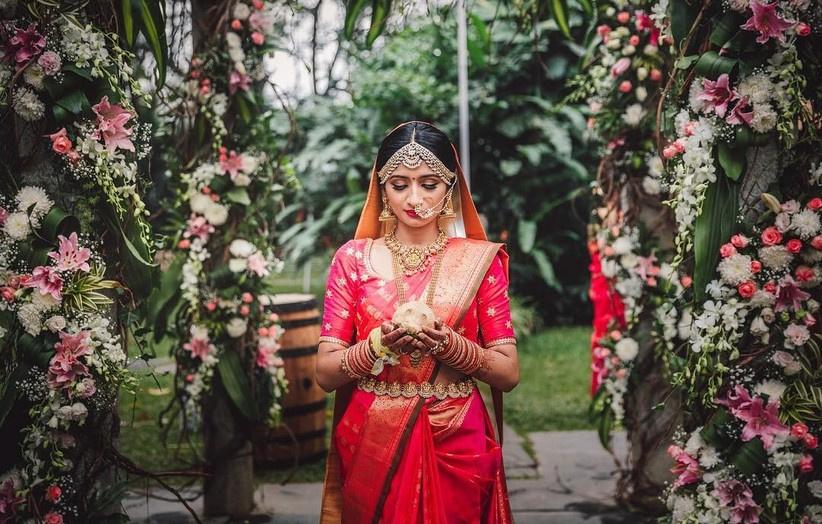 The Whatsapp wedding invitation message trend is growing with time as more of gen-Z is getting married. By opting for this method of the invite, you will save on printing cost, mailing cost, commuting and whatnot. Also, let's not forget how you save the environment a tiny bit as well (yay!). You can now just sit in the comfort of your bed and air conditioning, and invite most of your family and friends. Just keep in mind these small details and in no time you will be gaining praises for being creative with your Whatsapp wedding invitation message! Also, send this to a friend who is obsessing and panicking over his/her wedding invitation!
Now that you know what to do, go ahead and pen your own Whatsapp wedding invitation message!