Wedding Reception Entrance Ideas For The Wedding Of Your Dreams
Designing opulent entrances is the first step of creating a stunning décor. These wedding reception entrance ideas will surely help you in creating one for you.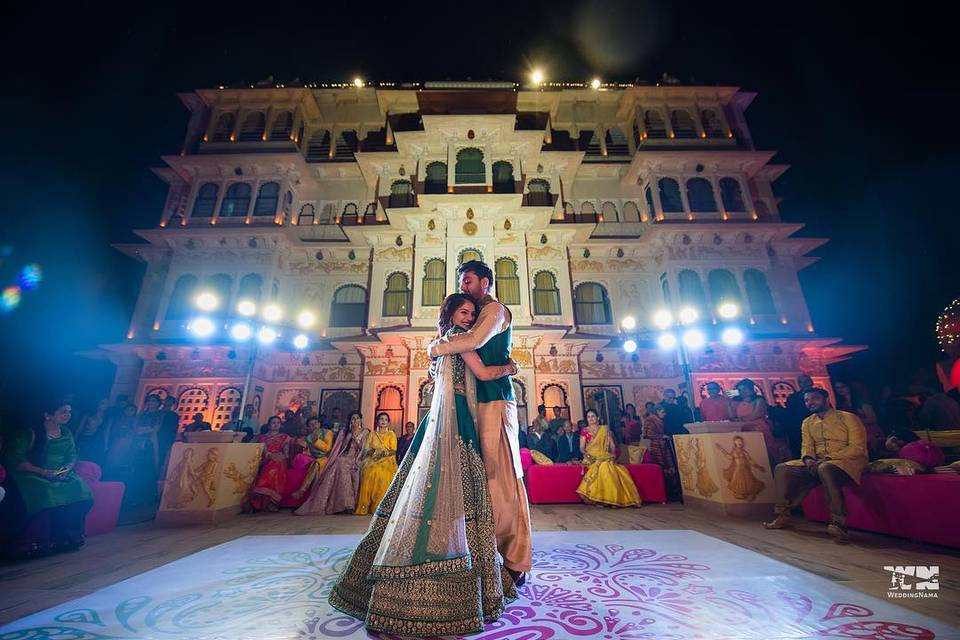 When we think of décor ideas for weddings, the first thing that comes to mind is the grand entrance you see. When you and your wedding planner decide on the decorations of the different ceremonies of the wedding, you need to make sure that you are clear about the kind of entrance you want at the event space.
It not only acts as an entrance but also as a place to get some stunning pictures, not just for the bride and groom but also for the guests that attend the functions. Talking about different wedding functions, you should make sure that every idea for entrance is different from each other. The wedding reception entrance ideas, flowers, lights, lamps and the use of different colours are just a few things you can experiment with to create some stunning images.
Let us explain how you can create such entrances using some beautiful wedding reception entrance ideas.
1. Chandelier of flowers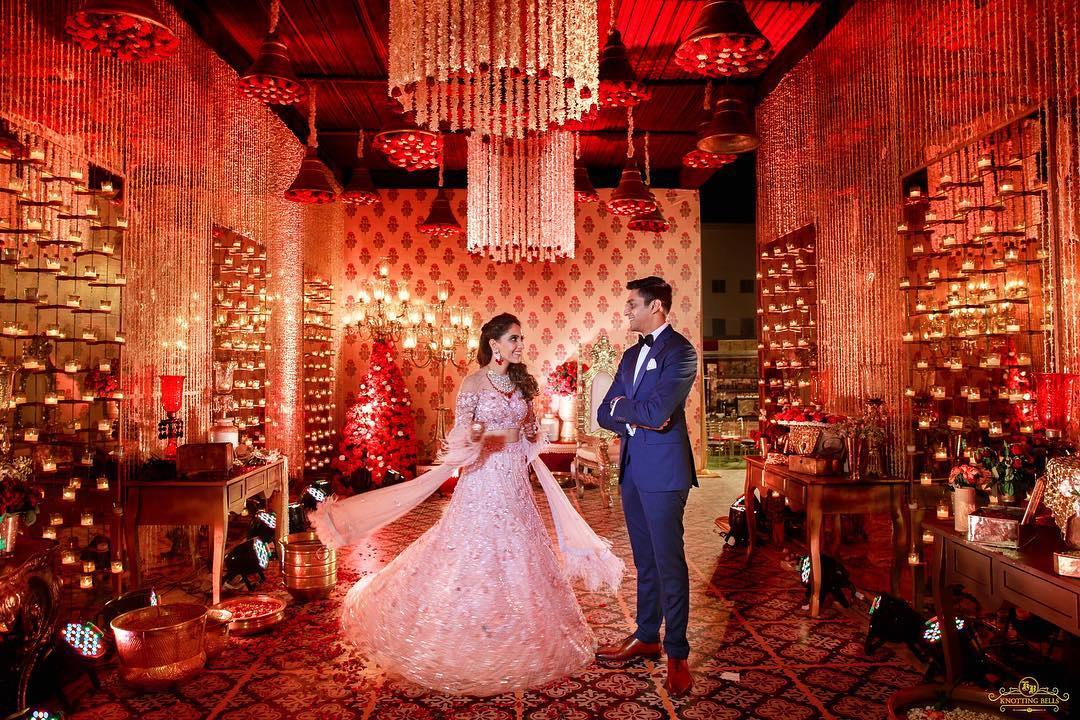 A basic chandelier made of glass is one of the most common wedding reception entrance ideas. To stand out, you should opt for an idea that uses a chandelier of flowers that welcomes everyone at the entrance.
Make sure that the colour of the flowers is white or some other calm colours like turquoise or baby pink. You then just need some bright lights to make it a beautiful setting. You can also think about adding some furniture and lamps to create an even better décor.
2. The perfect wall to get stunning pictures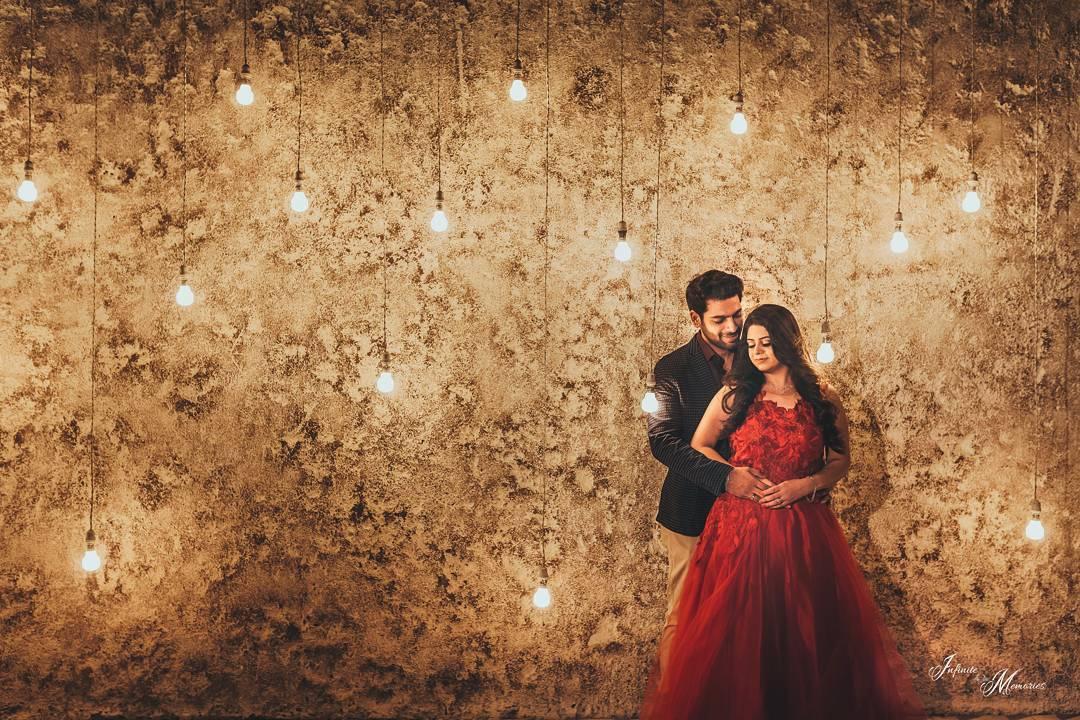 Nowadays, it is not just the grand arch type entrances that matter, but also a wall of art to get stunning pictures. Textured gold and black wall should account for a great background.
Add to that the hanging bulbs to provide a sufficient amount of light to get some beautiful shots. It looks more like wallpaper and can act as a pseudo photo booth as well.
3. Create artificial trees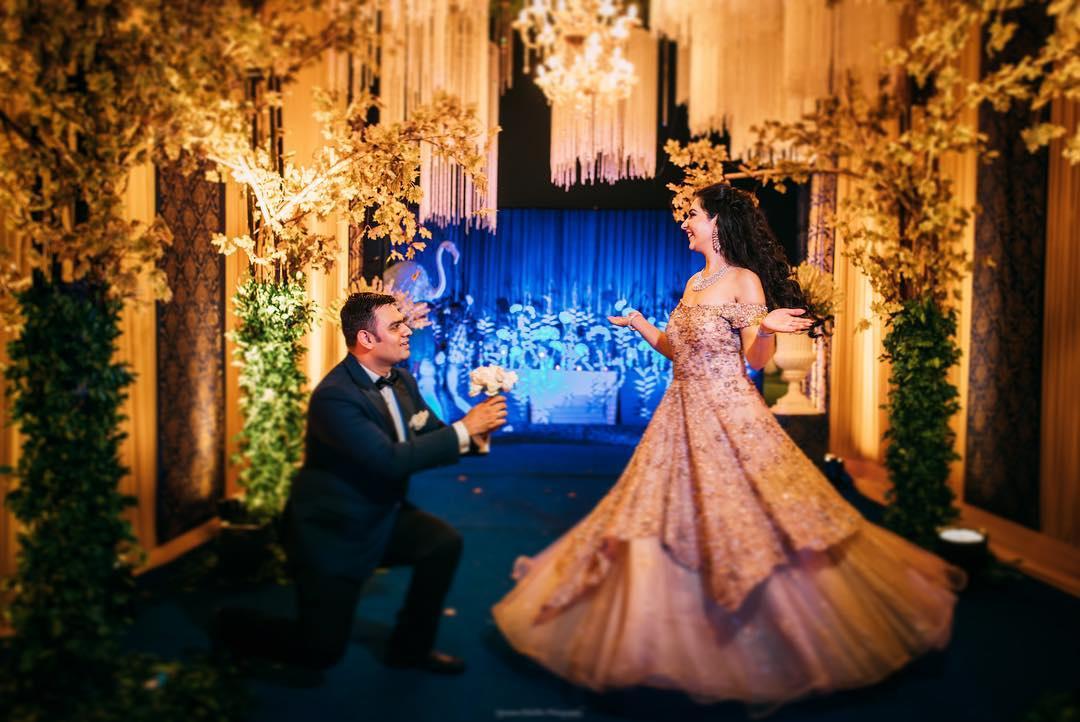 Creating artificial trees with golden and green texture and even hanging ferns is a great way to create a grand entry. The use of colours like golden, green and white is one way to make sure that you have a really beautiful entrance, making it one of the best wedding reception entrance ideas.
4. Stairs leading to the ground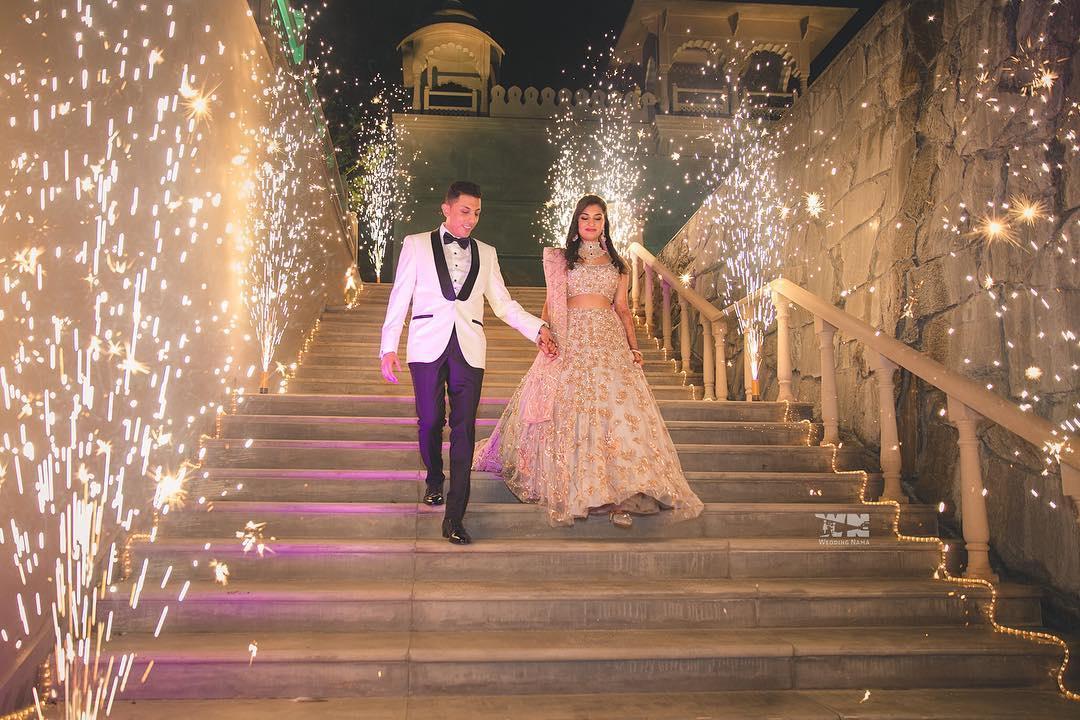 If you are hosting a reception in the interior lawns of a palace or a heritage hotel the stairs coming down from the main building itself act as a royal entrance for you. To make such wedding reception entrance ideas even more beautiful, make sure that you do not go overboard with the decorations. Keep it simple with the lights, and use sparkles to create that magical look.
5. The red opulence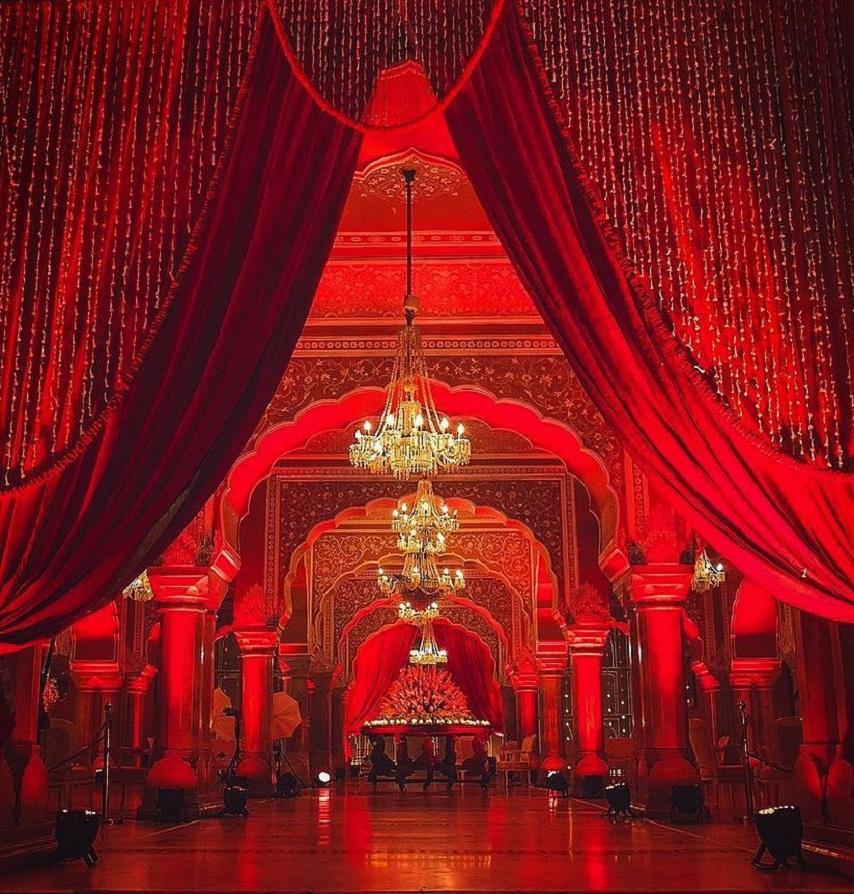 Image Courtesy: Shades Photography
Who does not love the colour red? Red stands for love and passion and if that is what you want with your entrance, then this opulent look should do the trick. Create that glamorous look with the use of red lights in the hallway of the entrance or the wedding décor you are using. The chandeliers and the long hanging curtains add to the opulence.
6. A simple floral arch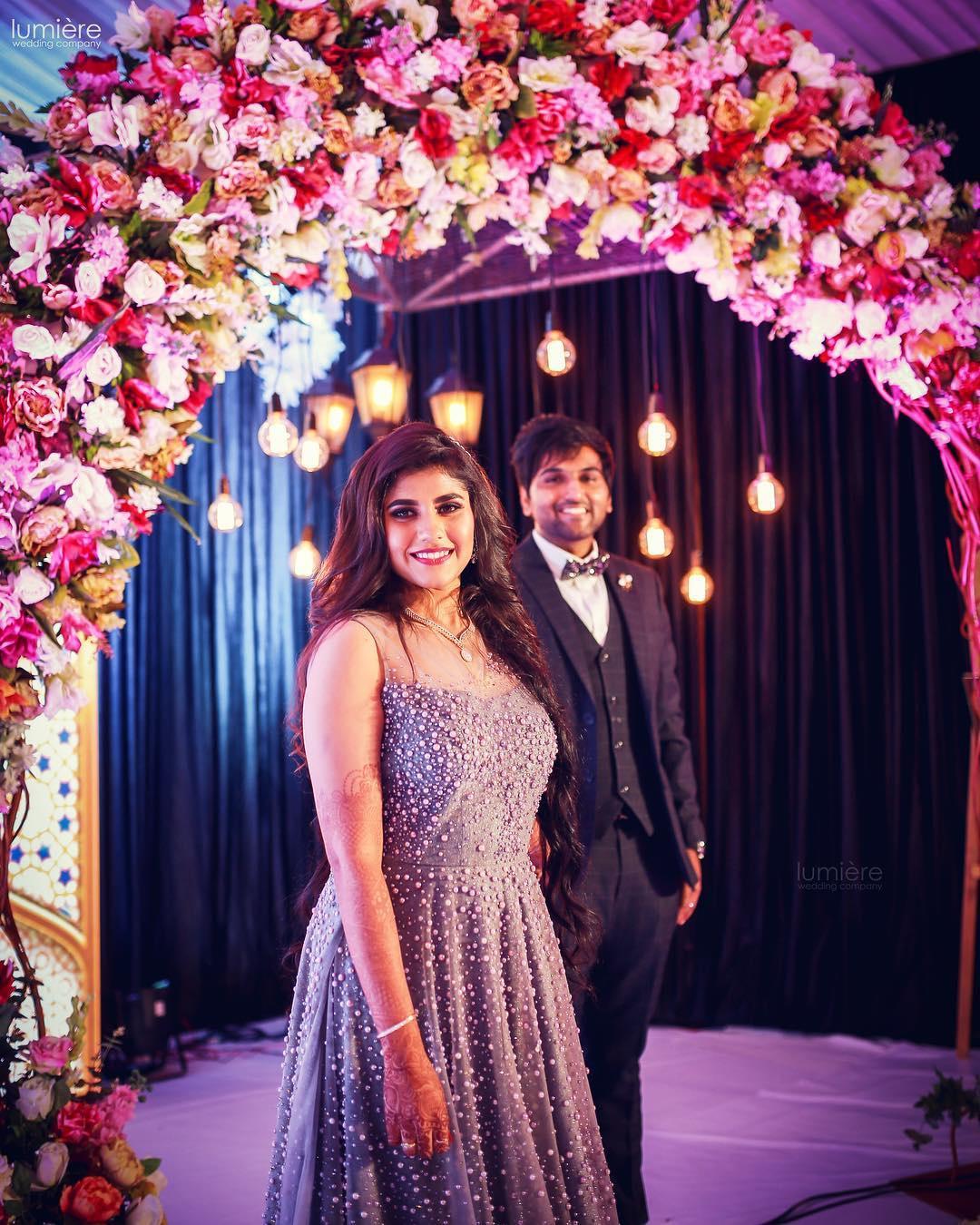 A simple floral decoration arch is a classic way to go about your wedding reception entrance ideas. A simple archway with flowers of multiple colours provides you with a colourful entrance. A few hanging bulbs will complete the look.
7. A stunning roof with hanging lights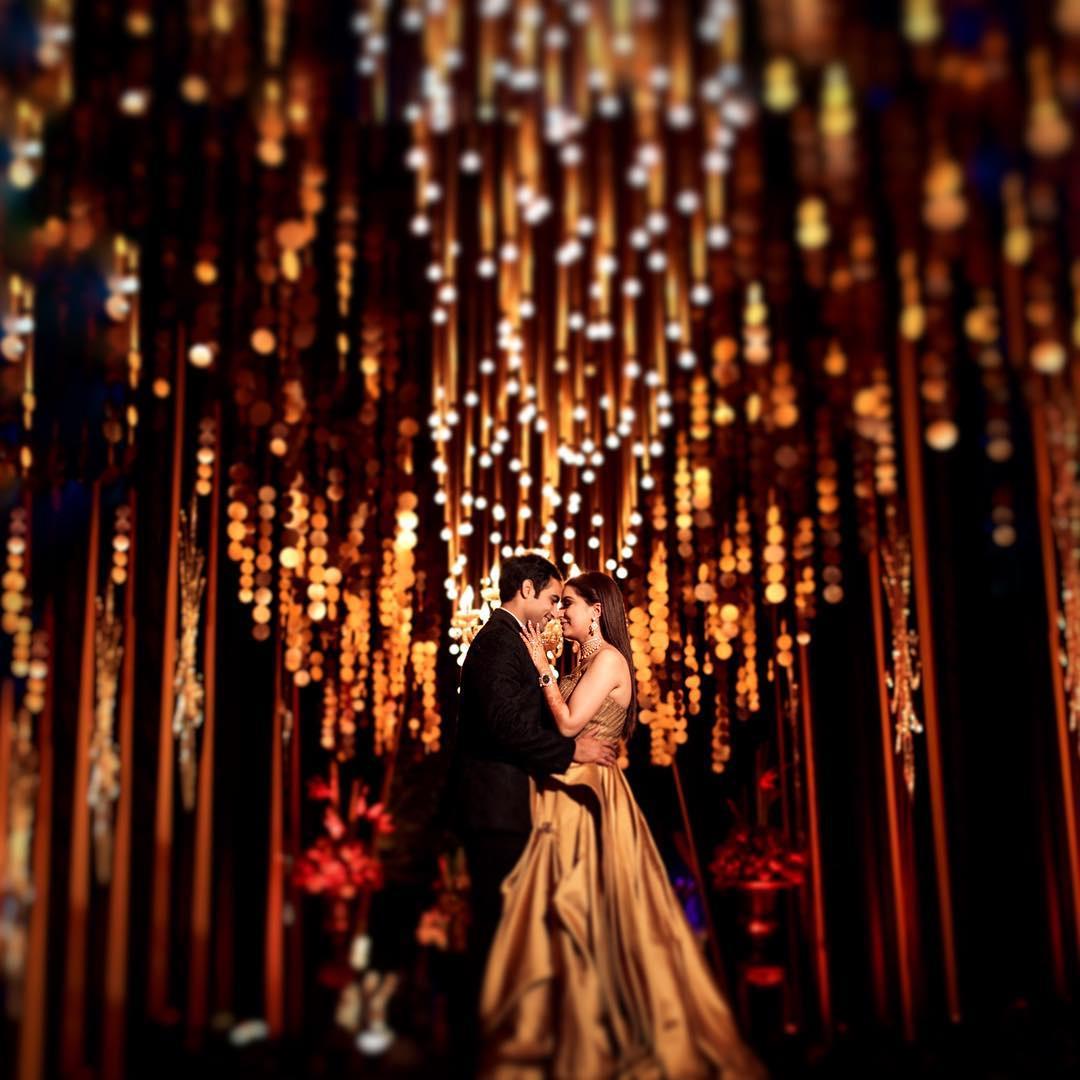 Adding hanging LED lights from a high ceiling can provide you with one of the grandest looks you can imagine. It makes for a stunning background to click low-angle pictures.
Moreover, it also provides a magical touch to the décor. Hogwarts' Great Hall vibes, anybody? If you are hosting an opulent engagement then this example wedding reception entrance ideas can help you get the best possible look. Or you can also try candle decoration ideas for a more vintage look.
8. A floor of roses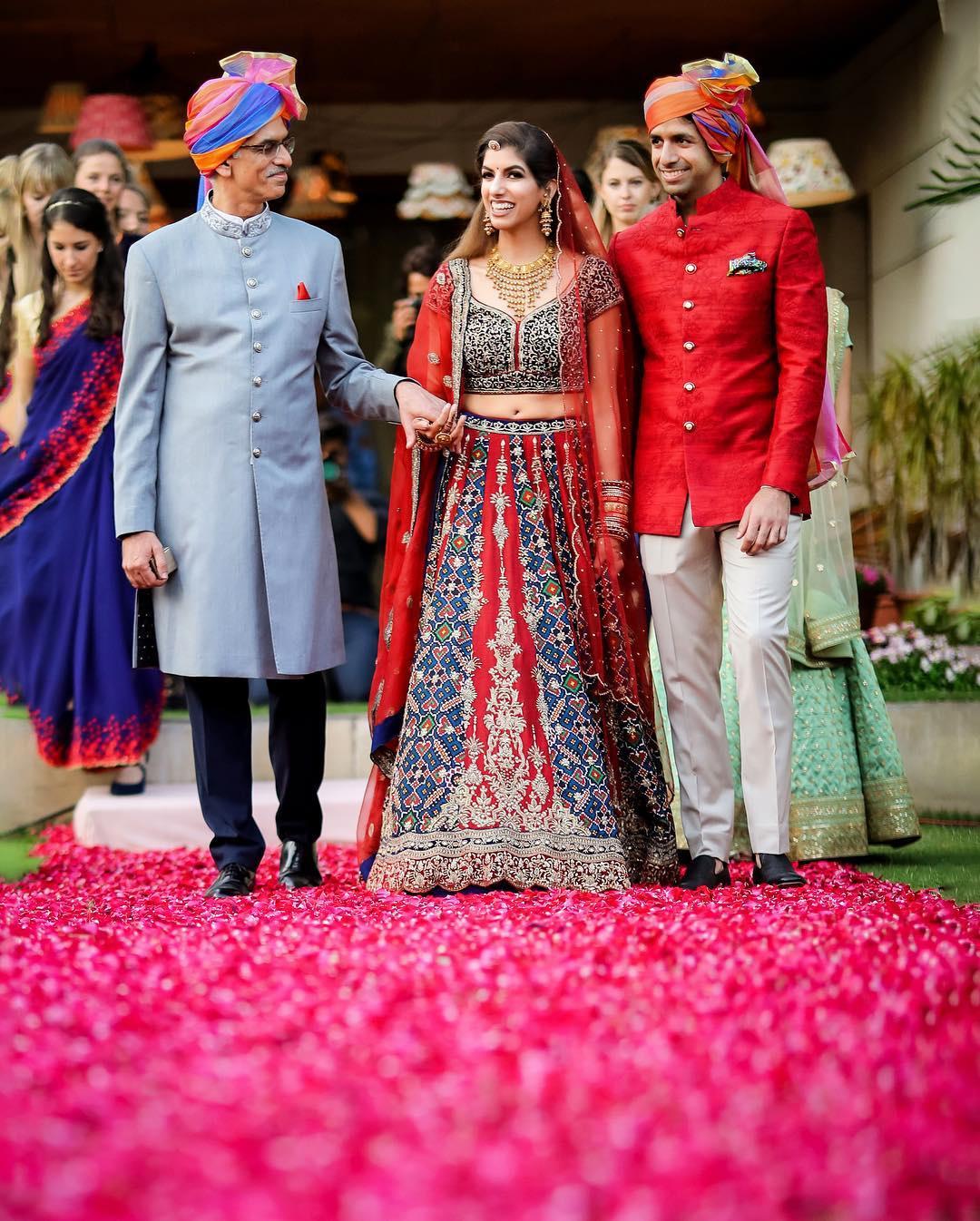 In one of the simplest yet most beautiful wedding reception entrance ideas we've seen, this idea of a floor of roses looks really great. With this simple look, you do not have to create huge archways or roof floors. Just keep it basic.
The entrance to your event space is the first thing that your guests see when it comes to the décor of the space and you do not want it to be dull in any manner. Make sure that you achieve the best possible design and by taking inspiration from any of the pictures listed here. One of the best ways to nail any of these styles is by creating a sort of design board or colour story that you can stick with throughout the venue. It helps to keep things looking super cohesive!
If you need more ideas regarding the décor of the venue, you should definitely reach out to these wedding planners who can help you with the same!