13 Trendy Velvet Outfit Ideas for the Grooms
Here are some of the most stylish & trending velvet outfit ideas for the grooms this season for inspiration. Pick your favourite now!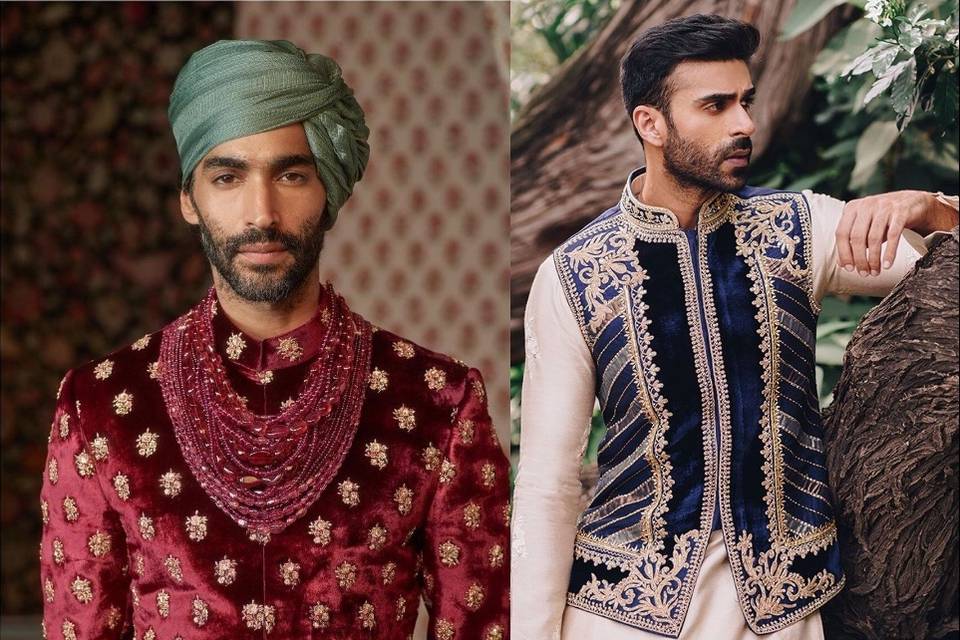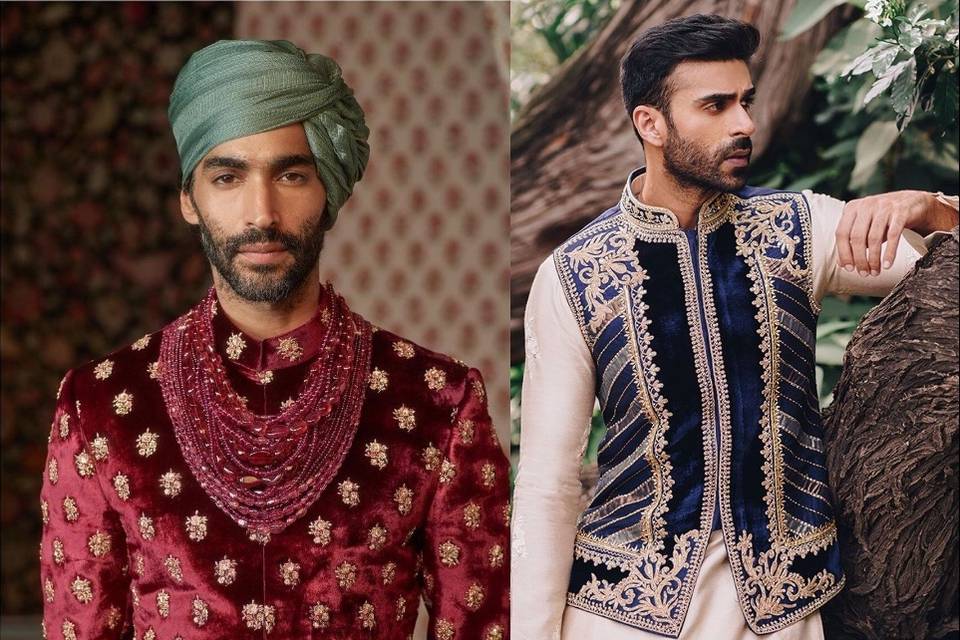 Image Courtesy: Sabyasachi (L), Mohsin Naveed Ranjha (R)
Winter weddings are at their peak in almost all parts of the country. And no winter wedding wardrobe is complete without at least one velvet outfit included in it. From velvet lehengas to velvet blouses, winter weddings are absolutely royal when it comes to picking outfits. In fact, when it comes to weddings, gone are those days when the focus would be only on what the brides would wear because with an array of classic designers today, the grooms have set themselves as a class apart with the latest and trendy outfit picks on their big day.
Right from velvet Nehru jackets to velvet Bandhgalas, the world of fashion for men has reached a new high. And to make those heads turn in awe, we have listed the trending velvet outfit ideas for groom below. Read on to know the deets!
Indo-western Bandhgala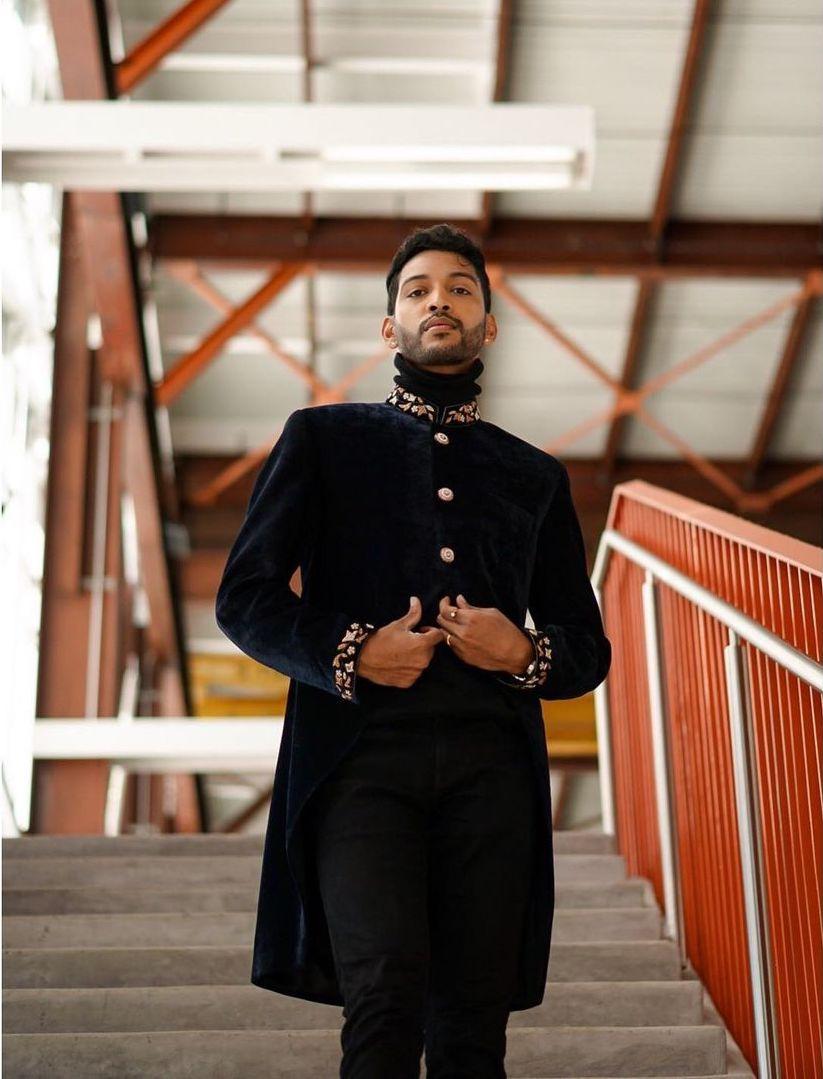 Image Courtesy: Antorvin Gomes in Rang De Posh
Flaunting this Indo-western Bandhgala with a turtle neck by Rang De Posh, Antorvin Gomes looks nothing short of a gem! Pair it with a formal pant or a black pyjama to rock that fun Sangeet ceremony look. The intricate embroidery around the wrist and neckline adds to the beauty of this design. You can pick a pearl necklace to add to the glam.
Maroon Velvet Sherwani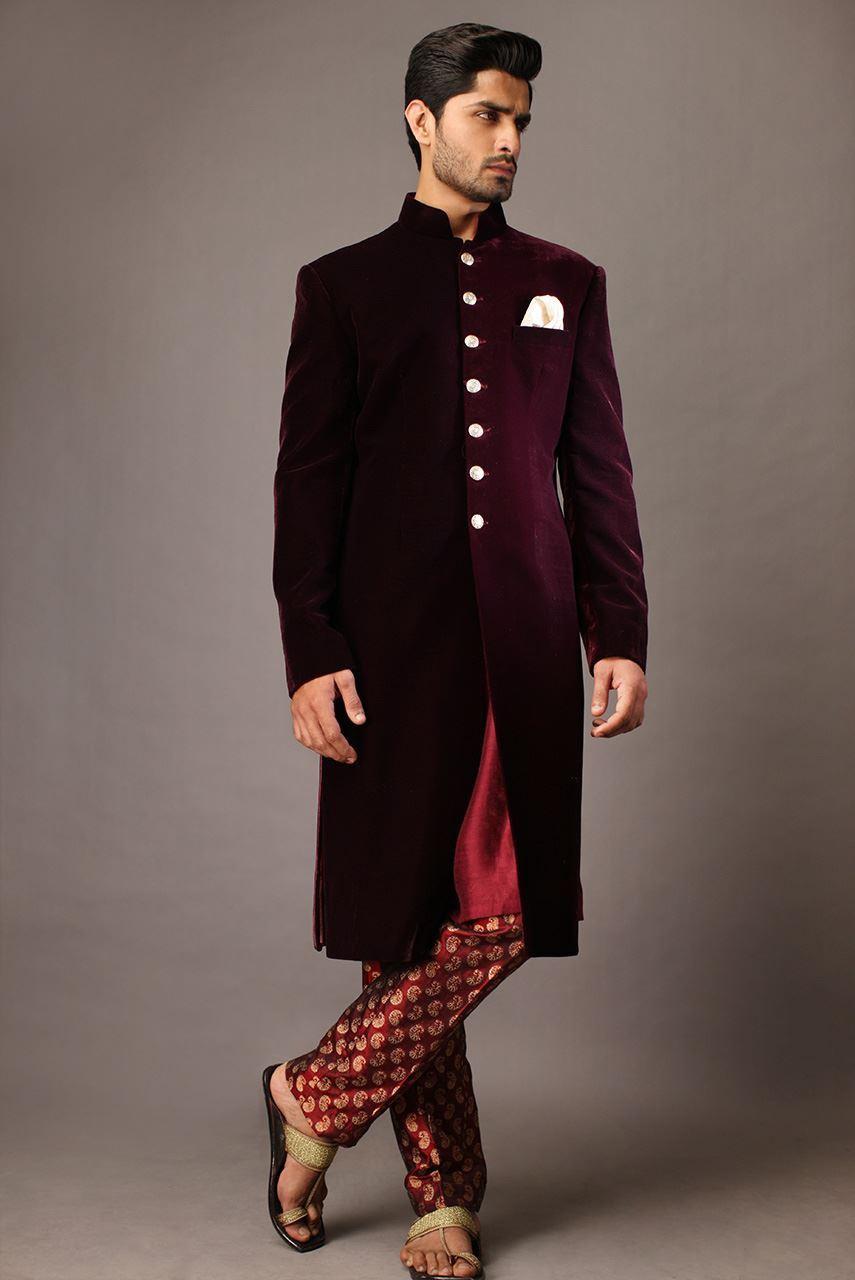 Image Courtesy: Deepak Perwani
This maroon velvet sherwani by Deepak Perwani is another classic design made for the grooms. This velvet outfit for grooms comes with metallic buttons and is paired with cotton kurta and Jamawar straight pants to complete the look. The regal outfit pick can be completed with golden Kolhapuri sandals for men and a contrasting pocket square.
Velvet Shawl with Embroidery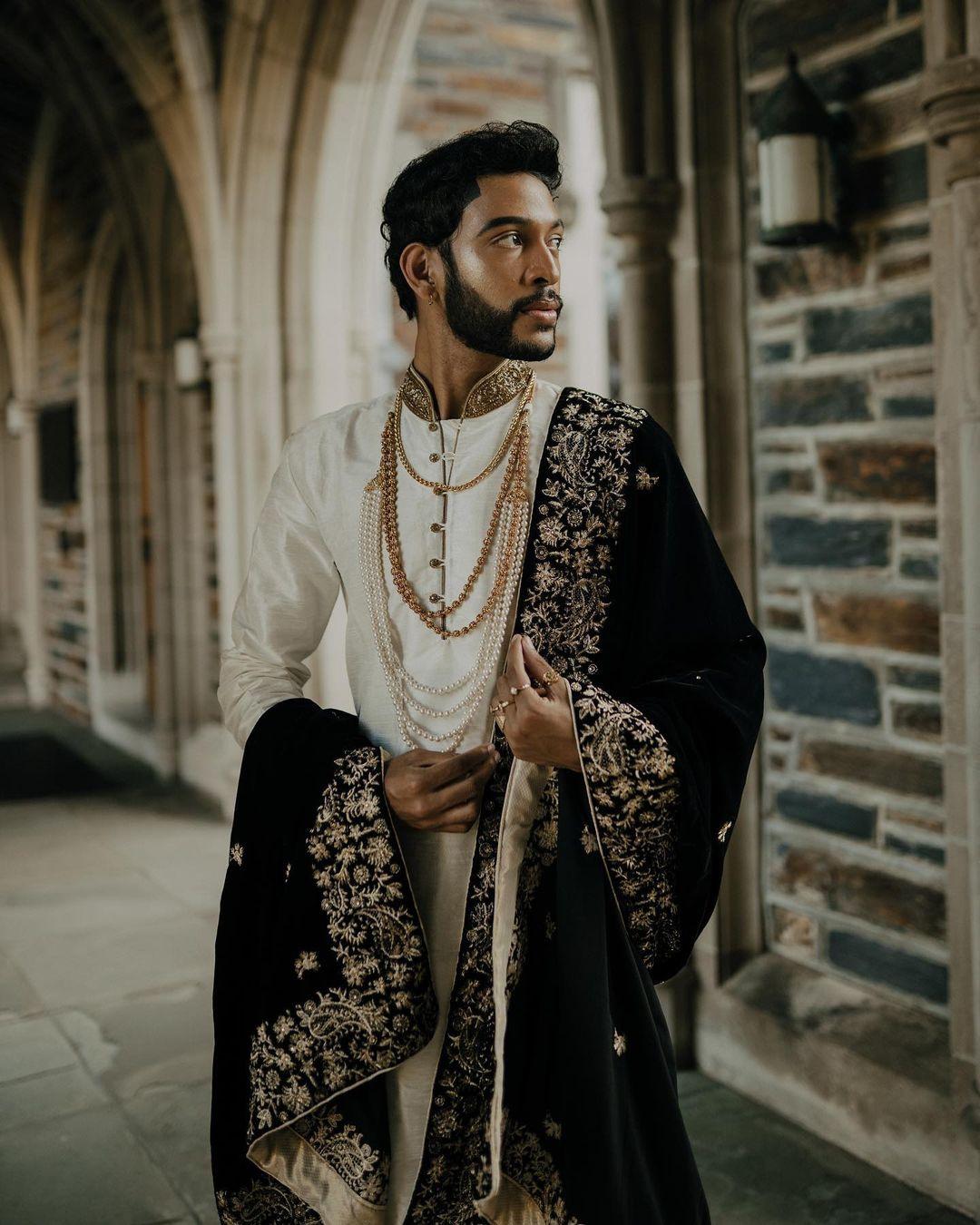 Image Courtesy: Antorvin Gomes in Sahar Creations
Another exemplary velvet outfit idea for grooms is an elegant velvet shawl. Pick any sherwani design of your choice and complement the look with a regal velvet shawl. This black velvet shawl with intricate zari detailing in golden thread is from Sahar Creations. Throw in a beautiful Satlada haar and work the magic on your D-day.
Midnight Blue Overlapping Bandhgala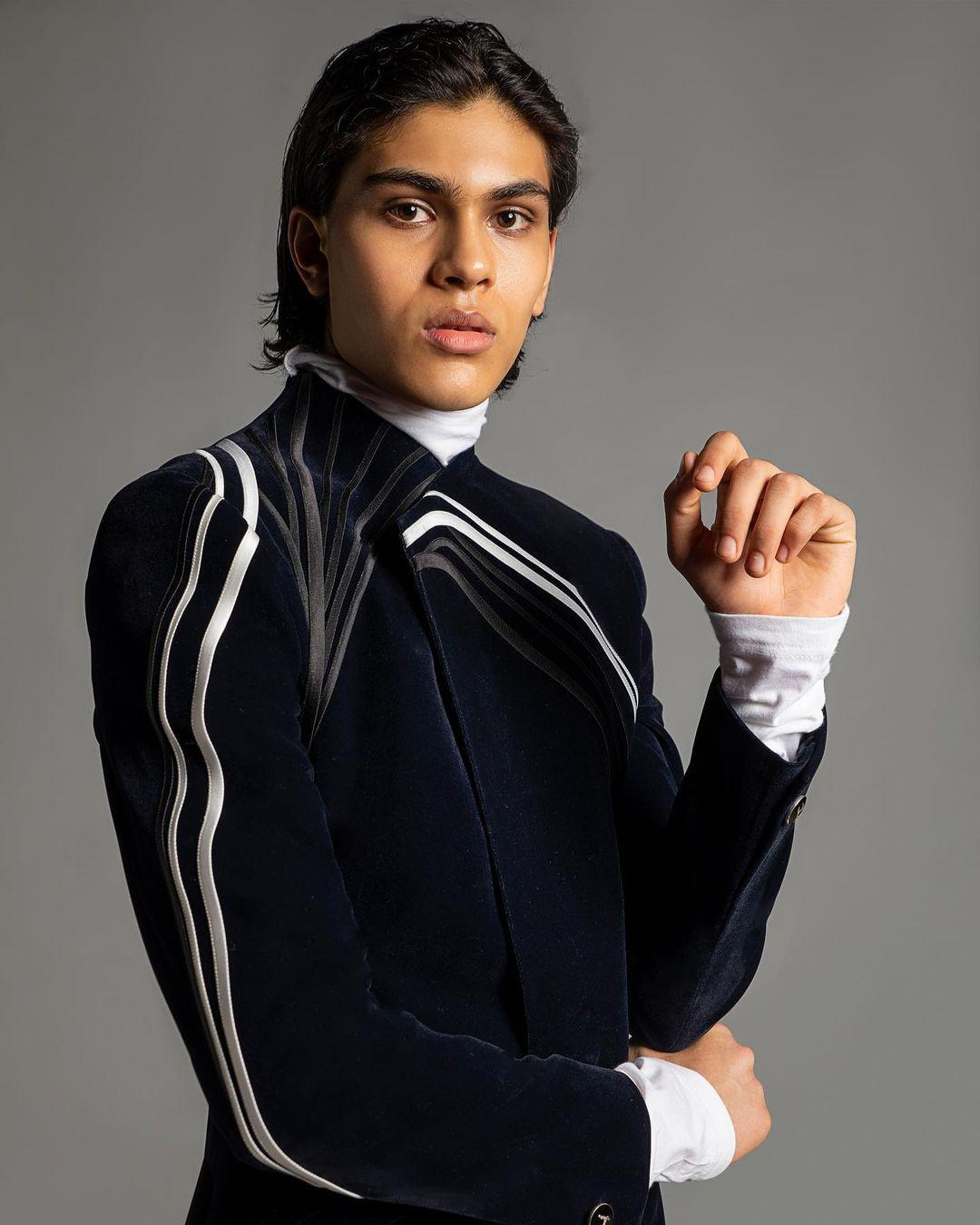 This overlapping Bandhgala is elevated with contrasting sculpted satin strips extending from the shoulders up to the asymmetric collar and is punctuated with angular cut pocket flaps. The creation is paired with straight trousers. Keep styling simple, think a classic mandarin collared or Gaurav Gupta Orion shirt barely peeking through the Bandhgala to complete the look. Temper this outfit with a pair of velvet loafers for a sangeet or reception.
Front-Open Velvet Jacket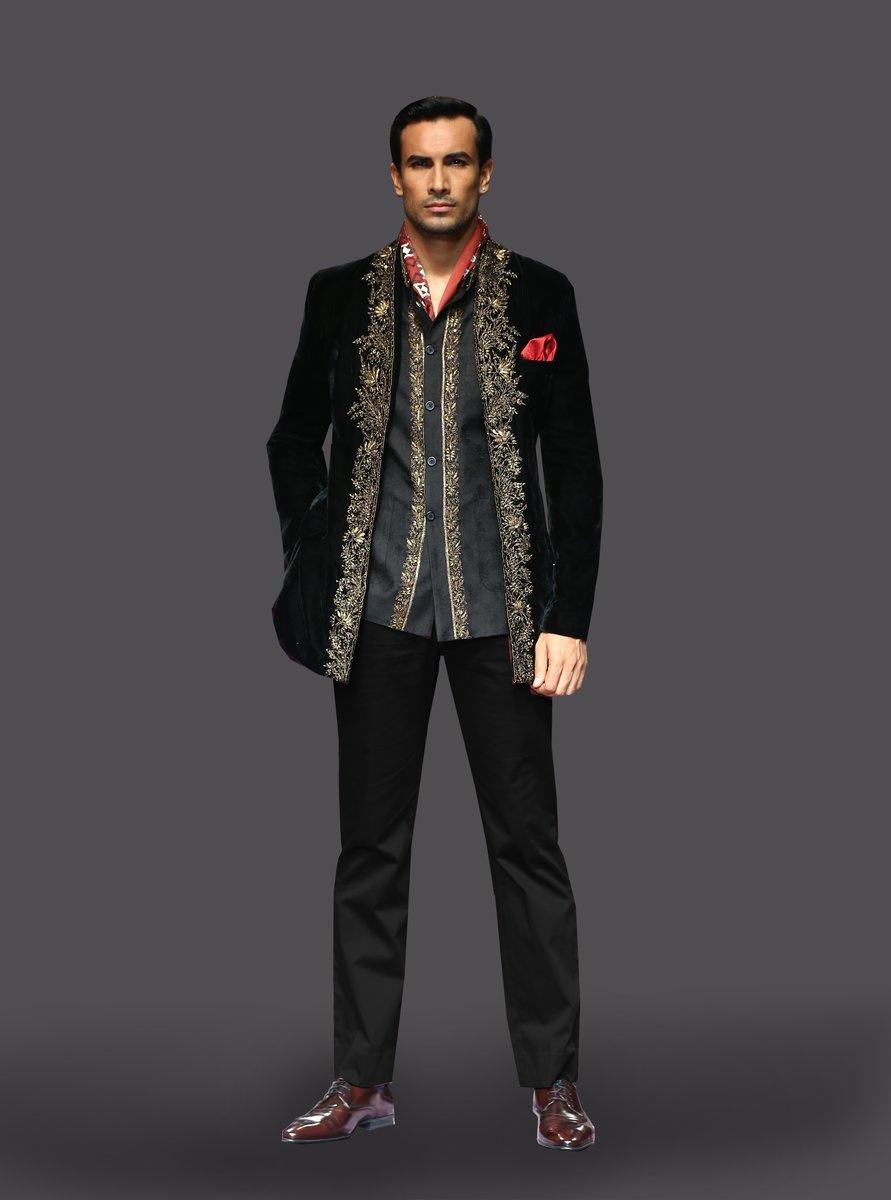 Image Courtesy: Raghavendra Rathore Jodhpur
Raghavendra Rathore is known for his classic elegance and minimalist chic designs. If you're looking for a timeless piece for your big day, we suggest his bespoke velvet jacket. Bring the masculine sophistication and elegance to your D-day look and pick this ensemble for your Sangeet or Reception look. Pair it with brogues and a contrasting red satin pocket square to turn heads!
Teal Bandhgaa Sherwani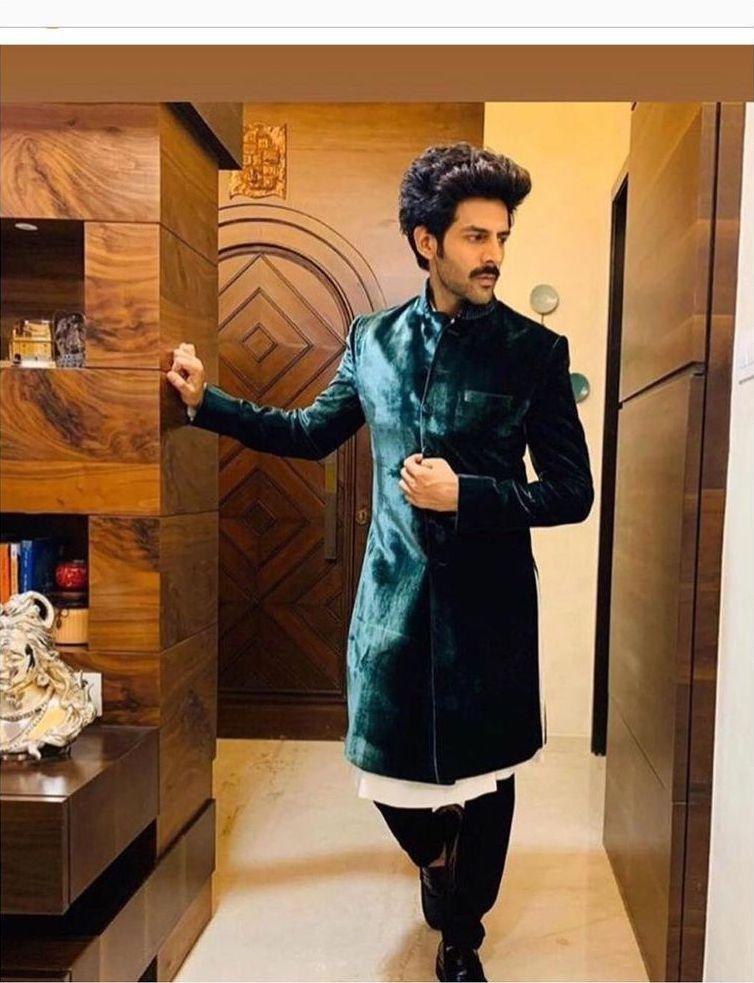 Image Courtesy: Kartik Aryan in Manish Malhotra
Winters are all about the layers. Pick this Manish Malhotra velvet sherwani in teal and pair it with a cream or off-white asymmetrical kurta underneath along with black velvet pants and of course the classic moccasins to seal the deal in absolute style. We suggest you pick a pearl necklace and maybe a lapel pin too if not a pocket square to accessories this outfit.
Velvet Nehru Jacket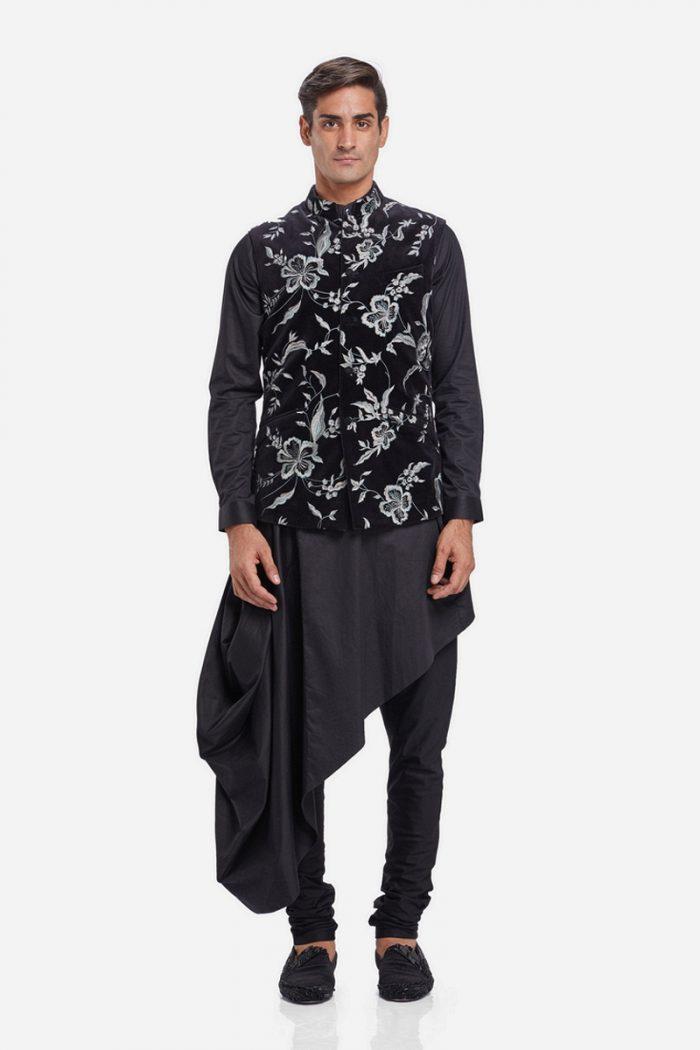 Rendered in black velvet, this Nehru jacket has an underrated charm, the creation is accented with ethereal floral thread embroidery crafted in multiple contrast silk threads using sterling zari. The jacket is paired with a black-draped kurta with an asymmetric hemline. Temper this look to the Reception or sangeet and finish with a churidar and velvet loafers. Rock this kurta with jacket look for your D-day!
Velvet Achkan in Black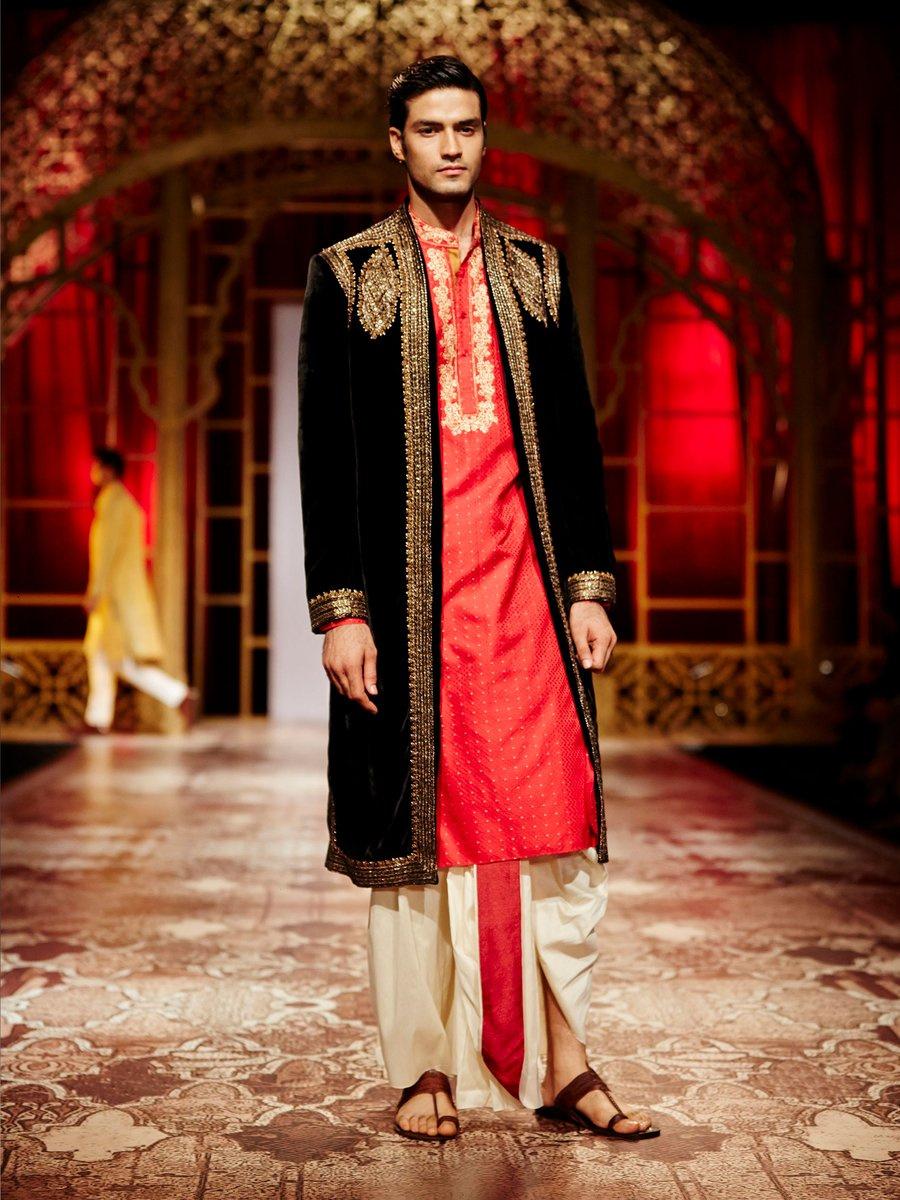 Image Courtesy: Raghavendra Rathore Jodhpur
Layer your sherwani or your Dhoti and Kurta outfit with this regal black Achkan in velvet by Raghavendra Rathore. The intricate embroidery that runs along the silhouette makes this black Achkan a timeless piece. Pir it with your Kolhapuri sandals and you can also pair a velvet dupatta on top to keep the winter chills at bay while looking stylish as ever.
Black Velvet Tuxedo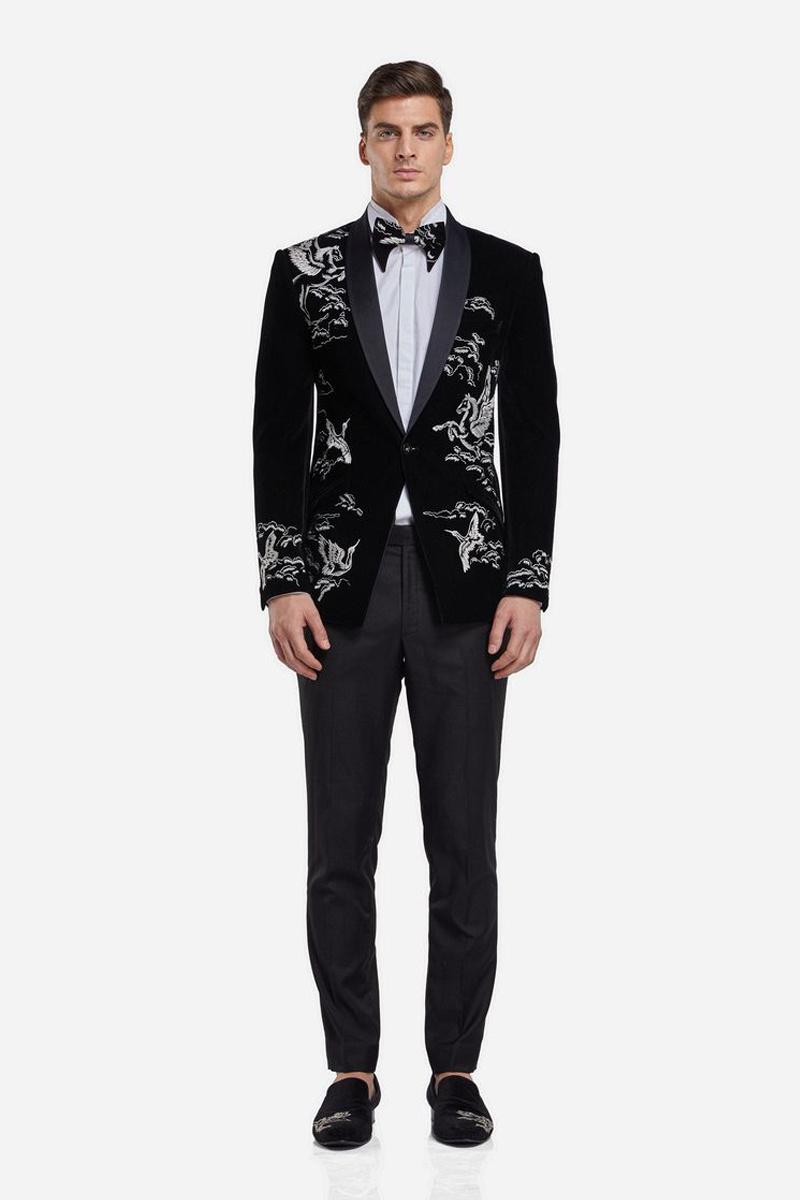 Velvet tuxedoes are a hoot if you ask us! Right from the subtle sheen of the fabric to the regal touch it adds to your personality, tuxedoes in velvet are a must-have in your winter wedding wardrobe. This velvet tuxedo in black by Gaurav Gupta is a classic design adorned with mystical Pegasus embroidery crafted with multiple contrasting silk threads, in keeping with a mythical charm. The creation is paired with black straight trousers. This look is befitting for a cocktail or reception, temper this jacket with our white wing collar shirt, a cummerbund and bow tie. Finish with a pair of velvet loafers and sleek pushed back hair.
Black Velvet Jacket with Floral Embroidery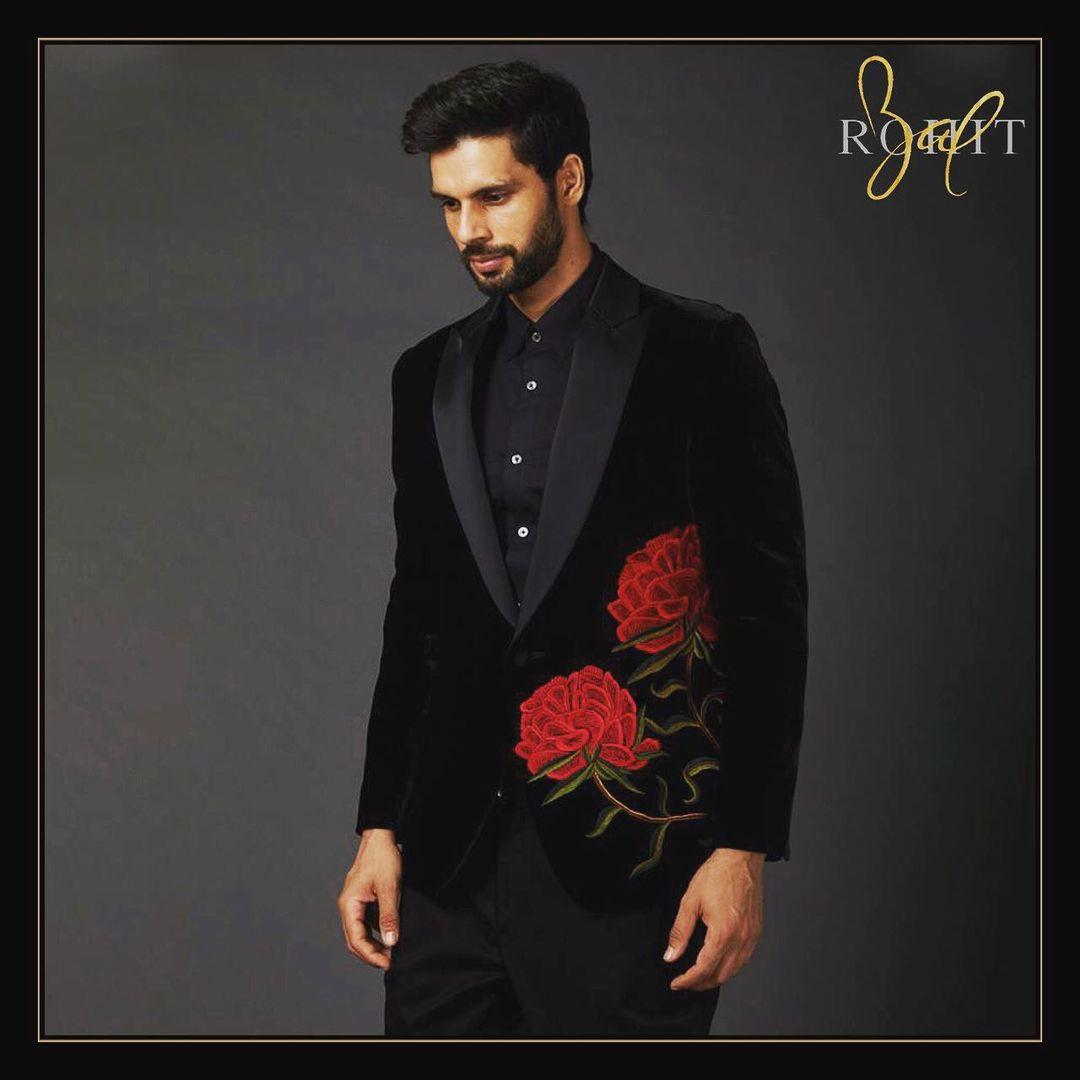 For the edgy grooms in the house who will not step back from going all out in flaunting an over the top outfit for their wedding, this velvet Tuxedo jacket by Rohit Bal is just the right pick for you. The oversized floral embroidery on one side of the jacket adds the perfect edge to balance the classic jacket and make it perfect for the modern grooms. Accessorise the look with a simple Lapel pin and velvet loafers for your Sangeet or Reception.
Simple Cotton Velvet Bandhgala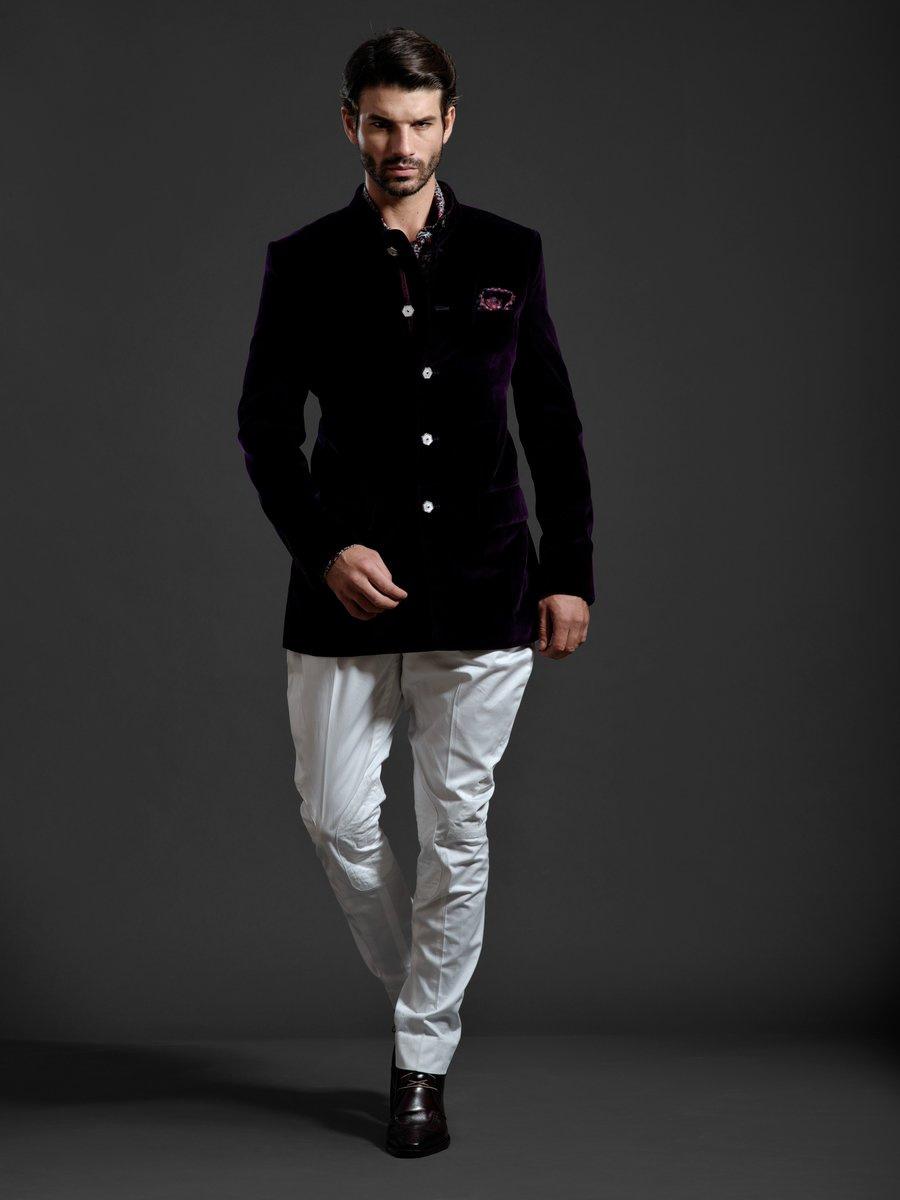 Image Courtesy: Raghavendra Rathore Jodhpur
Another beguiling piece by none other than Raghavendra Rathore, this simple cotton velvet Bandhgala for men is a stunner. Keeping it classy and pair a beautiful Haar with the Bandhgala along with an off-white pocket square. The purple shade of the Bandhgala makes it perfect for any night-time occasion at the wedding.
Heavily Embroidered Bandhgala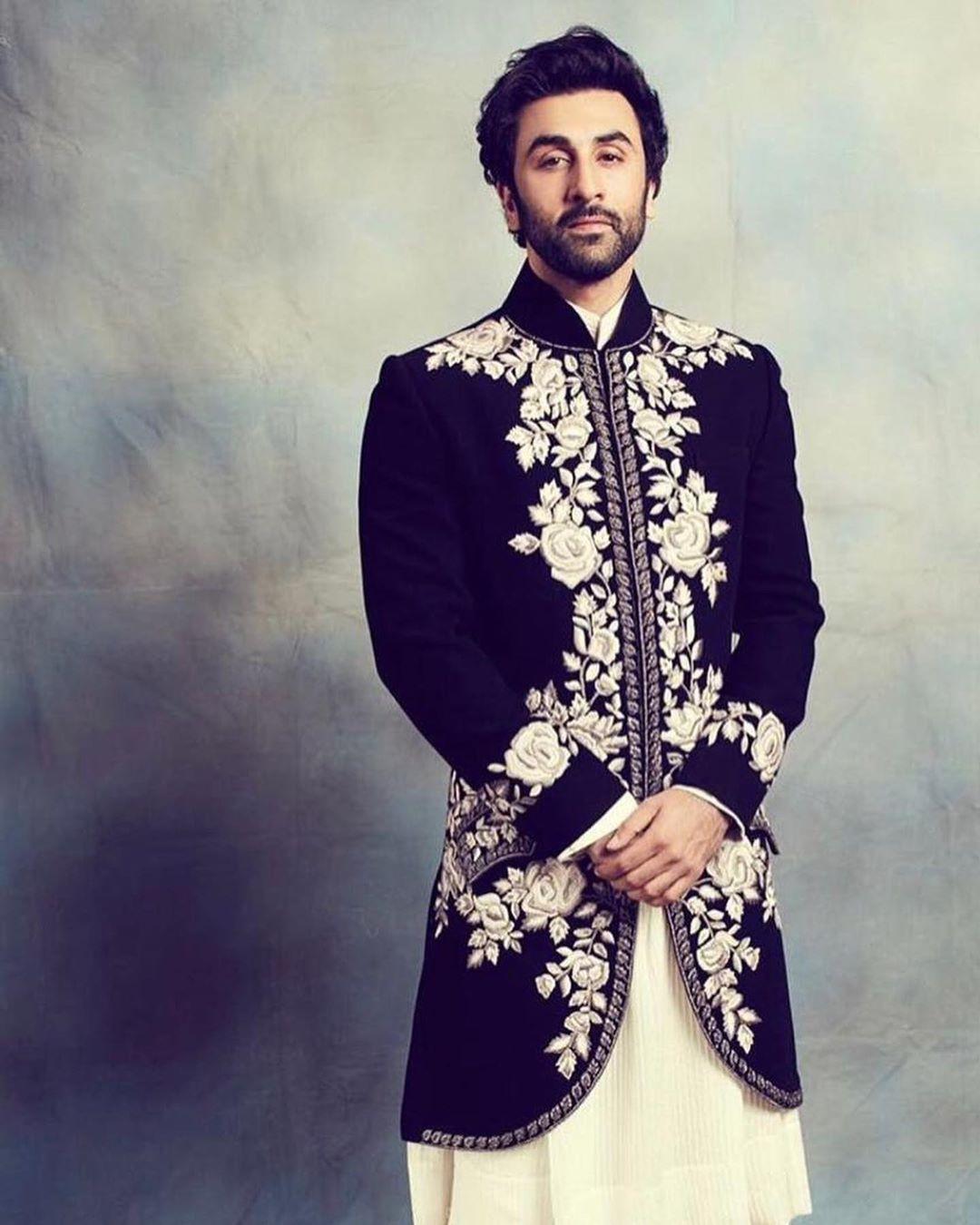 Image Courtesy: Ranbir Kapoor in Manish Malhotra
This Bandhgala jacket seen on Ranbir Kapoor is designed by none other than ace couturier Manish Malhotra is an absolute hoot. Pair it with a white Kurta and black pants and complete the look in Velvet moccasins. In case the Bandhgala is as heavily embroidered as the one in the picture above, avoid accessorising it too much.
Henna Green Velvet Waistcoat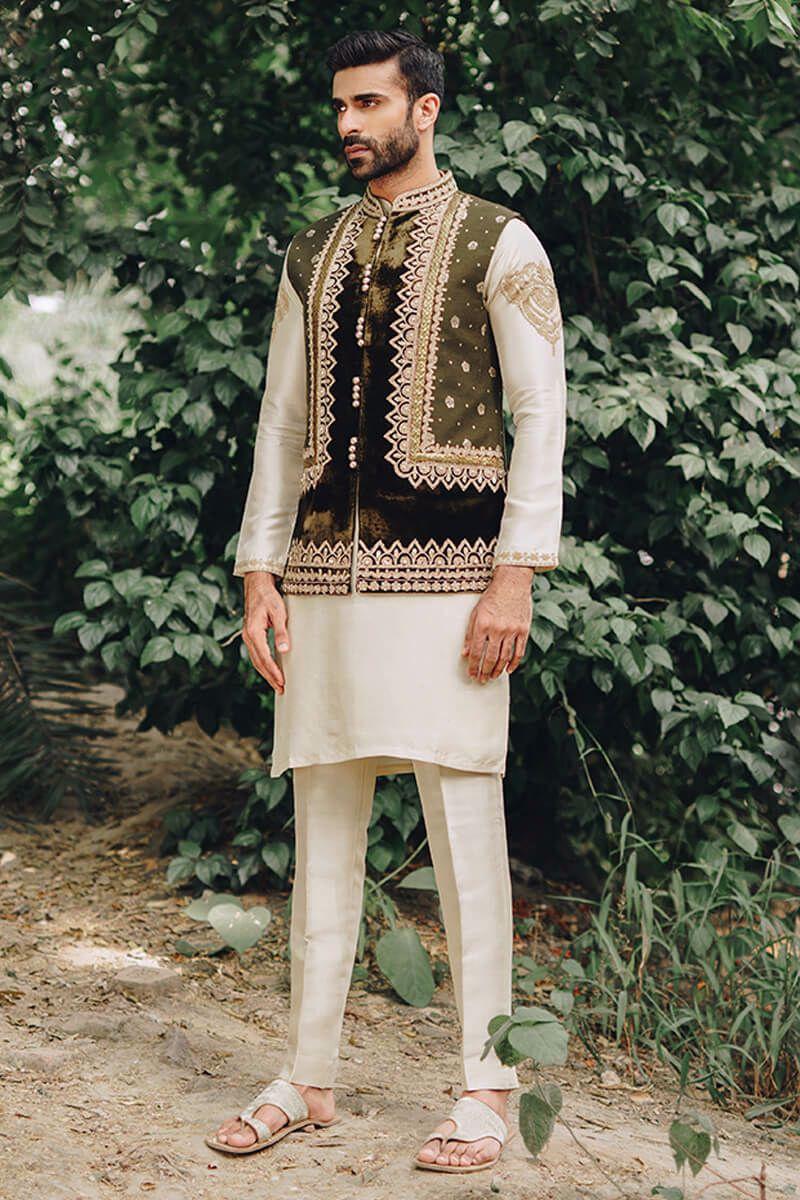 Image Courtesy: Mohsin Naveed Ranjha
The millennial grooms can flaunt this well fitted dull gold raw silk kurta pajama worn under a carefully constructed henna green waistcoat made from a mix of Karandi and velvet by Mohsin Naveed Ranjha. The waistcoat is heavily hand embellished using tasteful Jaal designs and motifs with Tila Marori. The look can be completed with a Sindoori Laal raw silk chador with heavily embellished borders using Tila Marori finished with a deep red velvet finish from the same label.
Velvet is not only a regal fabric but a heavy and warm one that suits winter weddings perfectly while keeping the winter chills at bay. If you want to flaunt a velvet outfit for your big day, these designs are sure to steal your heart. You can pick a design that suits your perfect or get in touch with the ace designers on board to get one customised for yourself.
Did you find your perfect velvet outfit ideas for groom yet? Let us know in the comments below.