12 Sherwani Shoes That Every Indian Groom Should Own!
Have you found the ultimate sherwani shoes to go with your wedding attire? If not, then this list is for you. These designer shoes are surely going to make you look all dapper! Read to know more.
Image Courtesy: GQ India
We admire men who take their style statement seriously. The right pair of shoes can amp up a man's simple attire into something more in vogue and in trend. Wedding attires are no exceptions where the men usually put in all the efforts towards finalising the right sherwani, but often ignore putting in efforts towards matching the right pair of sherwani shoes with it. We know that 'Joota Churai' keeps your shoes away from the wedding extravaganza for a good few hours, but then don't forget that you get clicked in full frames for family photos and bride and groom photos before that as well.
Not to forget, you are in the limelight and the most important person of the event. This is why we are introducing to you the world of sherwani shoes for groom which go very well with all styles of Sherwanis. So take a look and find the pair that you feel is the one for you!
Matching jootis - sherwani shoes for groom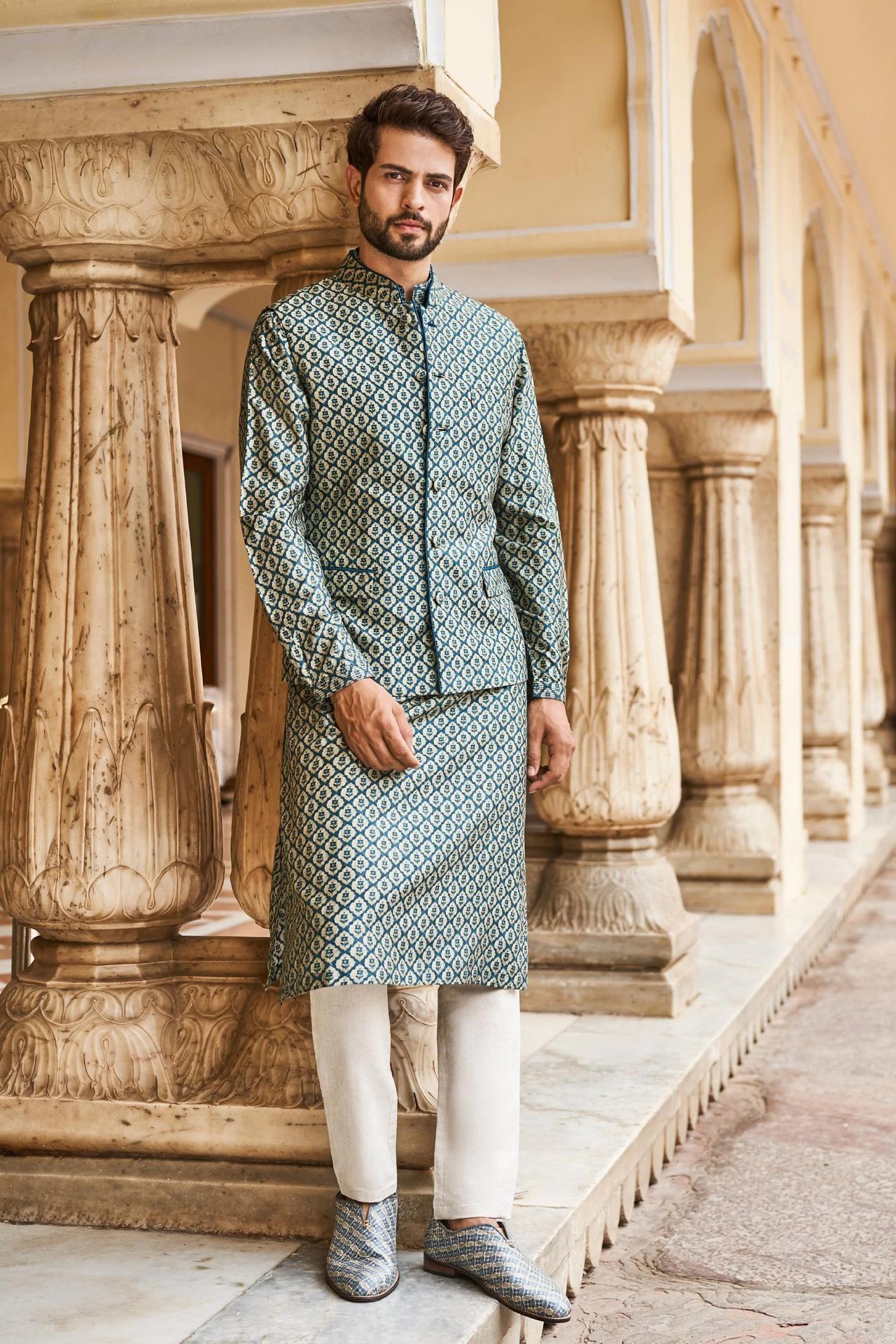 Many designers are now offering sherwani shoes that match perfectly with your wedding ensemble.
What's great about finding both the shoes and the attire at the same studio is that the fabric or embroidery work done on them match perfectly, as they come from the same source. This also means that you get to save ample time on finding and matching a pair of shoes to do justice to such beautiful sherwani sets.
Backless jootis - sherwani shoes for grooms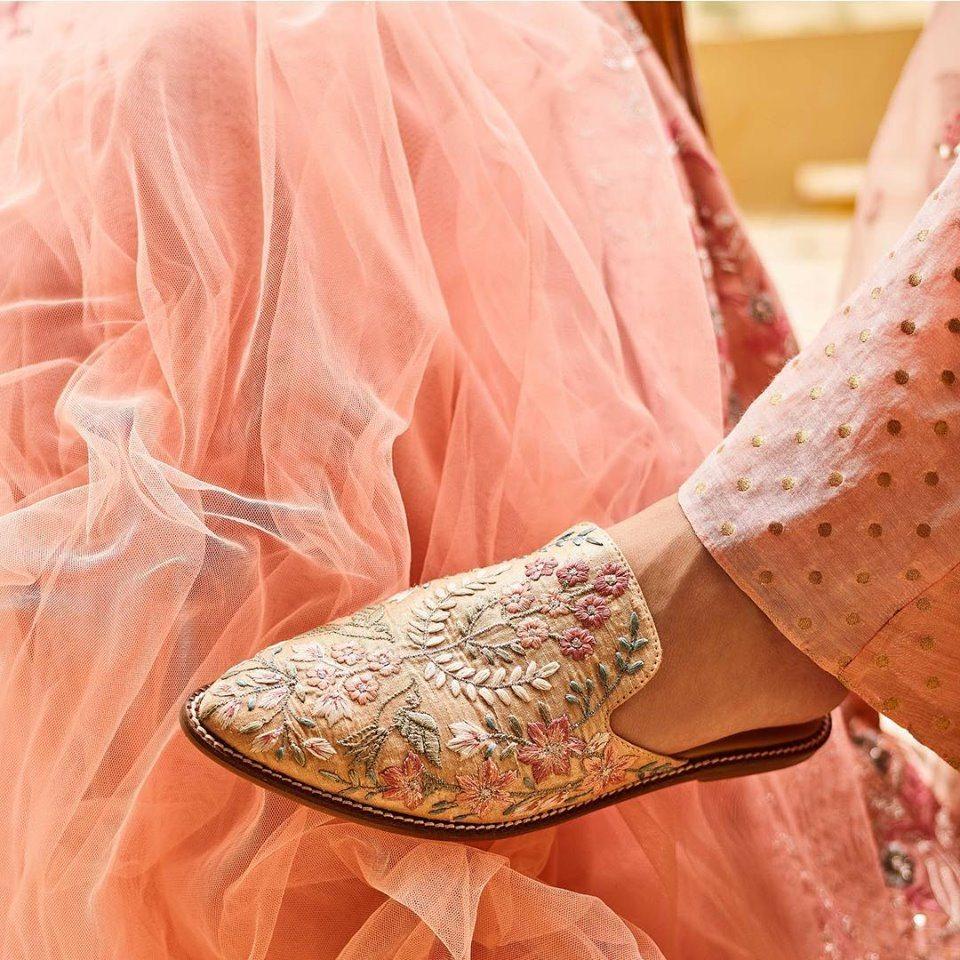 Easy to slide in and perfect for super humid wedding venues, backless Jootis are comfortable upon wear for long periods of time. Backless Jootis as sherwani shoes can either be worn as tanned genuine leather style or you can opt for a thread-embroidered version of them as well.
The leather style backless Jootis are versatile enough for daily or regular usage, whereas the embroidered versions upgrade the style statement when worn for any family or traditional occasion by any man, post marriage as well.
Embellished brogue - sherwani shoes for groom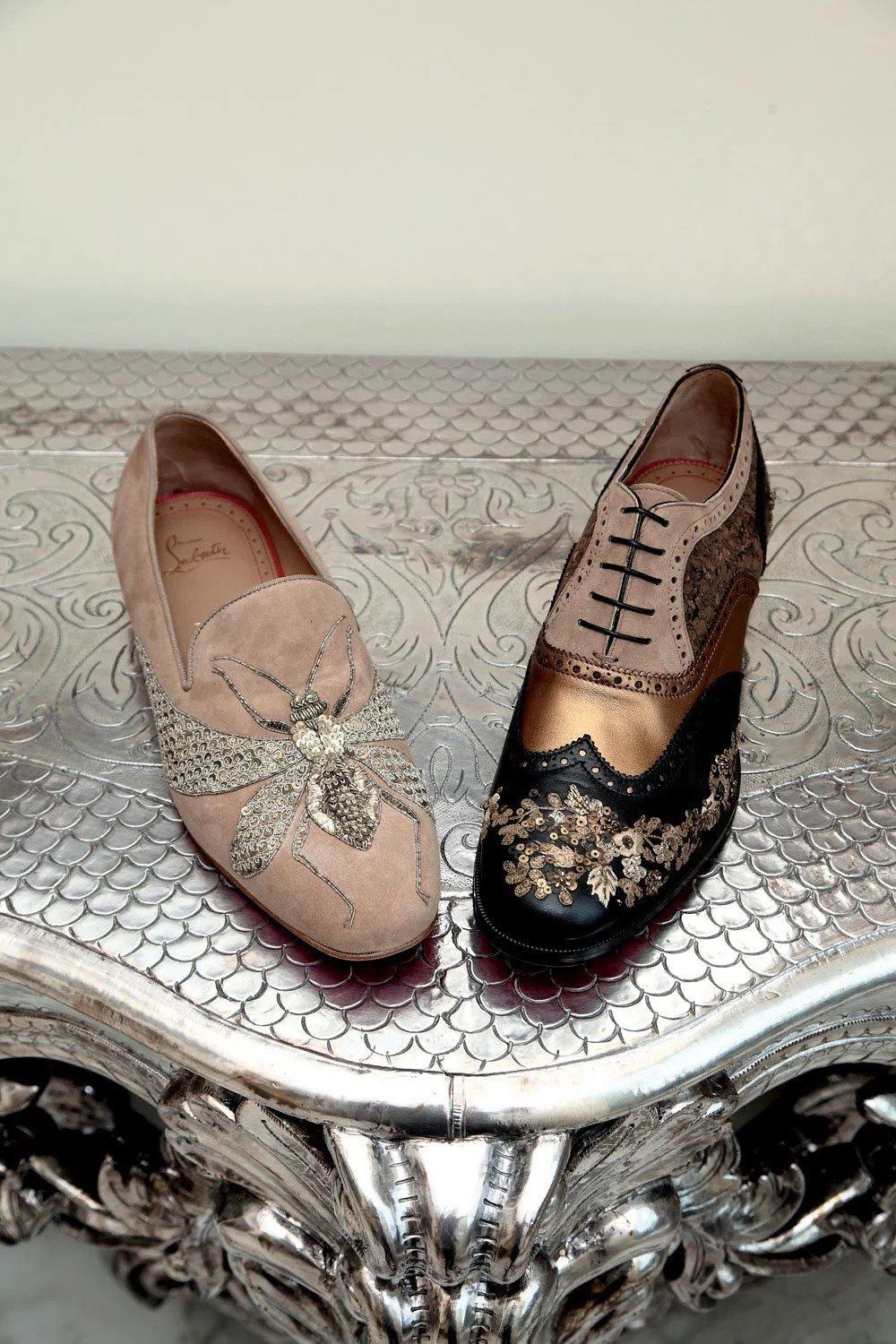 Image Courtesy: Christian Louboutin
Amalgamate English vibes to the razzmatazz of your wedding attire by adorning zari embellished brogue shoes. These shoes will go very well with both Churidaar as well as Jodhpuri pants and will make you appear all modish at your wedding function.
These sherwani shoes also go very well with Sabyasachi style full floral printed Sherwanis to adorning something plain-jane, converting them into party wear flawlessly!
Velvet tasselled sherwani loafers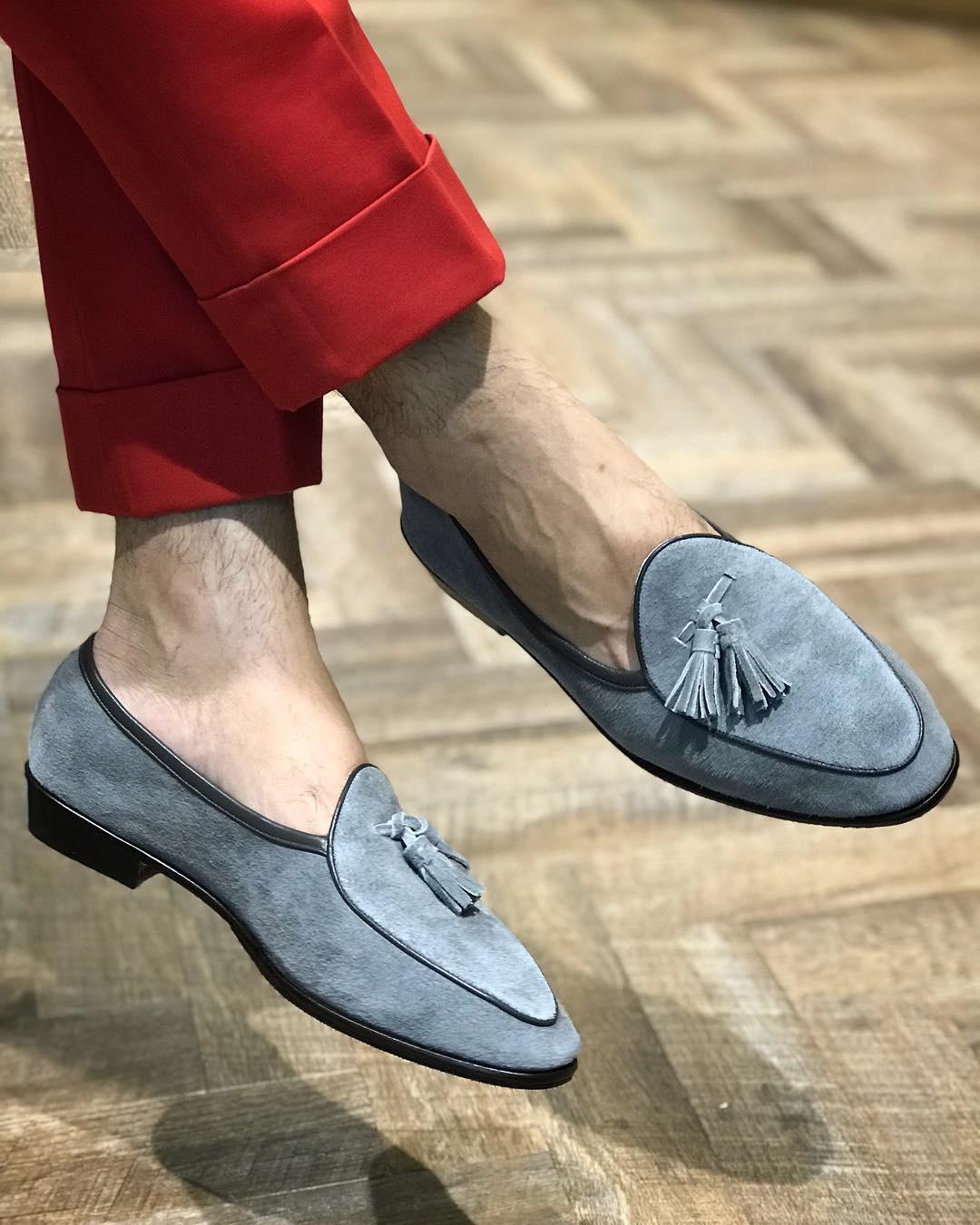 Image Courtesy: Abdul Razak
Make a classy appearance at your wedding when you will match these velvet tasselled loafers with your sherwani suit set inclusive of a velvet Nehru jacket.
These loafers are quite a statement maker in themselves that can be worn for a regular day at work, a Sunday informal brunch as well as a part of your wedding attire. Hence, opting for such shoes mean that you will get to wear these regularly, even after the wedding.
Spiked slippers sherwani shoes for groom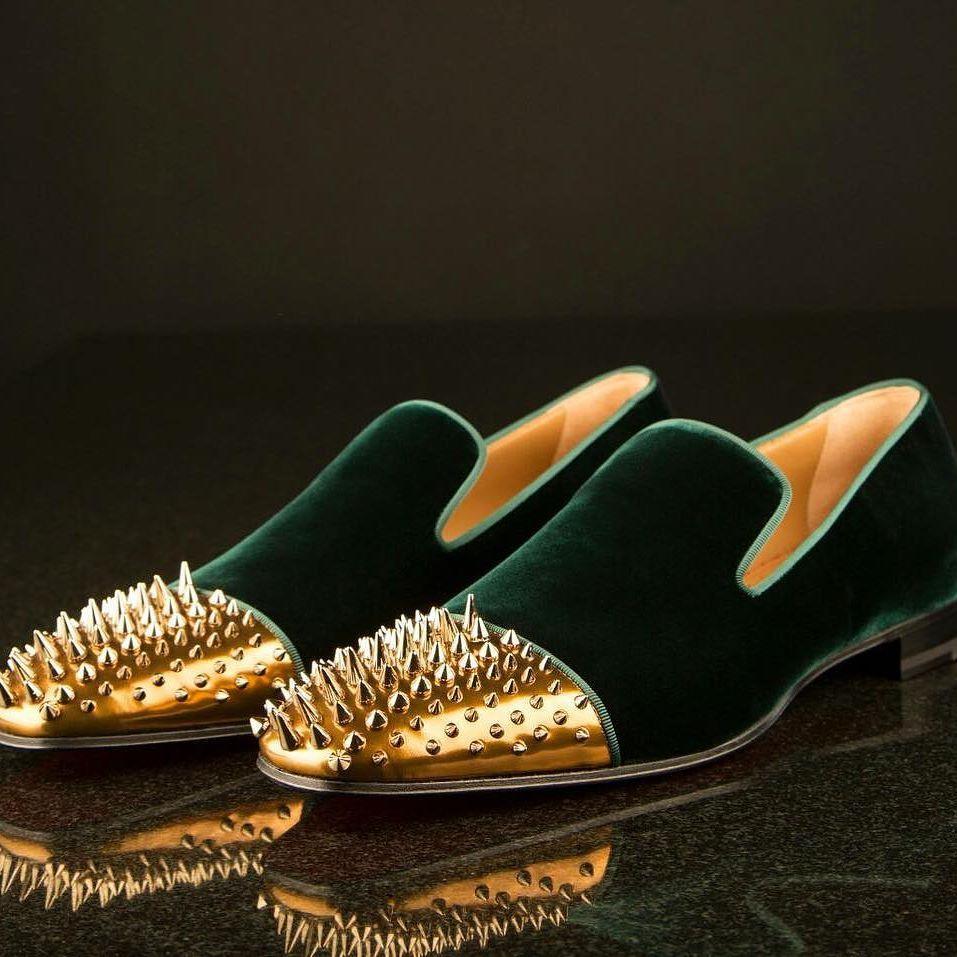 Image Courtesy: Sabyasachi's Collection
No, these slippers are nothing like your bedroom slippers but are something that even Sabyasachi and Christian Louboutin approve of as a part of Indian wedding wear.
Spiked slippers are a comfortable extension of loafers that will make the wearer feel like he is walking on clouds due to their super-soft and relaxed make. The velvet cover and spiked embellishment provide this pair of sherwani shoes the luxe factor which every wedding wear demands.
Patch worked sherwani shoes for groom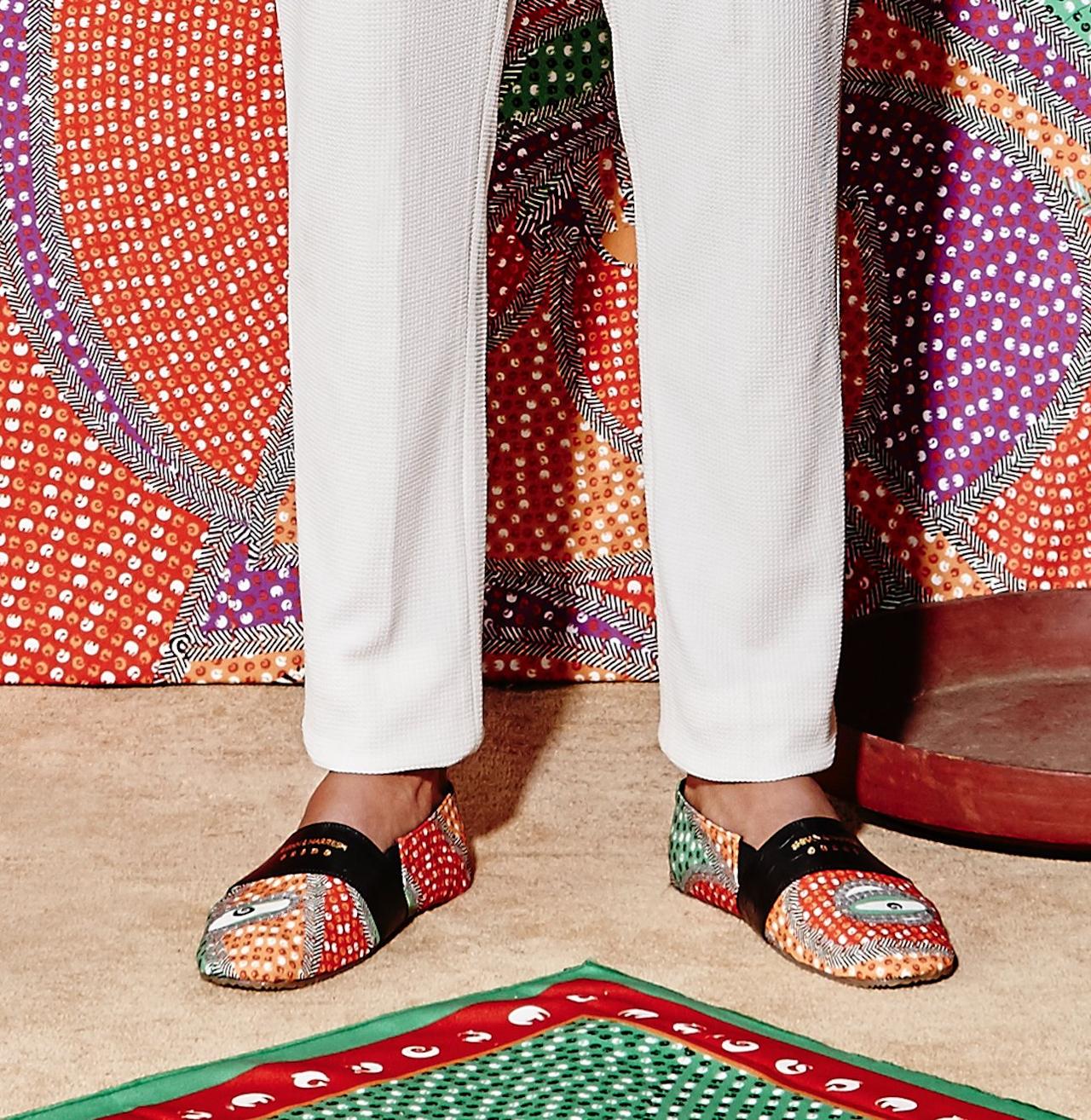 Image Courtesy: Shivan and Narresh
If you have planned a super-fun and colourful Mehndi or a day function for your guests where you plan on wearing something traditional, then these patchworked sherwani shoes will surely add a dose of style to your party attire.
The best part about owning these sherwani shoes is that due to their colour, they will match well with almost every style of menswear that you will plan on adorning for your wedding functions.
Simple motif sherwani shoes for groom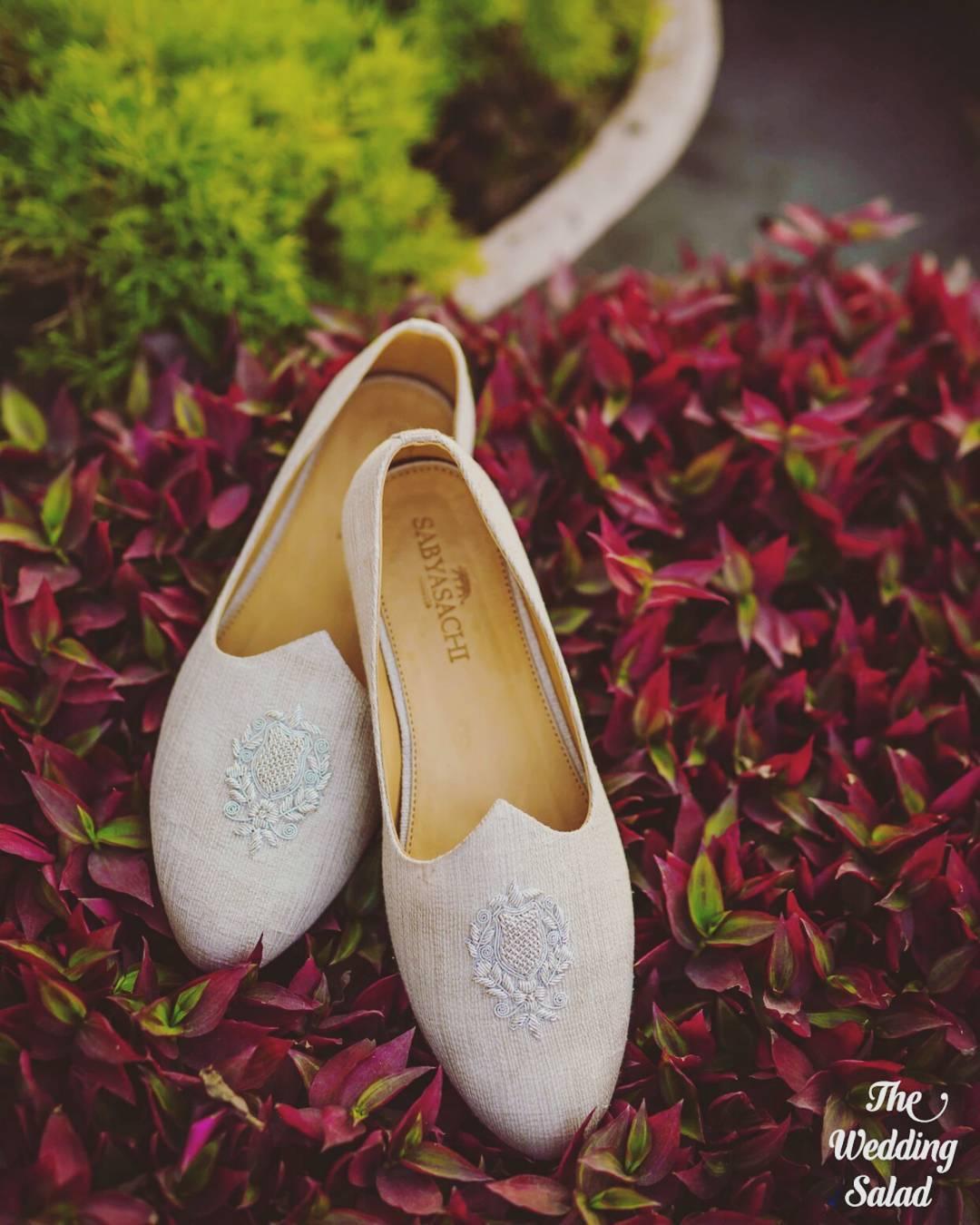 You don't have to be all embellished in the sherwani shoe department to make them look apt as part of your wedding attire. A simple motif or signature embroidery done on a pair of Mojaris in a mono-toned style will look dapper with every kind of simple, embellished and even printed sherwani style.
If you and your sweetheart happen to have a logo with the initials of you two included in it, then it will be a great idea to get the logo embroidered as a motif on such simple motif sherwani shoes that you will be able to cherish for life.
Embroidered sherwani shoes for groom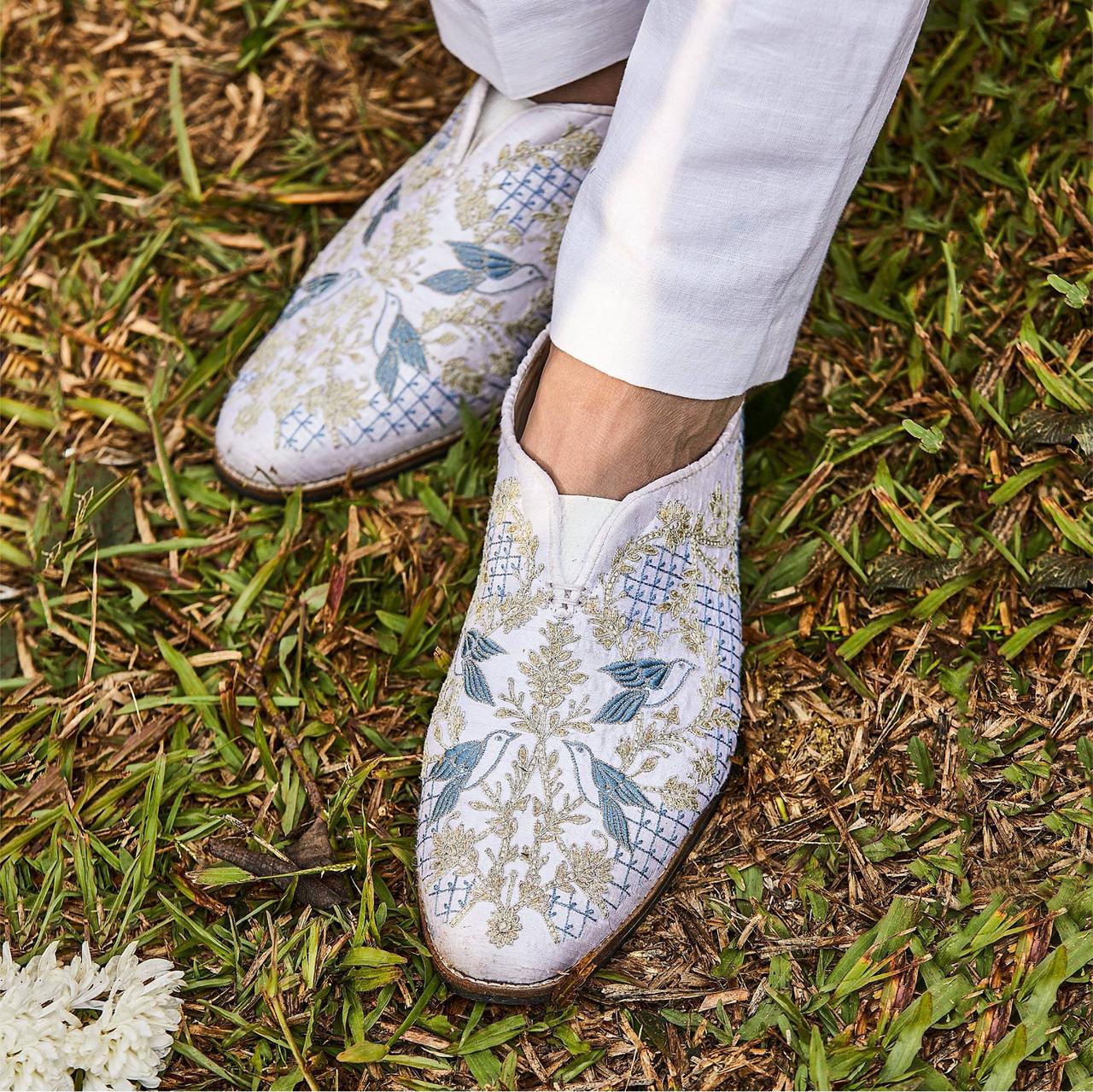 For grooms who wish to wear embellished shoes but want to avoid all the bling can opt for such embroidered shoes to match with their wedding ensemble. These are hand-embroidered, look perfect with all styles of sherwanis and can very well be customised to match the look perfectly. You can go for floral or garden design embroidery done on these with the option of using the same colour or using a palette of colours that are similar to the hues that of your wedding sherwani.
Hand Embroidered Sherwani Shoes for Groom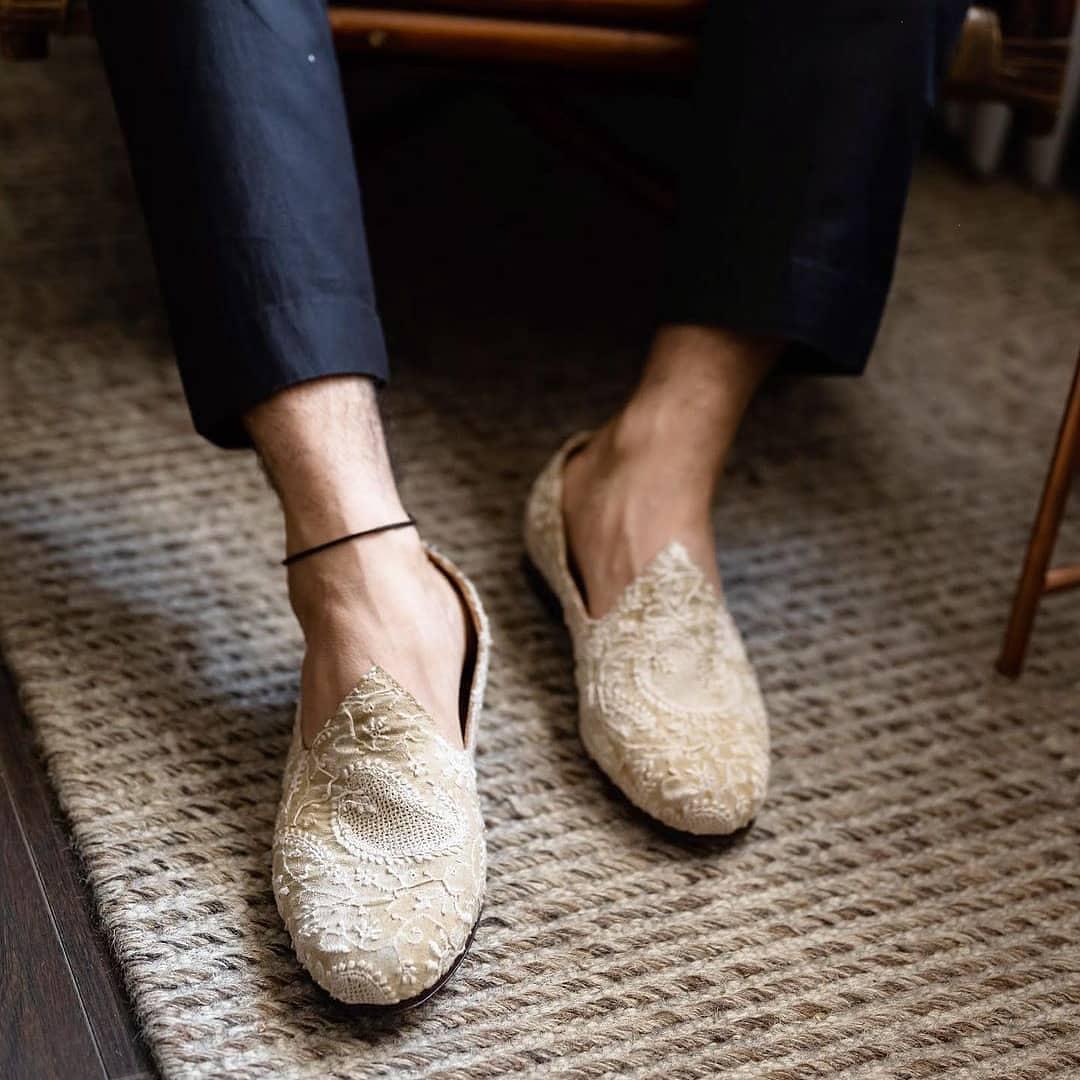 Image Credits - Royalfee
There is certain sanctity in wearing hand embroidered shoes by the ingenious Indian artisans. Wearing these sherwani shoes for groom will surely bring more poise to your wedding attire, receiving accolades from the crowd and even the bride herself who will complement you for looking the most dapper among all the other men at the party.
Winter weddings sherwani loafers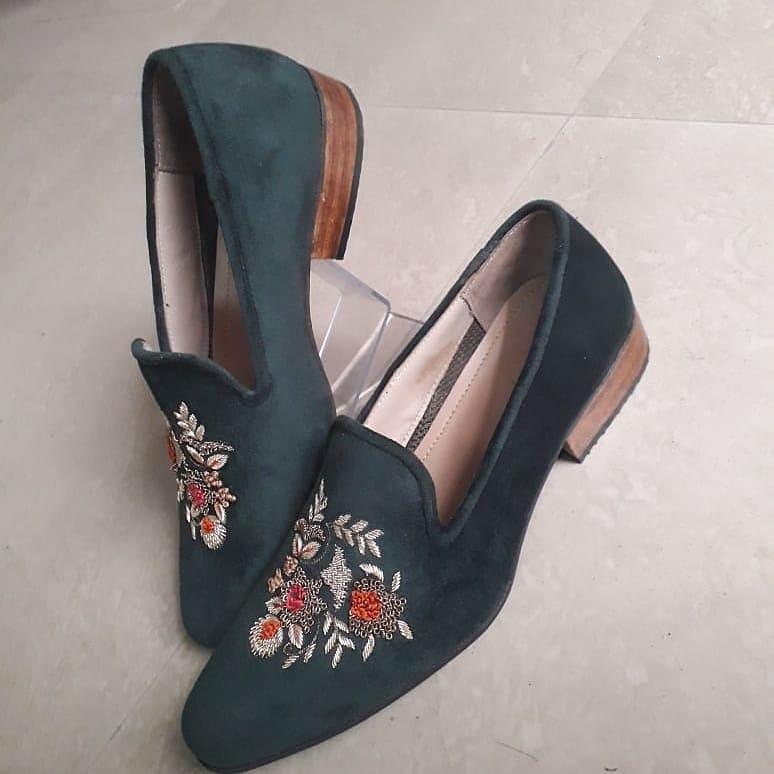 Image Credits - Pinterest
Emerald is considered as a royal colour in the Indian weddings. Adorn this velvet sherwani shoes for groom and gear up to walk towards the aisle with enough confidence.
Off beat Sherwani loafers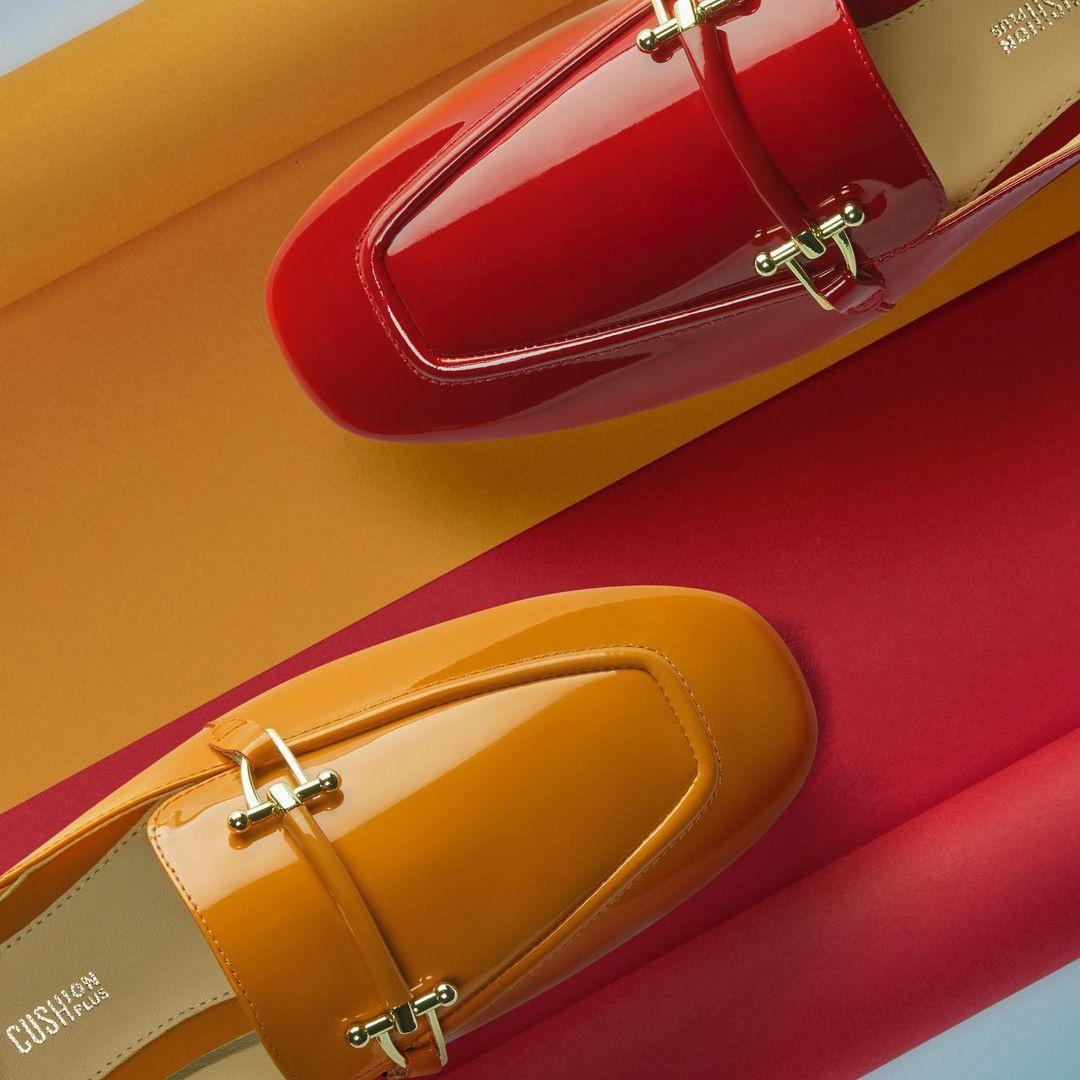 Image Credits - Clarks
If you believe in off beat trends and have the élan to carry that trend with confidence then you should pick these fiery shoes from clarks. These pairs are comfortable, sassy and chic. A style tip that we would like to bestow upon you is to invest in a pair of invisible socks which rest below your feet, hiding them from all sides once you will wear the footwear on them. These socks will keep your feet clean, even if you will take them off for certain Puja ceremonies. Not just that, but wearing invisible socks will also prevent sweaty feet, rashes and shoe bites. After all, weddings are all about being all decked up for hours of receiving guests and following marriage rituals without breaks.
Aren't all these shoes true knockouts? If you have any other queries related to sherwani shoes for us, do comment and our experts will be happy to help.