Exquisite Pearl Jewellery Designs for the Grooms to Pick for D-Day
Who said grooms don't have choices when it comes to jewellery? This list of pearl jewellery designs is everything that they'd want to know about jewellery for their big day.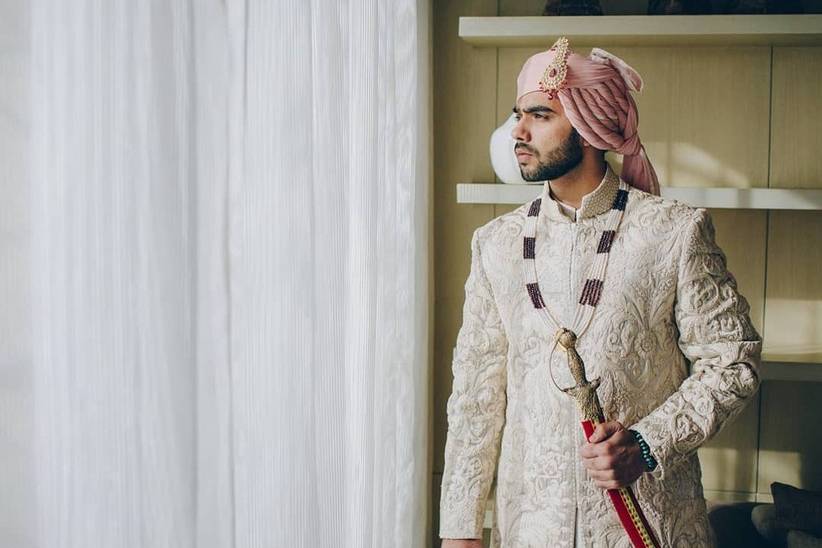 It is true that grooms do not have to take care of as many things for their big day as their brides-to-be have to. However, that does not mean that grooms have nothing to worry about. One of the most easily forgotten aspects of a groom's attire is the jewellery that he pairs with his sherwani.
While most people take it for granted, we truly believe that it is one of the most important parts of his look as the neck jewellery is what adds life to the sherwani. The millennial grooms are open to considering all kinds of neck jewellery designs, from Kundan stones to Jadau jewellery, to even pearls and other precious stones.
While the options available to them are infinite, we are currently drooling over pearl jewellery designs for grooms. While the designing of pearl jewellery for grooms is rather simple, what really catches our attention is how the millennial grooms have styled it in their own way to make it look one of a kind.
We've put together a list of our favourite pearl jewellery designs along with styling tips that can help the grooms of today pick something that looks good on them and suits their sherwani perfectly too.
The Simple Multi-strand Pearl Jewellery Designs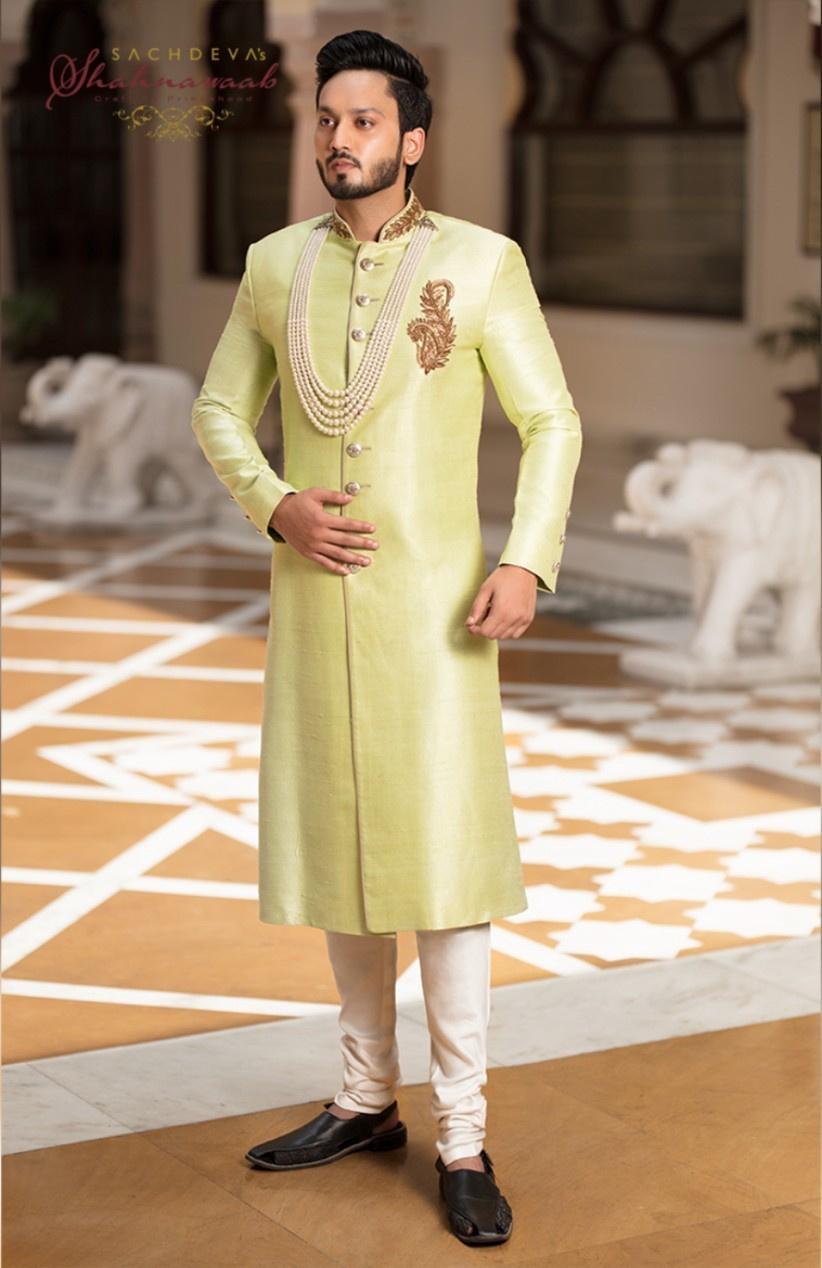 Going by how interested grooms are to look for something extraordinary; most of them end up choosing something rather simple and graceful. Unlike the millennial brides, they are not competing against one another to come up with jewellery designs better than the others. Therefore multi-stranded pearl jewellery designs like this one attract a lot of attention. A piece of classic neck jewellery like this can never go wrong and is also one that suits everybody.
Pro Tip: Pearls often have overtones of rose, silver, and ivory, but white pearls are classic and go with everything. So, unless your sherwani is of a colour that matches the overtones better, we'd say you prefer the white pearls as they look ethereal and are sure to be treasured for years.
The Multi-strand Pearl Jewellery Designs with Brooch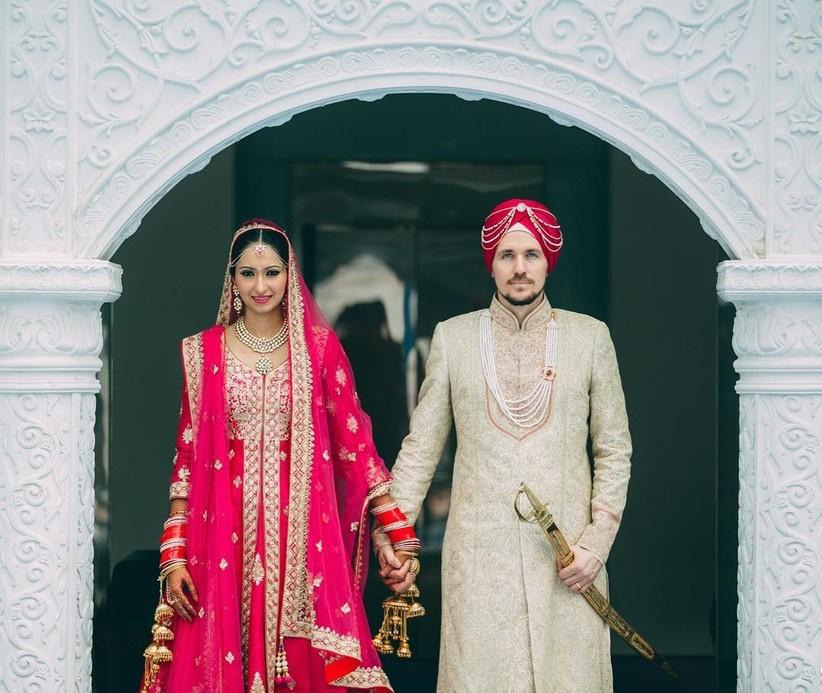 Now here's something for our grooms that do not believe in keeping it simple. This pearl jewellery design is one that has the simplicity of the multi-strand necklace while also adding a touch of sparkle with a gold brooch on the side. The touch of gold with rubies embedded does not just make pearl jewellery designs more flattering but also makes it more appropriate for the big day.
Pro Tip: We'd suggest you keep the size of the brooch big enough to get noticed, but not as big that it takes away from the charm of the pearls. Also, match the colour of the gemstone in your brooch to any detail of your attire for it to compliment your outfit; it could be your embroidery thread or the Safa on your head.
The Pearl and Emerald Mala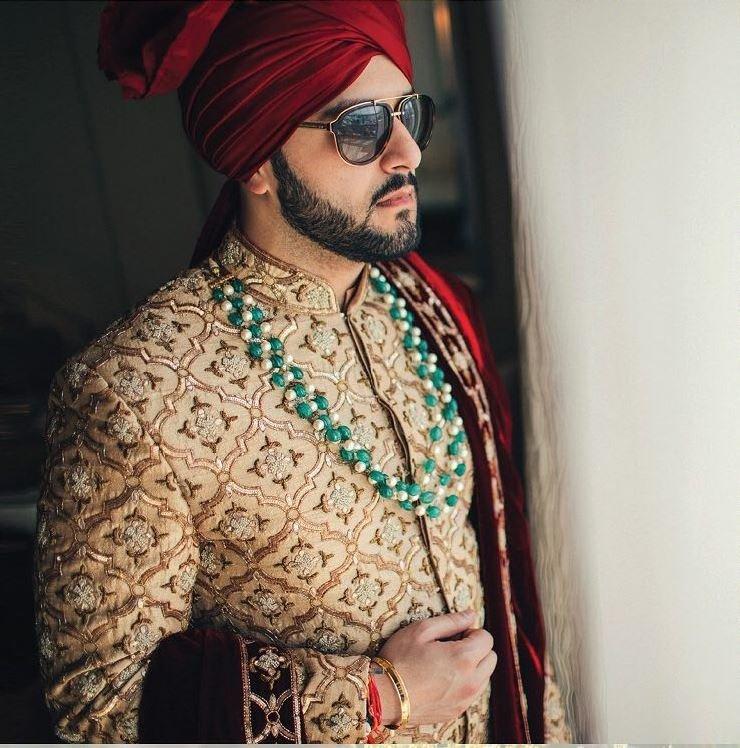 Image Courtesy: Amaare
With most grooms going in for softer shades or lighter colours for their sherwani, there is an increasing need for a burst of colour in their pearl jewellery designs. While there is nothing that can look better than the classic white pearls, sometimes alternating them with emerald stones can give our grooms a pop of colour while also having the shine of the timeless pearls intact.
Pro Tip: While contrasting the colours in your pearl jewellery designs has been a common trend for years; we'd suggest you stick to colours that belong to the same colour family as the precious and semi-precious stones on your neck jewellery. This way they will add a pop of colour while not creating a contrasting look as well.
Two Multi Strand Pearl Jewellery Designs Together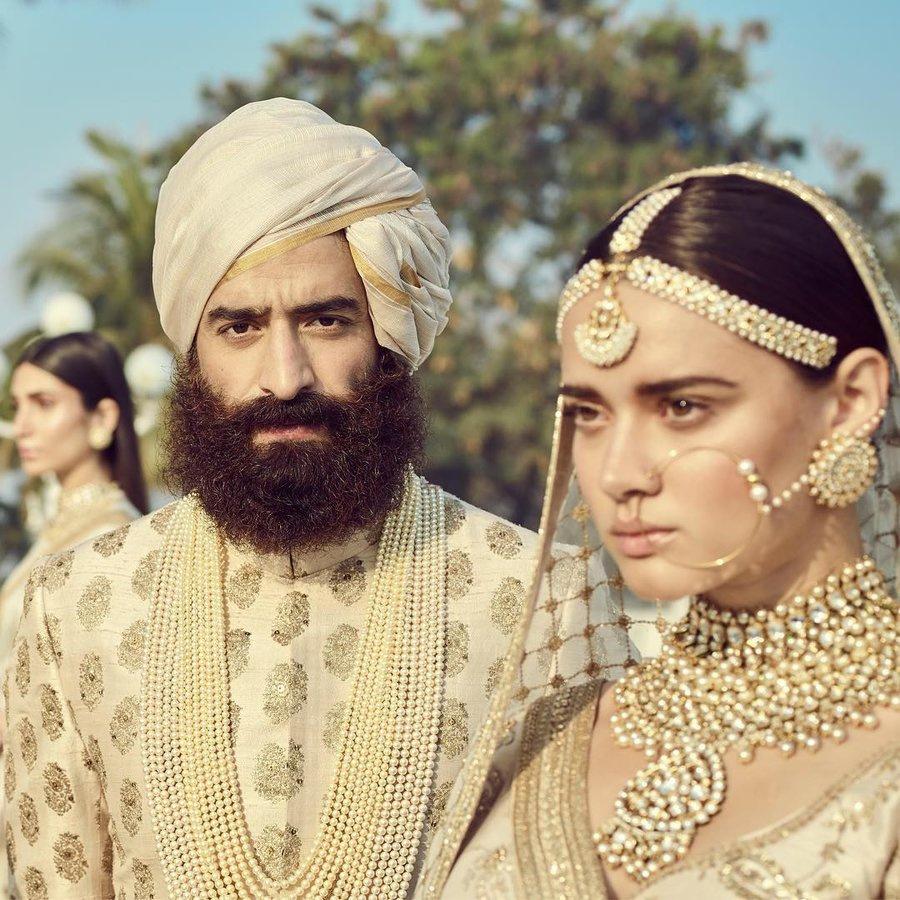 Image Courtesy: Sabyasachi's Instagram
This one is for our grooms that think one multi-strand pearl neck jewellery will not be sufficient to grab attention. If you're someone who is looking for a more dramatic look on your big day, you could pair two of the same kind simple pearl jewellery designs and make sure it covers your entire chest area with pearls.
Pro Tip: While choosing the two similar multi-strand pearl jewellery designs; go in for slightly different shades of pearls that create a shadowing effect on your sherwani. Also, a white or ivory coloured sherwani with this neck jewellery style is sure to look beyond royal.
Beaded Small Pearls in a Gold Mala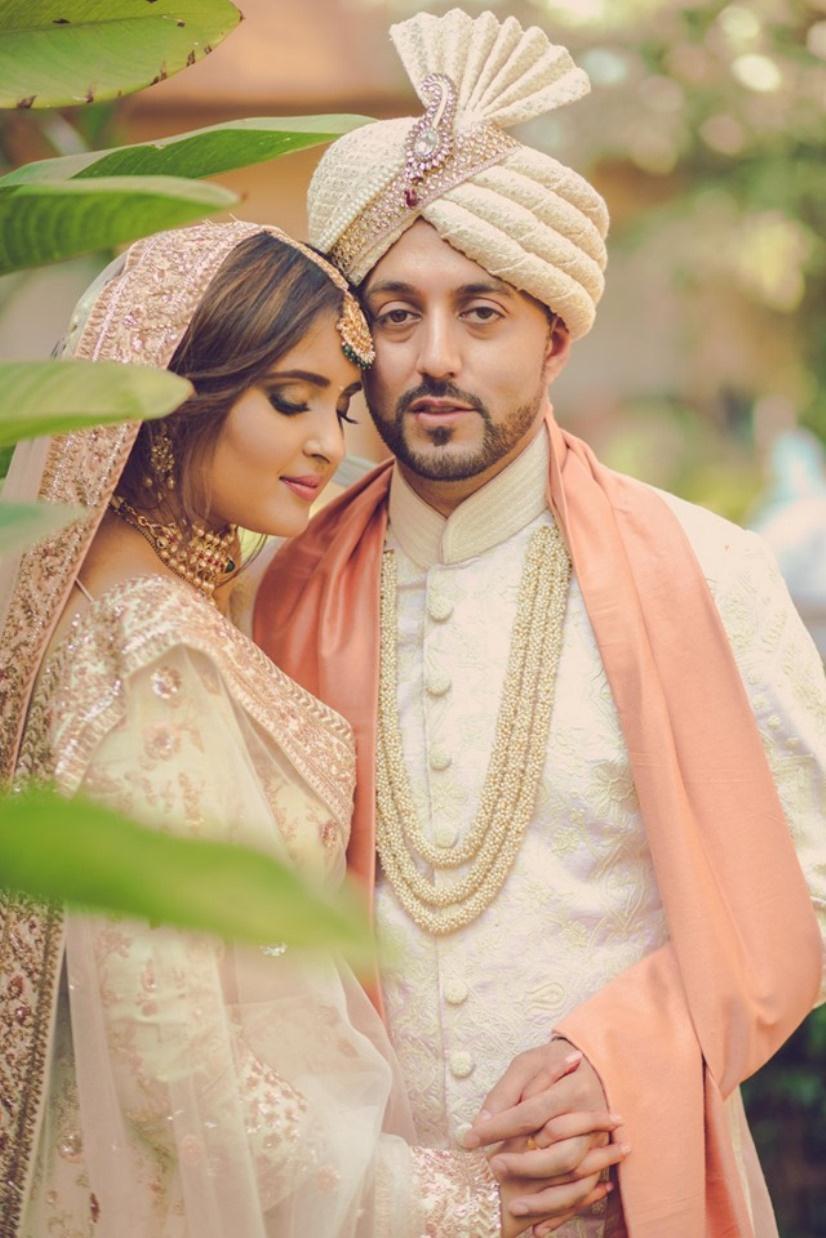 Now here's a design that is very famous with women, but is also one that the grooms should consider for their wedding day if they want to go for something unique and delicate. This is one of the pearl jewellery designs that use small beads of pearls embedded on multiple gold chains that look so subtle when paired with a light coloured sherwani by the grooms.
Pro Tip: Since these beaded pearls and gold chain is thicker than regular multiple strand pearl jewellery designs, keep in mind to try the piece on to figure out how many strands look okay with your sherwani. Do not go for too many strands as it can your jewellery look gaudy.
Small to Big Pearls in a Multi-strand Mala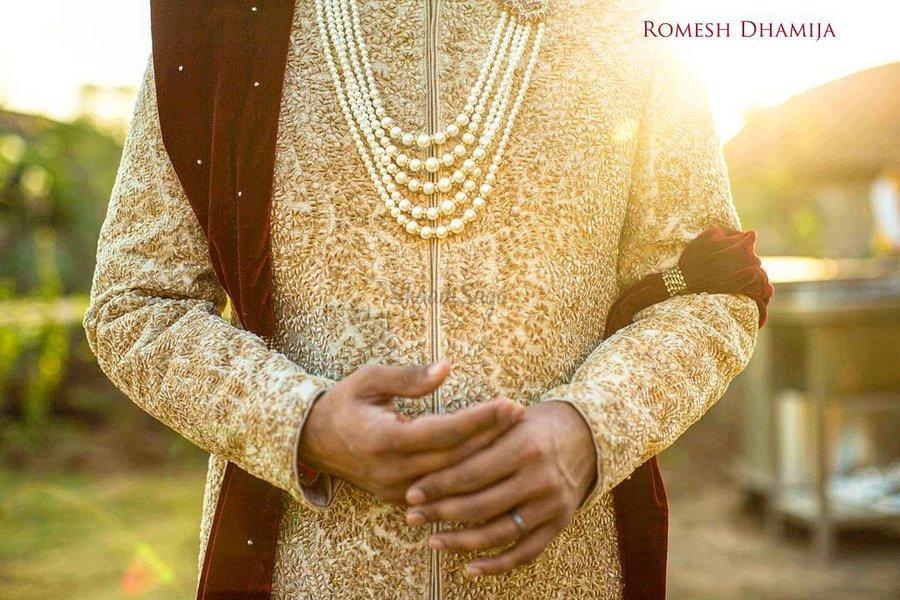 Just when you thought that there is nothing about the multi-strand pearl mala that could surprise you, we figured that pearl jewellery designs that use differently sized pearls are a great choice for grooms that do not want to go for other gemstones or brooch. This multi-strand mala uses small pearls around the neck and the bigger pearls at the bottom in a way that it catches everyone's attention. We are absolutely in love with such brilliant ideas that use nothing but just pearls to create eccentric pearl jewellery designs.
Pro Tip: Since pearls get their shape naturally and can't be resized to match each other, there is a great chance that two pearls of the same size also don't look the same. So, if you are not confident about how the different sizes of pearls look together in your mala, get a brooch added to the pearl neck jewellery to create a distraction from the uneven sizes of pearls.
Satlada with Pearl Jewellery Designs and Gold Pendants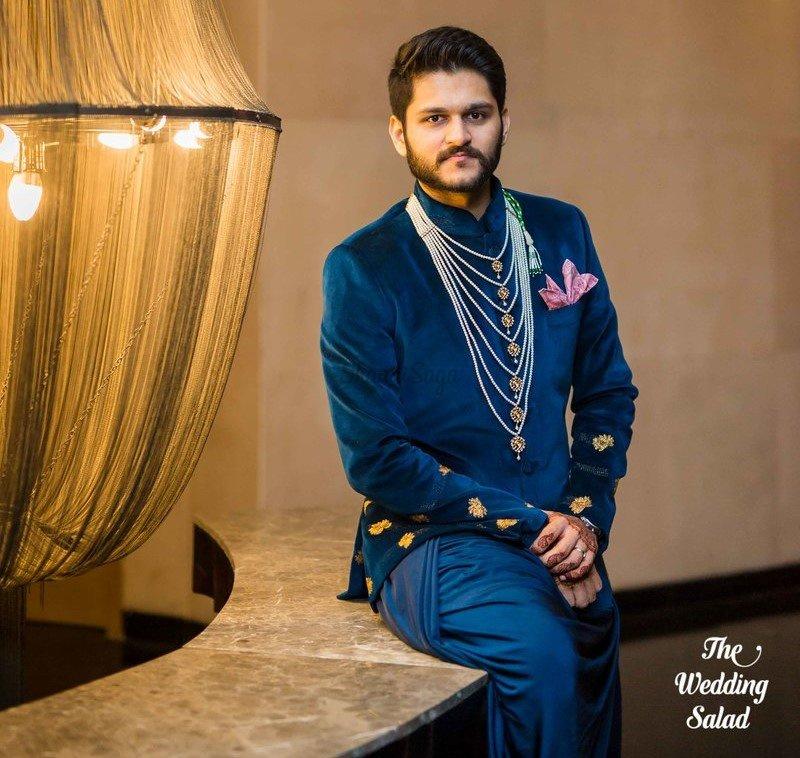 Now here's a clear winner of pearl jewellery designs for men. For all the grooms that thought Satlada was only meant to be worn by women, you're absolutely wrong. The Satlada means seven-stringed pearl necklace with a small pendant on each string. This one is for the grooms that are eyeing for a more royal look and do not like the subtlety as much.
Pro Tip- If you're going in for a regal Satlada, make sure the outfit is one that is as regal as your choice of pearl jewellery designs. We suggest you choose a royal looking colour in a Jodhpuri Bandhgala to complete the look for your big day.
Who would have guessed that men's jewellery could have that many options? Especially talking about neck jewellery, most grooms do not know the number of options they have in pearl jewellery designs that they must consider before making their final pick for their wedding day.
After all, there are bare minimum numbers of things that they get to splurge on before their wedding and we'd love for them to make a more informed choice. So if you are a groom that is clueless about the pearl neck jewellery designs that exist, then you've reached the right place.
Which of the above are your favourite pearl jewellery designs? Tell us in comments if you had no idea about neck jewellery designs before reading this article.