Looking for Sherwani Designs? Let Your Zodiac Help You for D-day
If you are a groom-to-be still guessing what to wear on your wedding, check out our guide on how to pick sherwani designs based on your zodiac sign.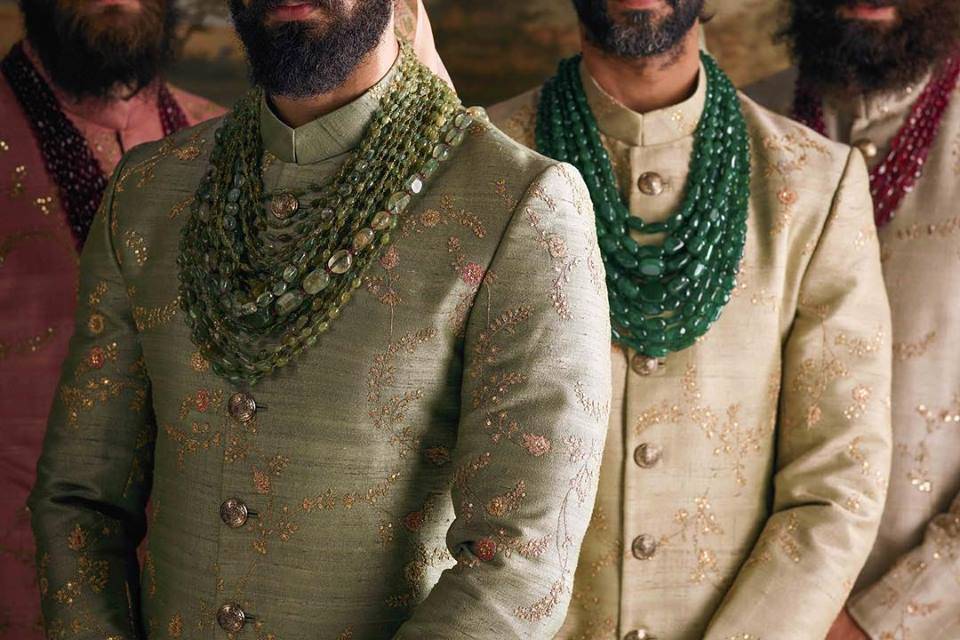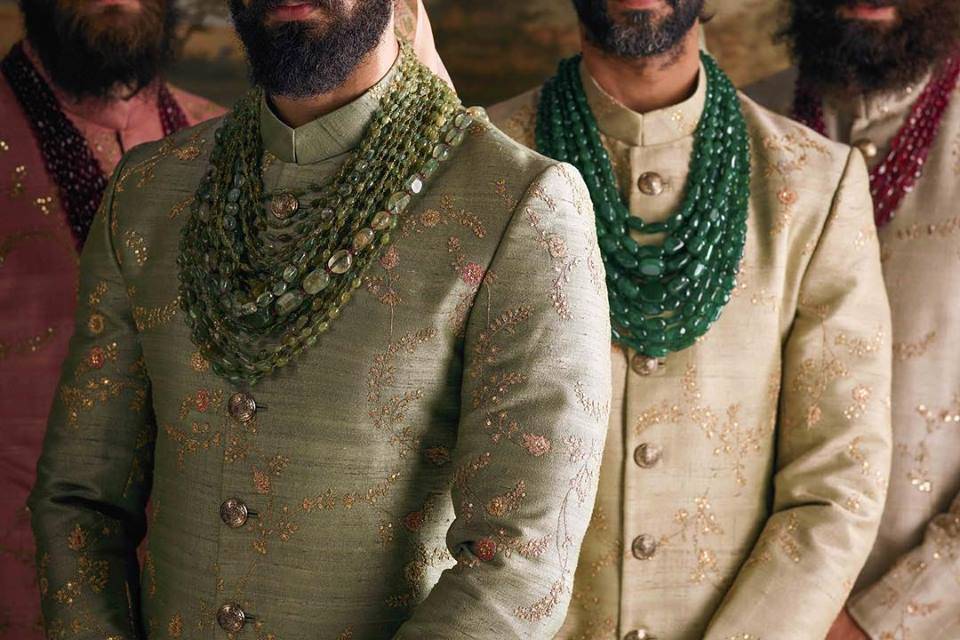 Wedding is a journey of togetherness, commitment and happiness. And, therefore, very couple looks forward to make it extra-special. For brides, it's still easier to select the colour of their wedding lehenga, but for grooms; they often get stuck!
So, how do you choose your pre-wedding or wedding sherwani designs? Colour coordination surely is an option but if you are still confused, let your zodiac sign help you decide your sherwani designs.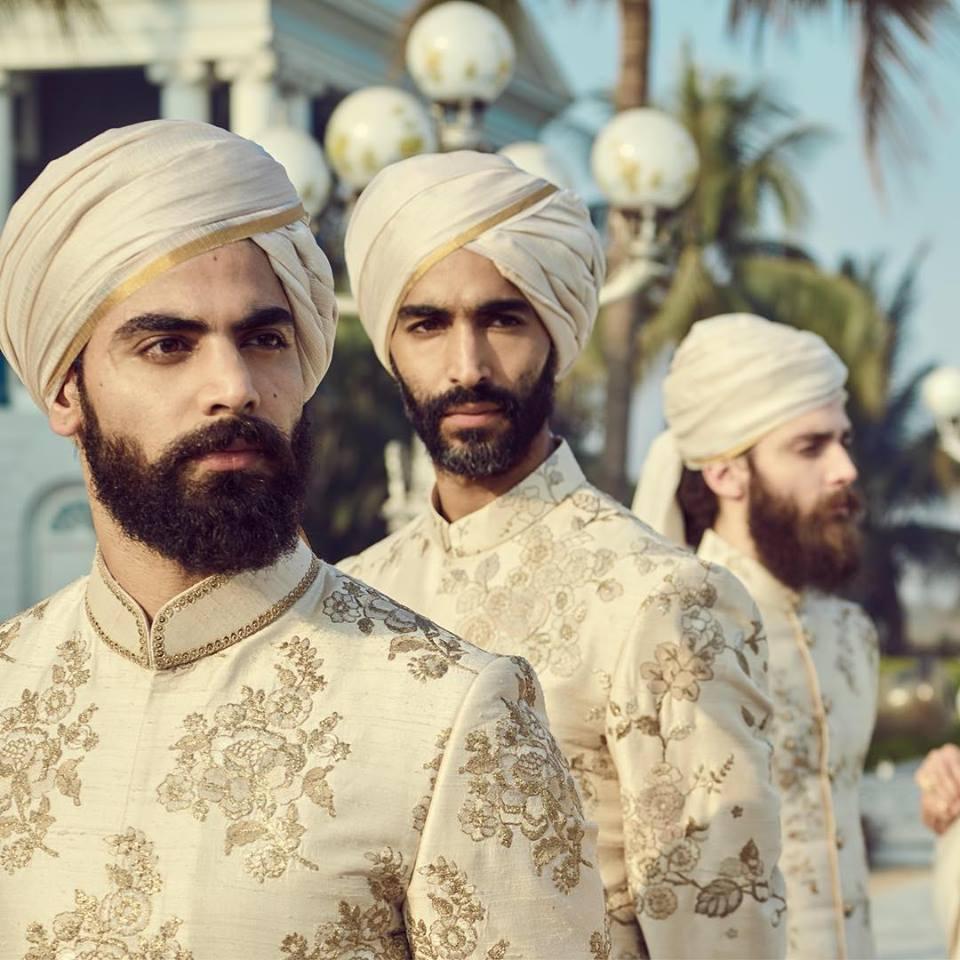 But why zodiac you may ask! Well, the perfect trick to choosing your wedding outfit is to wear something that reflects your personality. So what better way than to select a sherwani that's based on your stars and elements.
Here's our style guide to help you choose sherwani designs based on your zodiac sign.
1. Aries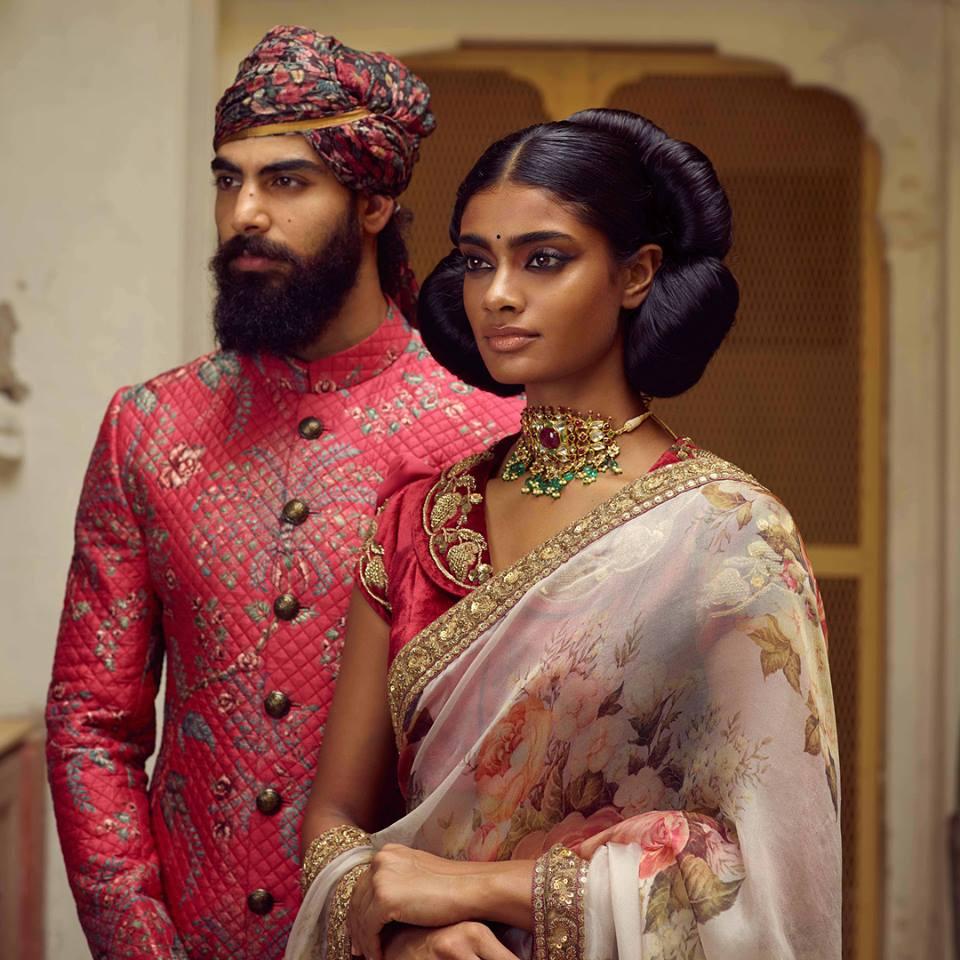 Arians, associated with planet Mars also called as the red planet, are fiery-tempered men. They tend to be born rulers. Hence deep red, symbolic of passion goes down well with the Aries people. However, men can also choose sherwani designs in warm colours like white and pink. They should strictly avoid colours such as blue, black and green. This red silk sherwani from mastercraftsman Sabyasachi is hand-dyed and accessorised with hand-crafted Bengal tiger buttons. Complete this look with a printed Safa.
2. Taurus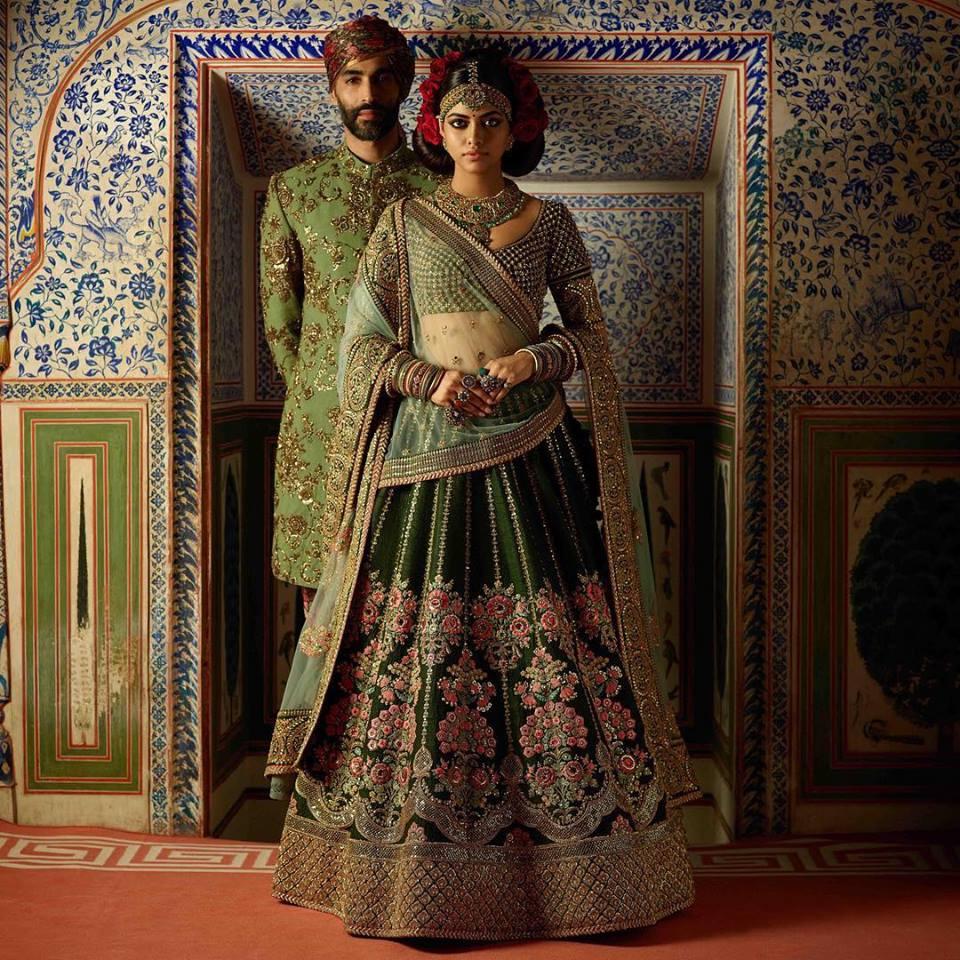 For our temperamental bulls hues of pink, cream and white go down well. They should ideally avoid wearing red as it infuses negativity, but wearing maroon is a favourable option.
Green reinforces their connection with nature and therefore, is also believed to be good for Taureans who are ruled by Venus. Something like this Lotus Jade Khadi sherwani that's lavishly embroidered with burnt gold Zardozi is an ideal choice.
3. Gemini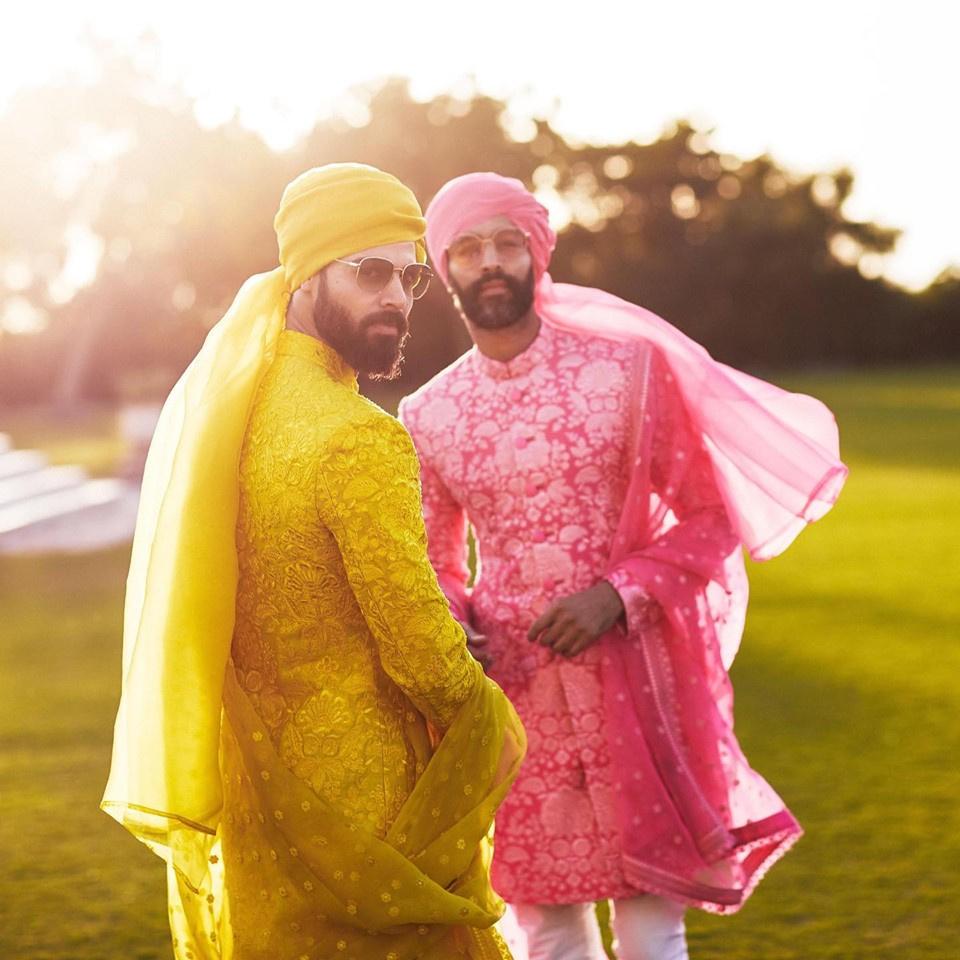 Ruled by Mercury, Gemini is symbolic of growth, freshness and creativity -so green and yellow are well-suited for Gemini men. Also, they can opt for shades of black, white, pink which suits their personality. But they should be watchful of wearing blue. So if you want to wear something that's not truly traditional, try something like this bright yellow or pink sherwani from the house of Sabyasachi. Team this dapper look with a matching Safa and a scarf.
4. Cancer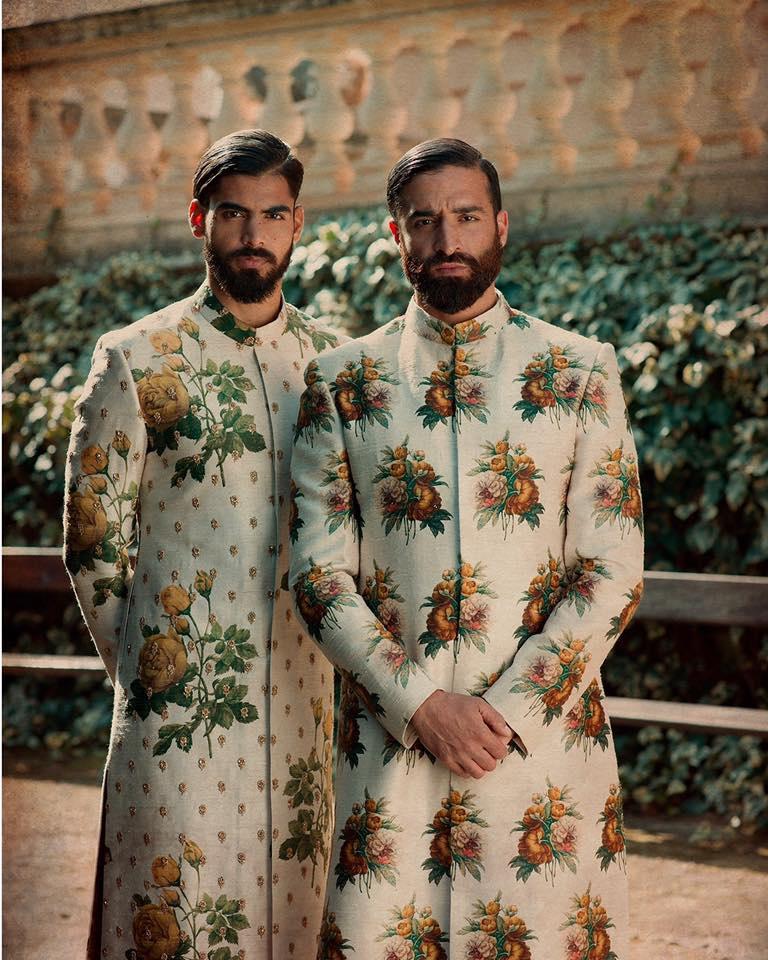 Ruled by Moon, Cancerians are calm by nature and therefore, soft and muted colours like blue, white, sea green, grey and silver are suitable for them. The yellow colour is deemed auspicious however, red can have a stormy effect.
If you want to impress your partner with your classy fashion style, pick these chic printed sherwani designs from Sabyasachi. These are perfect for a destination or resort wedding.
5. Leo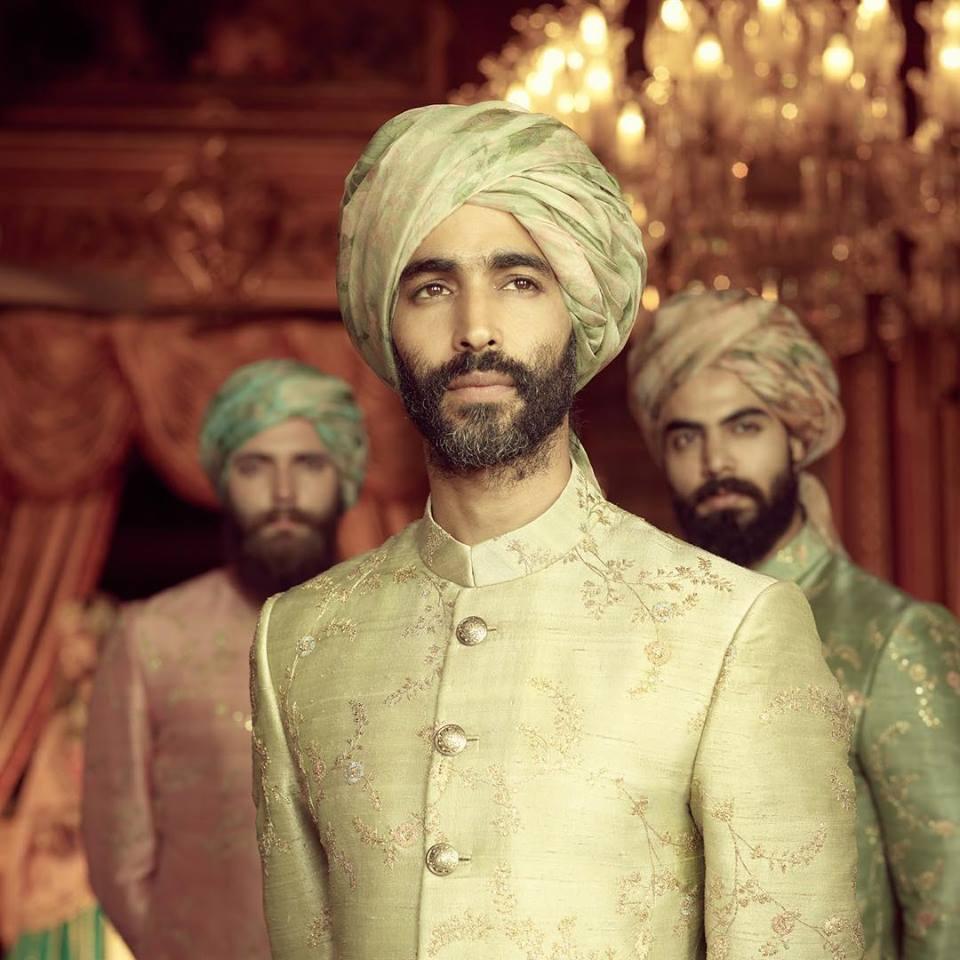 Ruled and influenced by Sun, Leos have a magnetic personality and they are usually dominating by nature. Orange is best suited but you can also opt for other colours like gold, purple and red.
Gold, the colour of royalty gives Leo men the attention they want and deserve. Taking cues from this Sabyasachi groom, you can wear something similar in silk sherwani. Pair your golden sherwani with a printed Safa.
6. Virgo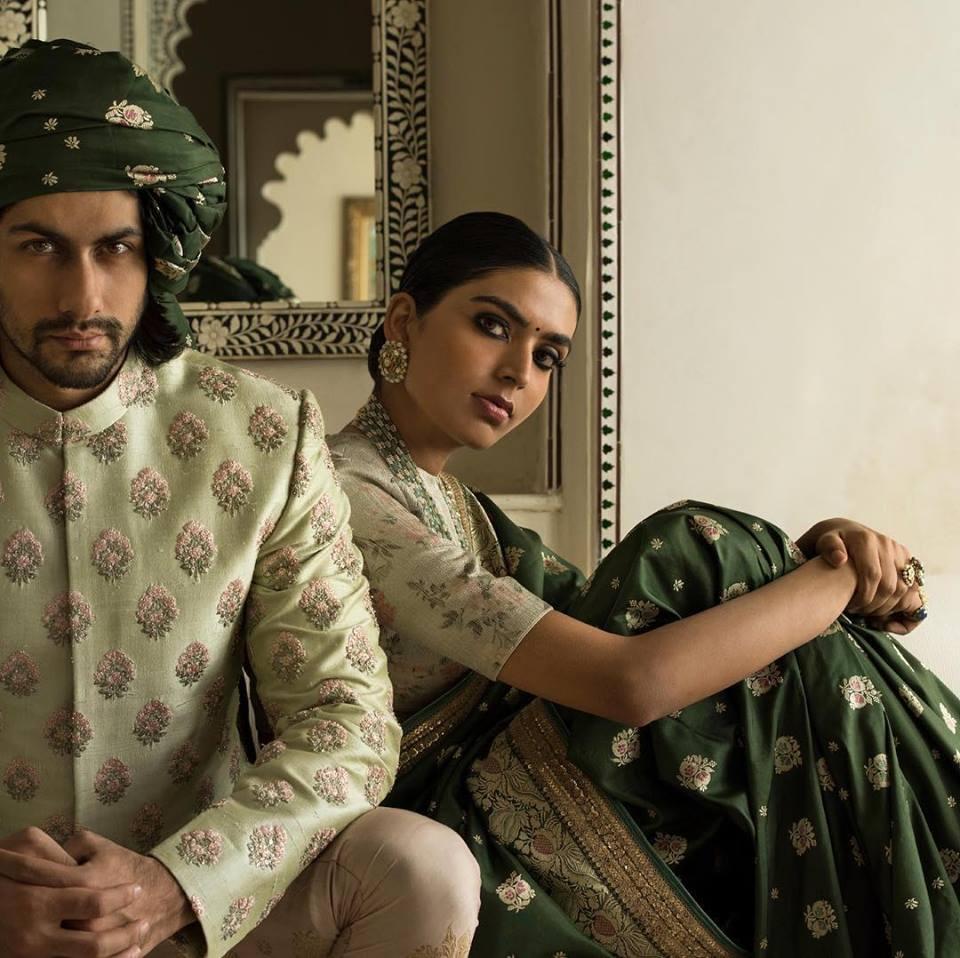 Pastel and pale shades - right from peach to mauve and light blue and light pink are ideal choices for Virgos, the zodiac ruled by Mercury. Various earthy tones of green like bottle green, moss green, olive green, etc., and natural brown are also suitable for them as they keep Virgo men grounded.
However, the men under this zodiac should not wear red. This pale green designer sherwani with delicate floral embroidery by Sabyasachi is every groom's ideal wedding wear. Pair this sherwani with a dark/olive green Safa or a turban to complete the look.
7. Libra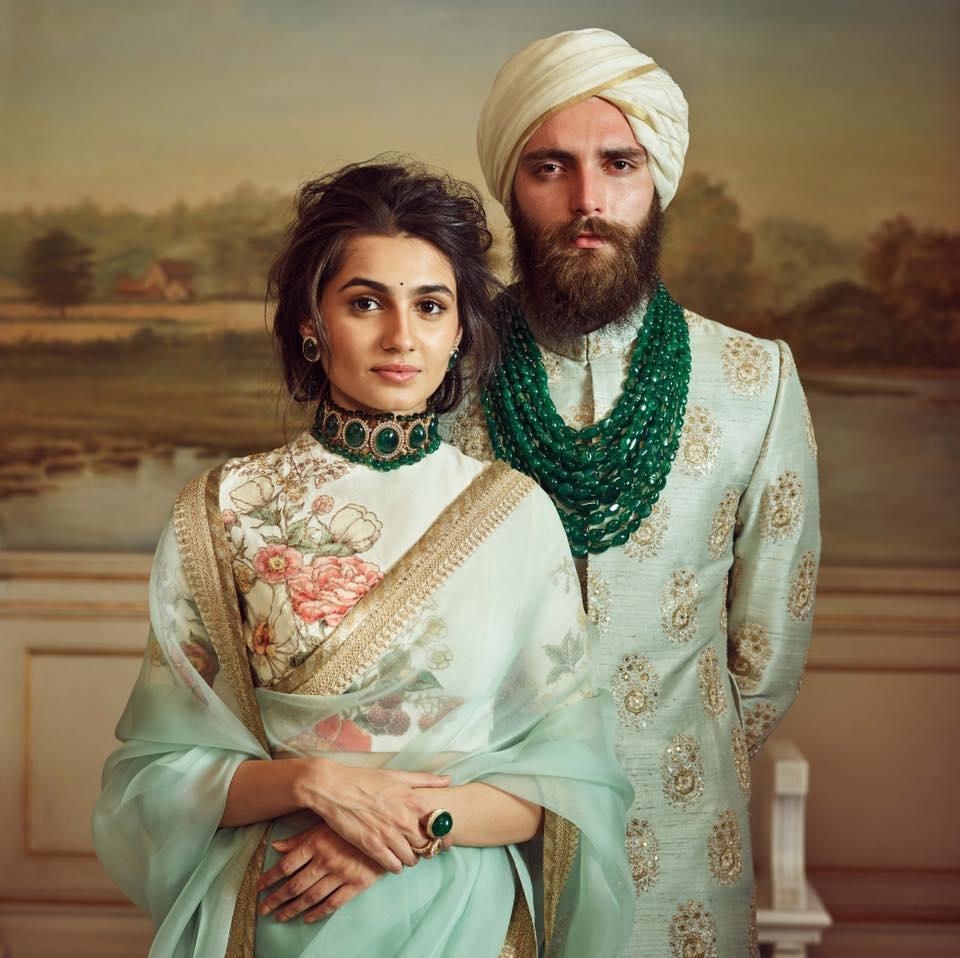 For balanced and harmonious Librans, ruled by Venus, they can wear sherwani designs in white or light blue that symbolises cool subtle breeze, thereby increasing clarity and balance.
A bright colour palette, too, suits their personality. However, they should refrain from wearing red. This pastel blue silk sherwani with golden embroidery exudes royal charm. To complete this look, grooms-to-be can pair this sherwani with matching turban, Zardosi juttis and multilayered emerald string.
8. Scorpio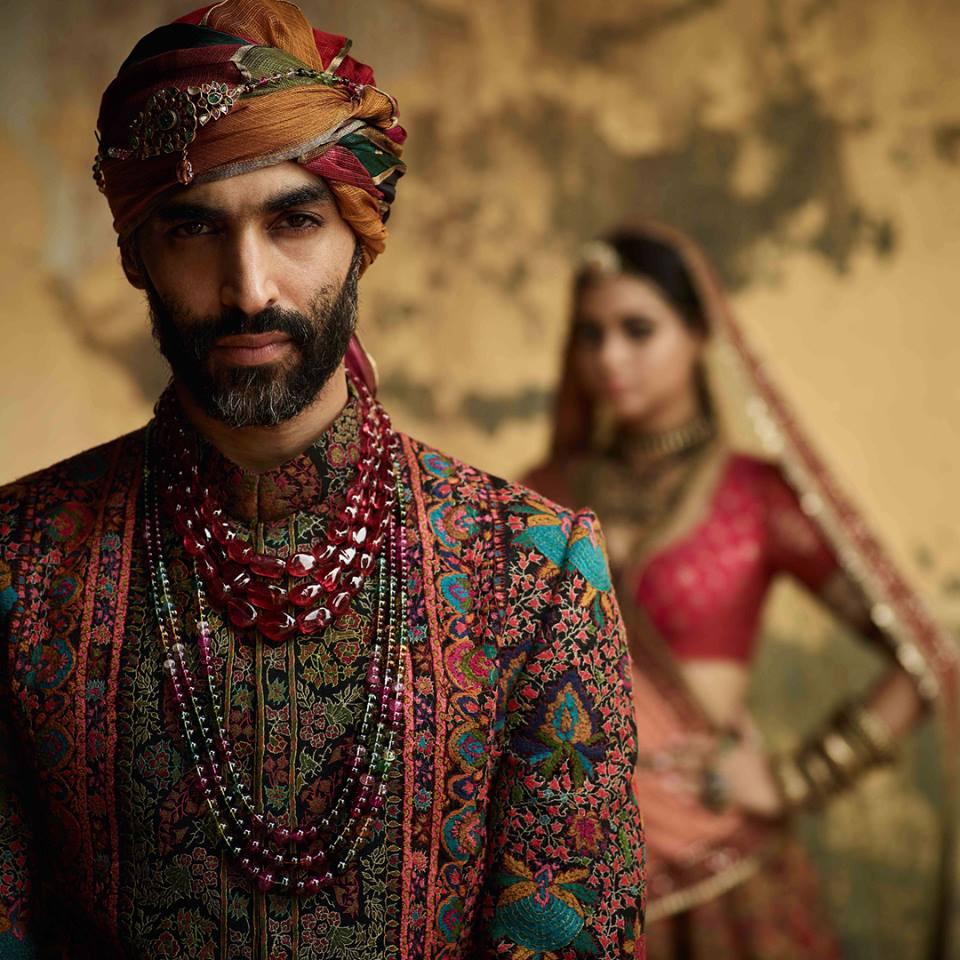 Ruled by Pluto, the mysterious Scorpions prefer black, and the darker shades of chocolate, purple, burgundy, and maroon. These dark shades enhance the Scorpio groom's strength to let go off the past and open space for their ability to transform into something new.
Colours they should avoid are blue and green. This 'Pashmina' sherwani constructed out of a Kashmiri shawl is perfect for a winter wedding. To accessorise the look you can choose a matching hand-printed silk dupatta and multiple layers of tourmaline and sapphire beads.
9. Sagittarius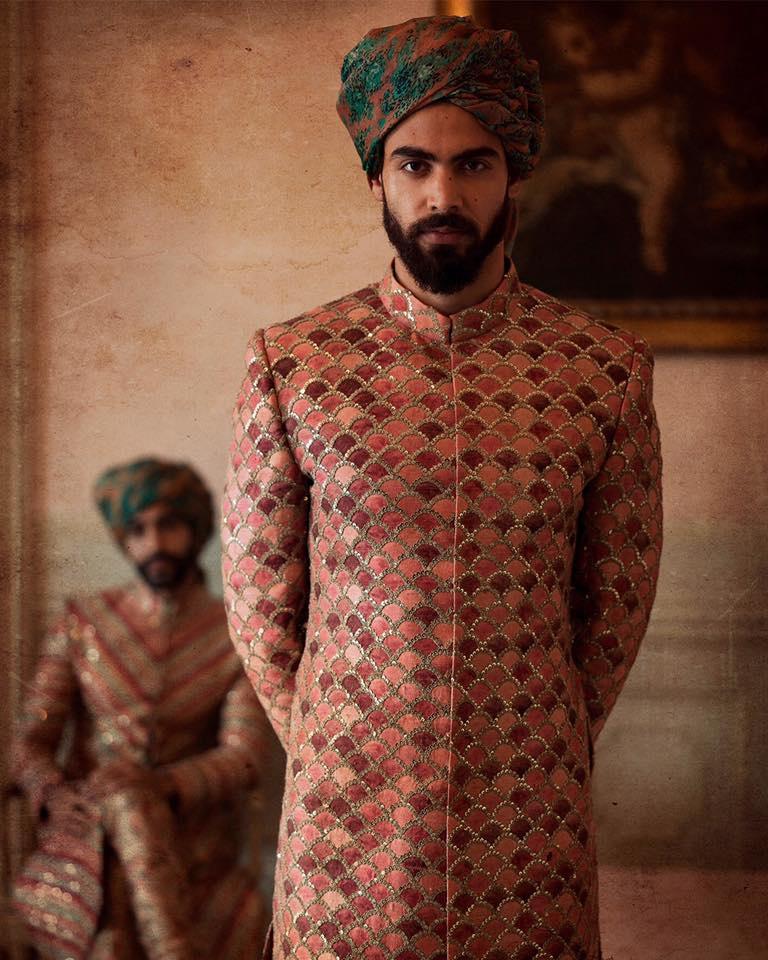 Colours that suit a Sagittarian personality are orange, red, purple and dark yellow, etc. Besides, they can also opt for green and whites. The blue colour is considered to bring negativity for Sagittarians, the zodiac that's ruled by Jupiter.
For inspo, check out this Sabyasachi sherwani with mandarin collar. This will look regal for your grand wedding function.
10. Capricorn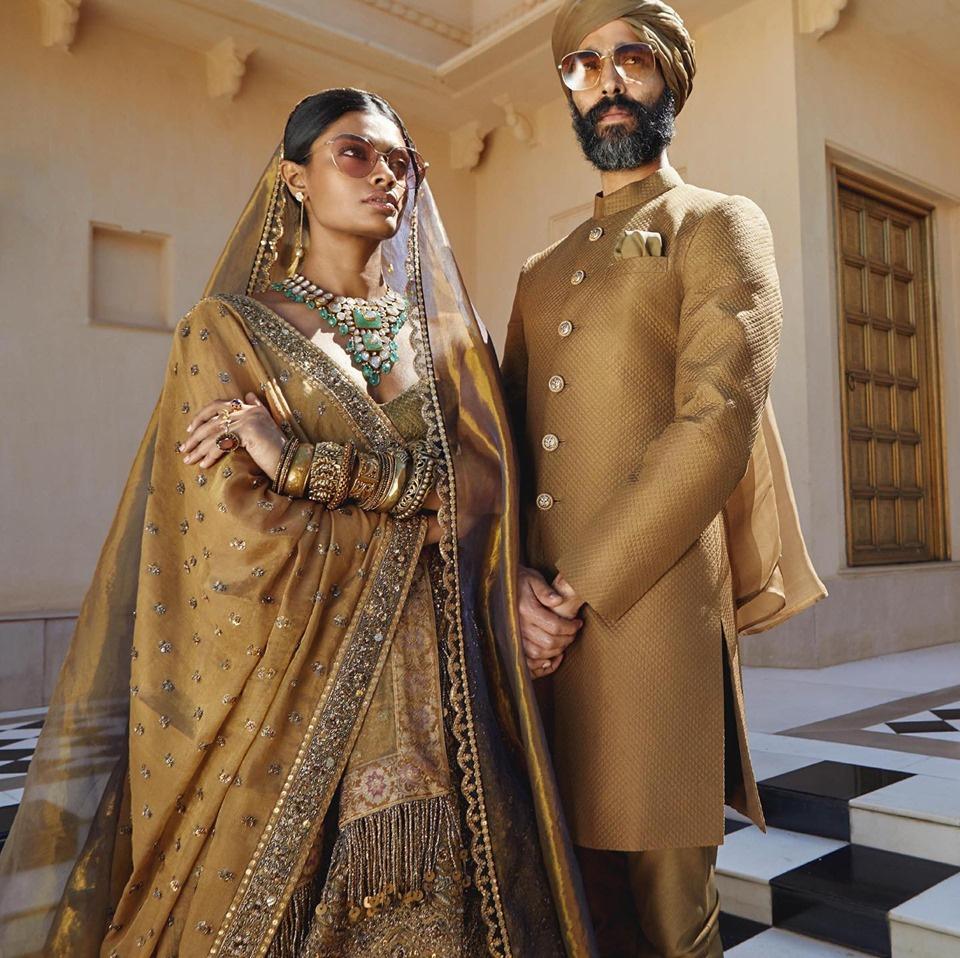 Any shade of brown, khaki and black are best suited for Capricorns as these colours represent stability in goat's life. They should refrain from wearing red and yellow. The zodiac sign is influenced by the planet Saturn. This extremely stylish sherwani is crafted keeping the modern groom in mind.
11. Aquarius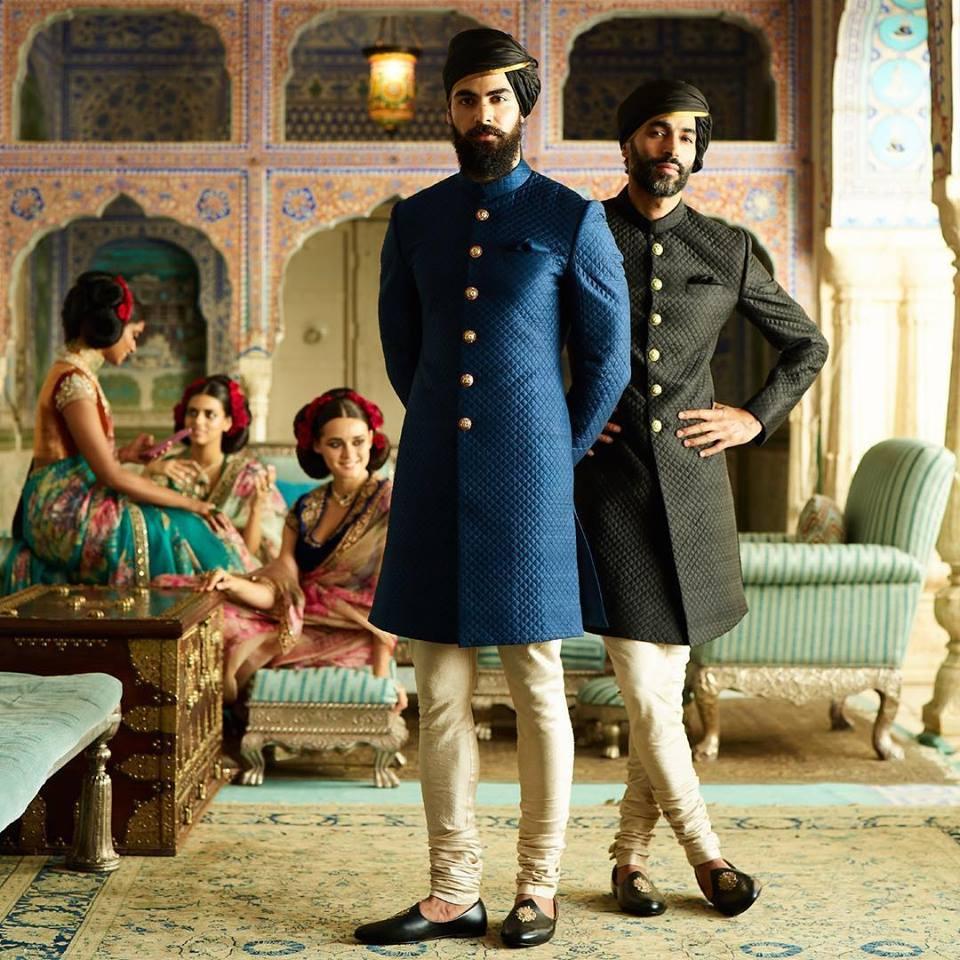 The best colour for an energetic and electrifying Aquarian man is violet, turquoise and purple. However, he can also choose sherwani designs in white and bright colours.
However, colours like dark blue and green are not considered to be lucky for Aquarius sign - the zodiac that's ruled by Uranus. This classic range of quilted silk sherwani designs can be paired with printed organza Safa designs and matching mojaris.
12. Pisces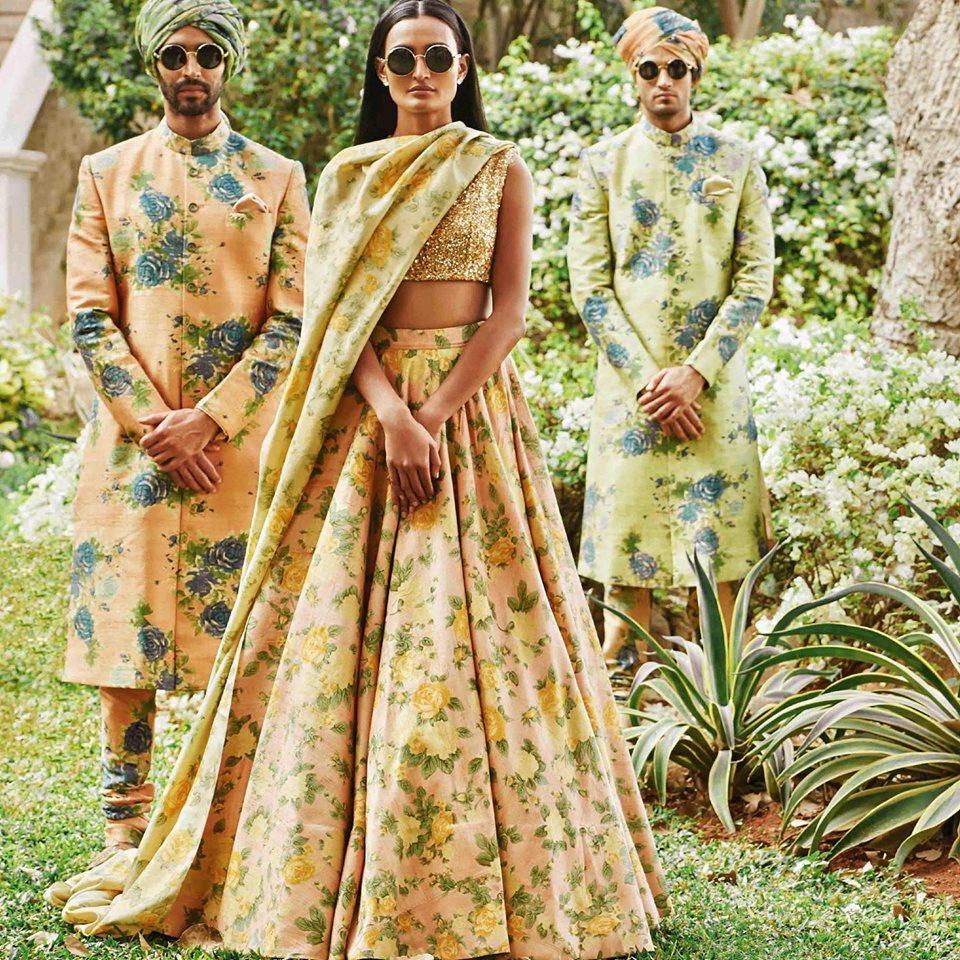 For fashion-forward Piscean men, they can choose sherwani designs in yellow and orange. Pink and light green is also favourable for them. But they should be wary of not wearing anything in black. Pisces is ruled and influenced by Neptune.
To create a statement, you can choose something like these printed sherwanis with mandarin collar and concealed pockets. You can pair this gutsy look with a matching turban, Mojaris and a pocket square.
Would you like to choose your wedding wear based on your zodiac sign? Share your thoughts with us in the comment section below.
All images have been taken from the Official Facebook page of ace designer Sabyasachi Mukherji.