Breathtaking Kurta Pajama Designs With Jacket: the Manyavar Mohey Style!
Manyavar Mohey has always portrayed its exquisite designer men's collection in a unique manner that inspires everyone to buy them. Let's have a look at its top kurta pajama designs with jacket to know more about its traditional style!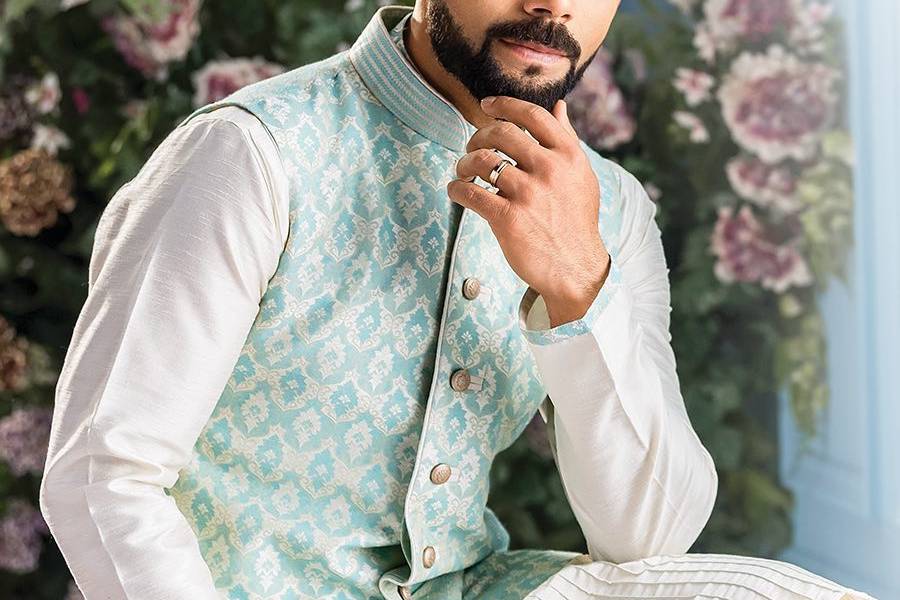 Kurta Pajama designs with jacket have always been a go-to outfit for men when it's time for festivities, such as weddings, Diwali, Eid and more. During any festival, you will always find men wearing a kurta pajama mostly paired with a jacket to look more stylish. However, if you want all eyes to be on you and want to kill with your looks, you should not explore anything apart from a great collection such as the ones offered by Manyavar Mohey. A top brand known for its ethnic wear, it has broken all norms and added creativity to traditional wear, only to come up with the most amazing apparel you can ever find. In the case of Kurta Pajama designs with jackets, they have gone all out on the traditional look and sprinkled a bit of a contemporary touch with their designs.
Let's have a look at some of the best Kurta Pajama designs with jackets.
1. The Funky Jacket Kurta Pajama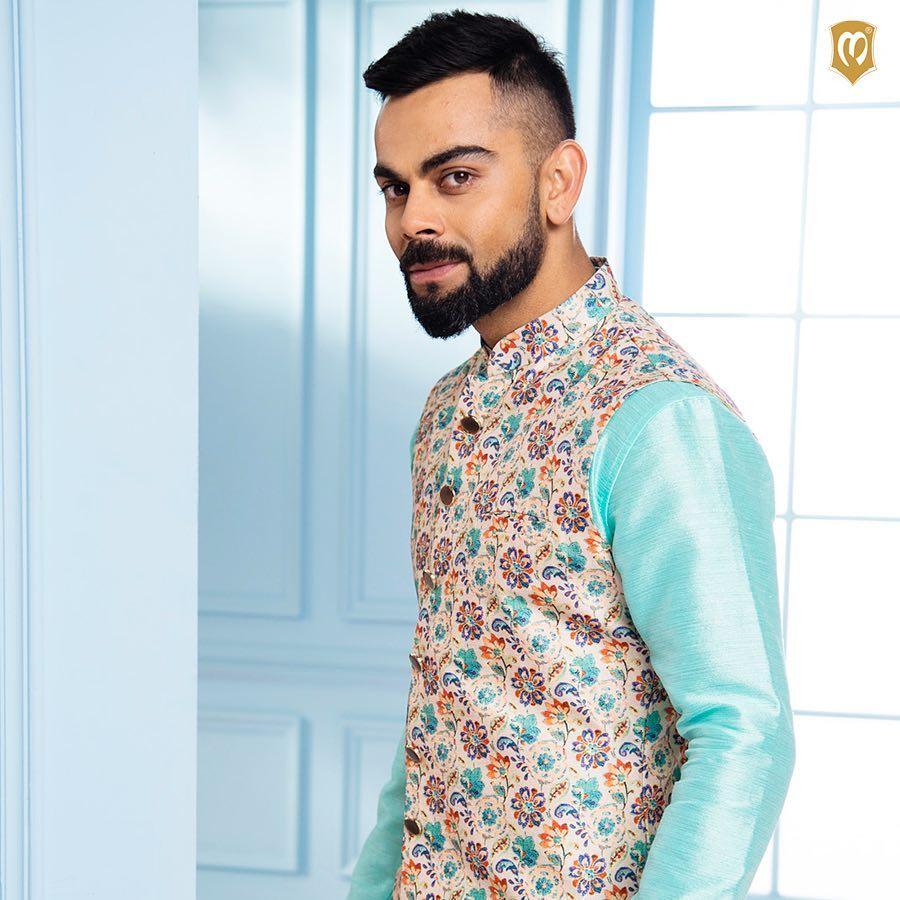 Paired with a sky blue fitted kurta, this ensemble will take your heart away with the help of its jacket. On top of a beige base, it has a colourful and cool floral design printed on the front of the jacket, which is what has made this duo so appealing. Adding colours like white, red, orange, yellow blue and more, this jacket is the leading star of this attire. You can pair it with a similar blue pajama or white ones if you want to go for contrast styling. Vibrant and bright, this is one of those kurta pajama designs with jacket that have been made for lively men. It can even work as great Indian groom wear for engagement!
2. Shimmer Kurta Pajama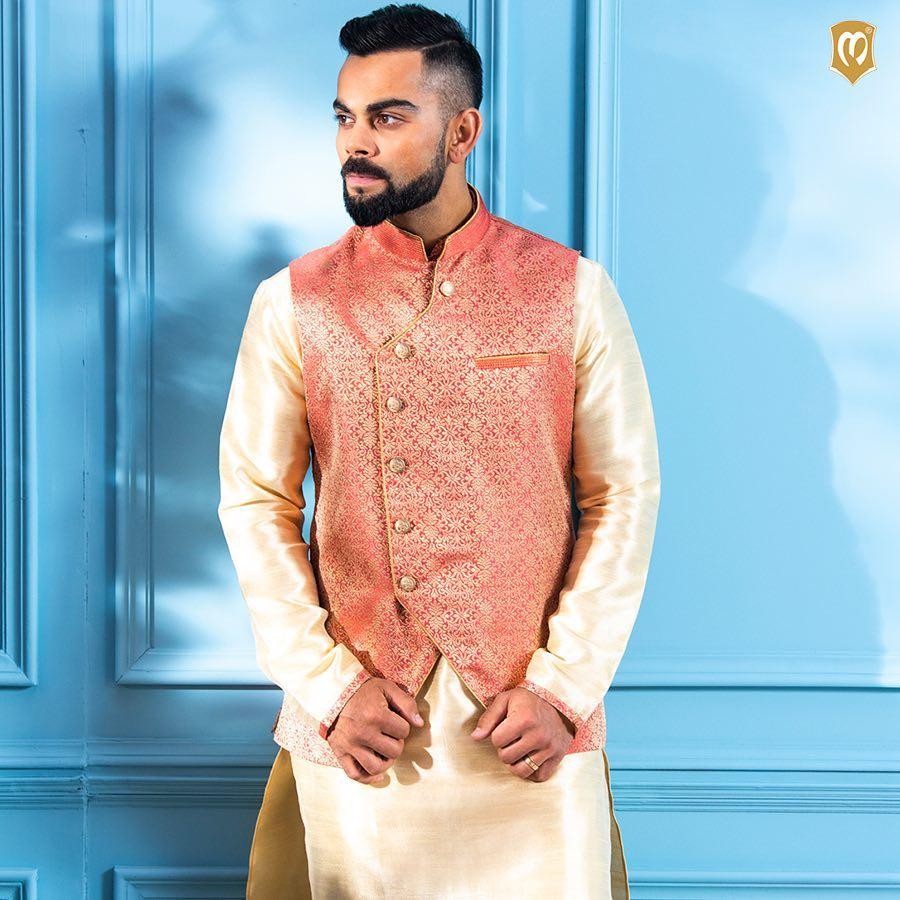 With a light layer of shimmer on your kurta and jacket, your look will certainly be outstanding. This is one of the cream coloured glowing Kurta pajama designs with jacket offered by the brand that has great looks and style. With a brown shimmering jacket on top, it has been filled with traditional embroidery and has a front pocket on the left. Perfect for the groom to don at a wedding, this has all the elements of an outfit that's made for the night. Moreover, it's known as a part of the Virat Collection. With a royal and imperial look, it can be worn for a lot of pre-wedding ceremonies too.
3. Striped Kurta Pajama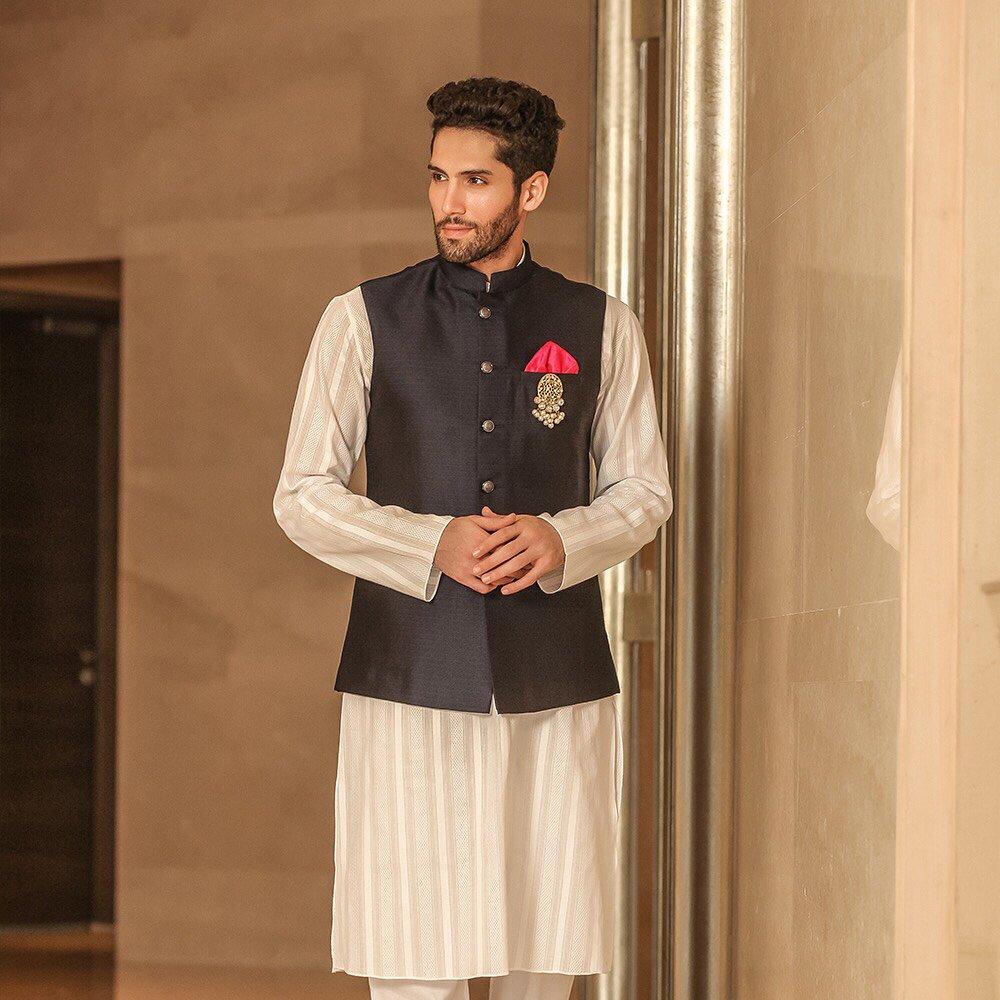 While looking for Kurta Pajama designs with jacket, a striped kurta would be a great choice. A light beige coloured striped kurta work in the summer would be a great option to let go of the summer heat waves. Along with the kurta comes an excellent black jacket that makes you look great without any designs and colours. With golden buttons in the middle, your night look will be perfected with a light beige coloured Churidar as the pajama
4. Black and Golden Kurta Pajama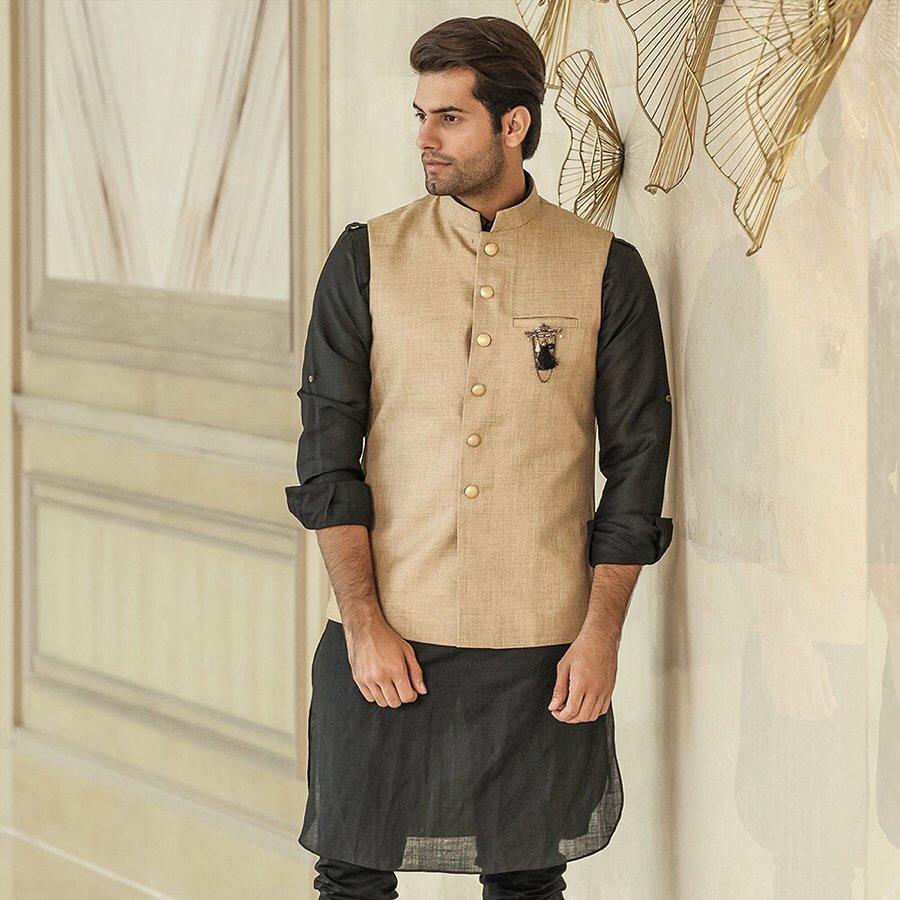 While black kurta pajama design with jacket are quite common and many people wear it, this one is something unique. With a piece of soft cotton fabric, this full sleeved Kurta Pajama does a great job for men who want to look different from their usual selves, as it adds a spark to their persona with a buttoned up golden jacket. Made up of a heavier fabric, the jacket gives a classy and chic look to the kurta pajama. The black pajama can be Churidar, as is the case in most situations, or you can wear a salwar to be more comfortable. Pair it with Punjabi Juttis and your look will be complete for the day!
5. Blue Kurta and Jacket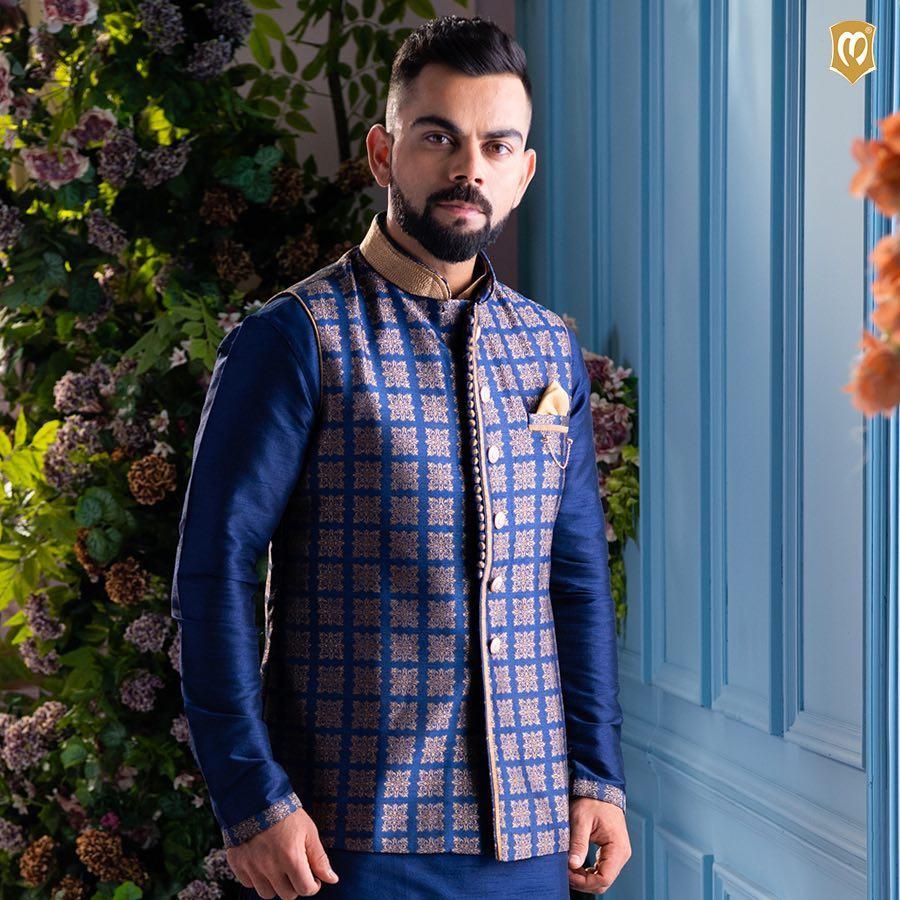 The perfect way to rock blue can only be with such Kurta Pajama designs with jacket as this one comes with contemporary designs along with a traditional look. With a dark blue kurta and pajama, Manyavar Mohey has created a jacket with a dark blue and golden combination that creates a dazzling look. The golden collar looks imperial with the golden block design all over the blue jacket. The colour combination has definitely left its mark by defining the attire and makes it nothing less than royal.
Manyavar Mohey has a reputation of creating some of the most unbelievable kurta pajama designs with jacket, while taking care of the most of the intricate parts of the ensemble. Whether we talk about the colour combinations, designs or styling, they have got it all covered with their range of kurta pajama designs with jacket.
Apart from that, their creation of jackets is immensely appreciated by their customers. Along with quality fabrics and perfect embroidery, the jackets are easy to maintain and comfortable to wear with a perfect fit. What else do people want from their favourite clothing brand? By choosing Manyavar Mohey while looking for Kurta Pajama designs with jacket, you are choosing royalty over normality and you will not be disappointed with the range of wearable provided by the brand!
Make sure you visit a men's salon before attending any event so that your hair can look great!