Decoding Wedding Wear Shopping in the Time of Corona
Renowned Designers reveal the best ways to shop for wedding wear for your intimate wedding ceremonies during the lockdown.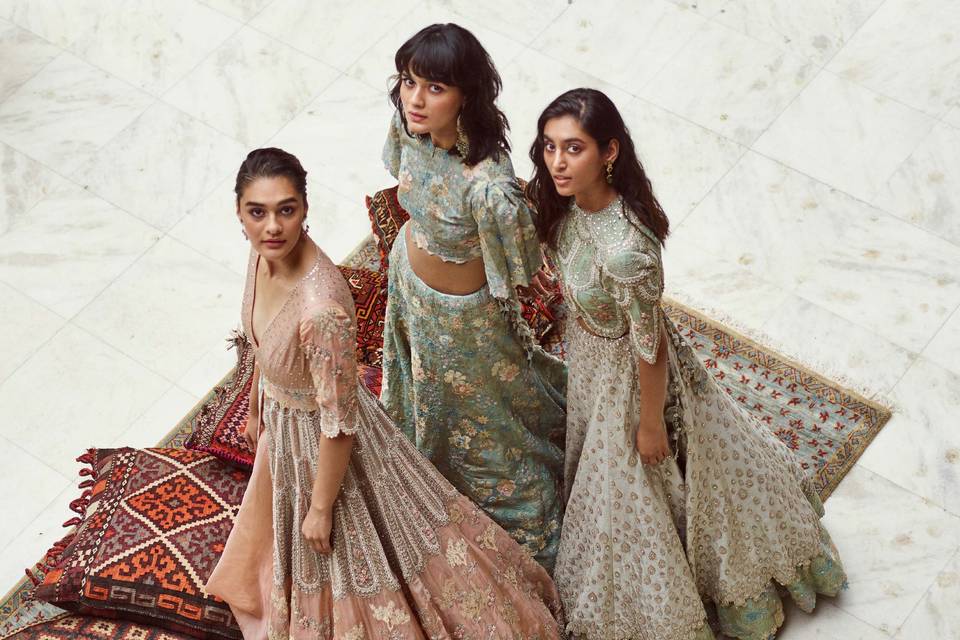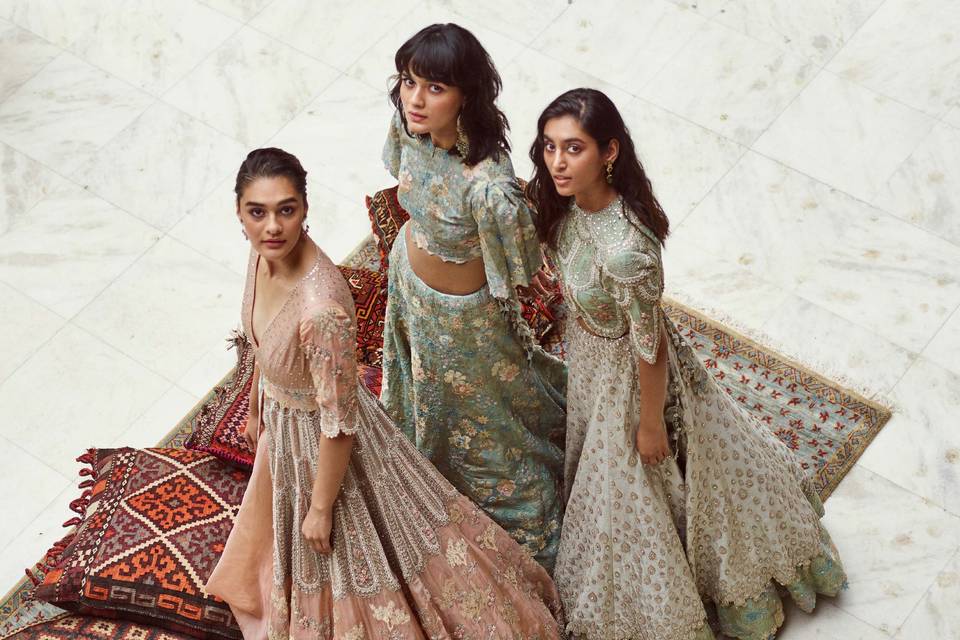 Image Courtesy: Osaa by Adarsh
We are no longer at the stage of the pandemic when our thoughts and inhibitions about the future swimmed unanchored as we grappled to make sense of the virus. Most of us have now embraced the 'new normal'. But Corona still hovers and masks and gloves act as shields as we step out in an effort to try and celebrate life again.
Amidst these grey times, watching couples tie the knot in beautiful intimate wedding ceremonies has been one of the most bright silver linings for all of us. Reinstating our belief that Love Is Not Cancelled regardless of what comes our way, couples from across the world have stood up to make sense of this fraught reality or definition of normal by celebrating love and their sacred union, with 25-50 people who are closest to their hearts.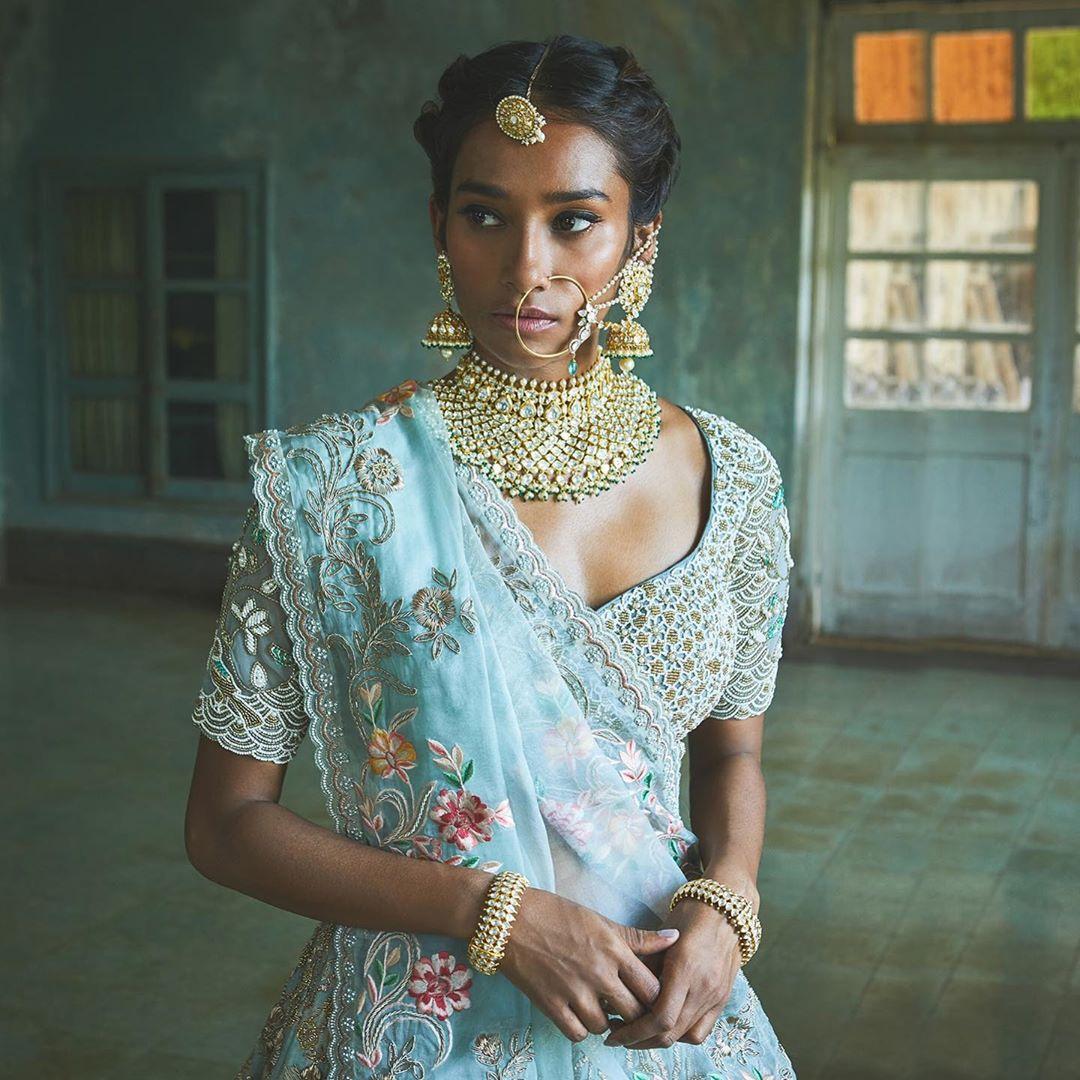 But what happens to reigning bridal wear and accessory trends, seasonal favourite velvet or organza lehengas, designer sherwanis and safas, when social distancing and intimate weddings are the top of mind requisites? Of the many industries that witnessed a drastic change in their narrative post 2020, the fashion industry floats on the top of the list. While head honchos of leading Indian as well as International brands are discussing changes in the current fashion show/season model, the importance of fashion shopping for brides and grooms will never fade away. After all it's your day and you need to dress up for it! In conversation with 3 leading names of the fashion fraternity, we explore the best ways to assist the shopping journey of brides and grooms-to-be.
This article has expert inputs on -
1. How to Shop Wedding attires while social distancing?
2. Precaution and Sanitation strategies at stores
How to Shop Wedding Attires while Social Distancing?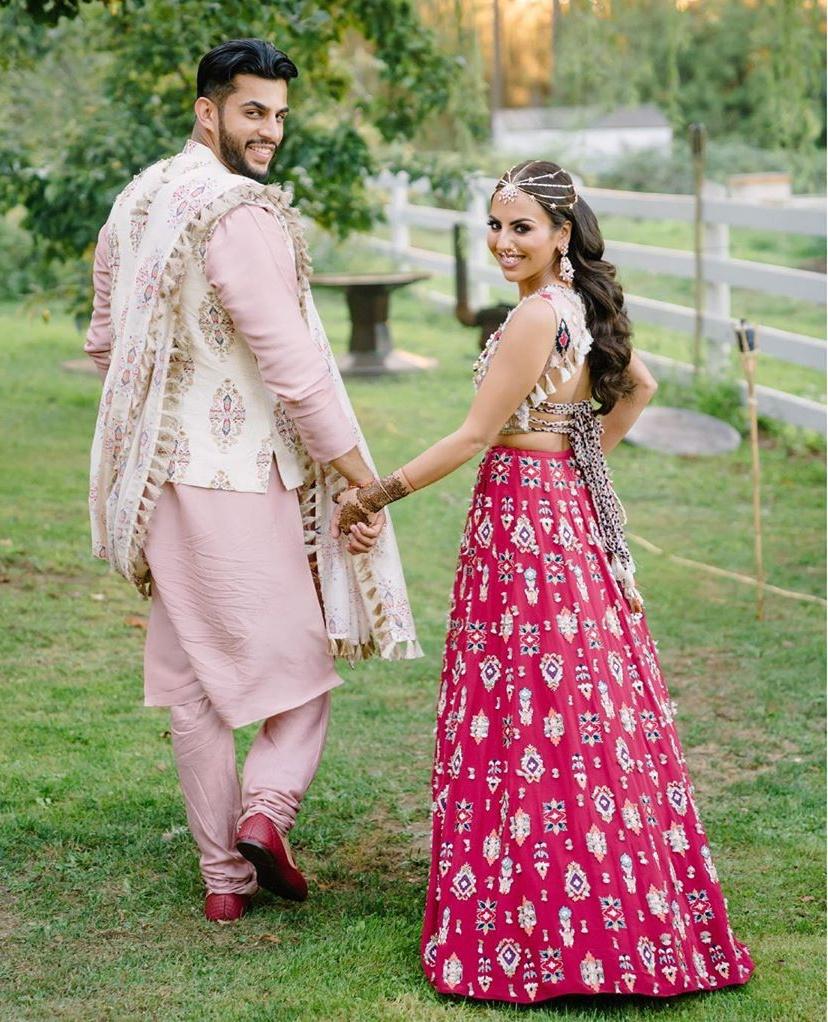 Image Courtesy - Payal Singhal at House of Raina
Opt for Virtual Bridal Consultation
It is not a lesser known fact that designers have catered to many NRI wedding dreams and weaved beautiful traditional lehengas for Indian hearts living abroad for years. Monica Shah from Jade reveals that the practise of offering virtual bridal consultation to their NRI brides has now been adapted for the brides in India as well. "We have recently launched our e-commerce platform, and have tied the virtual bridal consultation to it in a way that creates a seamless and intimate experience for the client. The greatest advantage of this is that we get to reach a wider base of audience. People can access our brand anytime, anywhere on any given day."
Adarsh, the name behind Osaa by Adarsh, highlights training the team on how to virtually cater to the customers and take care of their comfort as top priority. "We have trained them on how to efficiently communicate with them to understand their specific requirements like - the type of outfit and the occasion. After a virtual tour of the store, we understand what their body type is and what their comfort lies in. We have created a special showcase area for the display of the garments shortlisted by the customer which is then tried on by one of our team members to give more clarity about the garment. In the past few months, we have realised that the main aspect to take care of is the comfort of our client."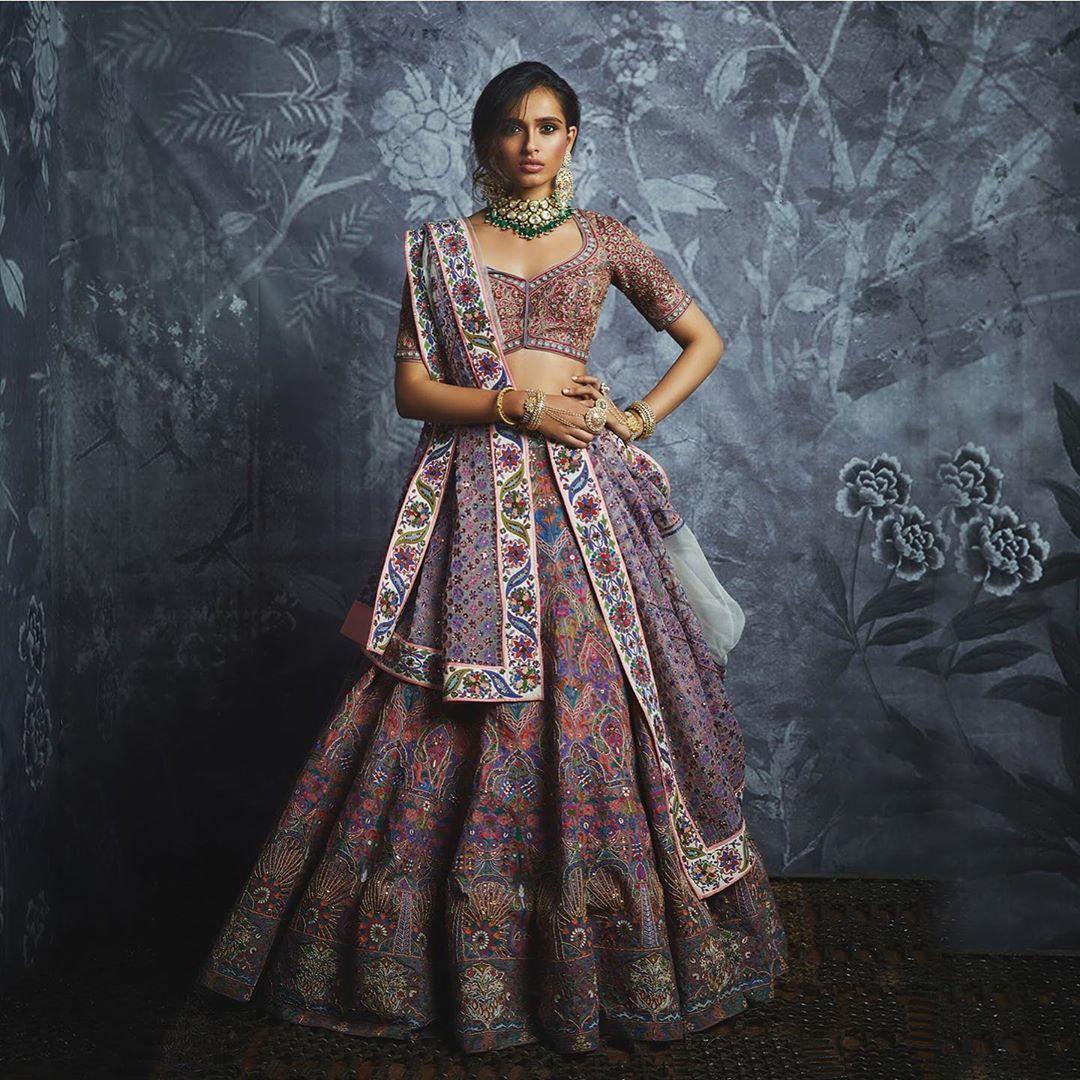 Shop Online
Beauty brands have been on the online circuit long enough to pick up the online pace during this crises, but famous designers have also turned to e-commerce with a fresh focus since lockdown 1.0. Affirming the recent trend of buying online, Shah shares, "It's here, and it's here to stay. With the consumer's consciousness growing more inclined to online shopping, designers have to adapt to the virtual space too. This is a great opportunity for us to interact with and cater to brides from across the globe, as well as leverage technology to create a unique and seamless luxury shopping experience online."
Highlighting the evolving role of e-commerce, Designer Payal Singhal says, "Trunk shows, exhibitions and pop-ups all stand cancelled for a while so E-commerce is going to play a big role not just for wedding shopping but shopping in general. Clients can use the digital platform to shop for their custom orders as well as shop the existing style. We already had a working website and during the lockdown, we focused on updating it and made the interface more user friendly. However small and intimate, weddings are still happening around the world and having a digital presence has helped us stay connected with even the international clients and the brides who are still sceptical to visit stores and try out outfits."
Adarsh reveals, "Digital presence has given us a huge benefit to expand our business, previously the client was not interested in buying luxury online but slowly they are accepting this format and luxury shopping digitally has seen a significant rise due to the lockdown."
Add Masks to the Cart
Masks have been one of the most unexpected additions to the new normals list for bridal shopping. But millennial brides have embraced the accessory with positivity and hope to abide by the norms of the Government and follow strict safety measures. Speaking about the importance and growing demand of the accessory, Singhal shares, "Many people are looking at masks as a way to express themselves and lift their mood while complying to the mandatory mask rule." The designer presents the mandatory accessory under a creative and expressing light that can add to the charm of the overall look for brides and grooms and wedding guests as well. "As masks are here to stay for a long time, the fashion industry has added masks as the new product offering to provide affordable yet aesthetic solutions."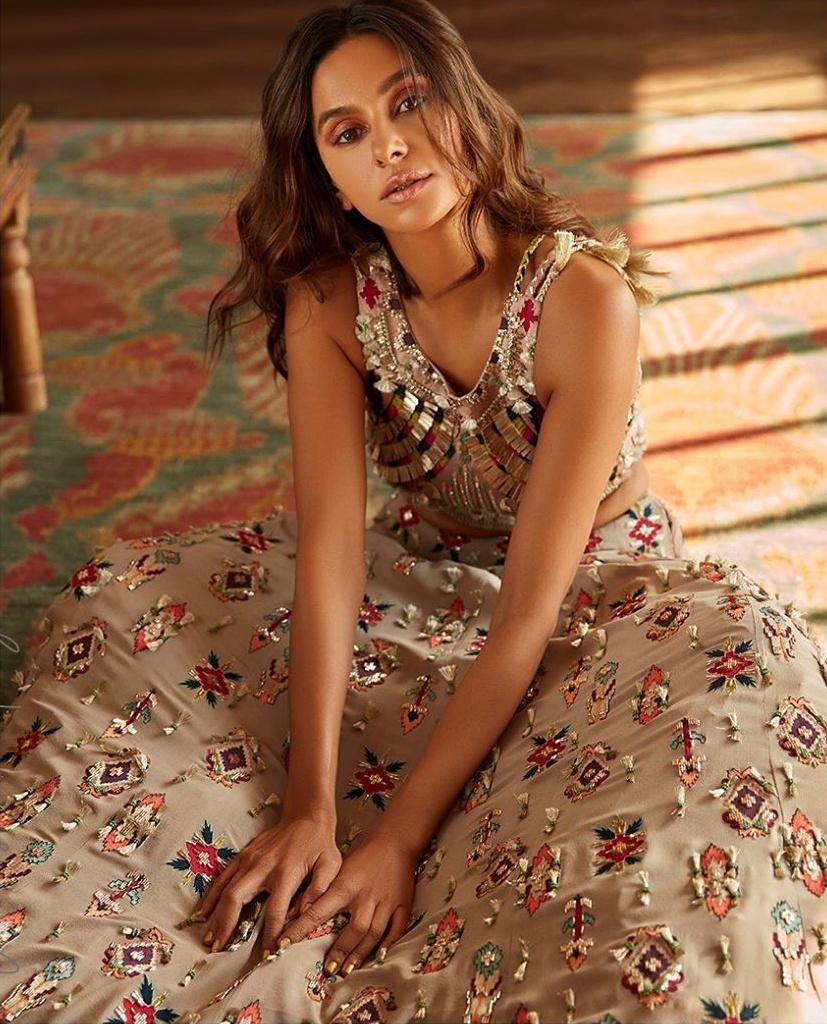 Image Courtesy: Payal Singhal
Look out for Pop Up Sales & Virtual Bazaars
In an attempt to control the current narrative and instability in times of COVID, brands have taken to their social media channels and various other digital platforms to offer lucrative sales and access to new launches to all their customers who cannot visit their stores right now. Discussing varied ways in which fashion can be accessible to people from home, Singhal shares "We did a digital Pop Up Sale a few weeks back and we did a virtual bazaar for rakhi gifting. We are also creating digital catalogues for our customers to shop from home so they don't need to physically visit the stores."
Also Read: How to Shop for Wedding Jewellery in the Time of Corona?
Precaution and Sanitation strategies at stores
For those who consider the element of human touch a priority in bridal & groom wear shopping, Shah shares, "Our stores are already open. We operate three times a week and accept clients on an appointment basis only. Children are not allowed at the moment. Masks are mandatory. Each appointment slot accommodates two guests. The store undergoes thorough sanitation and cleaning between each slot. We also sanitise each and every piece with UV light. Clients are not allowed to use the trial room. Our team uses all safety and hygiene measures while interacting with the clients."
Adarsh confirms, "Our stores have already opened with a strict policy of 'clients by appointment only' with a restricted number of clients per day and also strict measures are followed with sanitation and hygiene in the stores."
Also Read: All You Need to Know About Beauty Shopping While Social Distancing
If you are planning an intimate wedding or have an intimate wedding ceremony of a close one to attend, browse through our list of top bridal lehenga designers and groom's outfit stores & designers their albums of latest collection and book virtual appointments to buy your favourite jewellery design.