Groom Up! Dashing Sherwani Dress Images You Must Check Now
Grooms buck up! It's your time to put a spin on your wedding fashion. Check out these super stylish sherwani dress images to get inspired for the big day!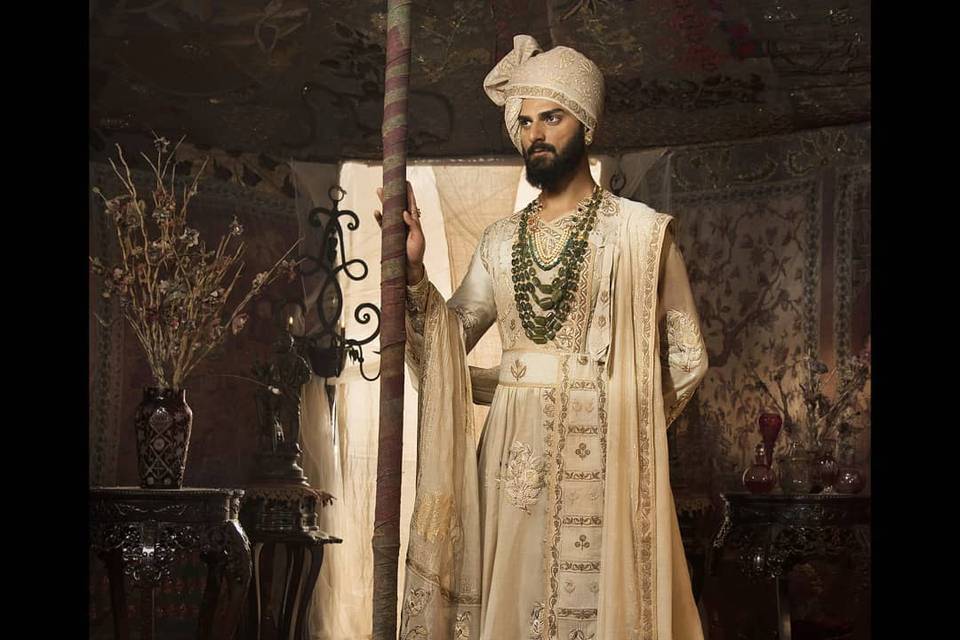 Groom fashion does not mean boring, monochromatic clothes with limited styling options anymore. And when it comes to sherwani designs, there is a whole new world of colours, patterns, combinations, and styles to explore. From the elegant white sherwanis to the glam-laden royal blue sherwani styles, there is artistic detailing in every bit of groom dresses. Not to mention the exquisite groom jewellery and accessories to complement the outfits. All you need is an open mind to try new things. Here we have a collection of stylish Sherwani Dress designs assembled for you. Take a look and pick your style of outfits.
Wine Sherwani with Golden & Blue Embroidery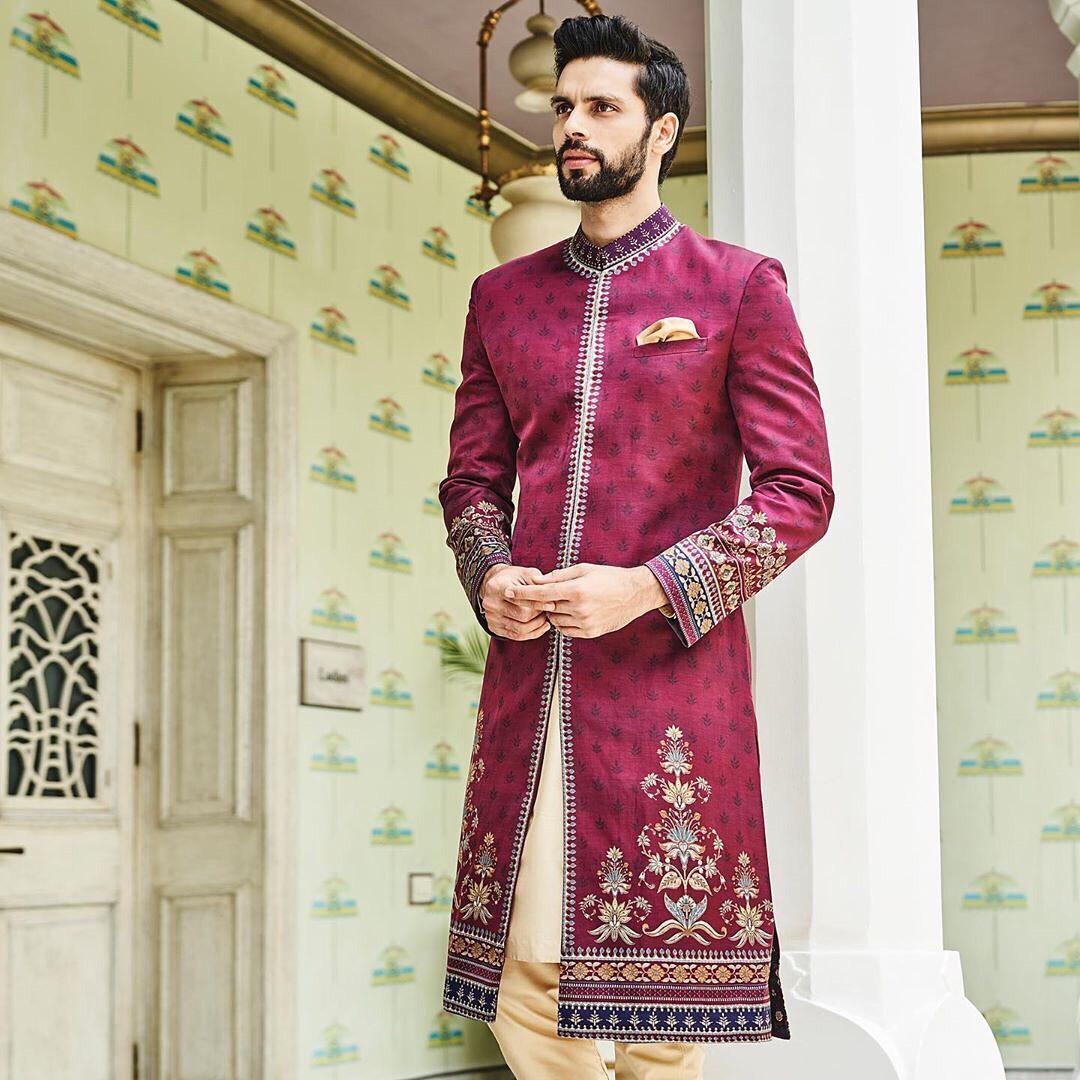 Sport this wine colour sherwani dress designed by Anita Dongre for your wedding or engagement if you're looking for something subtle yet dazzling. The gorgeous colour and the sparse floral embroidery in golden and icy blue give this groom dress attitude with royal subtlety. Pair this up with a beige salwar or a Pathani salwar and pocket square.
Short Sherwani with Heavy Floral Embroidery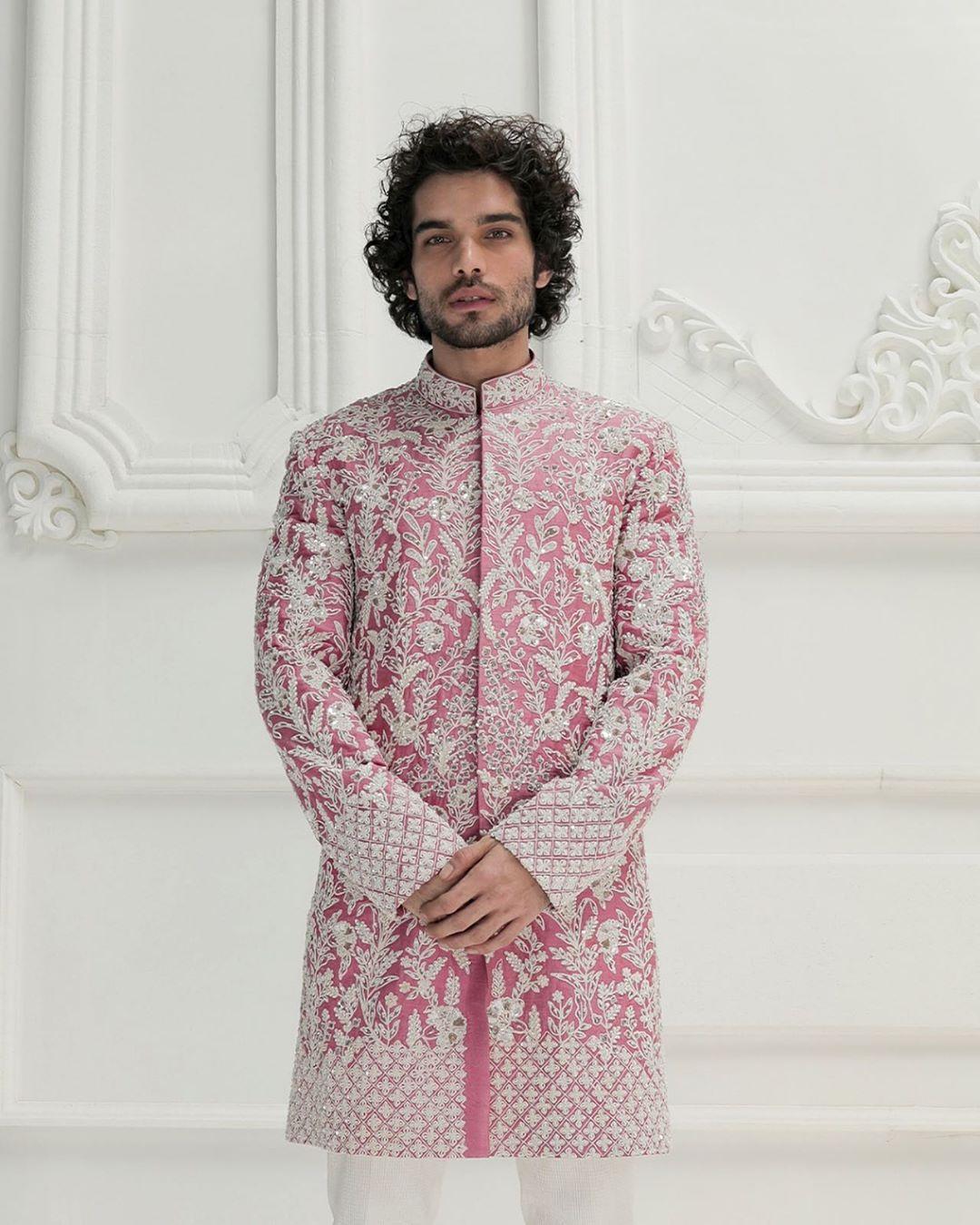 Image Courtesy: Manish Malhotra
Take fashion cue from this Manish Malhotra ensemble to bring a little twist to your wedding game. This short sherwani dress in baby pink would be an ideal choice for your day wedding or an outdoor wedding event. The heavy silver embroidery work all over the dress makes it a perfect outfit for a royal wedding. Wear this short sherwani with a white Patiala salwar, Pathani salwar or a Churidaar salwar. The heavy thread work won't require you to accessorise much with this outfit.
White Sherwani in Matka Silk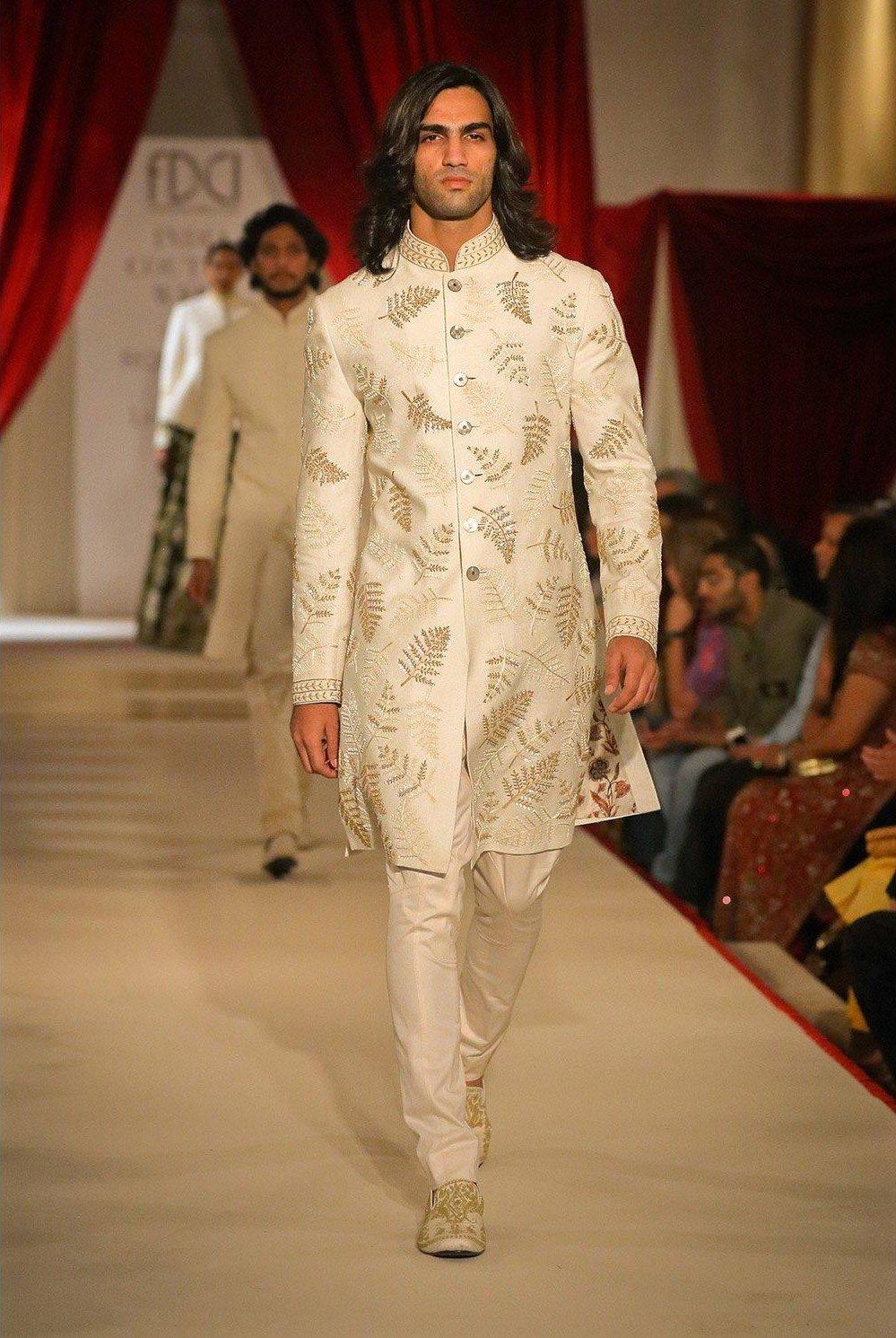 Rich fabric and graceful embroidery- that's one of the signature styles of Rohit Bal. Try a white sherwani dress in Matka silk fabric with large petals and leaves embroidered in gold on it. This Rohit Bal couture would be ideal for day or night wedding, Sangeet or Engagement ceremonies. If you're up for it, go for matching shoes with similar embroidery design to go with this charming dress.
Black Quilted Silk Sherwani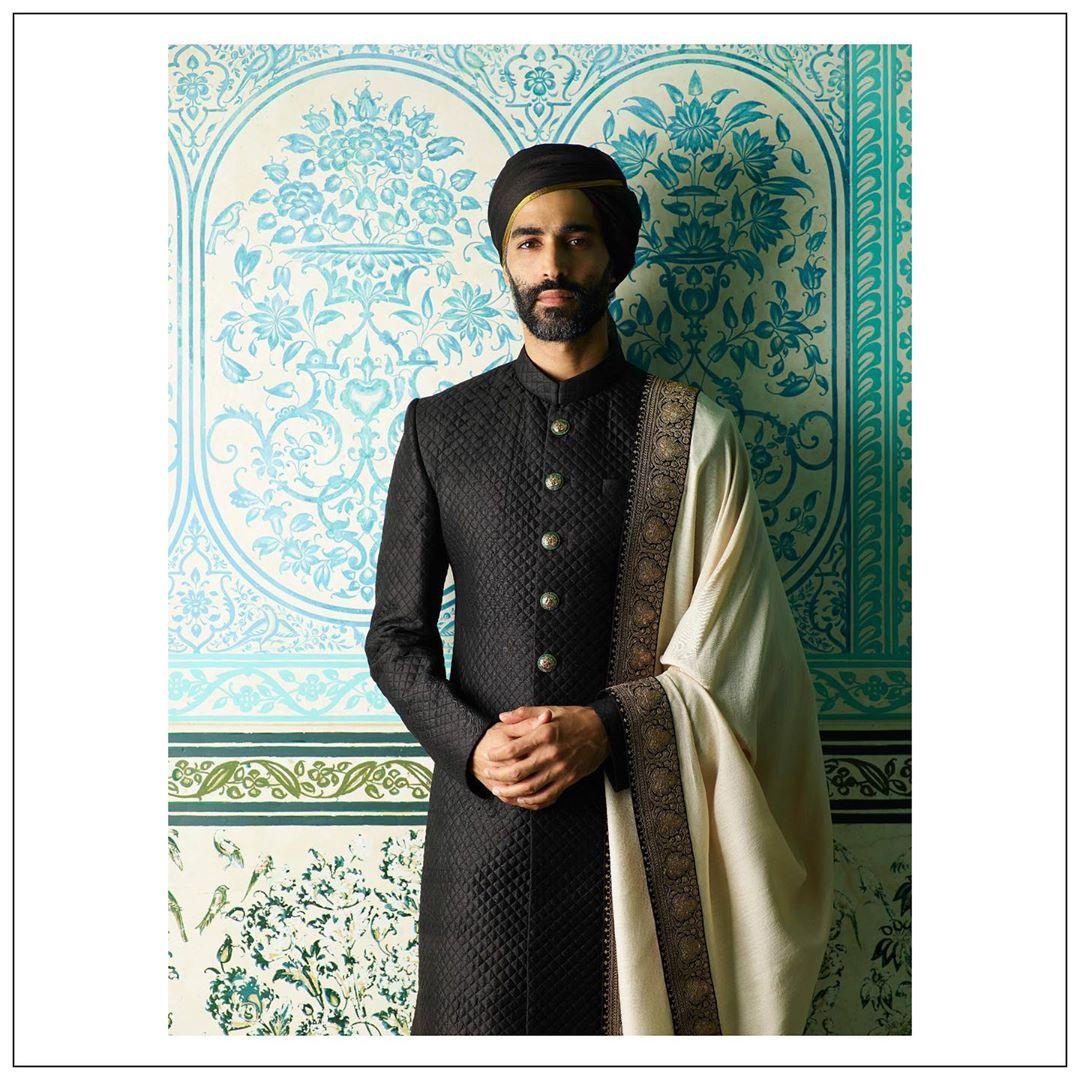 Image Courtesy: Sabyasachi
Break stereotypes and go black! Especially if it's a Sabyasachi couture for the groom, it's only fair to try something off-beat. This black quilted sherwani is for grooms who aren't afraid to sport black on weddings and set their own trend. If you're getting married in the winters, this quilted sherwani dress has to be your go-to winter wedding outfit. The comfortable fabric, the neat thread work and the large oxidised silver buttons add a whole new level of reality in the dress. Carry a white Cashmere shawl with embroidered borders to complete your Rajputi look.
Handwoven Silk Sherwani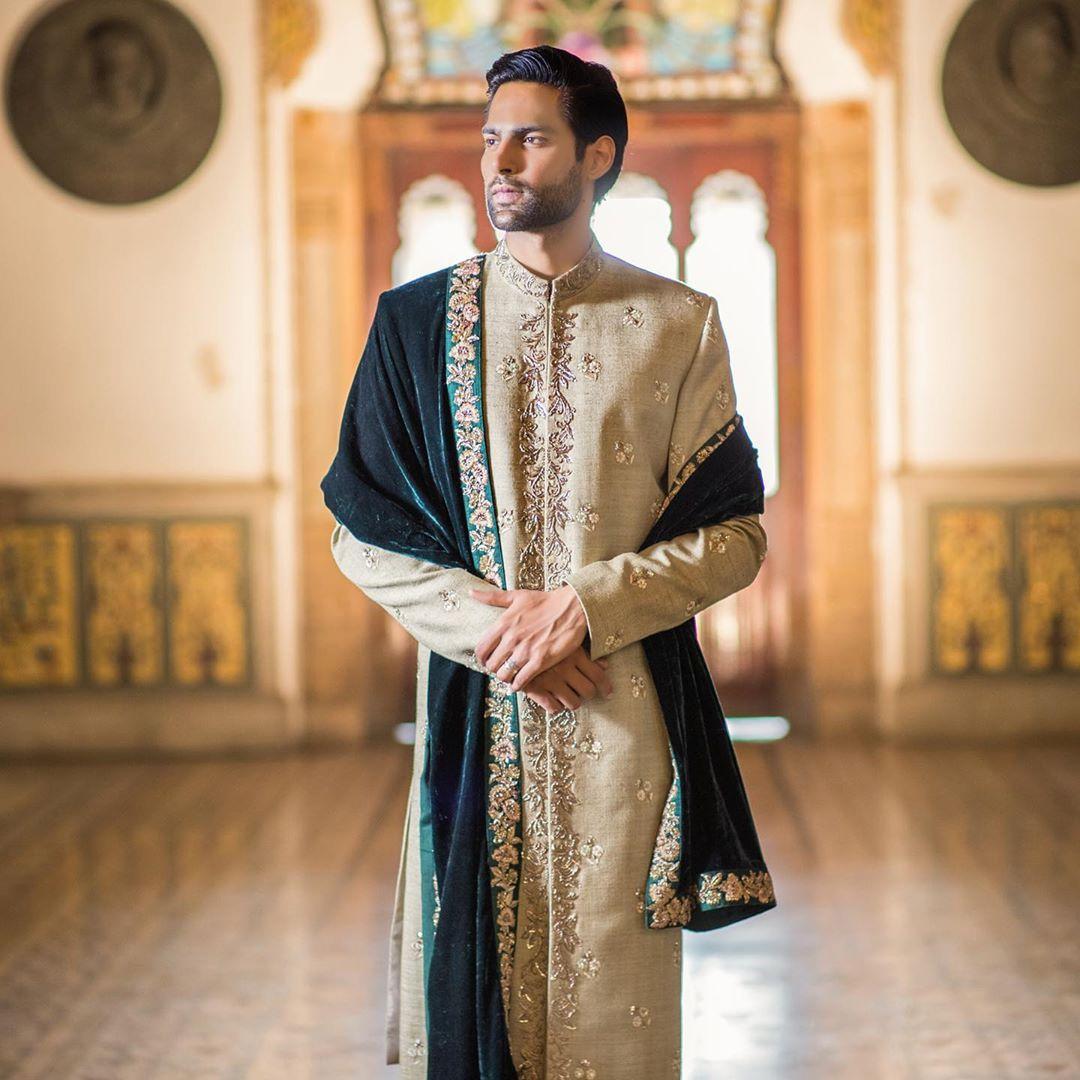 If you're looking for a sherwani dress that's simple, elegant and displays meticulous ethnic handwork, this is the outfit for you. The richness of the handwoven silk sherwani in wheat is further enhanced with the ingenious embroidery along the button line and the collar. To add a little touch of vibrancy in the mix, carry an indigo colour shawl or dupatta on one shoulder with similar thread embroidery. This Shyamal & Bhumika creation is ideal for a day wedding, engagement or a Roka ceremony.
Draped Sherwani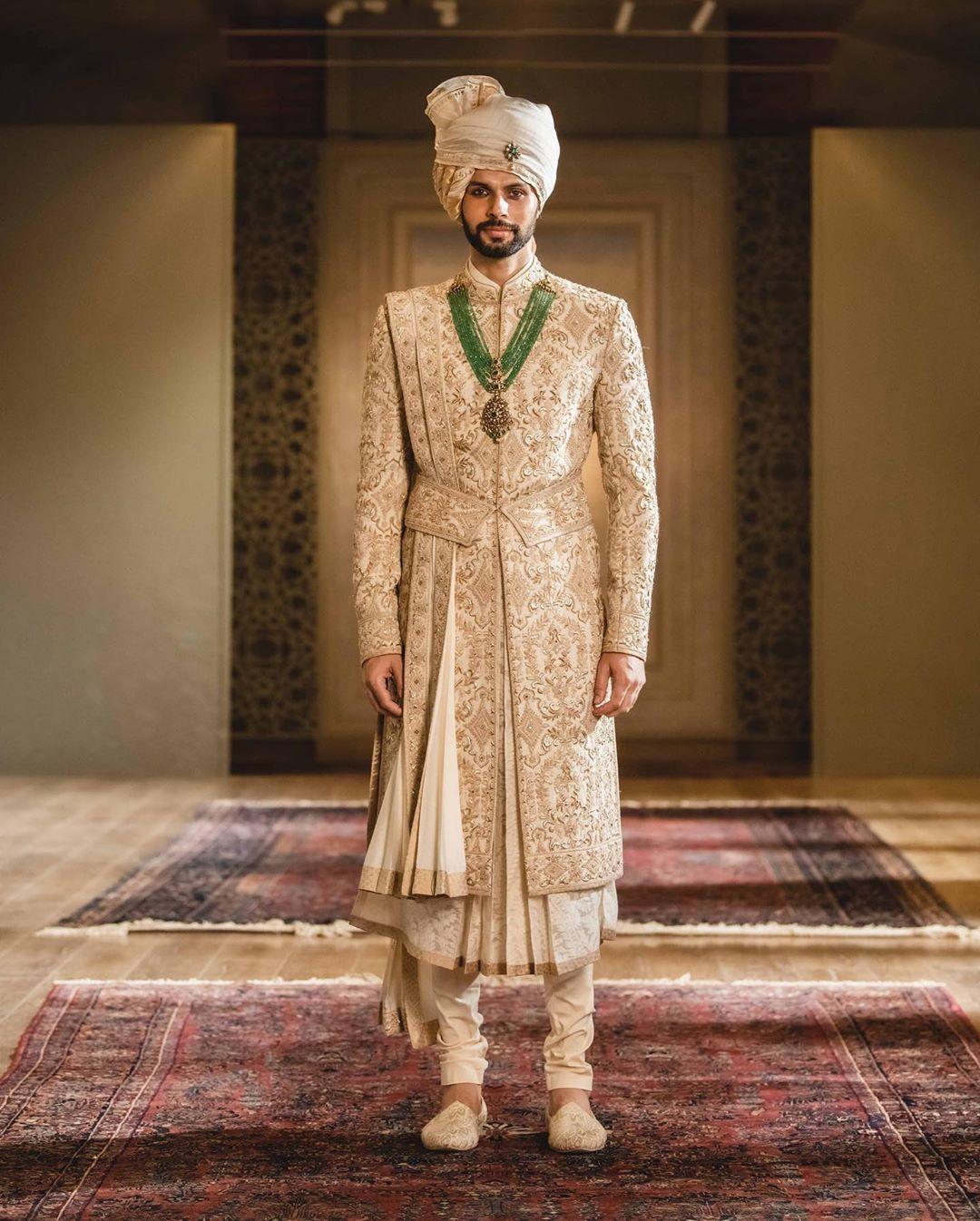 Bring some variation to your sherwani dress with this stunning Tarun Tahiliani ensemble. The draped sherwani with pleats gives a nice fall to the outfit. The multiple layers and the belt deliver a rather majestic outlook. Accessorise with a green stone necklace, a matching Safa with a stone-studded broach on it to complete your royal theme look.
Tabriz Sherwani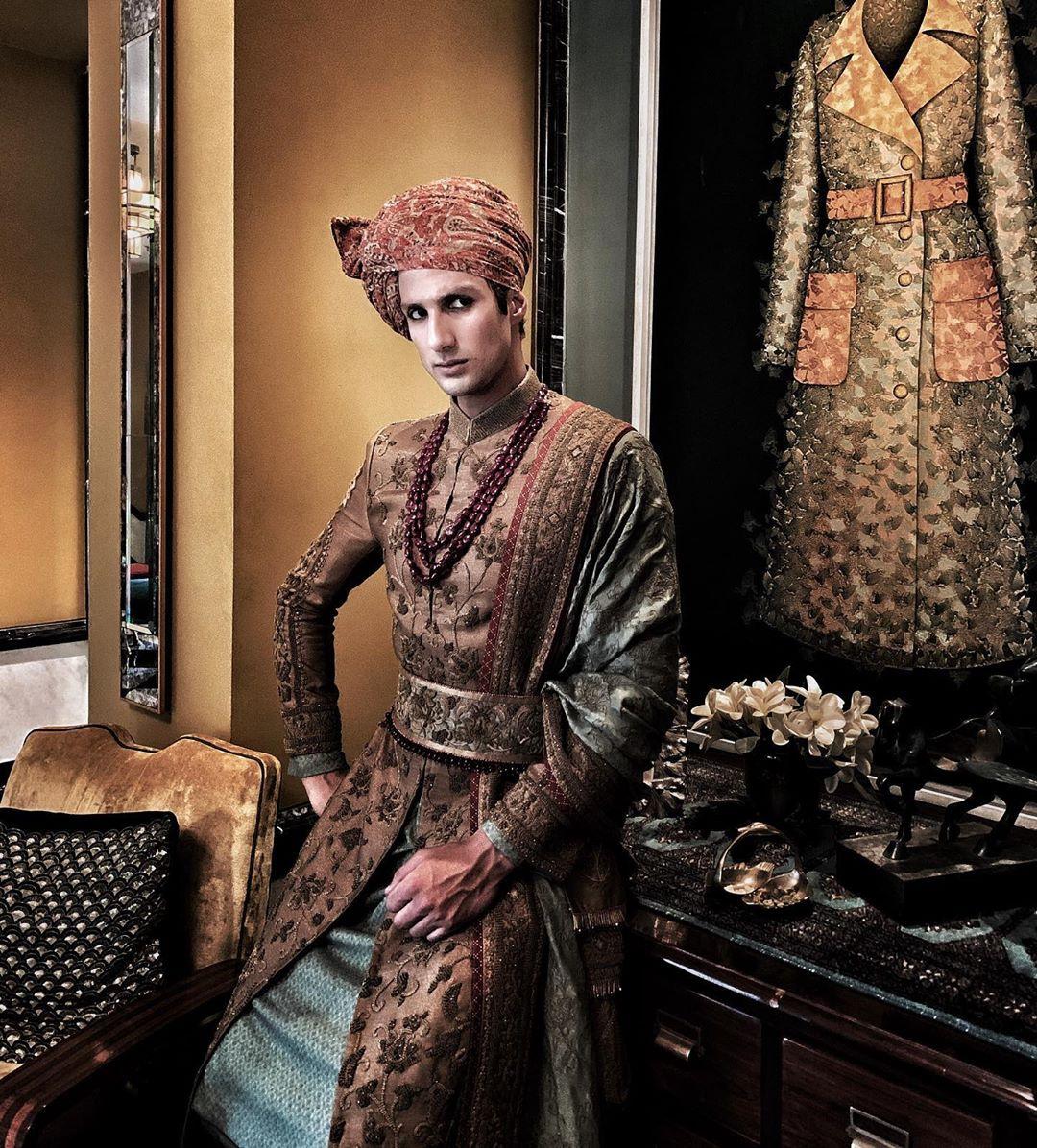 b
Flaunt this J.J Valaya designed sherwani dress from his Tabriz collection if you're looking for grandeur. The deep colour and fine fabric with the OTT stonework over the dress gives depth to your look. Choose darker shades for a night function. Carry the matching Uttariya wrapped on one hand around the back. A layered stone necklace in wine or maroon would be perfect to go with the dress.
Mint Green Sherwani with Ghera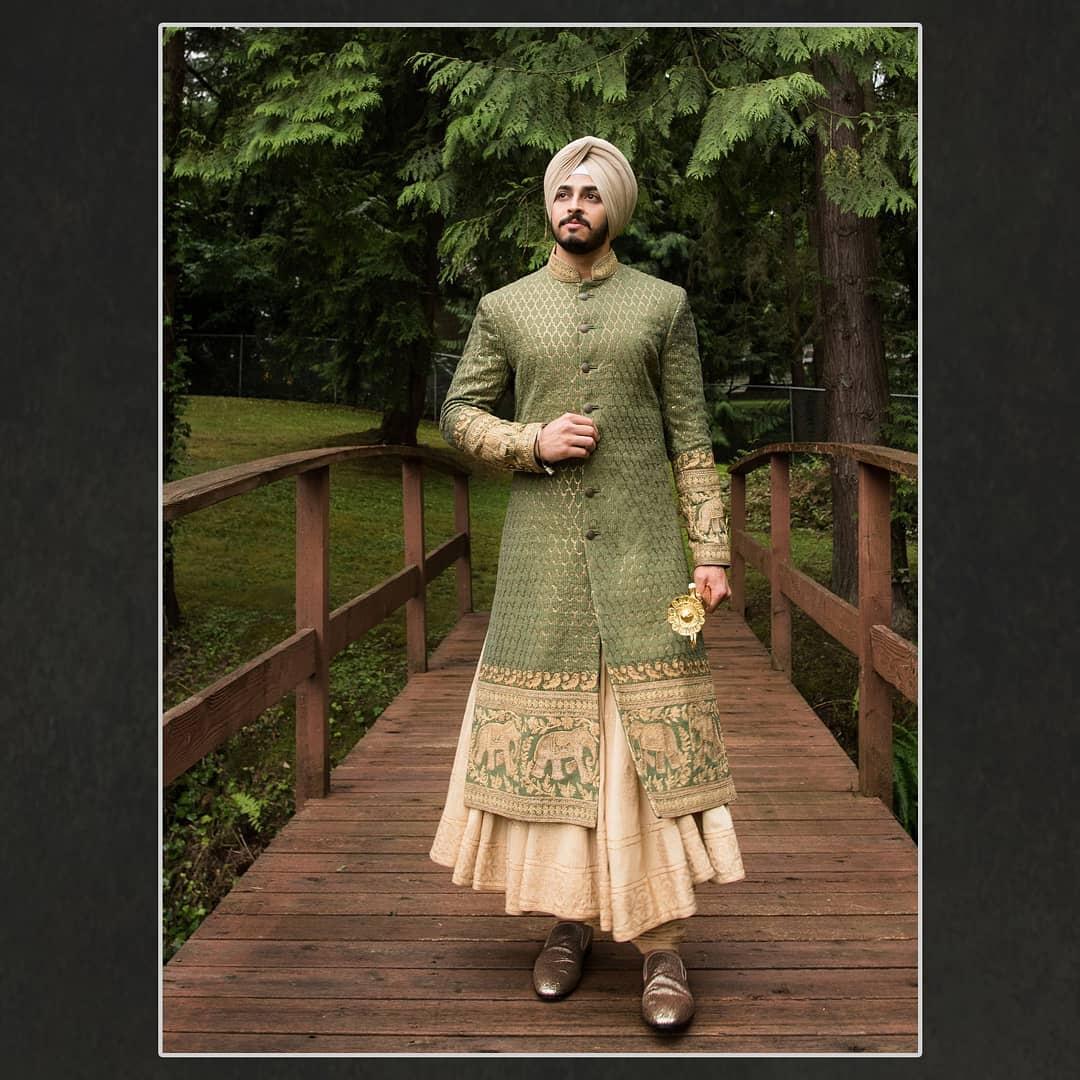 This one is for grooms who believe in venturing into the less travelled fashion alleys. The Rimple & Harpreet Narula mint green sherwani is further upgraded with a Ghera at the bottom edge in beige. This style of your sherwani dress would be ideal for a day wedding or an Anand Karaj ceremony. For the complete look, carry a sword and add a stone broach to your Pagdi.
Try bright colours with extensive embroidery or softer shades with subtle stoneworks, accessorise and pair your sherwani dress with different kinds of bottoms like Churidar or Pathani suit. For a summer or a monsoon wedding, try some pastel sherwani in floral prints. Choose your wedding outfit that screams "you". Try some fresh ideas and styles and don't be afraid to experiment with colours and patterns. Your wedding sherwani should make you feel like a star because it's your day and you ARE the star!
Take a look at some stylish sherwani shoes to go with your wedding outfit.