10 Breathtaking Cocktail Party Decorations Ideas for a Gorgeous Celebration
Chic, luxurious, elegant and fun. Check out the amazing cocktail party decoration ideas to amp up your celebrations that have a lasting impact on all your wedding guests!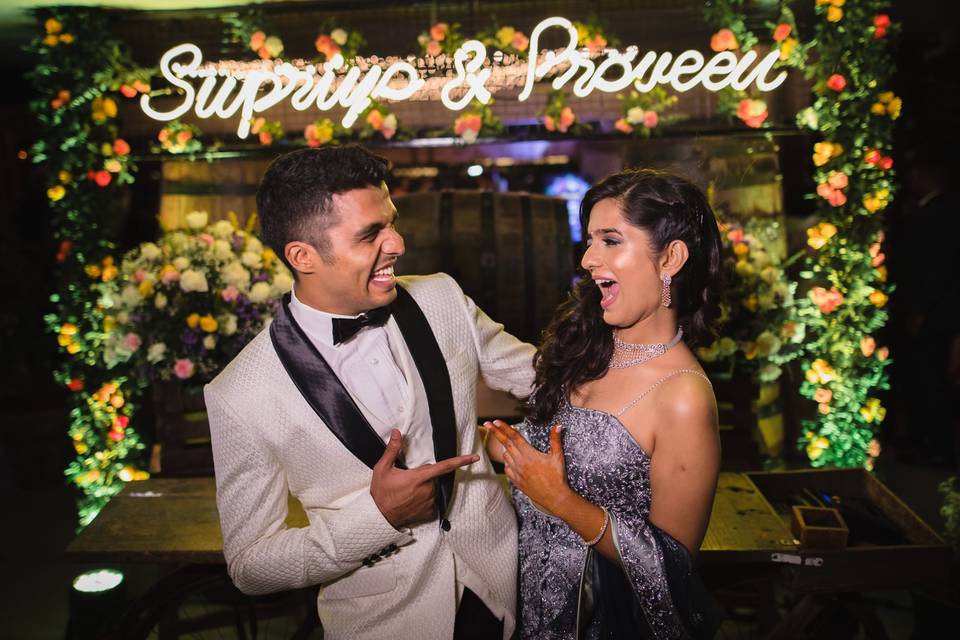 Weddings in India are known for their larger-than-life grandeur and festive vibe that is celebrated to the fullest amidst all the family and loved ones. While a typical Indian wedding goes on for a week with multiple different functions, ceremonies and rituals, Cocktail parties can be by far the most fun and exciting addition to the list. It's one day where you can let your hair down, be yourself and enjoy each moment with your friends and family without rigid restrictions.
Cocktail nights are one day to mingle with all your friends, family and cousins outside the traditional setup of the wedding. From impressive western dresses, delightful cuisines, a bar filled with various beverages, and trendy songs to dance the night away, Cocktail parties can be as exhilarating to host as to attend one. They have to be magnificent and glamourous, and one way to ensure that is by choosing some of the best Cocktail party decoration ideas to set your festivities apart.
Whether it's festive galore with twinkling lights or vibrant hues of colours mixed with exotic flowers, there are so many beautiful themes for Cocktail party decorations to choose from. And we have curated a perfect list of decor ideas for you to bookmark! So pair your dancing shoes with a stellar outfit, craft a perfect menu with easy cocktail drinks and shortlist your choice of Cocktail party decoration ideas.
1. Romantic Cocktail Party Decorations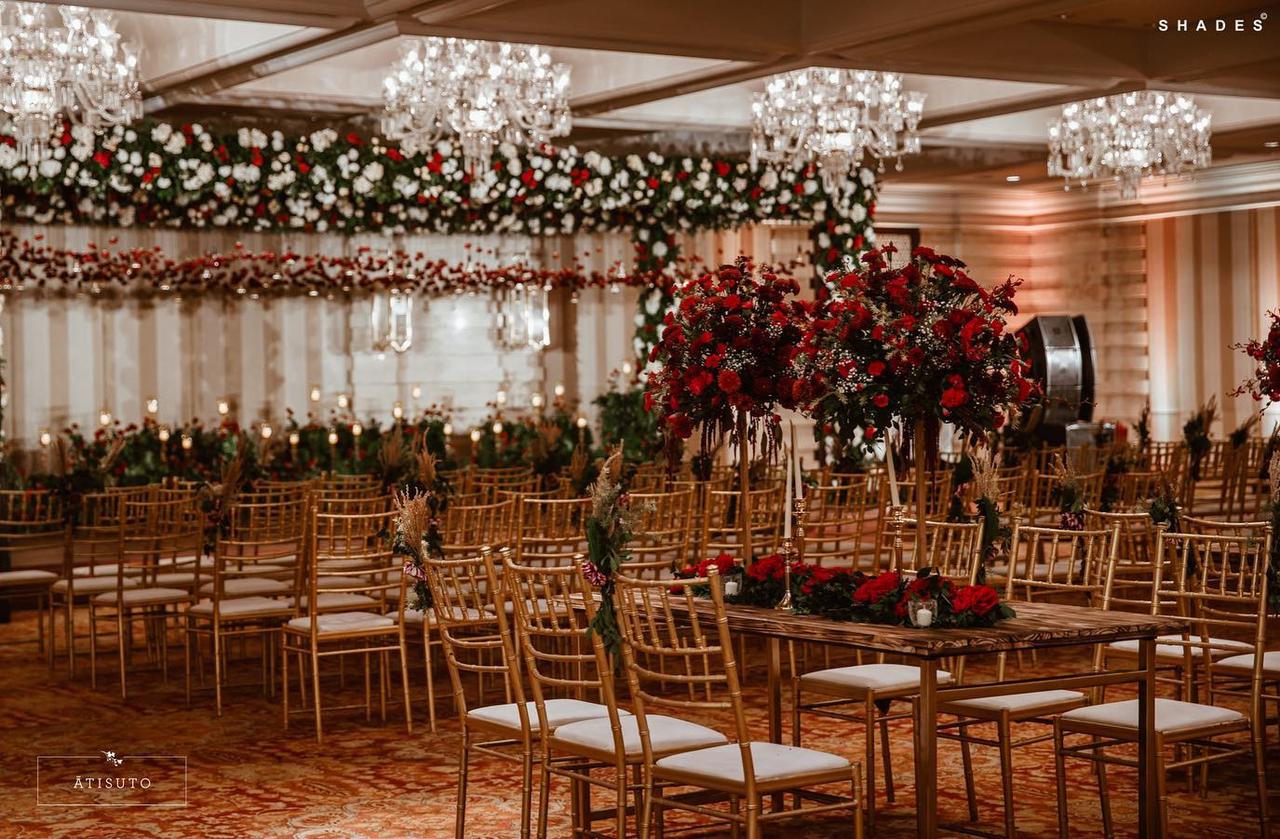 A romantic theme seems the most appropriate one to celebrate the love you share with your partner. And even more so for a smashing Cocktail party. You can choose to create the romance in theme through any combination of colours and flowers. The heavy floral centrepieces with lush hanging installations in white, red and gold themes look ethereal and gorgeous.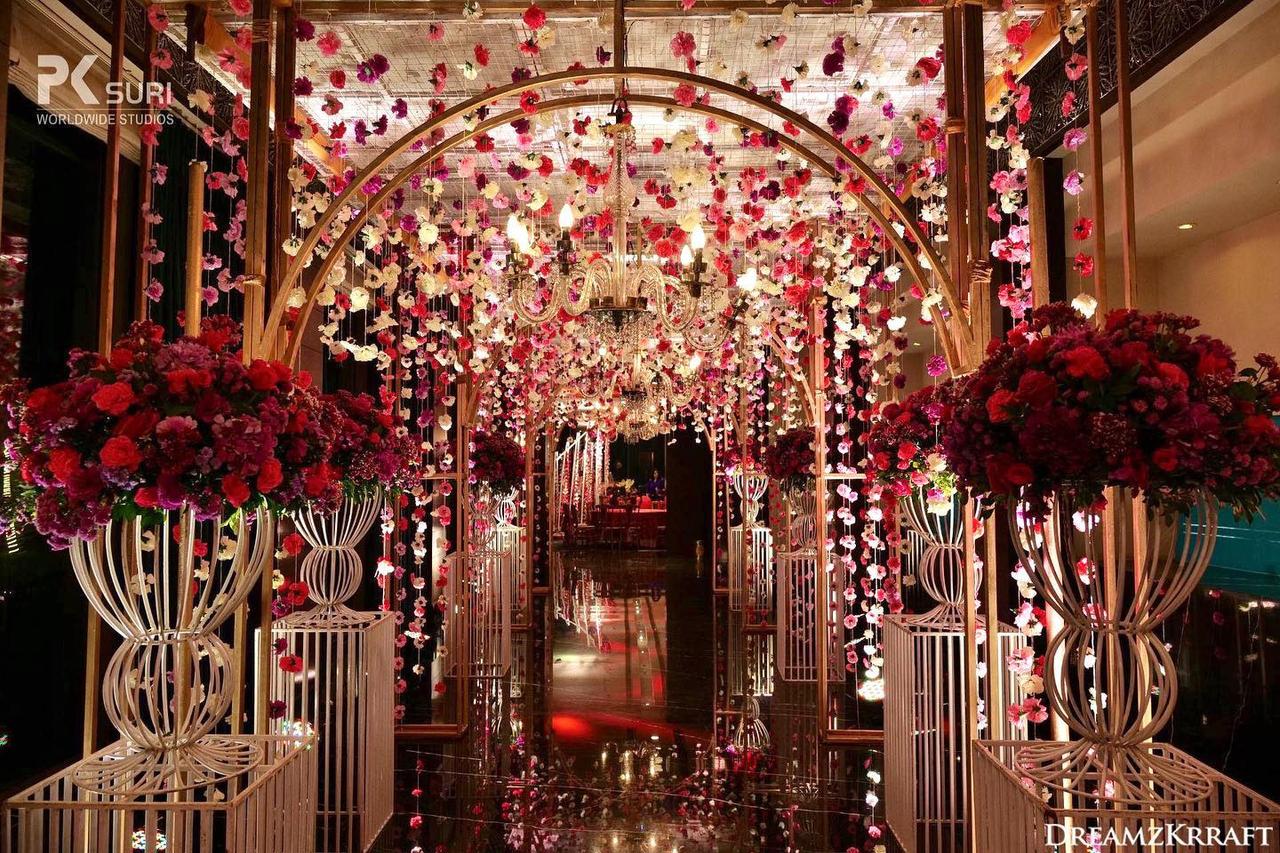 Create a storybook inspired theme for your Cocktail party decorations by choosing a gorgeous and light colour palette to illuminate your celebrations. The metal vase installations with deep coloured flowers and hanging floral strings look absolutely stunning.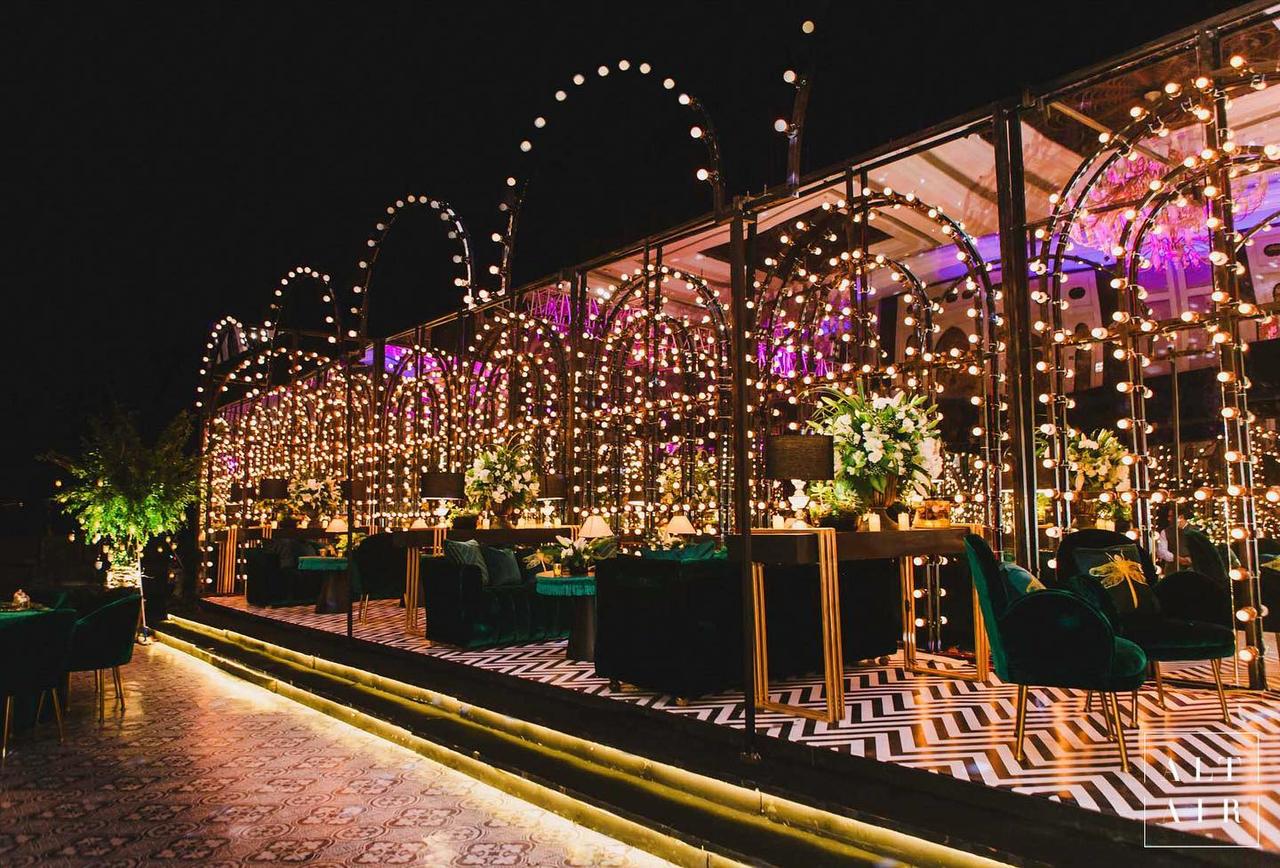 Image Courtesy - Altair Decor
While choosing a romantic theme for your Cocktail party decorations, you can transform your venue with elegant and delicate details. You can combine your floral installations with twinkling lights or chandeliers that instantly look insanely beautiful. Romantic themes bend more towards giving you a formal setup, but you can always incorporate more rustic and whimsical decor elements to ease the flow of your decorations.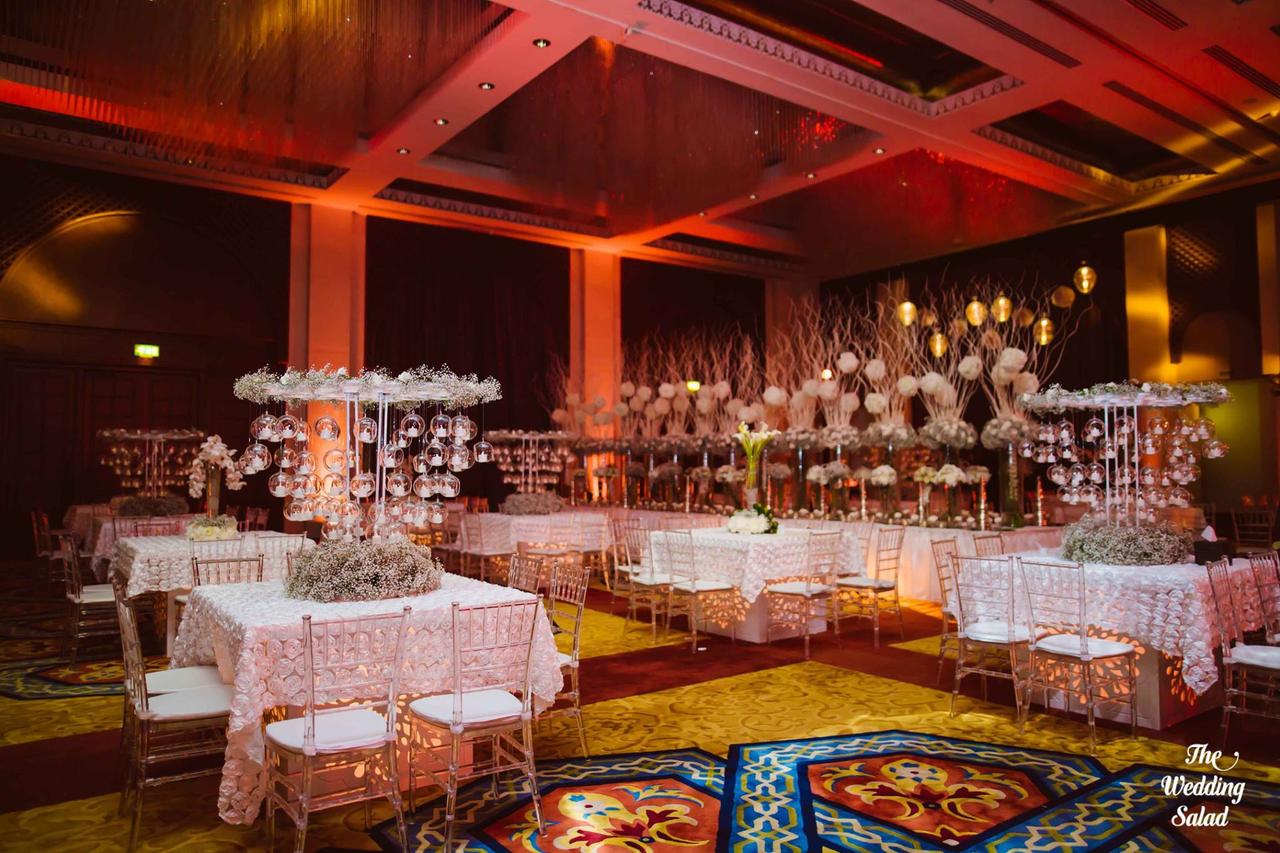 Celebrate the romance with this gorgeous Cocktail party decoration with accentuated colour palettes incorporated with glass and metallic elements for a refined and polished look. Transform your venue with garden-inspired aesthetics for a wonderful decor style.
2. Cocktail Party Decorations With Pop of Colours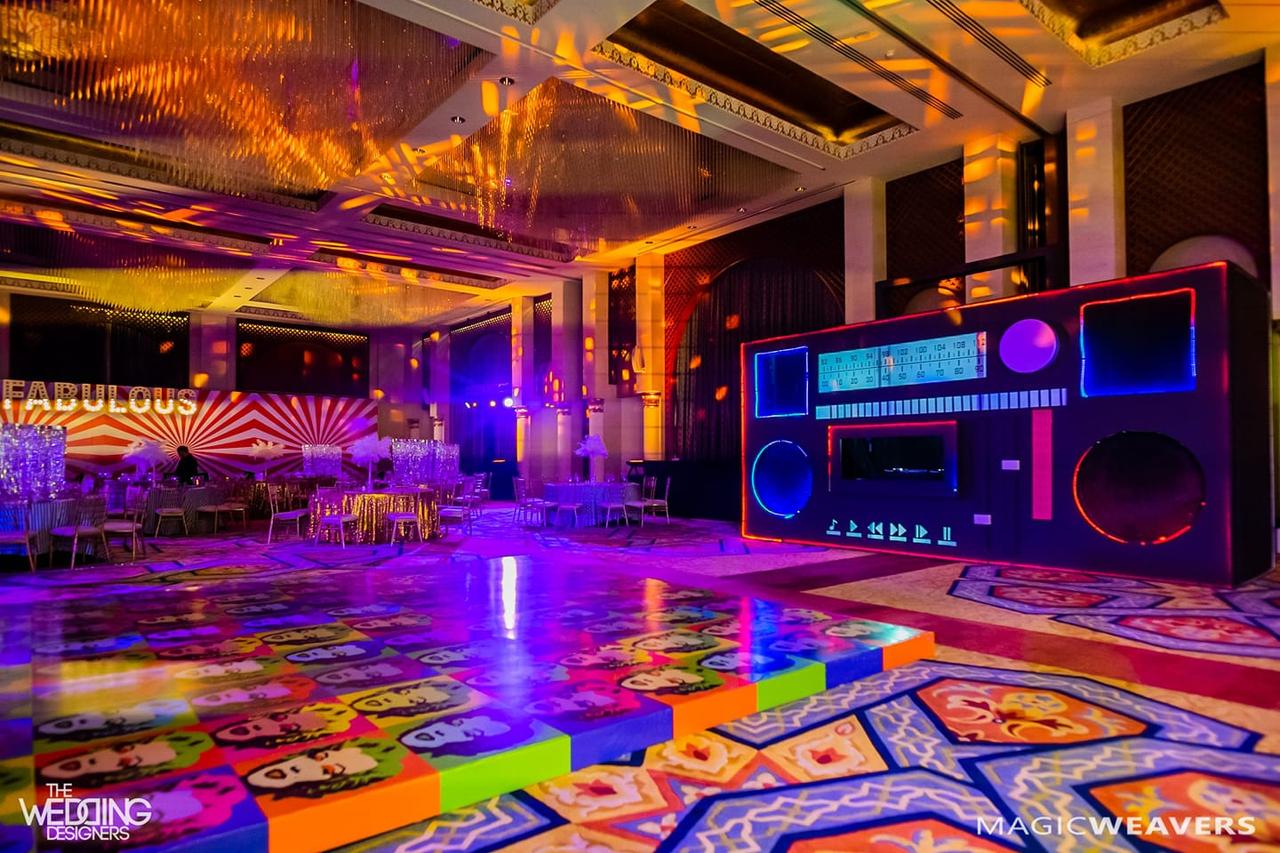 Amp up the quirk quotient for your Cocktail party decorations by choosing a pop art theme or a plethora of colours thrown together to create a spectacular setting. You can choose to create absolutely anything, be it the full-on desi colourful theme with out-of-the-ordinary decor elements like Rajasthani umbrellas for decor or incorporate a modern approach and bright colours and bold theme to your ceremonies.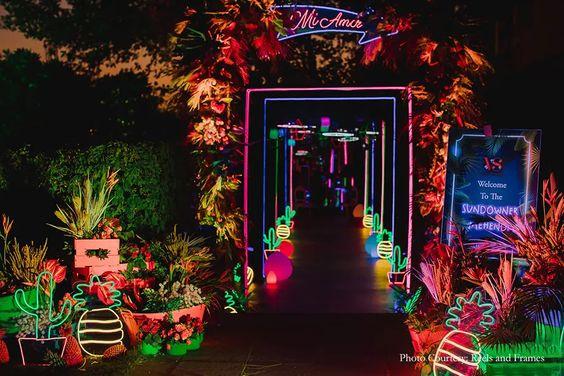 Image Courtesy - Pinterest
How can your Cocktail party be ever complete without an array of delicious drinks? From crafting the perfect bar menu with your mixologist to creating a wonderful setup for your bar setup, you can level up your Cocktail party decorations by adding a pop of colours to your overall theme.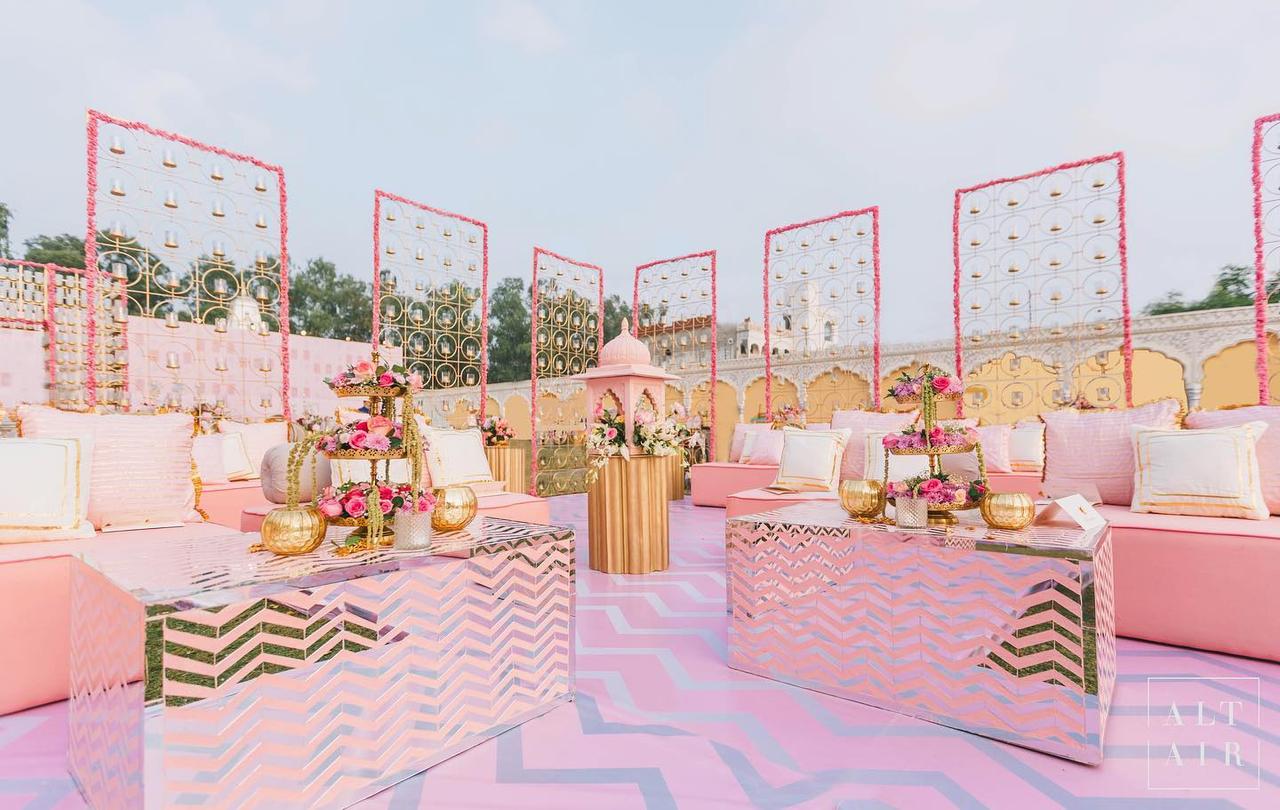 Image Courtesy - Altair Decor
You can choose to add a mix of colours to your Cocktail party decorations theme or choose a specific colour palette to create gorgeous setups. Beautiful white minimalistic furniture with hints of lavender and hanging floral installations will look breathtaking for your Cocktail party.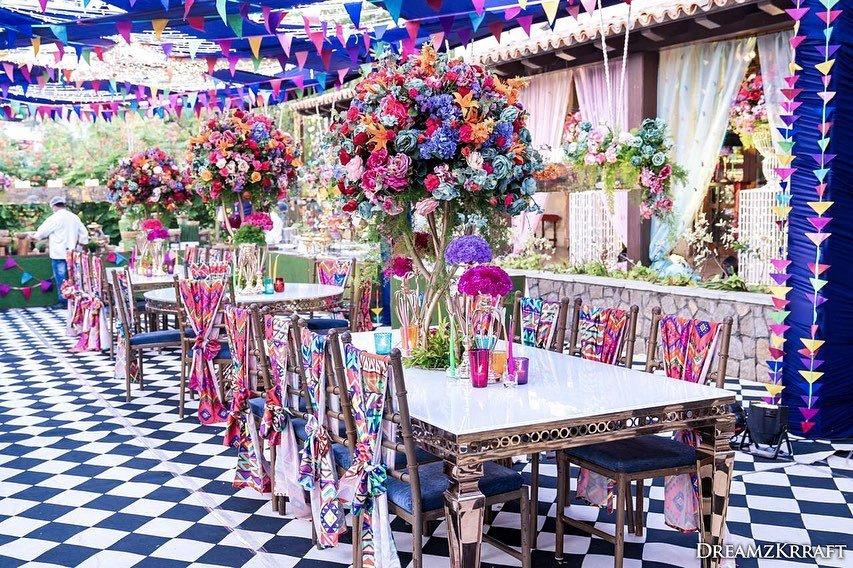 The gorgeous Cocktail party decoration theme above looks absolutely stunning and straight out of Alice in Wonderland's book. The checkered floor paired beautifully with colourful drapes, and a wide array of vibrant floral centrepieces gives an innovative and magical twist to your overall decor.
3. Japanese Style Cocktail Party Decorations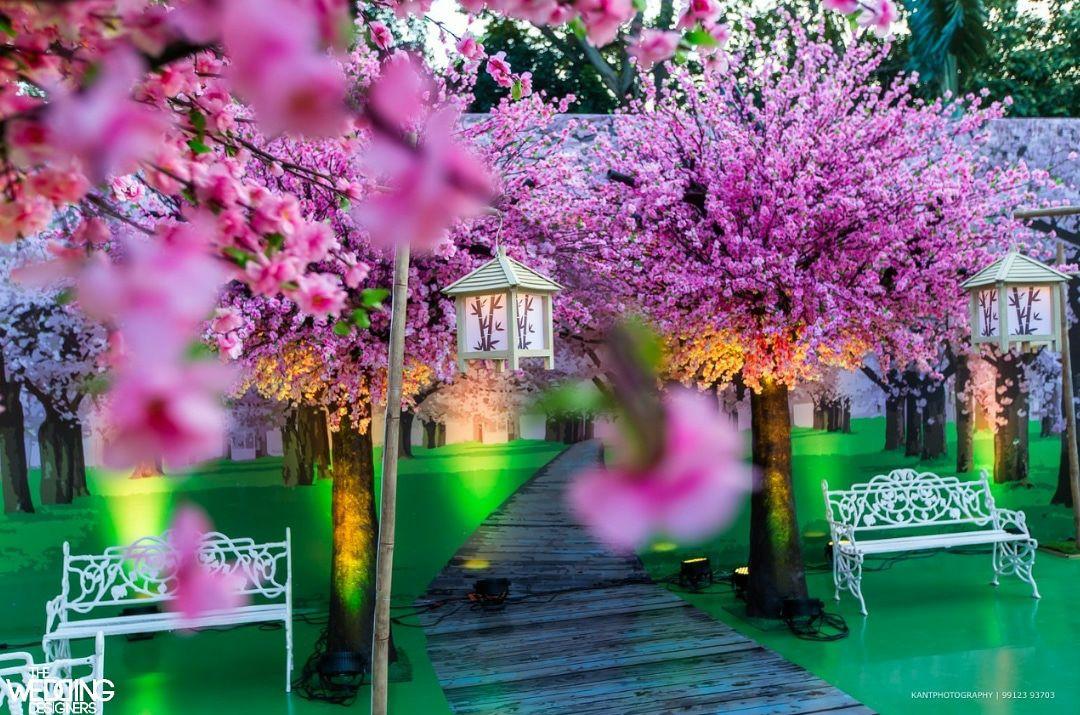 Japanese decorations not only are expensive and elegant but look oh so serene. You can incorporate any elements from the Japanese culture and traditions in your Cocktail party decorations, and be assured that it will create a lasting impact on all your wedding guests. From artificial cherry blossom tree installations to paper lanterns, the decor choices are endless.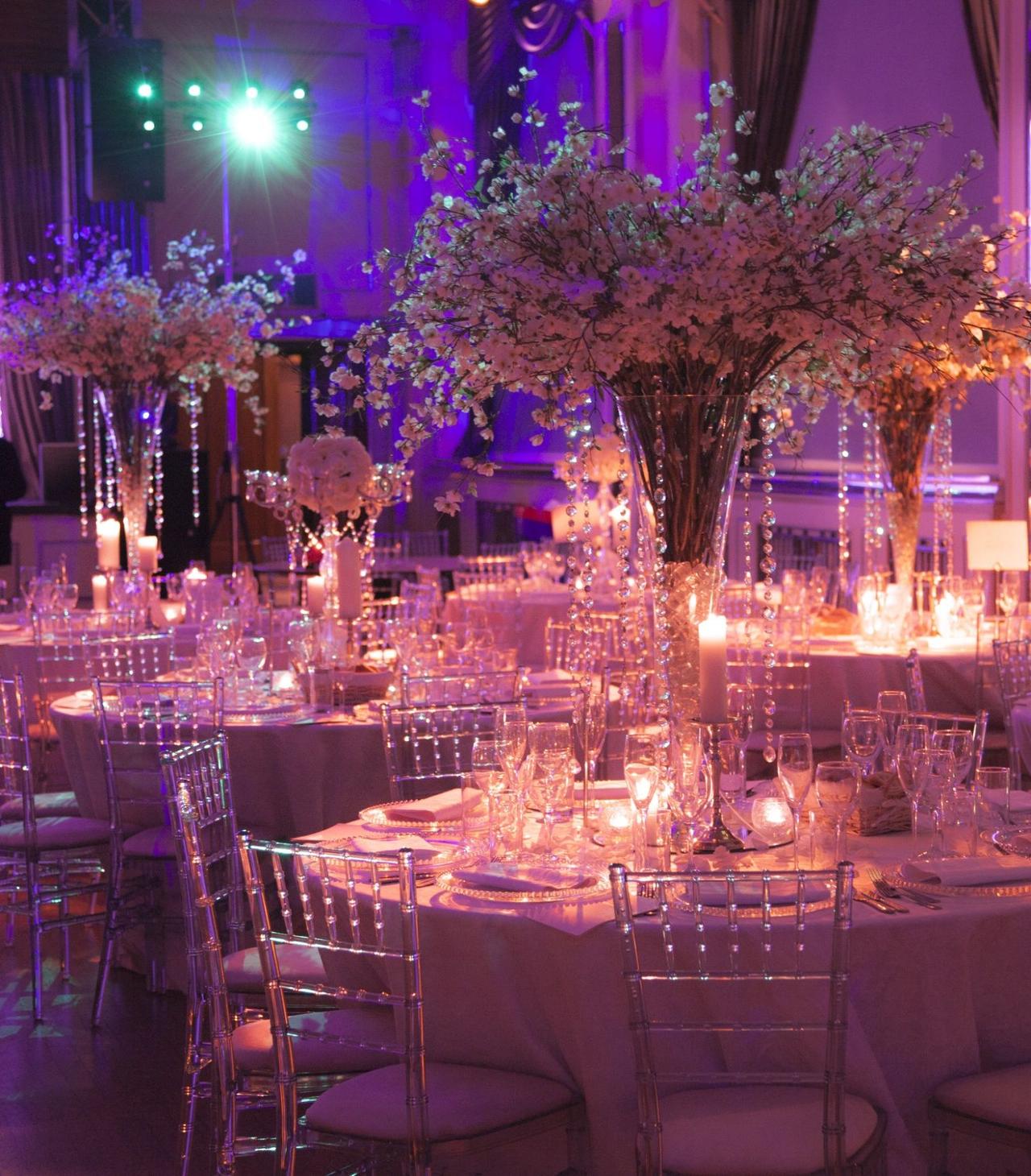 Image Courtesy - Pinterest
Cherry blossom trees are iconic and look perfectly balanced with minimalistic chairs with similar accents. You can add the gorgeous Japanese theme to your Cocktail party decorations as well and host your festivities on open ground to create a perfect look.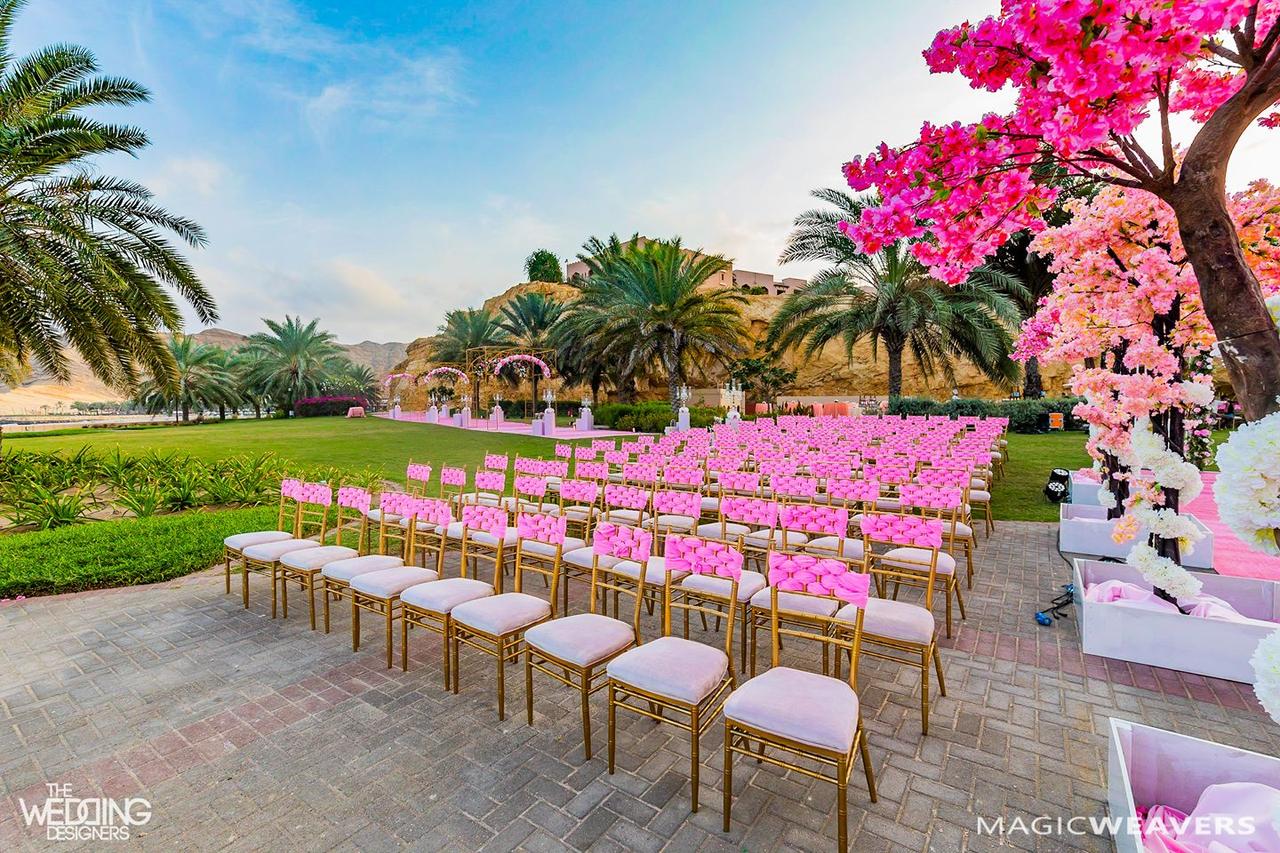 To look at your theme for cocktail party decorations, you can blend modern western decor elements with your Japanese theme to create a unique set-up like a photo wall. It can be hand-painted with cherry blossom elements and decorated with real flowers.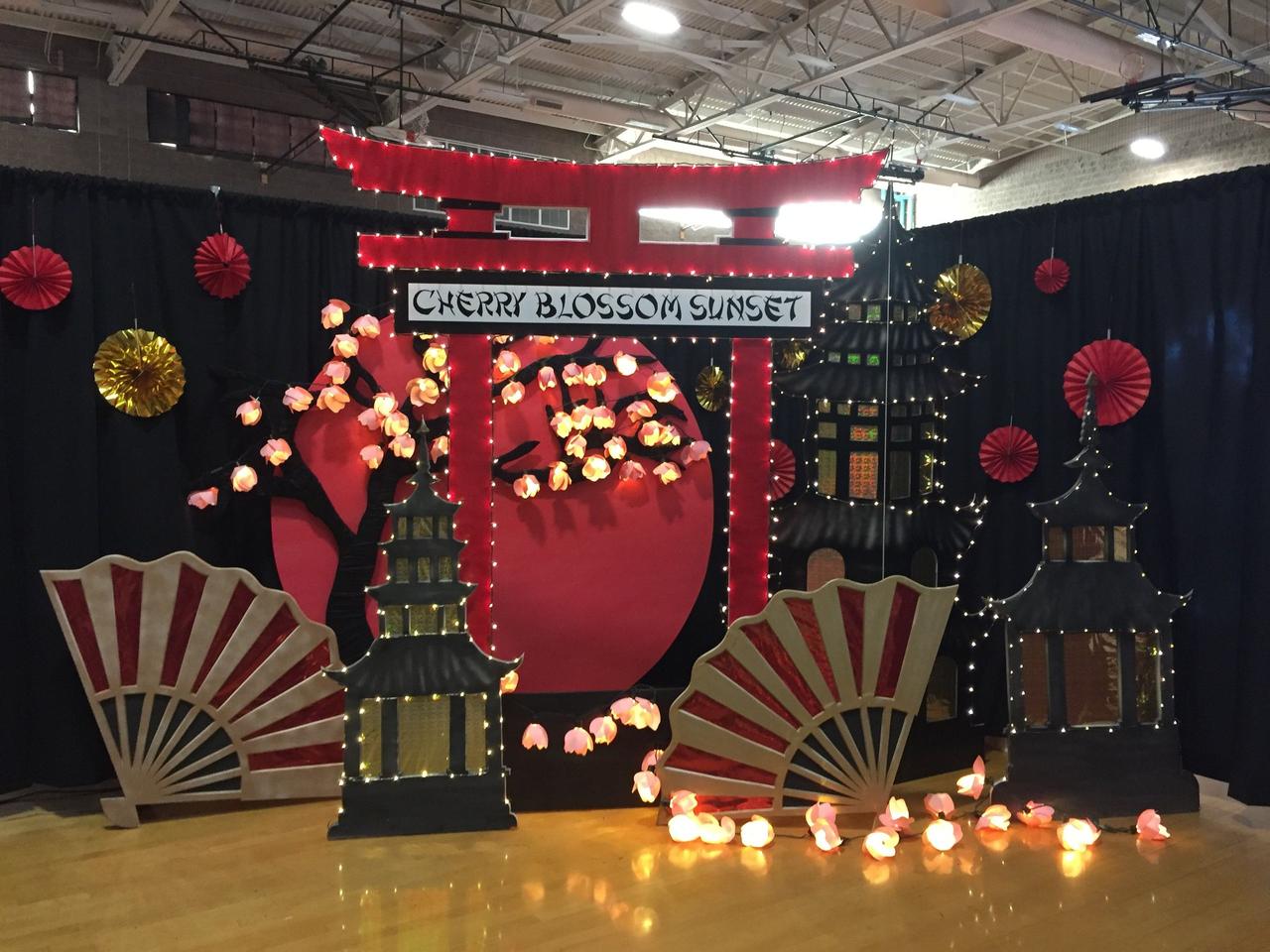 Image Courtesy - Pinterest
Paper lanterns and Origami has always been an integral part of Japanese traditions. Adding these little things to your overall theme for Cocktail party decorations can transform the venue into a beautiful space capturing the perfect aura and ambience of the Japanese culture.
4. Enchanted Forest Cocktail Party Decorations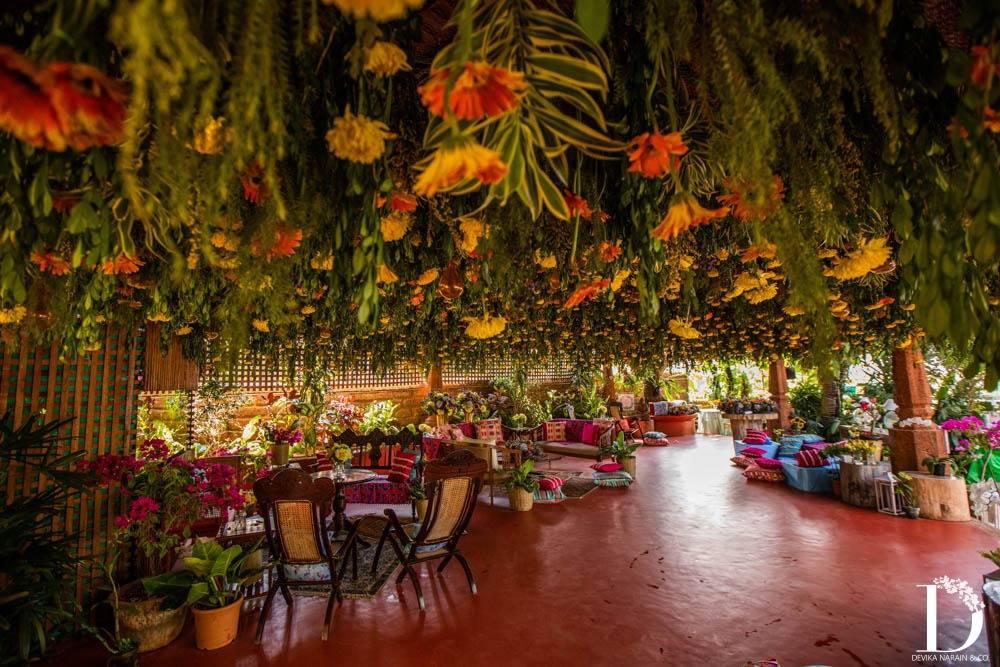 Have you dreamt of being a fairytale princess growing up and a fan of the picturesque scenarios that Disney creates? If yes, then the Enchanted forest is the theme to choose for your Cocktail party decorations. Cascading floral hangings with a whiff of sweet-smelling flowers, an abundance of greenery with bare wood furniture and you are all set for your enchanted forest theme.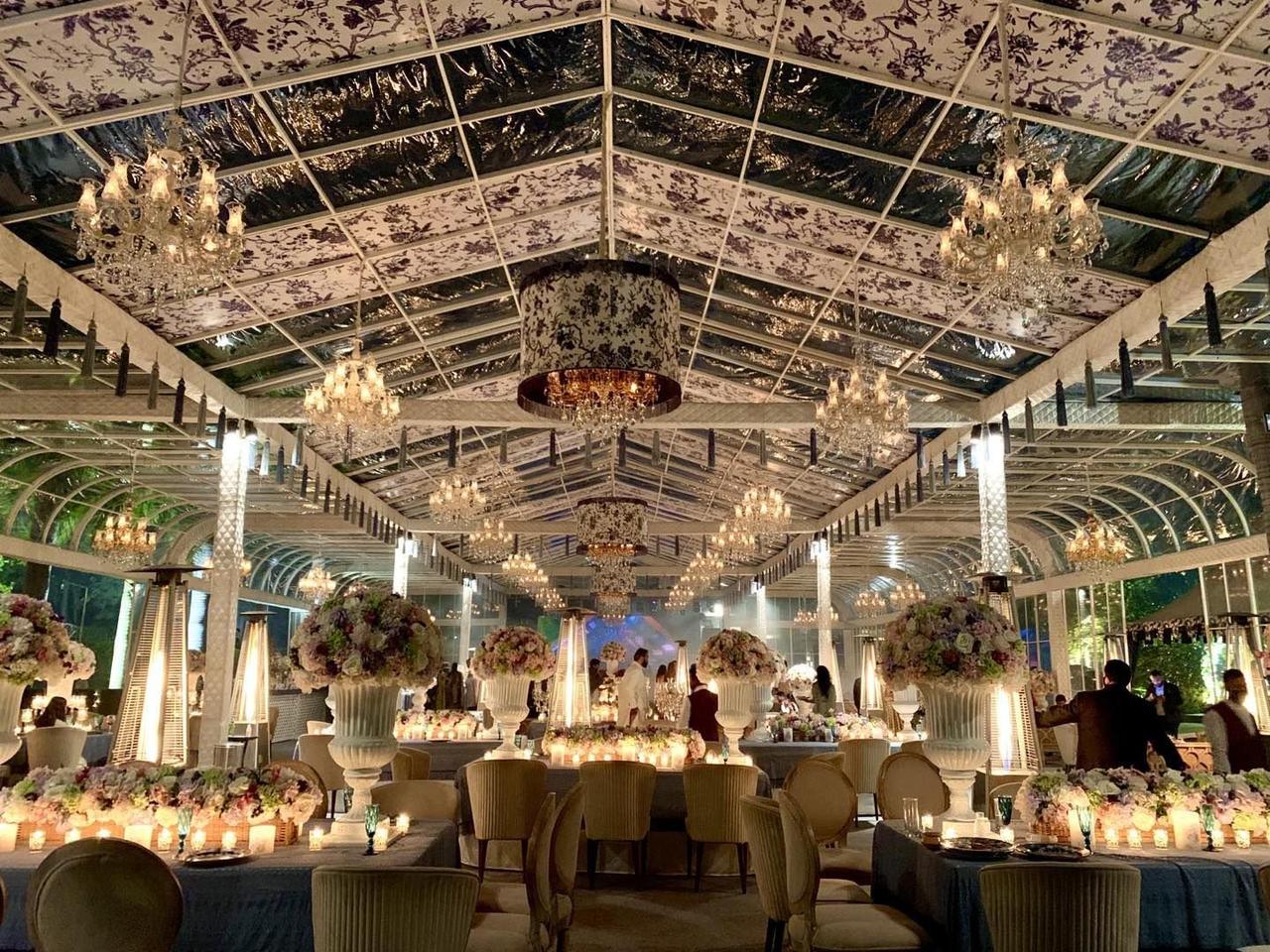 While emerald green and brown are the basic colour palette, you can always add a pop of colours to make the theme vibrant. You can choose to host your Cocktail party in a garden or lawn with a lot of natural greenery around and an element of magic with twinkling fairy lights and decor festooned with floral installations.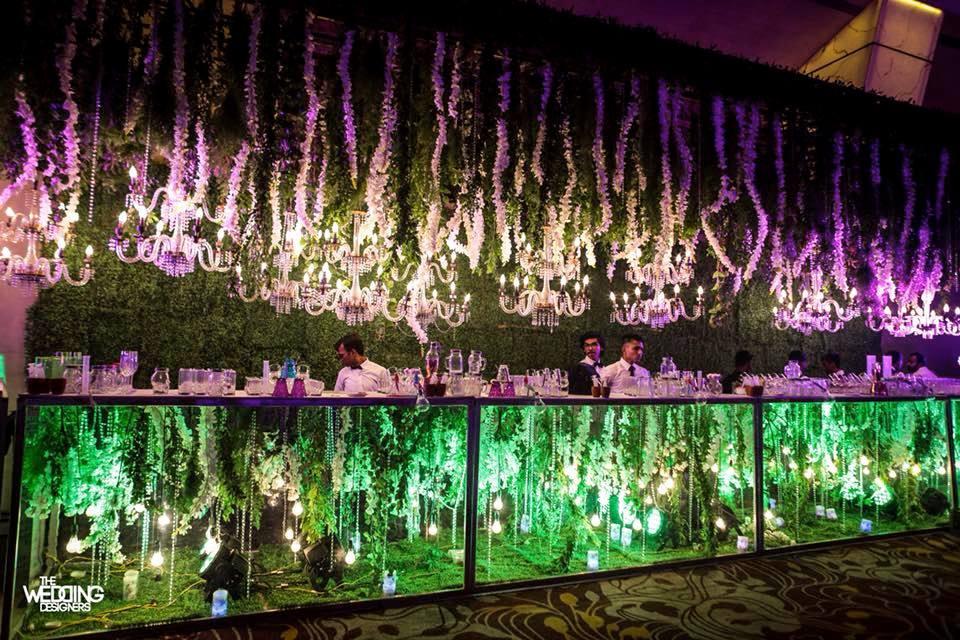 Amplify the grandeur of your enchanted theme Cocktail party decorations with ornate lighting and hanging floral chandeliers. This bar setup for your festivities looks absolutely stunning, where you can add a mirror or an LED display in sync with your overall theme to jazz up your decor.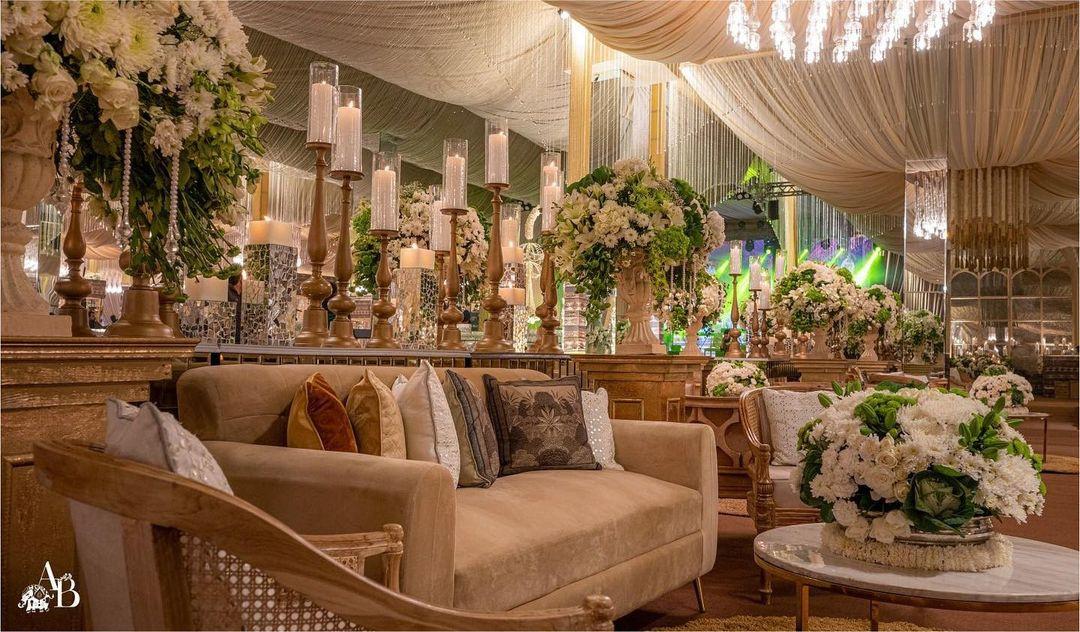 Ornate floral centrepieces full of vibrant and sweet-smelling wildflowers can be the central theme for your enchanted forest-inspired Cocktail party decorations. Take a step further by adding whimsical decor elements and the sparkle of twinkling lights to amp up your decor design.
5. Tropical Cocktail Party Decorations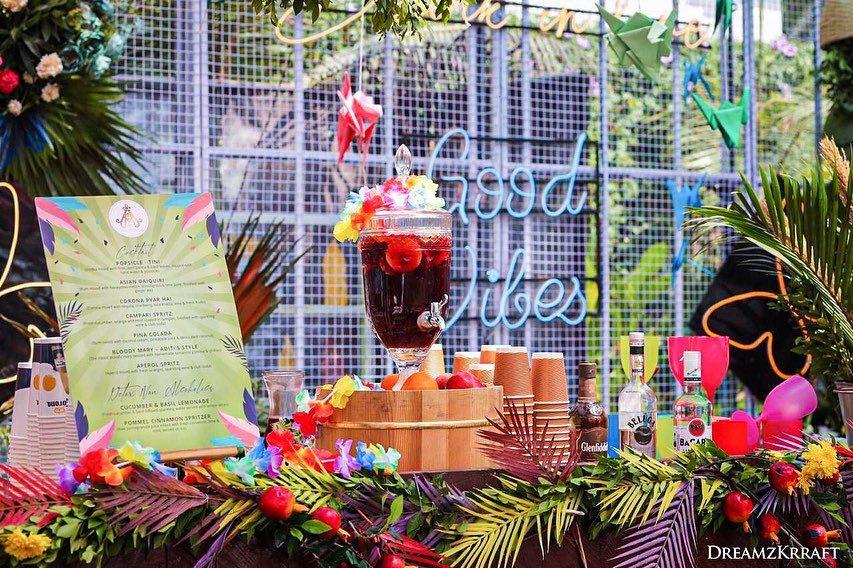 Bring the lazy vibe and natural beauty of the tropical indoors with a festive theme for your Cocktail party decorations. It will give your festivities a perfect relaxing feel with colourful and cheerful decor that will be eye-catching for sure. Pay special attention to your bar set up with neon signs, origami birds and little paper umbrellas on your tropical cocktail drinks.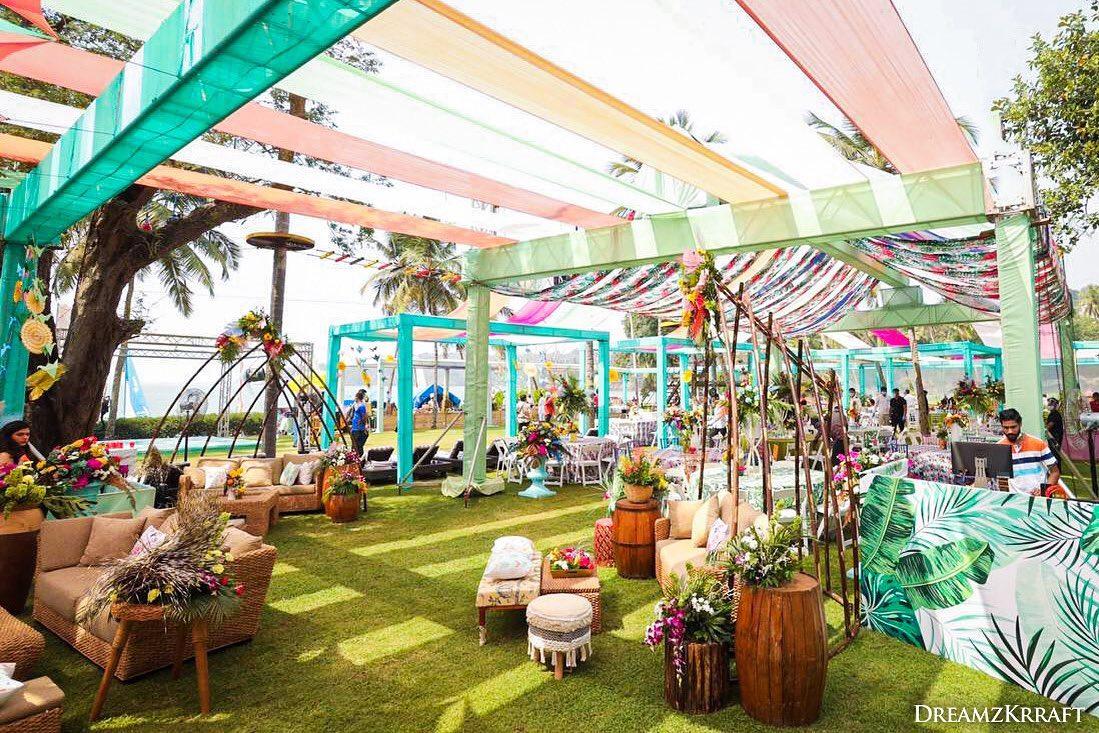 You can throw in many tropical-inspired furniture, drapes and upholstery to bring the theme together. Take your tropical Cocktail party decorations theme a step further with scattered planers on wooden drums, cane setup and pretty flowers.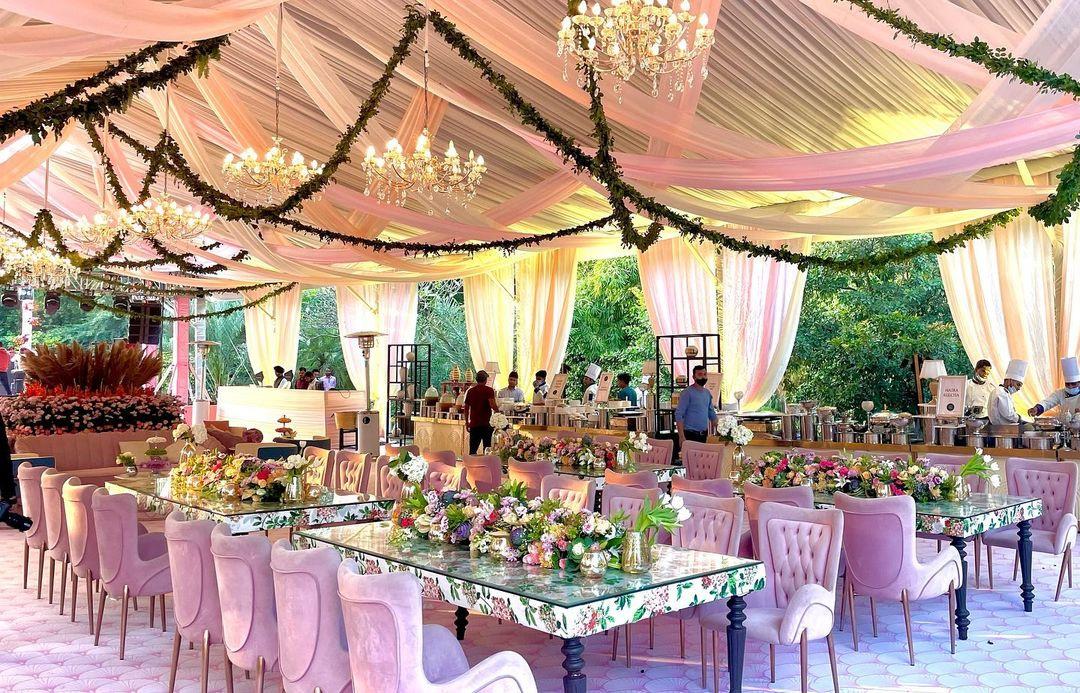 Printed table cloths with wooden white furniture in your garden set up with a plethora of vibrant flowers capture a perfect summer vibe for your pre-wedding festivities.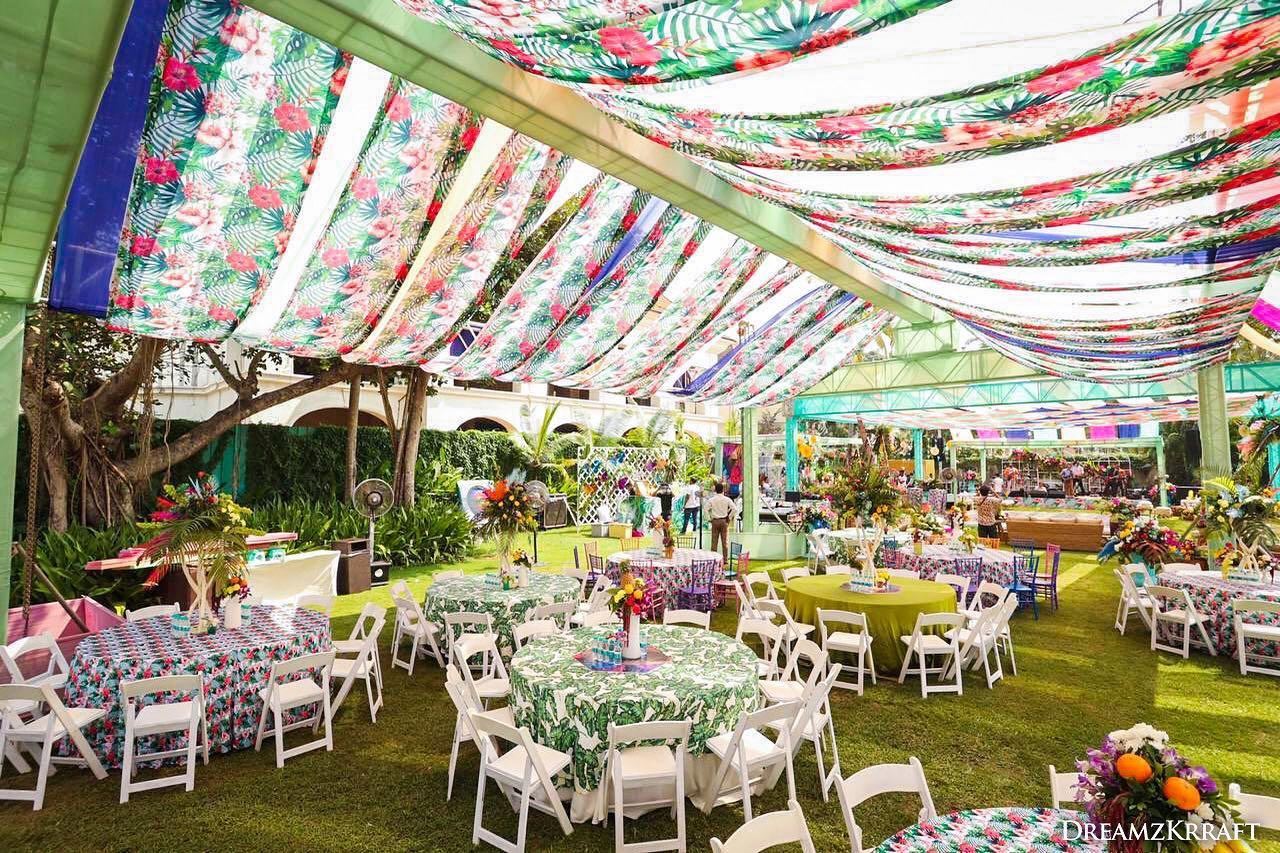 The special seating area for the bride and groom can double as a gorgeous photo booth for the guests is the way to go for your tropical theme. A mix of exotic and wildflowers against a criss-cross wooden frame will bring all the colours together for a beautiful summer cocktail party where you can have crazy fun with your friends and family.
6. Luxe Decor Cocktail Party Decorations Ideas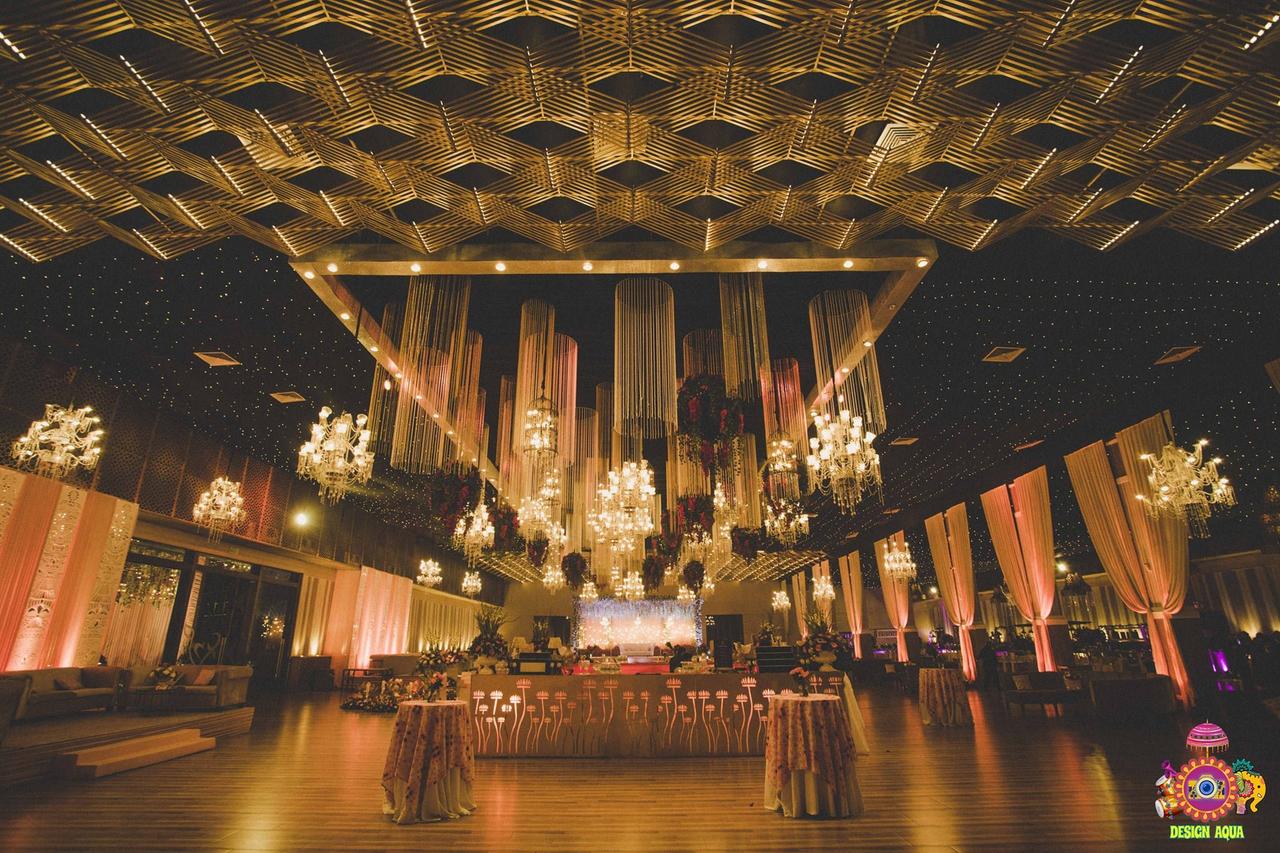 If you are looking for a more elegant, chic and luxurious vibe for your Cocktail party decorations, then the Luxe decor theme is the perfect choice for you. Perfectly in sync with the larger-than-life feel of Indian weddings, all your decorations in this theme will be refined and more sophisticated with ornate chandeliers, deep coloured flowers or red roses with grand decor elements.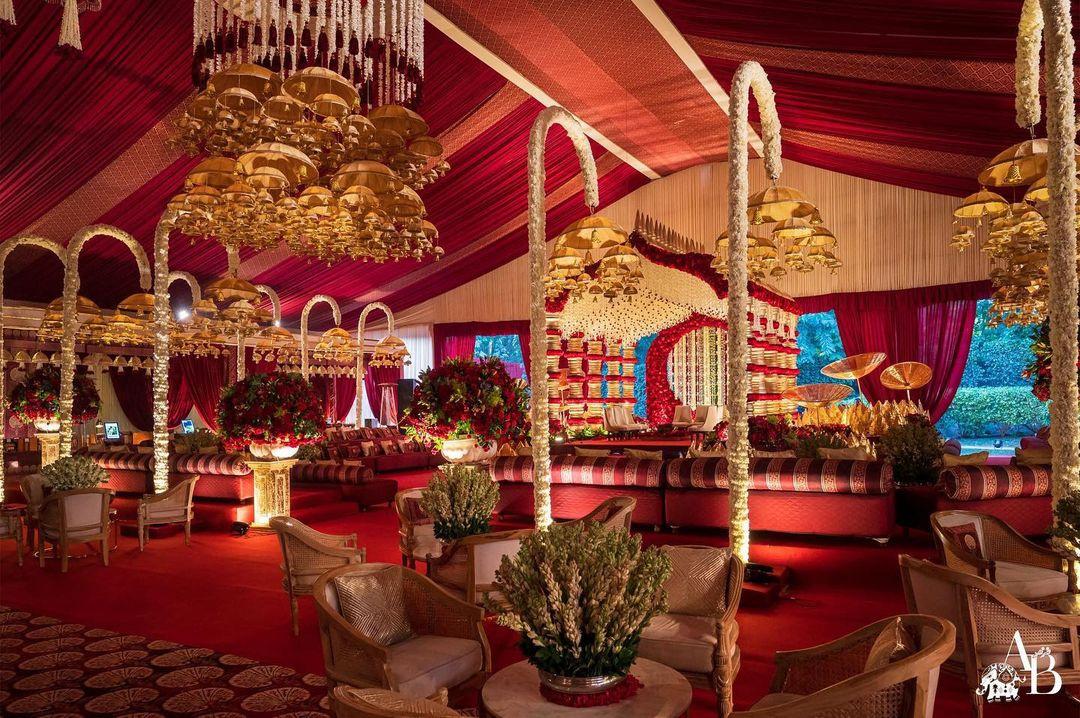 One thing that will set the mood right for your Cocktail party is the decoration. You can choose a sub-theme under Luxe decor like Arabic or Moroccan, and all the decor elements can be in sync with both. Your decor will stand out from gorgeous flowy drapes to subtle lighting, Arabic-inspired drinks, lamps and cutlery.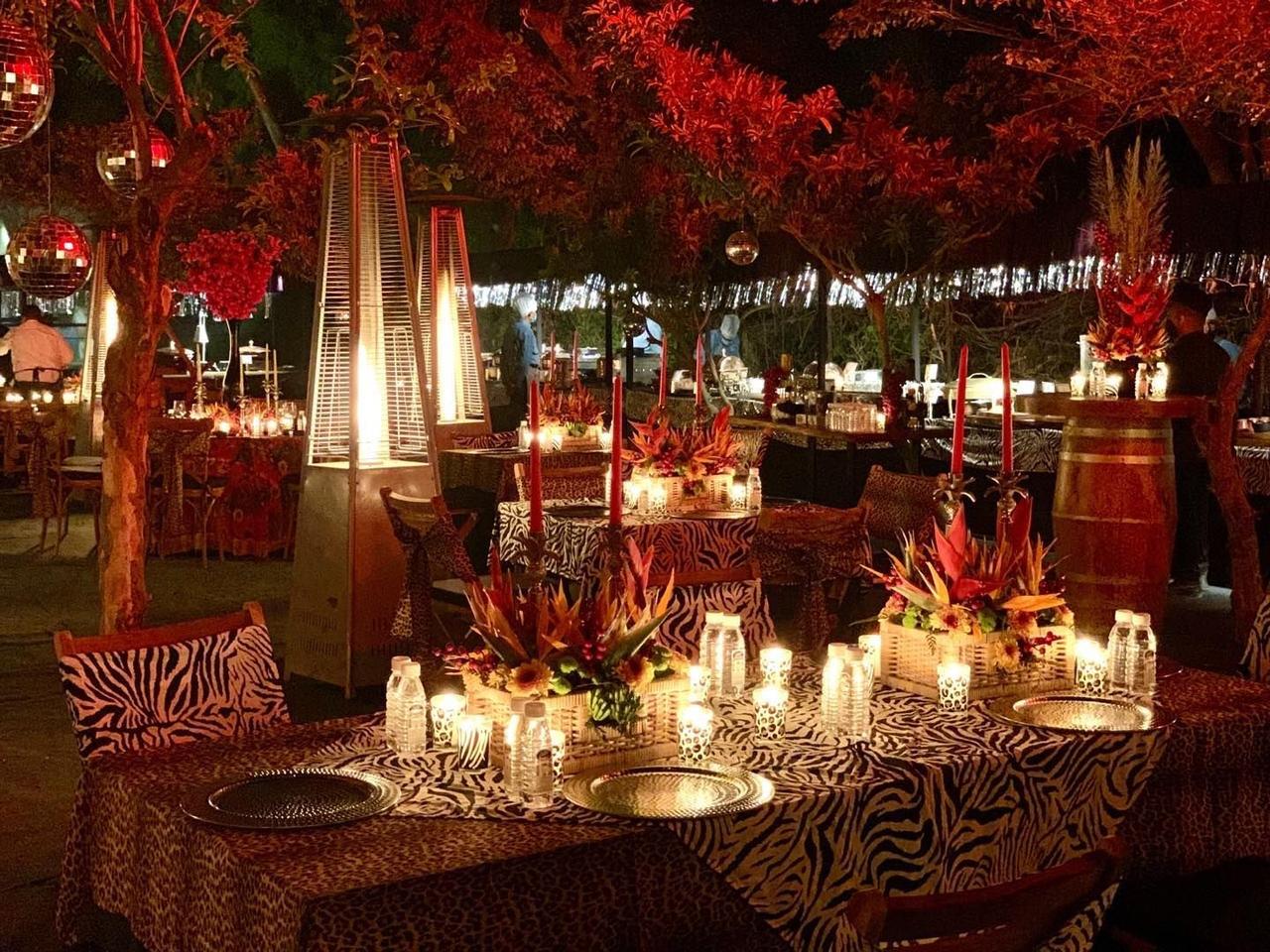 A central crystal chandelier at your festivities with grand decor style, ornate table settings and exquisite floral centrepieces will create a perfect chic vibe for your Cocktail party that you can enjoy to the fullest with your family and friends.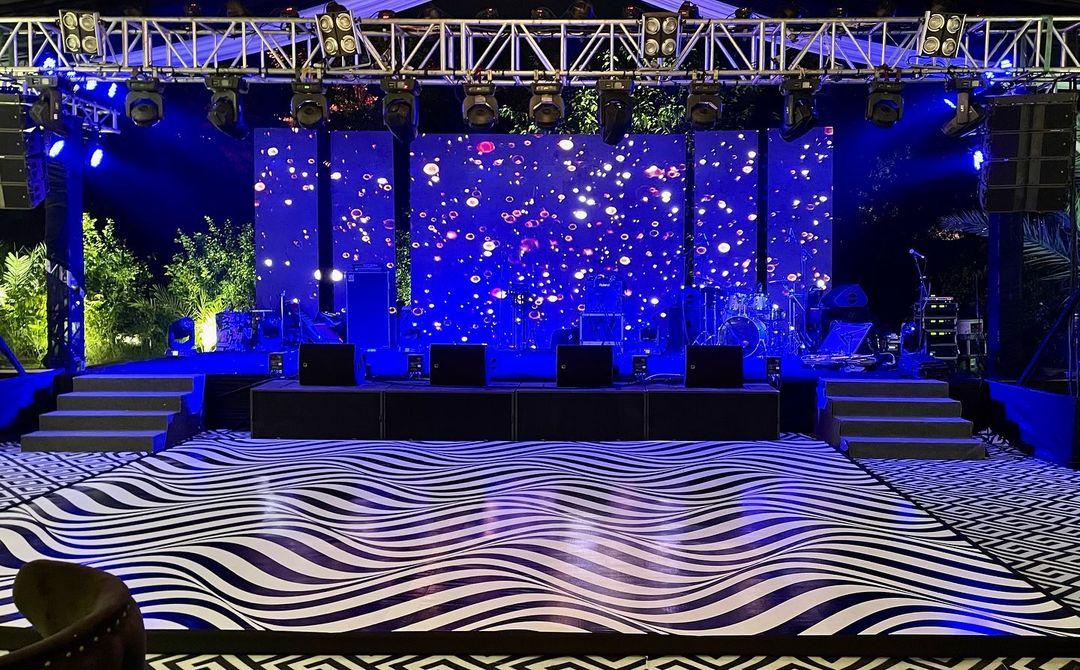 One thing that will bring life to your Cocktail party is the dance floor. Your theme will come together perfectly, from a lit floor to focused lights and an elegant setting. Bring out your dancing shoes, mix up a hit playlist and amp up the festive vibe of your celebration.
7. Rustic Boho Cocktail Party Decorations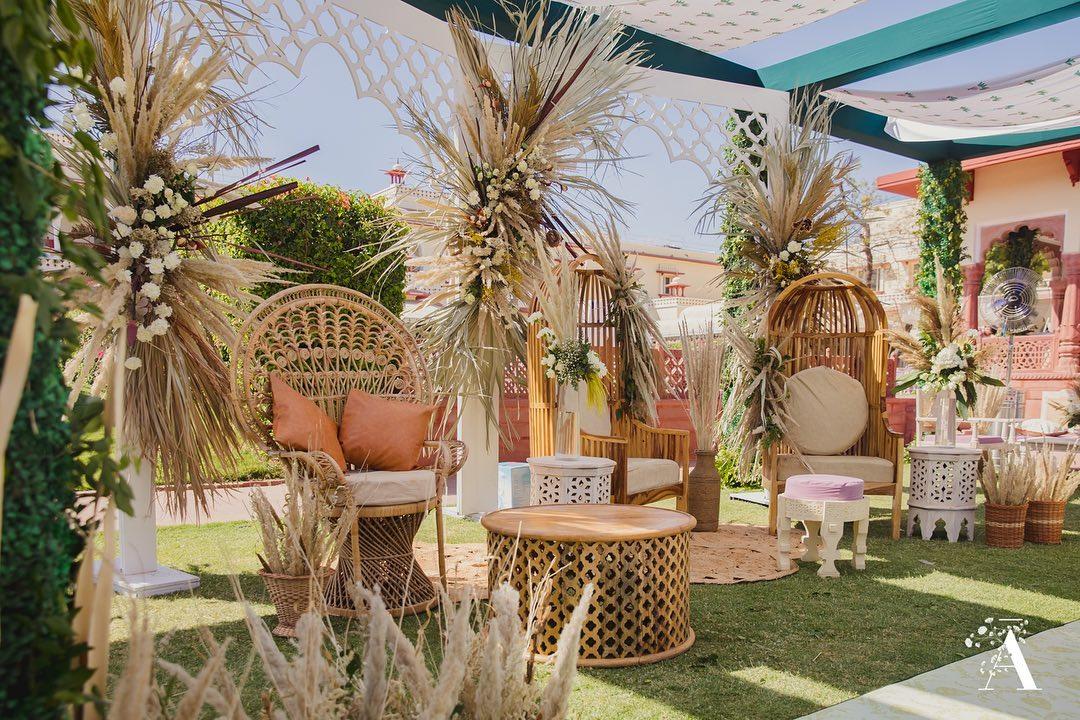 If you are the one with the peppy and carefree personality, then a rustic boho theme for your Cocktail party decorations is the perfect theme for you. The theme looks gorgeous and straight from a fairytale book with interesting decor elements full of life and culture like pampas grass, pouffe seating, tassels and tapestries.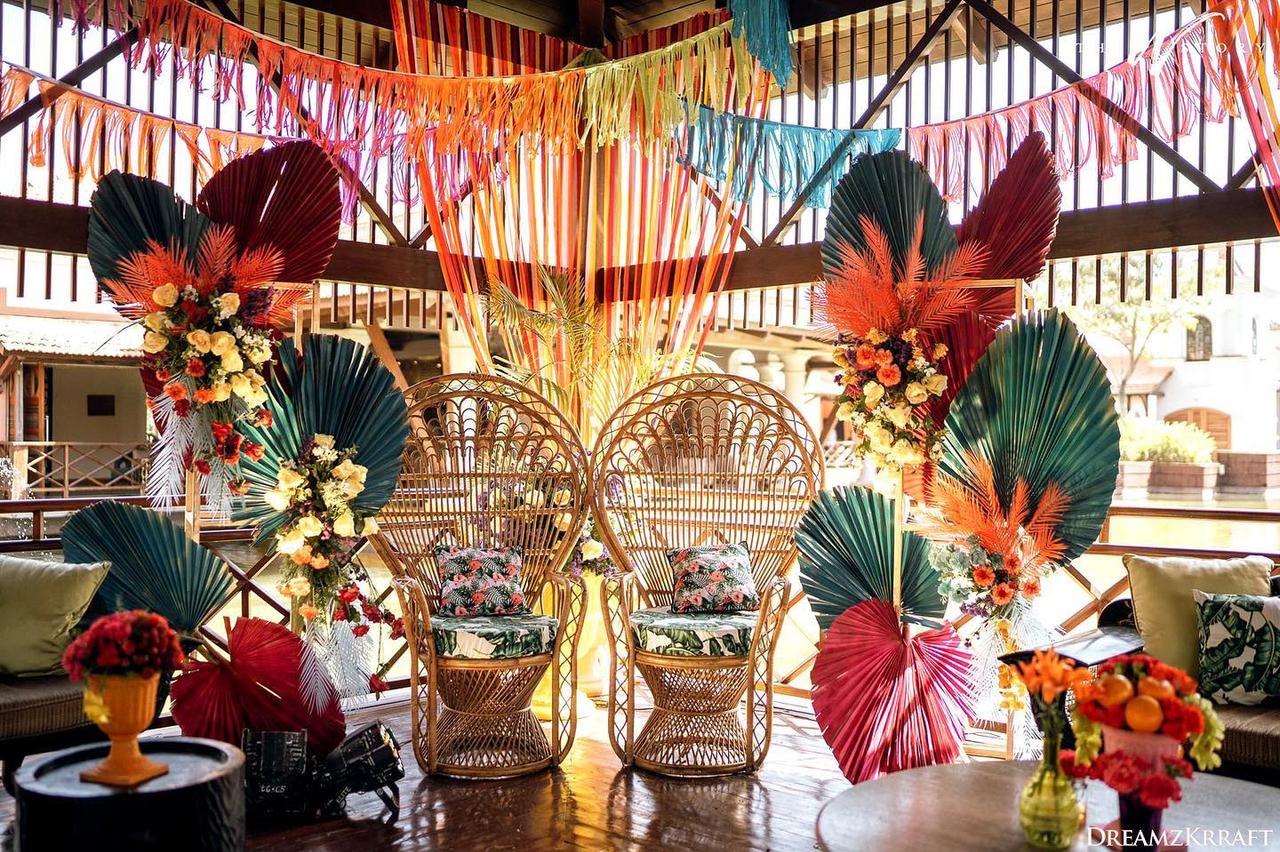 The rustic, bohemian theme is all about perfecting the elegant, effortless style. With underlying earthy tones, you can throw in a pop of colours, fresh wildflowers, pampas grass and cane furniture for an enchanting effect.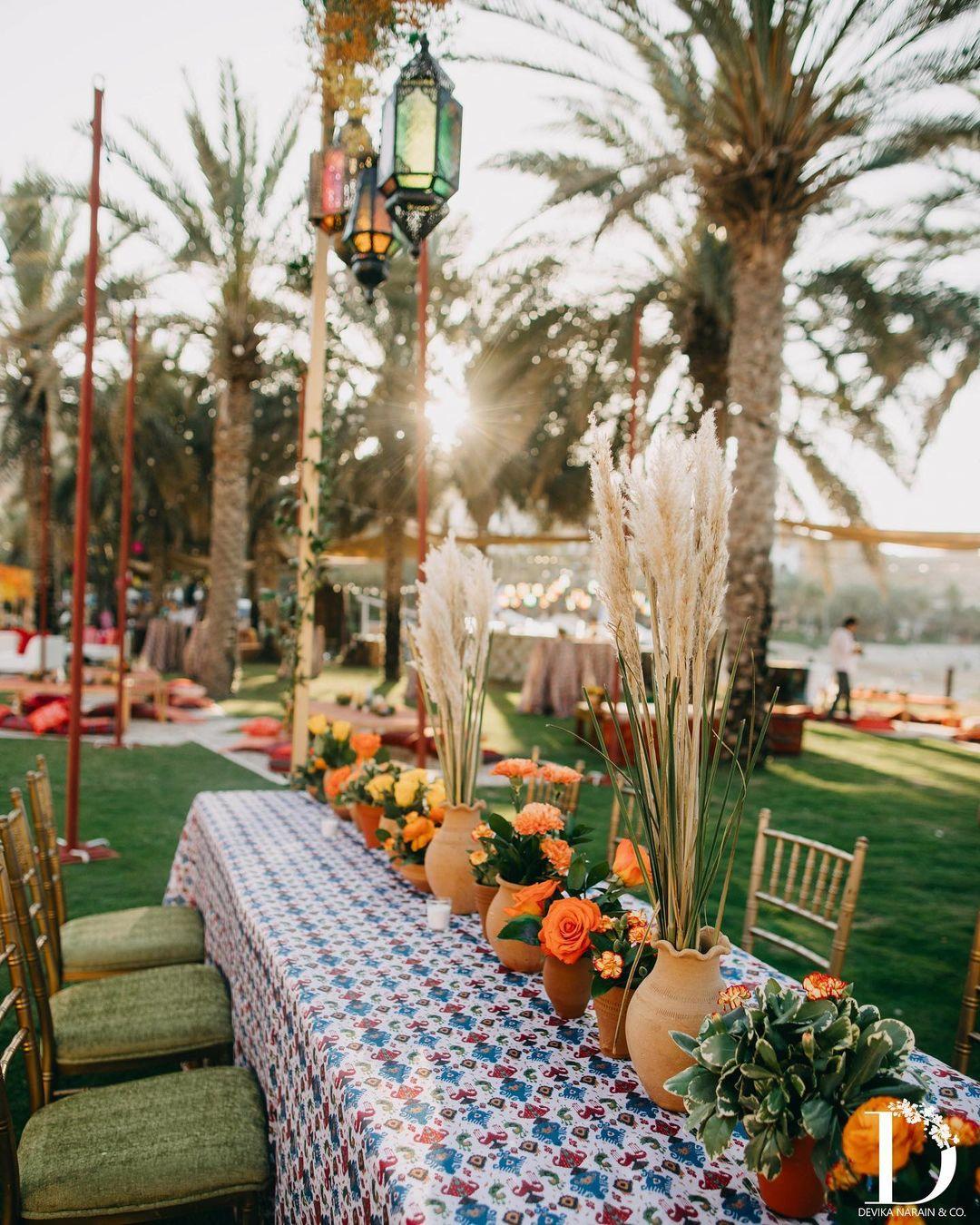 As the saying goes, the first impressing is the lasting one. Create a gorgeous boho-inspired entrance for your Cocktail party decorations with vibrant floral arrangements, cascading greenery installations and solid structure to bring your rustic, bohemian theme together.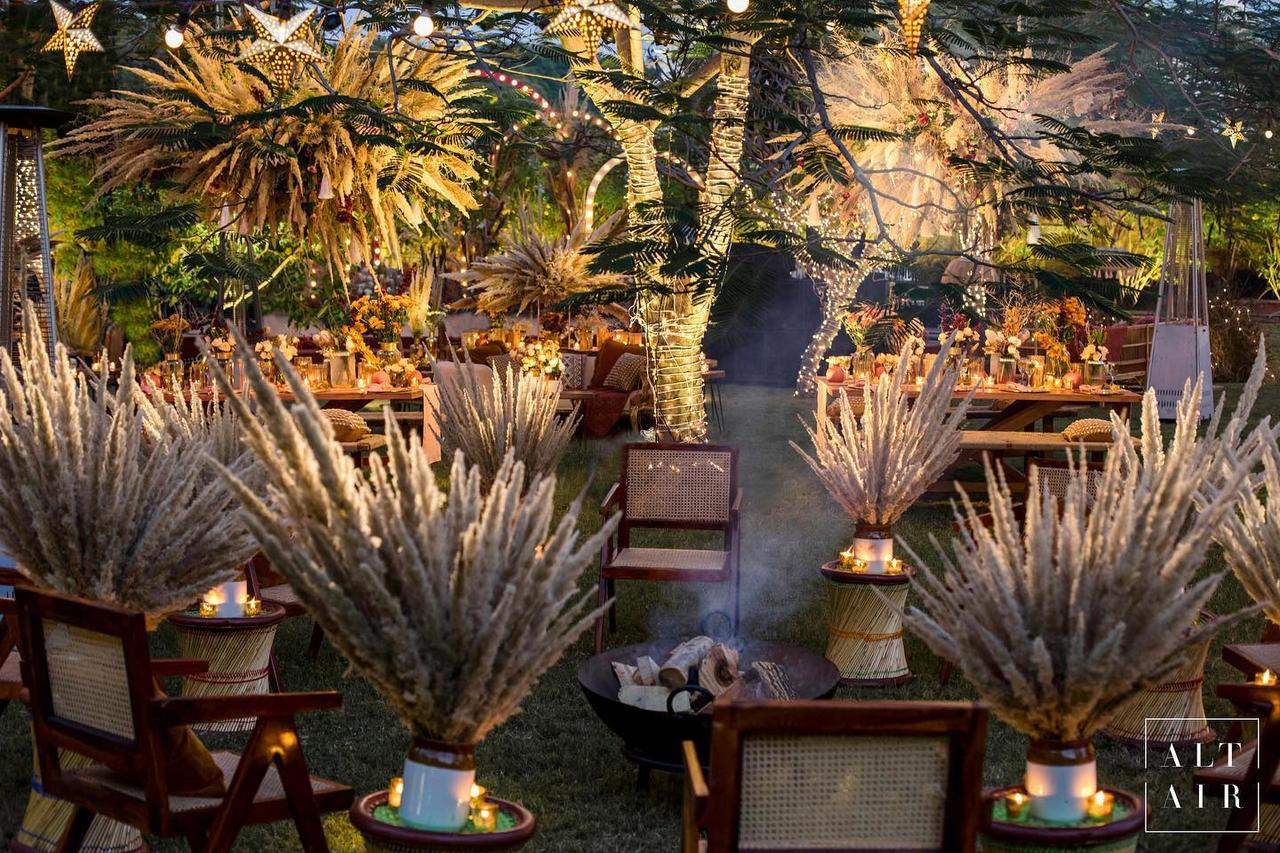 Image Courtesy - Altair Decor
Bohemian decoration takes inspiration from different cultures around the world. For a magical bohemian theme for Cocktail party decorations, you can choose an open venue that gives you enough space to transform your vision. Add the earthy tones with a hint of colours along with fresh, sweet-smelling blooms.
8. Glitterati Cocktail Party Decoration Ideas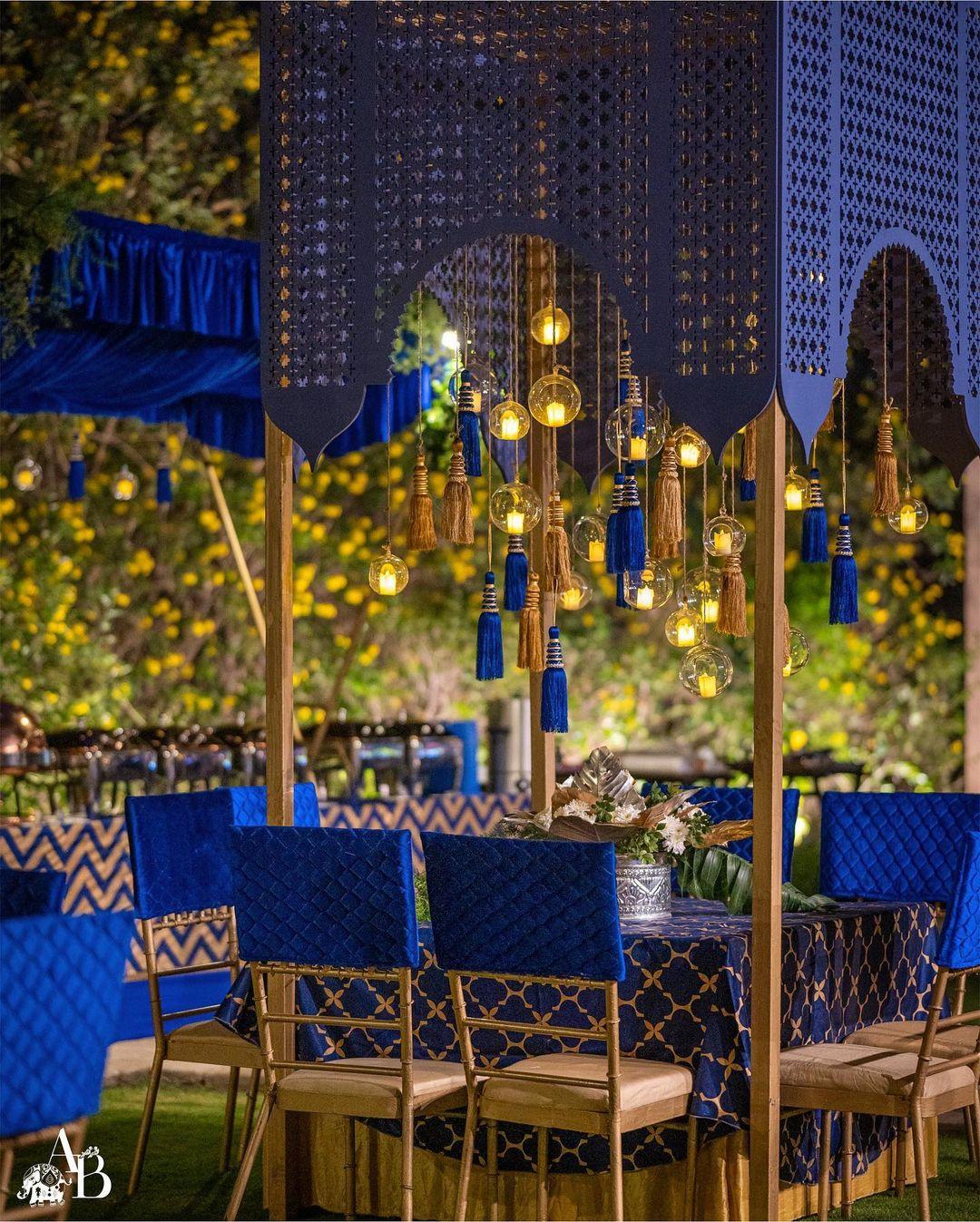 If you are digging inspiration for a dream come true event, twinkling fairy lights are the way to go. They can instantly uplift the mood of your celebrations and a festive vibe. Brighten up your Cocktail party decorations, with strings of lights hanging overhead and wrapped around pillars.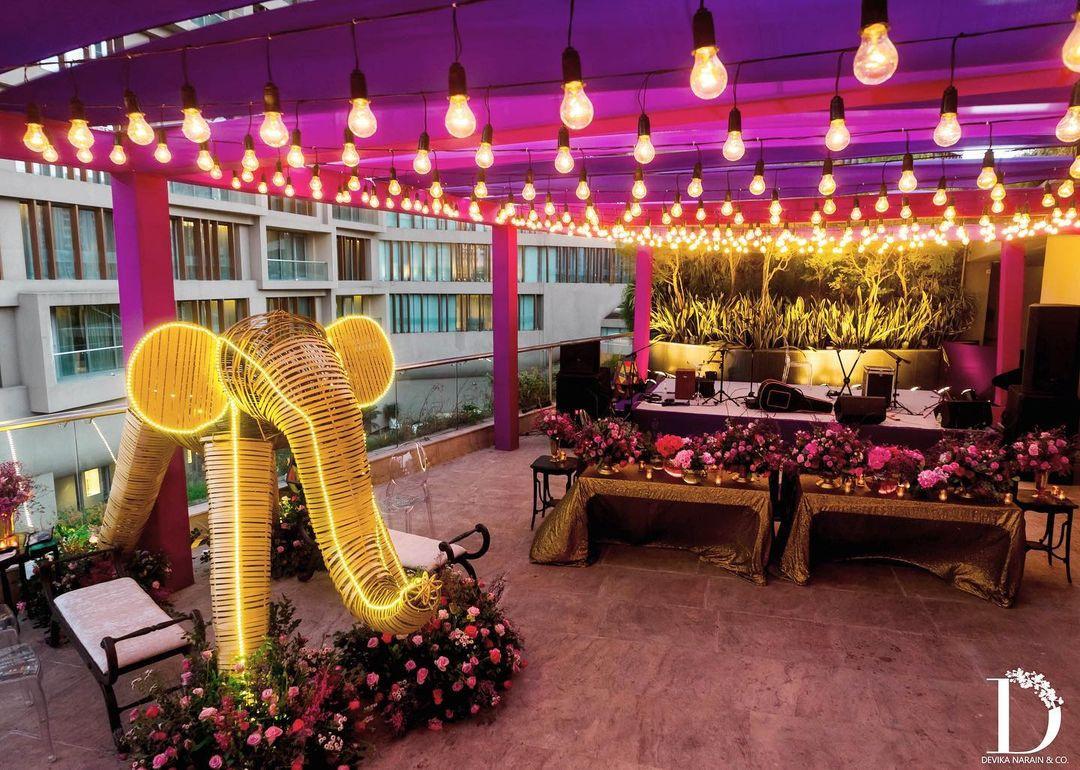 You can add fairy lights to any theme for your Cocktail party decorations, and be assured that it will instantly amplify your venue. If you want to host your festivities under the starry sky, it is the decor idea to bookmark for your celebrations, especially your Cocktail parties.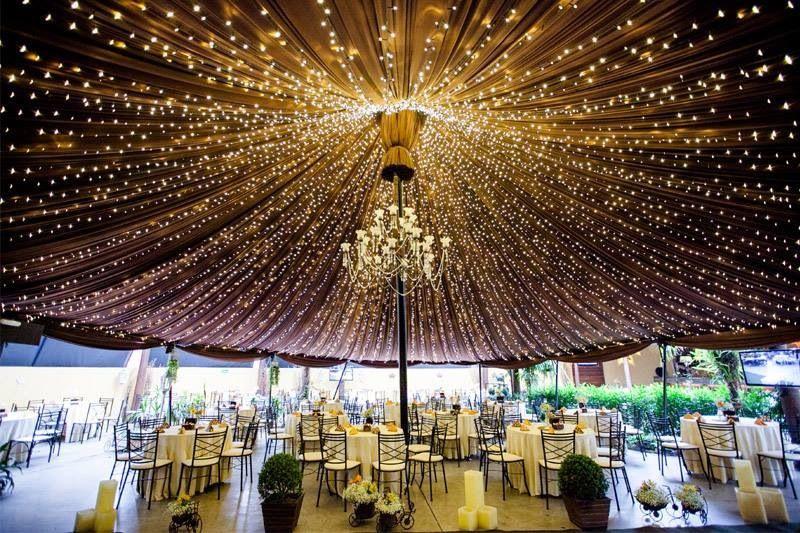 Image Courtesy - Pinterest
Fairy lights are the sparkling decor element that instantly adds magic to your chosen setting and your fun-filled photographs. You can use innovative and stunning ways to add fairy lights to your celebrations.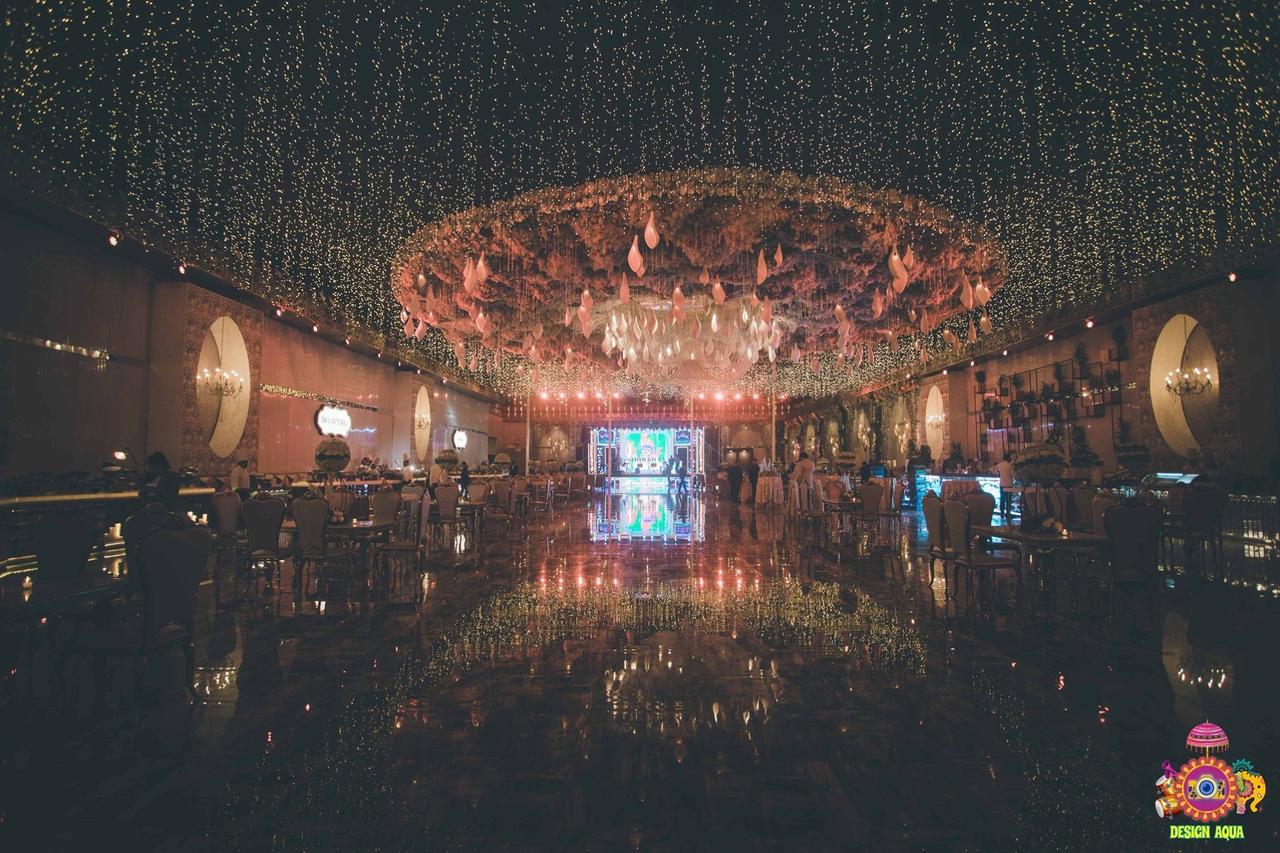 Combine your luxe decor with twinkling fairy lights for magnificent Cocktail party decorations. There are many creative ways to incorporate fairy light into your decorations, like using strings of light cascading overhead to create a magical aura instantly.
9. Fantasy Inspired Cocktail Party Decorations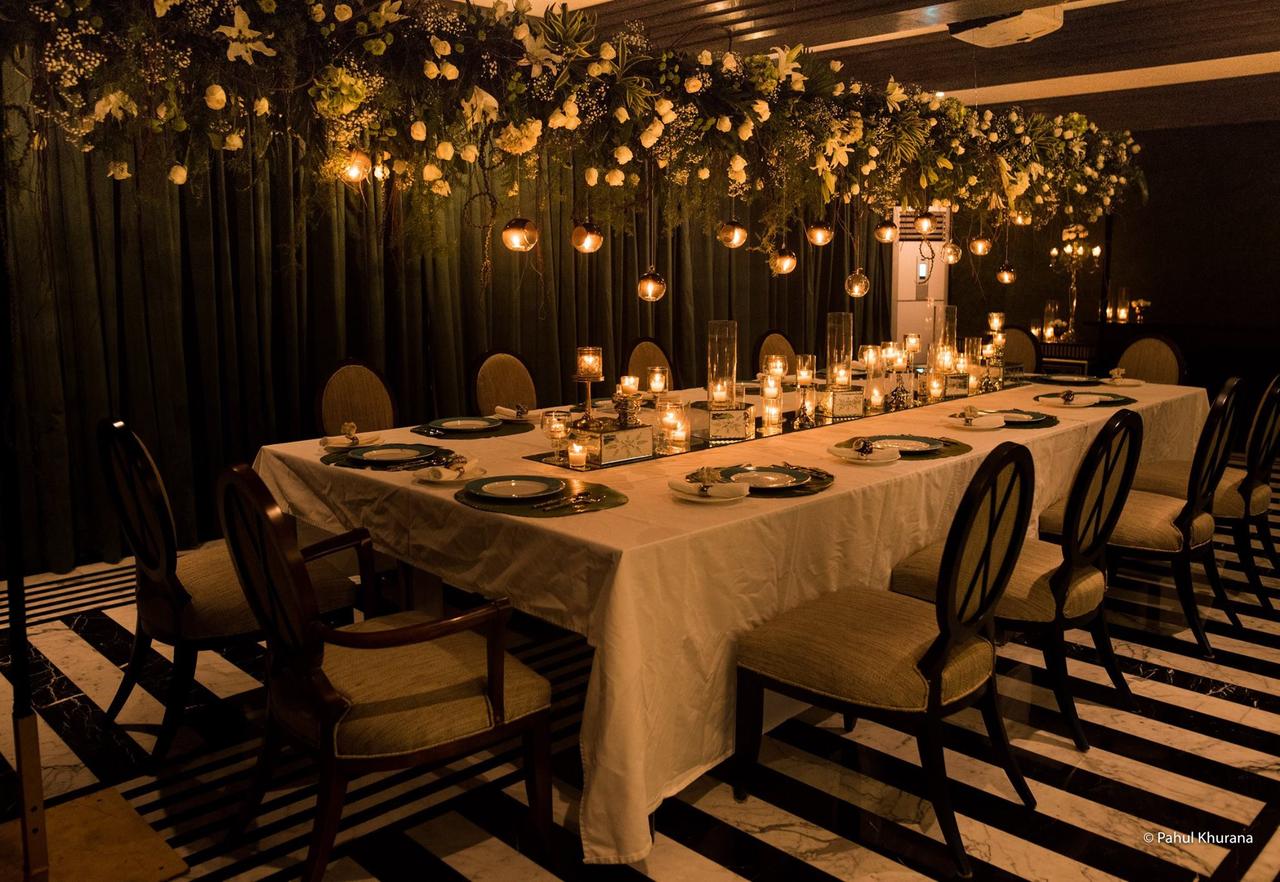 If you are the one to pay tribute to classic novels, movies and TV shows, then fantasy inspired theme for your Cocktail party decorations will look absolutely stunning. For your over-the-top and whimsical decoration, choose an overhead floral chandelier mixed in balance with beautiful lights. Add the magic to your surroundings with small lit candles.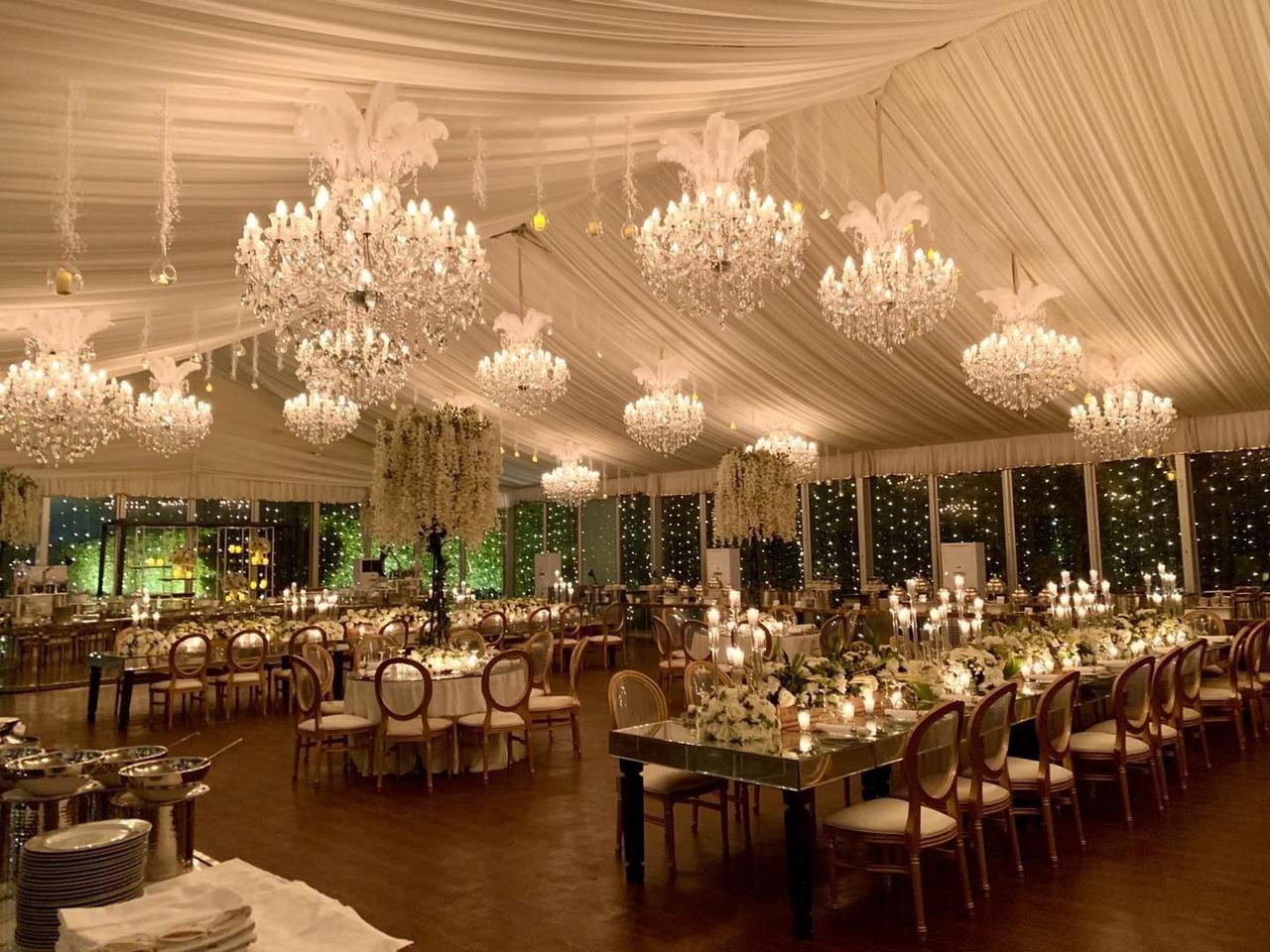 The moment your guests arrive at your chosen venue for a Cocktail party, they will be transported to a fantasy land with such a gorgeous entrance. Full of hanging floral strings, ornate installations and a glorious colour theme, it will be a stunning idea for your Cocktail party decorations.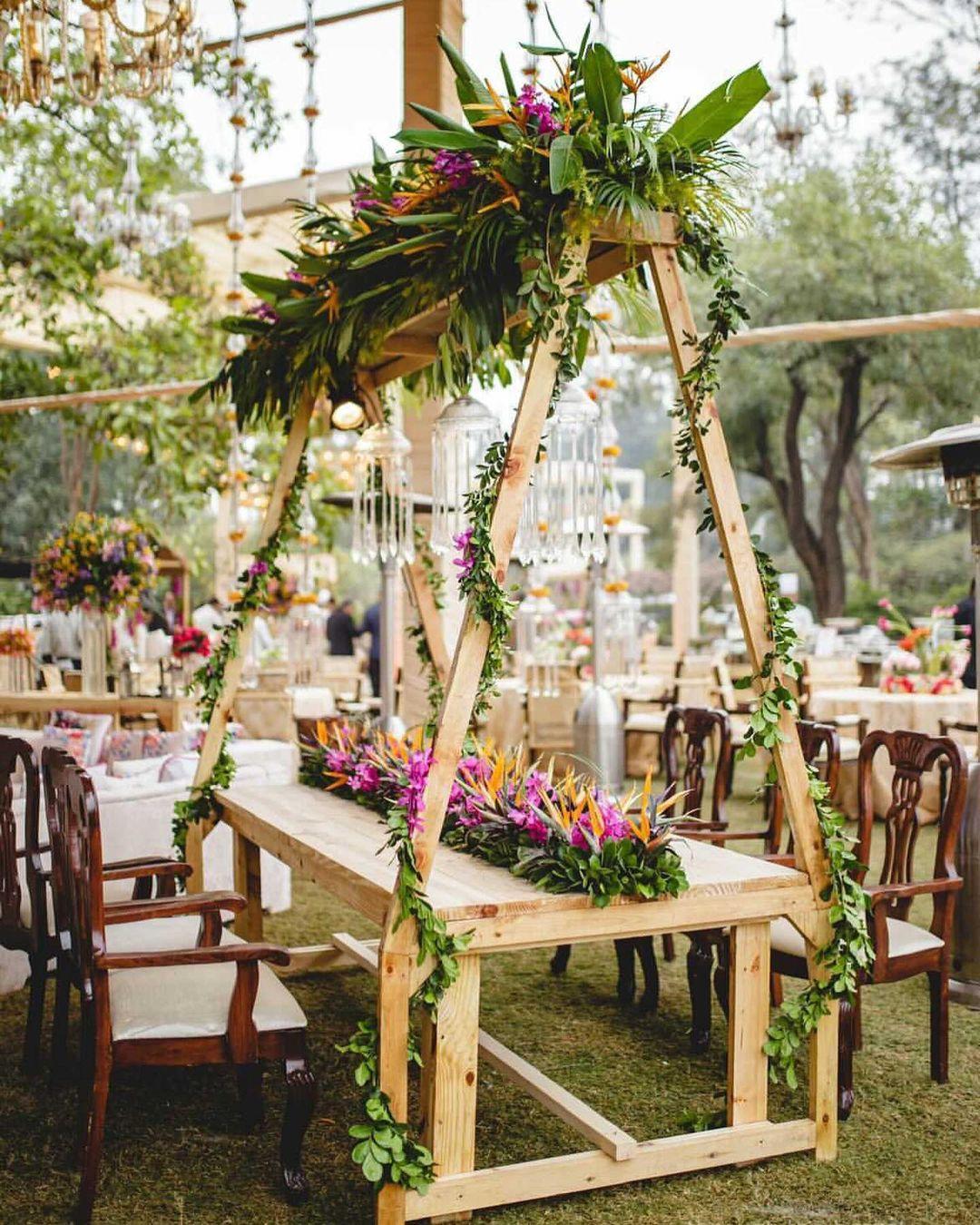 Perfect for couples who want a little something out of the ordinary, you can add gold accents to your fantasy theme. With beautiful circular gleaming lights and flowers in white and gold colour palettes, your Cocktail party decorations will be the star of the event.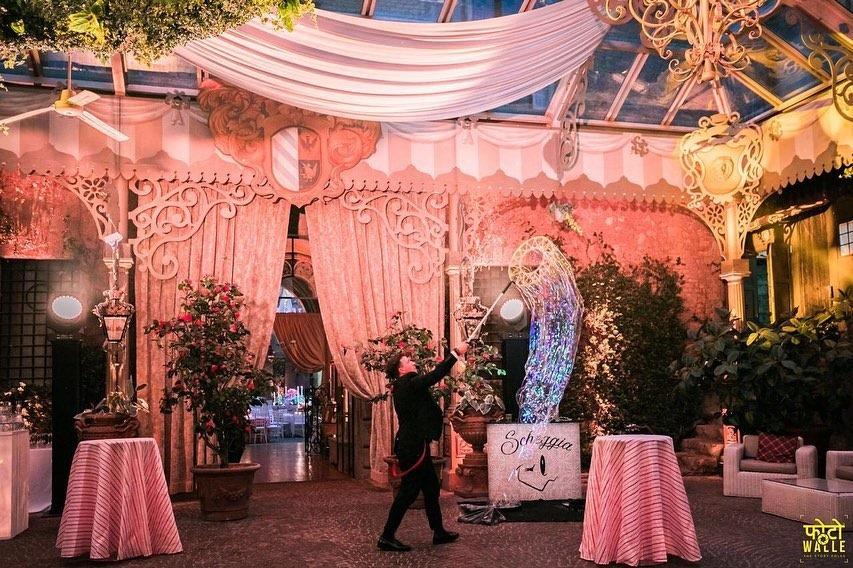 Bring back the classic elements of the fantasy world with ornate settings and entertainers to create the perfect vibe. Level up your theme for Cocktail party decorations with a subtle overall theme, flowy drapes and detailed decor elements.
10. Trendy Cocktail Party Decoration Ideas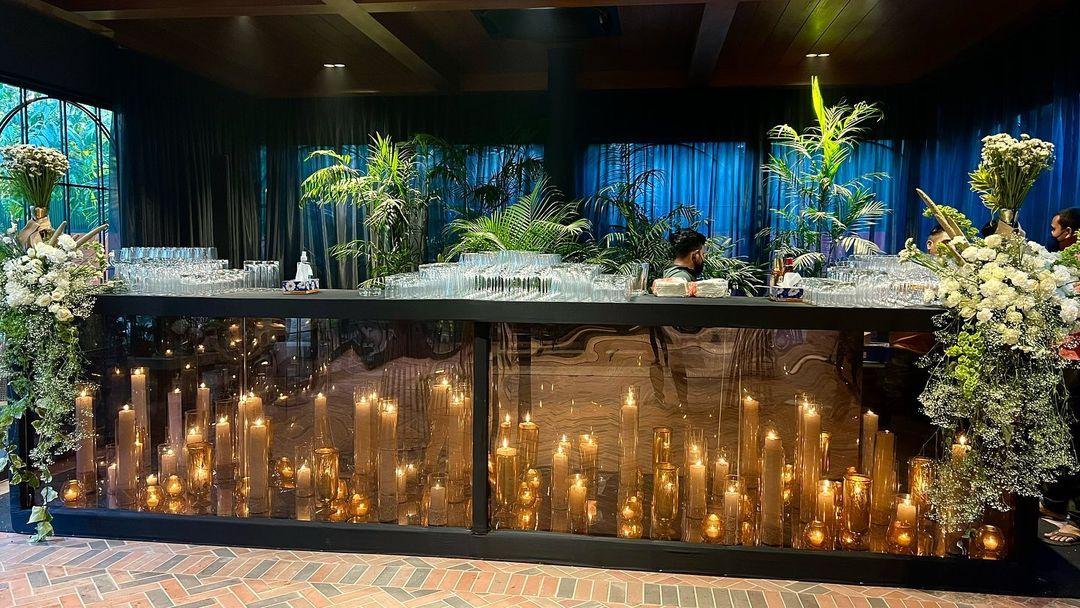 if you want to pull a modern theme for your cocktail party, choose to go with a decor theme that is inspiring and equally elegant. It will not only look visually stunning but innovative as well. Choose popular themes like white and gold for your Cocktail party decorations with trendy lights.
Image Courtesy - Pinterest
You can also incorporate a disco or Jazz theme to your Cocktail party decorations, and be assured that it will be the most fun-filled, exciting and entertaining night for you and all your near and dear ones. Hang mirrored disco balls to the ceilings with an array of different lighting to create a spectacular starry ambience.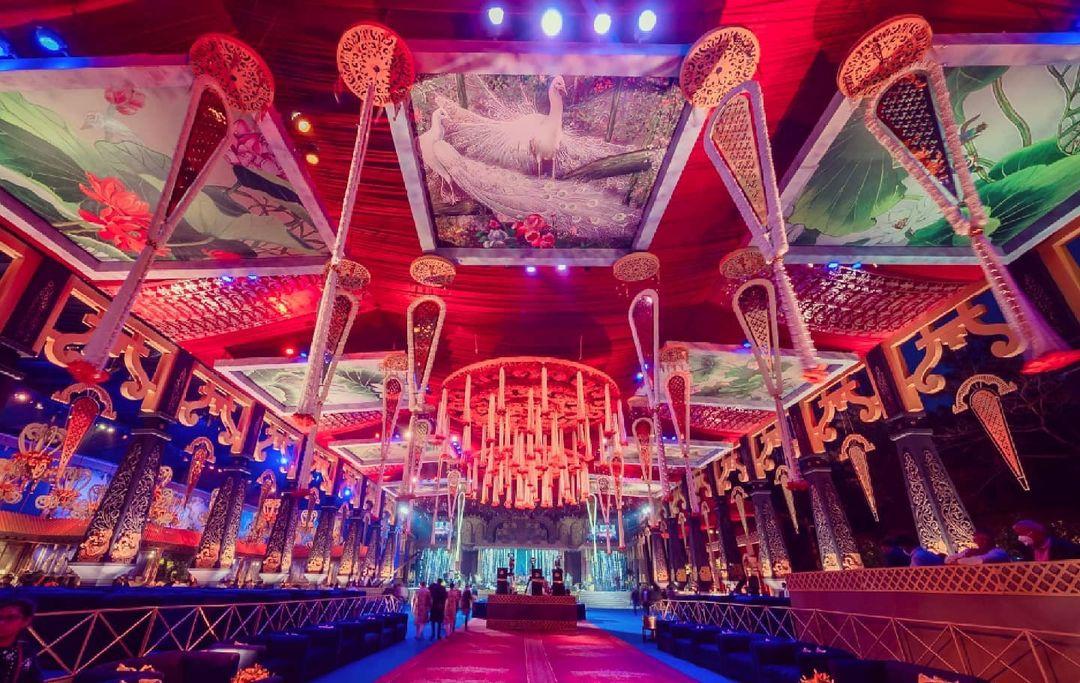 If you are looking for something different for your Cocktail party decorations and grand in every term, then creating your decor per a glorious theme is the way to go. You can add multiple lights and opulent decorations, with hanging flowers, for a captivating ambience to your Cocktail party venue.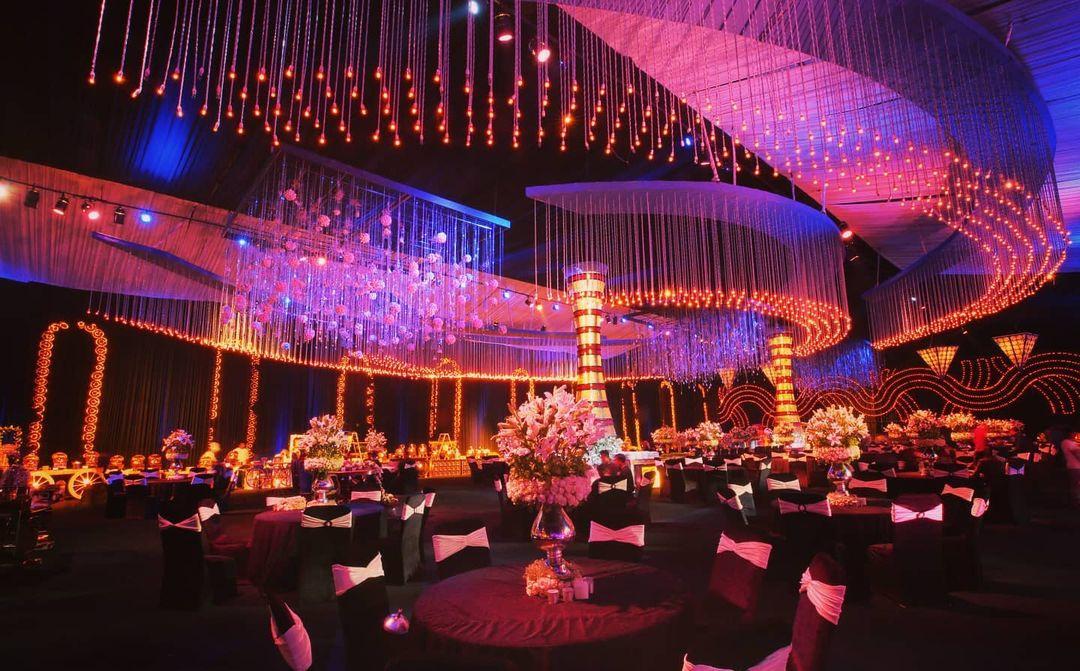 For millennial couples, eye-popping colours and neon signs are the way to amp up the festive vibe at your Cocktail parties. From artsy lights to decor designs, there is a lot of space to create something spectacular for your Cocktail party.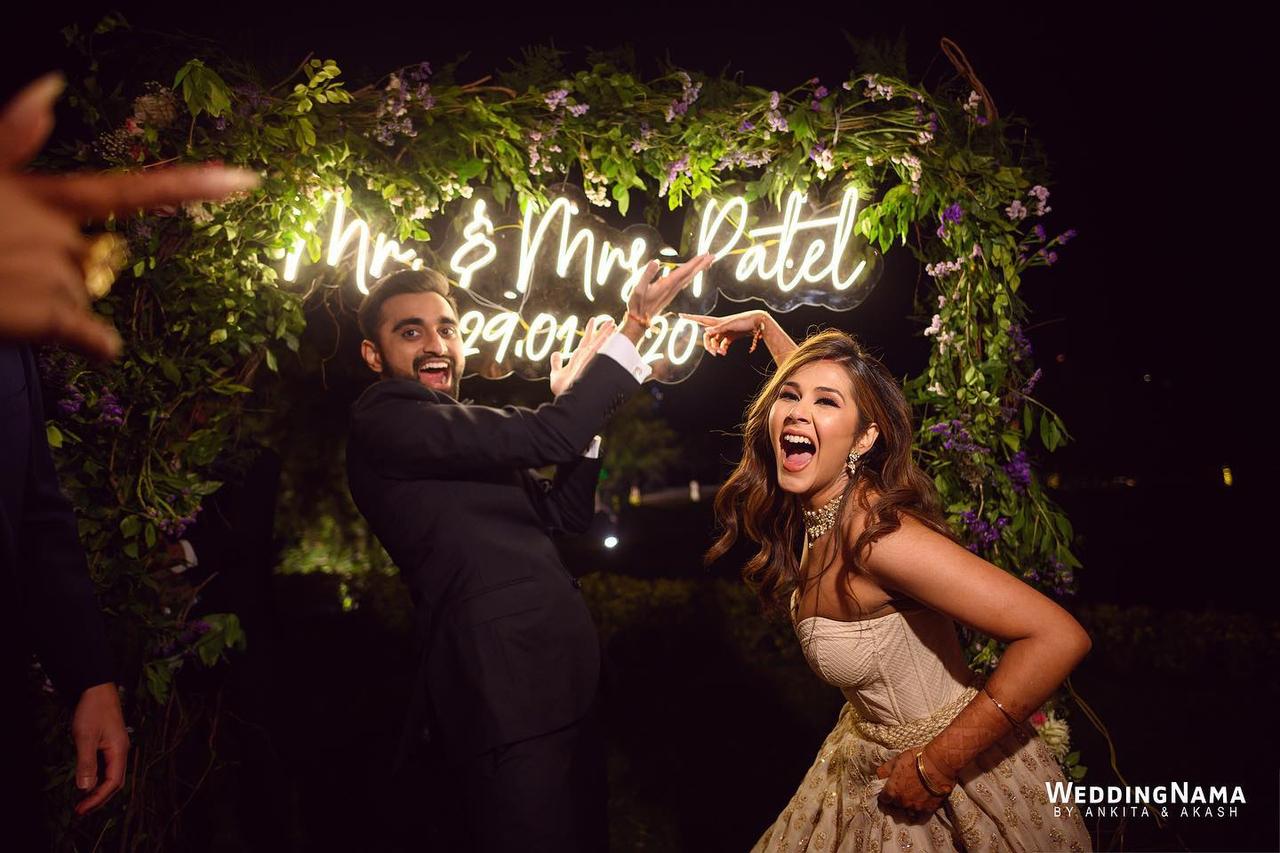 For all the creative souls who have an affinity for everything artistic, all these beautiful Cocktail party decoration theme ideas will be an inspiration for their bucket list. Discuss with your wedding decorators about your vision and create a gorgeous setup where you can enjoy to the fullest with your friends and family. Let yourself lose, forge beautiful memories at your Cocktail party and dance the night away with an ultimate wedding playlist.
Which one of these Cocktail party decoration ideas will you choose for your fun-filled event? Do let us know in the comments below!
Top Blogs on WeddingWire India