16 Best Celebrity Engagement Rings from Hollywood & Bollywood
Looking for inspiration before picking the perfect engagement ring? We have listed our best celebrity engagement rings for you to pick your favourite from. Scroll on for deets!
Image Courtesy: Hailey Bieber (L), Sonam Kapoor (R)
So every time a celebrity announces her engagement, what is the most common and classy routine they pick? Of course, they show off those gorgeous rings that their partners put on their fingers. From princess cut diamond rings to uncut square diamond engagement rings - all the getting down on one knee and asking the love of your life to marry you ritual is just incomplete without that ring!
Who does not adore stardom? Many of us actually even practice the speech we will deliver at a fancy red carpet show (imaginary of course) in our showers with shampoo bottles as the microphone. We are all awed by the glamourous lives of the celebrities and the moment one of these celebrities get engaged or hitched, we get inspired and start looking for things like a similar dress for our own proposal or that RING! Every ring is special in its own way and more often than not tells a story so personal to the couple that it might tickle your tear glands.
Now to save you from all the random zooming in on celebrity pictures to take a peek at their engagement rings or wedding rings, we have put together a list of the best celebrity engagement rings from both Hollywood and Bollywood. From Ariana Grande's oval cut diamond with pearl ring to Deepika Padukone's rectangular OTT wedding ring - we have it all right here.
Scroll on to find the best celebrity engagement ring that will make your heart flutter when he goes down on one knee holding a similar ring as your favourite celeb's.
Best Celebrity Engagement Rings from Hollywood
Ariana Grande's Engagement Ring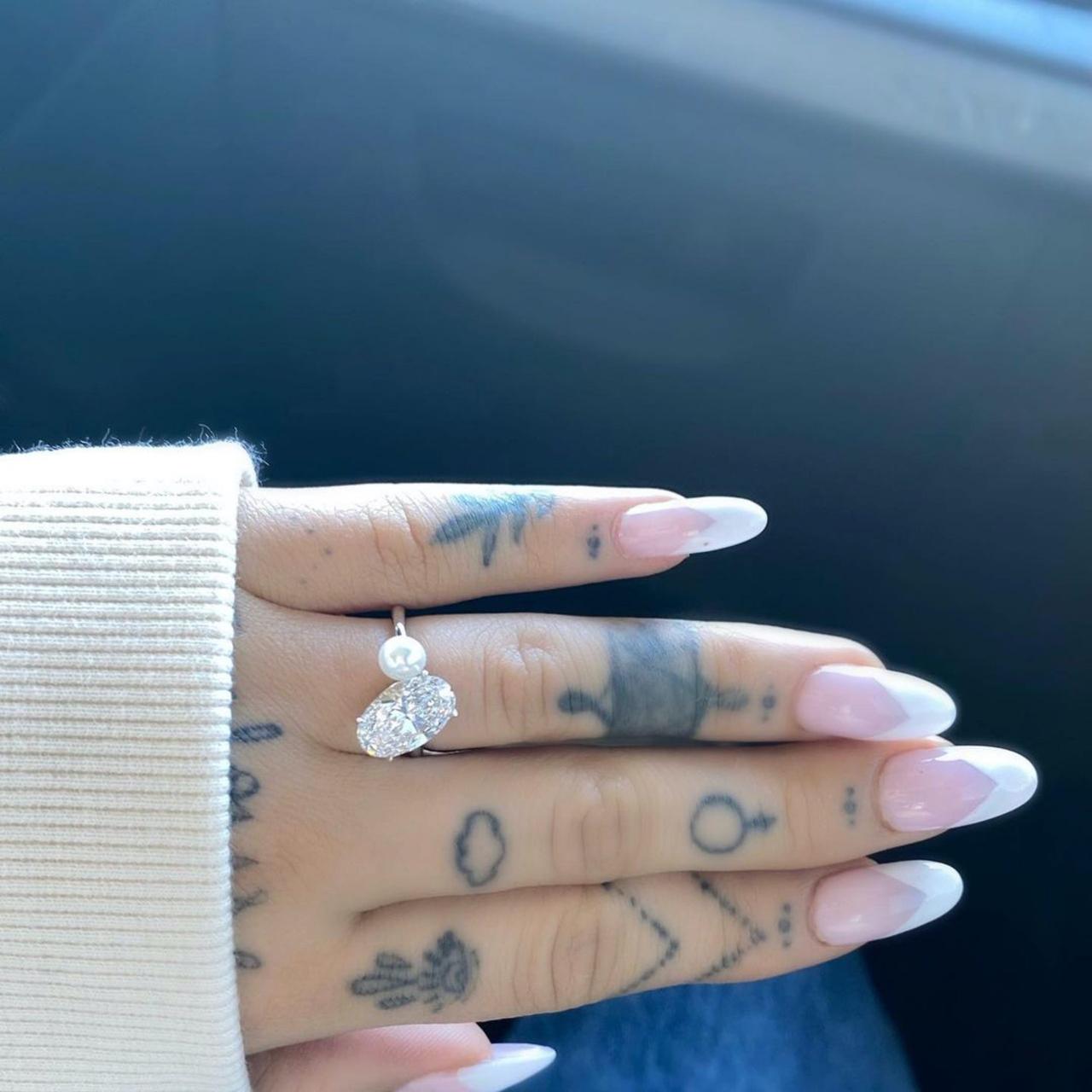 Image Courtesy: Ariana Grande
The story behind this uniquely designed ring will melt hearts. Ariana Grande's fiance and long-time beau Dalton Gomez has designed this ring using a pearl that is rumoured to be the same pearl from her late grandfather's tie pin. Hold on, we need to dab a few tears away right now!
Beyonce's Engagement Ring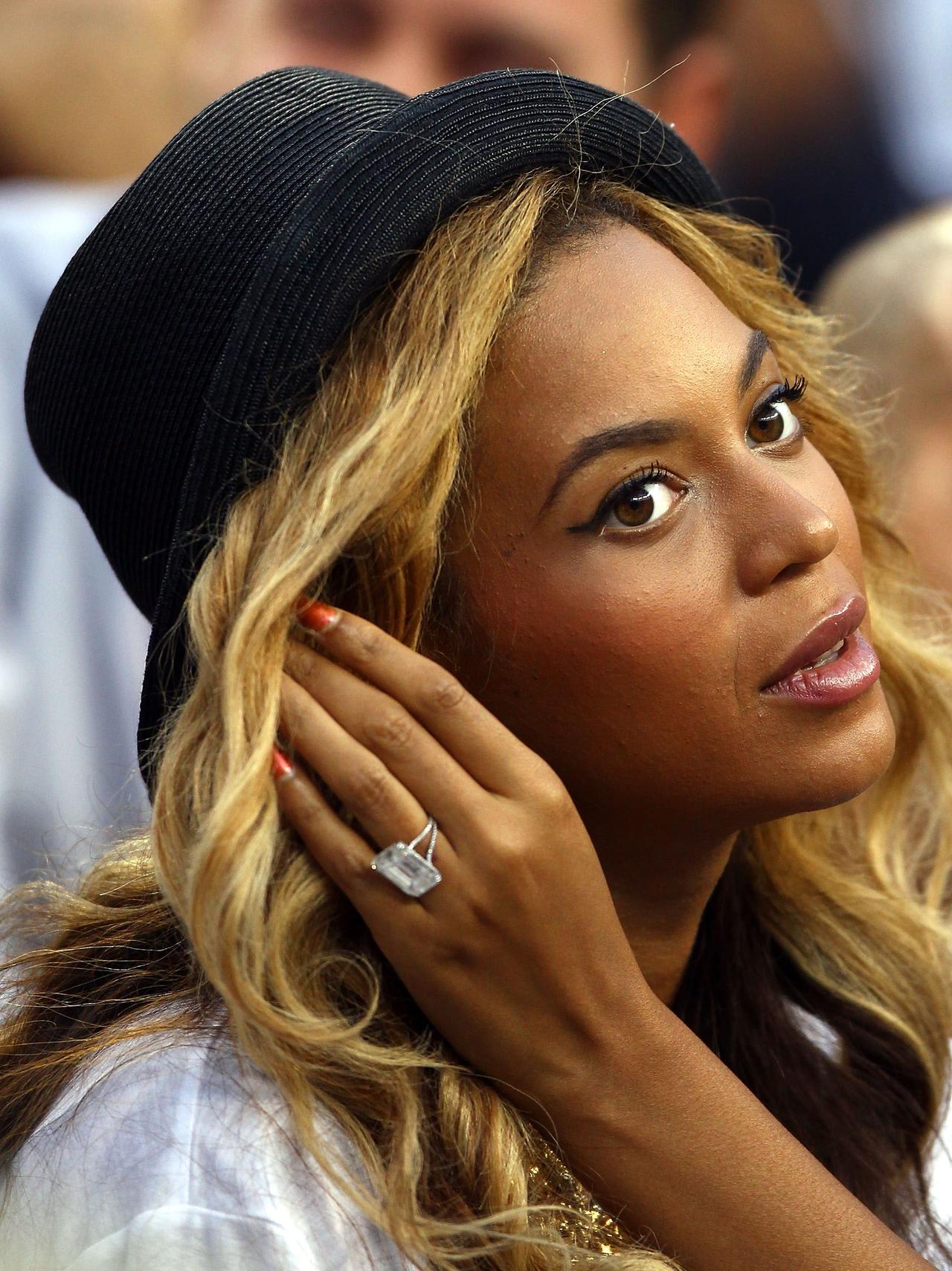 Image Courtesy: Pinterest
One of the best poster examples of an emerald-cut diamond ring, Queen B looks ravishing as ever flaunting this huge rock on her finger. Around 24 carats and worth about $5 million, the split band that holds the ring together adds to the unique charm and royalty that the ring stands for. Who else could flaunt a ring like that if not Beyonce?
Sofia Vergara's Engagement Ring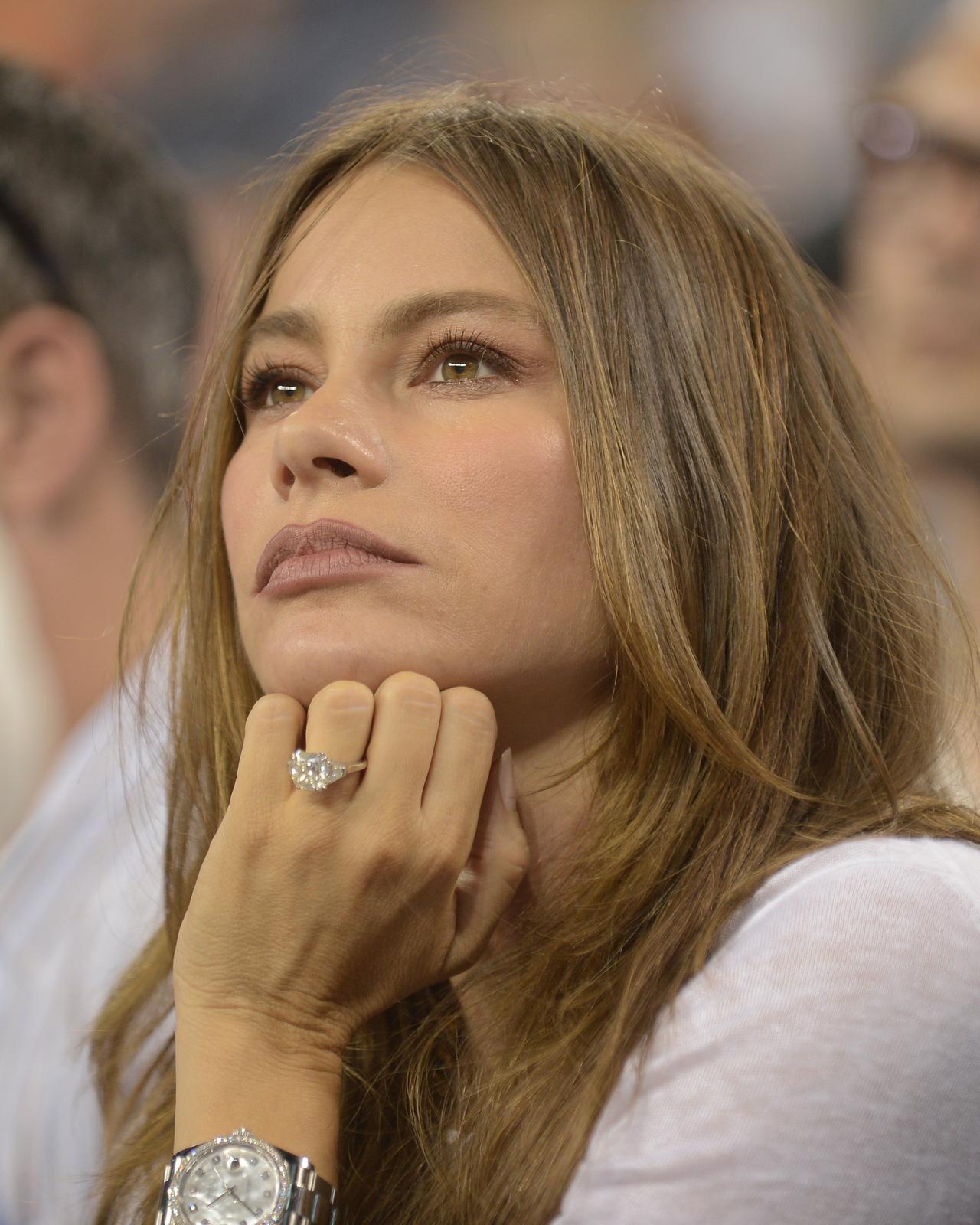 Image Courtesy: E!
The woman who is known for her impeccable talent and her work in The Modern Family, Sofia Vergara is the epitome of gorgeous herself and this beautiful engagement ring is one of the best celebrity engagement rings you will ever lay your eyes on. The 7-carat beauty makes her finger look so gorgeous. Whoever said diamond is a woman's best friend has been absolutely right!
Also Read: The 10 Best Diamond Ring Designs Just For Her!
Jennifer Aniston's Engagement Ring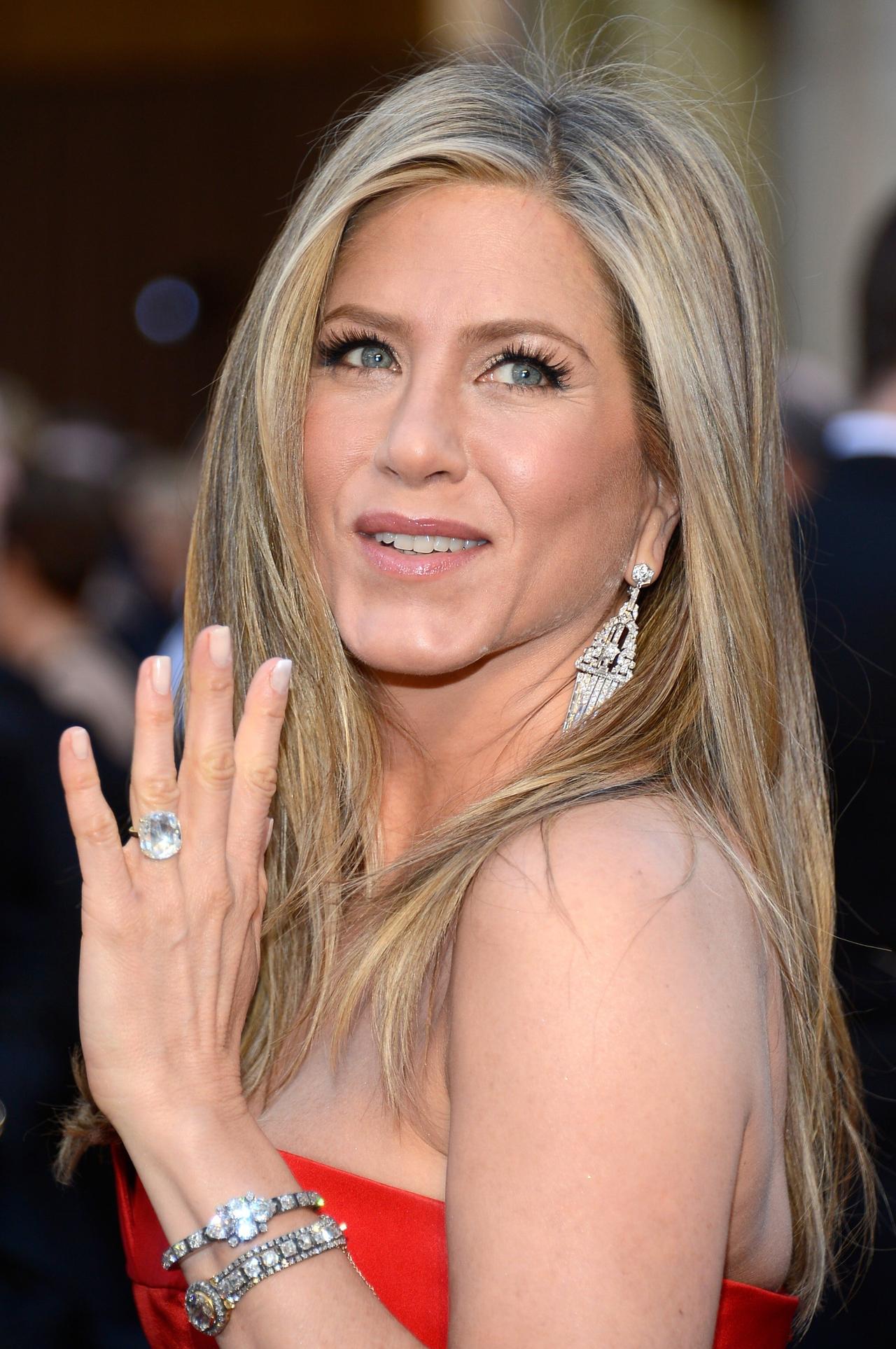 Image Courtesy: Getty Images
Though Jenifer Aniston and Justin Theroux have separated ways from their marriage, this ring that she flashes at the paps is a steal. The radiant cut diamond has a certain iridescence that creates a gorgeous halo in the ring adding to its magnificence. A perfect shape and therefore one of the best celebrity engagement rings you can take inspiration from.
Katy Perry's Engagement Ring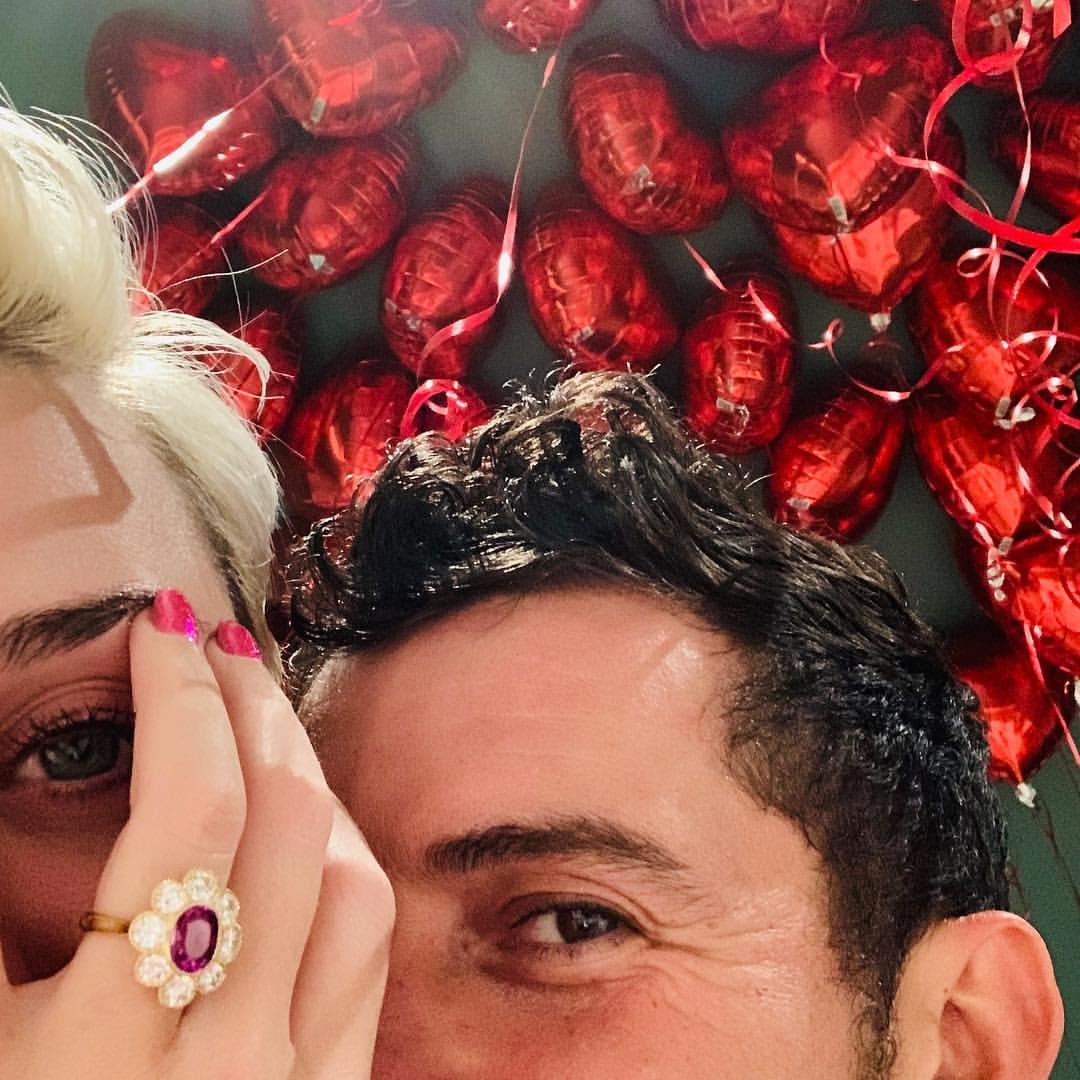 Image Courtesy: Katy Perry
Known for her powerful voice and impeccable songs, Katy Perry's engagement ring is as unique as her. Orlando Bloom dropped on a knee with this gorgeous floral diamond ring. The centre pink stone is either a pink diamond or a ruby and the miniature cut diamonds that surround the centre stone in what looks like a floral halo is what gives this celebrity engagement ring a captivating twist. The pink diamond is a rare gemstone to obtain and that only shows how much the duo was in love.
Also Read: Latest Diamond Rings for Couples to Consider
Hailey Baldwin's Engagement Ring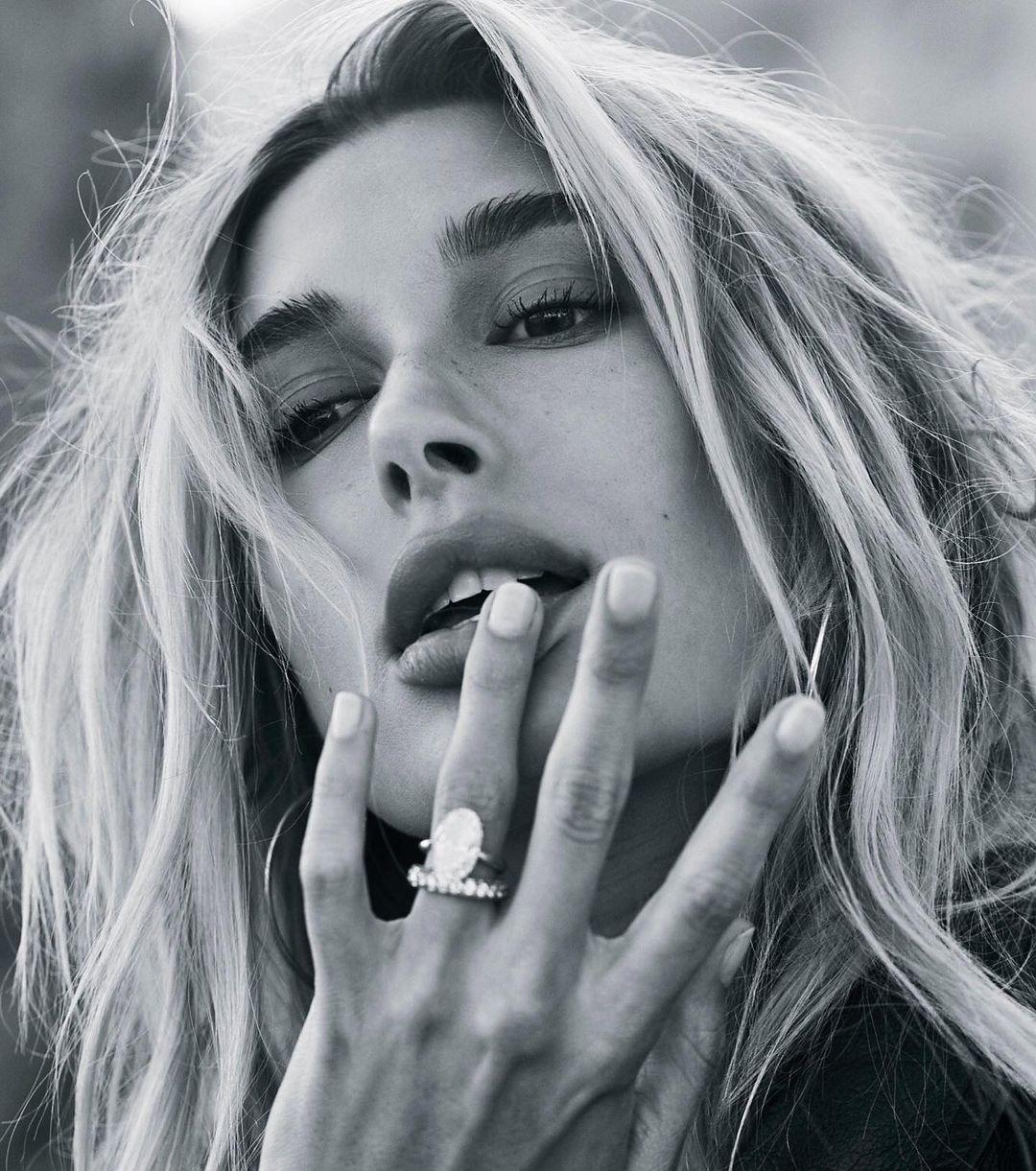 Image Courtesy: Hailey Bieber
Take a moment to appreciate one of the best solitaires ever! The contrast of an elongated solitaire diamond on a super-slim and a rather simple gold band gives the feel of a modern love yet a timeless one at the same time. We are totally blown by Justin Bieber's out-of-the-park gesture with this blinding Solow & Co. solitaire pick. This has to be one of our favourite celebrity engagement rings!
Michelle Obama's Engagement Ring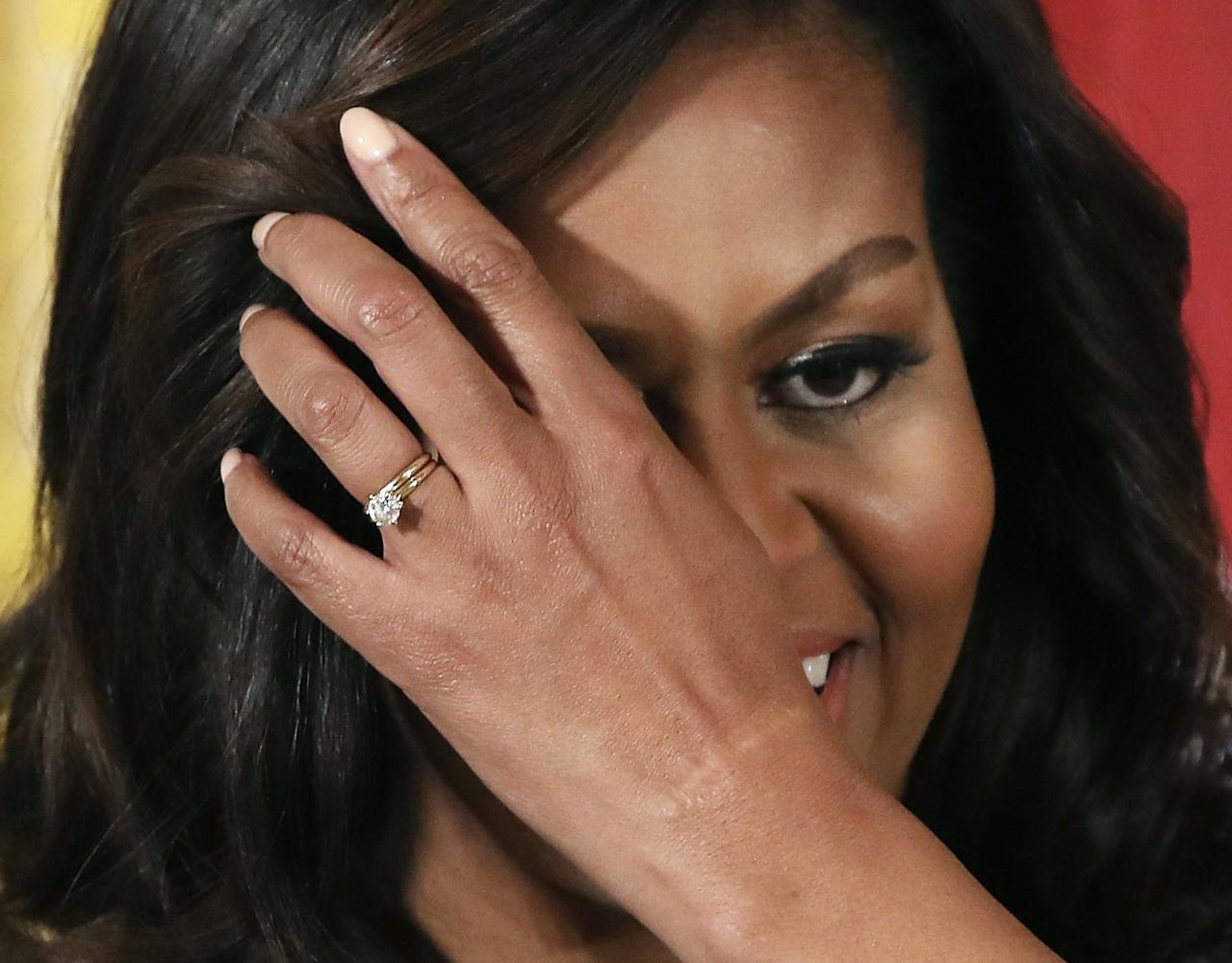 Image Courtesy: E!
The solitaire ring, which is set on a gold band, was given to the former First Lady by President Obama in 1991 — long before he was in the White House. In 2017, she began wearing an upgraded, larger square-cut ring but boy oh boy, do we love this minimal and simple celebrity engagement ring!
Best Celebrity Engagement Rings from Bollywood
Alia Bhatt's Engagement Ring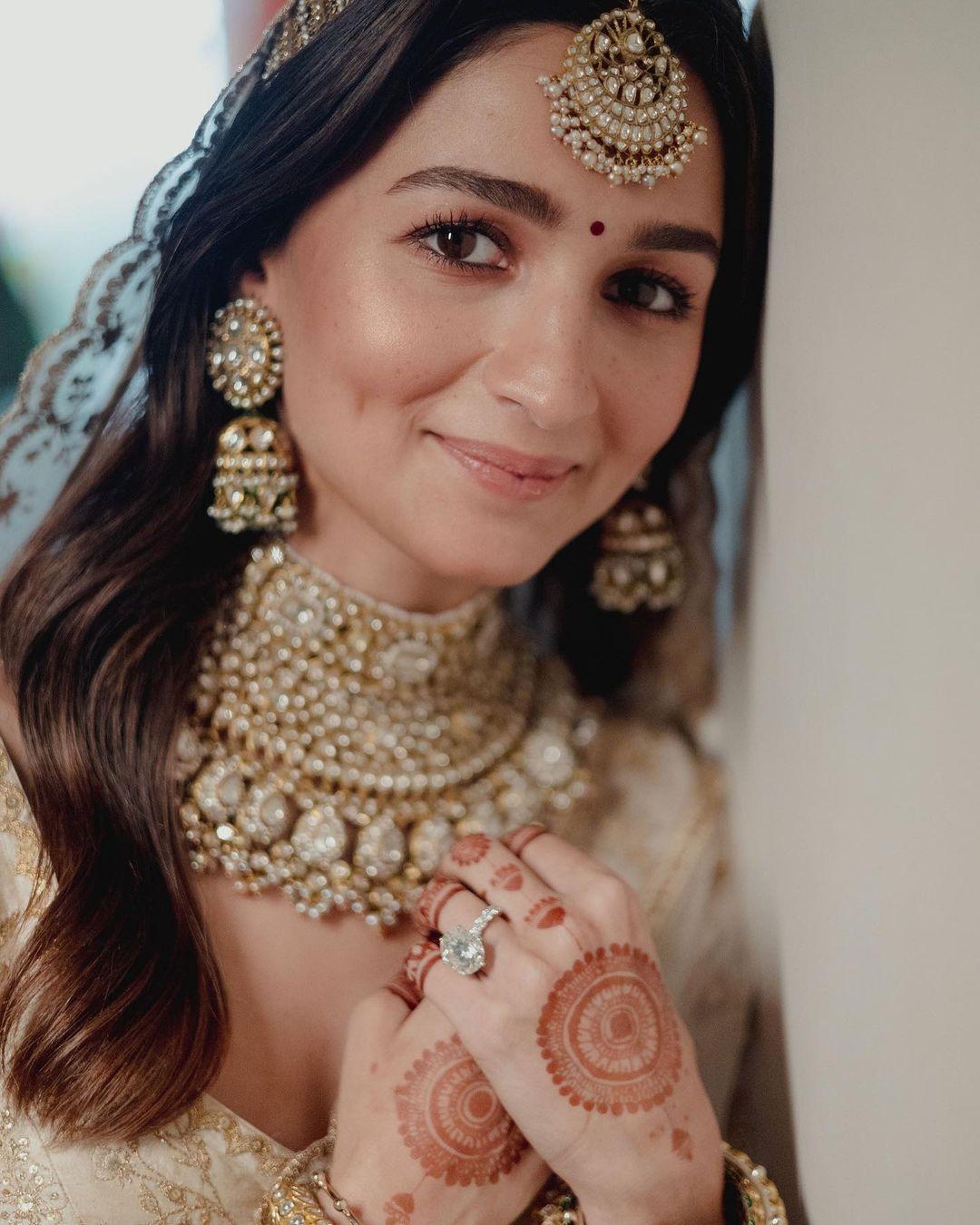 Image Courtesy: Alia Bhatt
Designed by the gorgeous French Luxury brand Van Cleef and Arpel's, this massive solitaire ring is custom-made for the bride and flew in from London. By now we are well aware that the number 8 holds a very significant place in Ranbir Kapoor's life and even this gorgeous engagement ring had 8 diamonds encrusted in the band. What a beaut!
Katrina Kaif's Engagement Ring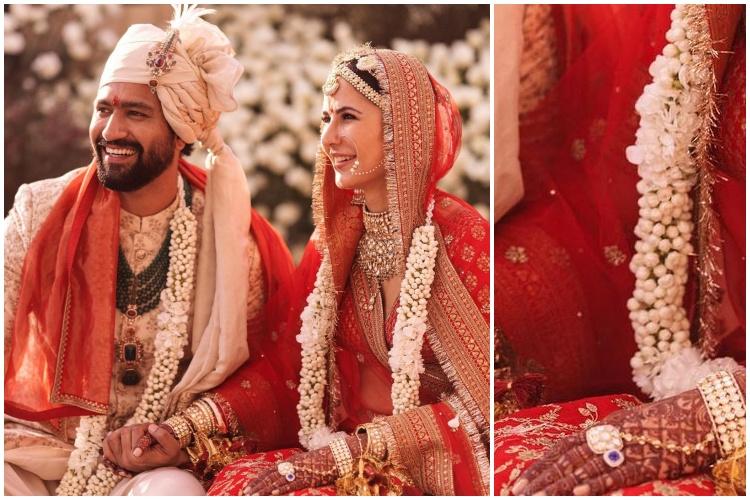 Image Courtesy: Katrina Kaif
We all squinted hard and zoomed in to take a good look at Katrina Kaif's unique engagement ring. Here it is, the one-in-a-million platinum ring with a cushion-cut Tanzanite in the centre adorned by a double row of diamonds. This ring looks somewhat inspired by the one worn by Princess Diana and boy do we love this ring that looks a class apart!
Priyanka Chopra's Engagement Ring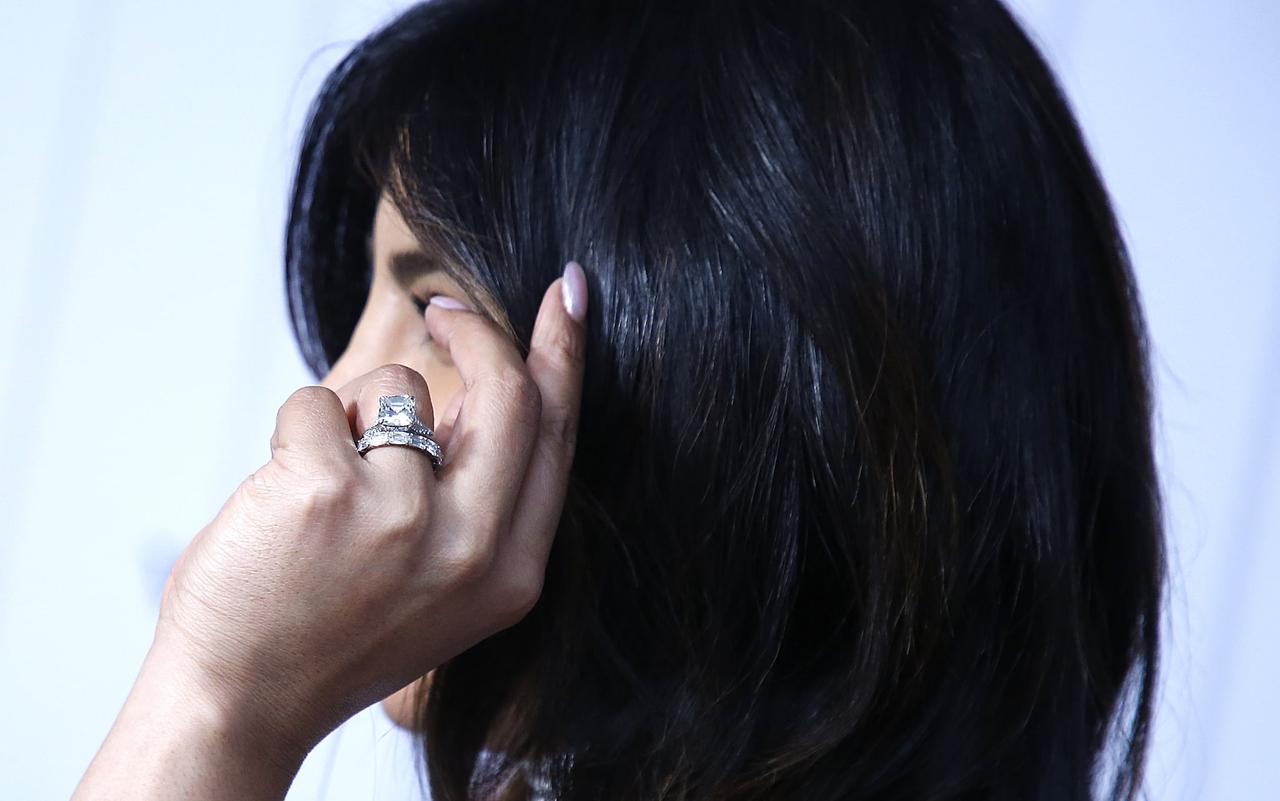 Image Courtesy: Entertainment Daily
The classic cushion-cut diamond ring that Priyanka Chopra dons is a timeless beauty. Embedded in a platinum band with small baguette diamonds on either sides of the main rock, this is one of the best celebrity engagement rings of all time and we are in awe of it.
Kareena Kapoor Khan's Engagement Ring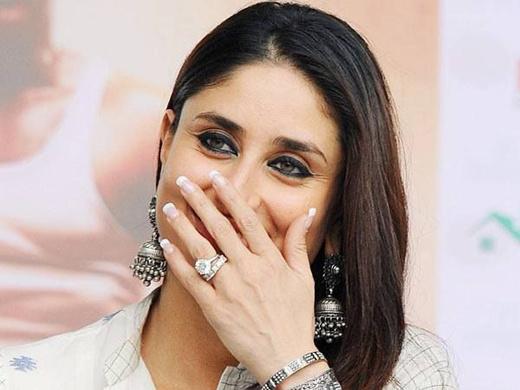 Image Courtesy: Voompla
Kareena Kapoor broke the internet with her dreamy wedding to the Nawab. While Kareena looked gorgeous in her repurposed heirloom bridal outfit that was once worn by her MIL Sharmila Tagore, Saif Ali Khan put a gorgeous diamond ring on Kareena's finger on their wedding that was priced at around a whopping INR 75 lakhs. The diamond and platinum band is something you will see the actress wearing at all times if not the big rock.
Mouni Roy's Engagement Ring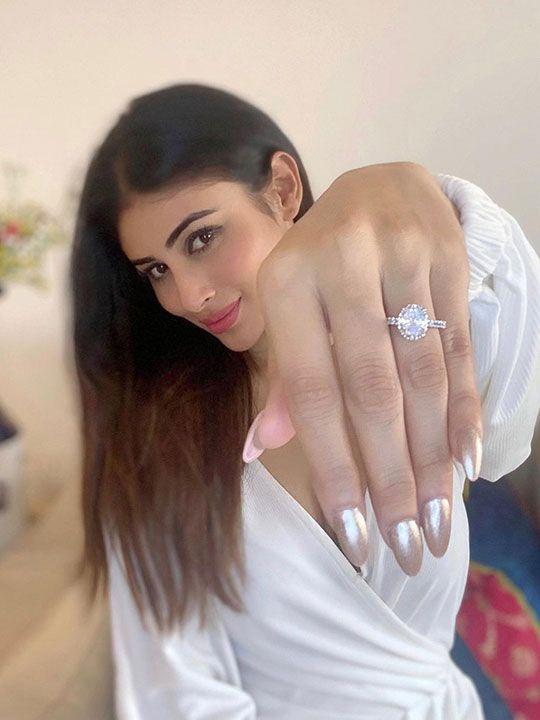 Image Courtesy: Mouni Roy
One of the newest developments, Mouni Roy's wedding to beau Suraj Nambiyar is on the books and how! While the fans are excited and all set to celebrate this love story, we are in love with her engagement ring. A simple engagement ring with an elegant oval-shaped diamond that sits perfectly on the ring finger of the gorgeous actress. One of the best celebrity engagement rings that we have laid eyes on!
Rhea Kapoor's Engagement Ring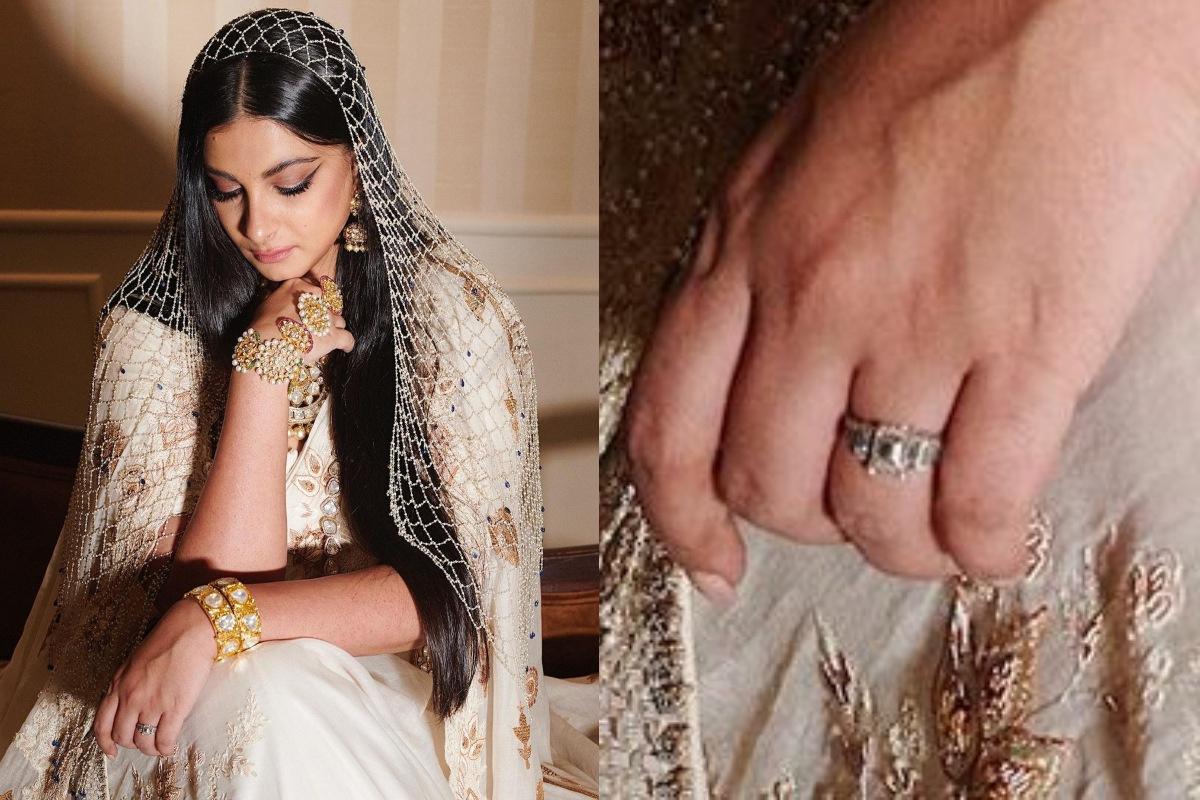 Image Courtesy: HT City
Rhea Kapoor was seen ditching the OTT rock for a simple yet elegant wedding ring. While her vintage veil and the Anamika Khanna Chanderi saree made her look otherworldly, the simple yet majestic engagement ring stood out the most. Is she breaking the stereotype with her style yet again? Of course!
Also Read: Best Engagement Ring Styles to Know of Before Going Down on One Knee
Gauahar Khan's Wedding Ring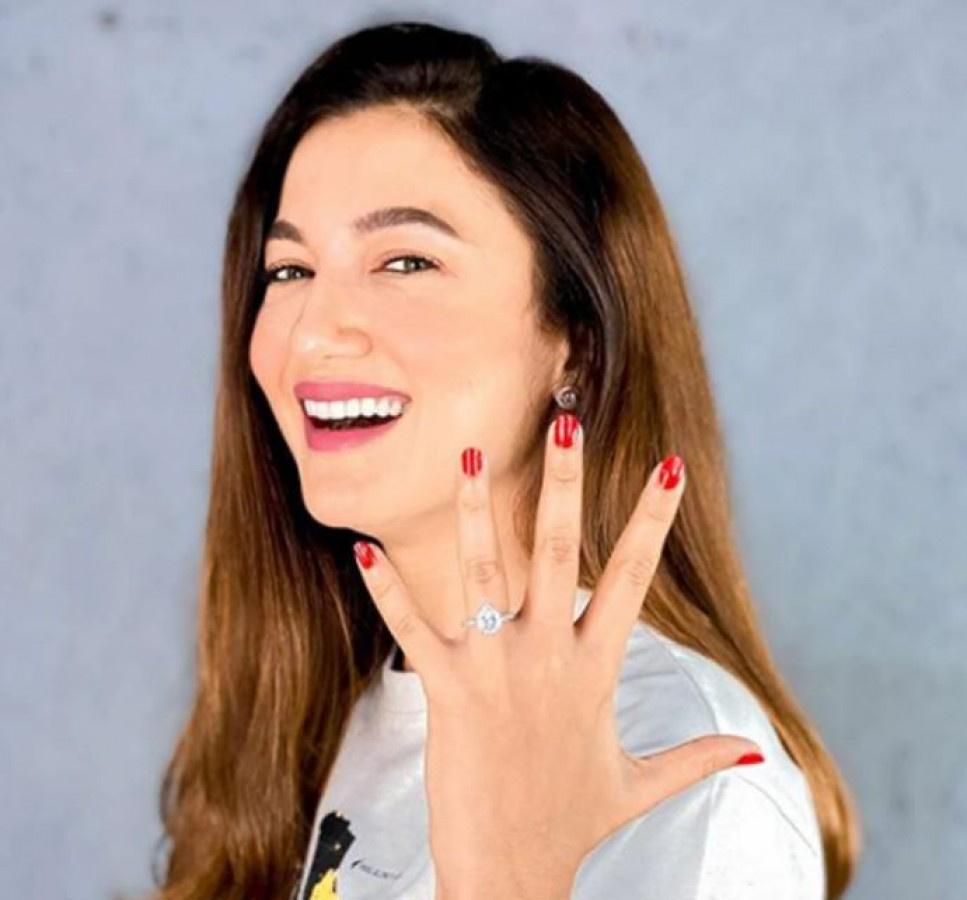 Image Courtesy: Gauahar Khan
Actress Gauahar Khan got hitched to her suitor Zaid Darbar after having met at a super market and flaunting a whirlwind romance that can be made into a movie! The ever-gorgeous actress was seen flaunting her exquisite diamond ring on her Instagram and it is indeed a beautiful celebrity engagement ring.
Anushka Sharma's Engagement Ring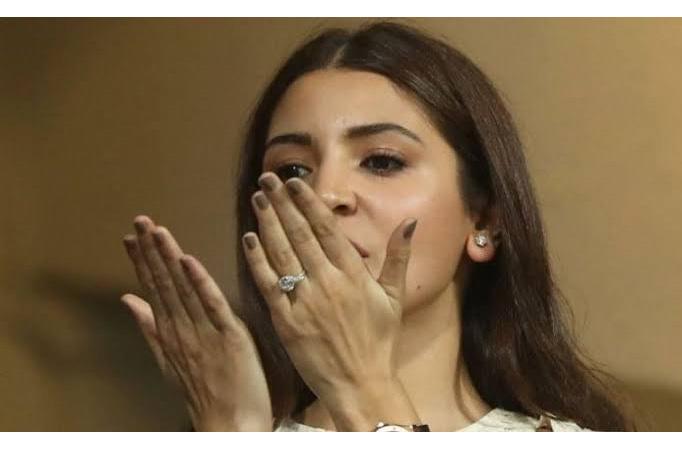 Image Courtesy: Viral Bhayani
How we have loved the actress sending some mushy flying kisses to her hubby as he hit his boundaries and centuries on the field! The skip's ring for his wifey Anushka Sharma quite literally bowled her over. Anushka Sharma wears a stunning diamond ring that is rumoured to cost about INR 1 crore. It is one of the best celebrity engagement rings of all time and has our heart!
Also Read: 10 Steal-worthy Solitaire Engagement Rings We Spotted on Real Brides
Sonam Kapoor's Engagement Ring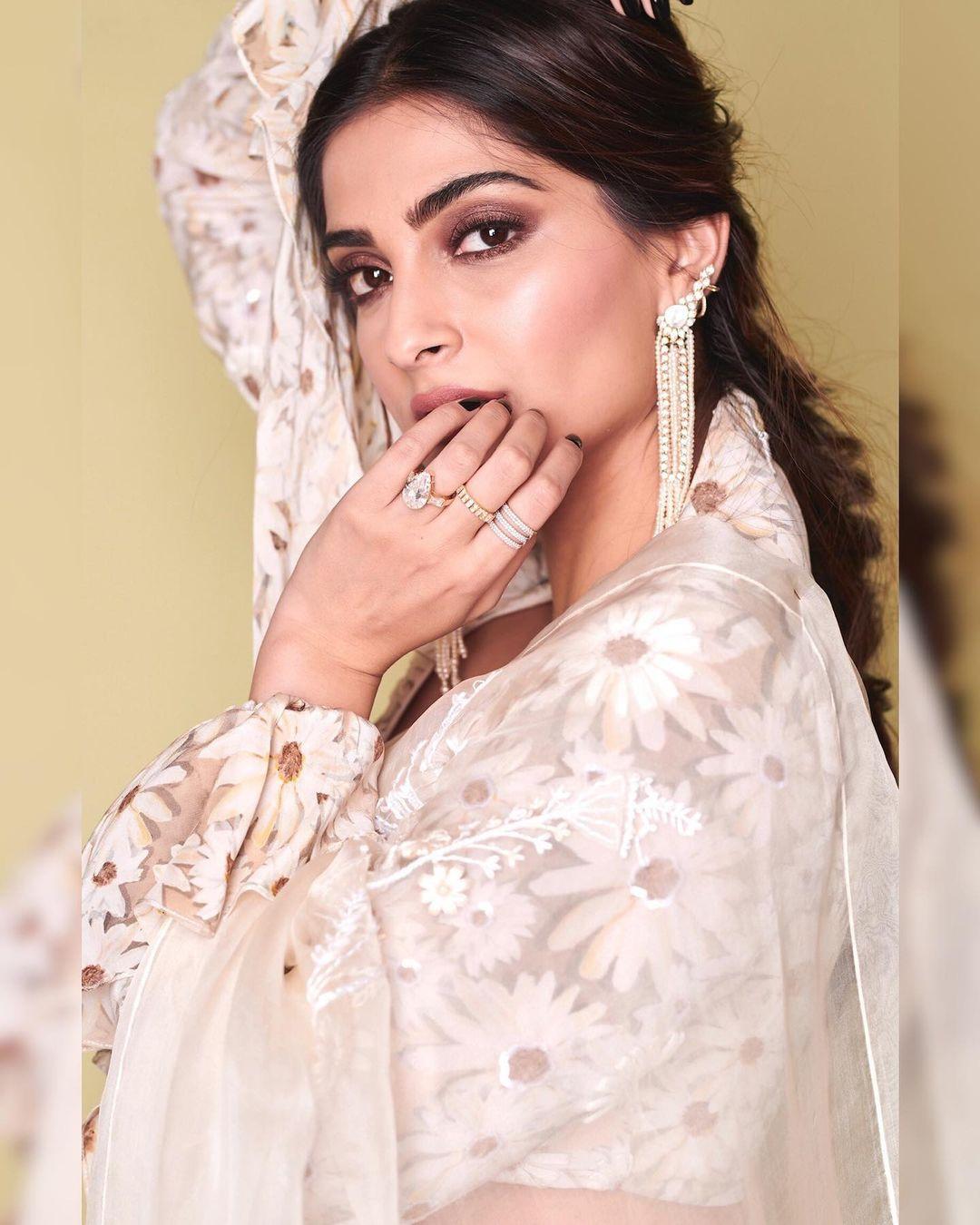 Image Courtesy: Sonam Kapoor
Sonam Kapoor's teardrop-shaped diamond engagement ring is a beauty that will leave you spellbound. Her big fat wedding with businessman Anand Ahuja was sure the talk of the town for quite some time but her ring is truly one of the best most elegant celebrity engagement rings of all time.
Also Read: Adorable Celebrity Wedding Photos of 9 Celebs From the Last Decade
Kajal Aggarwal's Engagement Ring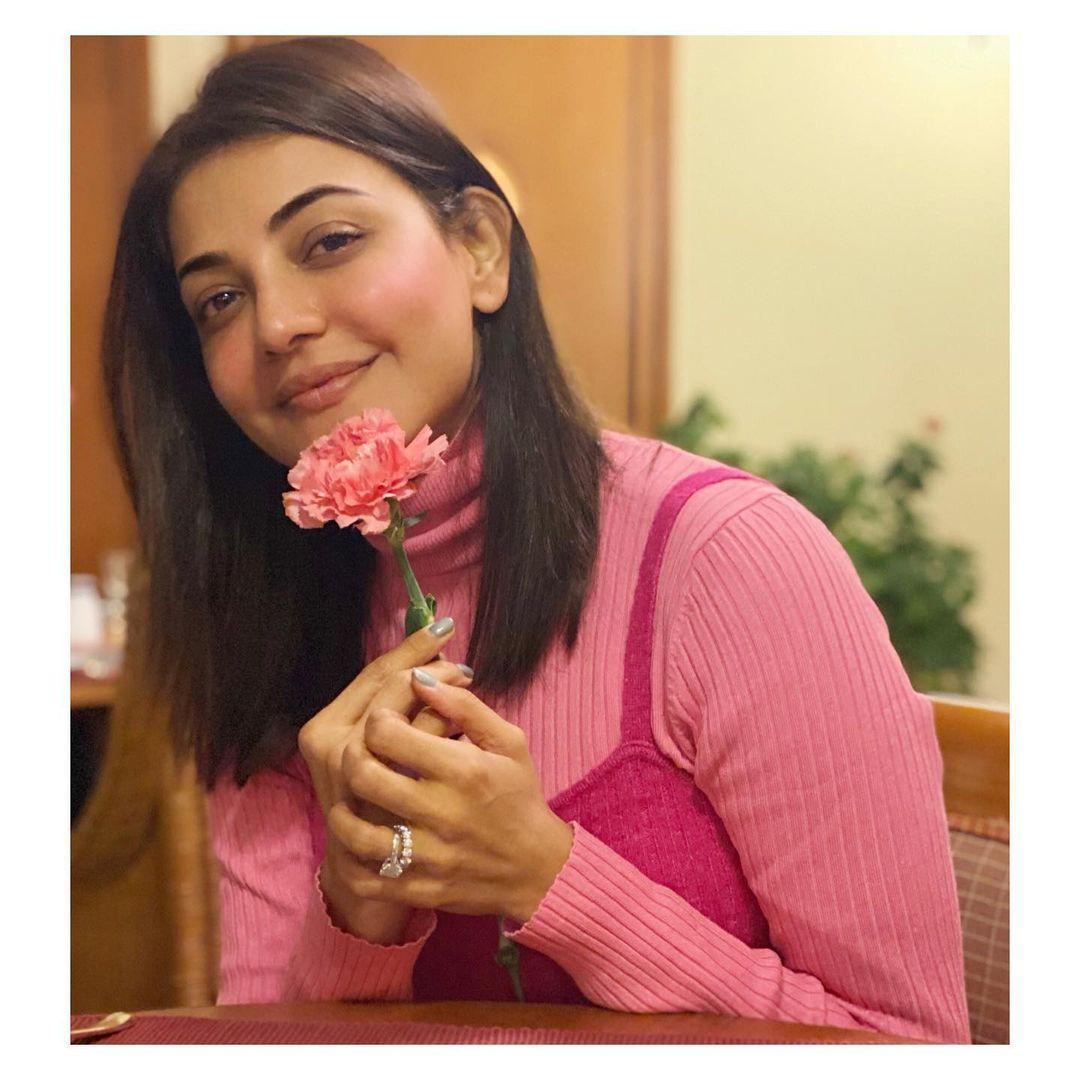 A princess-cut diamond ring can never go wrong and to prove it, we have Kajal Aggarwal's engagement ring. The princess-cut diamond ring along with the diamond-studded band makes a beautiful combination - one you can wear with your casual brunch outfits as well as with your OTT traditional wear or gowns even.
Deepika Padukone's Engagement Ring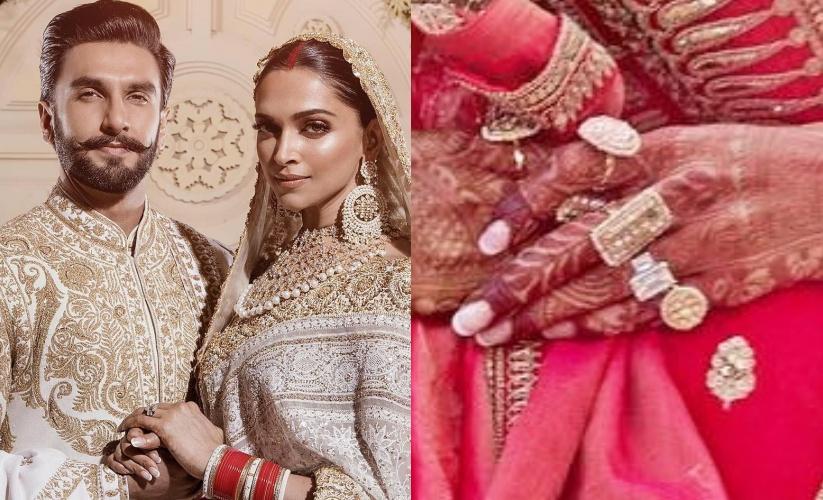 Image Courtesy: Deepika Padukone
Everything about Deepika Padukone's 2018 nuptials to Ranveer Singh was goals. Their destination at Lake Como, the outfits by Sabyasachi and even the photographs. In fact, what still makes our hearts melt is the ring that the Chhapaak actress is regularly seen sporting - a rectangle solitaire set in platinum. Reports suggest that the rock costs anywhere between INR 1.3 to INR 2.7 crores.
These celebrity engagement rings also happen to be some of the most expensive and best celebrity engagement rings and this list is a great inspiration if you or your partner are planning on a proposal with a rock. Subtly slip the ideas and let your partner pick a dreamy engagement ring for you.
Did you find your favourite among these best celebrity engagement rings that we have listed? Let us know in the comments below.
Read More -
Mehndi Design | Proposal Lines | Simple Finger Mehndi Design | Arabic Mehndi Design | Propose Day Quotes for Boyfriend | Wedding Anniversary Wishes for Sister | Tamil Wedding Calendar | Simple Mehndi Design | Pre Wedding Quotes | Engagement Anniversary Wishes | Funny Wedding Wishes for Bestfriend | Blouse Design | Rangoli Design | First Night Tips for Bride | Wedding Anniversary Wishes