8+ Easy Ganesh Chaturthi Decoration Ideas for Your Abode
If you are wondering how to decorate your home to welcome Ganesha – then here are some worthy decoration ideas for you.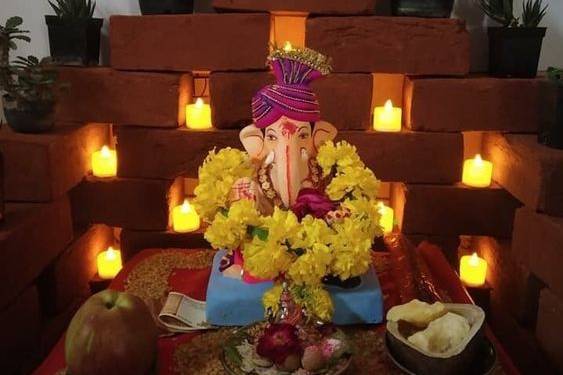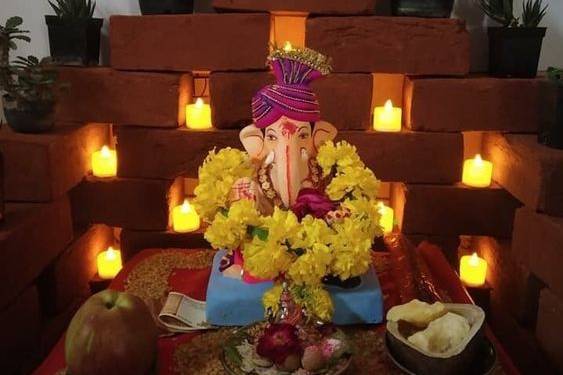 Image Credits - Pinterest
Ganesh Chaturthi is celebrated as the birth anniversary of Lord Ganesha. This is the time of the year when Lord Ganesha graces our home with his presence to eradicate negativity and problems in our life. These 10 days Ganpati graces our home with happiness, blessings, and his miracle.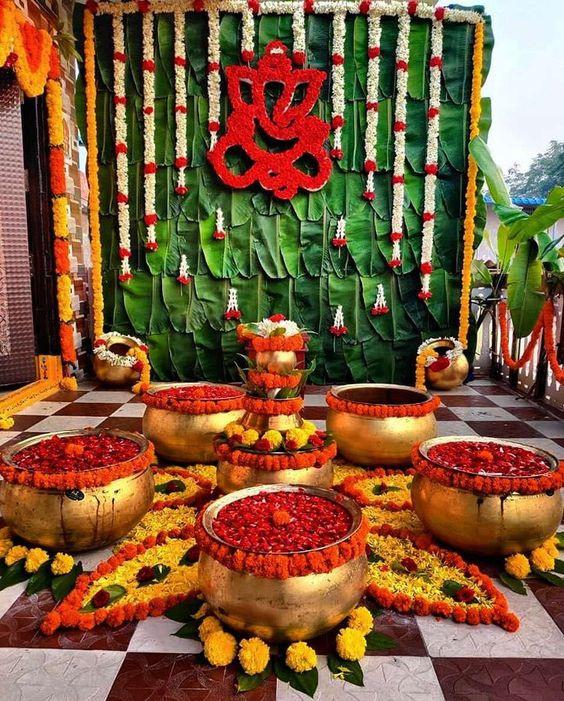 Image Credits - Pinterest
As per Hindu mythology- the welcoming of Lord Ganesha in our home is considered auspicious and thereby the followers welcome Ganpati in a beautiful way. Some do a grand welcome with help of musical instruments and some do a calm welcome by singing hymns for Lord Ganesha. With sheer happiness, people decorate the place where they will keep Ganpati's idol - whilst using flower decoration ideas. They use all forms of decoration ideas to make his place beautiful and serene.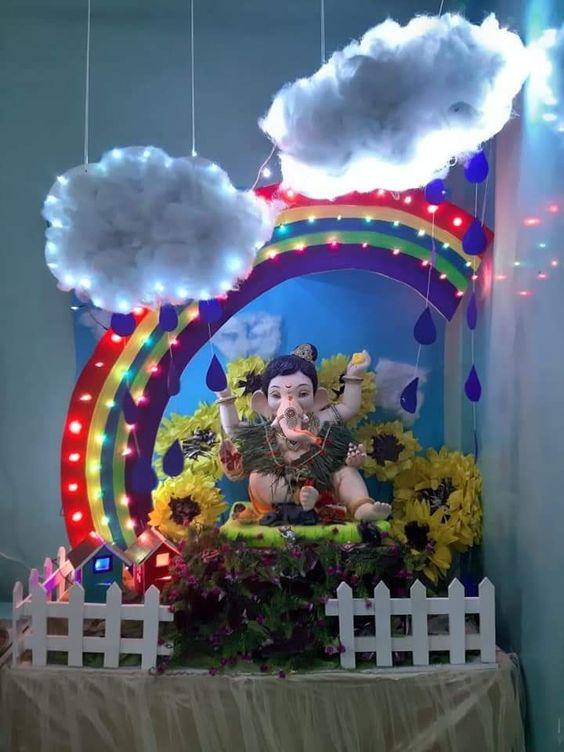 Image Credits - Pinterest
There are a lot of easy DIY décor pandal at home decoration ideas that can be created, provided the time. However, it would be wise to make sure you reduce using new elements and try recycling and reuse whatever you can. For instance - edible turmeric, milk, clay, seeds, etc. You can also play around with ideas and styles with your Marigold Flower pandal Decoration. Use varied decoration props like Kalash, old bangles, pools, pillars, or ceiling for your Marigold decor. Some people call professional decorators who can adorn the home beautiful for Ganpati's welcome. So if you are wondering how to decorate your home to welcome Ganesha – then here are some worthy decoration ideas for you.
Serene Blooms and Drapery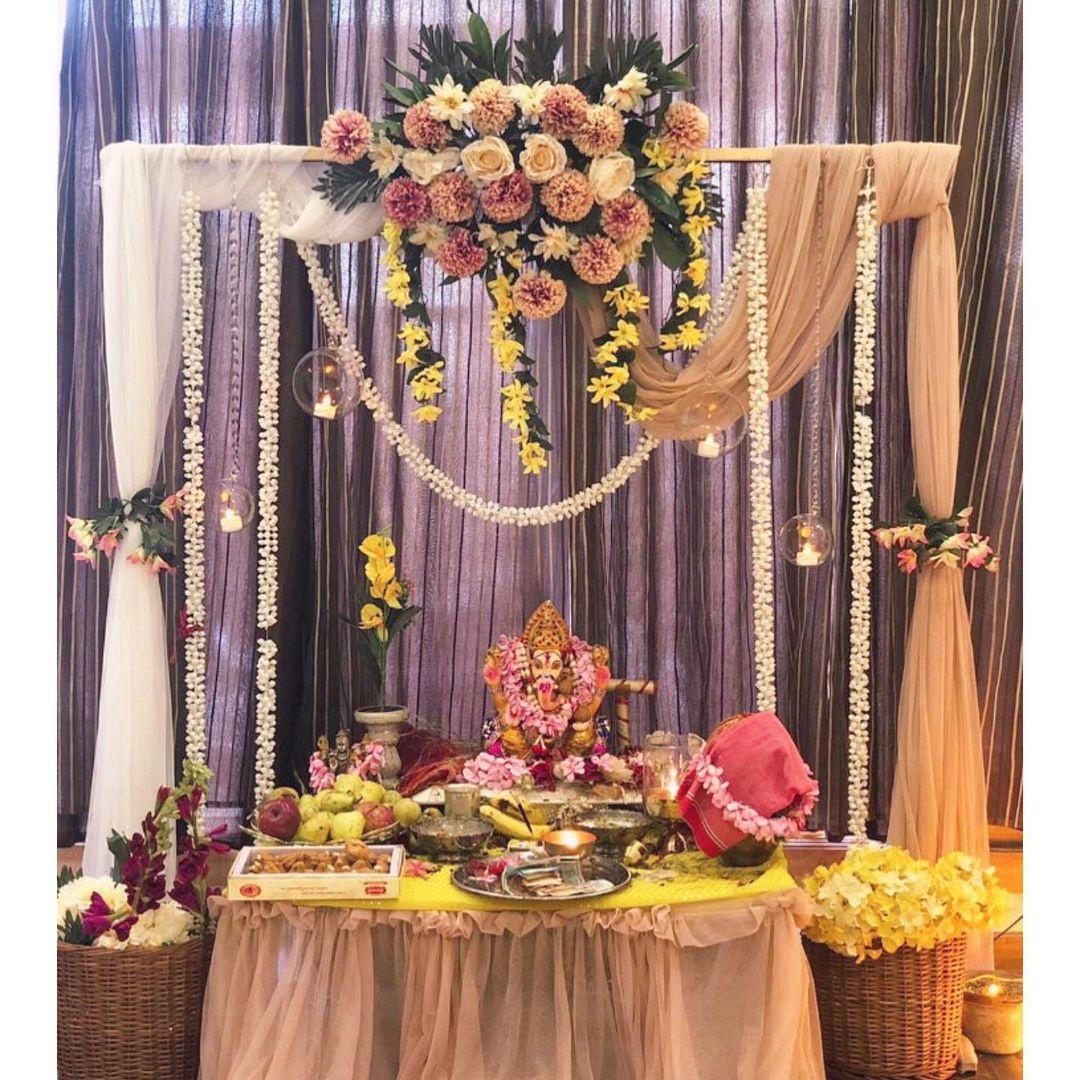 Image Credits - Whimsical Affair
Drapery and wraps can never go wrong. This modern Indian design of Ganesh Chaturthi decoration will win almighty's heart for sure. This easy decor is done through flowers and drapery to celebrate the homecoming of Lord Ganesha.
Floral Love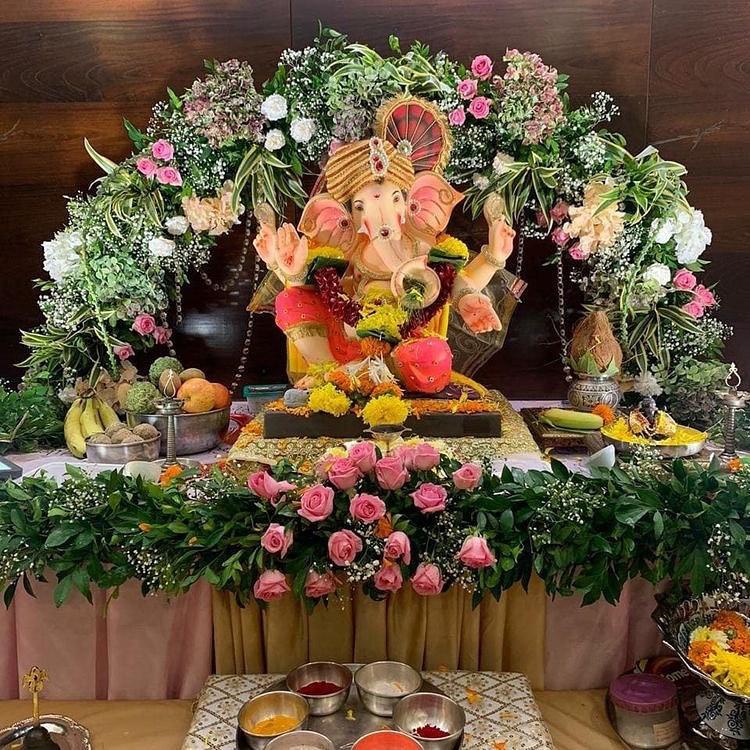 Image Credits - Ipacking
This is a beautiful blend of real and artificial flowers. Yes, if you want to welcome Ganesh Ji with the best of the flowers then this Ganesh-Chaturthi-decoration-idea will be pleasing for the eyes.
Sustainable Ganpati Decoration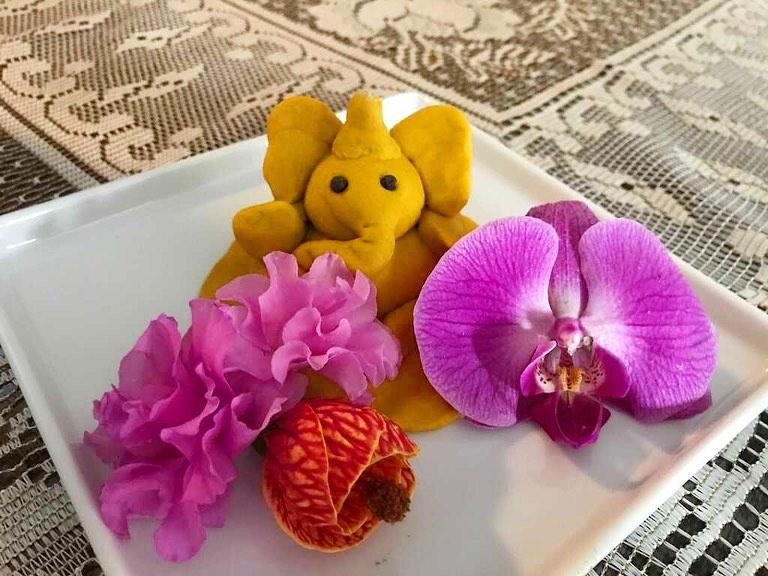 Image Credits - Team Ellucian
This is a beautiful DIY craft if you want to make edible eco-friendly Ganesh Chaturthi. Prepared from turmeric, flour, honey, and ghee this can be distributed to kids and elders.
Miniature Darbar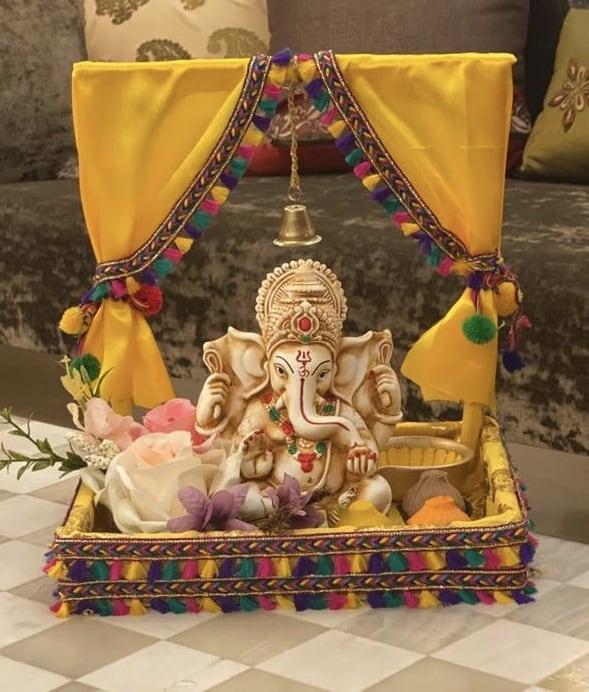 Image Credits - The Wrap Room
This miniature darbar is about handcrafting a beautiful experience. Prepared with a beautiful basket, miniature Ganpati Ji and so many flowers, this art is as beautiful as the festival.
Eco-Friendly Decoration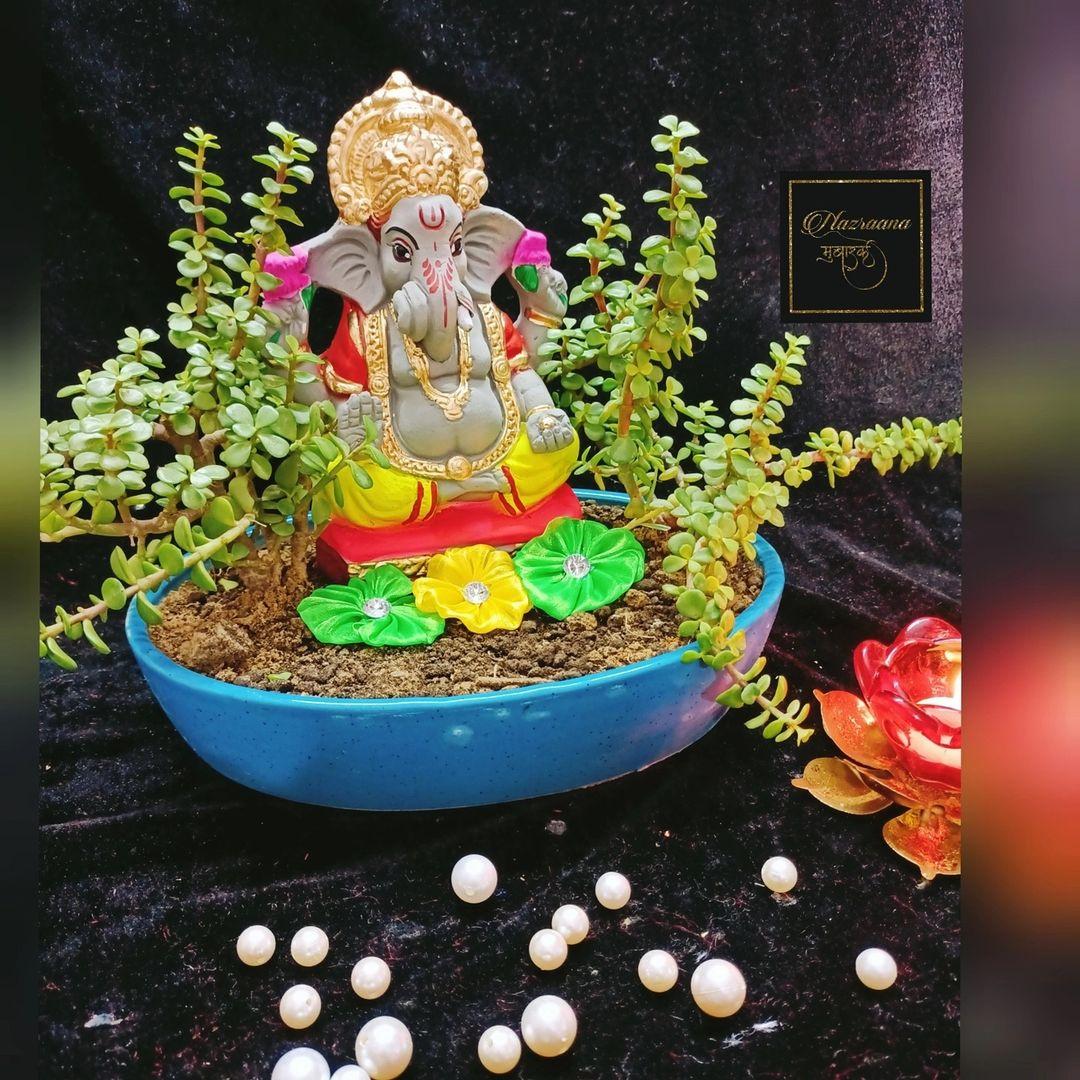 Image Credits - Nazrana Mubarak
This clay Ganesha can be submerged in water during visarjan and then you can be happy that Ganesha is still in your home. This eco-friendly Ganesha on a plant is a wonderful idea for the populace who love adorning their homes with greens.
Quirky Ganesh Chaturthi Decoration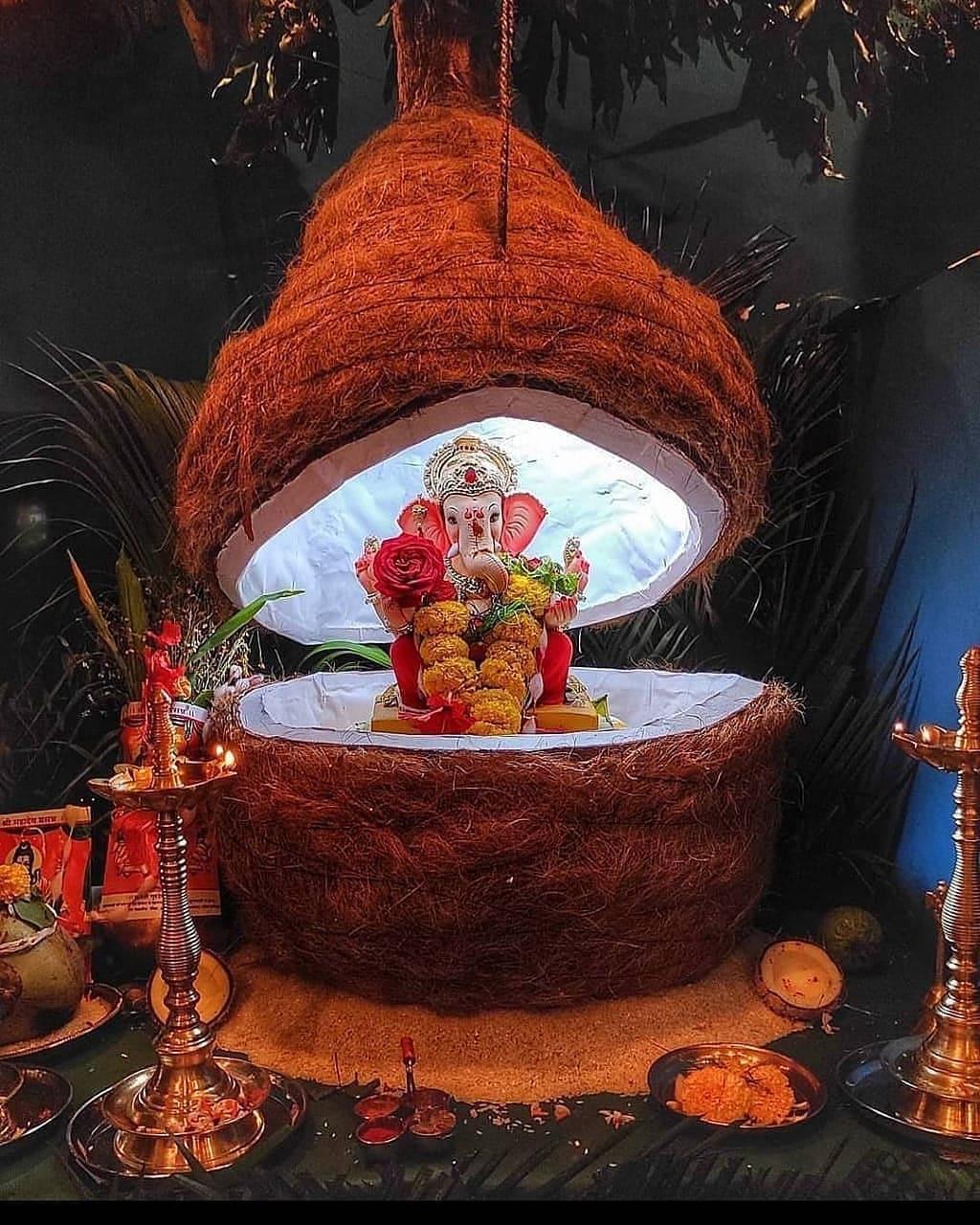 Image Credits - Pinterest
There are readymade pandals like this available at the market to make Ganesha Staphna extremely welcoming. You can pick them and place them near the temple for welcoming Ganpati Bappa.
Paper Craft Ganesh Chaturthi Decoration Ideas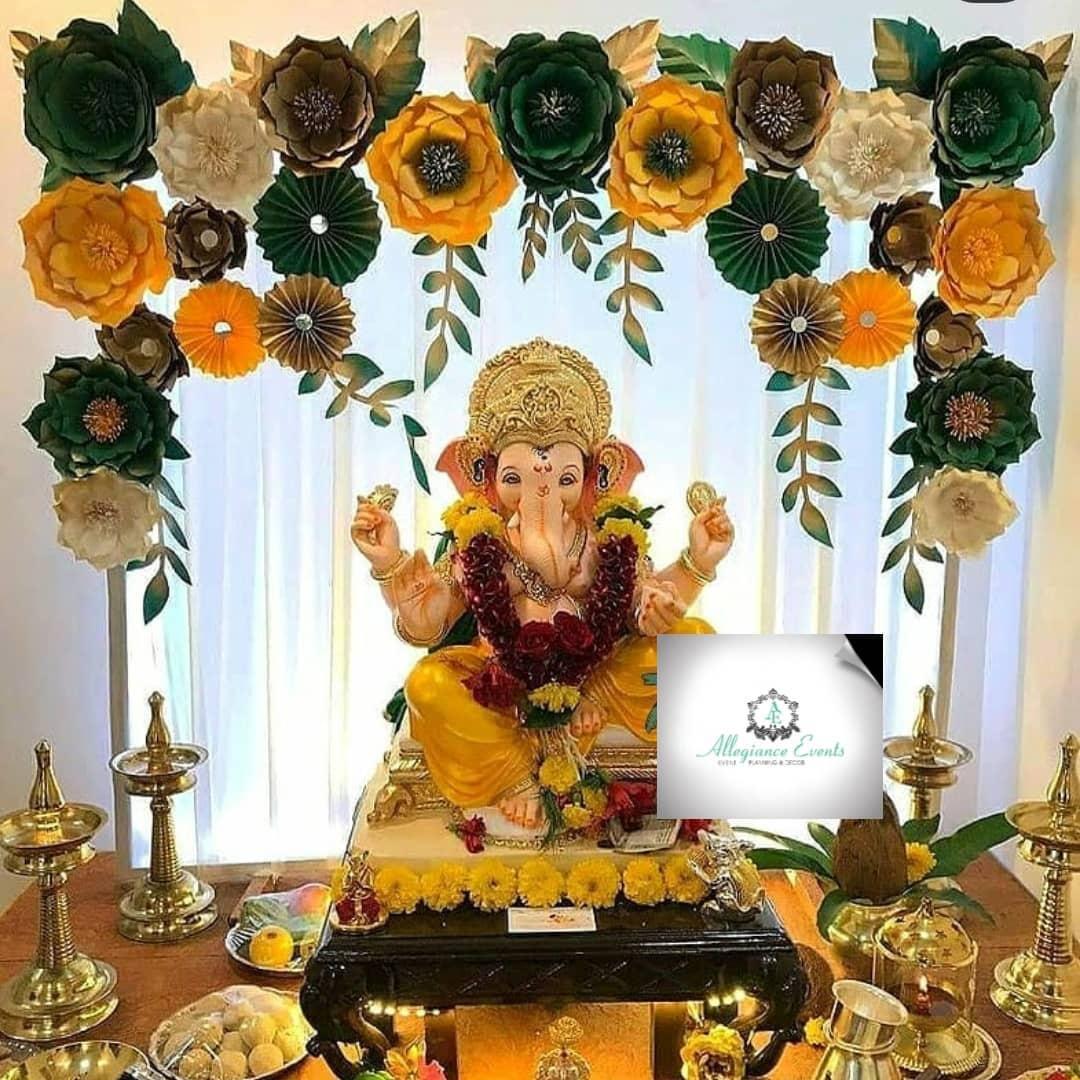 Image Credits - Allegiance Events
Done through papercraft, this Ganesh Chaturthi decoration is for creative souls who love crafting with colorful papers and other art forms. They have used copper burners, real flowers, and leaves to deck this place with blessing and love.
Pooja Mandir Decoration with Kaleeras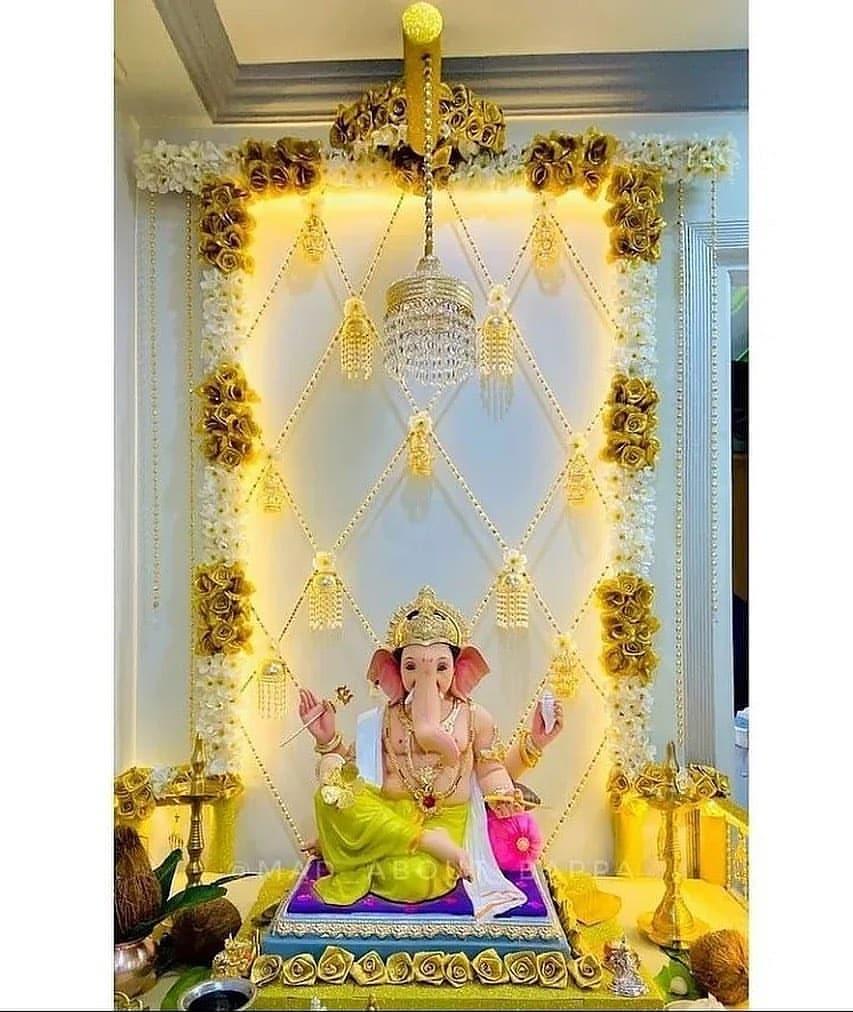 Image Credits - Pinterest
If you seek to invite the divine blessing in a graceful way, then this elegant mandap design is a perfect inspiration for you. Prepared with beautiful kaleeras, some fancy flowers, a string of pearls, and so many flowers, this Ganesha Chaturthi idea is a reverie come true.
May Lord Ganesha bless us all with wisdom, prosperity intelligence, happiness, and success. Wish you all a Happy Ganesh Chaturthi. Ganpati Bappa Morya. Do let us know which decoration won your heart in the comment below.