Vibrant Kids Lehenga Designs For The Little Rockstars
Buying clothes for children is fun! Especially the little princesses! So check out these beautiful Kids Lehenga Designs for the little ones & start shopping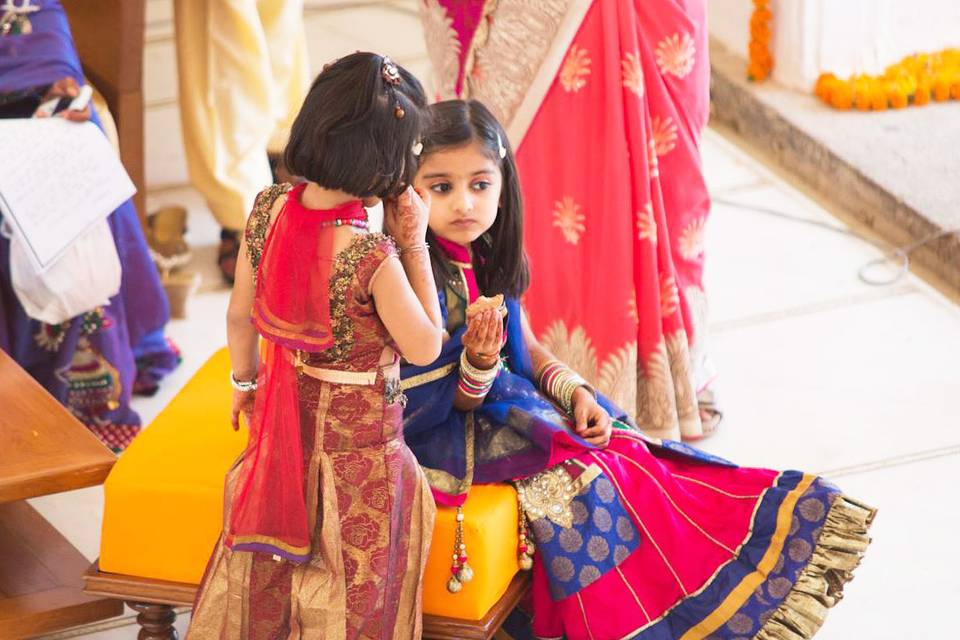 Kids fashion is not something to be taken lightly. After all, weddings wouldn't look as colourful without those little stars in the family! The beautiful little angels swaying around in vibrant Anarkalis suits, frocks and lehengas simply brighten up the environment of the whole wedding venue! We've got some dressing tips for the young adults and teenagers already. So how about getting some style tips exclusively for the kids this time? We have assembled some super stunning Kids Lehenga Designs for you to check out. Take a look and doll up your dolls in shining colours and designs!
1. Kids Lehenga Designs- Purple & Indigo

Look at this lovely lady all dressed up in this beautiful combination! A smart colour combination between the lehenga and choli/blouse/kurti or top does half the work in kids lehenga designs. If you can choose the right colour combo, you don't have much to worry about anything else. As in this case, the combination of a purple lehenga with indigo is all you needed for a smashing effect! The tiny little pink flowers on the top and the sleek silver border at the bottom of lehenga make the outfit perfect for a day or a night event!
Hair & Accessory tip: Keep them open or go with a fishtail braid if you have long hair. A matching hairband, bracelet with purple stones, silver Payal and a silver colour opera necklace!
Where to look: Esha Boutique (Hyderabad), Pranay Baidya Atelier (Kolkata), Charas by Ankur & Sonia (NCR), Kalakruti (Mumbai).
2. Kids Lehenga Designs- Blood red & White

It's a wedding we're talking about, so how can we not have a red lehenga on the list? However, this particular lehenga is not all red. The intricately designed white-based lehenga with a blood-red Kurti makes this outfit one of the chicest kids lehenga designs of all times. The white-based skirt has gorgeous thread work all over it in red, white and green along with some fine mirror work. The red Kurti shows beautiful floral prints and mirror work around the hems and sleeve edges. How can you not become the star of the show with such a stunning lehenga?
Hair & Accessory tip: Half braided at the front and open hairstyle or open straight hair with mid parting. Silver maang tikka and red & silver bangles.
Where to look: Kasturi Kreation (Kolkata), Designer Sarees, Lehangas, Kids Lehangas (Hyderabad), The Marwari's (NCR), Vikram Phadnis (Mumbai).
3. Kids Lehenga Designs- Multicolour skirt & cream top

A multicolour lehenga with all the bright shades of pink, magenta, red and yellow will raise up the whole venue's ambience! One of the cutest kids lehenga designs is such a lehenga skirt paired up with a cream Kurti. The contrast between the vivid colours of lehenga and subtle shade of the Kurti makes this a very classy yet fun outfit. Throw in a cream colour net dupatta with golden borders over the neck falling at the back to complete the look.
Hair & Accessory tip: Pin up a few strands from the front and leave the rest of the hair open. Pink hair clips or hairband and multicolour bangles.
Where to look: New Sangam Cloth Store (Mumbai), Varun Bahl (NCR), Meera Designs (Hyderabad), French Couture (Jaipur).
4. Kids Lehenga Designs- Mustard, red & pink

When it comes to kids lehenga designs, we just can't have enough colours, right? You can leave your white lehengas and black Punjabi suits for the grown-ups! With kids fashion, we need colours and lots of it. This mustard lehenga with a broad turquoise strip and thin red border makes it look refreshing and cheerful! This pretty lehenga's beauty is aptly complemented by a red top with golden Zari work on it. Don't miss that subtle stonework on the top sleeves too!
Hair & Accessory tip: For long hair, make a side parting and pin up a small section at the front leaving the hair open. Golden bangles, golden earrings and a Kundan maang tikka.
Where to look: Swati Ubroi (Jaipur), Lazaree (Mumbai), Shakuntalam (NCR), Yuvati Designer Lounge (Bhopal).
5. Kids Lehenga Designs- Hot pink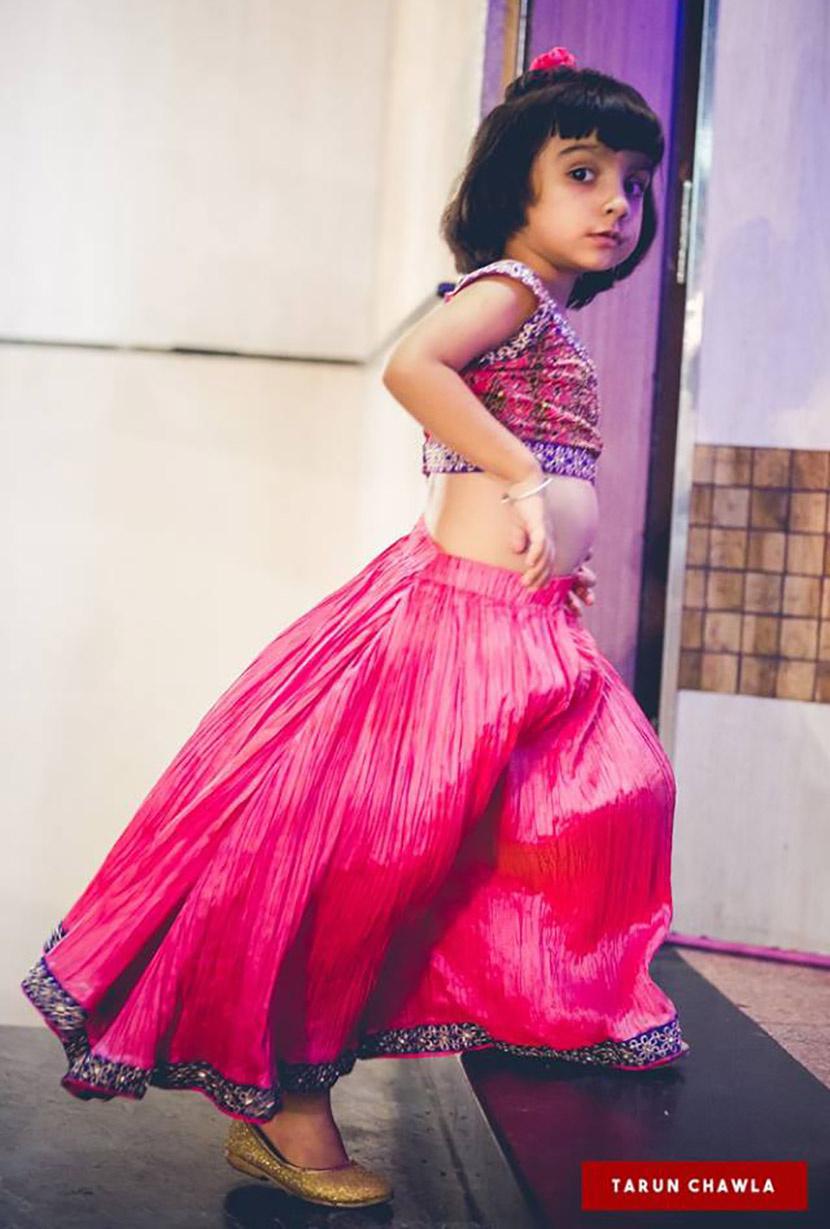 You didn't think we would end without a pink lehenga, did you? Kids lehenga designs list can't be legit without a classic pink lehenga on it! Choose a frilly, plated or an umbrella cut lehenga skirt in solid pink with a thin black border. You can team up the skirt with a floral printed choli also in pink. Let your little one merrily prance around the whole venue in a vision in pink!
Hair & Accessory tip: Make a high pony or a fishtail braid. Pink rubber band, pink & black Parandi in case of a braid, pink and golden bangles and golden Juttis.
Where to look: Shringarika Boutique (Bhopal), Vandana Sethi (NCR), Sitara (Jaipur), Vastra Villa (Mumbai).
So these were some of our options for kids lehenga designs. You can look for more colours, patterns, fabrics and combinations. Keep the weather, place and time of the day in mind while choosing your kids' wedding outfits. Because kids will be kids and they wouldn't like to refrain themselves from being kids! So pick comfortable fabrics and avoid overspending on extravagant clothes as they're not going to fit after some time anyway! Get comfortable shoes that should enable the kids to run around. And finally, dress up and pamper your kids beautifully because they too deserve to doll up on special events just like the grown-ups do!
Try some simple Mehndi designs for kids that they would love to show off on wedding events!