This Couple Preponed Their D-day to an Intimate Wedding in the Lockdown
Khushbu & Devesh have decided to go beyond this period of uncertainty to tie the knot amidst the pandemic & their wedding in Mumbai was a hoot. Read to know the deets!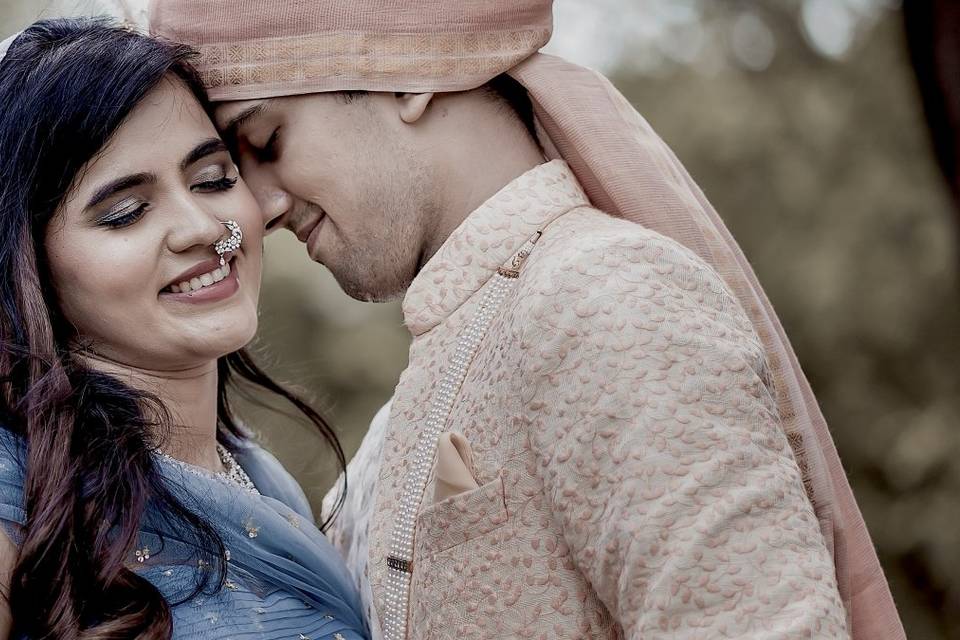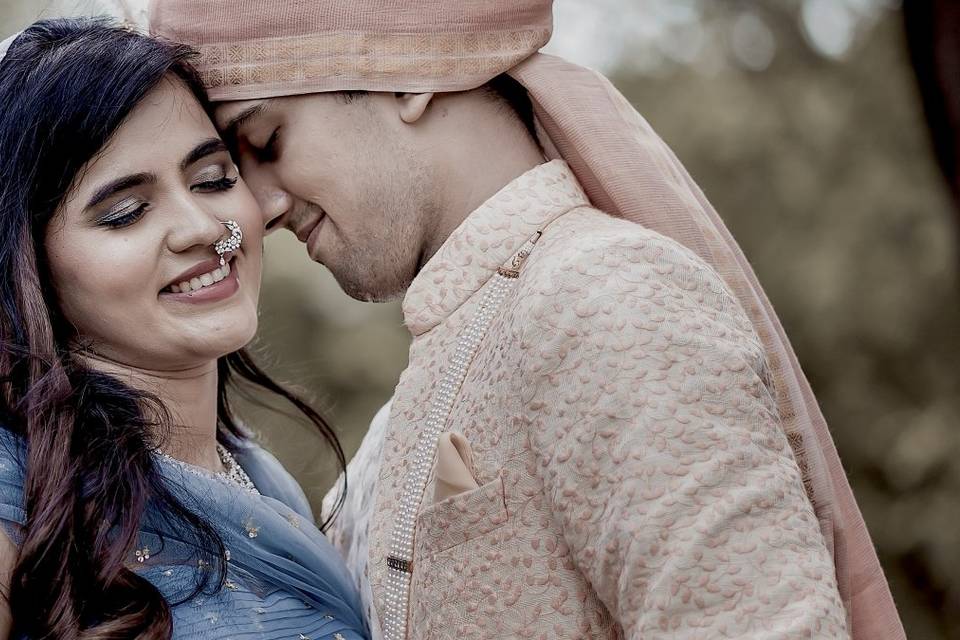 The wedding celebrations have taken a sharp U-turn from being big fat wedding to intimate weddings. There are many benefits of hosting intimate weddings but the pandemic has sure acted as the catalyst. However, even before the pandemic hit the world, many millennial couples believed in tying the knot in an intimate ceremony without much pomp and show when it came to the guest list.
With the shift of weddings to becoming intimate wedding and day weddings, the demand in the types of venue has changed too. The wedding venues where one can host intimate weddings or open-air venues for day weddings have become quite popular in the past few months. Apart from this floral decor for intimate weddings, jewellery shopping trends or beauty shopping trends dependent on the outfits you pick for intimate weddings have changed drastically.
The lockdown weddings have been an inspiration to many couples who have been waiting for a silver lining in these uncertain times. The world is left in a cloud of uncertainty and even if many couples have postponed their wedding to next year or later in hope of better times, 5 months into the pandemic in India have made these couples take the plunge of faith and tie the knot.
One such story is of Khushbu and Devesh who had planned a wedding later this year but weren't too sure fo the fruitfulness of the plan and therefore decided to tie the knot at the earliest.
Here is a walk through their story of the lockdown wedding for inspiration.
How They Met & The Proposal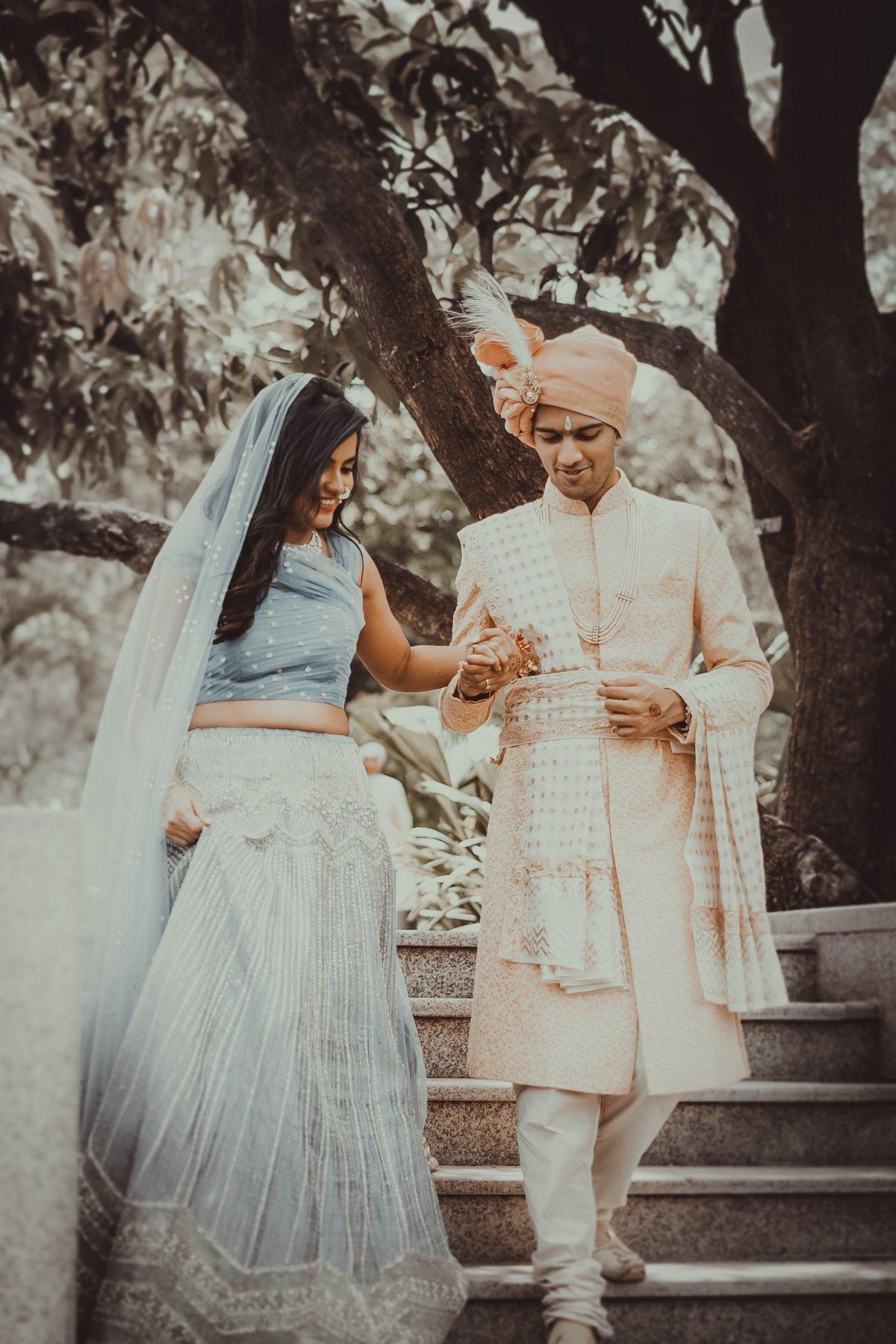 Khushbu says, "Devesh and I met through a common friend, a few years back. I honestly don't believe in love at first sight, neither do I think it was that, but we just clicked. On our first date, we spent 5 hours talking. After dinner, we went to the sea face for a walk at midnight because I guess neither of us felt like going home. That day, I knew we had something special and extraordinary and that feeling has only grown stronger with time. That day was really the turning point for us and there's really been no looking back. We are complete opposites in everything that we do, yet there is something common that binds us together."
She continues to the grand proposal, "Last year around our anniversary, he surprised me by dropping in at my dance class. Little did I know that it was much more than that. Just after class, Devesh with a couple of my friends and cousins put up a flashmob on the popular 'Marry you'. Even though he nervously asked, there was always only one answer. It was always a YES."
The Wedding Date & Venue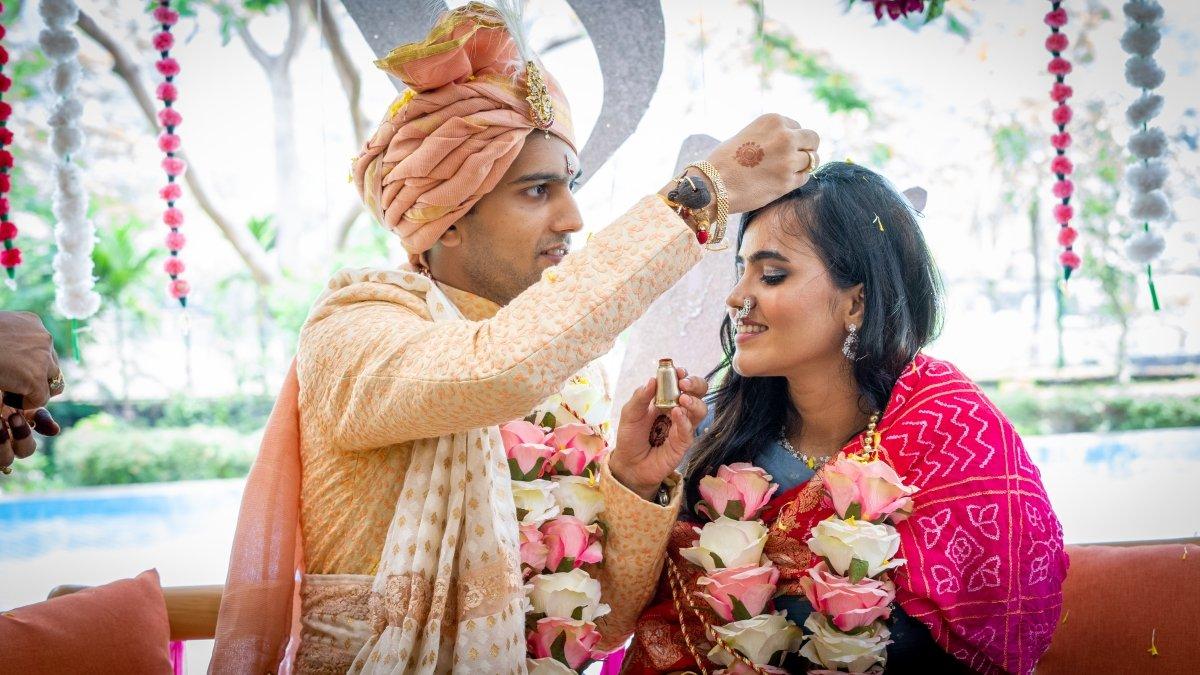 Khushbu tells us, "Both of us are based out of Mumbai. We didn't host our wedding on the same date and venue as originally planned. The original date of the wedding was 1st December 2020 and venue Tulip Star, Mumbai. We had 3 location changes in the last week but in the end, had the most amazing venue amidst nature. We had a warm and cosy setup and managed the entire decoration with material available at home and all-nighters. So we didn't have a grand wedding that most people fantasise about."
She adds, "Our wedding wasn't postponed but preponed because of COVID. My exam was postponed to December just 6 days after the wedding. The next muhurats were quite late so family members thought it was better to get done with the wedding now. We finally hosted your wedding on 14th June 2020 at Yeoor Hills Thane. Before we decided to go through with it, it was quite challenging because every day you're reading devastating news and the situation wasn't getting any better. There were so much confusion and a complete lack of clarity. So, we knew that if we decided to do the wedding, we would pick the earliest date. I think our focus was just the wedding, not the venue or outfits or anything else."
She also says, "I think deciding to go through with the wedding was one of the toughest decisions we ever made because anything could have happened till the last day. Honestly speaking only a day before the wedding, I actually thought and felt that maybe, it's happening now!"
The Team of Superheroes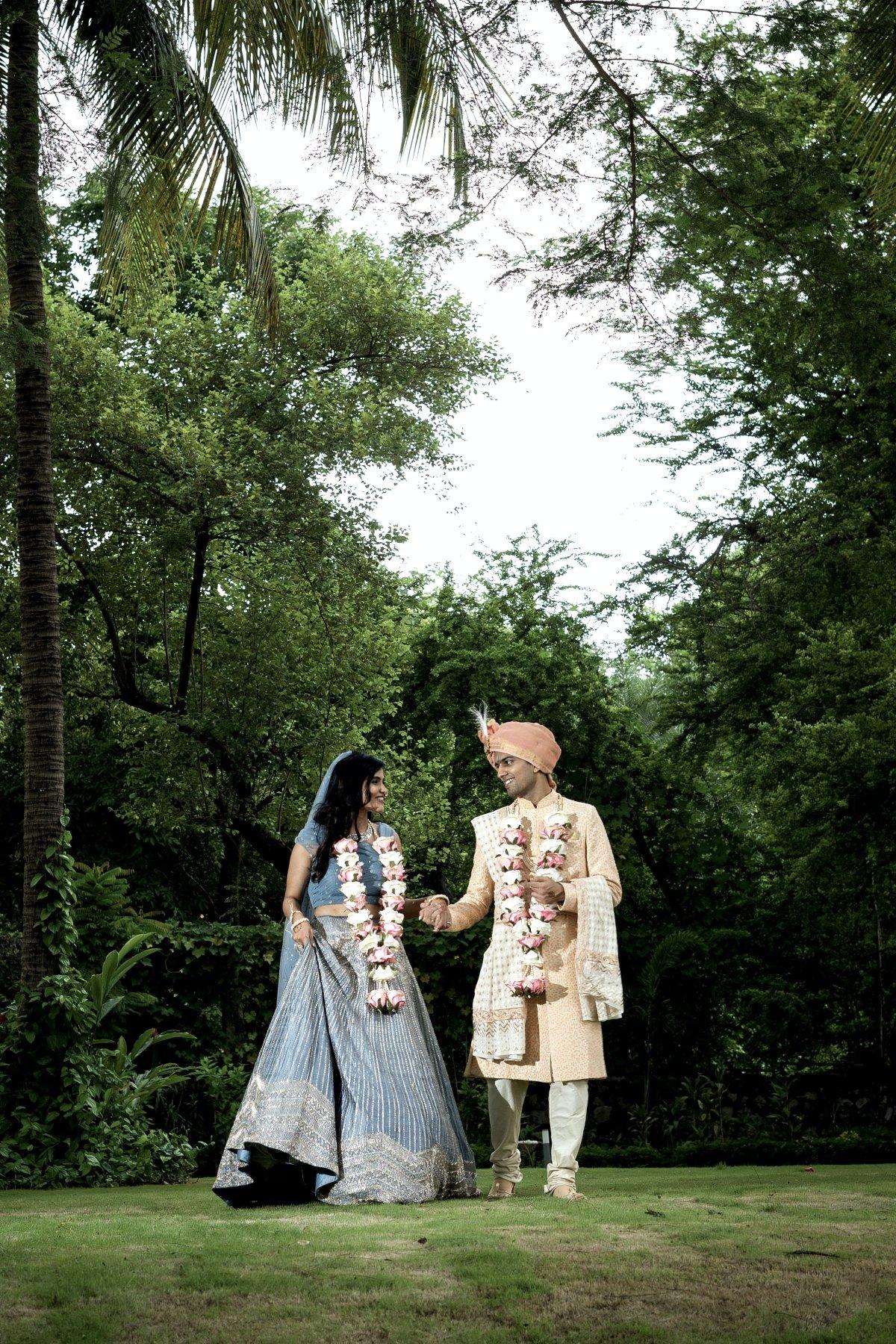 Planning a wedding is a tedious task and a stressful one that quite often needs your to de-stress from the process or navigate your wedding planning stress. Especially in these times of turmoil when the pandemic has created so much chaos, handling the pressure of wedding planning might get overwhelming. However, a superb team of professionals to rely on can make your work so much easier.
Khushbu agrees and tells us, "We couldn't have done it without the support of our vendors. We know Soniya for almost 2 years now and she was at the tip of her toes for everything that we needed, not just photography and videography related. That is what sets Camera Crew apart from the others, I guess. Not only will they capture your most precious moments, but they will also be there like your own. I had also hired my makeup artist - Nisha Karna. On such an important day of your life, it makes a whole lot of difference if your makeup is done right. Nisha made sure that happened and made me feel extremely comfortable. Despite the many modifications that we had to make to the wedding, she made sure I looked perfect and everything I had dreamed of."
Apart from that, they had also hired a professional who could assist them in live streaming their wedding. Khushbu says, "Hetal Photo Art took care of our live YouTube streaming. Even though a lot of people who we would've wanted close to us on this very important day were not able to join us physically, they ensured that no one would feel left out of the celebration."
The Lockdown Guestlist of 25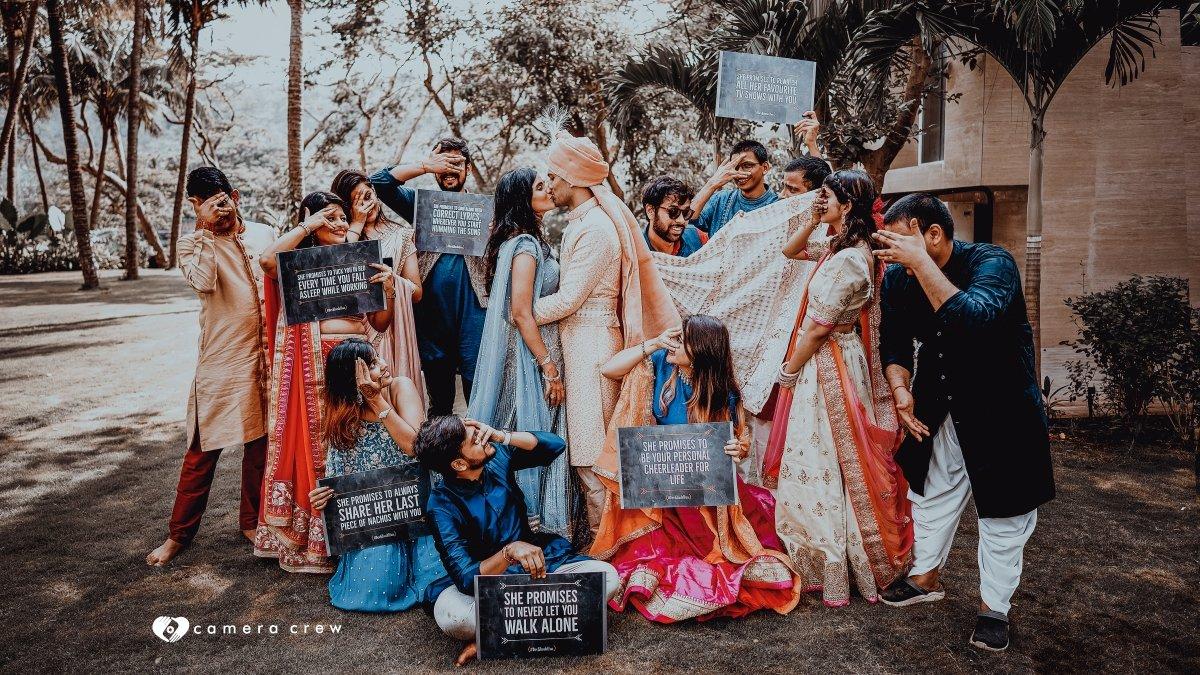 While their wedding was supposed to be a big fat wedding in December, preponing the wedding to June in while stages of the lockdown were still in action they had to sit down and downsize their guest list to fit the requirements and regulations. Khushbu says, "Roughly, 400 of relatives and friends attended online. We had sanitisers at the entrance and masks for everyone. All the food was home-cooked. We were able to restrict the number of people attending at the venue including both our families to a 25. We tried and maintained social distancing norms."
On being asked about their pre-wedding ceremonies, Khushbu adds, "Because everything was happening in such a time frame, the last few days were quite hectic. But we did try to manage a small Mehndi and Devesh did a small Haldi at home without inviting any guests. Safety was our top priority."
The Wedding Outfits Done Right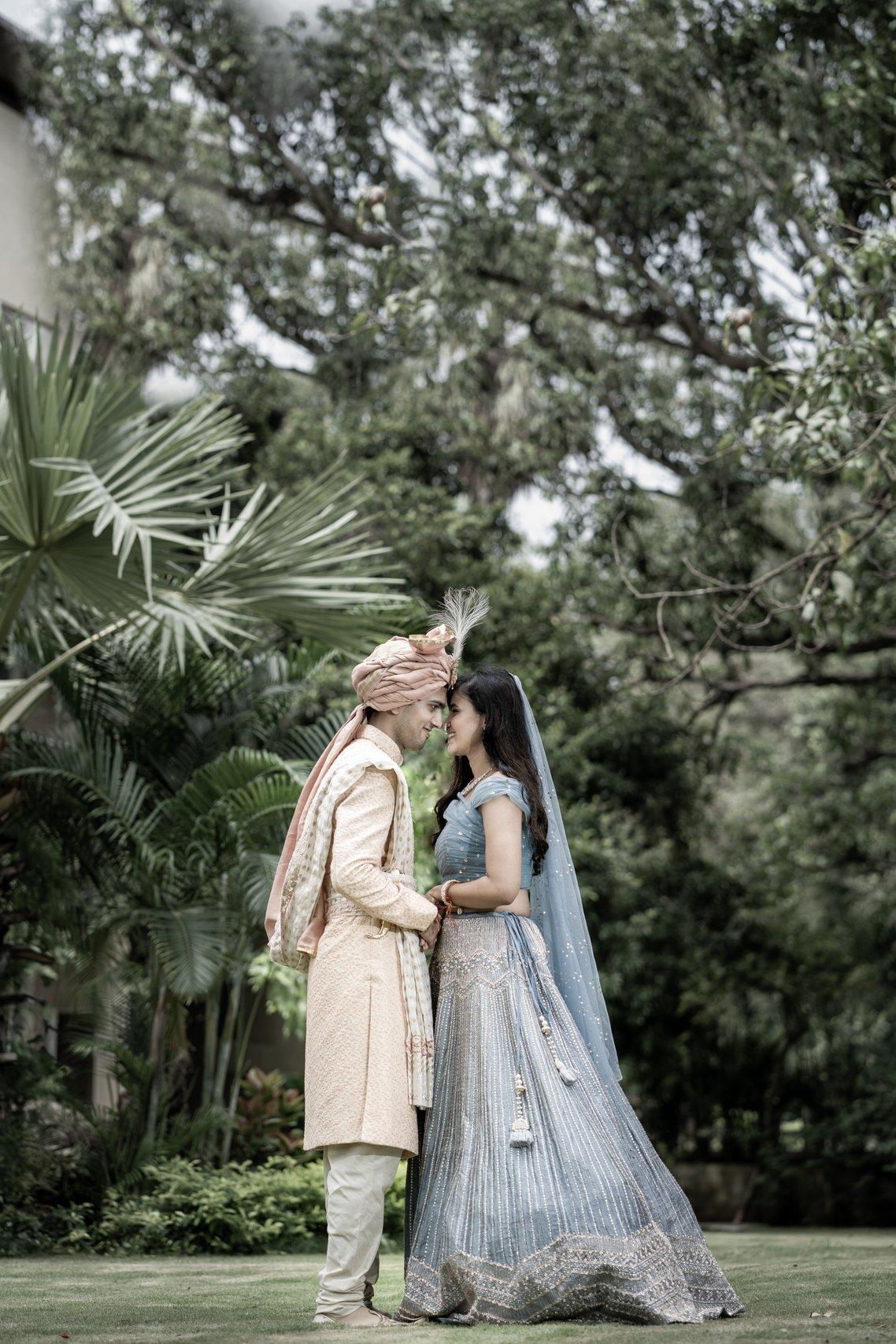 To the N number of couples that WeddingWire has interviewed, every couple who has hosted a lockdown wedding had one opinion about sourcing/picking their outfits - getting the perfect outfit seemed dicey. Khushbu has to say, "Everything was done between 4th June to 14th June. Devesh had some extra cloth material at home. He got his sherwani stitched from it and borrowed a few other accessories. Friends and family have been extremely supportive. I have been following some designers for a few months now. I got in touch with them on Instagram and asked if they were willing to do virtual appointments. I selected my outfit over a virtual appointment. Once finalized, I went for the fitting and got the outfit in the next 5 days. All this was between 4th and 14th June. I had already picked out something from my existing clothes because I really wasn't sure if it would be possible to get 'the outfit' in such a short period. But keeping my timelines in mind, Chamee and Palak were extremely accommodative with the virtual appointments, fittings and alterations."
She continues to add, "I think both of us were quite prepared to wear and manage from the things that we had at home. At that point in time, the only thing that was important to both of us was the wedding. Luckily, it worked out well for both of us, because I was extremely happy with both our outfits."
The Lockdown Wedding & Their Emotions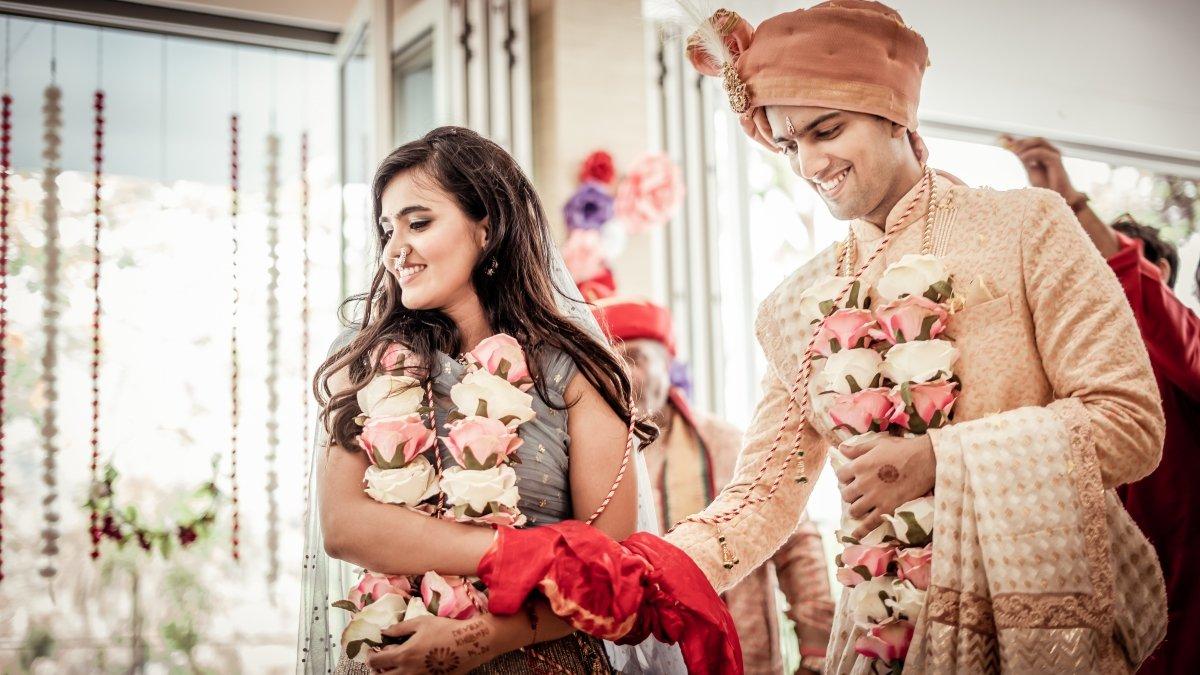 while many couples might have wanted an intimate wedding, for some it was an alternate plan. However, the general emotion regarding intimate weddings is very positive. The fact that intimate weddings can be hosted lavishly without the 500+ guest list is absolutely impeccable. Khushbu adds on similar lines, "Low key I have always wanted an intimate wedding. Maybe with slightly more people. But a wedding in the hills with only my loved ones? I don't think I could have asked for anything more. I think for everyone who knows me closely knows that this was my dream wedding. It's funny how everything worked out."
She continues, "It was very different than originally planned. I didn't have an official Mehndi ceremony but my mom did my Mehndi like how she would when we were younger. We didn't have a Sangeet, but all the people who were with us put up brilliant performances and moreover all our loved ones recorded short dance videos and the entire compilation made us feel as though they were there present with us. We didn't have a 5-star hotel menu but home food cooked with love by all my fondest aunts. It was a very intimate wedding which was all ours, a personal touch that is lost somewhere these days. And I had Devesh. It was beautiful.
She concludes the interview by telling WeddingWire India, "There were quite a few twists and turns, but what is life without a little bit of adventure! And in the end, it all works out for the best. However, I missed a few of my close relatives who weren't able to attend my wedding in person. Apart from that, it was just perfect. Micro weddings can be planned with a lot of attention to details and that makes it so much more special."
The couple did not need to take any special permissions as by June, the 50 people wedding with the regulations was quite the norm being followed by many. However, to be on the safer side, they had intimated the local authorities of the wedding.
On being asked if they plan to host a bigger celebration later, they told us that this was pretty much the ideal wedding that they had been looking forward to so as of now they will not plan any other celebrations.
In times like these, a story that celebrates love always brings hope and joy. Testing times also make people want to cling on to their loved ones and celebrating Weddings in the Times of Corona has been one such celebration of love that has been an absolute inspiration for many couples who are yet to decide upon their wedding dates and plans.
Note: All the images have been provided by Camera Crew.
If you are one such couple who is planning a lockdown wedding, get in touch with the best planners in town who can help you plan your wedding seamlessly.