10 + Thoughtful Rakhi Gifting Ideas For Your Sibling
Are you thinking to give something thoughtful to your adorable sibling but confused what to give? Here is a thoughtful guide for you.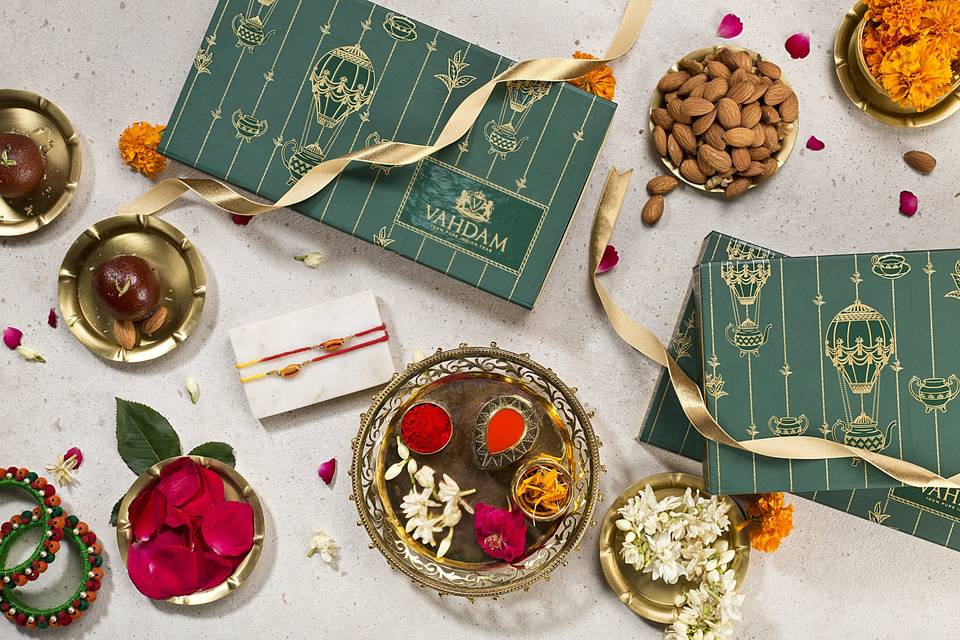 Image Credits - Vahdam India
Raksha Bandhan is that one precious festival that strengthens the bond between brother and sister. From fighting over trivial issues to being each other's protector their bond is beautiful. This heartwarming festival is celebrated every year where sisters pray for a long life for their brothers and the brothers, in turn, protect their sisters.
The most cheerful part of this gleeful custom is that the sister receives gifts from her brother. Also, the classic Mithai platter and chocolate boxes have been replaced with customized and trending gifts. This Rakhi is an apt time for that so why not brighten the smile on your brother's face by giving him a bunch of unique gifts? From classy to innovative gifts, here is a list of the best gifting ideas which will bestow your brother with happiness and unconditional love. Scroll up and give your brother that extra smile.
Read More - Best Gift for Sister Ideas for Your First Rakhi Post-wedding
Gifts For Brother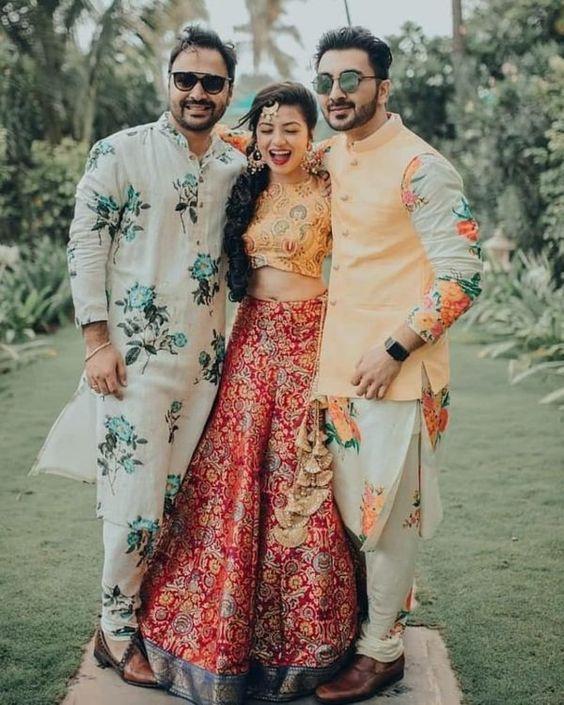 Image Credits - Pinterest
Personalized and Customized Gift Hampers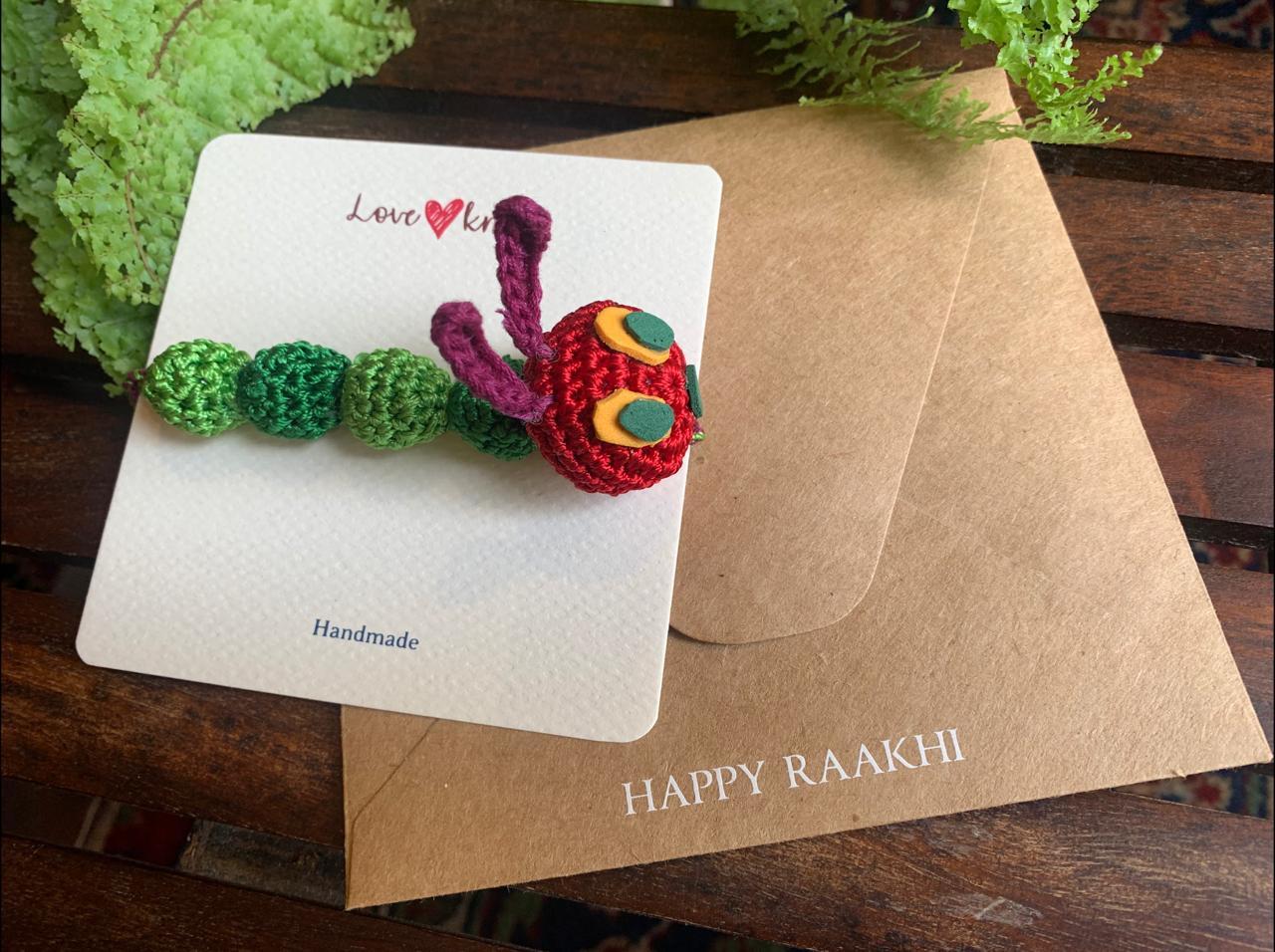 Image Credits - Dots & Doodles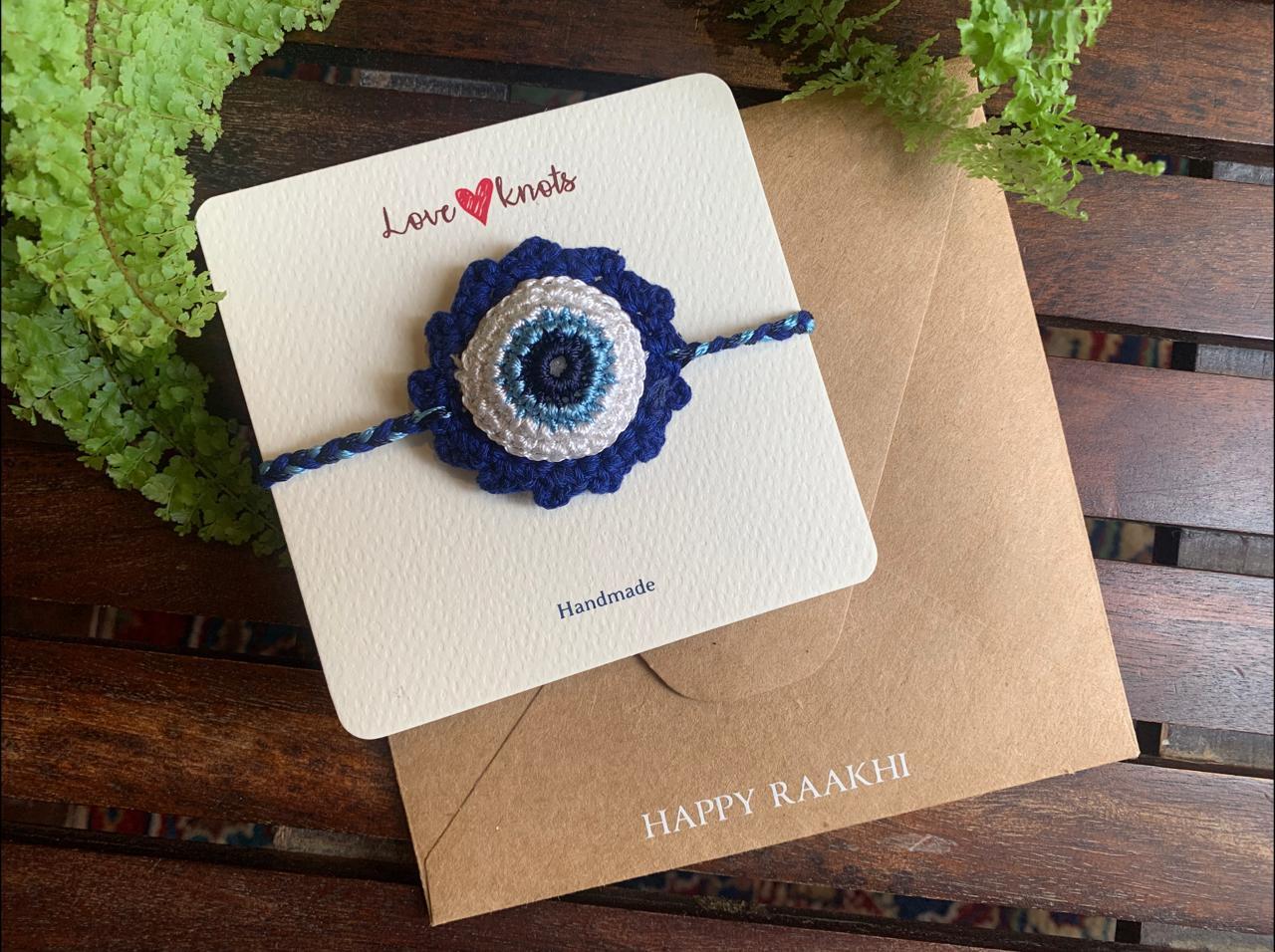 Image Credits - Dots & Doodles
This Raksha Bandhan, surprise your brother will these hand made cute rakhis. Make this day memorable with specially curated and hand-made Rakhis made from crochet love knots interlocked in a careful loop of yarn and thread, leaving your sibling with a cute little surprise.
PRICE - ₹500/- onwards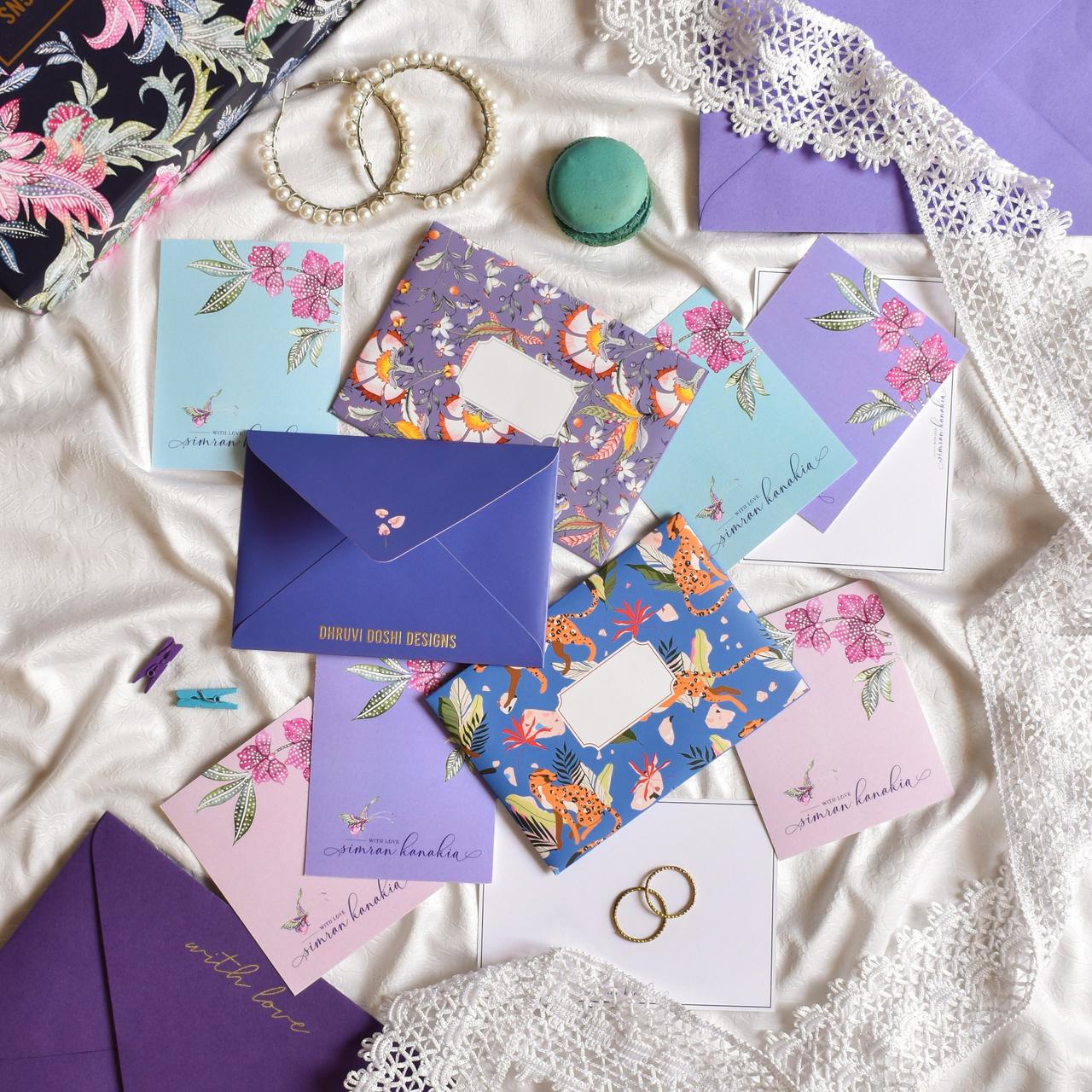 Image Credits - Dhruvi Doshi Designs
Let's make this day a little more warm and special as you customize some beautifully illustrated printable designed particularly for your everyday support systems. Let your brother know of the love you have for him with a bespoke hamper that includes superior quality printable of personalized printed envelopes, personalized notepad and note cards, a glass jar candle, and gift tags; making it the most thoughtful gift they have ever received. Everyday planner, stickers, and 'With Love' notecard set personalized with receivers name. All the hampers come in new luxe boxes with a Rakhi card in them!
Price - Based on Customisation
Thoughtful Gift of Love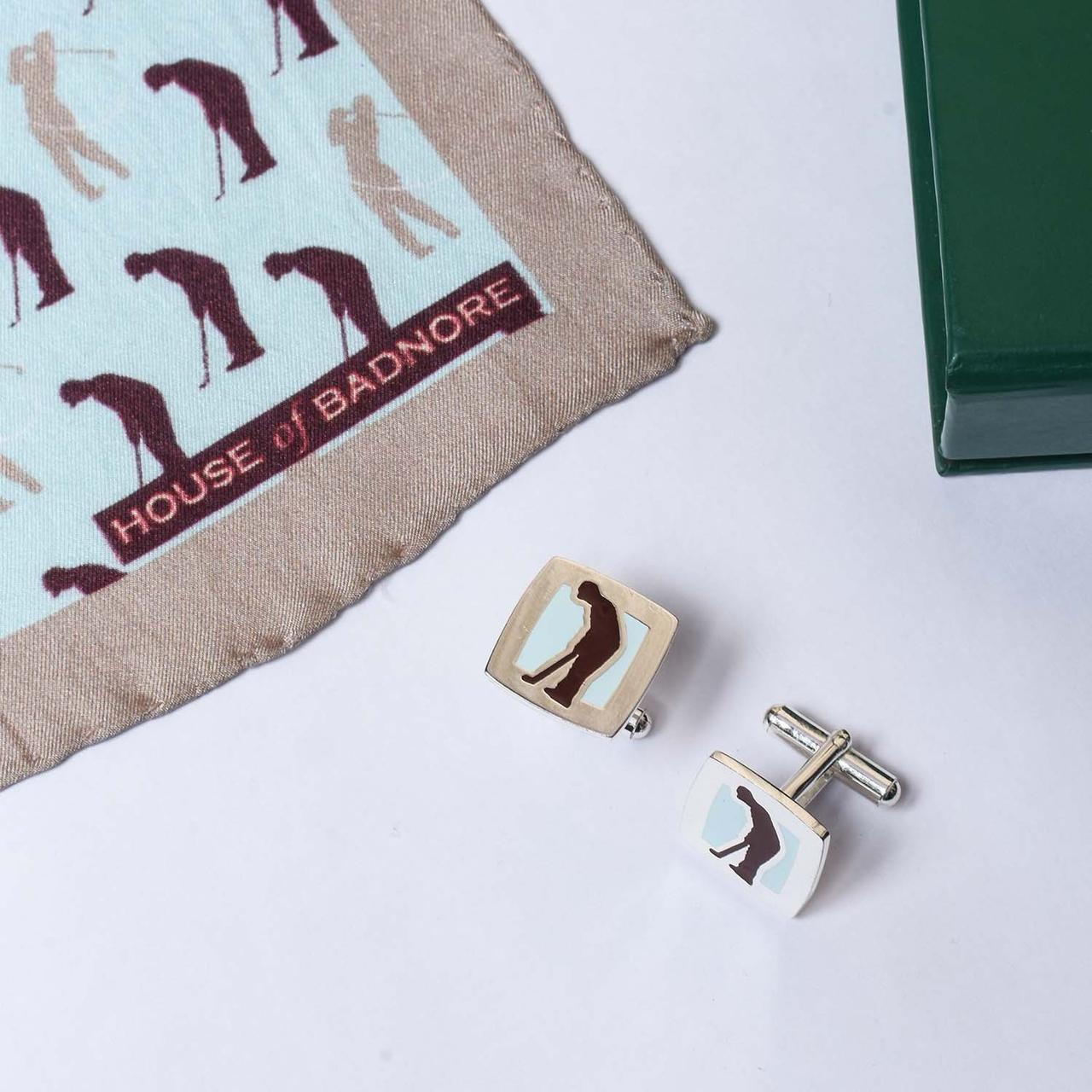 Image Credits - House of Badnore
House of Badnore can be considered an elegant gifting idea for your brother. Designed for those with a regal and unique sense of style, the collection includes statement pieces such as Cufflinks, pocket squares, Bandhgala buttons, Kurta buttons, pocket squares & cufflink combos. Earn brownie points with your brother this festive season by gifting him something in exchange for your rakhi gift.
Price Range- INR 3000 /- Onwards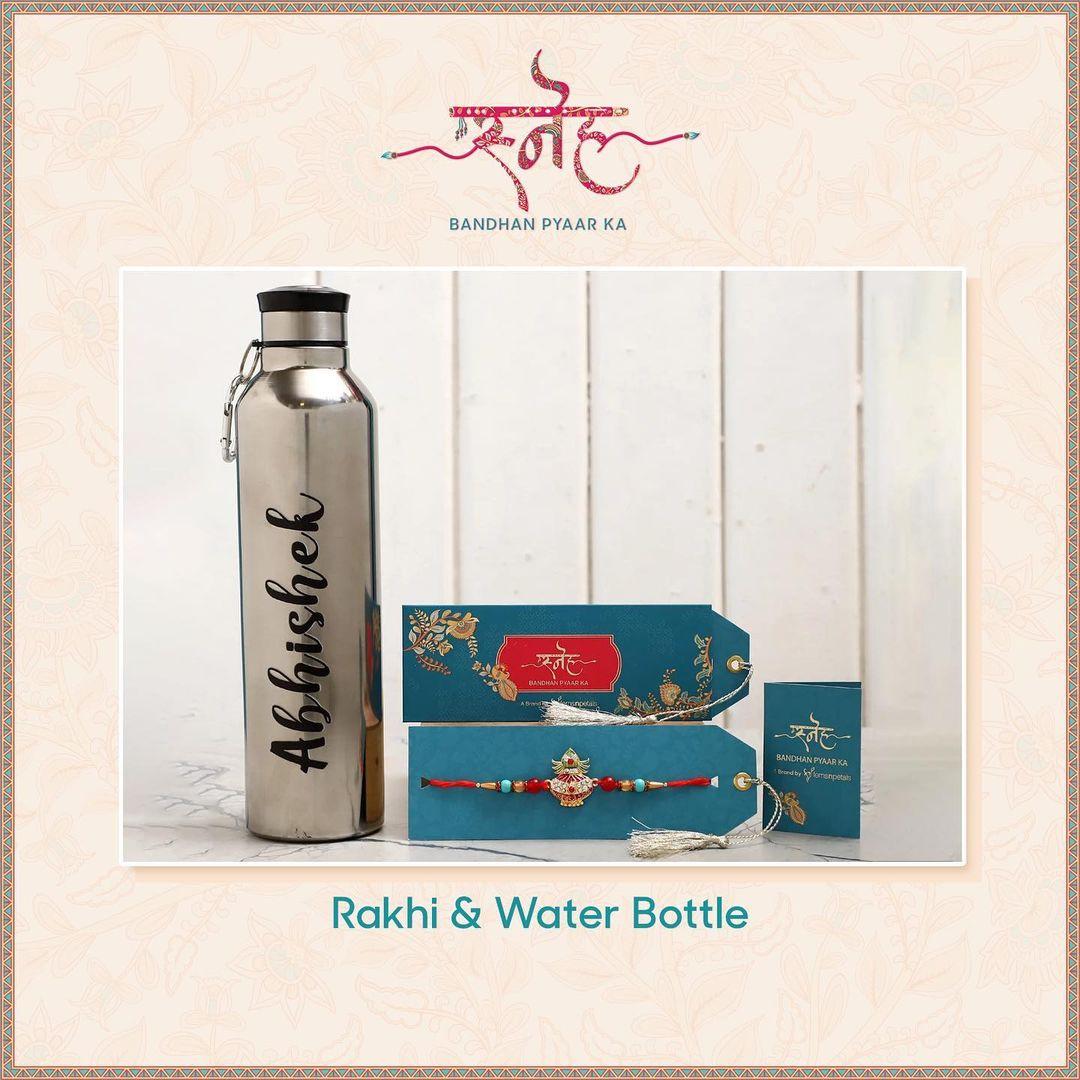 Image Credits - Ferns & Petals India
The benefits of water have no bounds and if your brother is too lazy to drink water again and again, then gift this Rakhi and Water Bottle Set to make him hale and hearty. This customized set will surely remind him about the benefits of water every now and then. This Rakhi, gift your brother a gift of wellness from Ferns & Petals India.
Price - On Request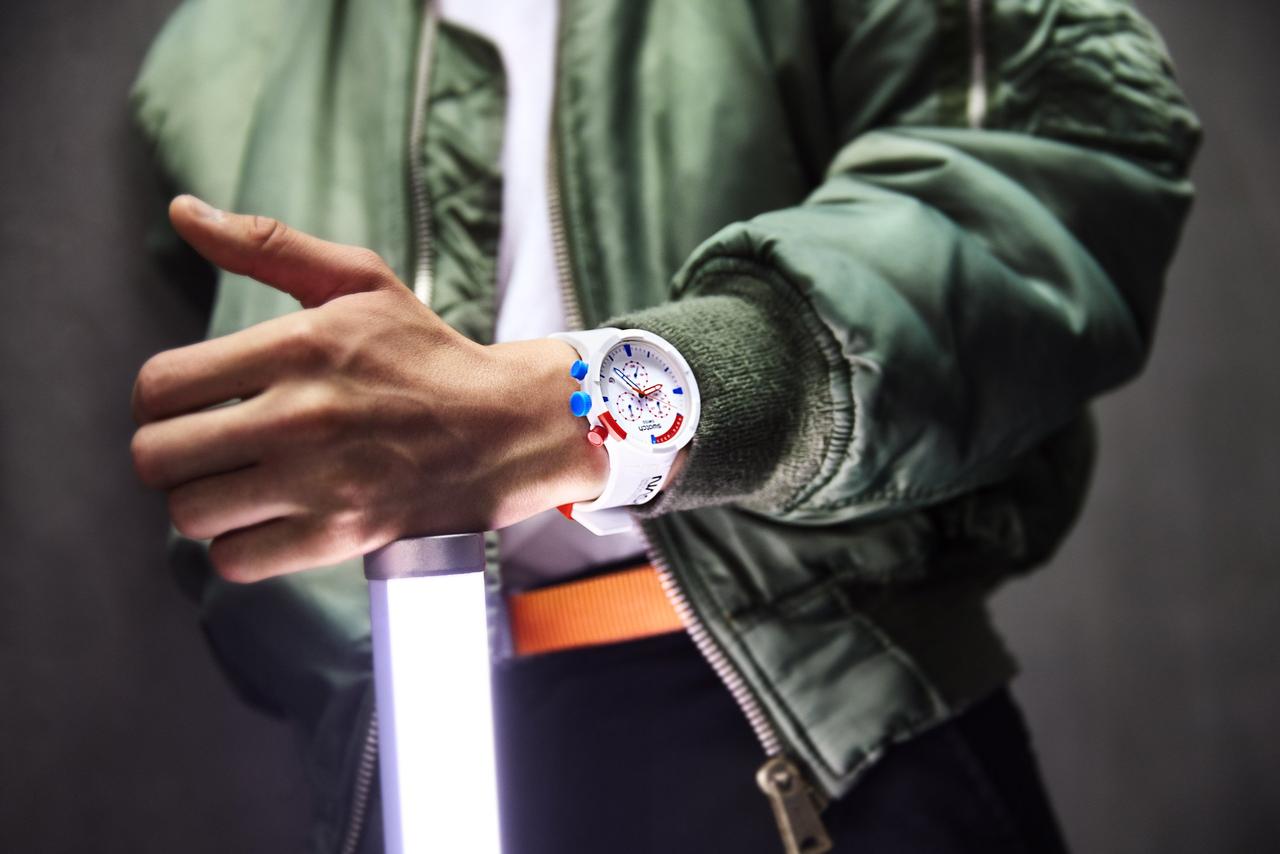 Image Credits - Swatch
Gift Big Bold Crono Extravehicular Watch - Unisex White Swiss Made Analogue Watch SB04Z400 to your brother who has a thing for innovations. The Space Collection celebrates NASA and reveals the next chapter of the BIOCERAMIC Swatch story. This brand looks to the iconic white spacesuit for inspiration. First worn in 1983 by NASA astronauts Story Musgrave and Donald Peterson, the white suits shield astronauts from the sun's radiation.
Price: INR 12650 /- Onwards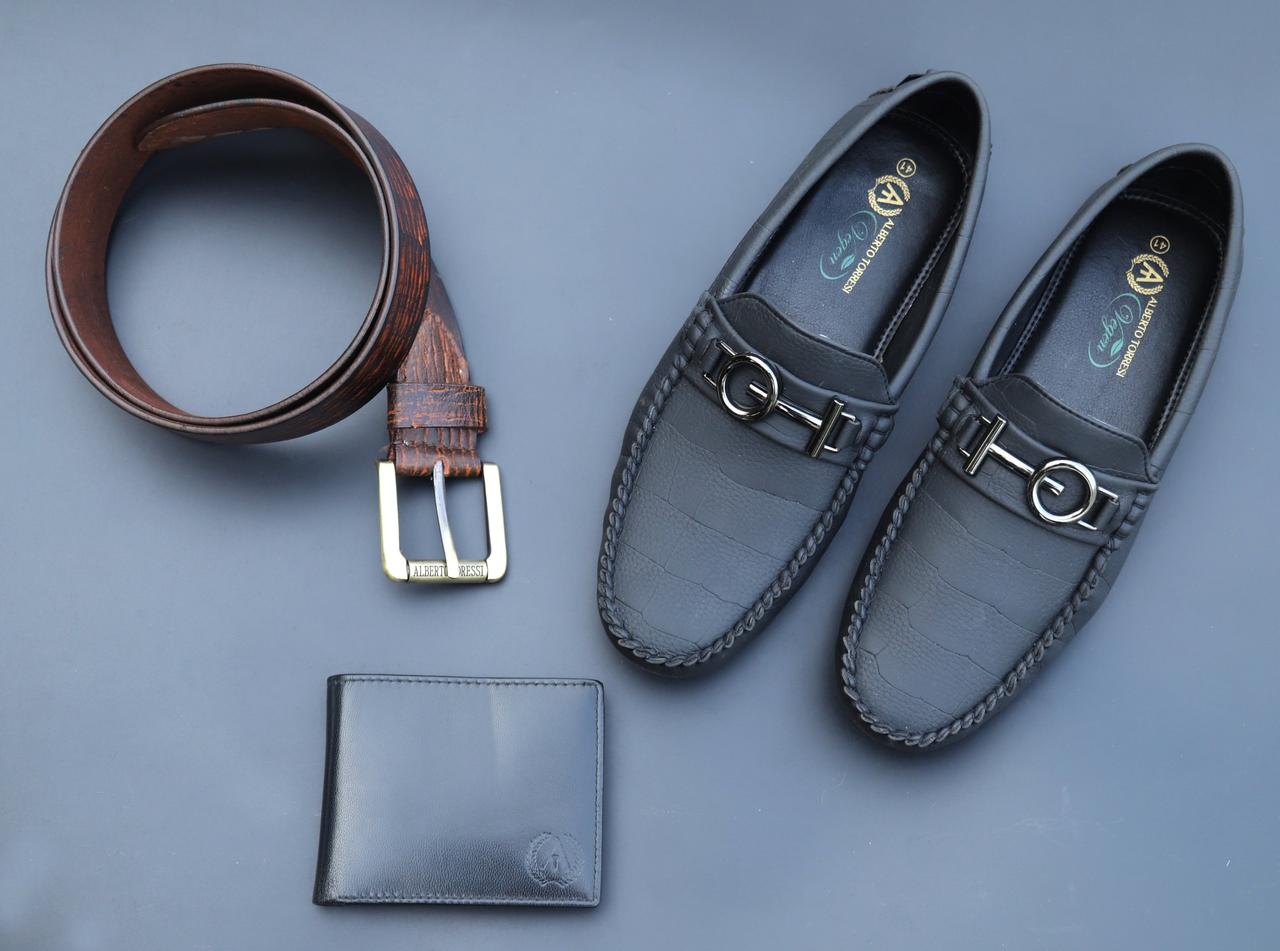 Image Credits - Albert Torresi
Make this Raksha Bandhan Celebration Explicitly Love-Laden by bringing home for your brother, this Top Trending Sleek, Rakhi Combo Gift Set by Alberto Torresi. This Alberto Torresi gift combo set comes with a Classic Leather Wallet and a belt made of exclusive high-quality genuine leather and a stunner pair of Round Toe Formal Loafer with Metal Accent. Alberto Torresi exclusive gift set is an ideal gift to give your brother, as it reflects durability & quality.
Price: INR 4000/- Onwards
Gifts For Sister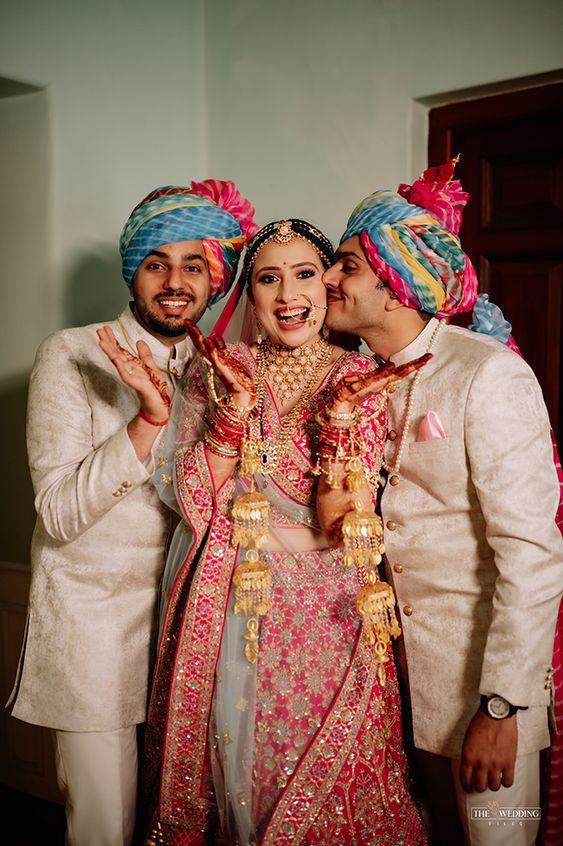 Image Credits - Pinterest
Rakhi Gifting to Pamper Your Sister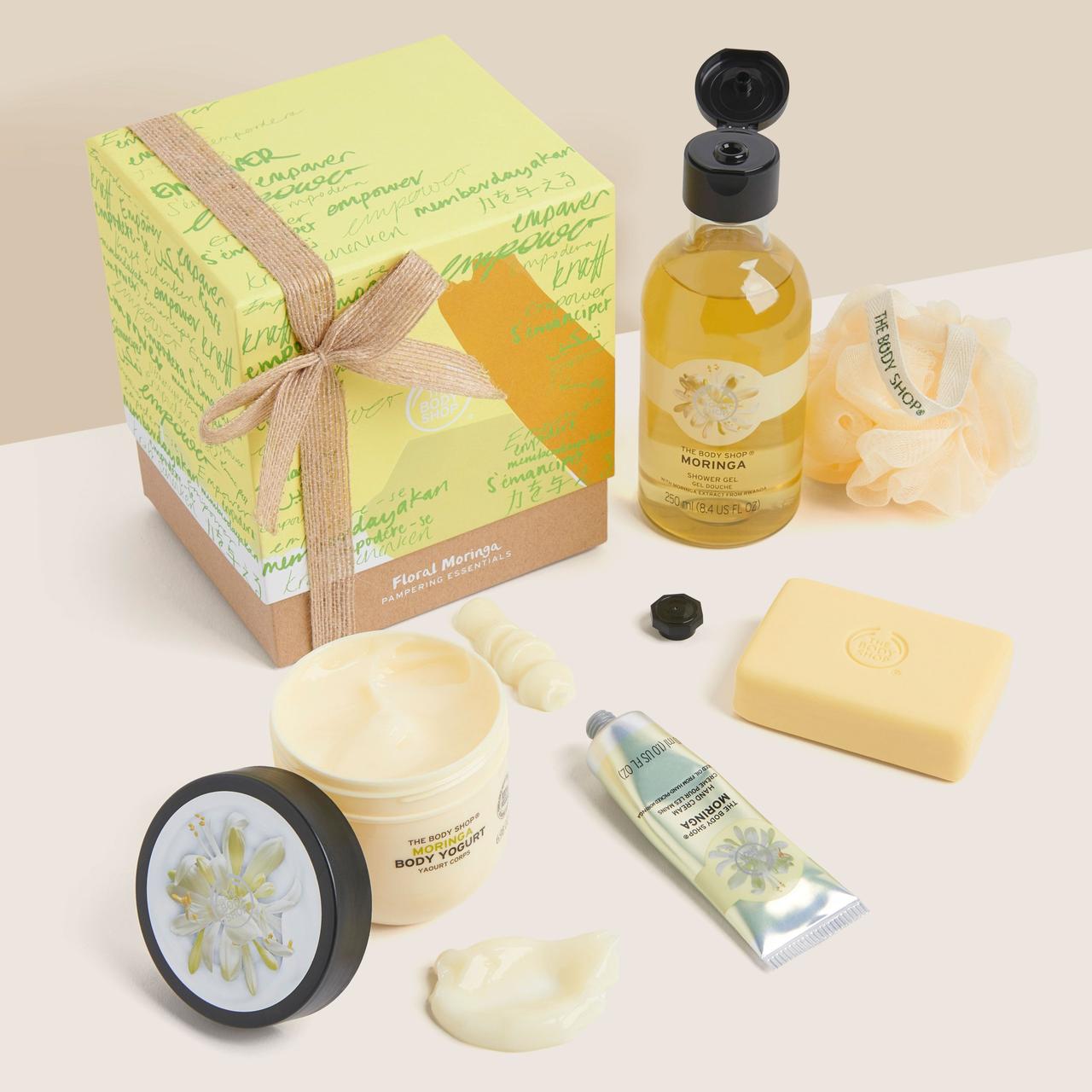 Image Credits - The Body Shop
This Rakshabandhan, choose the best for your sister with fascinating and beautifully crafted gift hampers comprising of collections & ingredients from around the world such as this Moringa Argan Gift hamper from The Body Shop. Also, customize your preferred hamper with the store experts to satiate your sibling's fancy.
Price - On Request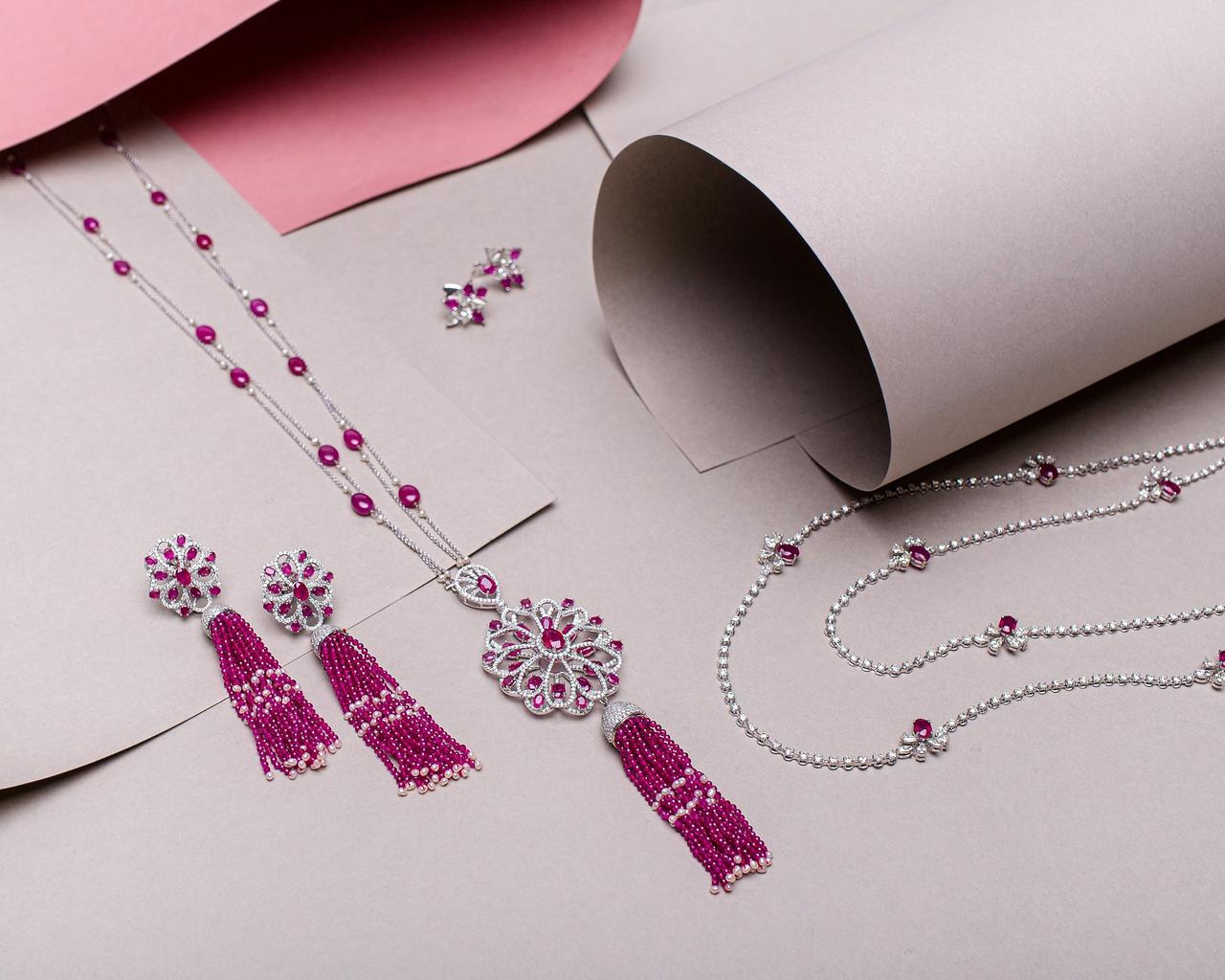 Image Credits - RK Jewelers
Pamper your sister with with beautifies from RK Jewellers - South Ex. You will be spoilt for choices after glimpsing through the variety that they have to offer. Extremely beautiful and classy- these jewellery pieces will melt your sister's heart to the core. This is surely a gift for a lifetime.
Rakhi Gifting For Your Bibliophile Sister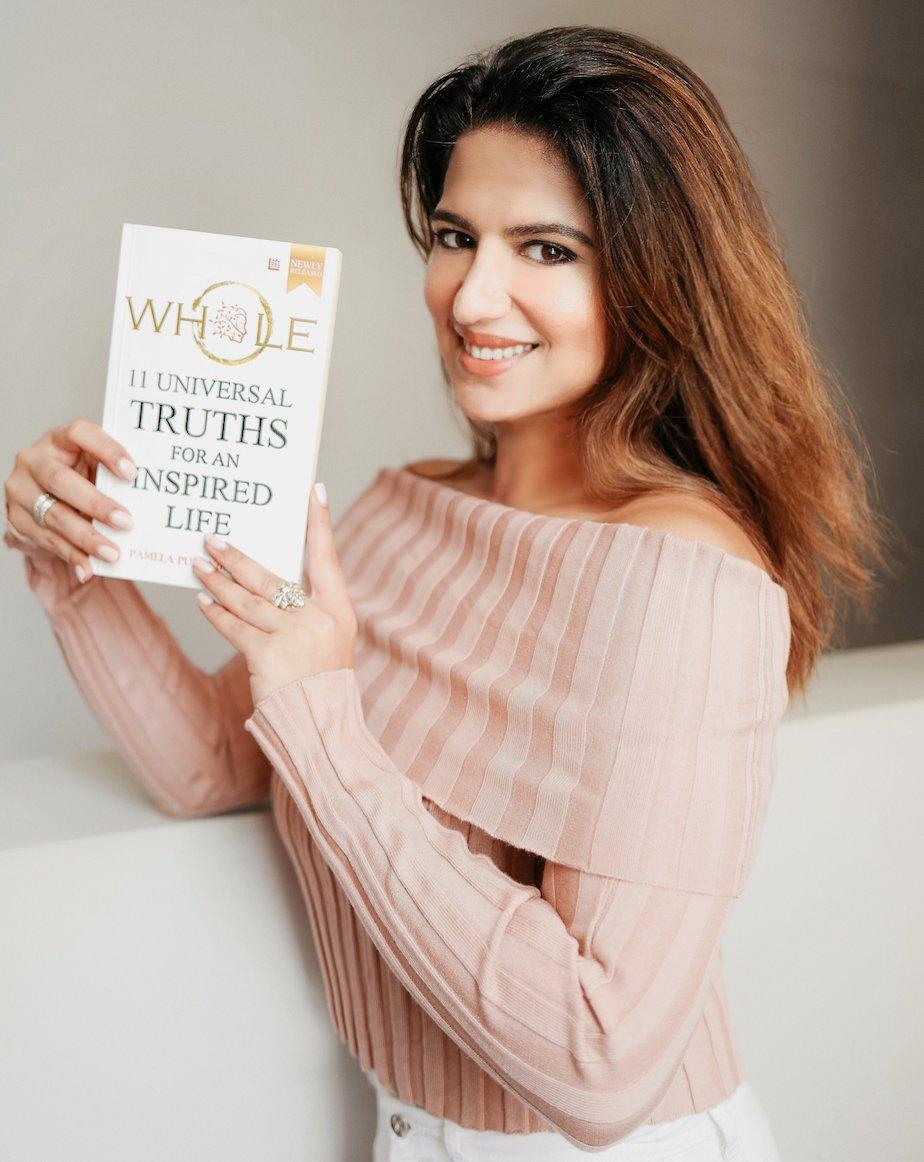 Image Credits - Whole
A book can make a perfectly thoughtful present for this Raksha Bandhan. The book uncovers unique and fascinating aspects of the human brain in fusion with the latest neuropsychology research, alongside ancient Stoic, Buddhist wisdom, and revolutionary insights from eminent world-class leaders. We are sure that your bibliophile sister will love it!
Price - On Request
Rakhi Gifting For Your Health- Enthusiast Friend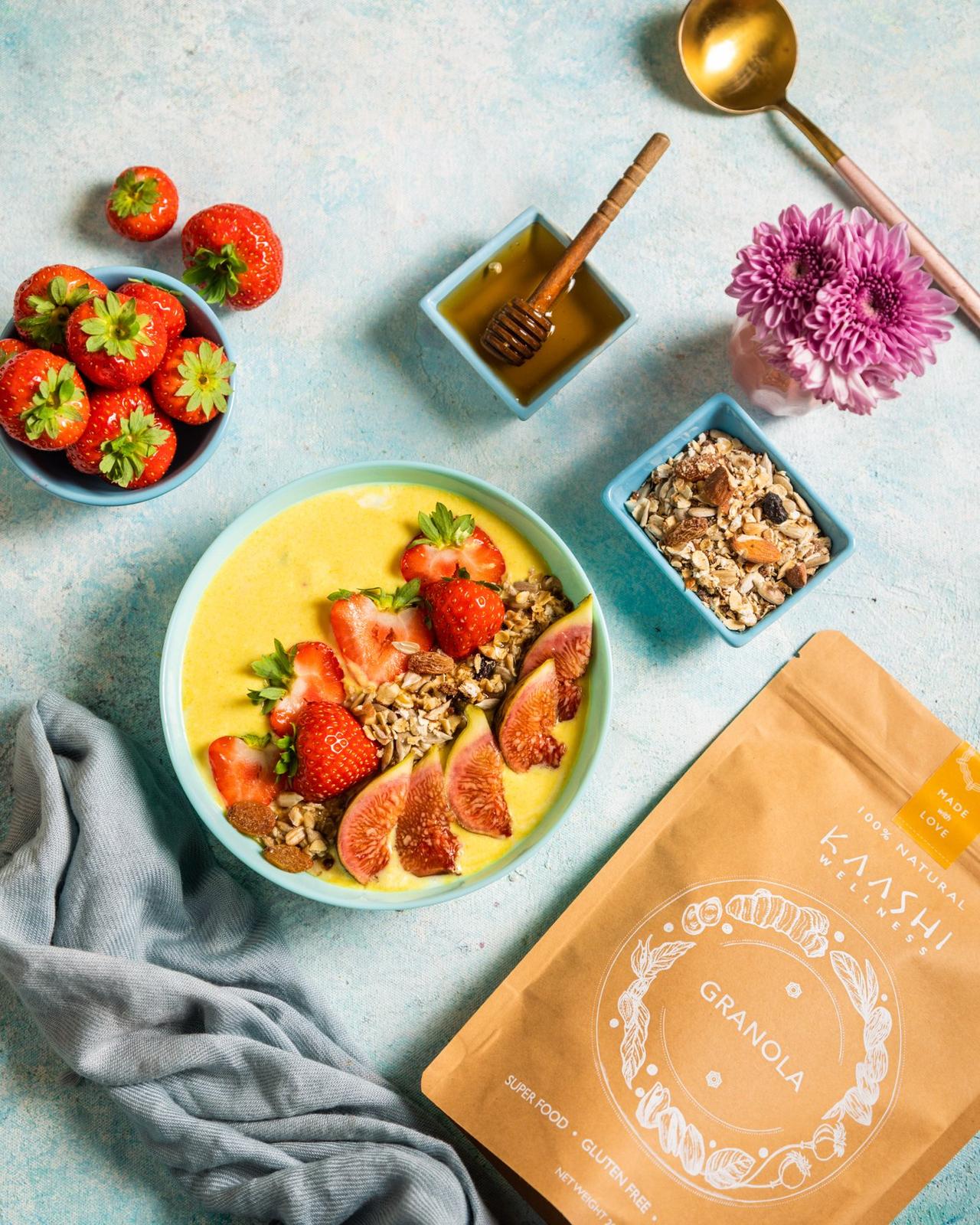 Image Credits - Kaashi Wellness
Kaashi Wellness offers various hampers which can be a perfect gift for your sibling dealing with pandemic times i.e. Self-care hampers. You can customize the gift hamper comprising of Kaashi products such as Energy Drink Mix which is 100% natural and is made with Jaggery powder, Turmeric, Almonds, Khus-Khus, Poppy Seeds, Black Pepper and Cardamom; Kashmiri Kahwa Tea that features the goodness of spices like saffron, cloves, and cinnamon, and is ideal for the winter season; a healthy and nutritious choice for breakfast or snack – Festive Granola infused with protein and other natural supplements as it is made with Oats, Raisins, Dates, Sunflower Seeds, Almonds, Khus-Khus, Pistachio, Black Pepper, Cardamon, Jaggery Powder and Turmeric. All the products are great immunity boosters, antioxidants, and natural supplements.

Price: Rs. 2100/ – onwards
Rakhi Gifting For Your Fashionista Sister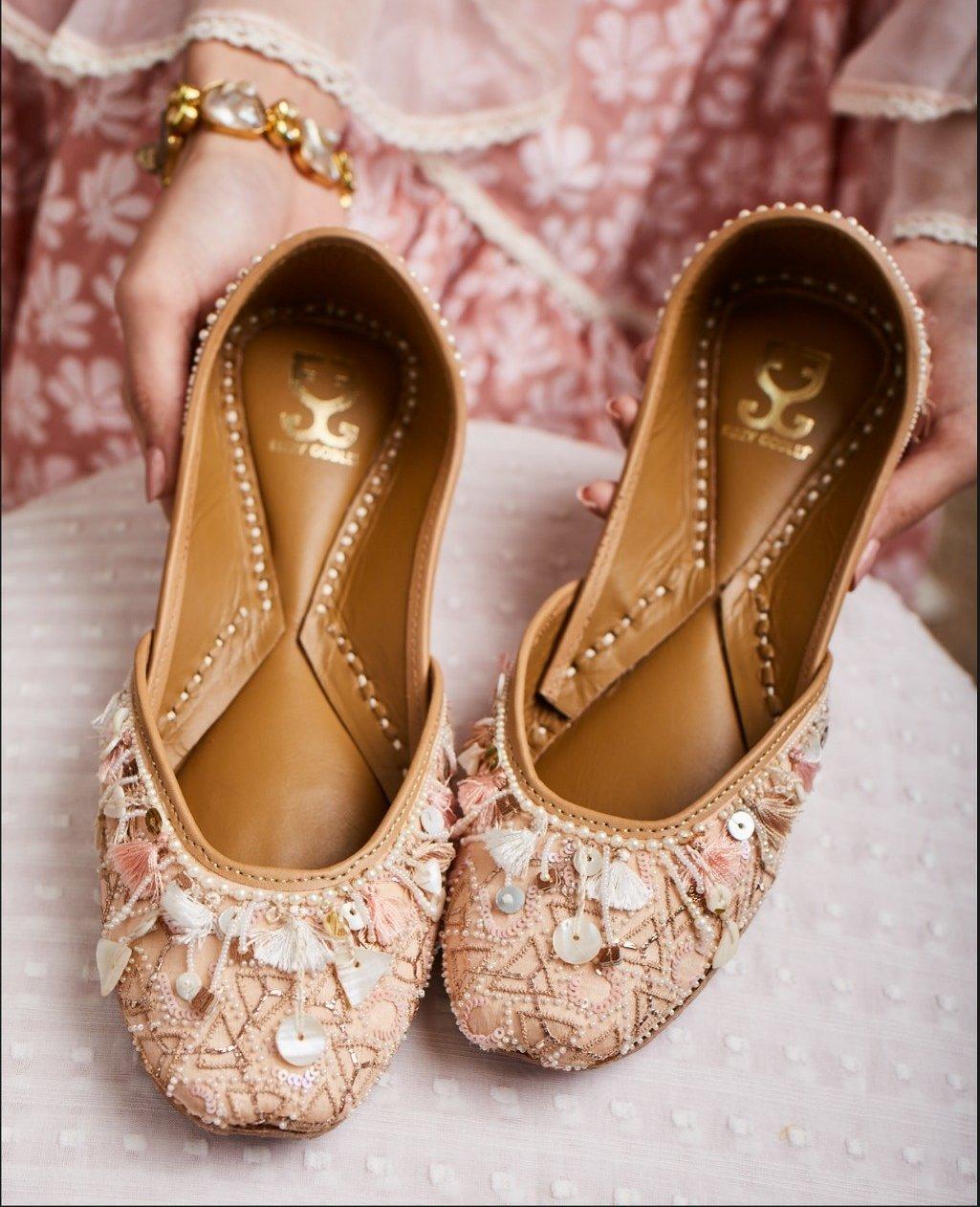 Image Credits - Fizzy Goblet
Your adorable sister would definitely love this Malibu Juttis from Fizzy Goblet. These juttis will be her perfect choice and the intricate pattern on the juttis will definitely have her heart. Se can pair this up with her pastel attire for that stunning look.
Price -₹3200/- onwards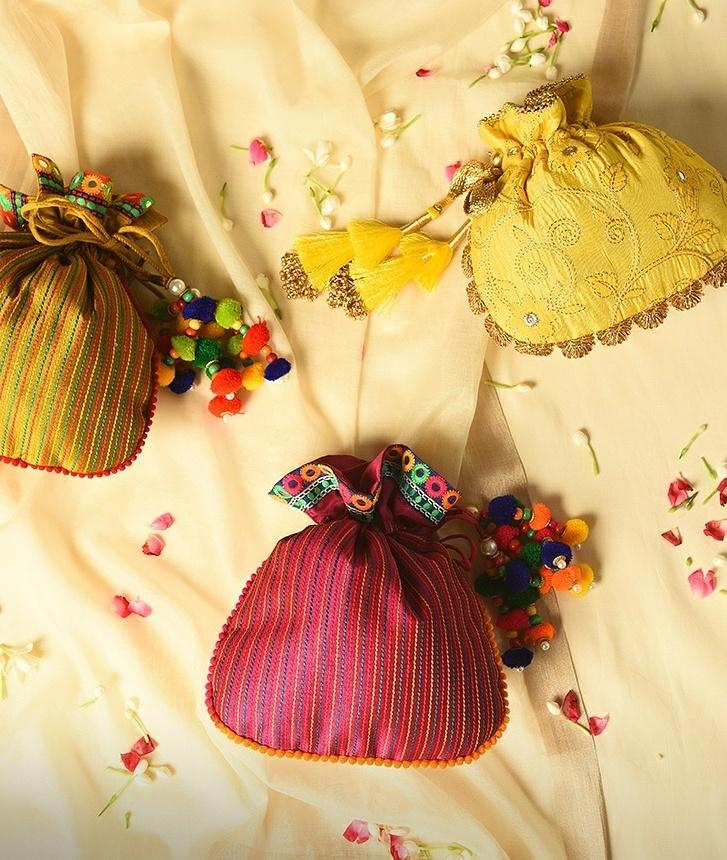 Image Credits - Jaypore
This hand-embroidered potlis will lure your sister for sure. Crafted in exquisite silk, organza, and chanderi this rakhi gift will surely be a delight for your fashionista sister.
Price -₹2590/- onwards
Aren't these gifts thoughtful? Do let us know your views in the comment box below.