Here's How You Can Use The Pantone Color of 2022 at Weddings
Here are some of the best and most convenient ways to use the Pantone Color for 2022. Scroll on and bookmark your favourites now!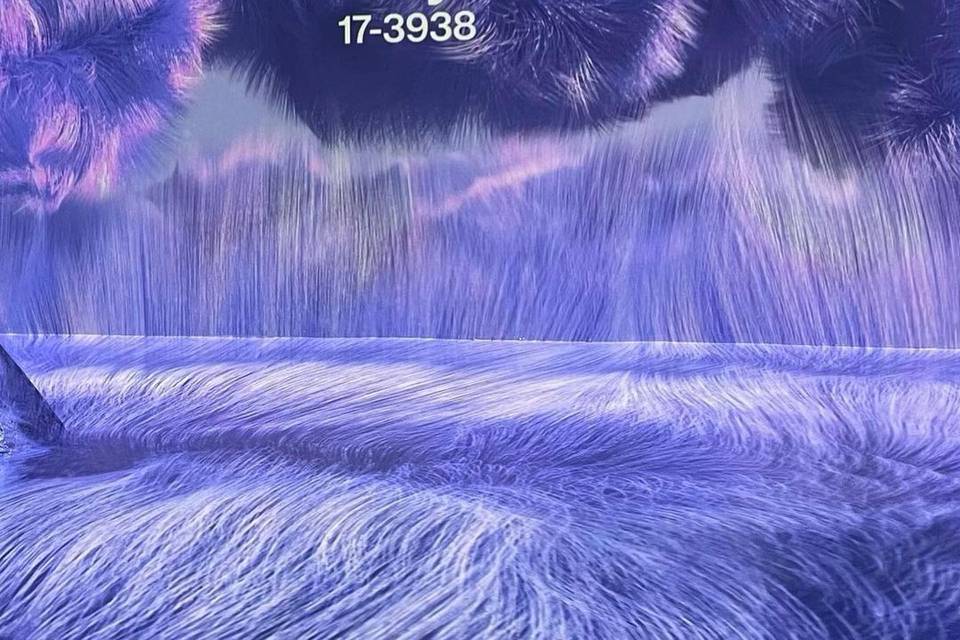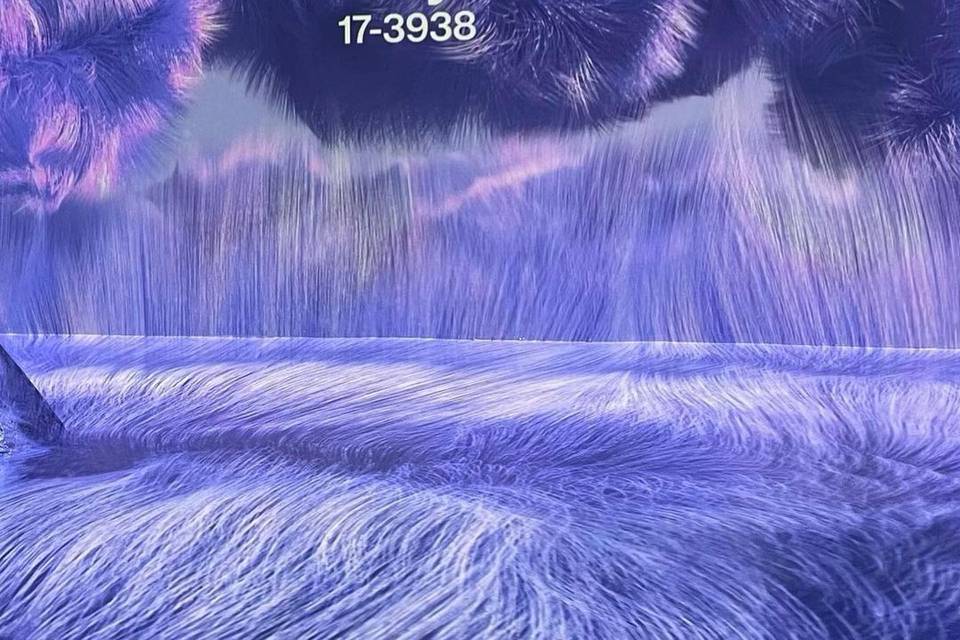 Image Courtesy: Pantone
On the 9th of December 2021, the Pantone Color Institute announced the Pantone Color for 2022 and the shade is known as - Very Peri. PANTONE 17-3938 Very Peri is a dynamic periwinkle blue shade with a lively violet tint and a red undertone. The beautifully contradicting colours amalgamate with the fidelity and perseverance of the blue shade along with the exuberance of red. A contemporary Pantone colour, Veri Peri has a dynamic novel presence that encourages personal ingenuity and imagination. This hue illustrates the merriest and most benevolent of all the blue hues to introduce an empowering mix of originality.
The past year has been one of the most intense and challenging ones. As the world emerges from the frenzied post-pandemic period and the demanding times of isolation, we are witnessing a massive transformation. With the changing times, our ideals, notions and standards of living have evolved too. The Veri Peri shade exhibits a nonchalant spirit and a daring inquisitiveness that vivifies our ingenious spirit. The shade enables us to embrace this altered landscape of possibilities that the future and this year have in store for us.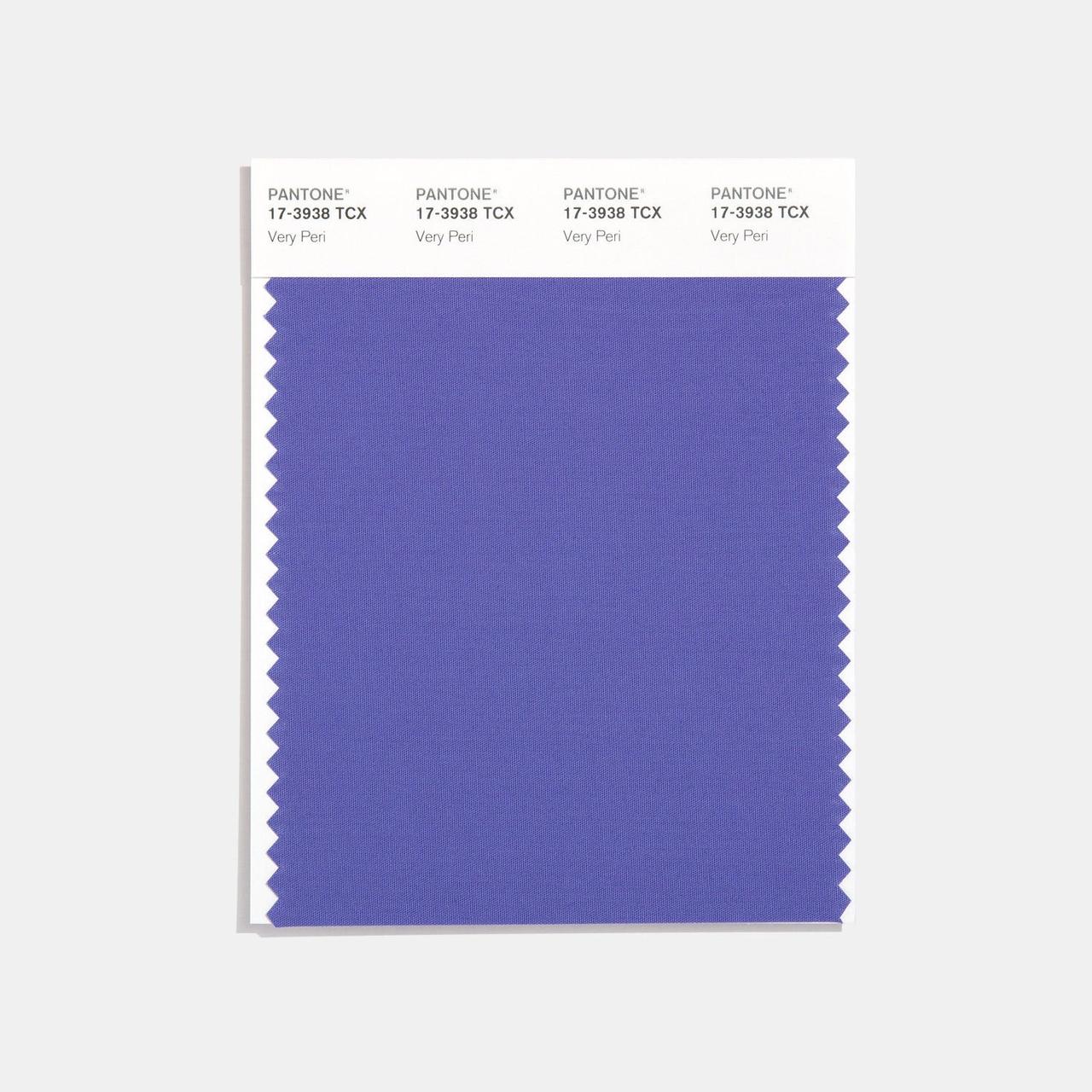 Image Courtesy: Pantone
Reviving the gratitude for the qualities that the blue shade depicts complemented by the new perspective that resonates the contemporary, Very Peri shows the future in a fresh scintillating light. Encompassing the qualities of the blues, yet at the same time possessing a violet-red undertone, PANTONE 17-3938 Very Peri displays a spritely, joyous attitude and dynamic presence that encourages courageous creativity and imaginative expression.

Image Courtesy: Pantone
"The Pantone Color of the Year reflects what is taking place in our global culture, expressing what people are looking for that colour can hope to answer," added Laurie Pressman, Vice President of the Pantone Color Institute. "Creating a new colour for the first time in the history of our Pantone Color of the Year educational colour program reflects the global innovation and transformation taking place. As society continues to recognize colour as a critical form of communication, and a way to express and affect ideas and emotions and engage and connect, the complexity of this new red-violet infused blue hue highlights the expansive possibilities that lay before us".
The Pantone Color of the Year selection process requires thoughtful consideration and trend analysis. To arrive at the selection each year, Pantone's colour experts at the Pantone Color Institute scour the globe looking for new colour influences. Be it from the entertainment industry, films, production, travel, art collections, fashion, lifestyle, socio-economic conditions, new technologies, social media clouts and often upcoming sporting events that capture the attention around the world.
Here's to implementing a new perspective while planning the weddings that lie ahead of us. Check out the endless ways in which you can incorporate this blissful shade of PANTONE 17-3938 Very Peri in your wedding and bookmark your favourite ideas right away.
In this blog:
3. Miscellaneous Very Peri @ Weddings
Wedding Fashion
Outfits are one of the most fun and happening parts of any celebration. You spend hours, often days, picking the right ensembles for each and every occasion. The Pantone color of 2022 is a great colour to upgrade your outfits for 2022. Whether you are the bride, the groom or one of the many guests who attend a wedding of a dear one, make sure to follow your heart and the Very Peri colour mood board to look stunning this year.
Bride Outfits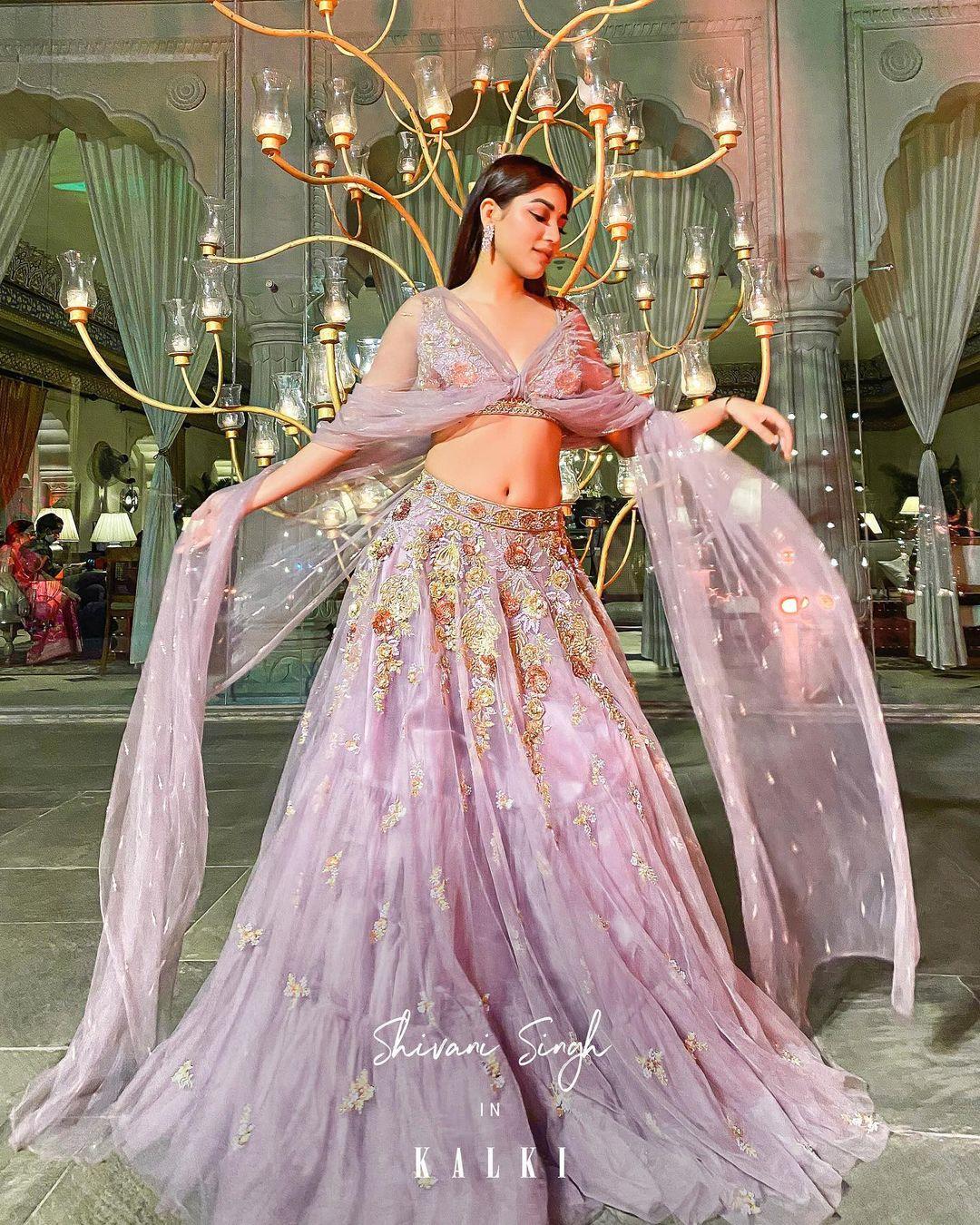 Looking forward to wearing something head-turning to a wedding? How impressive is that dupatta drape that effortlessly transformed into dramatic sleeves like a cape on this Veri Peri shaded lehenga? The muted elegance is to die for!
Also Read: Pantone Color of The Year 2021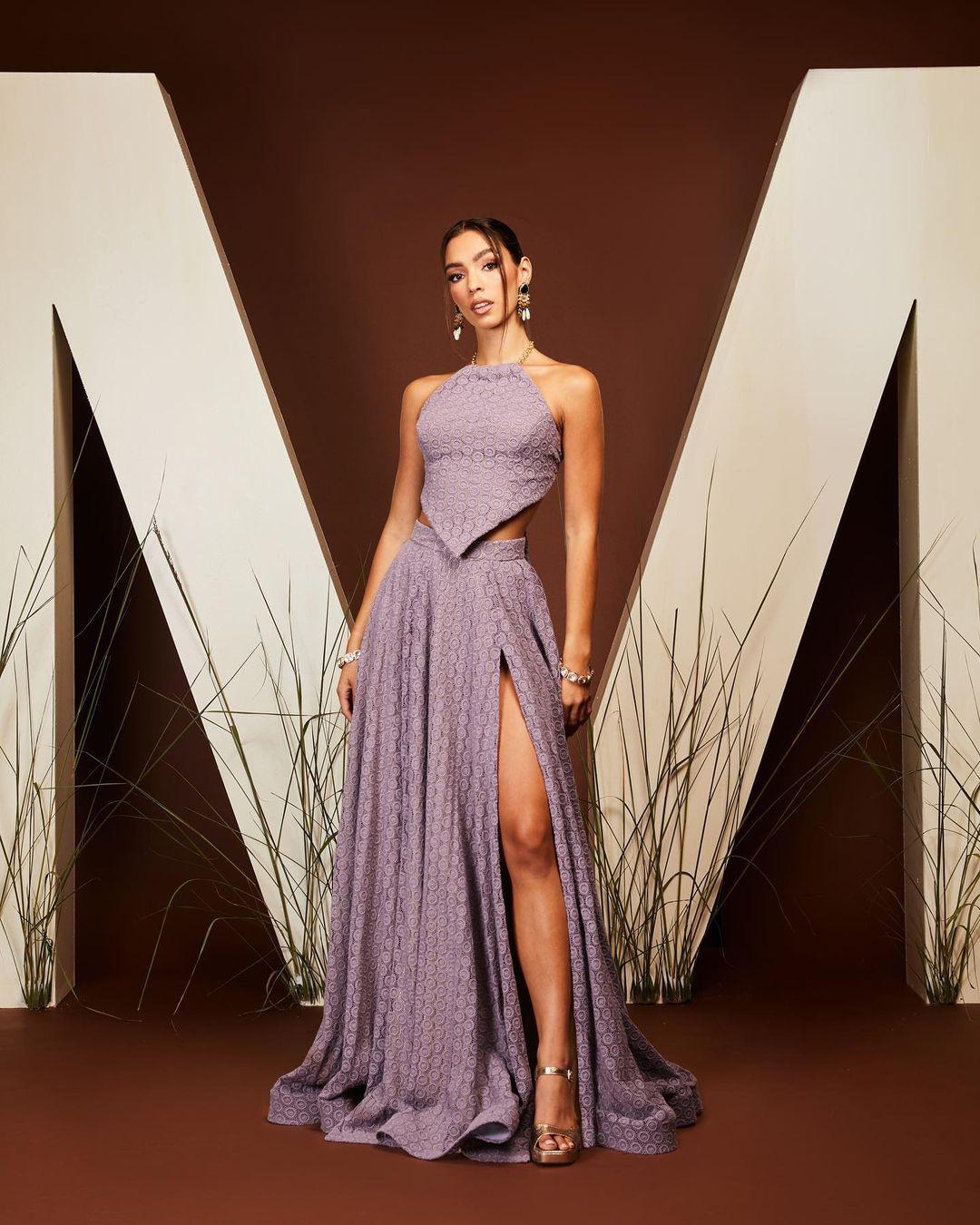 Image Courtesy: Mani K. Jassal
A full purple lace lehenga you say!? The Jolene Skirt is sure 'like a breath of spring' with its beautiful hues, floral lace patterns and super fun and flirty double slits. Pair with the Jolene Handkerchief Top. This beautiful lace top is a halter styled piece with a flattering open back and chain necklace closure. Perfect for that daytime outing with comfy slippers or even a night out when paired with some golden high bridal heels and fancy clutches.
Also Read: 35+ Hairstyles for Curly Hair to Crown Your Look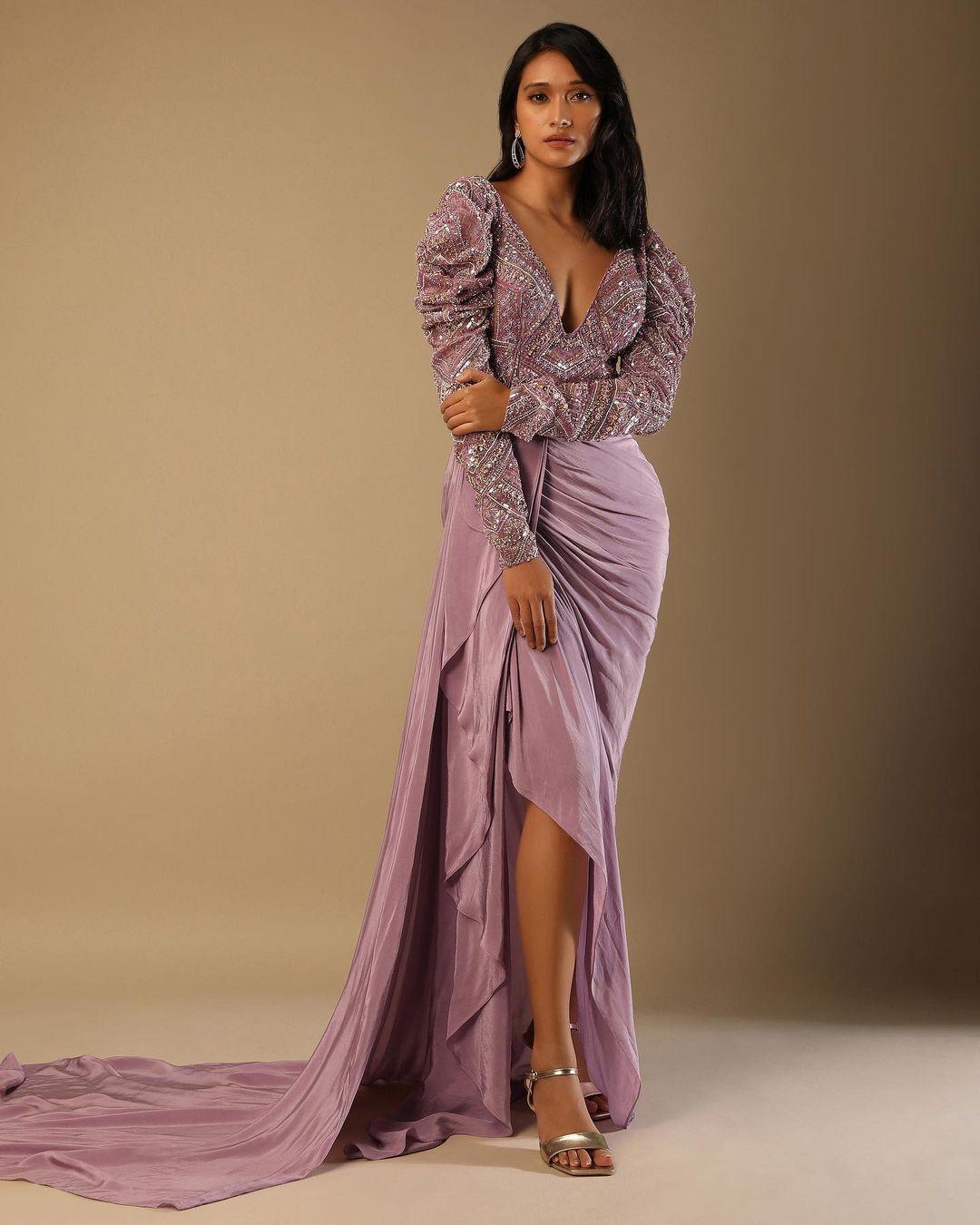 Cocktail-Apt is a thing, isn't it? Where do you think you would wear this gorgeous piece? The 'Frozen Mauve Gown' Is tailored in pleated cowl drape. Accented in gorgeous hand artwork that intensifies the look and the couture elegance is further levitated by the side trail.
Also Read: 10 Latest Bridal Designer Gowns to Dial-up the Glam Quotient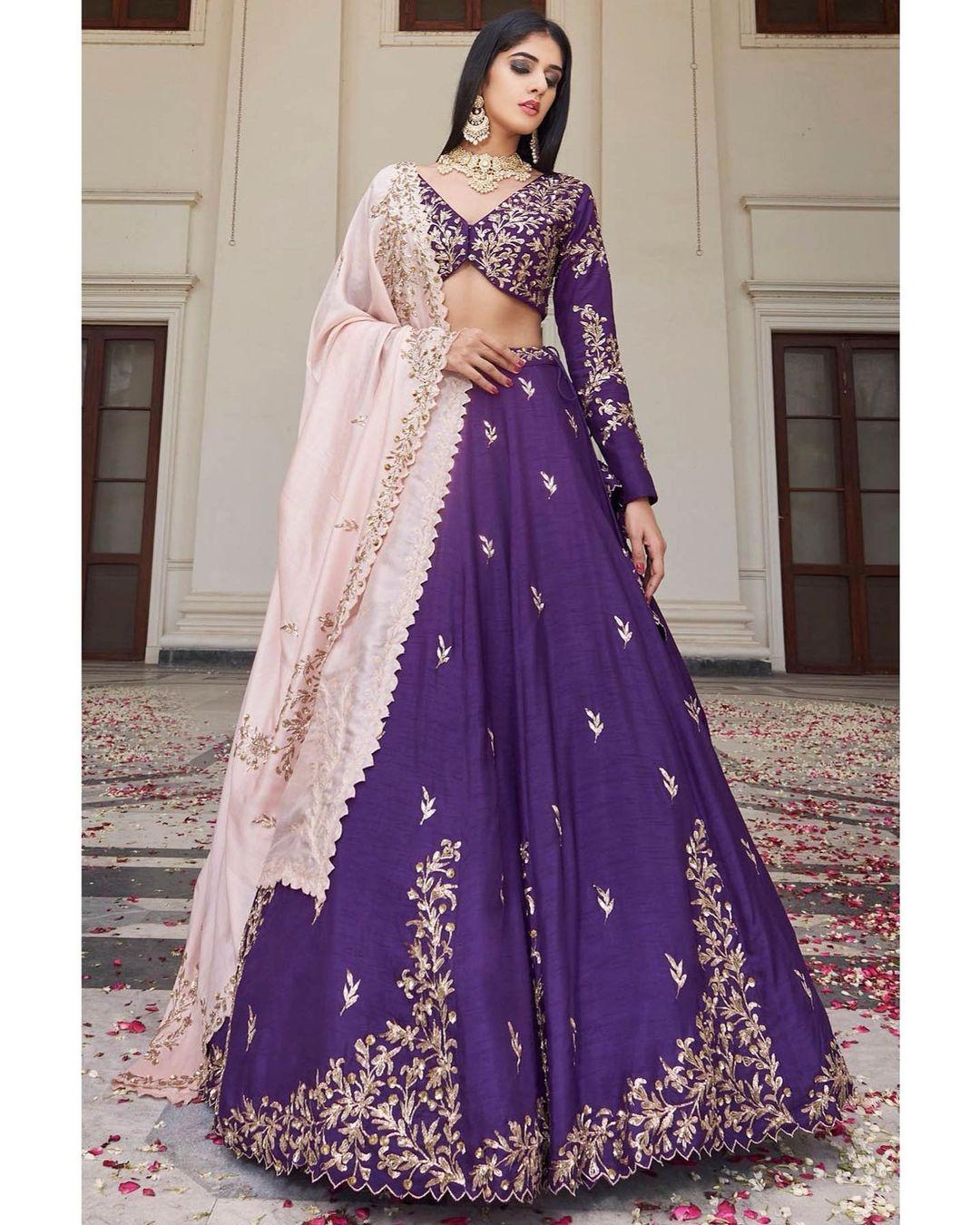 A curation of vibrant purple and golden zari work with floral accents on the lehenga, this outfit is meticulously detailed for you to shine bright and turn those heads!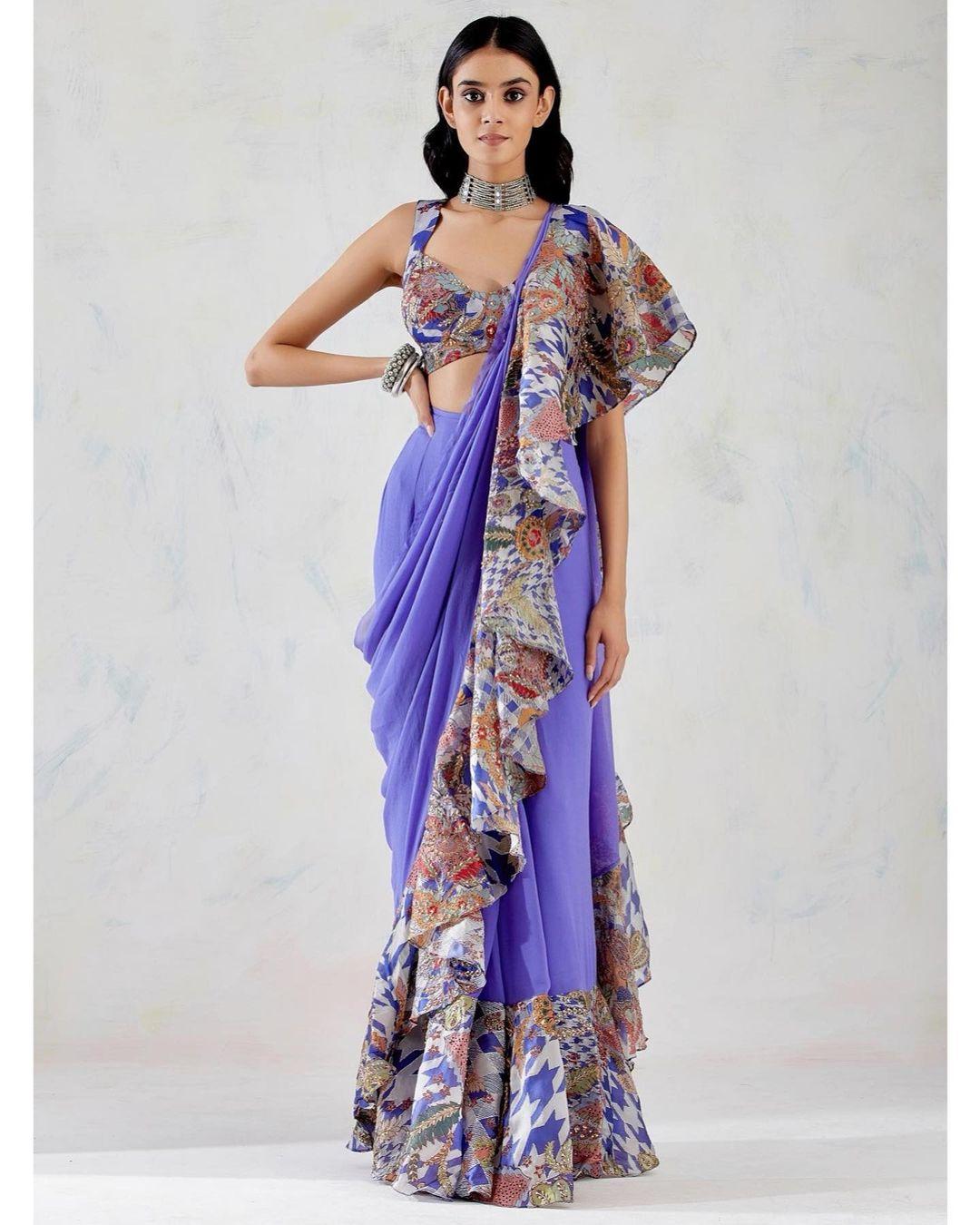 Image Courtesy: Aisha Rao
Ruffle sarees are without a doubt doing the rounds but what makes this saree even more special is the casual yet chic appearance of this saree with contrasting ruffles.
Also Read: 7 Stunning Pearl Choker Necklace Designs for the Bride & Her Gang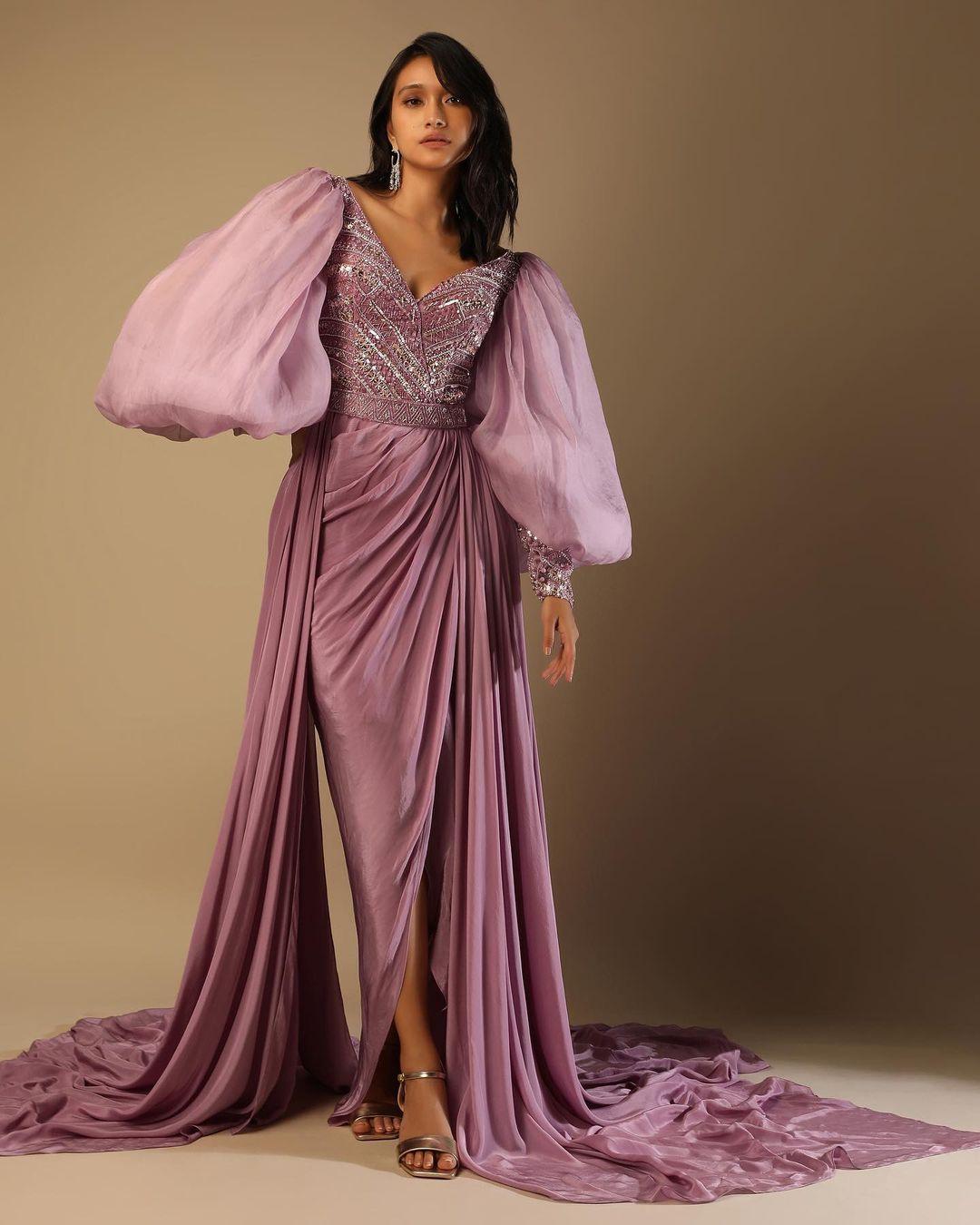 Mauve madness did you say? Well, take a look at this flowy mauve gown that has been crafted to adorn at the wedding cocktail parties. Intensified in elaborate balloon sleeves, front slit & an extravagant long trail, this couture will amplify the party madness and we guarantee your mesmerising looks!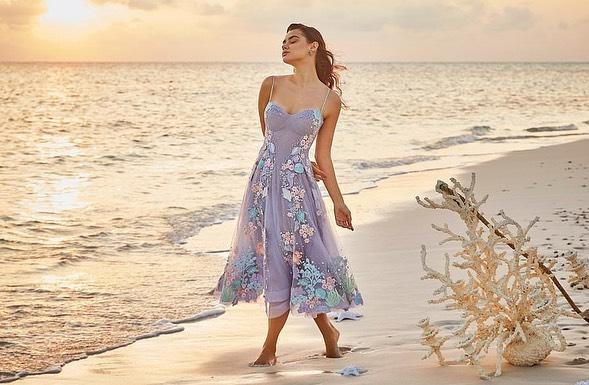 Image Courtesy: Kresha Bajaj
Inspired by one of my most colourful dives in South Maldives, this dress embodies the fun and calm dive site of Maarehaa Kandu. Created in delicate layers of tulle with beautiful multicolour underwater motifs like seahorses, fish, turtles, crabs and other sea life using shaded silk thread, sequins, glass beading and crystals. Look closely to see the imagery of an entire reef come to mind.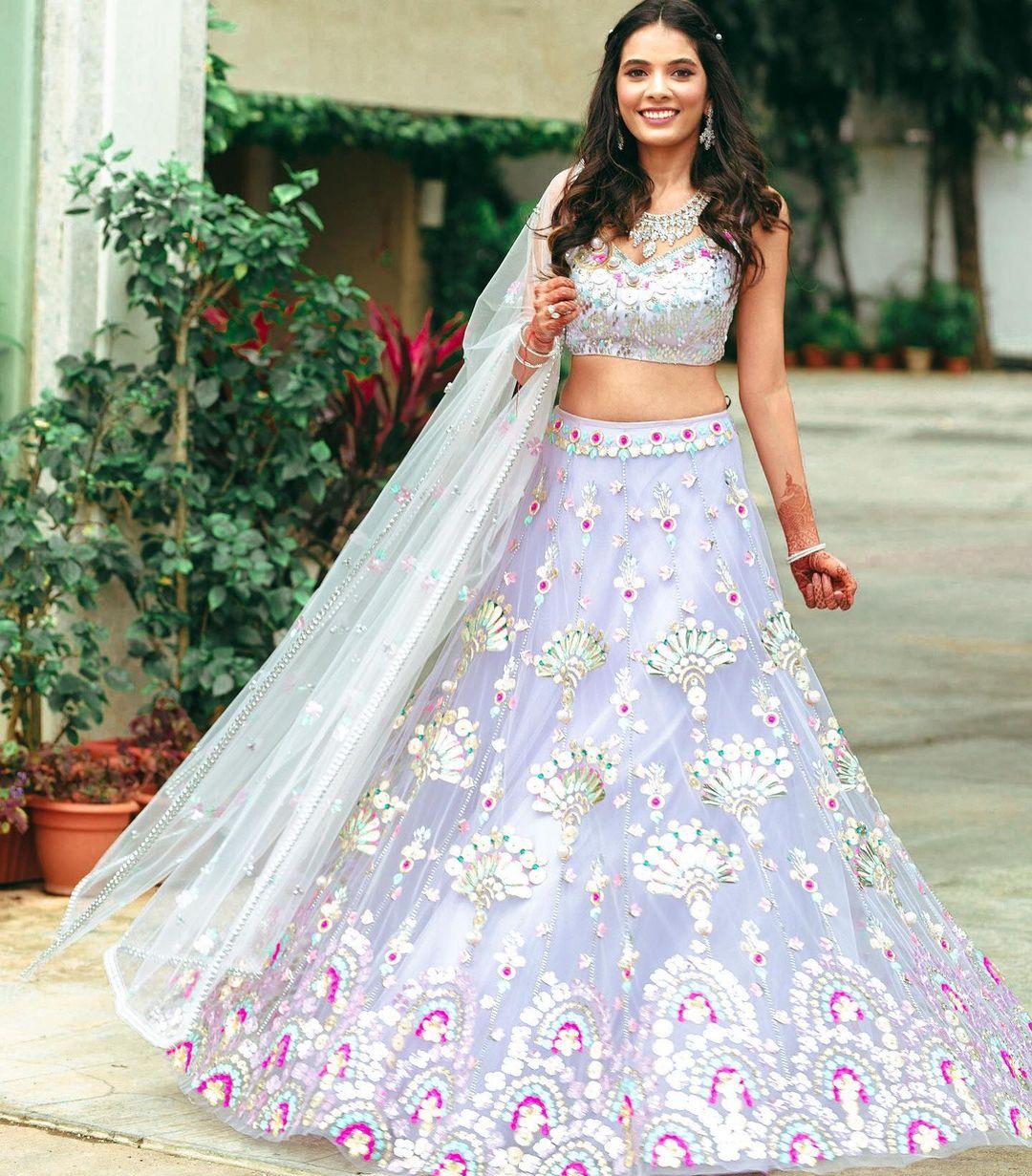 A lilac lehenga choli set embellished with OTT pearls, reflective sequins and glass beadwork - this outfit is perfect for you to dazzle the glamour.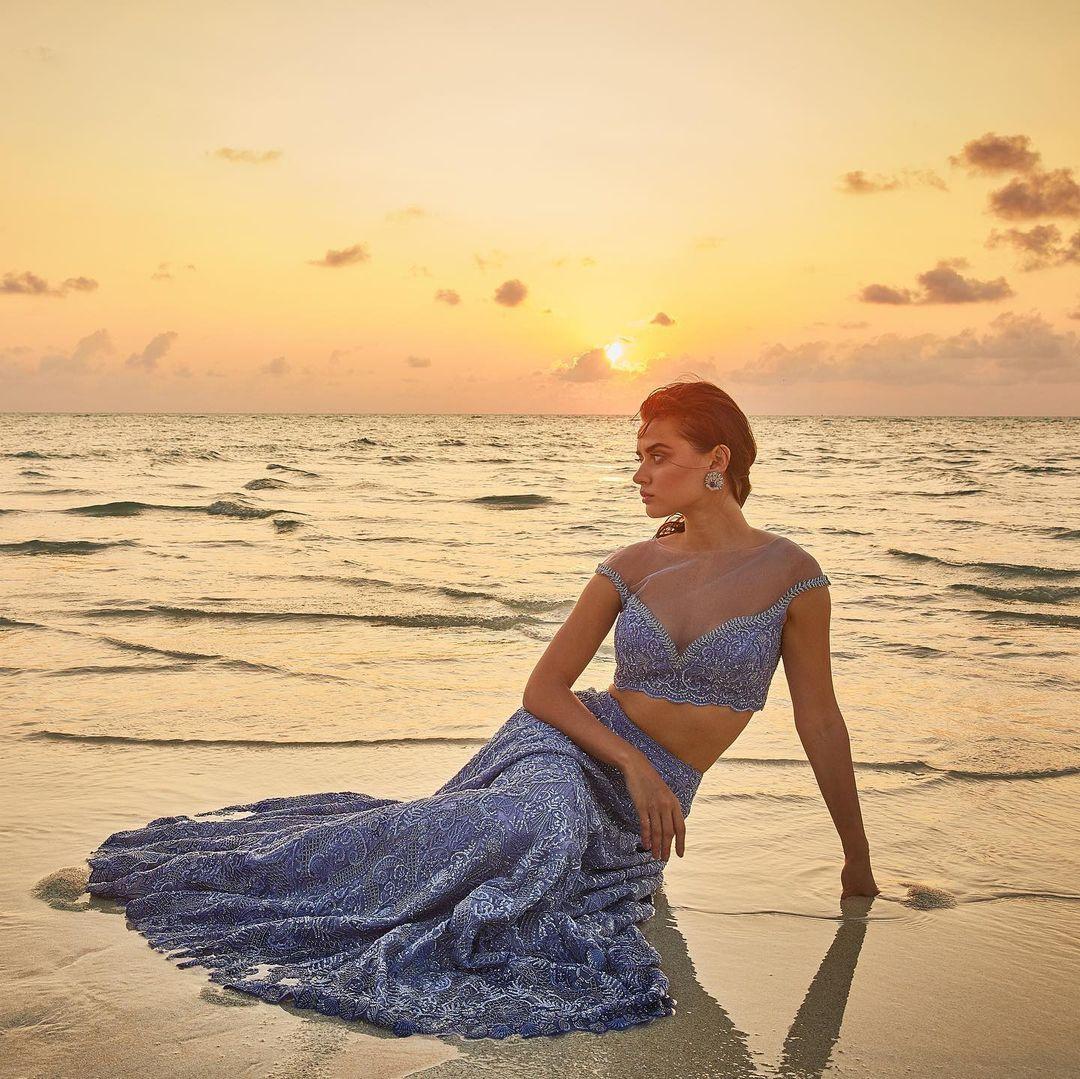 Image Courtesy: Kresha Bajaj
Cordelia, a name meaning "jewel of the sea" in Welsh. This lehenga is winning hearts with the charm of the colour. Embellished with silk Resham and embroidered with intricate glass beading, crystals and sequins, the lehenga is paired with a crystal blouse, a sparkle zardozi dupatta and diamond and coral earrings to help you dazzle your beholders on your big day or on your Sangeet ceremony.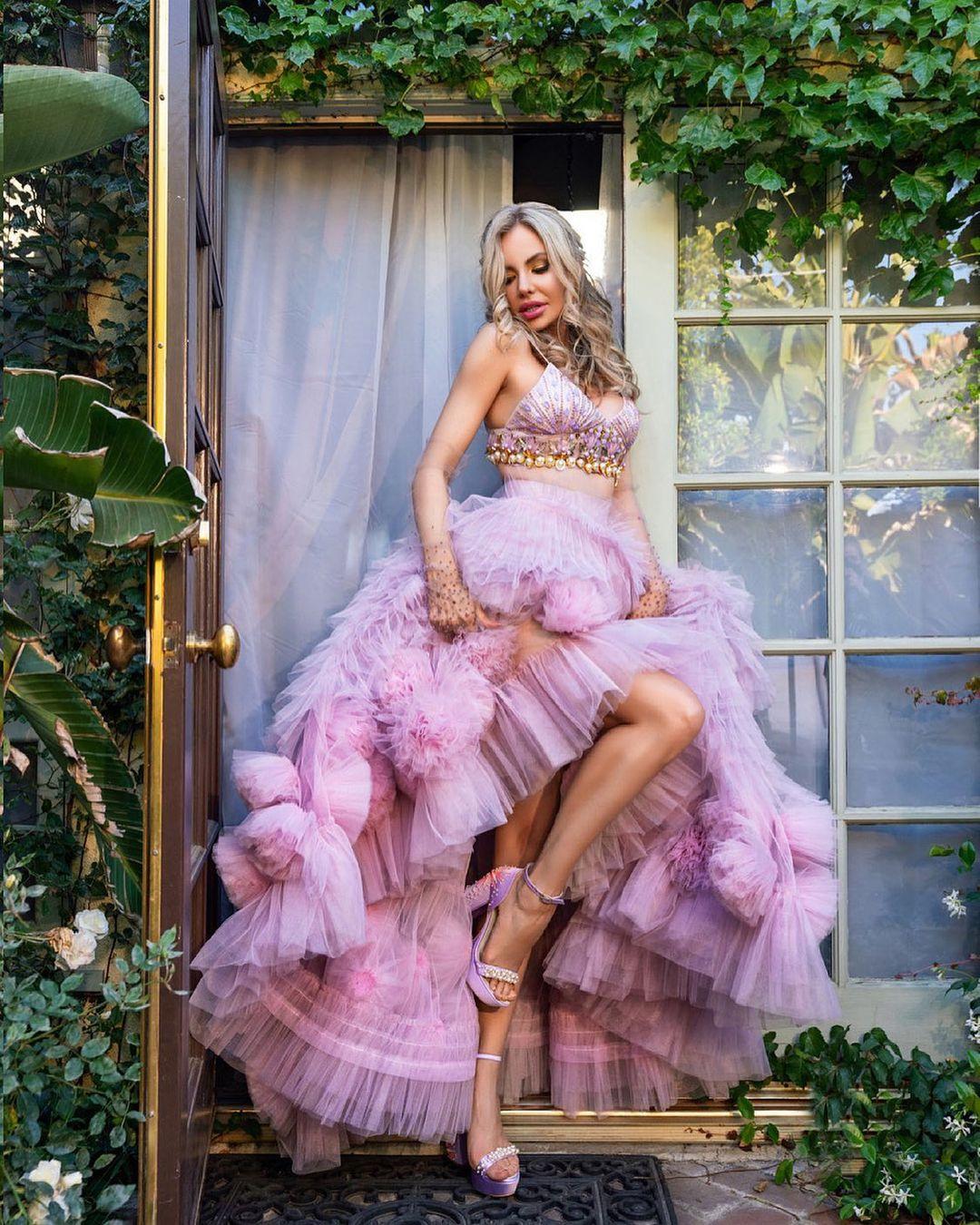 If you are a bride who is all in for dramatic outfits and going all out is your plan for the D-day, then here is a drop-dead gorgeous wedding gown for brides that can be worn at functions apart from weddings too! The bralette with the dandelion twinkle shows and the beautiful matching heels have left us wanting more of this look!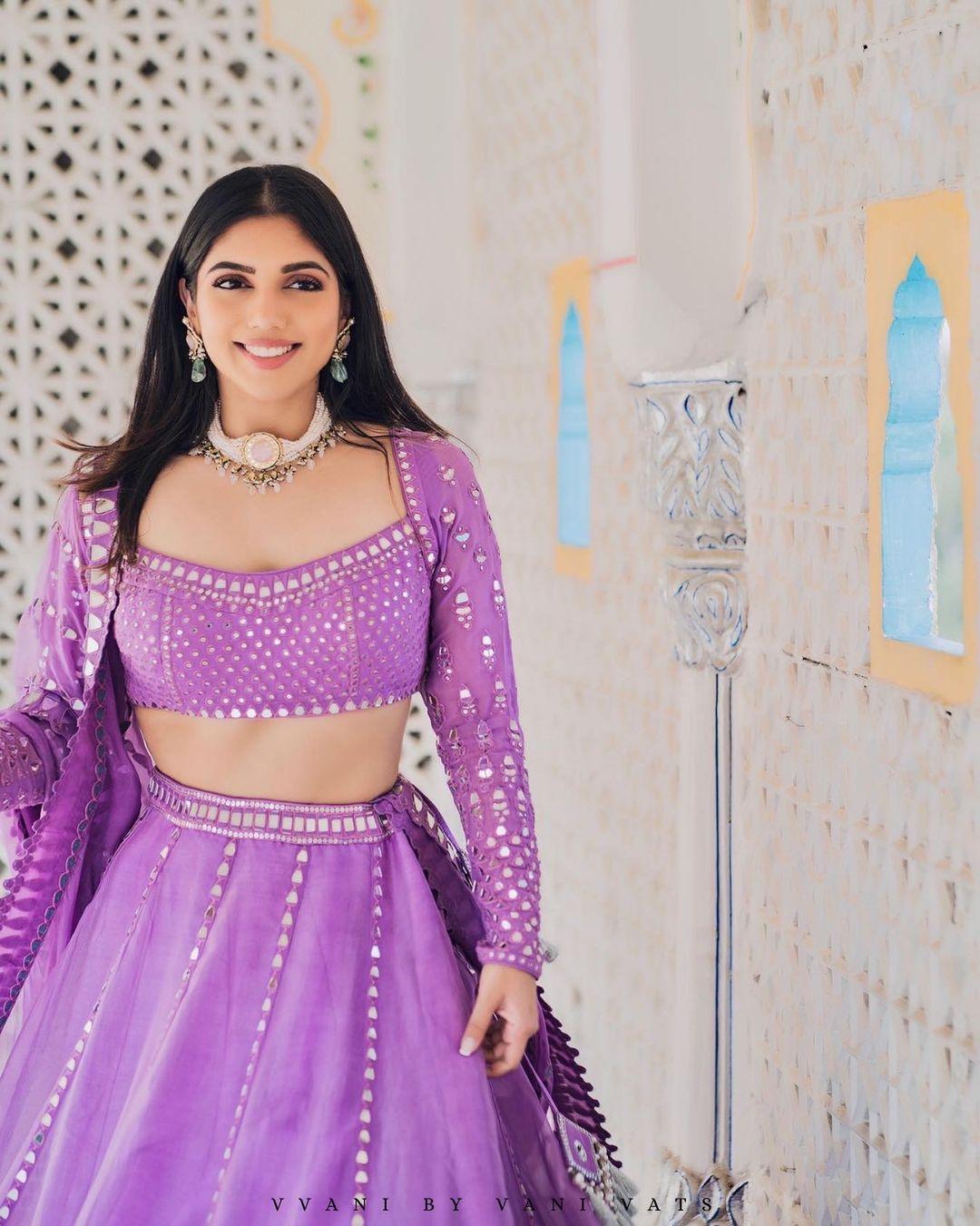 Serving the ultimate looks in the Very Peri colour of 2022, Samiksha Pednekar adorns a Catnip Purple lehenga set from the Chamak Collection by none other than veteran designer Vani Vats. The Rajasthani Aad necklace and the matching jhumkas made of pearl adds to the oomph factor of this mirror work lehenga choli.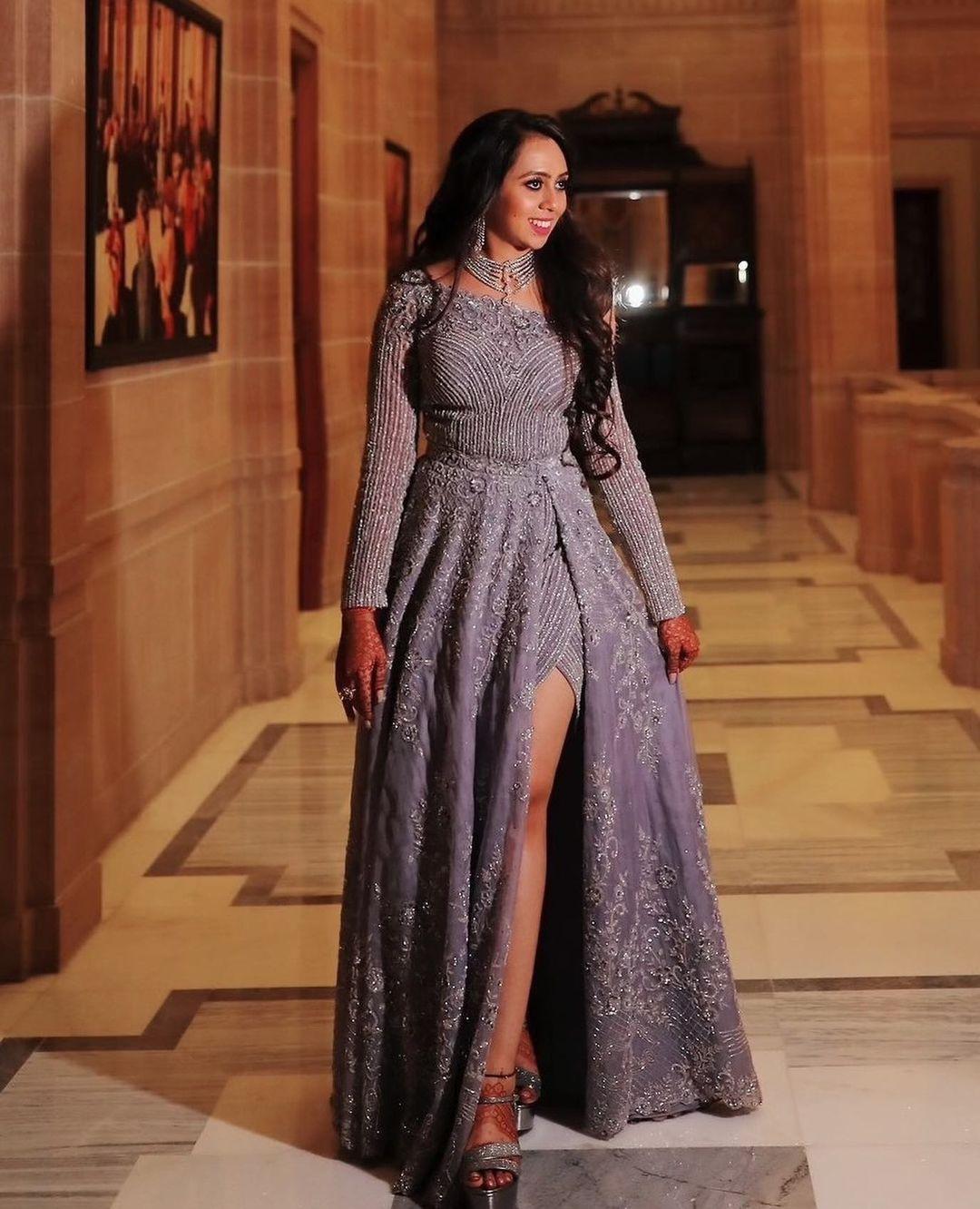 Image Courtesy: Kresha Bajaj
If you are looking for a gown for the reception then this lavender gunmetal love story gown is your safe bet. The beautiful silver heels when paired with this gown gives a perfect silhouette, making your guests go wow! ⁠⁠
Also Read: The Metallic Wedding Lookbook
Groom Outfits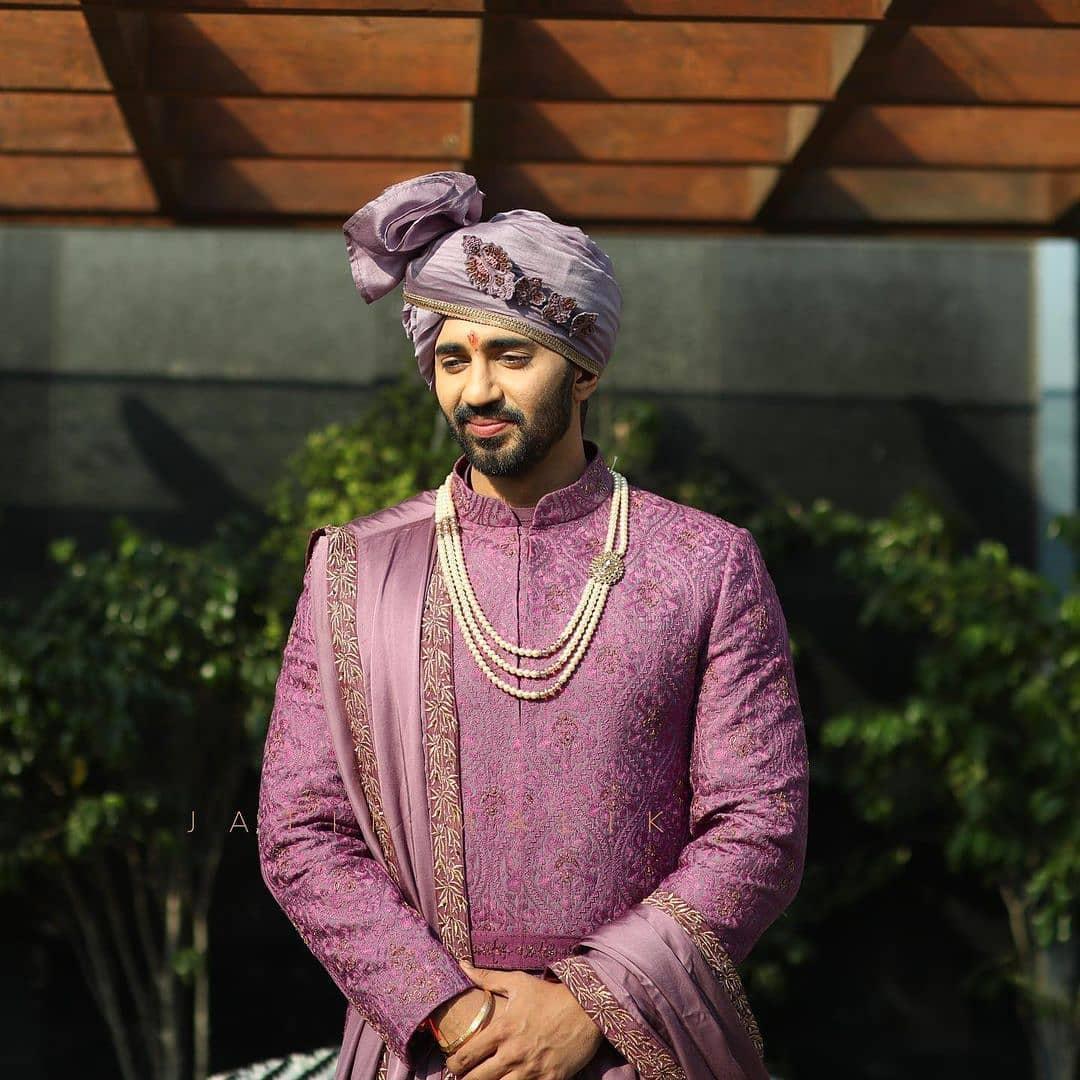 The brighter the better - this is an extraordinary shade of Very Peri groom's outfit for a summer wedding. Paired with the right pearl jewellery for the groom, this look is going to turn heads.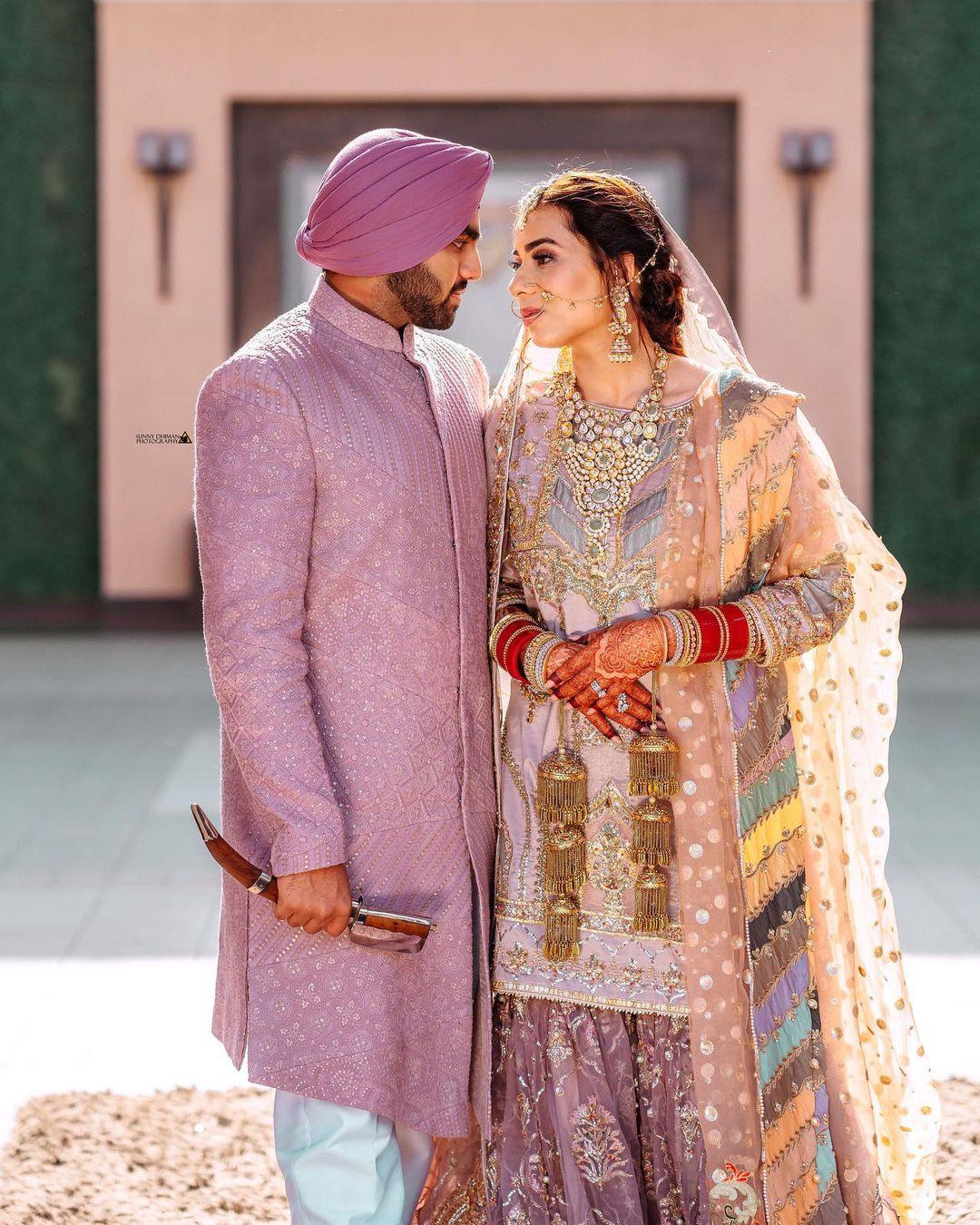 Another beautiful Kurta pyjama with a sherwani that flaunts delicate threadwork with minimal sequins, you will fall in love with the way this groom's outfit in the Pantone Color of 2022. A matching wedding Safa will work the magic! You will look amazing for your Sikh Wedding.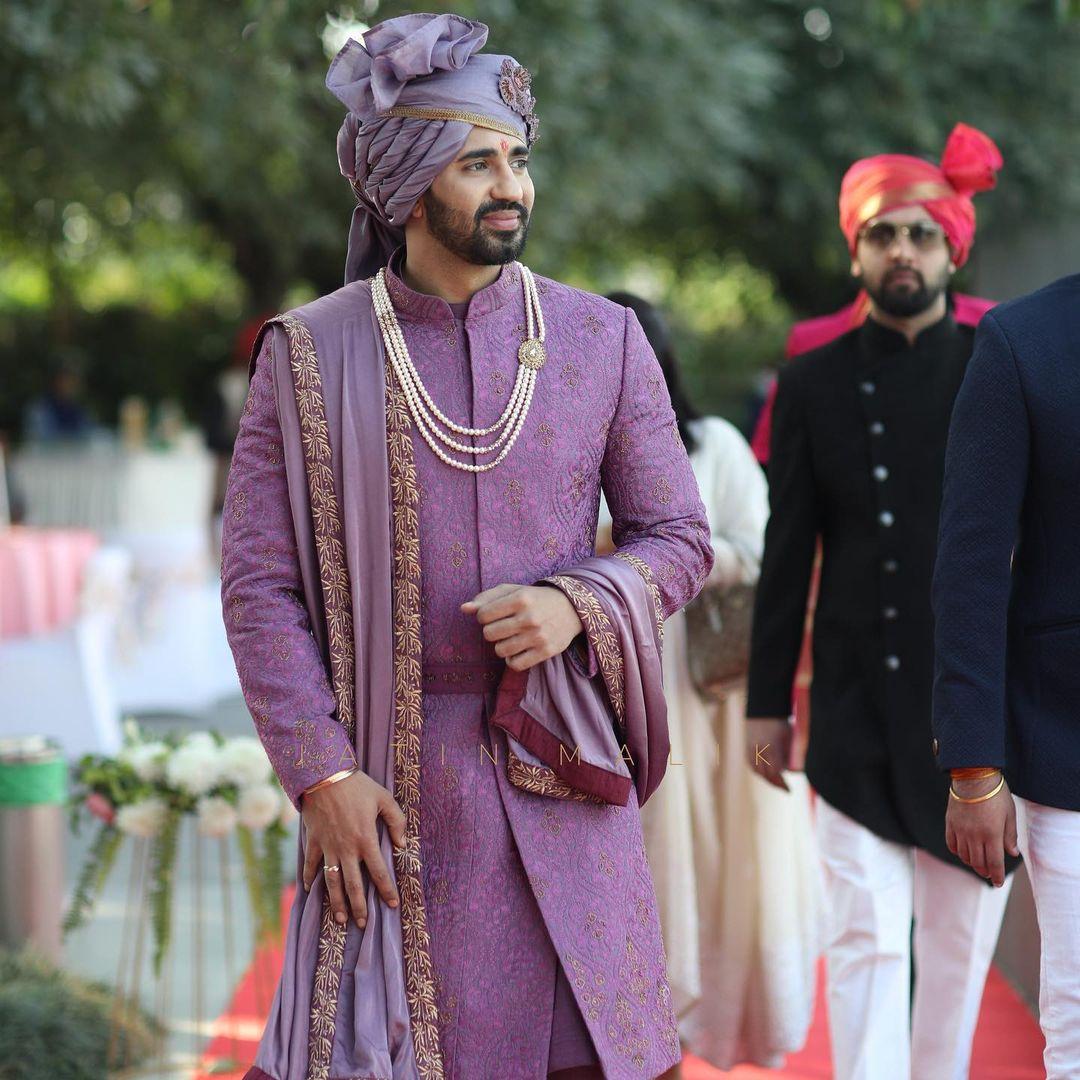 Image Courtesy: Pinterest
A royal outfit in every sense, this groom's wear is one of a kind. The colour is perfect to complement your bride in her pastel lehengas. You can even match your bride's purple lehenga on your D-day.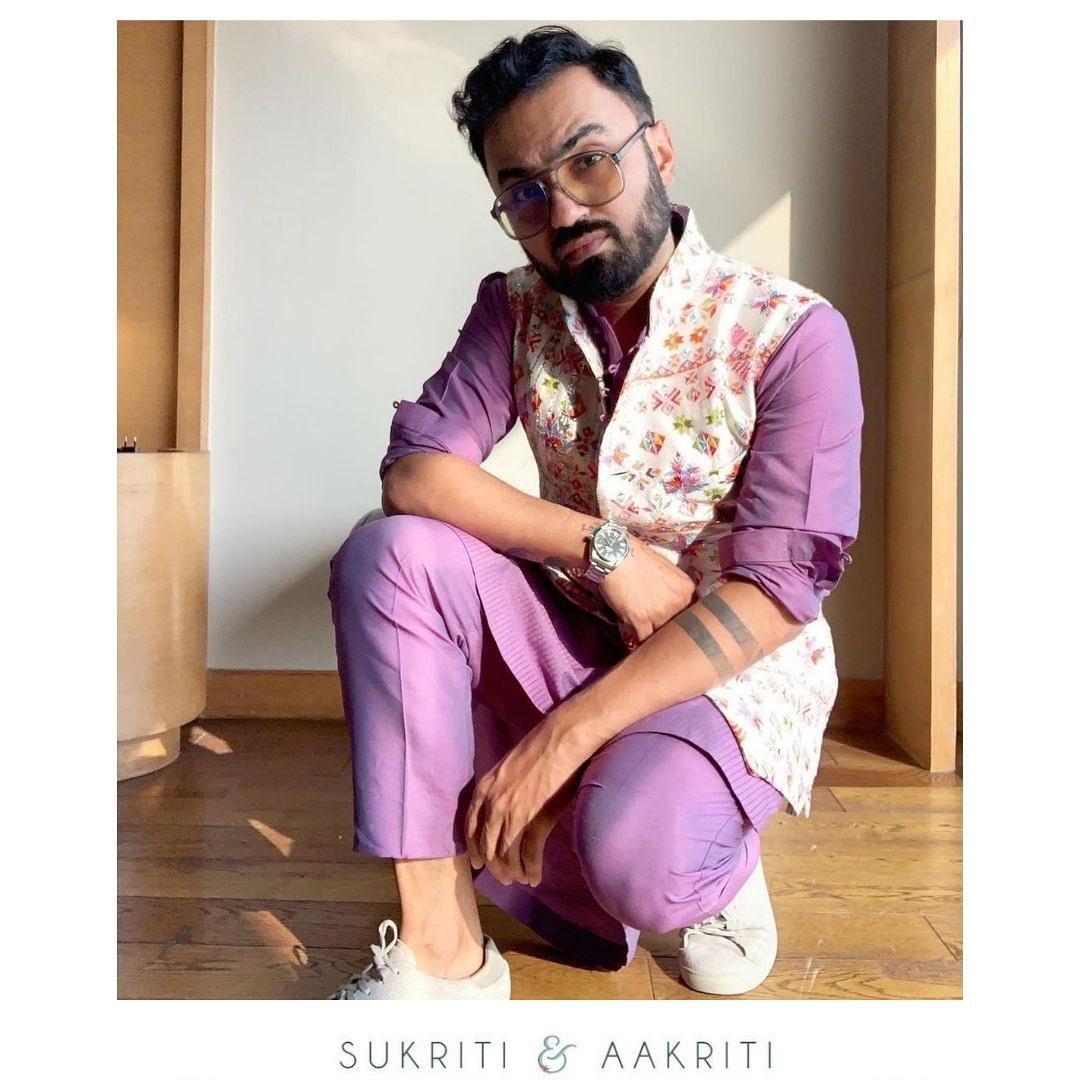 Image Courtesy: Sukriti & Aakriti
The uber-cool look that you create when you pair a Very Peri Pantone color 2022 shade Kurta Pyjama with Jacket for men. The floral Nehru Jacket paired with the sneakers and sunglasses sure defines your personality flawlessly.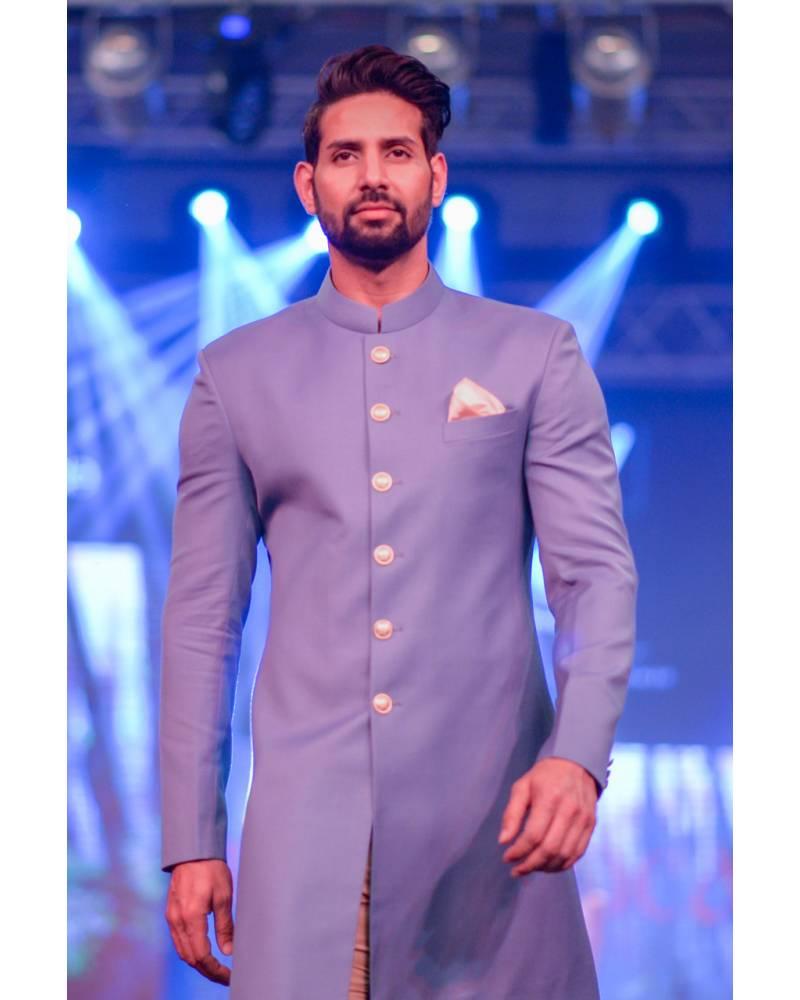 Image Courtesy: Mapxencars
Here is a cornflower blue sherwani with dull gold slim fit trouser set to help you win hearts on any special occasion where you plan to flaunt a traditional outfit.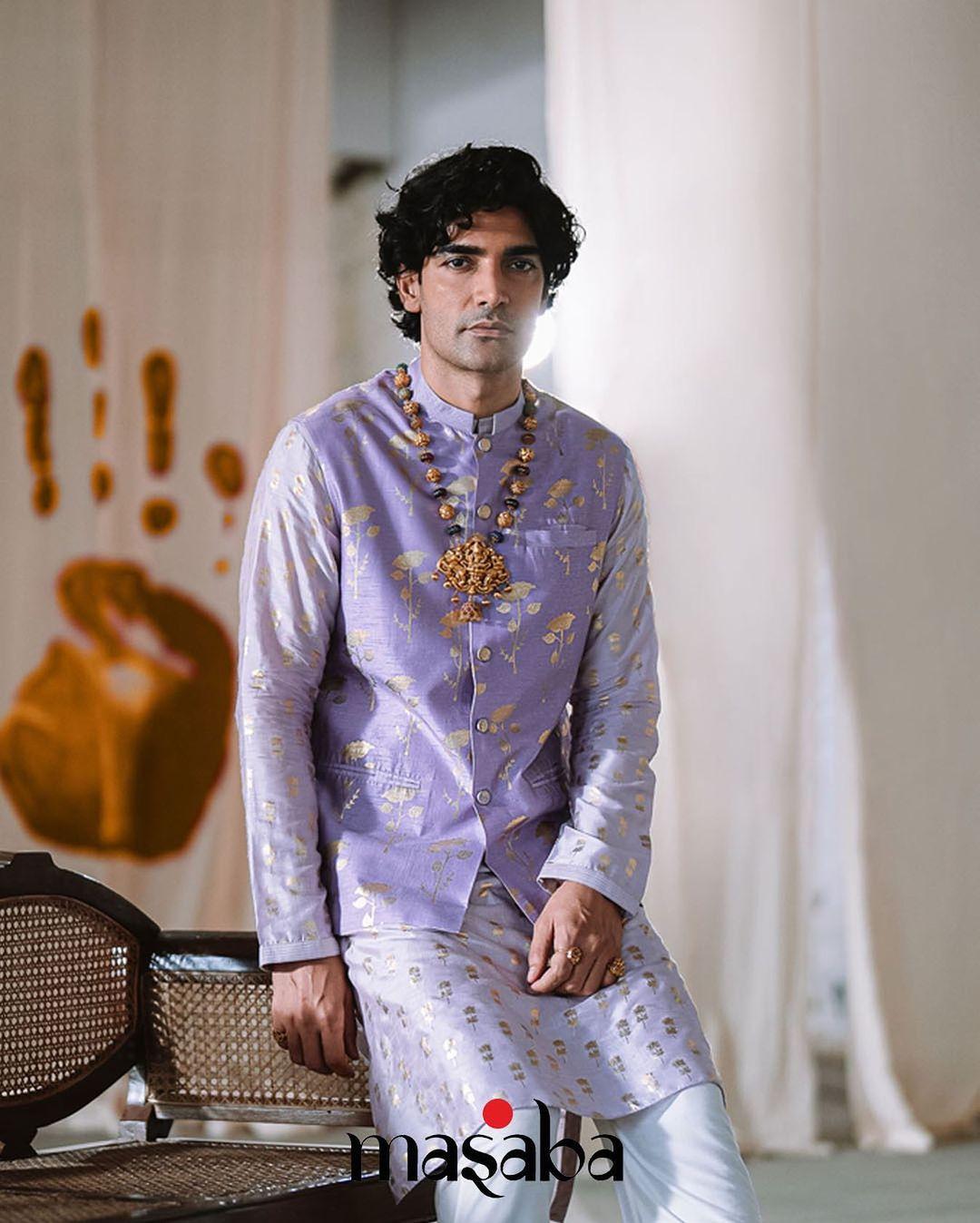 Image Courtesy: House of Masaba
Take a look at this Masaba Man kurta pyjama. This outfit is embodying functionality and style for the contemporary Indian Man and we are loving the look.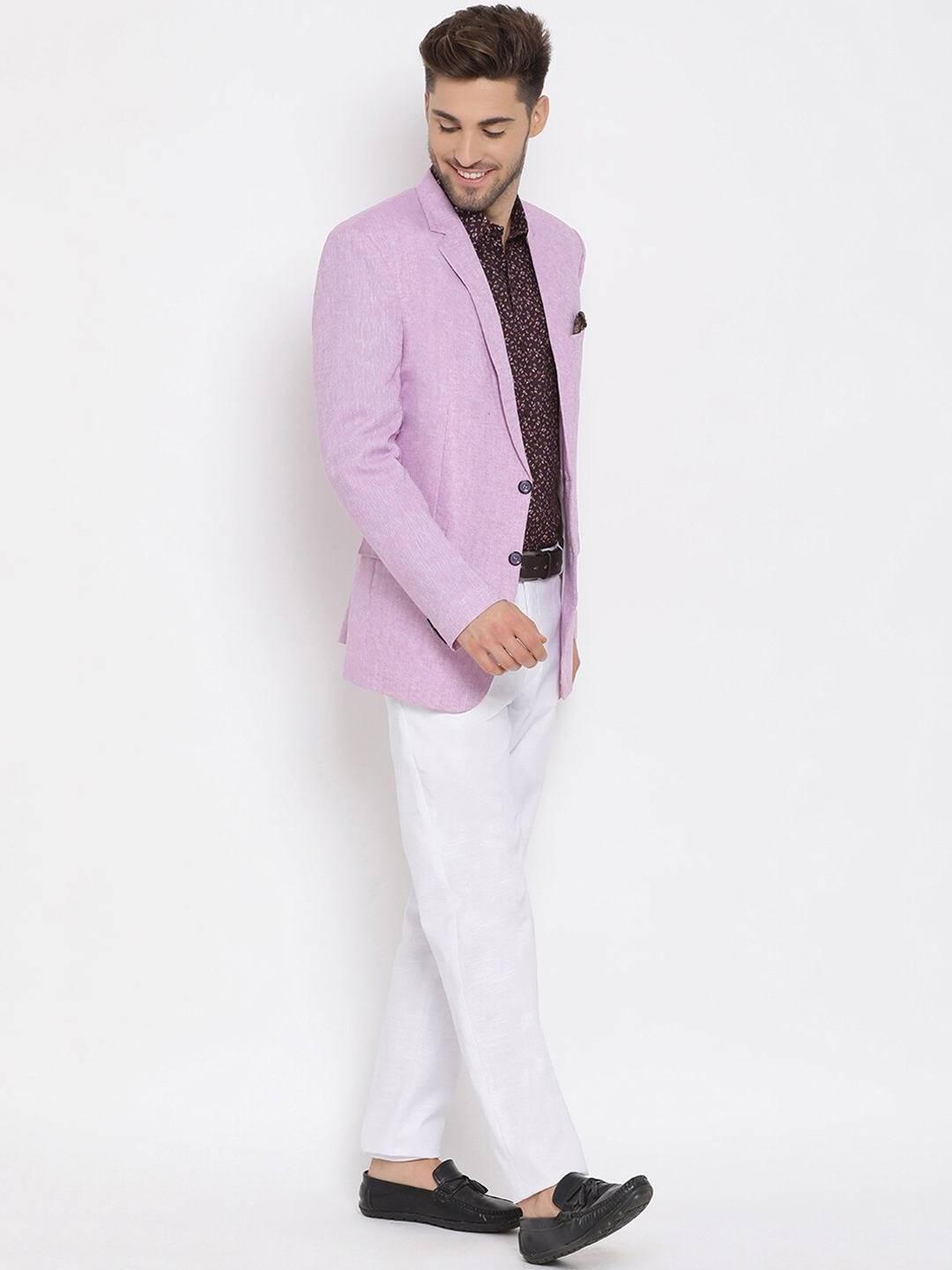 Image Courtesy: Indian Offer
A nice and summery affair, here is a Very Peri coloured summer jacket or a light blazer that can be paired with white trousers for a nice wedding brunch.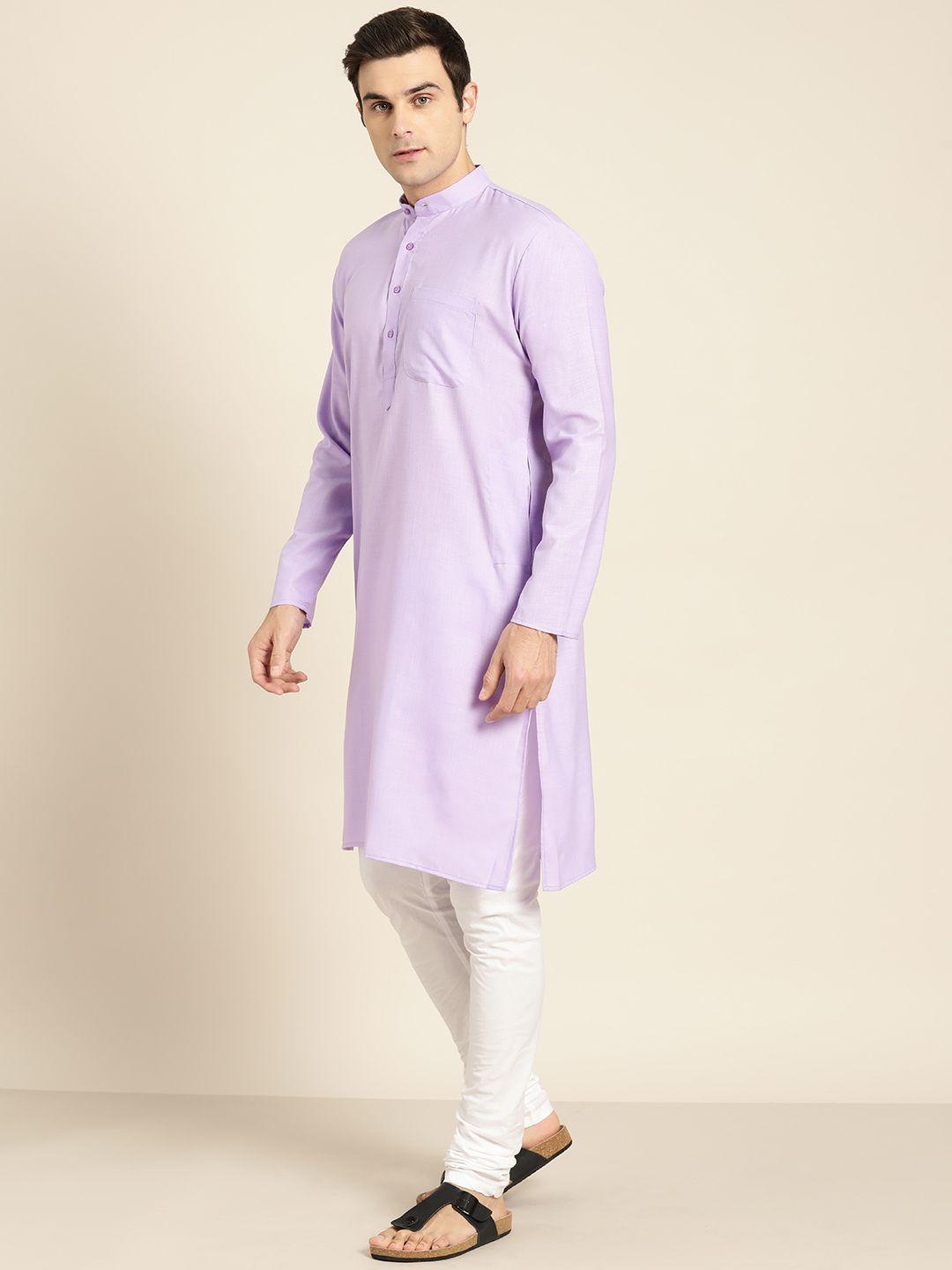 Image Courtesy: Sojanya
Keeping it simple and nice, this Very Peri kurta pyjama set is perfect for any kind of traditional celebration.
Also Read: Kurta With Jacket for Men: Handpicked Lookbook for the Wedding Season
Wedding Decoration
Wedding decoration is the main factor that brings your dream wedding to life. From fragments of your imagination to a mood board to finally the perfect wedding decor for your big day - the journey is exhilarating. To add to the delights of wedding decor, you can actually pick the Pantone color of 2022 as your wedding theme and use the colour in decking up your wedding venue.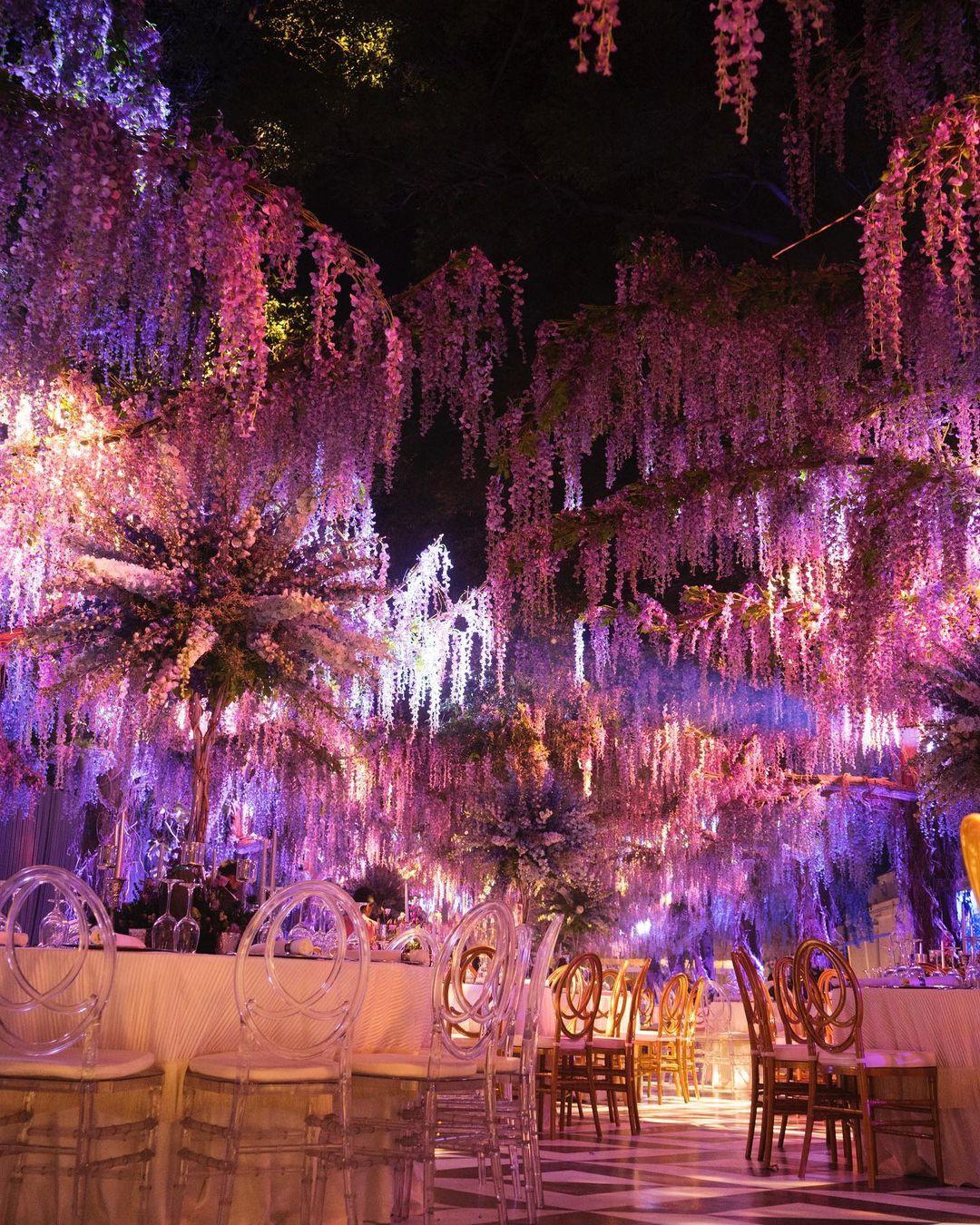 An enchanting mix of florals, the ample greens and chandeliers in this Very Peri wedding decoration creates all the visual volume and magic for you to make it unforgettable. The ghost chairs that are reflecting the dainty lights make it even more captivating.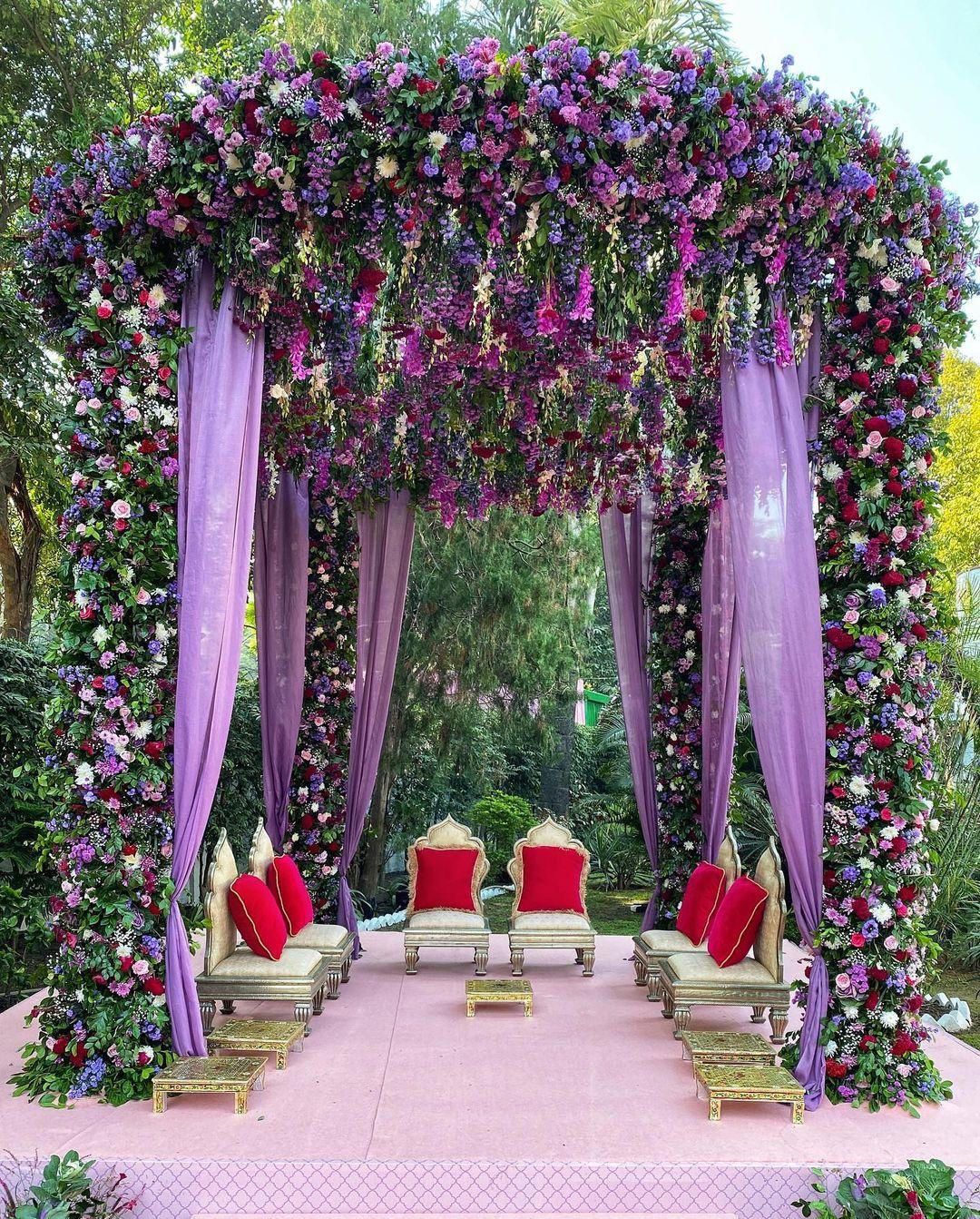 Love abloom, in hues of purple and pink! Quite the bold and unusual, but this decor flaunts the winter flowers in full bloom in all its glory. This wedding decoration is a living example that the area or space available at the venue will not restrict people from pouring out their creative hearts. The chrysanthemums, cockscombs, hydrangeas and roses - every flower was handpicked to build on to the colour story.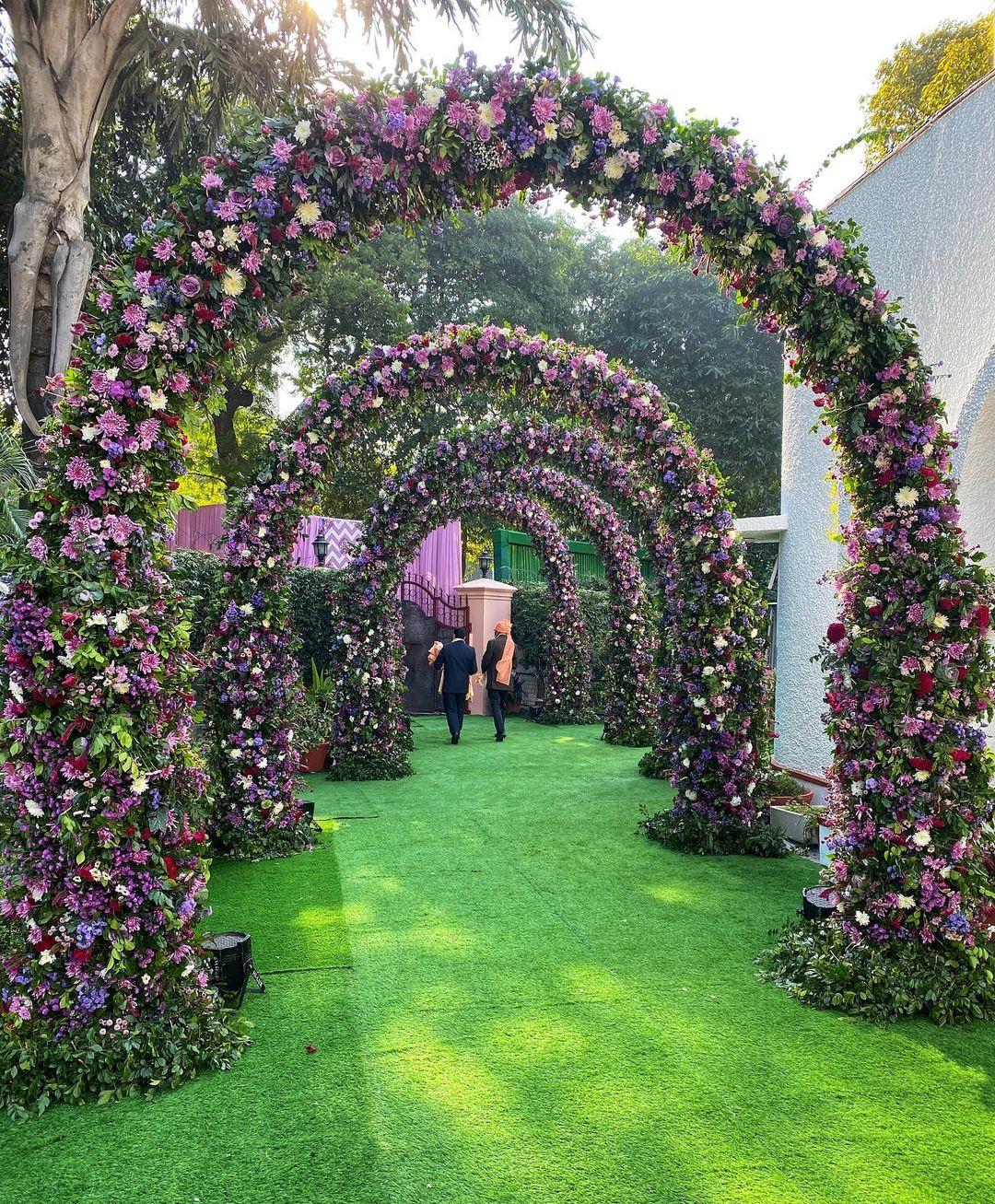 A series of floral archways with ample foliage decor in it along with the numerous flowers in full bloom, this kind of decor literally lights up the whole celebration and how!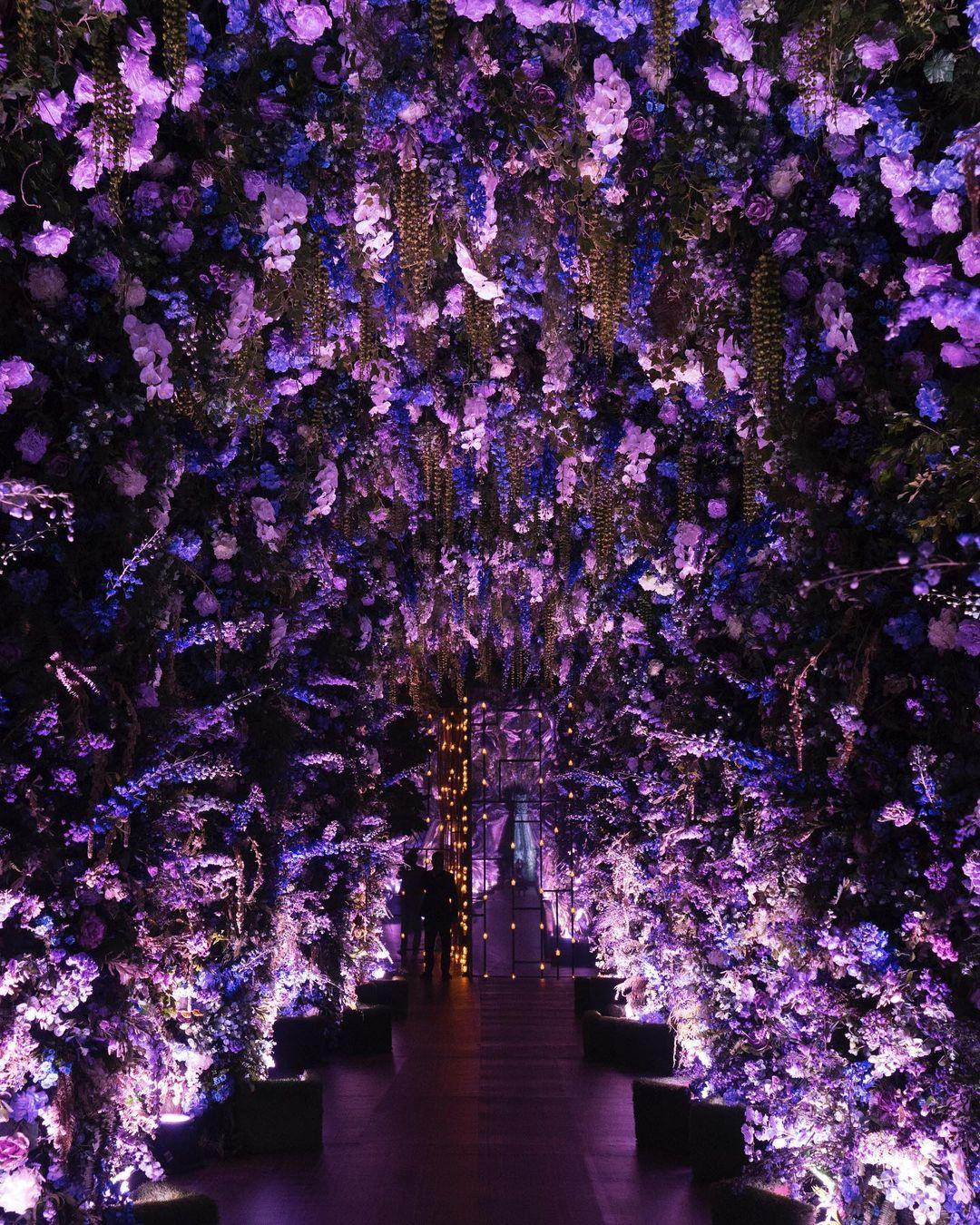 Documenting this gorgeous affair with little glimpses is an attempt to justify just how dreamy it was in reality. An enchanting mix of florals, greens and chandeliers is creating all the visual volume and magic at this Reception party!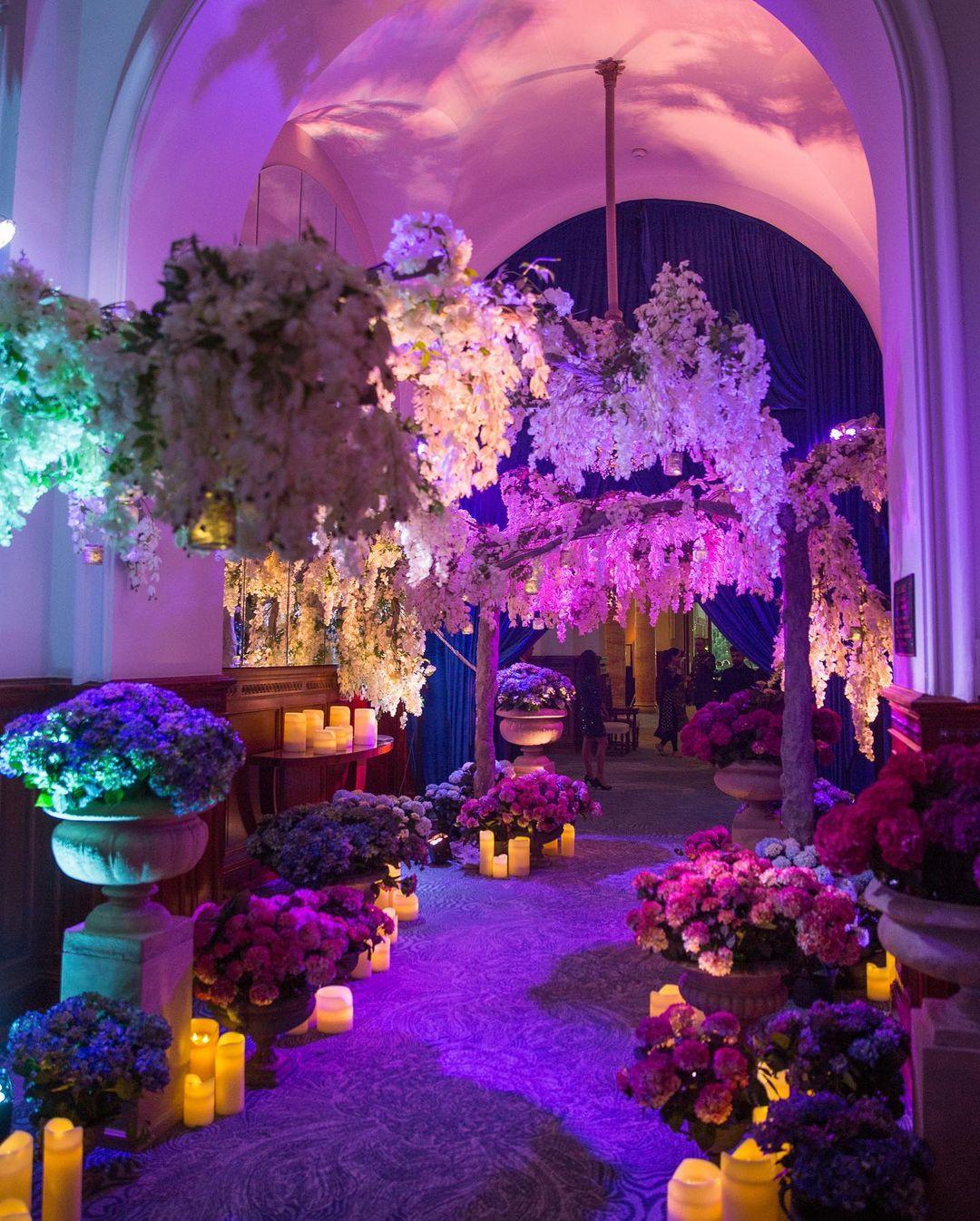 Keeping it magical as ever and implementing the Pantone Color of the year 2022, this wedding decor with mystical lights and foliage is to die for!
Also Read: 30+ Latest Wedding Stage Decoration Trends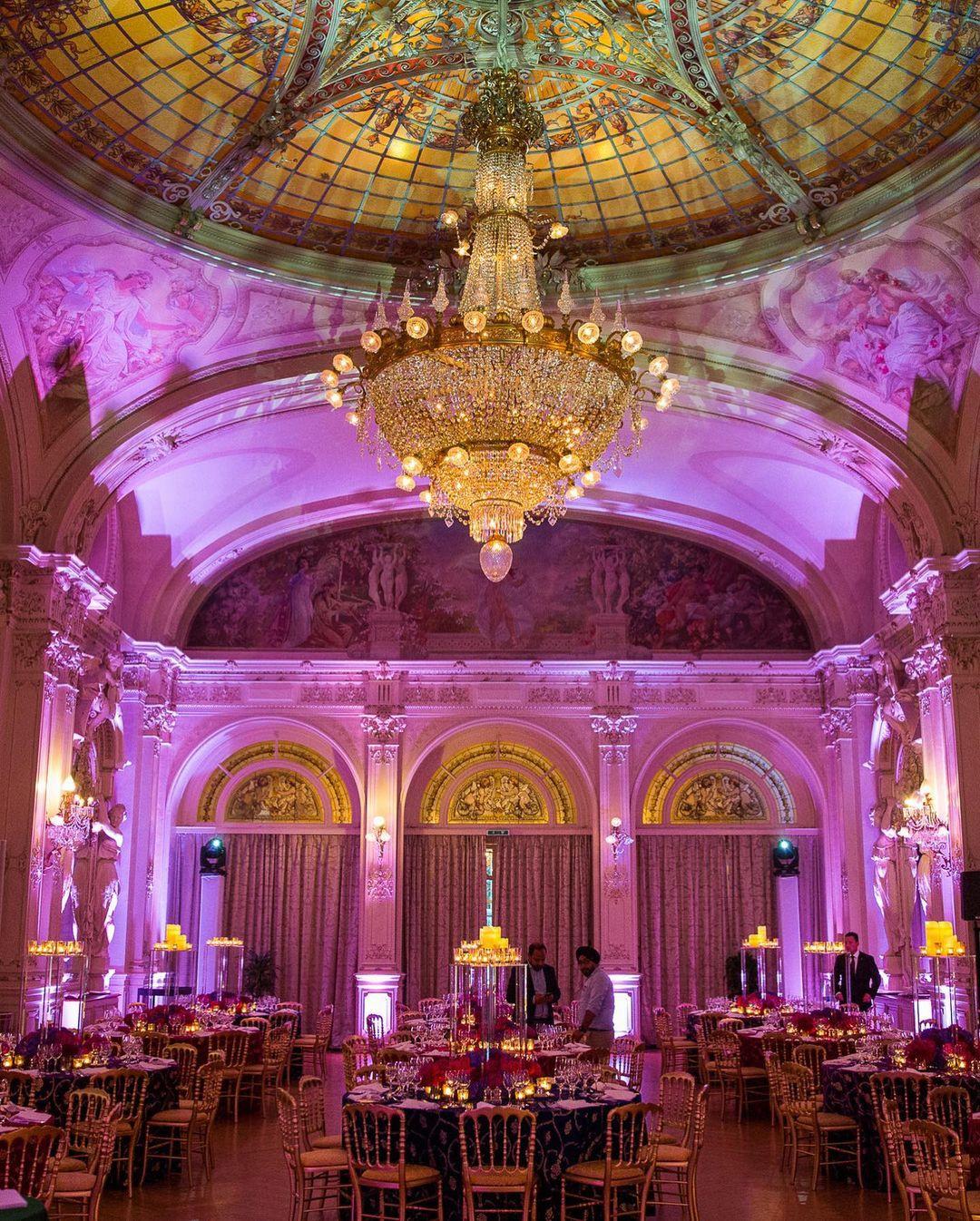 The combination of golden chandeliers with the Very Peri lights and setup is creating an enchanting space that will make your wedding celebration all the more alluring.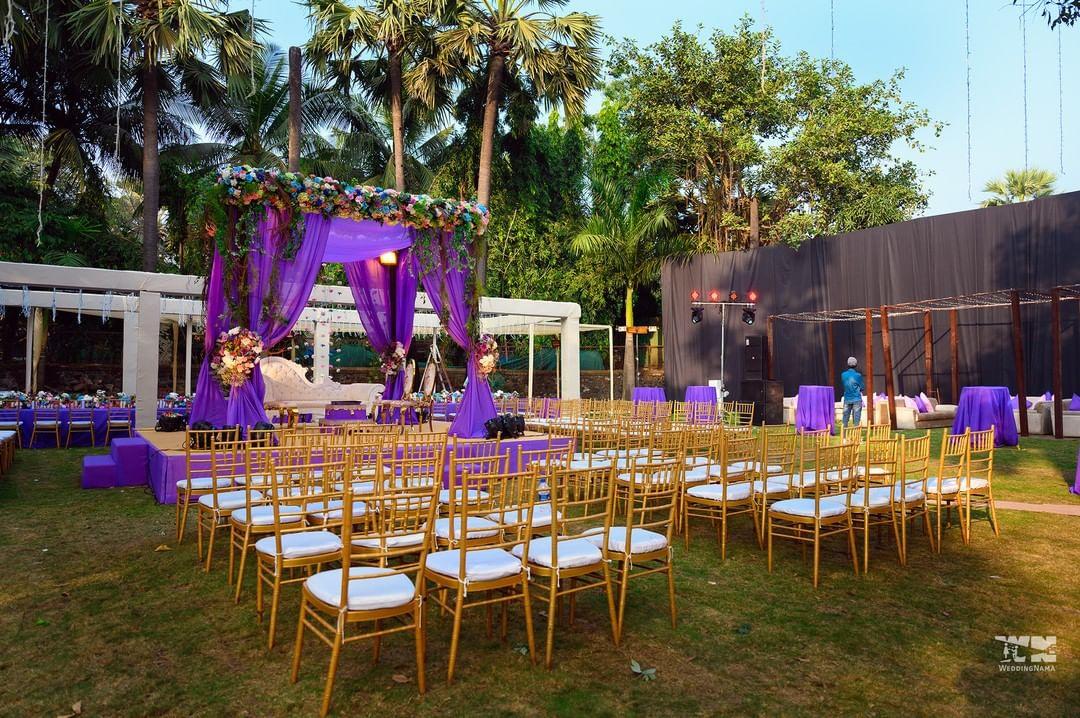 Sometimes, simple is beautiful! We are in love with this simple yet dreamy farmhouse wedding decor that uses drapes in the colour of the Pantone shade of 2022!
Miscellaneous Veri Peri at Weddings
Apart from the wedding outfits and wedding decorations, you can include Very Peri in your wedding through wedding cakes, wedding invitations, return gifts and so much more. We have listed a few ideas below!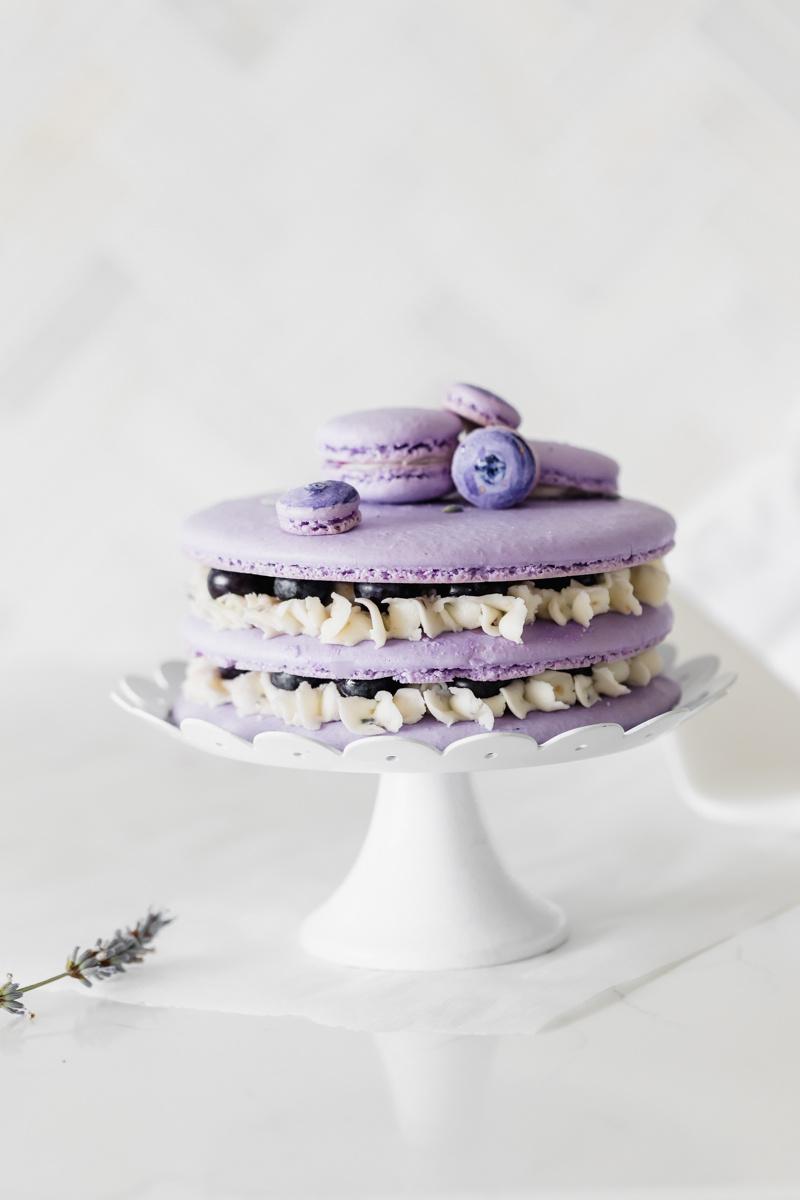 Image Courtesy: Posh Little Designs
As delectable as it looks, the colour of this simple macaroon cake is perfect for a day wedding. The size and layers of the cake can vary depending on your wedding guest list.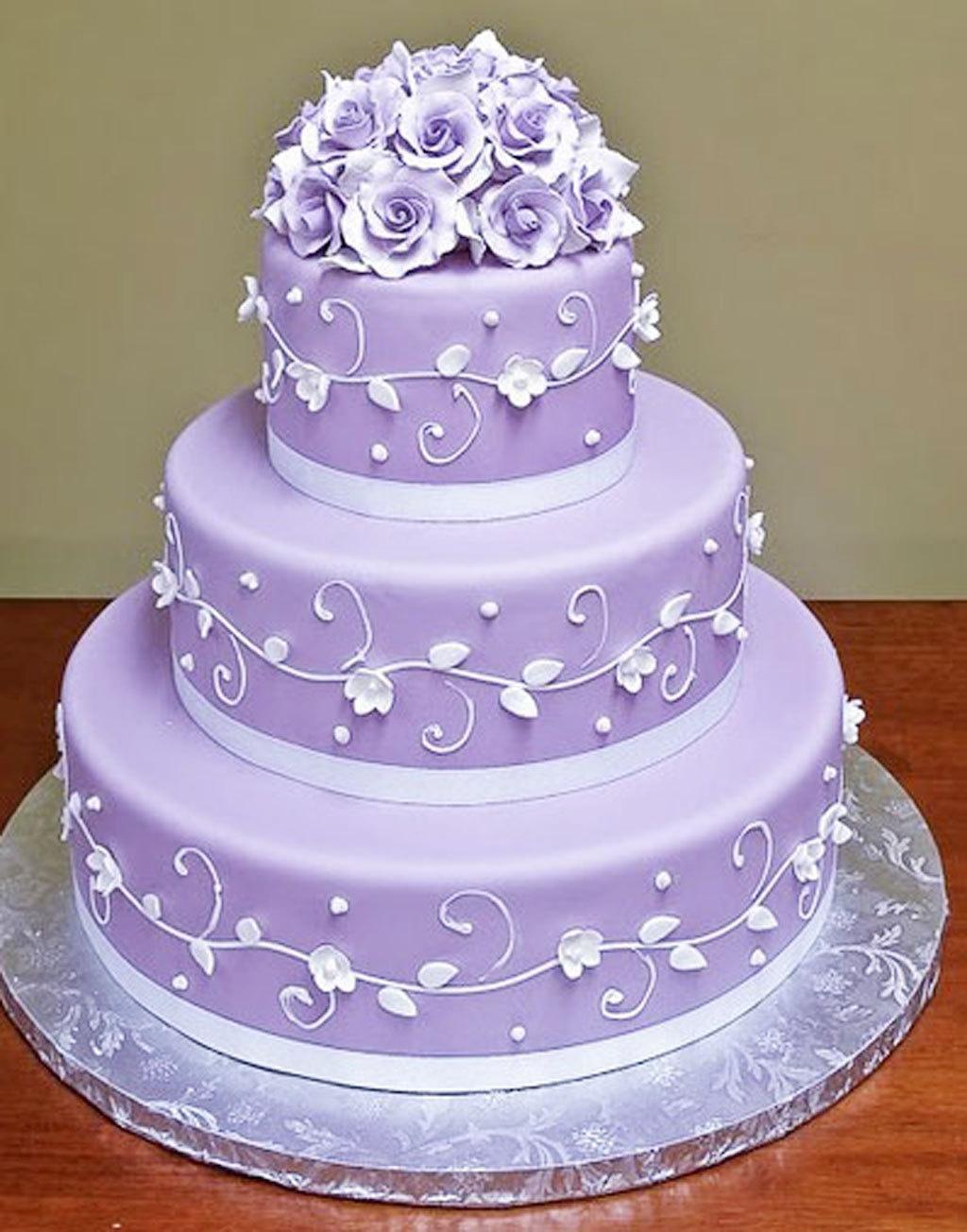 Image Courtesy: Walls Desk
Another scrumptious cake that is delightful to even look at, this three-tiered cake with white floral detailing looks delicate yet royal. Use any flavour of your choice as the base and make sure the fondant sits perfectly on your wedding cake.
Also Read: List of Latest Cake Designs That Look as Delish as They Taste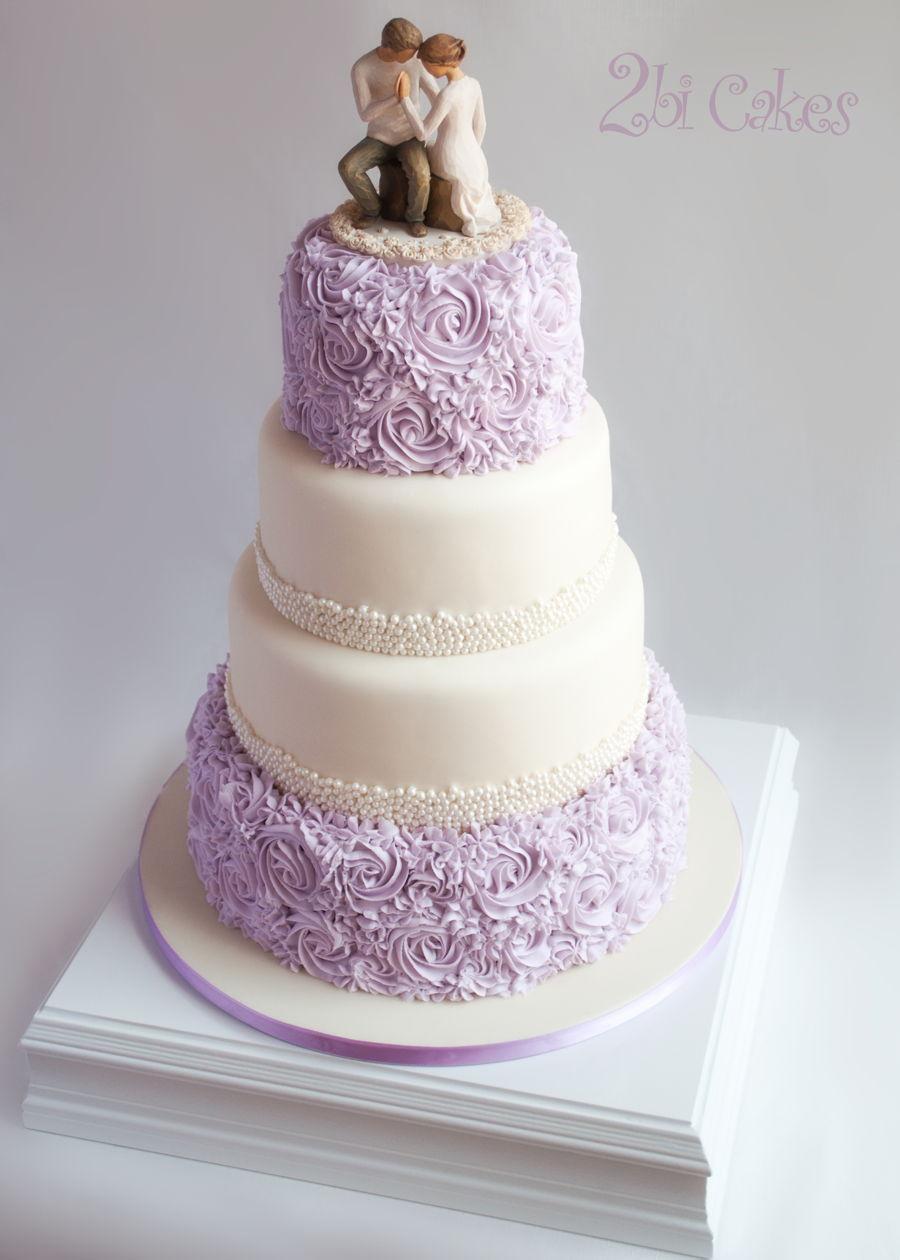 Image Courtesy: 2bi Cakes
For a fairytale wedding, you deserve a fairytale cake and this cake with the Pantone color 2022 floral swirls is a gastronomical ride you cannot miss. The cake topper is stealing hearts here.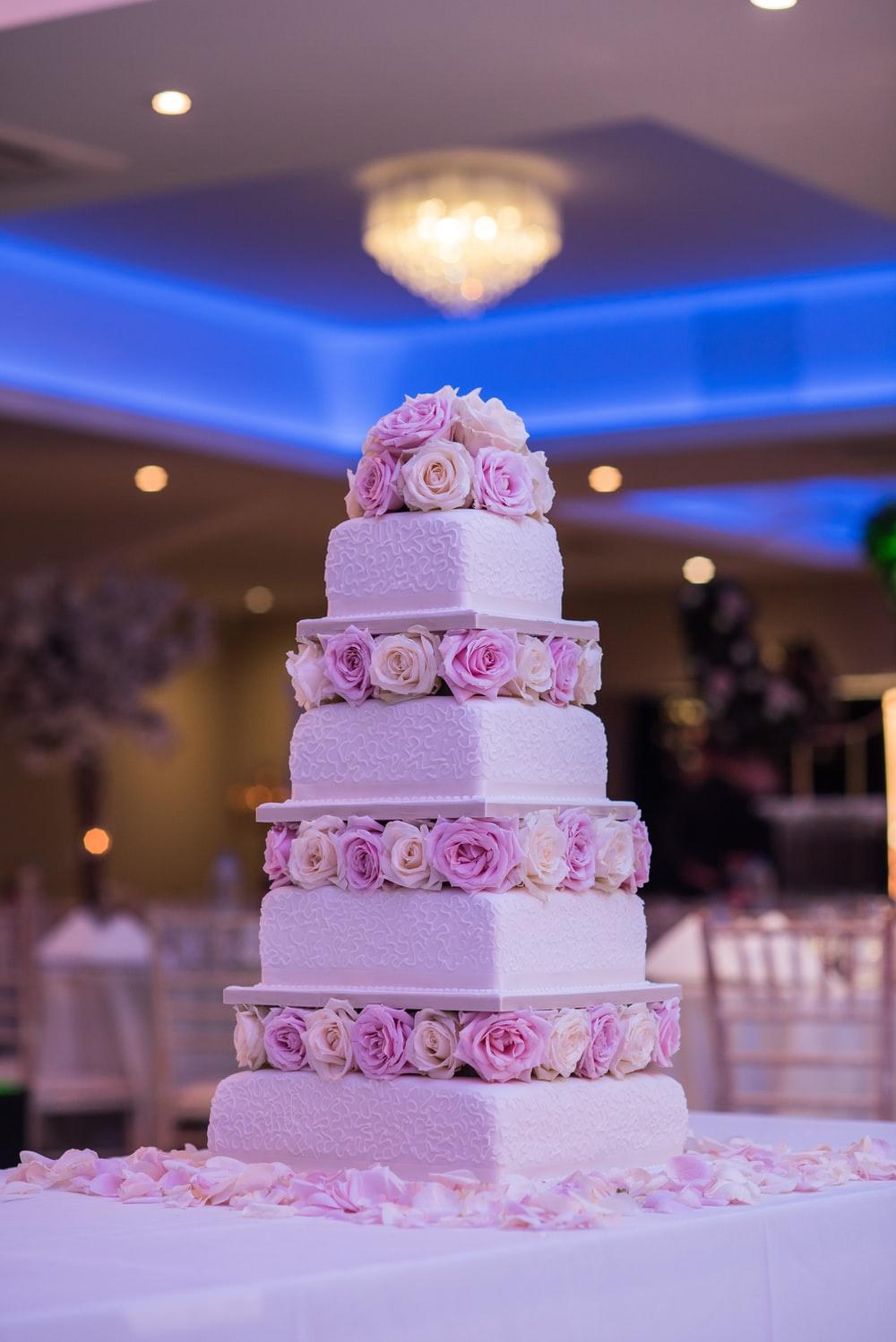 Image Courtesy: Pinterest
This wedding cake in the Very Peri shade is as royal as it gets when it comes to wedding cakes. You can pick the designs of your choice as per the theme of your wedding to make it extra special.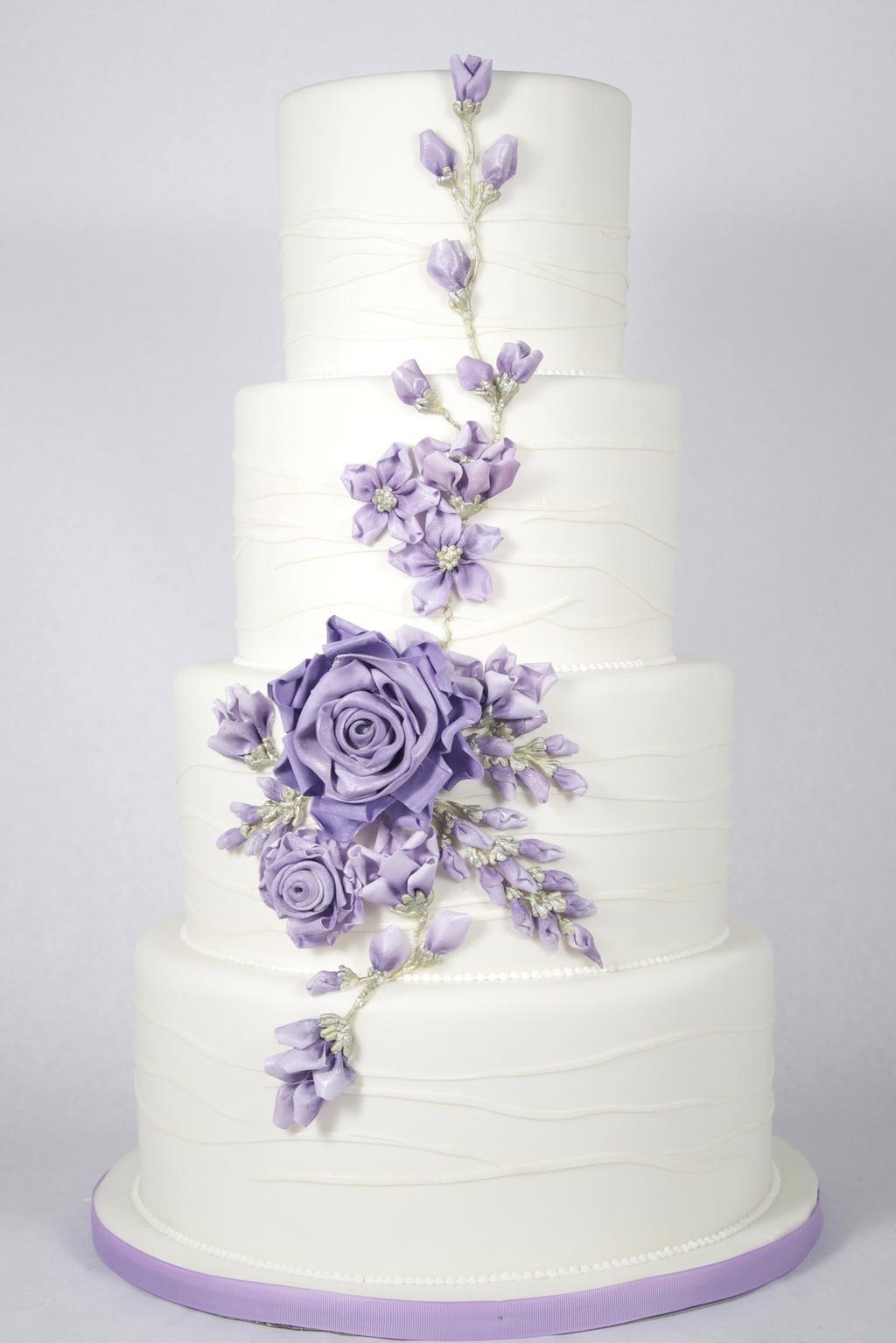 Image Courtesy: Tumblr
As dainty as the cake looks, keeping the significance of white wedding cakes intact, the Very Peri roses on the cake are winning this!
Did you finalise a way to include the Pantone color 2022 in your wedding? Let us know in the comments below.
Read More -
Mehndi Design | Proposal Lines | Simple Finger Mehndi Design | Arabic Mehndi Design | Propose Day Quotes for Boyfriend | Wedding Anniversary Wishes for Sister | Change Aadhar Card Name after Marriage | Tamil Wedding Calendar | Simple Mehndi Design | Pre Wedding Quotes | Engagement Anniversary Wishes | Funny Wedding Wishes for Bestfriend | Blouse Design | Rangoli Design | First Night Tips for Bride | Wedding Anniversary Wishes