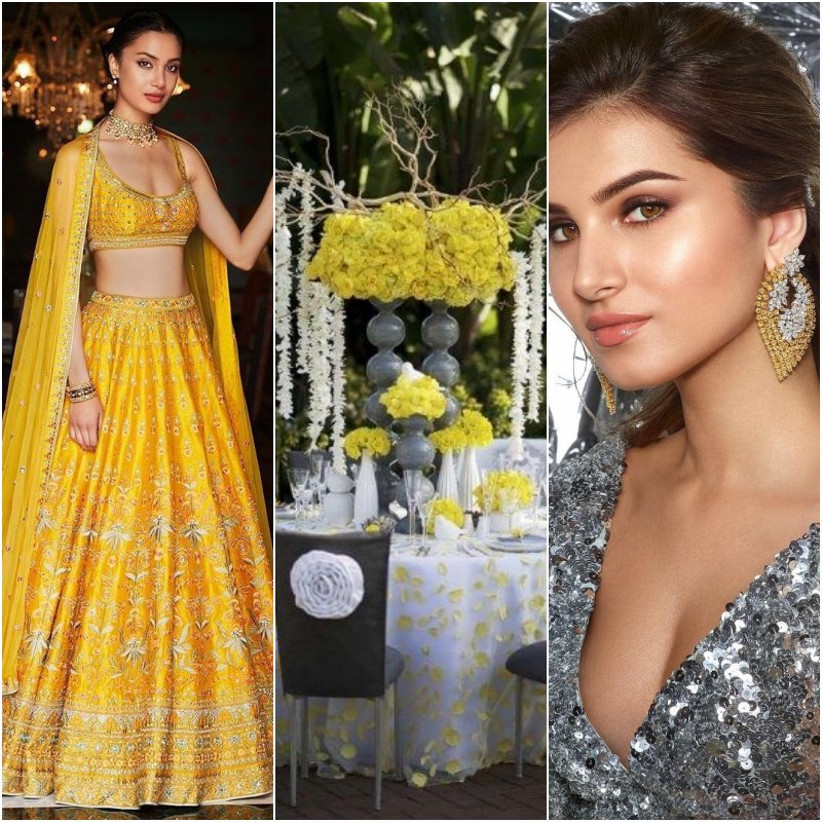 Image Credits - Anita Dongre (L), Pinterest (C), Hazoorilal Legacy (R)
On December 9, 2020, Pantone announced the new colours of the year 2021 - PANTONE 17-5104 Ultimate Gray and PANTONE 13-0647 Illuminating. For the second time in 22 years, Pantone chose two shades to express a marriage of colours that convey a message of strength. Highlighting the importance of two very different elements that can exist independently but can also come together to support one another -Pantone chose the bright and vivacious Yellow that represents strength and hope in new beginnings and the firm and dependable Grey, that represents fortitude. At the end of the challenging year 2020, these colours brought hope and combined playfulness and solemnity together to spark positivity in different aspects of our life.
Talking about the spirit of the colours, Leatrice Eiseman - Executive Director of the Pantone Color Institute shares, "The union of an enduring Ultimate Gray with the vibrant yellow illuminating expresses a message of positivity supported by fortitude. Practical and rock solid but at the same time, warming and optimistic this is a colour combination that gives us resilience and hope. We need to feel encouraged and uplifted; this is essential to the human spirit."
The Yellow and Gray colour story brings forth a narrative of thoughtfulness and shares the promise of positive beginnings. We are in awe of the cheerful vibes of Yellow and the dependable elements of gray. Together these colours are vivacious as well as sublime and classy - a powerhouse that reminds us the solar power and yet steady, resilient and composed!
Spread the vibes of these colours at your 2021 wedding! Here's how to incorporate PANTONE 17-5104 Ultimate Gray and PANTONE 13-0647 Illuminating together or independently in your wedding celebrations.
Wedding Fashion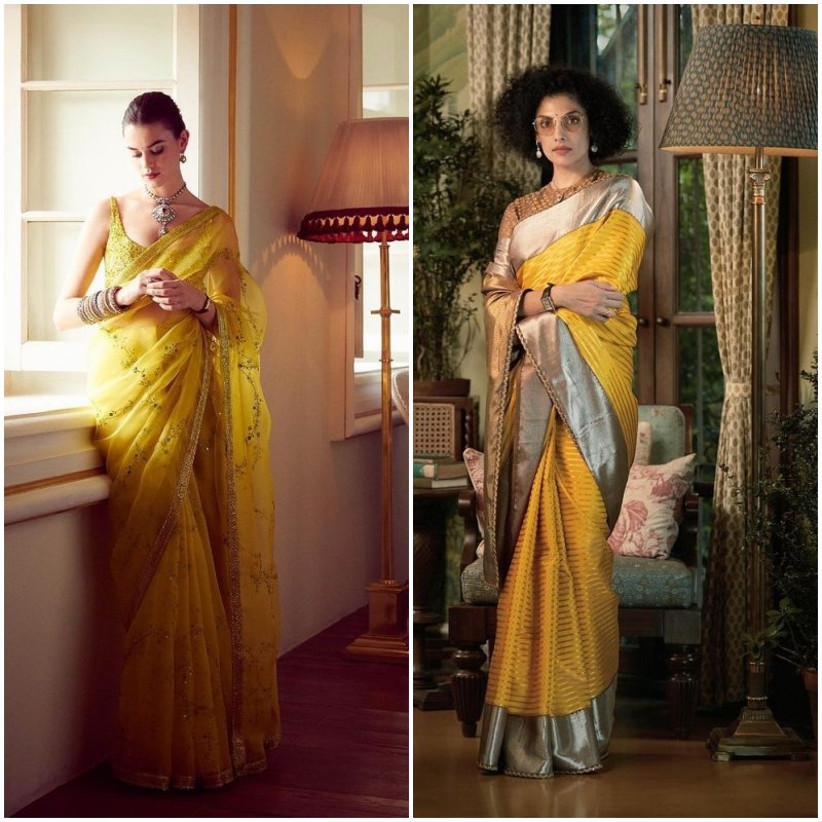 Image Credits - Sabyasachi
The combination of an illuminating yellow with a sublime grey adds sheer elegance to various saree designs perfect for wedding guest's fashion. From sheer organza sarees to kanjeevaram sarees, you can either add these to your wedding trousseau or splurge on these designs for a family wedding.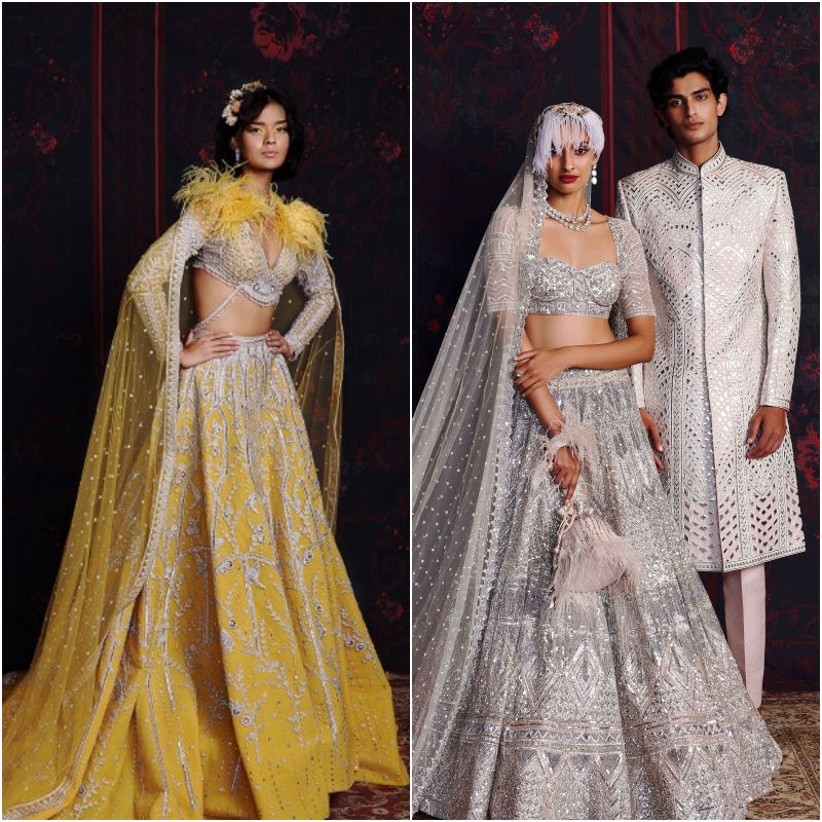 Image Credits - Falguni Shane Peacock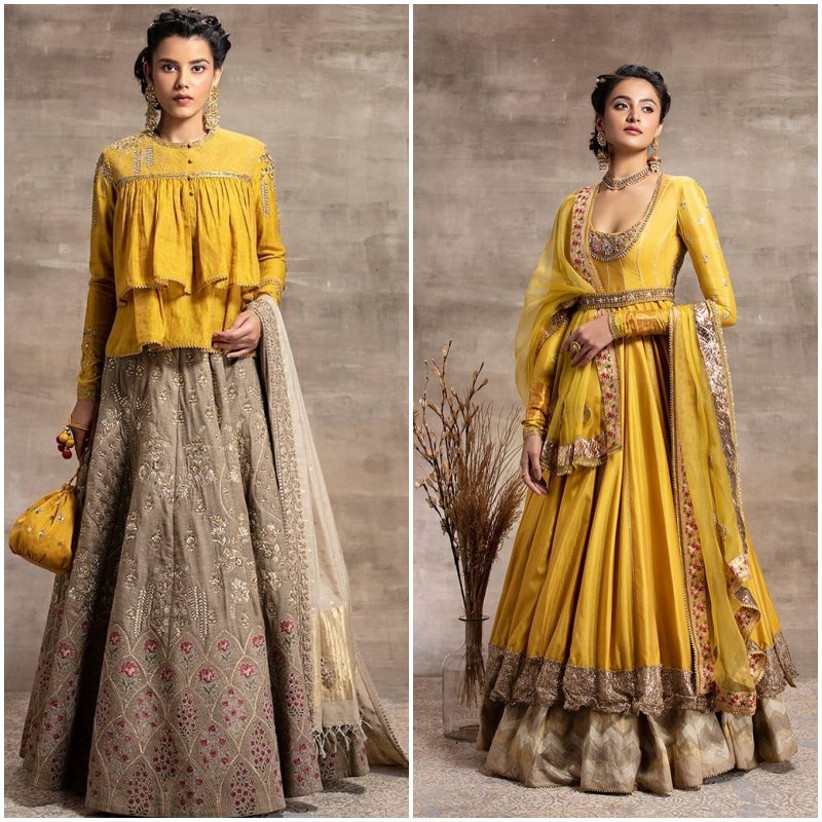 Image Credits - Anju Modi
Pantone's colour of the year 2021 can also add oodles of charm to anarkalis and lehengas. Anju Modi's Diwali 2020 edit narrated a beautiful soiree reflecting a bride's many moods. From the bright and happy yellow, to the calm and composed grey, her designs were washed in this beautiful palette.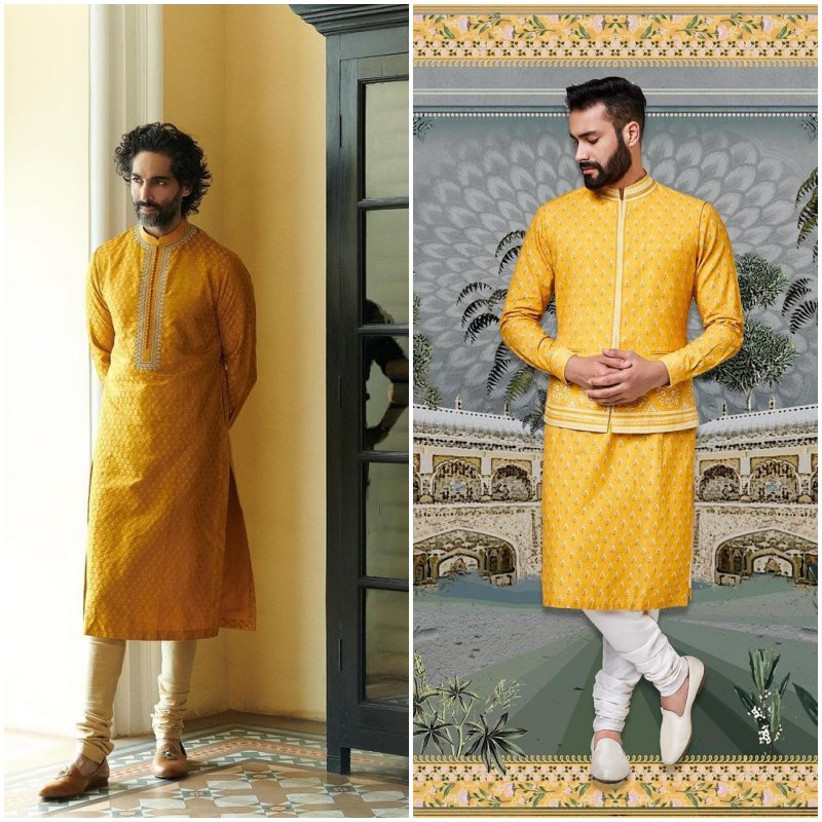 Image Credits - Sabyasachi (L), Anita Dongre(R)
Dear men/grooms-to-be, yellow might not be on the top of your radar but these kurtas are the epitome of style! Carry these designs from Sabyasachi or Anita Dongre with style at your haldi ceremony and set some serious groom's fashion inspiration.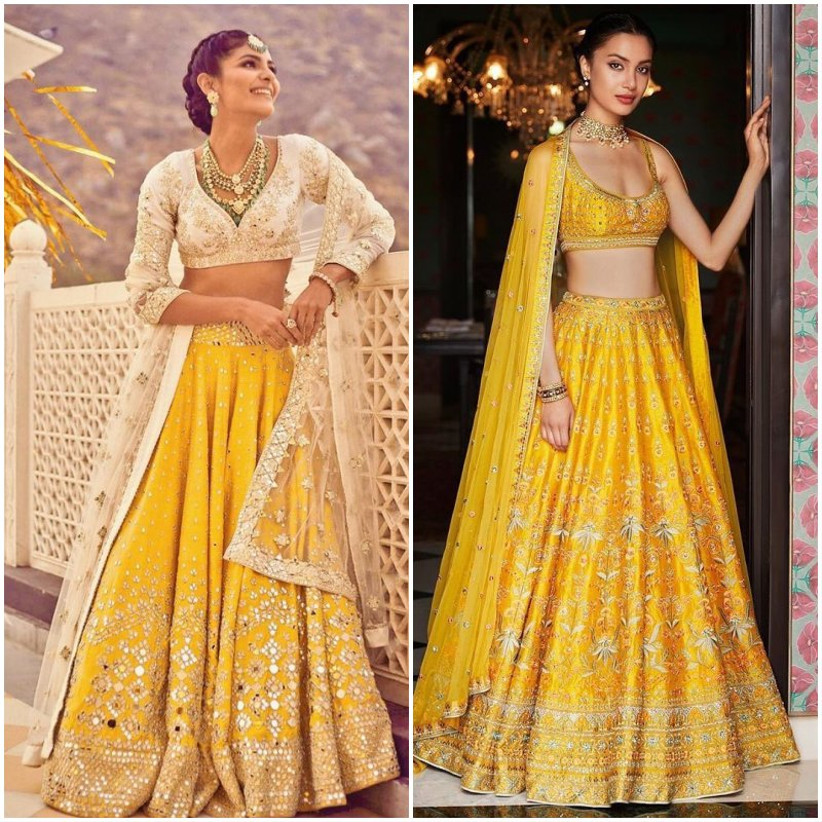 Image Credits - Abhinav Mishra (L), Anita Dongre(R)
Drape yourself in the beauty and allure of the sunshine colour - yellow for your haldi ceremony. These absolutely pretty and dainty lehengas from Abhinav Mishra and Anita Dongre are summer dreams and how! Bring the Pantone colour of the year 2021to your wedding trousseau with a cheerful yellow lehenga.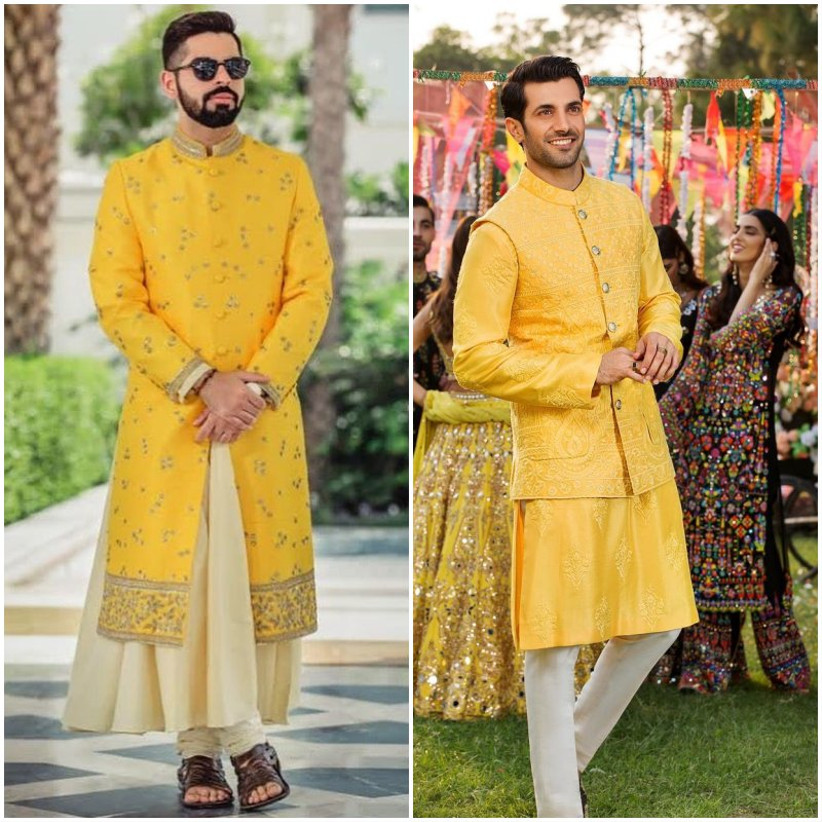 Image Credits - Recall Pictures (L), Nomi Ansari(R)
From vibrant manarkalis to embroidered waist coats and kurta in monochrome yellow, the radiance belongs to the grooms this year! Embrace androgynous fashion and choose Pantone's colour of the year 2021 for your sangeet or haldi ceremony.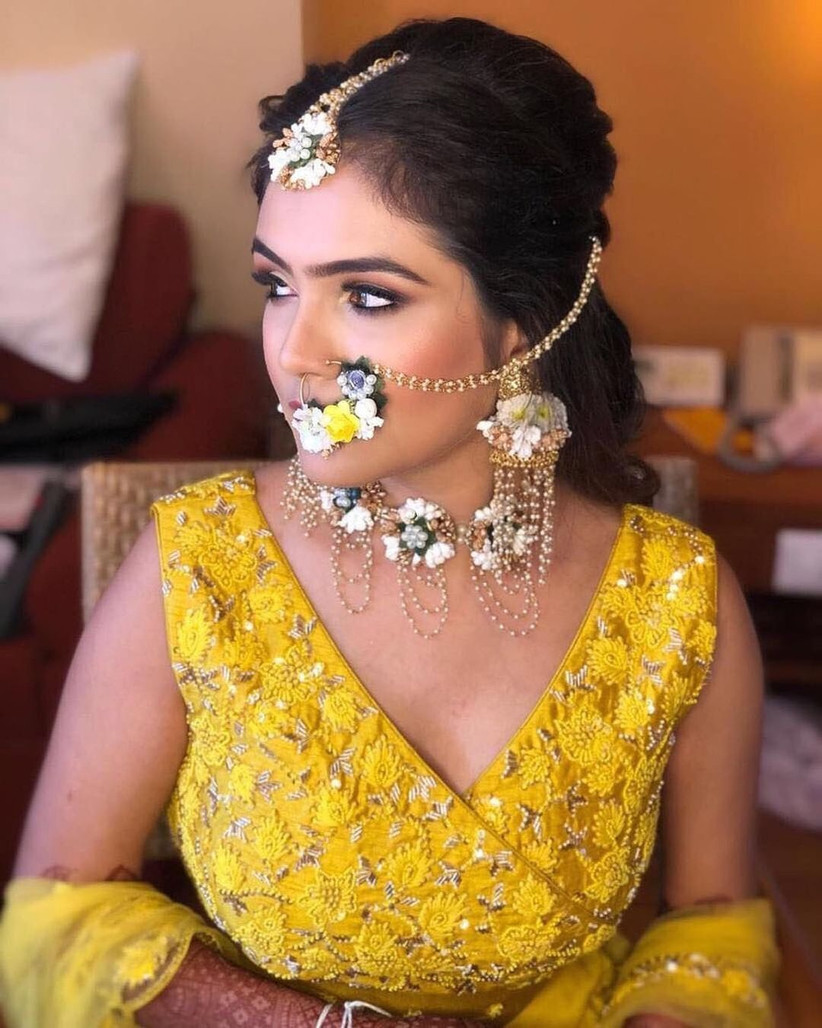 Image Credits - Floraisa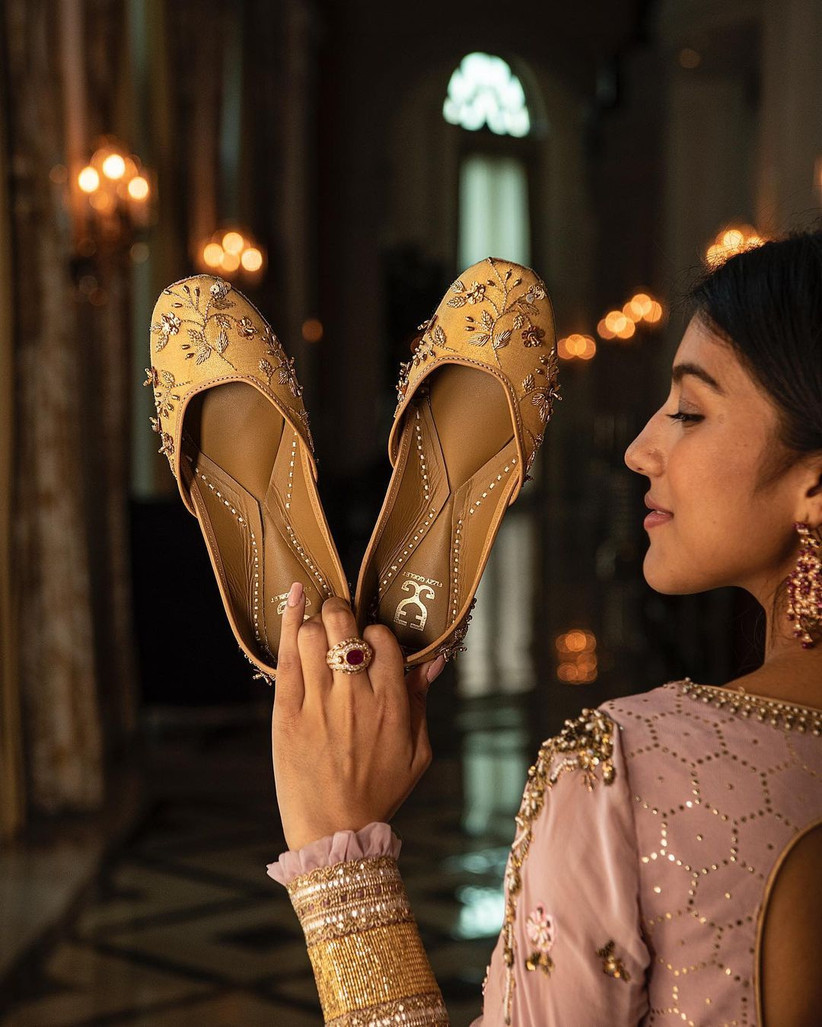 Image Credits - Fizzy Goblet
Bring in the sunshine along with accents of grey to your accessories trunk. You can achieve perfection in complementing these yellow accessories by pairing yellow with yellow, yellow accessories with lehengas and anarkalis painted in pastel pink, peach, white, grey or metallic, and outfits drenched in shades of blue.
Wedding Decoration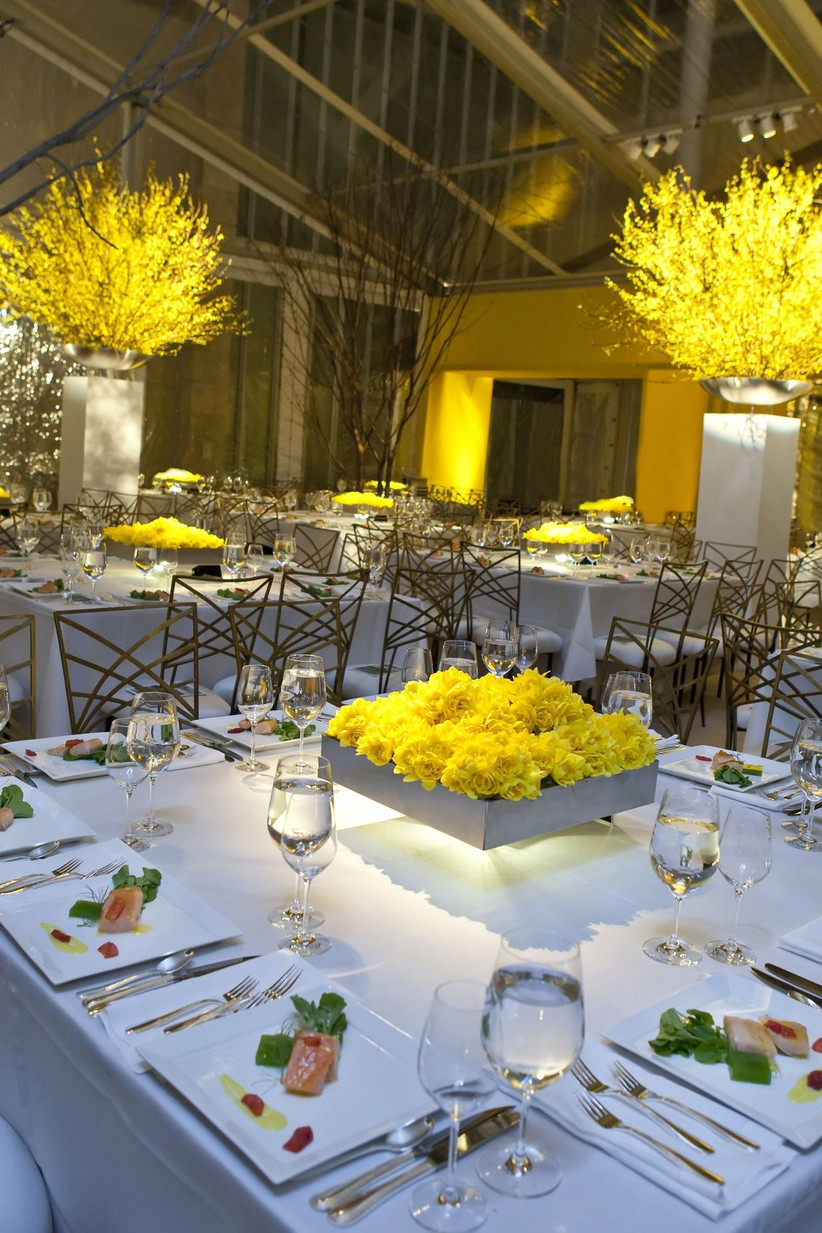 Image Credits - Pinterest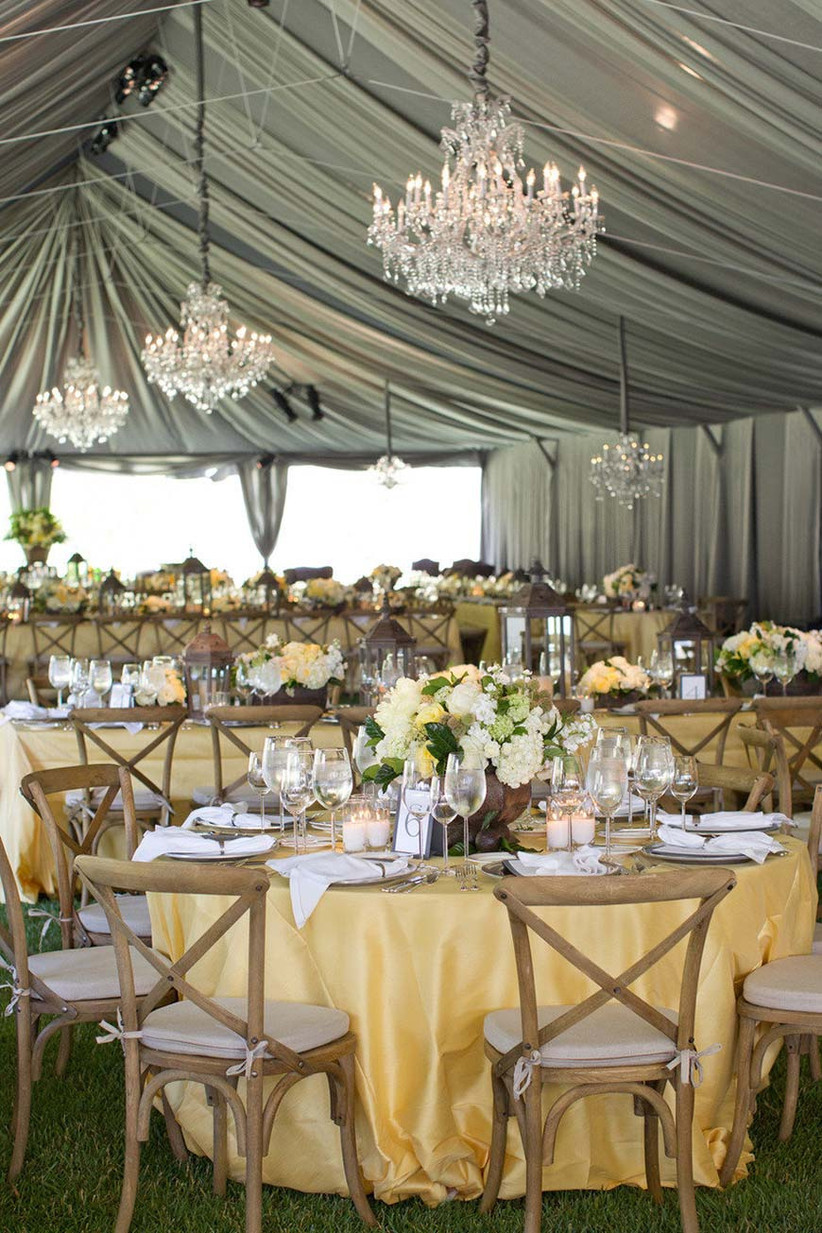 Image Credits - Aaron Deliesie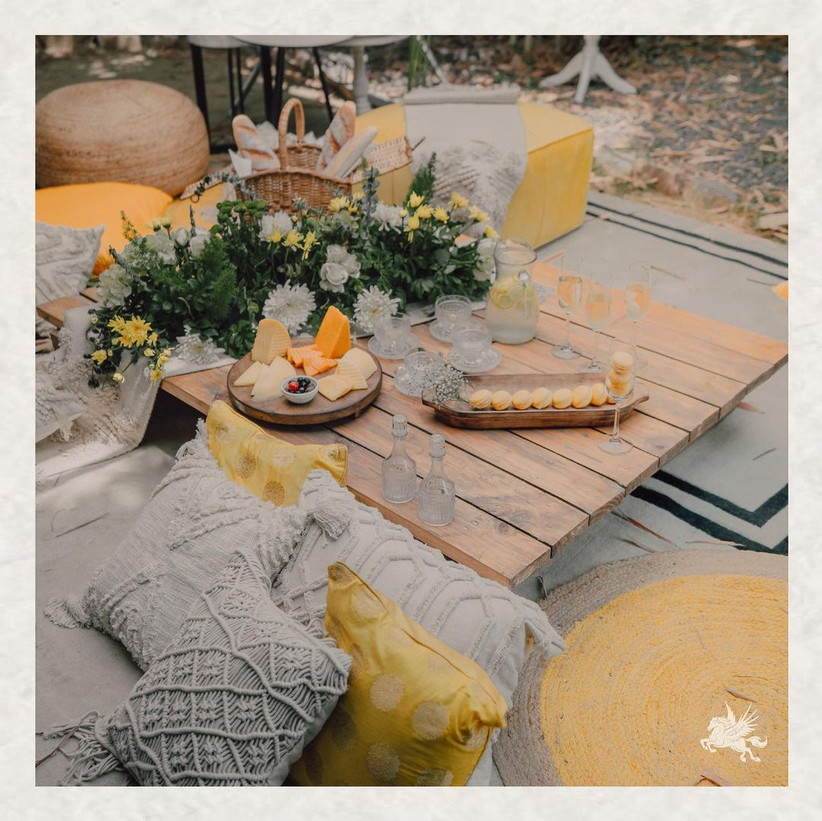 Image Courtesy - Rashi Nidhi Events
Here's how you can incorporate the cheerful yellow with the sublime grey shade to your wedding -
Add centrepieces - big grey vases with a large bunch of yellow flowers, or white glass vases embroidered with grey and light yellow flowers on the top for a minimal look.
Grey table clothes with yellow napkins and runners. These runners can also be embroidered with white or light blue prints or designs to accentuate the look of the table set up.
Add yellow monograms to your table set ups - salad tables, wedding sanitiser stations.
Paint wooden signs or props in yellow to add some funk to your venue decor.
Add grey table cloths and layer the centre of the table with beautifully designed yellow candles.
Fill seating spaces with yellow and grey cushions - choose different embroideries that might complement each other.

Others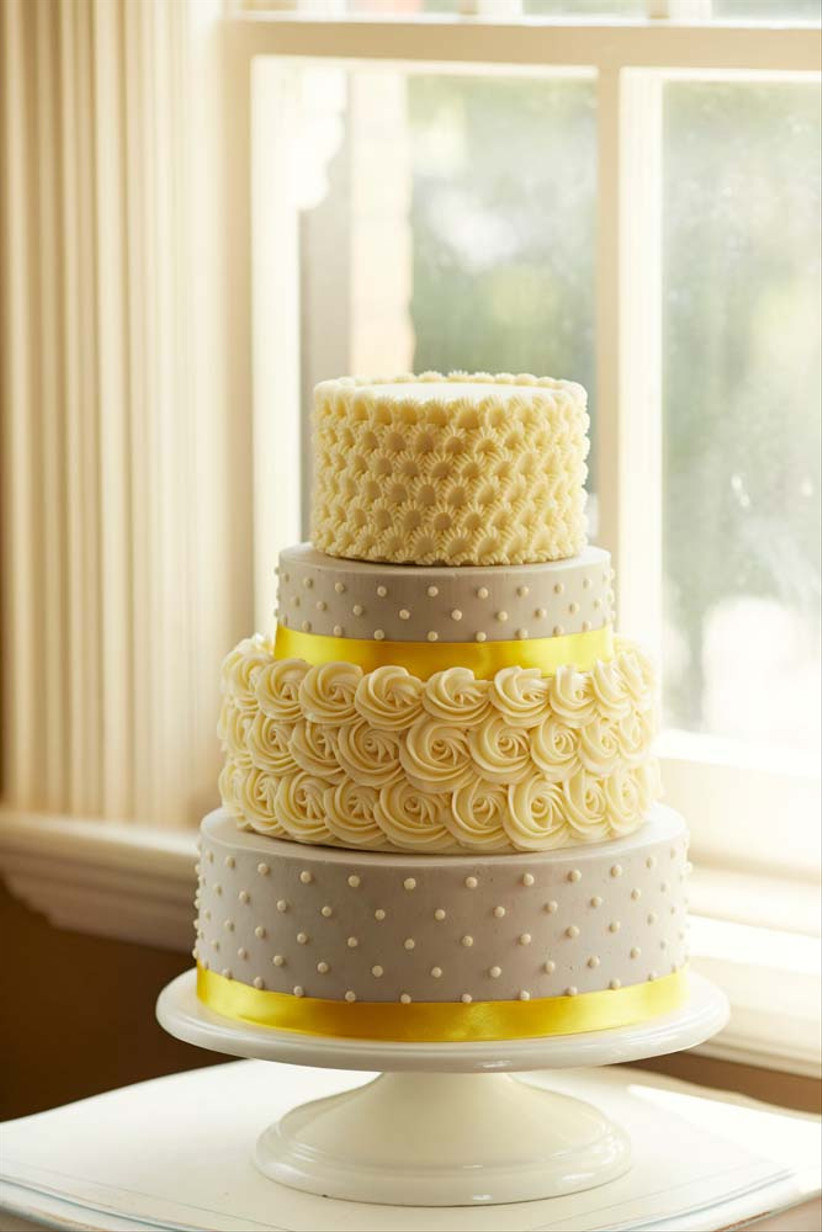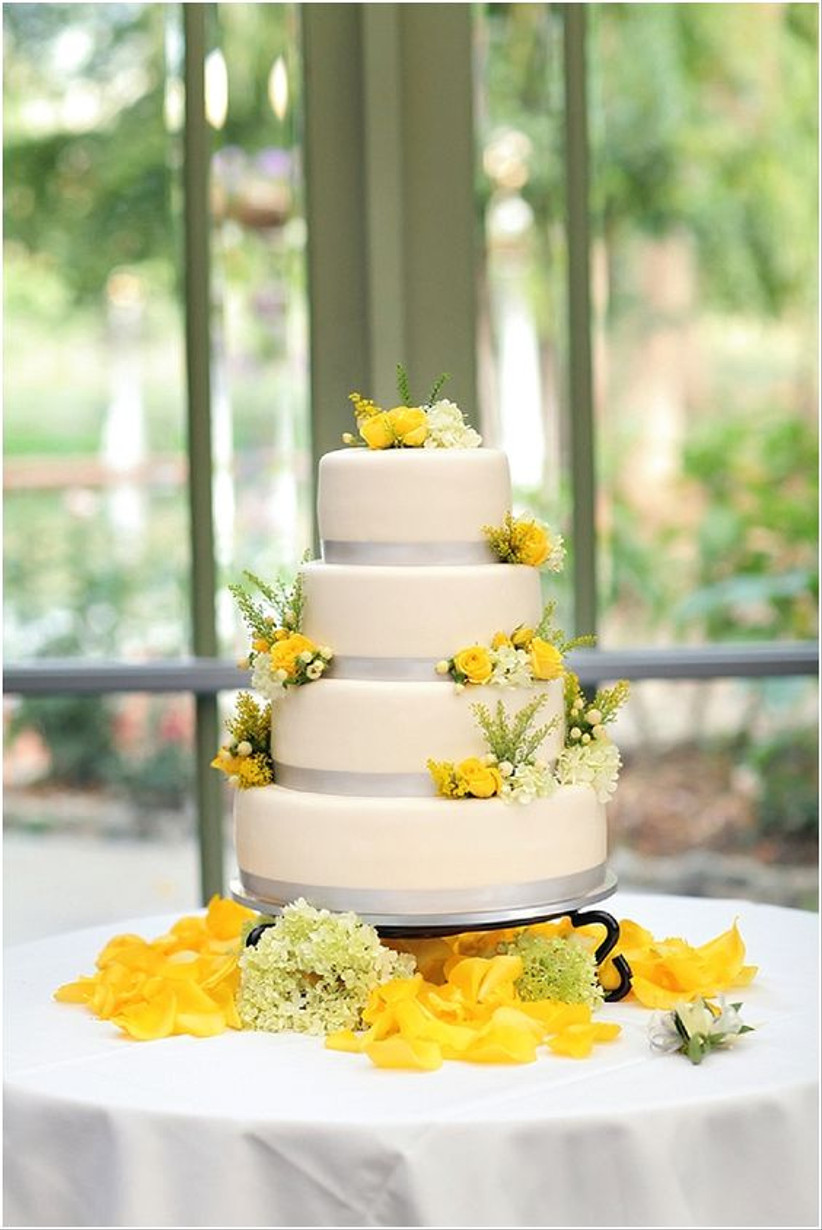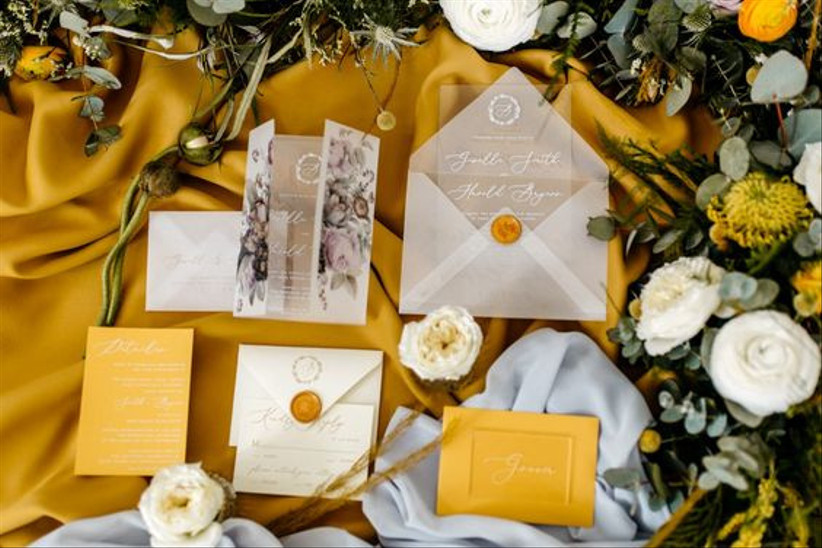 Loving these colour combinations? Tell us your favourite wedding colour combinations in the comments section below - we would love to create more blogs with wedding outfit and decoration inspirations for you.