10 Exclusive Pearl Jhumkas That'll Steal Every Bride's Heart
You know what is the one piece of jewellery that every woman must own? Well it is pearl jhumkas, because they are the most versatile jewellery piece that goes with everything.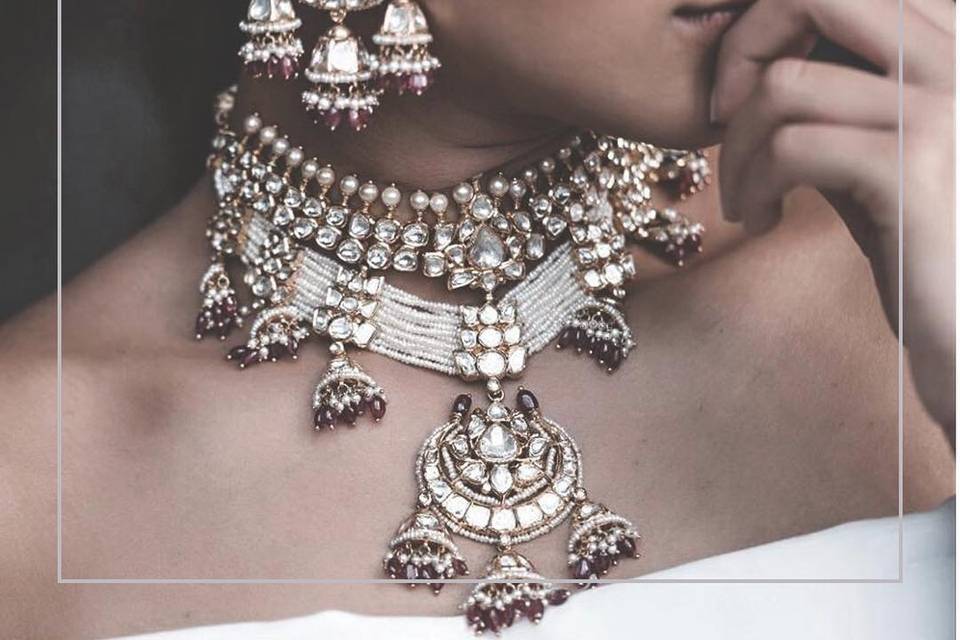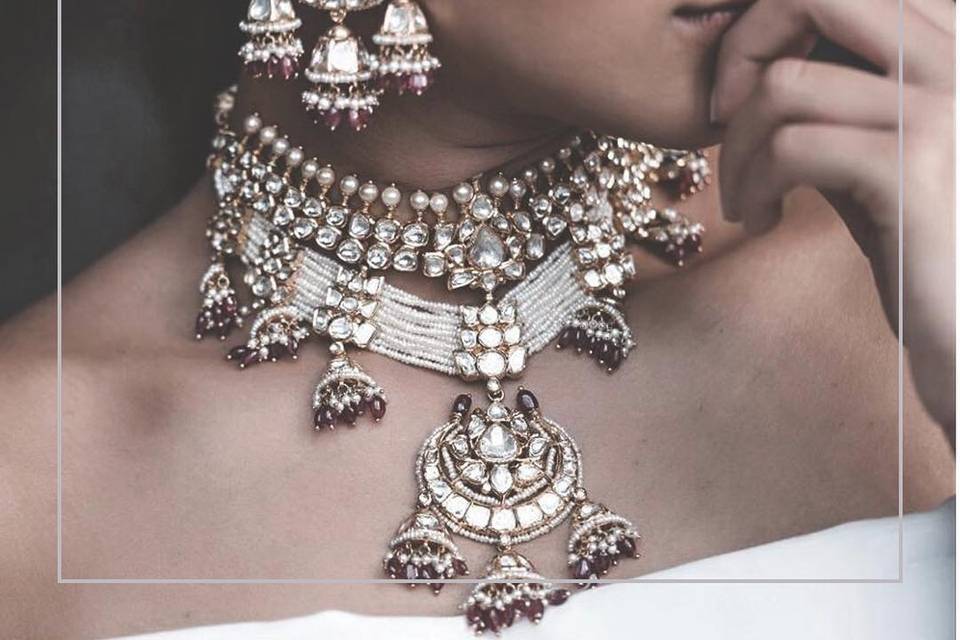 Image Courtesy: Khanna Jewellers
Jewellery is an essential part of every woman's trousseau and there always are a few statement pieces that they love pairing with anything and everything. Which is that piece of jewellery in your bridal trousseau? Well, if you ask us it has to be pearl jhumkas according to us because there is absolutely nothing that they don't go with. Whether you are dressing up for a party, a wedding function or just a casual night out, a statement piece of like this will go with everything and make your decision of what to wear much easier.
While most women believe that pearl jhumkas do not have a lot of variety when it comes to designs and Stylings, we tend to disagree. They have as many designs and Stylings as a diamond ring does and it absolutely depends on where you are looking for them. We'd suggest online is the right place to look for eccentric and eye-catching jhumkas that can make any outfit dressy for you.
So all the millennial brides out there stop wasting money in other trending jewellery pieces and invest your money in statement jhumkas that'll stay with you forever and moreover stay in fashion forever. To make your trousseau shopping experience better, we've put together a list of our favourite pearl jhumkas that we found on the internet. Let's see if you like what we liked.
Pearl Fall Kundan Jhumkas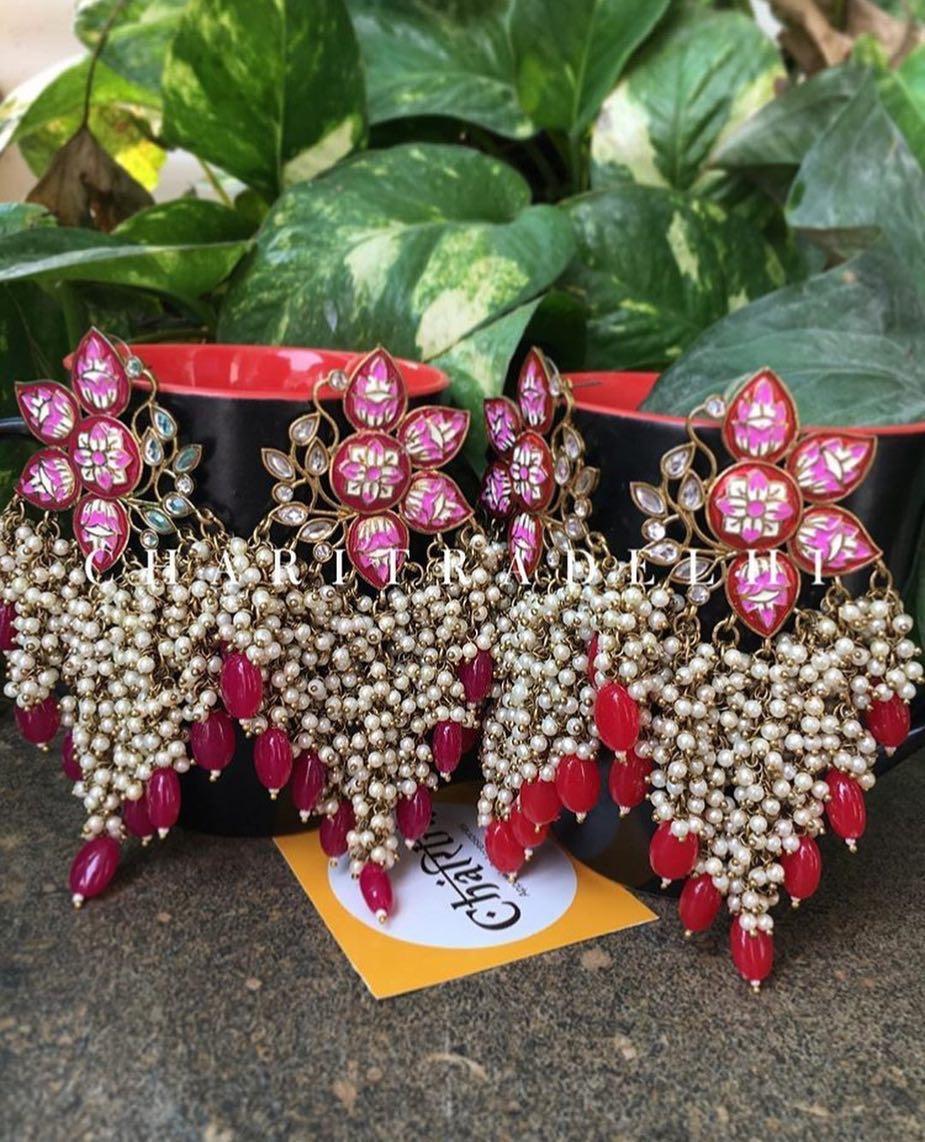 Image Courtesy: Charitra
Let's start with one of the most chic pearl jhumkas that we came across. With a touch of Meenakari and Kundan, the most appealing thing about this jhumka is the pearl fall. Apart from being something that the millennial brides would love, it has a pop of colour that can break the monotony of any outfit you pair it with.
Styling Tip - We'd love to see you pair it with a plain white or beige kurta that has minimal work. Let these jhumkas be the focus and you wouldn't need anything else to be the highlight of your look.
Pastel Meenakari Jhumkas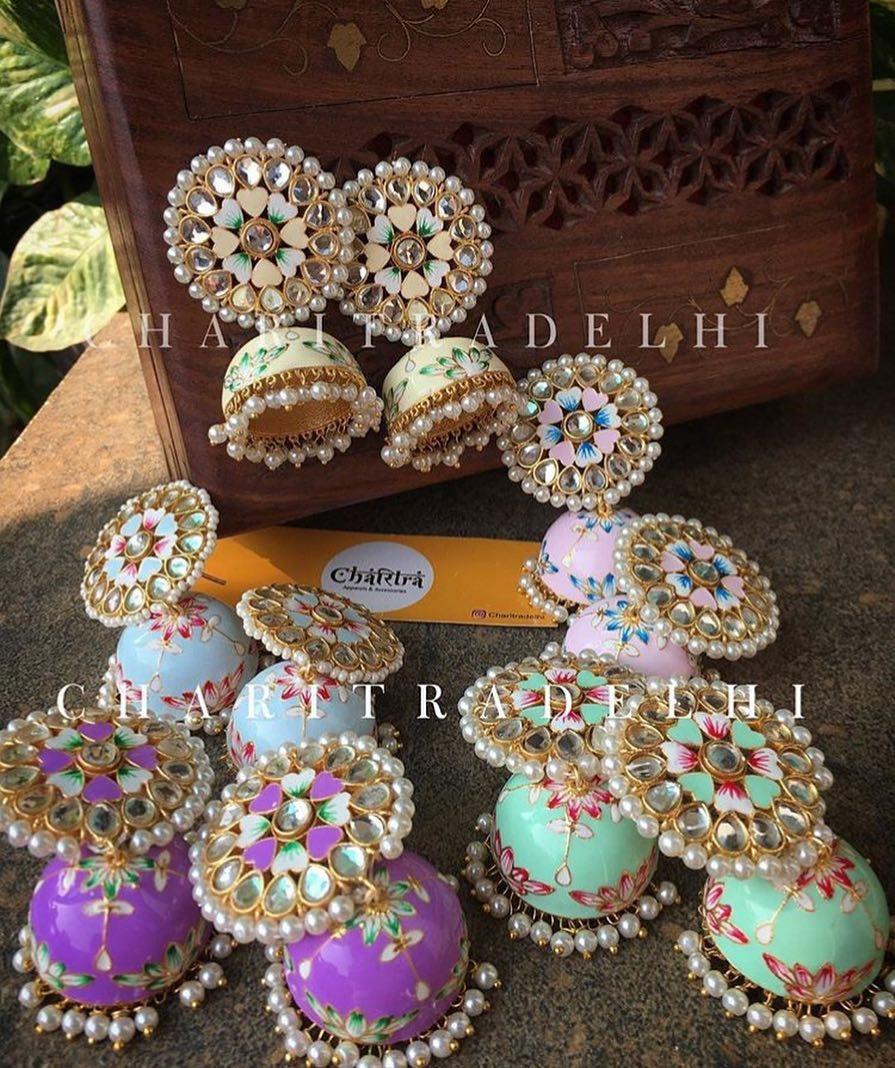 Image Courtesy: Charitra
Now, these are for our millennial brides that do not always prefer to be dressed up in Indian outfits. Well, but that doesn't mean they don't enjoy Indian pieces of jewellery to go with their outfits. The pastel Meenakari pearl jhumkas are traditional designs with a traditional pattern but in contemporary colours. The pastel shades don't just make these jhumkas look trendier but also make for a perfect trousseau buy for every millennial bride's use.
Styling Tip - Pair these with your cotton midi dresses for a coffee date with friends, or a night out with cousins and pull off the charm of a newlywed bride like a pro in your own style.
Passa Inspired Jhumkas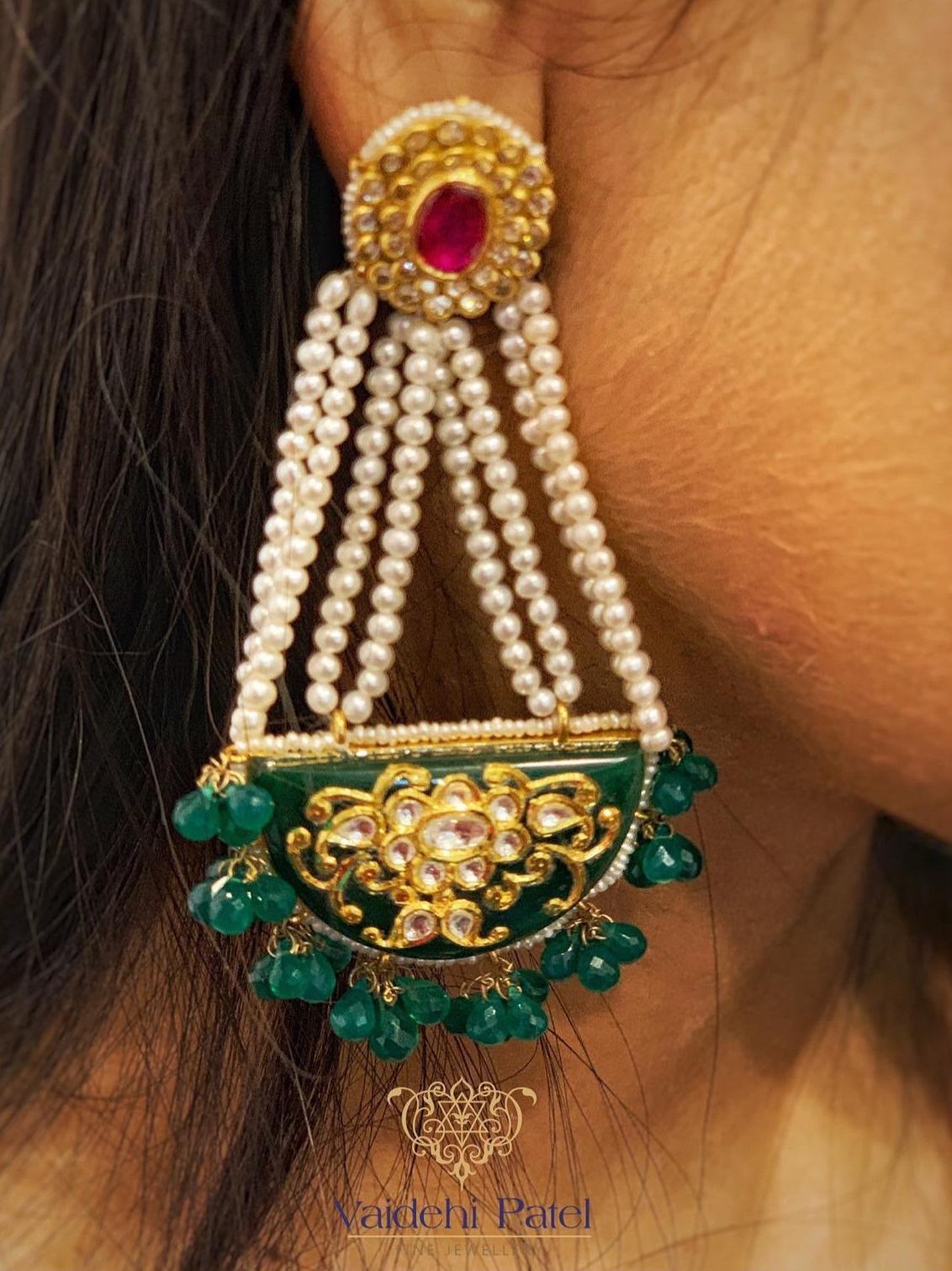 Image Courtesy: Vaidehi Patel
The Passa has made a comeback ever since Deepika Padukone danced to Deewani Mastani adorning a Passa. While most brides love wearing them for their wedding functions, others are confused about how they feel about the passa trend. For those that love the design of a multi-stringed Passa but not sure to pull it off on their wedding day, this Passa inspired jhumkas are just what you need for your trousseau.
Styling Tip - Pair these with a classic silk saree and you are sure to look like a million bucks in a family function. The touch of rubies and emeralds in these pearl jhumkas are just perfect for your traditional saree look.
Temple Jewellery Inspired Jhumkas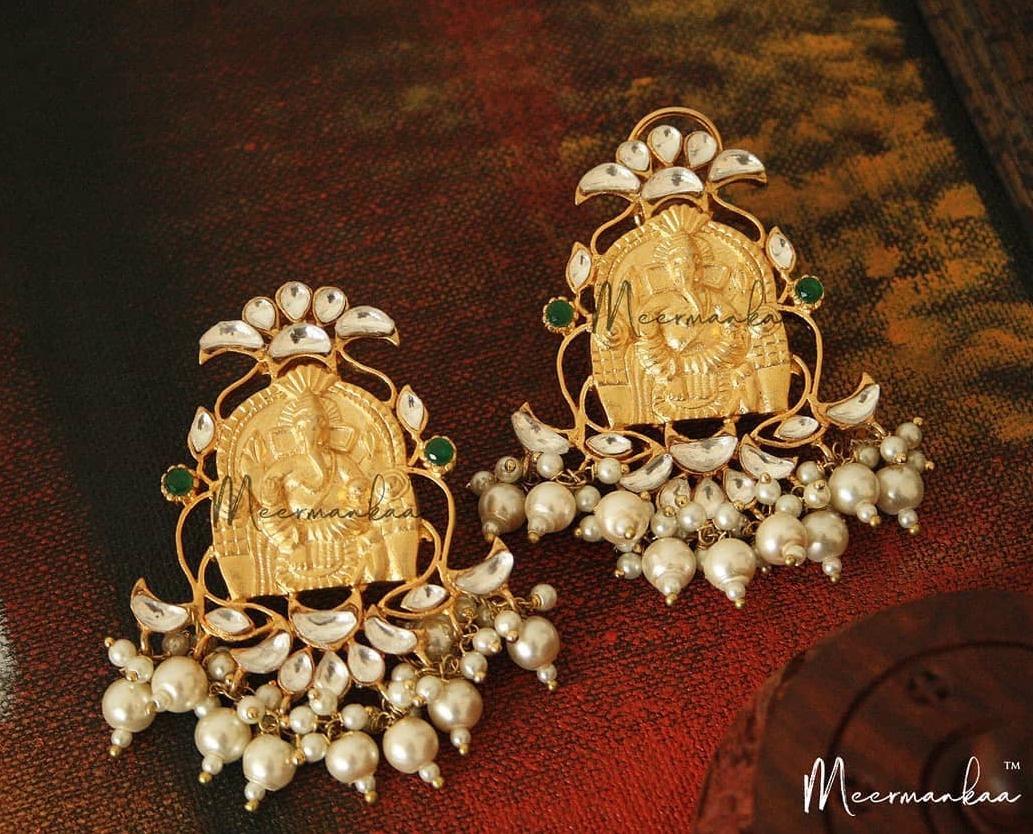 Image Courtesy: Meermankaa
As you might already know, temple jewellery is famous amongst brides down south. The idols of god on this gold jewellery makes it very authentic and traditional looking. However, what is fascinating about these jhumkas is that it is a fusion of the temple jewellery idols with pearl drops at the bottom. This one can truly be called as a blend of modern and traditional jhumkas for your bridal trousseau.
Styling Tip - This is an ideal pair of pearl jhumkas to be paired with an Anarkali suit when going out to attend wedding functions or on festivals as well. However, the touch of traditional temple jewellery makes these jhumkas look flawless on any traditional outfit on traditional occasions.
Antique Silver Crescent Jhumkas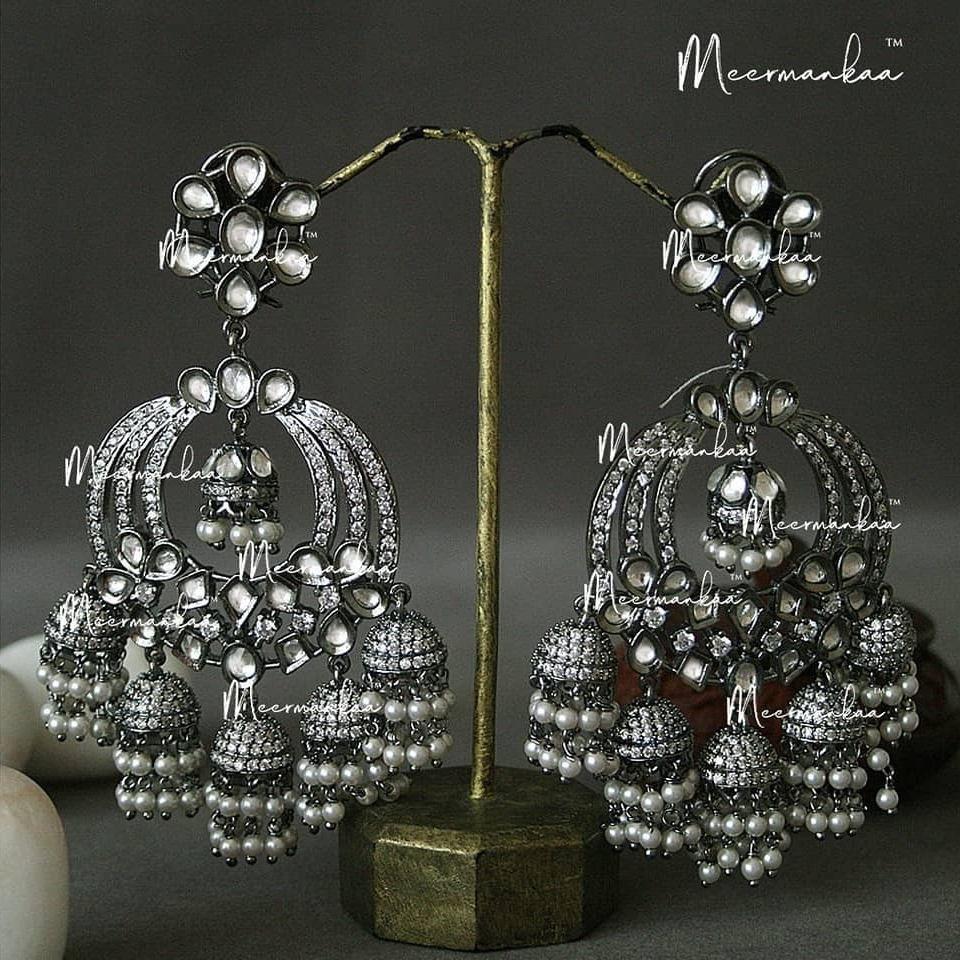 Image Courtesy: Meermankaa
Now here's something for the brides that love silver jewellery. While most people believe that pearl jhumkas always have a touch of gold, these beautiful crescent jhumkas with multiple jhumka drops at the bottom are the exception you're looking for. The touch of pearl drops in this magnanimous antique silver jhumkas makes it more versatile for the millennial brides to carry it with almost everything.
Styling Tip - If you own a pair of Jaipur print cotton skirts, then pair it with a casual tee and wear them with the antique silver crescent jhumkas for a day out with your friends or family. For those that don't have the skirt, we'd suggest you go buy one today as it is a must-have Indo-western piece in your bridal trousseau for the less formal and more chic days.
The Chandelier Jhumkas with Diamonds and Rubies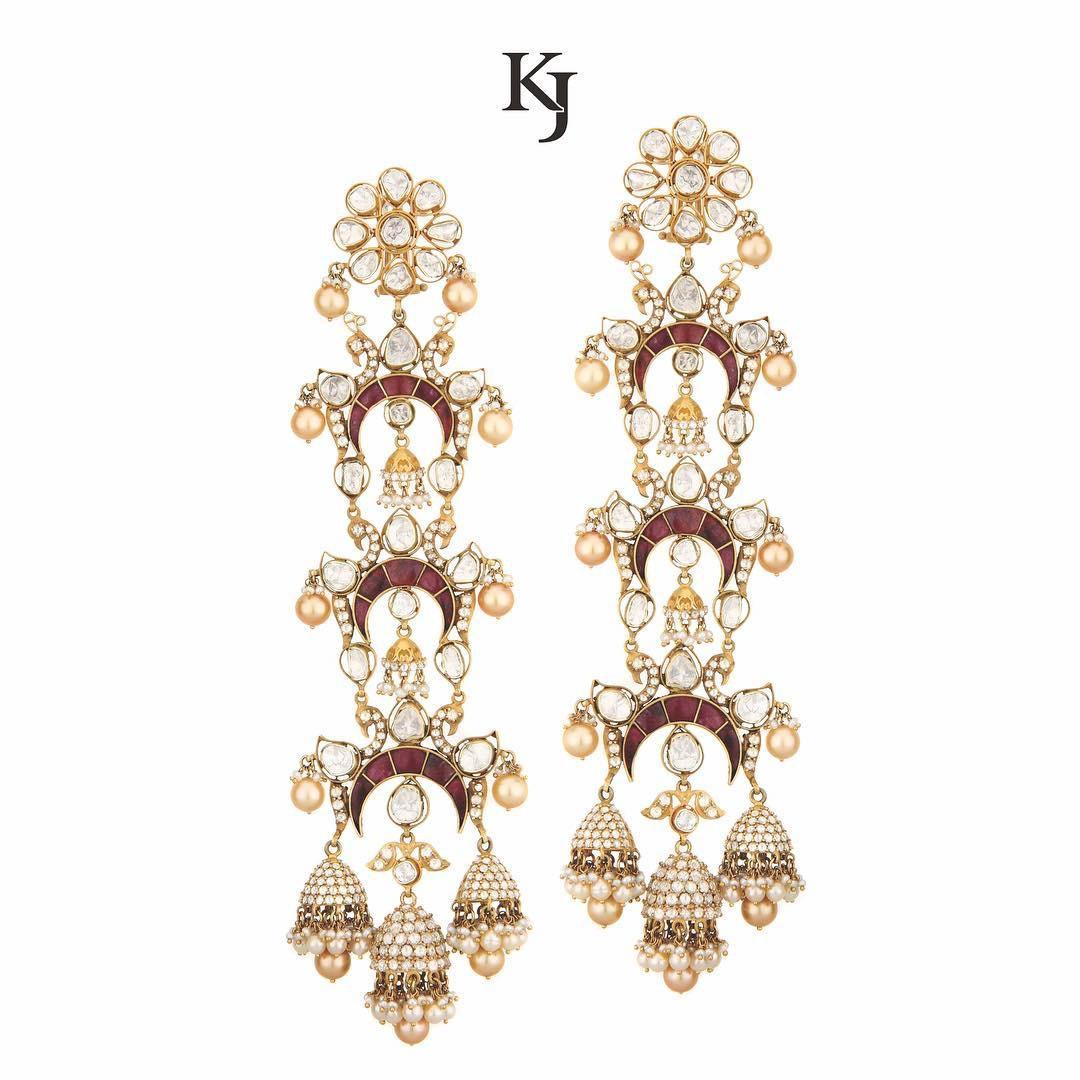 Image Courtesy: Khanna Jewellers
Now this one is a clear winner when it comes to picking a pair of flawless pearl jhumkas that brides can choose to wear on their wedding functions as well. The chandelier jhumkas with the crescent design and jhumka drops is a statement pair for women that love extra-long and sleek earrings. The rubies and diamonds in the chandelier jhumkas make them more glamorous by adding colour and shine to the gorgeous pattern.
Styling Tip - For the brides planning to wear a crop top and skirt combination or a crop top and sharara combination to their Mehndi, consider these as the perfect match for your outfit. Wearing it for your wedding function is sure to give you some great photos, as the long chandelier jhumkas are sure to make your neck look longer and face look sleeker.
Paisley Inspired Devasena Earrings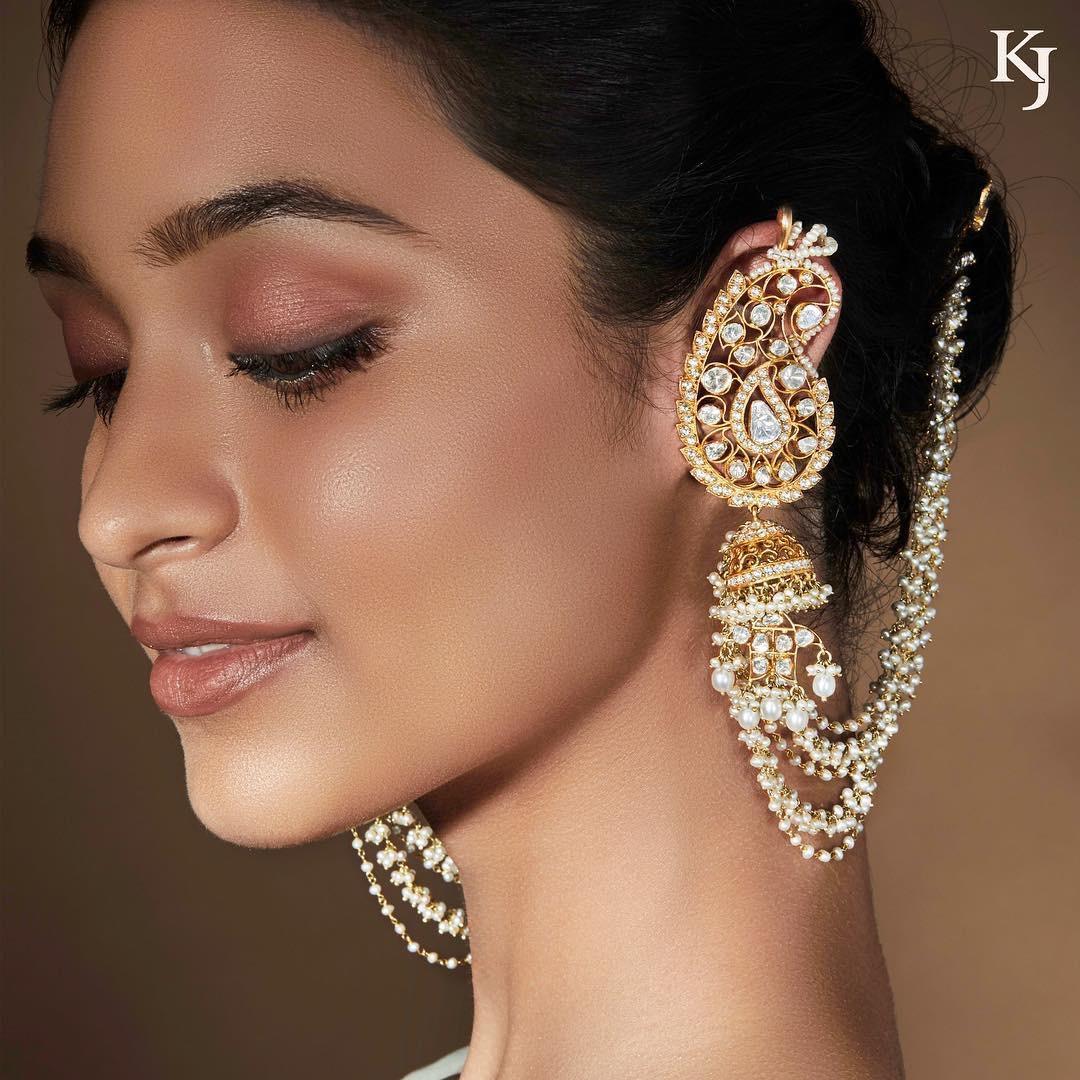 Image Courtesy: Khanna Jewellers
The paisley inspired Devasena earrings are just what you're looking to wear for your Pheras. The pearl jhumka drops and the strings of pearl pinned to your hair are what you can call the highlight of these jhumkas. However, what makes them unique is the paisley covering the ear which is unlike any other pearl jhumka that we have seen so far. So if you agree with us then immediately stop what you're doing to order these for yourself.
Styling Tip - An extremely traditional looking pair of jhumkas that are appropriate to be paired with a pair of extravagant lehenga choli, this one is for the brides that love the drama that surrounds traditional outfits. Your Pheras can be a good time to show these off to your close ones.
The Geometrical Mehraab Pearl Earrings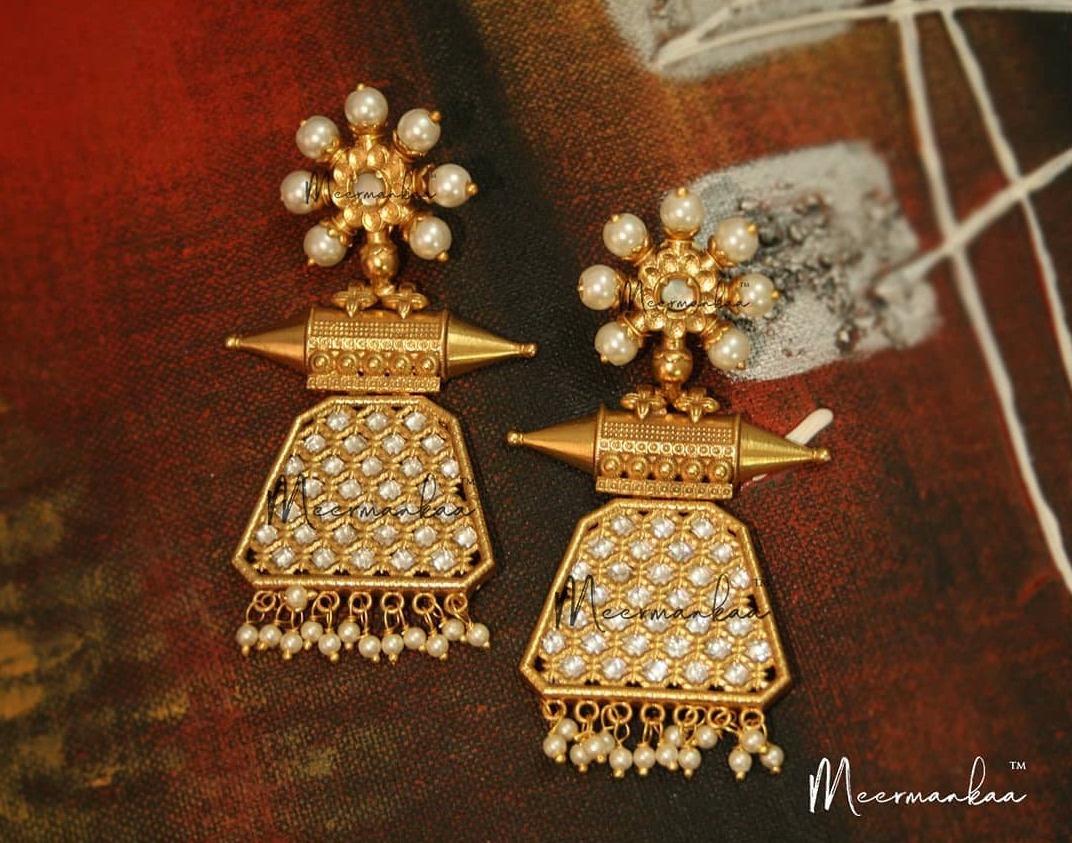 Image Courtesy: Meermankaa
While they are an extremely unusual looking pair of pearl jhumkas, what caught our attention was the beautiful geometrical Mehraab pattern with the pearl details. This is one of the most versatile jhumkas that will go with almost everything. However, the Mehraab design is the highlight that will catch every millennial bride's attention who is looking to wear something unusual but something classic at the same time.
Styling Tip - Pair these beautiful jhumkas with your sharara and kurta for your friend's wedding to be the bridesmaid that catches all the attention. Add a pair of Gajra to your hair to nail the look completely.
Tribal Peacock and Lotus Inspired Jhumkas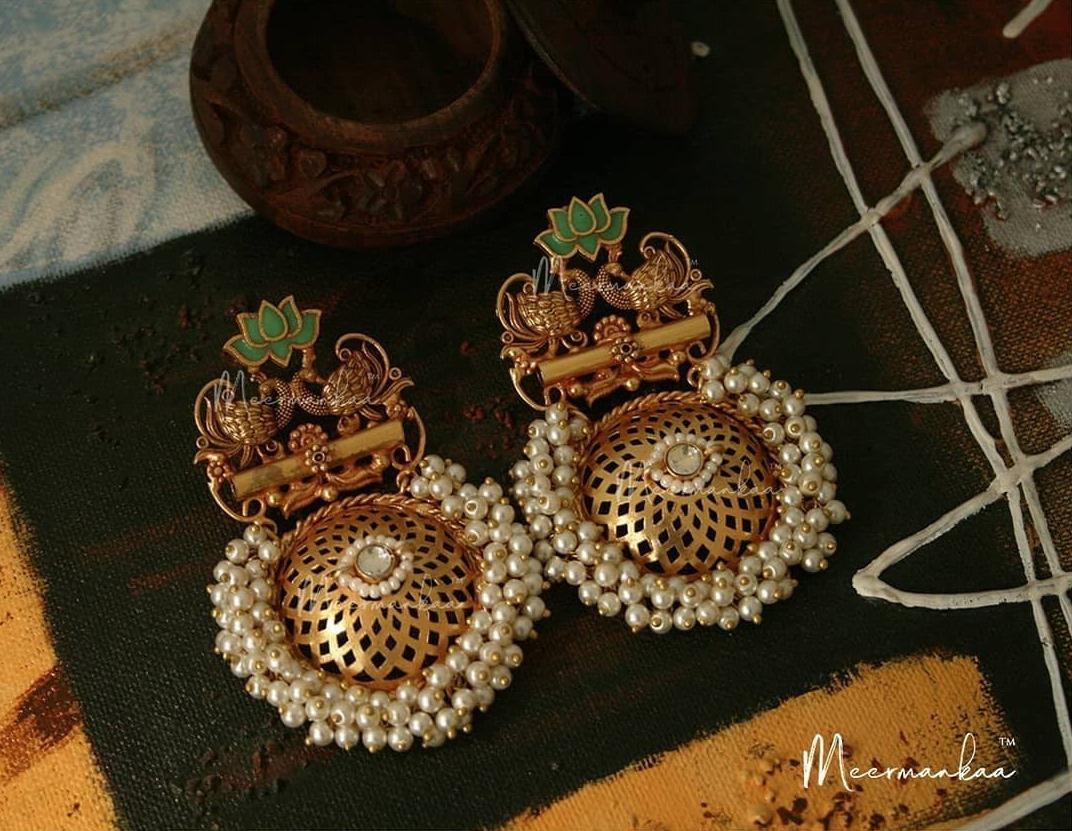 Image Courtesy: Meermankaa
While this is visually stunning, what you don't get your attention around in the first go are the minute details on this graceful pair of earrings. From lotus to tribal peacocks, there are too many details that stole our hearts in these pearl jhumkas. While it goes without saying that the bunch of pearls in a circular pattern around the earring are the most unique way of using them, but it also enhances its appeal by making the earring look eccentric for the brides of today.
Styling Tip - Going by the quirky feel of these pearl jhumkas, brides can pair it with almost anything that they like. From floor-length Indian gowns to kurta with jeans, there is no outfit that will look odd with these. The colours in these can also help you brighten the look if you're wearing dull or dark colours.
Mughal Inspired Devasena Earrings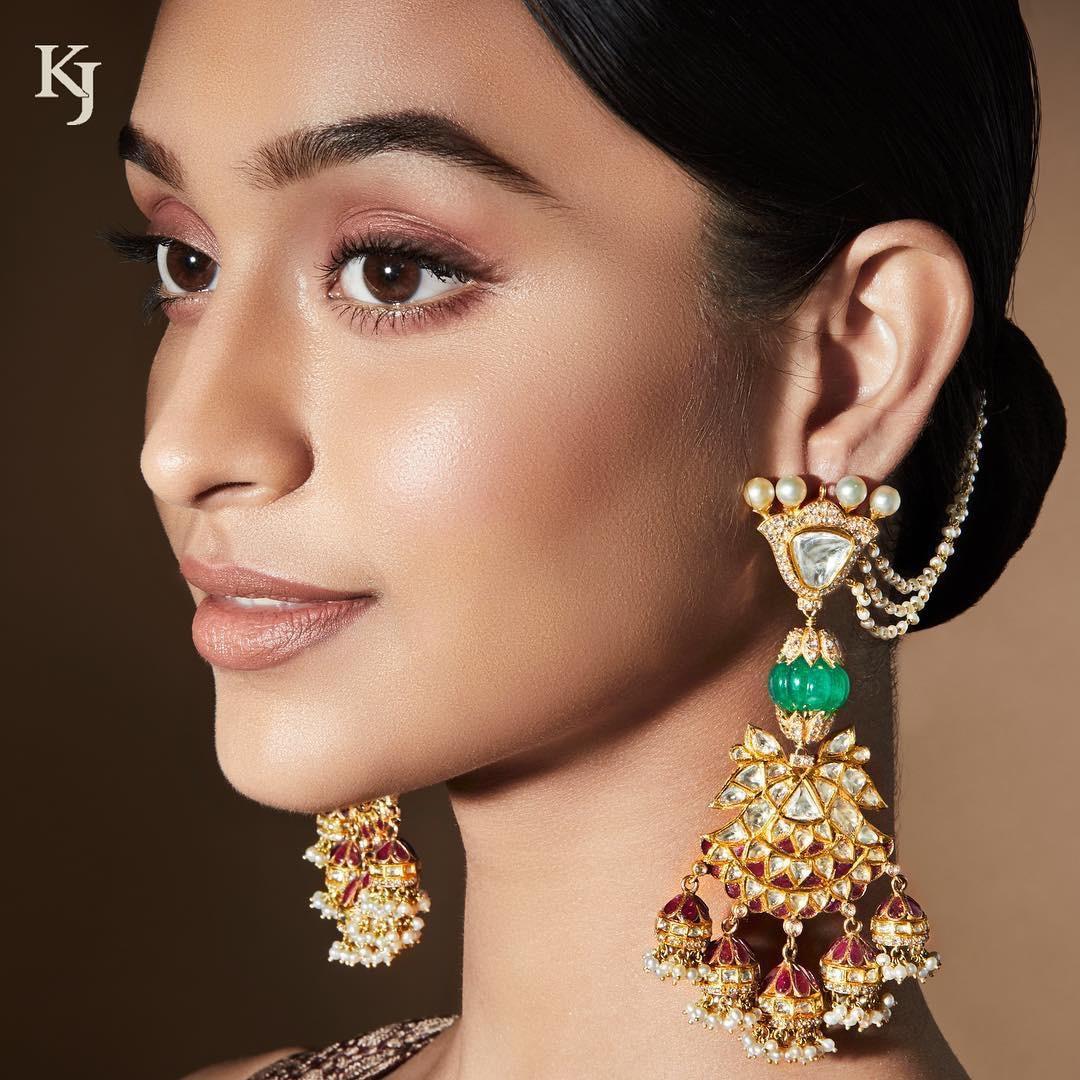 Image Courtesy: Khanna Jewellers
These Mughal inspired Devasena earrings are what dreams are made of. It draws inspiration from the Mughal jewellery adorned by the Indian royalty and is a reflection of the rich heritage of that era. For the millennial brides, these are the perfect pearl jhumkas with Kundan and a touch of rubies and emeralds that add the grace and colour to any outfit.
Styling Tip - Wear these with your most traditional lehenga or saree for your 'Griha Pravesh' or first day at your husband's house and stun your in-laws by your elegant choice of pearl jhumkas that reflect royalty.
Our ace list of 10 gorgeous pearl jhumkas has both common as well as never seen before designs. Our aim was to introduce you to the many designs of pearl jhumkas that you didn't know existed. But now that you are more aware, we hope you choose your pick carefully. Either look for designs that match your wardrobe the best, or ones that are exclusive and sure to create a buzz whenever you wear them. Pearl jhumkas are one of the essential items of every bridal trousseau and therefore making an informed choice is key for every millennial bride. So do you think you're ready to choose your pick?
Which of the above pearl jhumkas stole your heart? Tell us in comments.