Smoke Bombs Are the New "It" for Photoshoots and Here Is How You Can Use Them for Your D-day Albums
Colourful smoke bombs are the hottest new craze in wedding, pre-wedding functions and almost every other celebratory event! Let's take a look at the different ways their vibrant blast can enrich your special moments and photographs.
What could be more magical than a walk through the clouds on your special day? Thanks to coloured smoke bombs, we now have an answer—a walk through vibrant clouds that envelop you in your favourite hues! These colourful bombs, grenades or sticks come in both 'lighter-required' and 'wire-pull' types, with the choice of almost every colour from the rainbow. Dressed in gorgeous gowns or lehengas and walking through the haze of green, yellow, purple, red, orange and even blues and other colours is no less than a fairytale moment for you and your significant other. This is not only a popular prop for the pre-wedding shoots but also for the wedding photography and even during the ceremonies releasing a cloud of coloured smoke is a treat to the eyes.
If you aren't too familiar with them, they're as easy to handle as a Fuljhadee, incredibly more fun than foam sprays, and just as safe. And there are so many occasions that can be made more exciting, photogenic and, of course, more colourful with their use. Have a look…
1. Wedding and pre-wedding photo shoots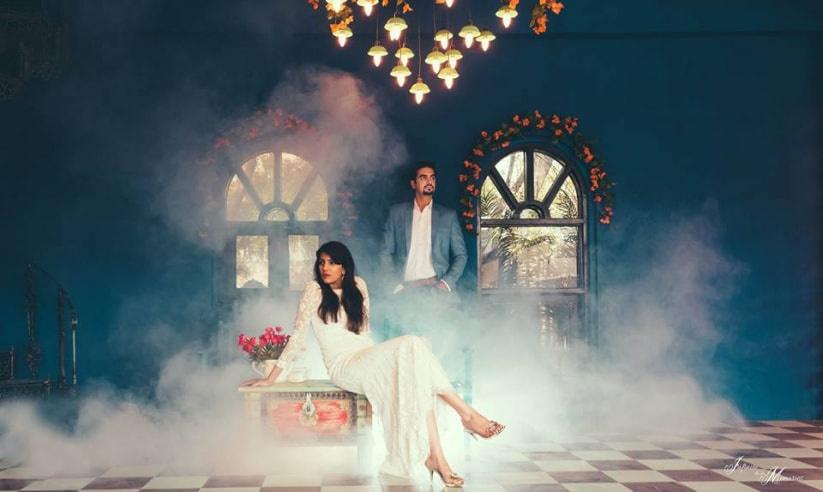 Beautiful, vibrant plumes in complementary or contrasting hues can add more appeal and drama to your wedding and pre-wedding photographs. The dream-like quality added by waves of colourful clouds makes even the best of clicks instantly more magical and memorable! Smoke sticks and bombs have already become integral to modern wedding photographers' arsenals. But you can always suggest (even demand) that the photographer uses a particular colour to capture the look you desire. A hint of mist for the more romantic photographs, a cloud cover in a modern setting…there are tons of possibilities. Do some online surfing and make note of the ideas that strike you so you can use them during your own photoshoots and wedding ceremonies. The smoke makes the frame enchanting at once and a regular picture becomes mesmerising and magical just for the smoke effect from the smoke bombs.
2. Wedding teasers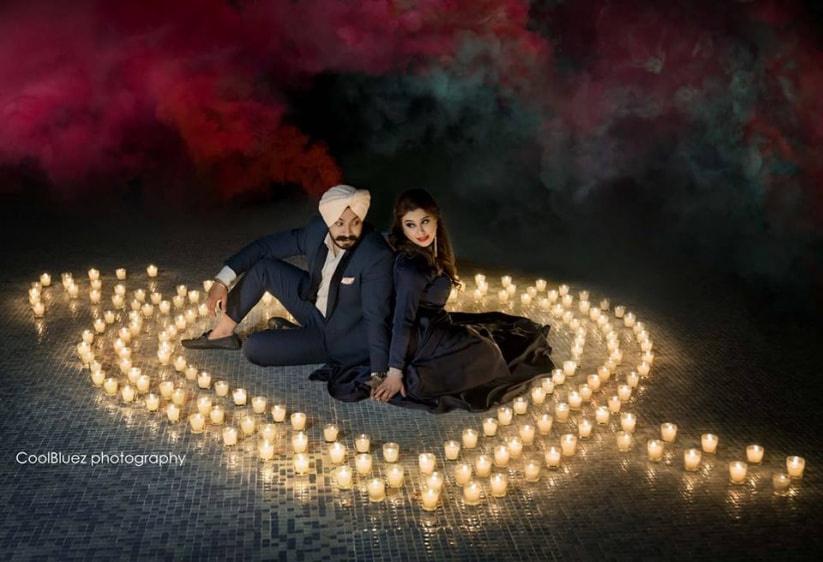 You've seen movie teasers—they're a short introduction to the cast and the theme, visually arresting and exciting. Your wedding teaser needs to make the same impact on everybody you share it with, tell them there's a not-to-be-missed blockbuster on the horizon! Sparkles and fireworks are a thing of the past—you need smoke bombs to infuse that element of big-scale excitement into the visuals! Make sure you have a word with your wedding photographer, clearly stating the colours and smoke effects you'd like to see included in the teaser.
3. Video and photo invites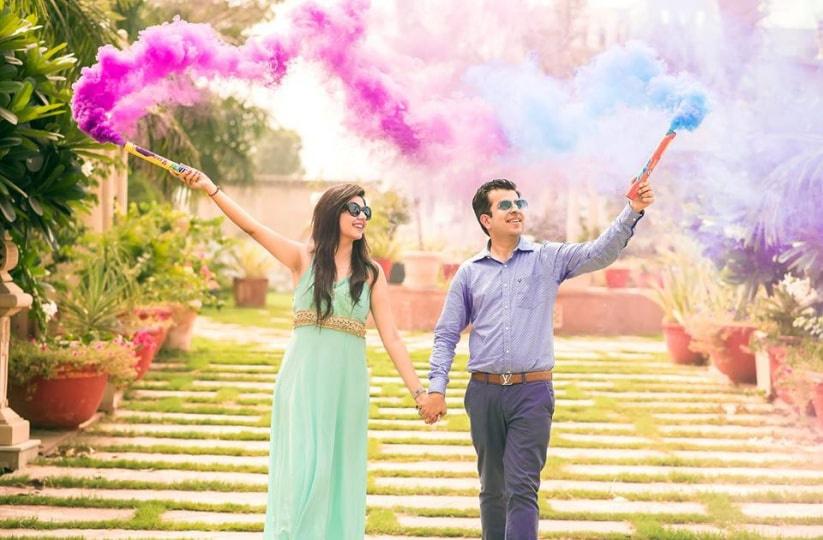 Looking to go new-age with your wedding invitations? Photo and video invitations are a chic, savvy way of summoning your friends and relatives to the event. You can create your own personalised photo and video invites online simply by uploading your photographs and videos to free-to-use sites that then organise that data into pre-set themes. Coloured smoke bombs can add the necessary fun and flamboyance to your photos and videos and make the invites more appealing. If the backdrop is a little dull or ones like the woods or the trees in green, the colours like pink and bright yellow or red work the magical effect for the camera lenses.
4. Bridal entry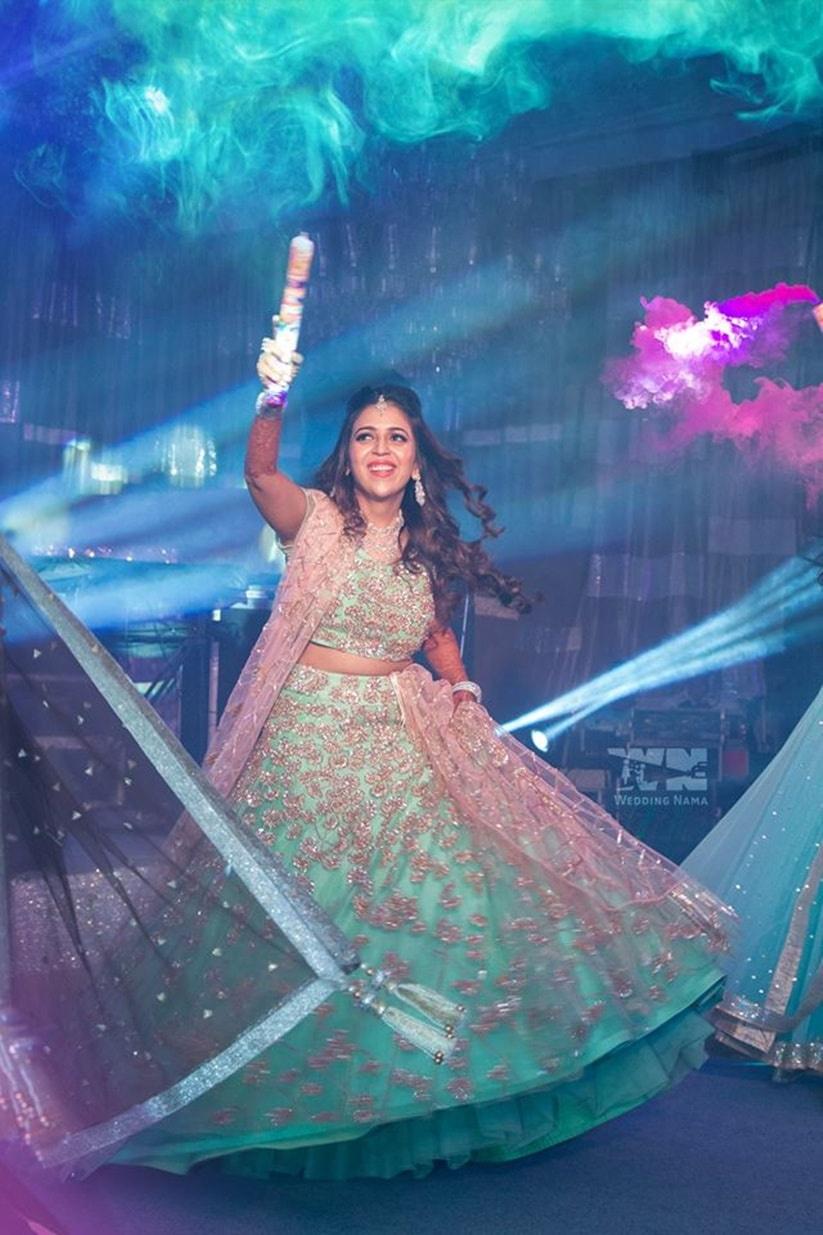 That even a single pair of eyes are turned away while you make your entry into the wedding arena is nothing short of a sin. Absolutely intolerable! Smoke bombs make making a spectacular entrance a breeze. A cascading, colourful portal that you appear to be walking out of, a little entourage surrounding you with flowing colour or a group of heralds lighting up your path with vibrant plumes…there are plenty of ways you can utilise the colourful clouds and make your stunning bridal entry.
5. Groom's entry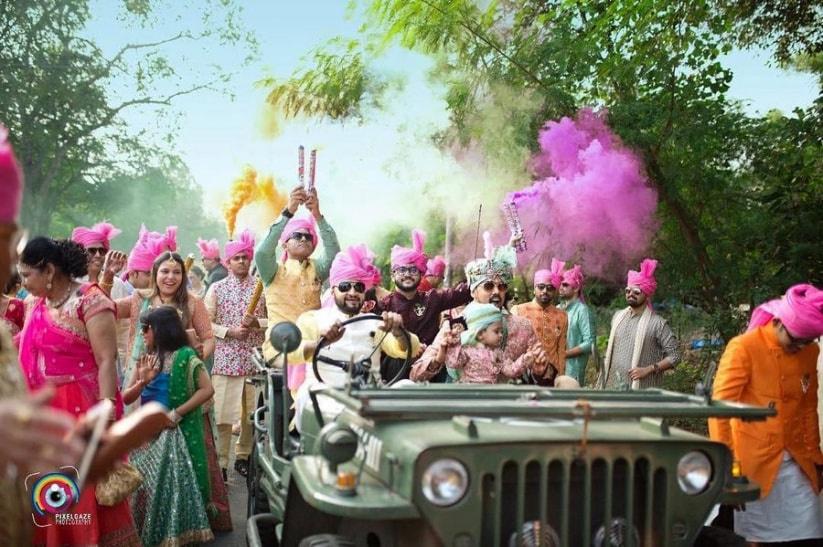 Because why should girls hog all the razzle-dazzle?! The groom's entry can use some colourful clouds too. Mix it up with some music and dancing and you'll have an unforgettable little sequence that onlookers will be talking about long after the occasion. Plus, it'll make for one of the highlights of your wedding video.
6. Jaimala effect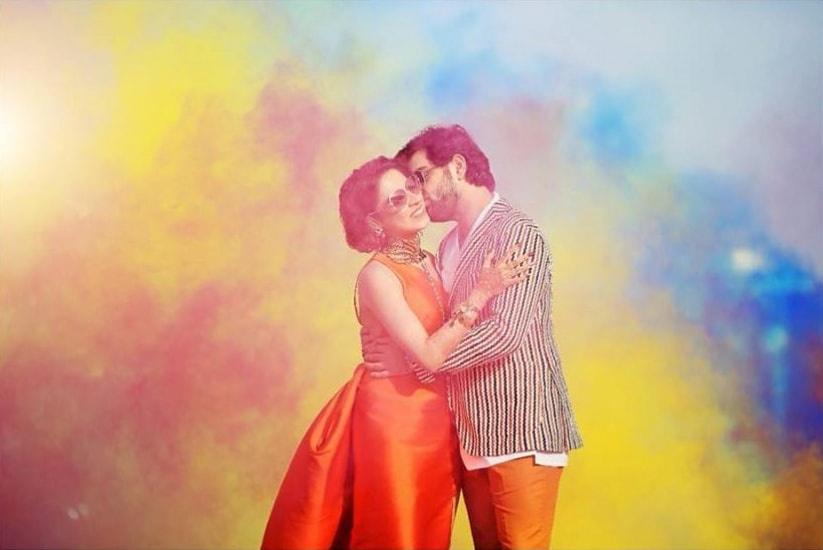 Jaimala is one of the most important acts of the wedding ceremony and calls for some crazy colourful visual effects! This is one moment that you want to make it as perfect as a dream and get t captured in the lenses so you can cherish and re-live the joy of finally tying the knot and this is one great time to put the smoke bombs to use. Coloured bombs lighted behind the couple can create a beautiful atmosphere around them. The resulting visuals look breathtaking in real time and awesome in still photographs and videos!
7. Song and dance performances
Whether it's you dancing solo at the mehndi function or doing a slow romantic routine with your partner at the engagement or reception, you can always trust the colourful clouds to turn on the magic! The lively colour and the flow of the clouds will definitely add more zing to your feet. Smoke on the stage has always been a fun thing that always brought in screams and hoots and cheers from the crowd. It will also get everybody in attendance itching to get onto the dance stage and break out their best moves!
Fun as they are, smoke bombs do need to be handled with care, lighted at a safe distance from people and safely disposed of, because after all they are bombs and you will be dressed your best whenever they are around especially when they are meant for your D-day and pre-wedding photoshoots. Also, make sure you make a note of the duration they're functional for. Most coloured bombs can burn for anywhere between 1-5 minutes and are usually labelled accordingly. Knowing the bomb's life makes it easier to time their use just right during key ceremonies and wedding photoshoots.
Love the trend of using smoke bombs during wedding functions and shoots? Let us know. And, if you're aware of any other marvellous uses for them, do share with us in the comments section.