11+ Hairstyles on Lehenga for Short Hair Ideas for the Brides
If you are the "short hair don't care" millennial bride, then we have got you covered with this list of hairstyle on lehenga for short hair ideas, curated just for you!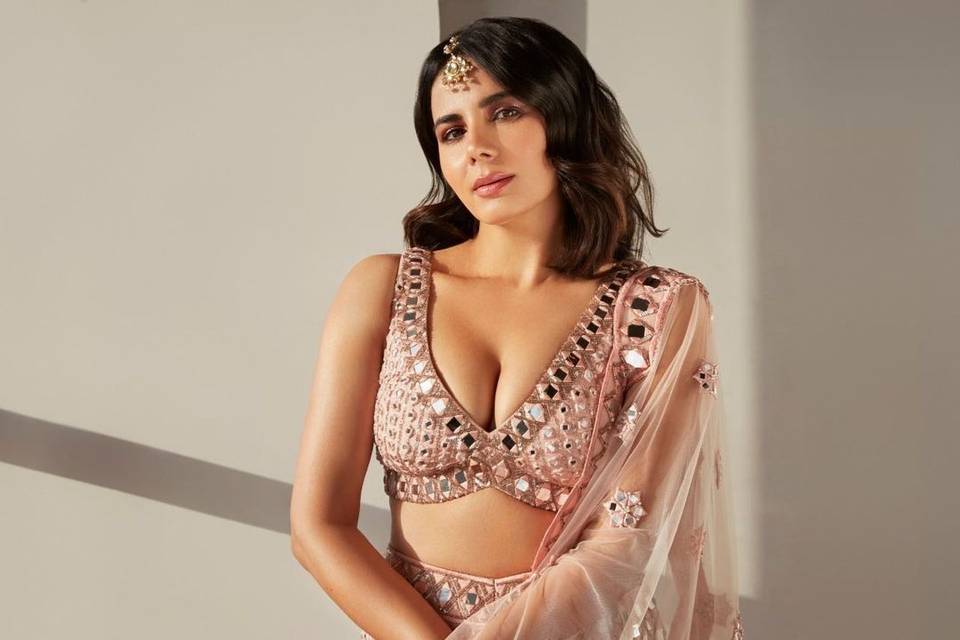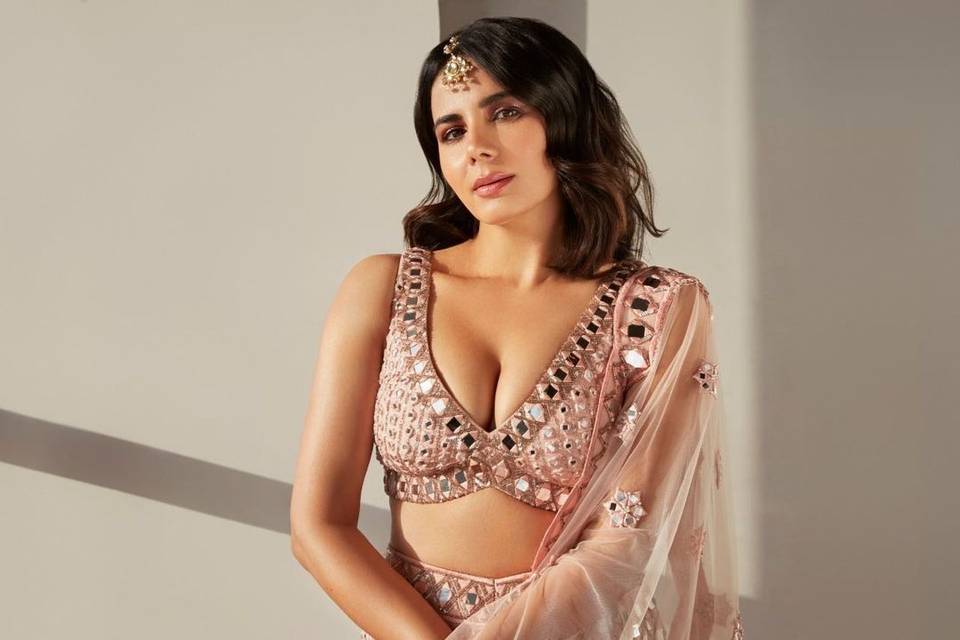 Image Courtesy: Elisha Bhambhani
When it comes to bridal hairstyles, brides either go for long braids decorated with fresh flowers or for decorated buns that are made in a variety of ways that help them look more intricate. However, when it comes to brides with short hair, there are very few options left for them. Due to the short length of their hair, they are unable to opt for hairdos like buns or braids and usually have to stick to letting their hair down.
But, we're here to tell you that this is one the only choice you have when it comes to hairstyle on lehenga for short hair. Now, you too will get to choose a great hairstyle and be more satisfied with your look. Hop on to have a look at some of the easiest bridal hairstyle on lehenga for short hair options.
Pixie Cut Hair with Jewelled Clips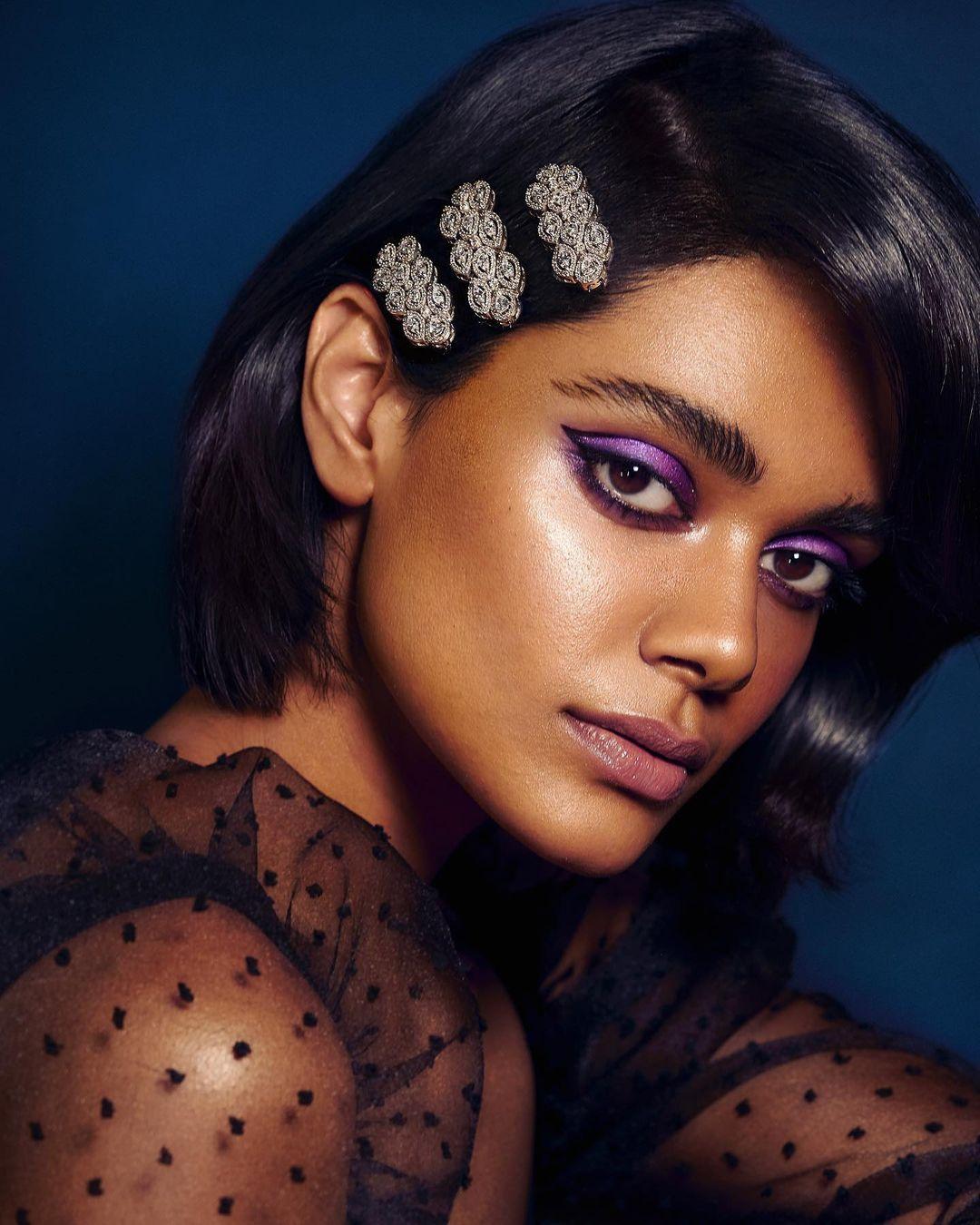 Image Courtesy: Aamir Naveed Hair
The bejewelled crocodile clips on this pixie cut hairstyle with a side parting done enhances your jawline. Thie hairstyle can be done at home itself and all you need is a fine-tooth comb, a setting spray and some pretty hair clips for accessories!
Simple Blow Dry on Short Hairstyle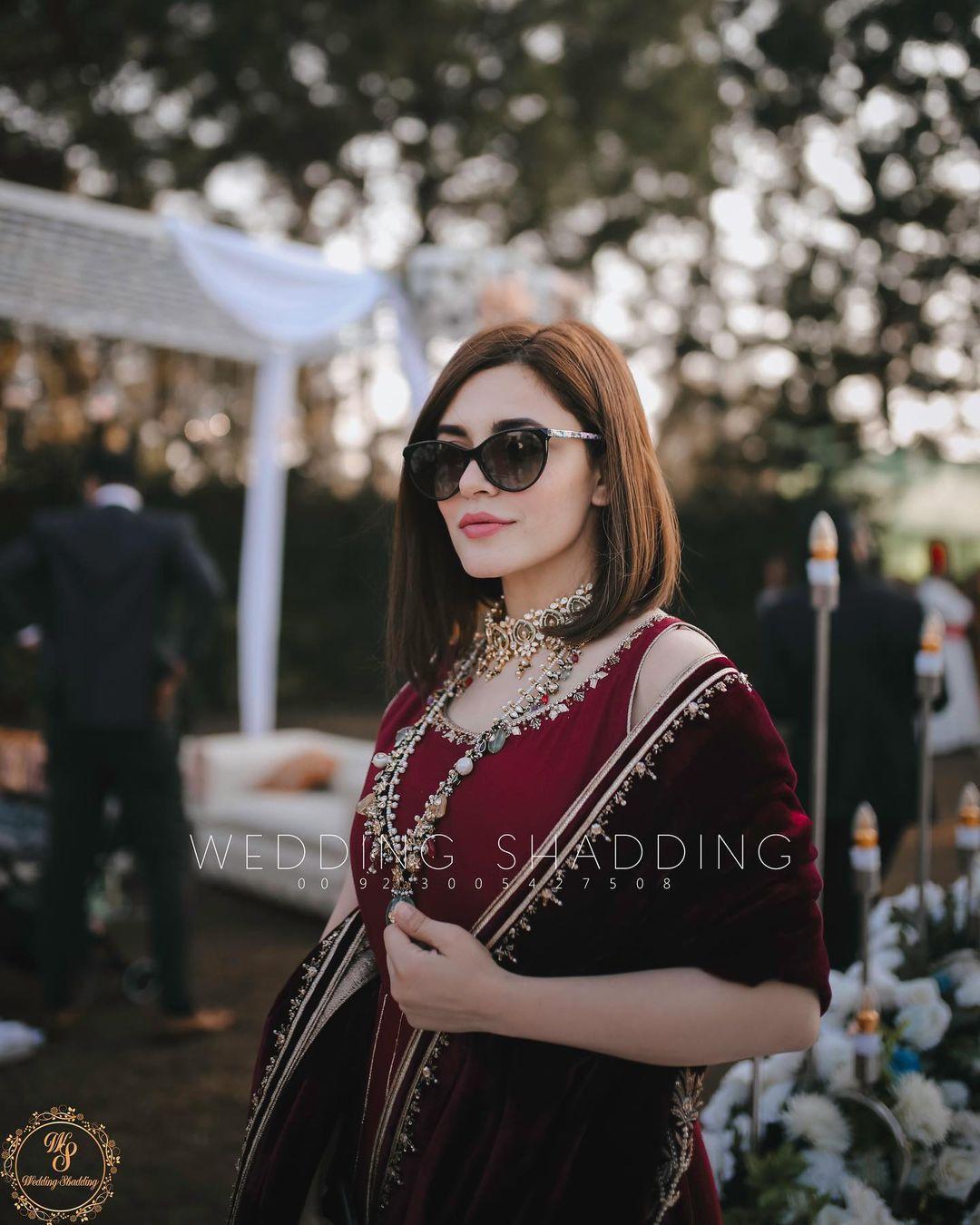 Image Courtesy: Ammara Hikmat
Keep it simple, sassy and a whole lot classy with this simple blow-dried hairstyle for short hair on a bob cut hair or a blunt cut hair.
Half Up-Do in Straight Hair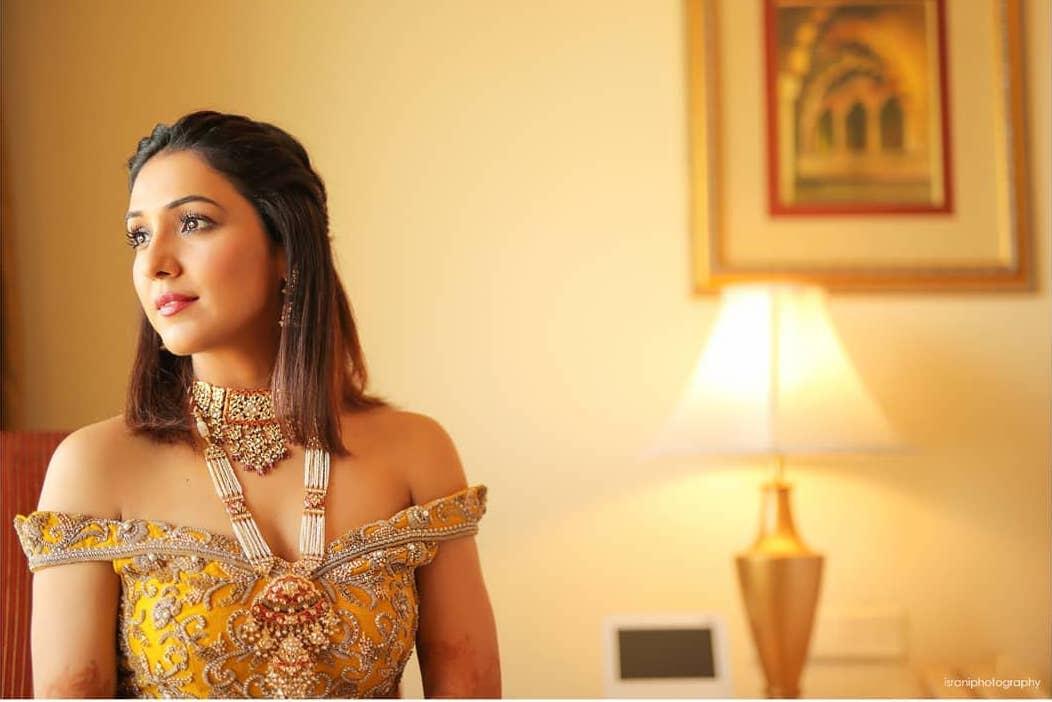 Image Courtesy: Anita Shil Hairstylist
Straight and sleek hair has always been in fashion and almost always an easy to style one. Even if you do not have naturally straight hair, you can actually get your hair straightened by the experts and throw on some spray to keep it in place. Try a half up-do - it could be a bun or you can try a simple ponytail. Do not forget to accessories it right! Whether you have a round-shaped face or a square-shaped one, this hairstyle will work for you, either way! As the bride, you can start your own new trend when it comes to the hairstyle on lehenga for short hair, instead of sticking with mainstream braids and buns using hair extensions.
This look highlight your features and the peep of your beautiful earrings is the cherry on top.
Beach Waves in Short Hair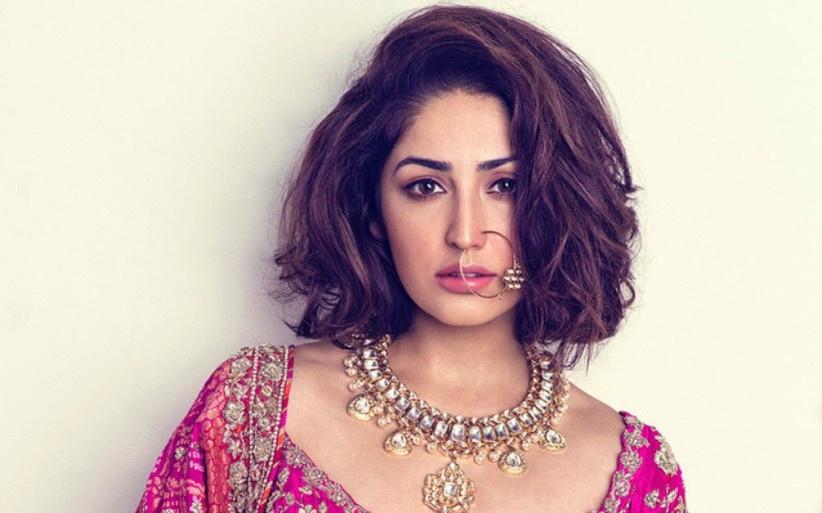 Image Courtesy: Pinterest
If you're not into sleek and straight hair, the next option for you can be wavy hair, which brings more volume to your locks and looks great on brides with a short bob. Whether you have medium-length or short hair, the wavy hair look can make you look stunning. You can make these waves by curling your hair with a curling iron and then brushing your fingers through it to turn the curls into softer waves. Wavy hair is a great hairstyle on lehenga for short hair, especially when you have thin hair. Back brush your hair a little for more volume.
It gives you a very casual look while the heavy diamond necklace makes you look glamourous - all at once!
Short Fishtail Braids on One Side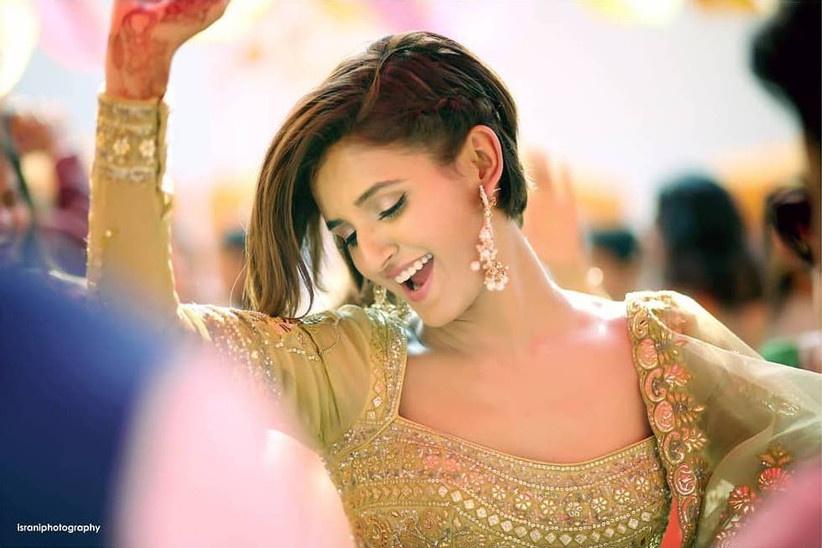 A braided hairstyle for lehenga for short hair works like magic. Go for a fishtail braid and to add more edge to it try a braid only on one side of your hair. This adds more prominence to your jawline and also keeps the hair neat and tidy in place while you go about doing your bridal business in your designer lehenga. Once the braid is finished, pin-up the shorter strands or simply apply some hair spray to hold the baby hair from going haywire.
Pair your lehenga with a heavy Kundan jewellery set and shine the D-day away.
Flowers in Waterfall Braids for Short Hair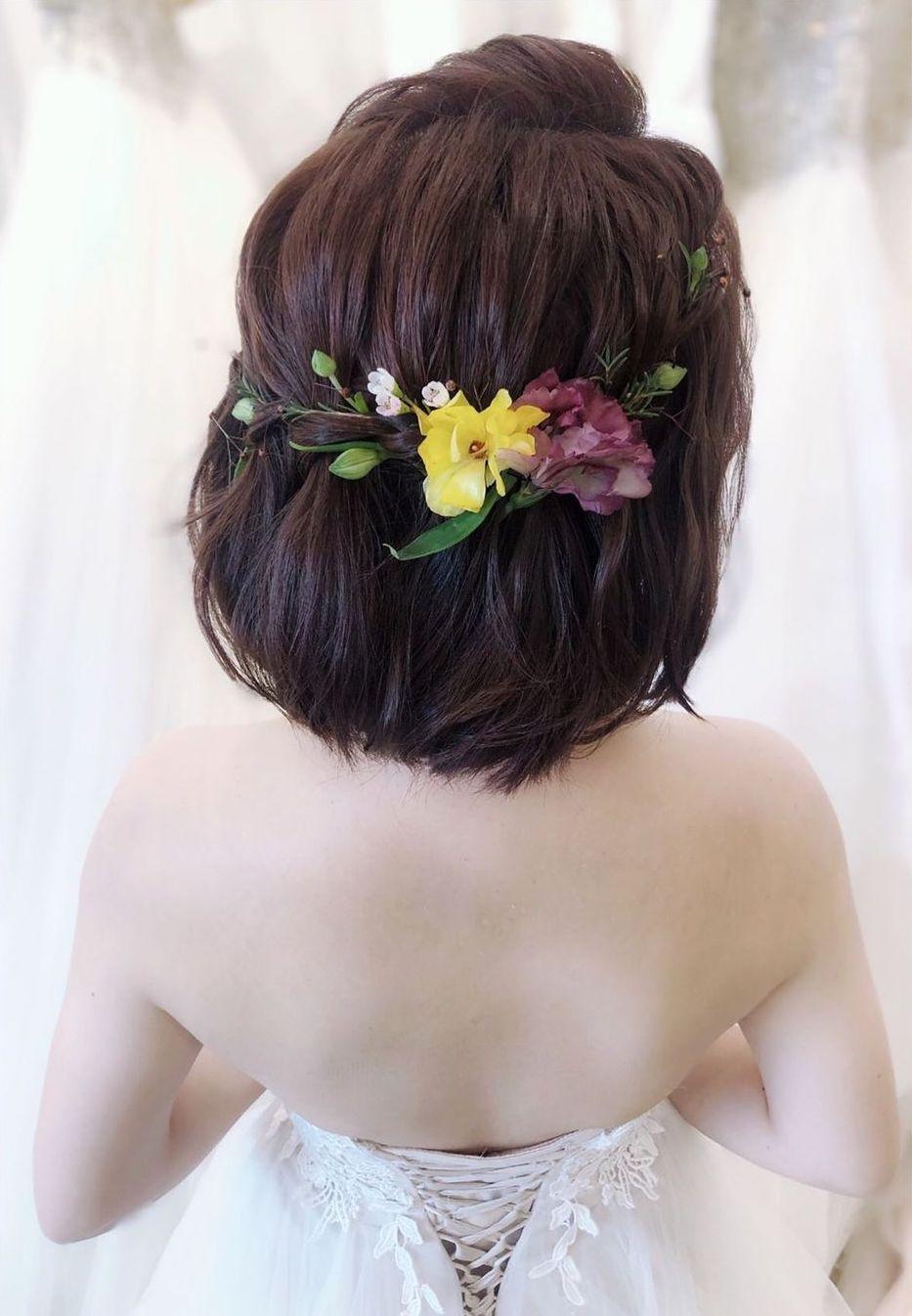 Image Courtesy: Elsa Yan Makeup Artist
This is quite a common hairstyle on lehenga for short hair that is sported by brides these days. While the look of the hairstyle is that of a floral tiara, the flowers are actually braided along with the strands of your hair in this style. This waterfall braid hairstyle with flowers makes your hair look as dainty as ever. As floral jewellery is an integral part of the Mehndi ceremony as well as the Haldi ceremony, you could easily flaunt this hairstyle for one of your pre-wedding ceremonies with your green lehenga or maybe a yellow lehenga.
Keeping it simple, you can still add loads of volume to the hairstyle by teasing your hair with a fine-tooth comb before you start braiding it.
The Spiral Curly Waves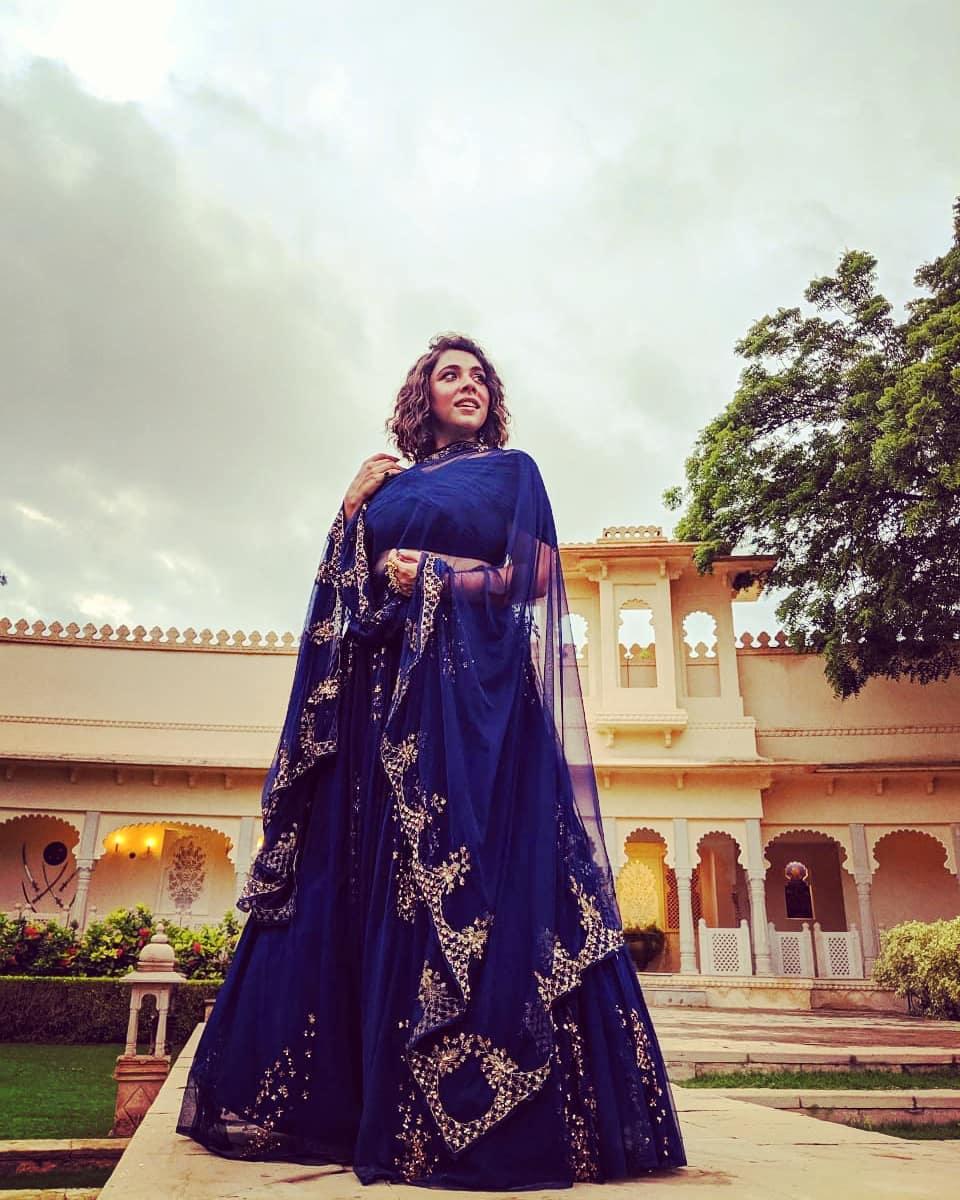 Spiral curls look stunning not only on long hair but short hair too. You can ace the curly short hair look with your lehenga effortlessly and all you need is a hairspray to make sure the curls do not get frizzy throughout the day. The curls give out an edgy look and if you are planning to flaunt it for you fun Sangeet ceremony, then you must try a smokey eye makeup look too. The combination just fits!
The voluminous look can also be made into a really glamourous one by giving your Maggi curls a wet touch with a shine hair spray. Though the curls look effortless, it could actually take hours to get the perfect ones but they're so worth it!
The Low Chignon with Hairpin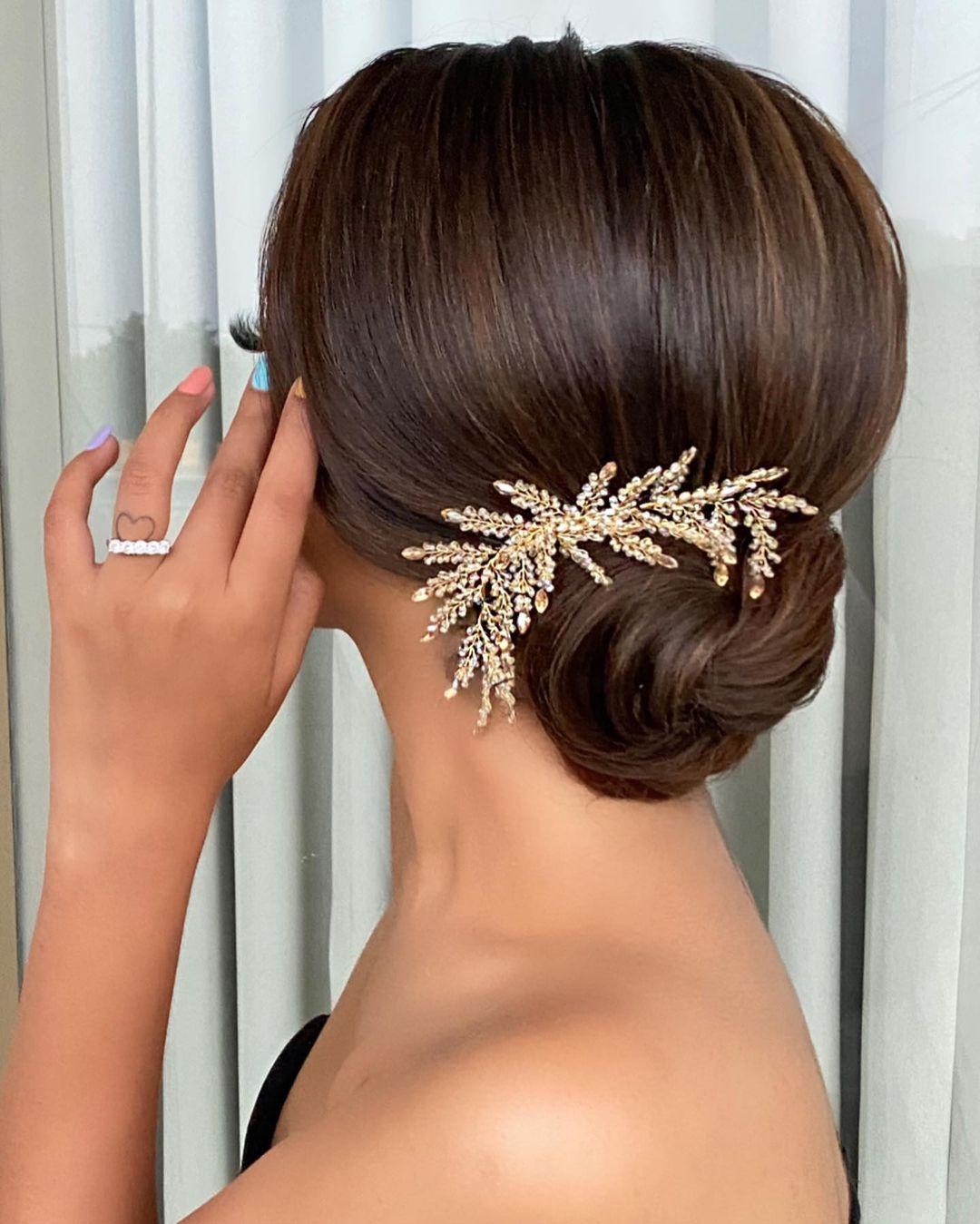 Hair accessories make or break a hairstyle and we are not exaggerating it! For shoulder-length short hair, you could always plan a low chignon bun by rolling the lower ends of your hair inwards and outwards alternatively. Now while it sounds like a simple hairstyle, what makes it extraordinary is the hair accessories that you use to add to its beauty. You could match a golden hairpin to your gold jewellery set to complete your lehenga look and ace it!
Puff up the crown section of your hair and tease it backwards to add more volume to your hairstyle if you are not looking for a sleek hair bun!
Simple Waves with a Matha Patti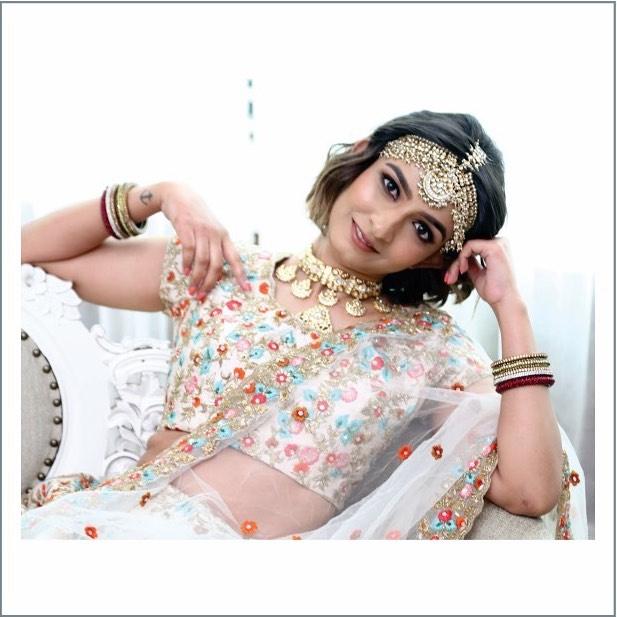 Image Courtesy: Savita Hairstylist
Most brides prefer to wear a Maang tikka or a Matha Patti for their wedding. If you are the bride with short hair, you might want to try on your Matha Patti with this hairstyle on lehenga for short hair. Wedding ceremonies are all about flaunting heirloom jewellery and the ever-stylish baubles with your bridal lehenga. Make the best of it by creating soft waves with a middle parting in your hair and making it just perfect to wear your Matha Patti.
Loose Waves for Short Hair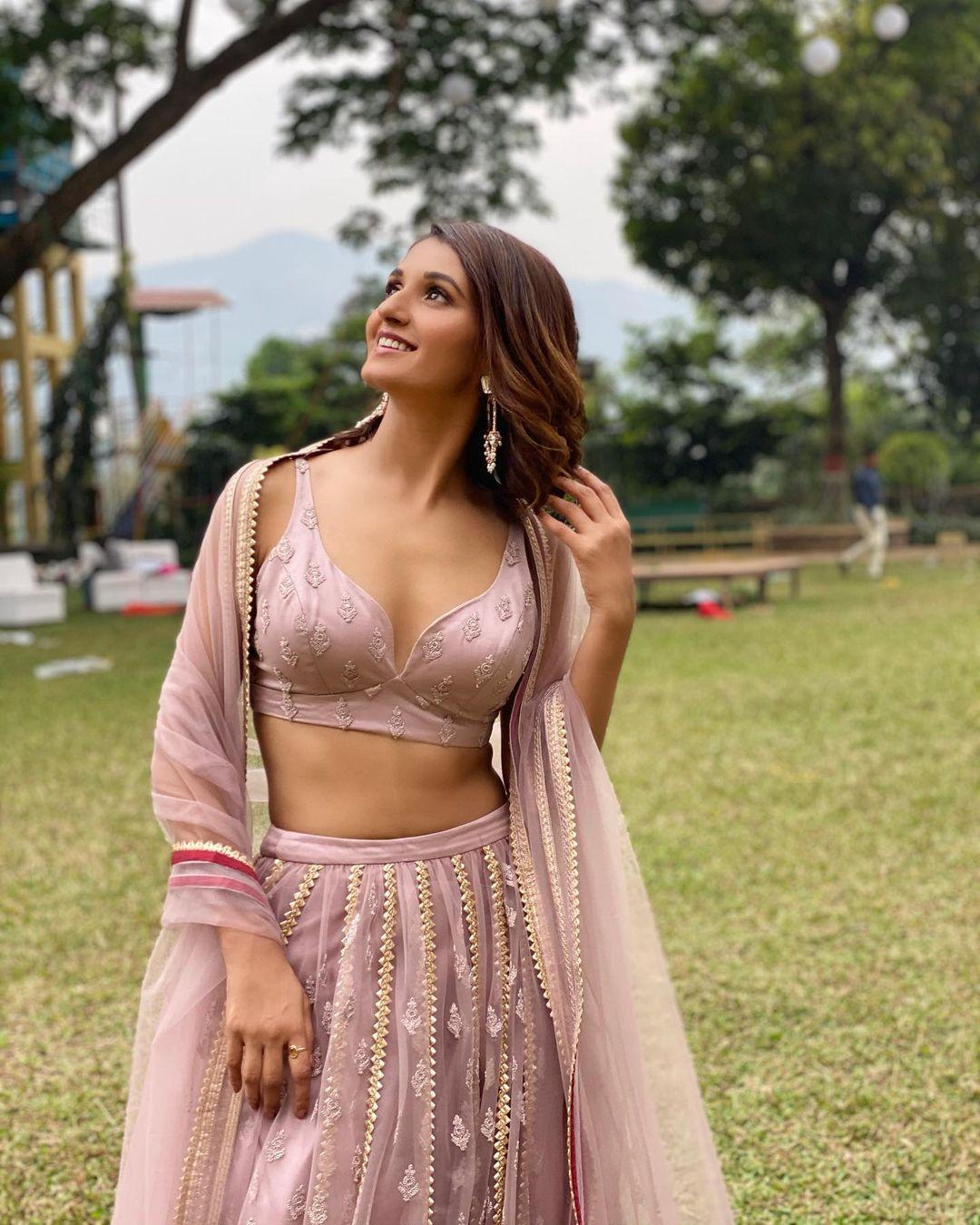 Image Courtesy: Shalini Sharma Makeup & Hair
Keeping it as simple and yet as dainty as possible, if you are the minimalist bride with a minimalist wardrobe for the wedding, keep your hairstyle simple too. Get the lower ends of your hair curled in loose waves facing away from your jawline and watch the magic unfurl. This simple hairstyle for curly hair adds much class and grace to your overall look.
Dramatic Curls on Short Hair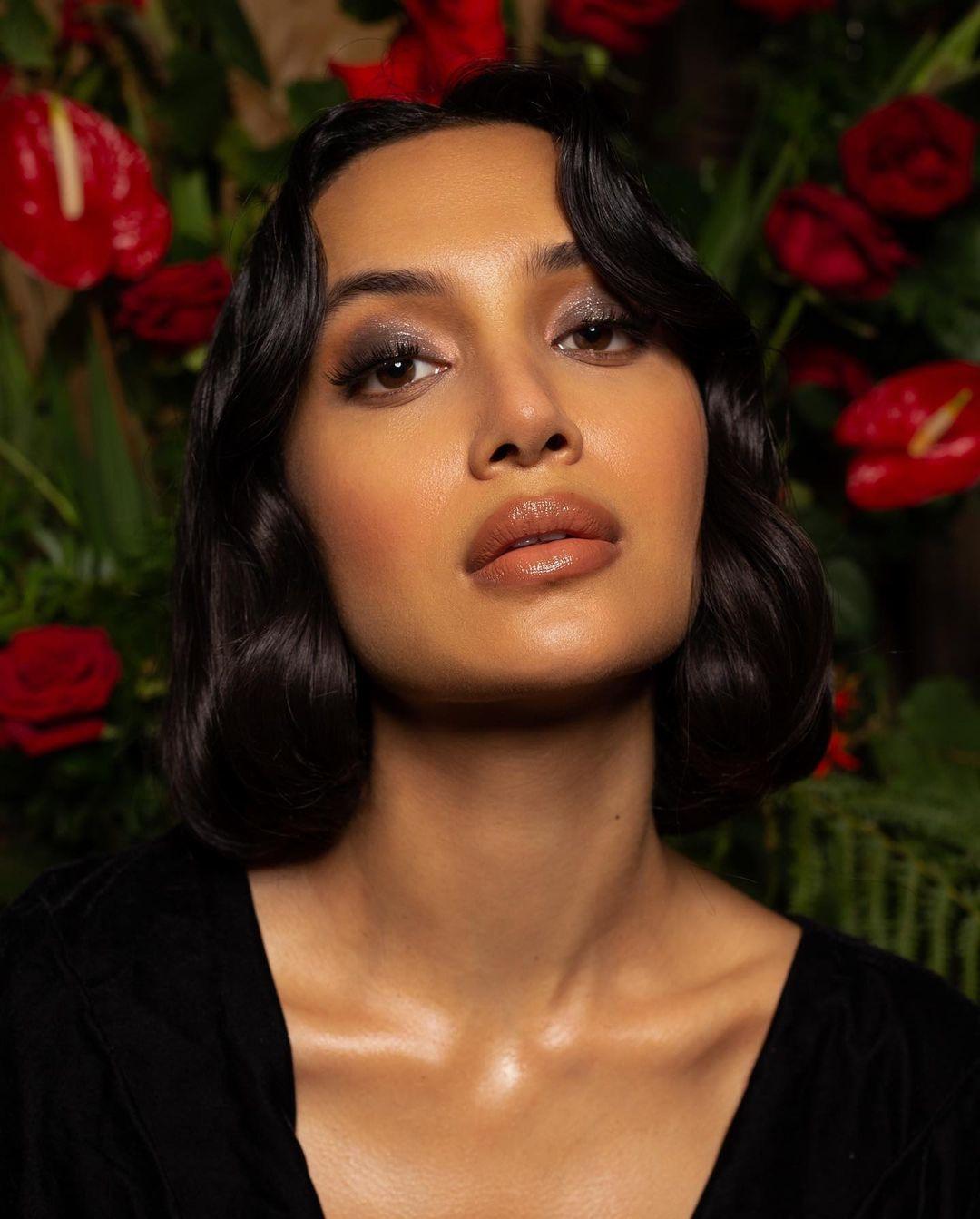 Image Courtesy: Aamir Naveed Hair
Finger curls look mesmerising on long shiny hair but who said that it only looks good on long shiny hair? Finger curls are a great way of adding drama to your hairstyle for short hair.
These bridal hairstyles for women with short hair are quite simple. You can easily get these done from a professional or even at home without running into any complications. These hairstyles on lehenga for short hair are a boon for those brides who want to get creative with their hair on their wedding, without having to add hair extensions for the mainstream bridal hairstyles for long hair.
If you want more professional hairdos, then get in touch with our expert hair stylists right away! Don't forget to mention your favourite hairstyle on lehenga for short hair looks in the comments below.
With words by Meha Khera