5 Simple Indian Hair Style Ideas to Pick This Wedding Season!
A hairstyle plays a crucial role in making the bride look stunning. With more and more brides opting for a simple Indian hair style, the focus is on looking great in a minimalistic way. Go through the simple hairdos that you can try at your wedding.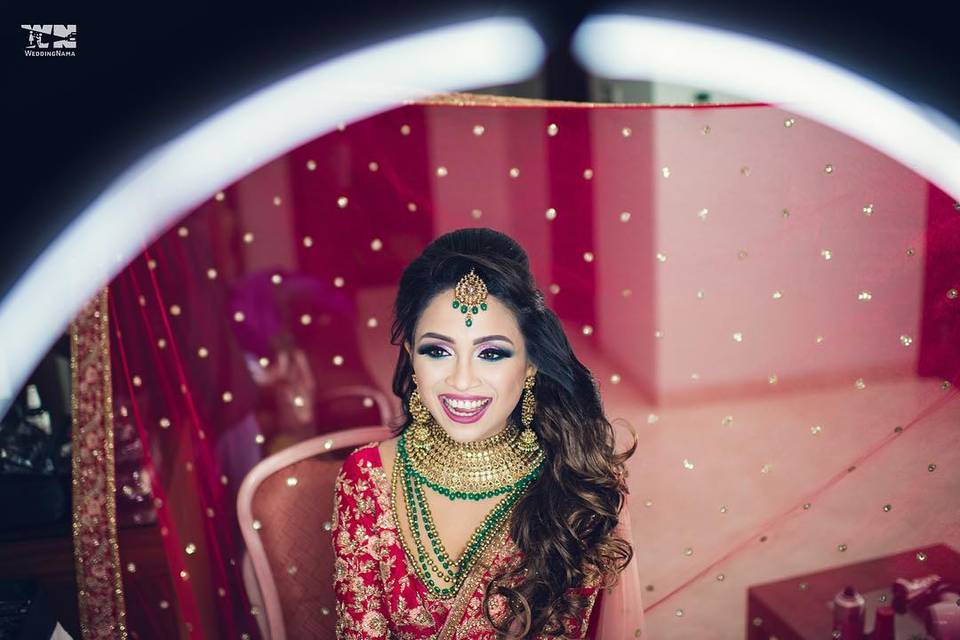 The minimalist approach is the new trend and it is catching up with weddings as well. Well, no one thought that this could happen with Indian weddings, as they are traditionally so big and a bit over the top. Indian weddings are more of a celebration or a festival than a small group of people attending an event with two people getting married.
However, it is all changing now with more and more people opting for weddings that are less grand. The idea is to focus on quality, elegance and spend wisely rather than being loud and hosting a huge event. The brides and grooms are themselves taking this approach, starting with themselves by choosing simple dresses, hairstyles and jewellery that are more on the elegant side.
In this article, we are talking about a simple Indian hair style that would give you that sober look you are hoping to achieve at your wedding. A simple Indian hair style can be as simple as the classic juda or you can go ahead by just simply letting your hair be open or styled in simple braids. All such hairstyles are simple to pull off and hardly take any time to create.
The following are a few examples of how you can look fabulous even with a simple Indian hair style at your wedding.
1. Just add some curls at the end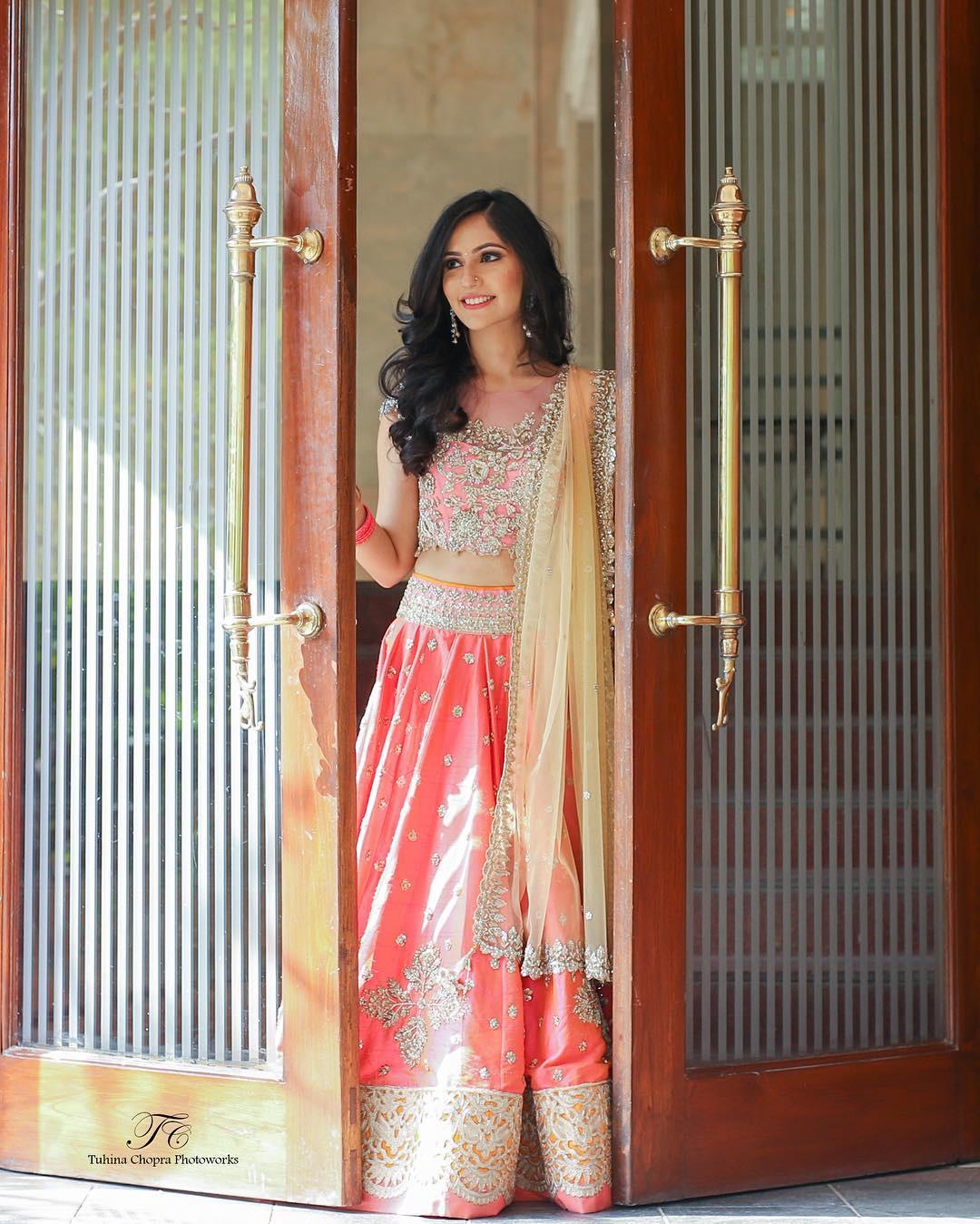 You cannot create a simpler simple Indian hair style than by just letting your hair be open with some curls at the end. This hairstyle is perfect for you if you are not covering your head with a dupatta. The curls at the bottom add volume to your hair. The biggest advantage of this hairstyle is that you do not have to wear too much jewellery on your head, leaving your headlight.
This is not the case with other hairstyles where you wear Matha Patti or other such jewellery on the head. With this hairstyle, make sure you use your dupatta on one of your shoulders.
2. The messy look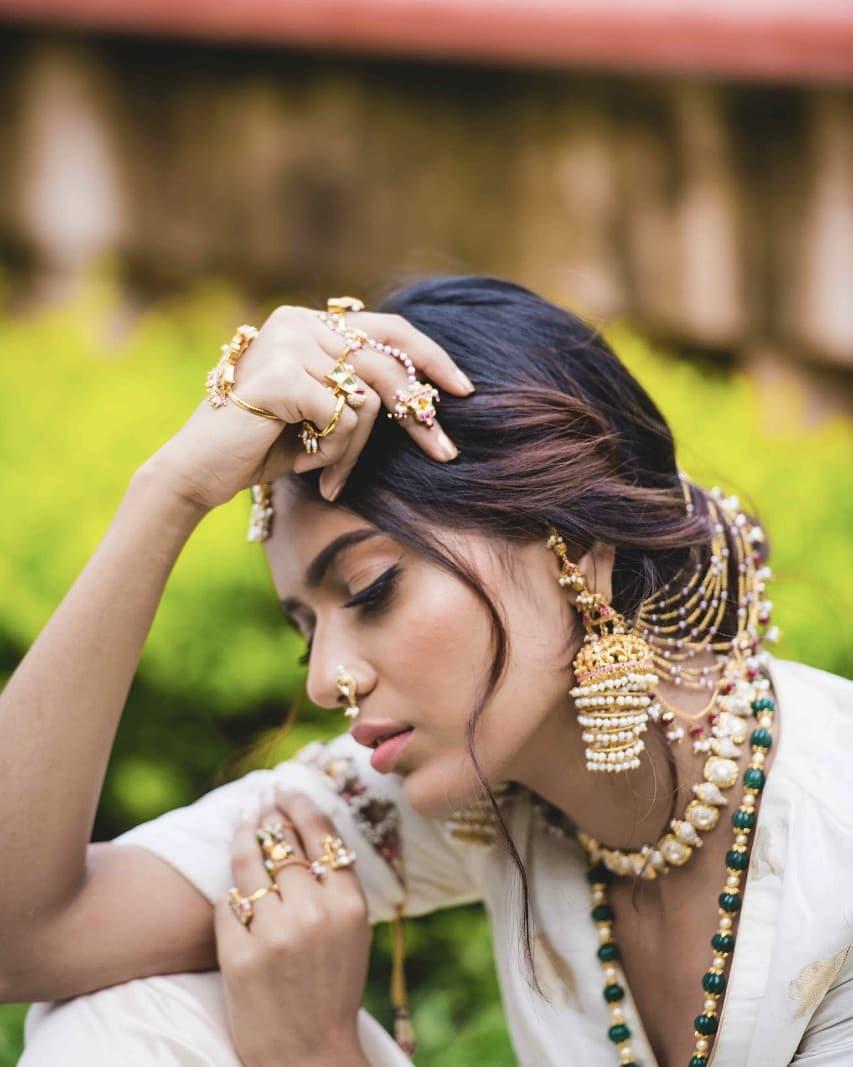 This messy simple Indian hair style gives you the lazy elegant look. It looks even better if you wear an earring chain that dangles from the ear to your hair. Choose the jewellery carefully because with this look you cannot go overboard. You have to be subtle with it through and through.
This is because you wear a heavy lehenga and heavy jewellery with this hairstyle, it would not look great as it doesn't fit the lazy vibe. The colour of the lehenga should be preferably one that is not loud.
3. The classic juda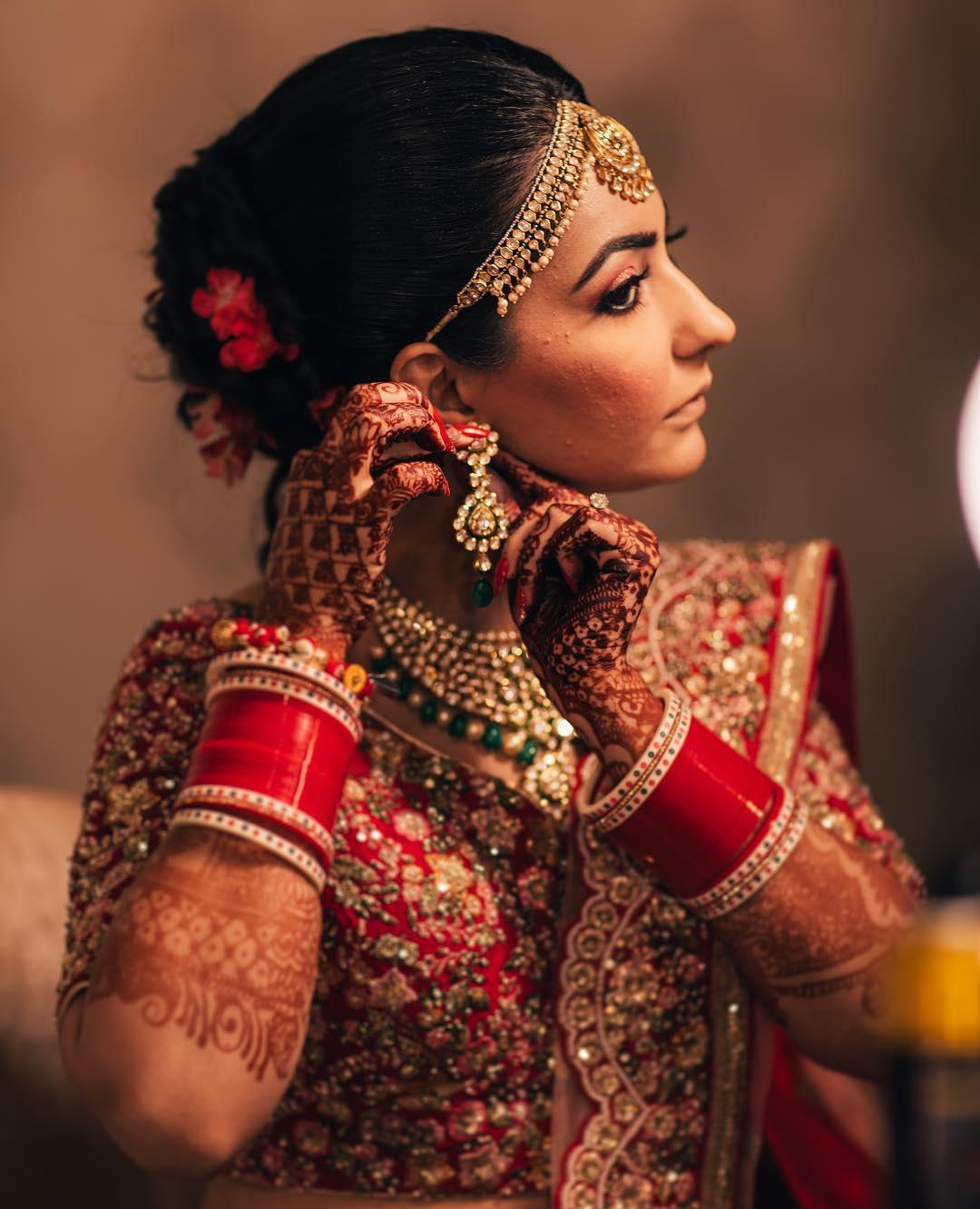 The classic juda is the best example of a simple Indian hair style. The biggest advantage of juda is that it looks great with almost every outfit. You can have it with a south Indian Kanjeevaram saree, a heavy lehenga or even a gown. You can add small details to this hairstyle with either your hair itself or by using other accessories like flowers or ornaments.
You can wear the traditional Matha Patti or a tiara if you want. Furthermore, the hairstyle is perfect if you want to wear a dupatta over your head. With so many options available with this simple Indian hair style, this versatility is what makes the bun such a popular hairdo among Indian brides.
4. Braids with the addition of Billai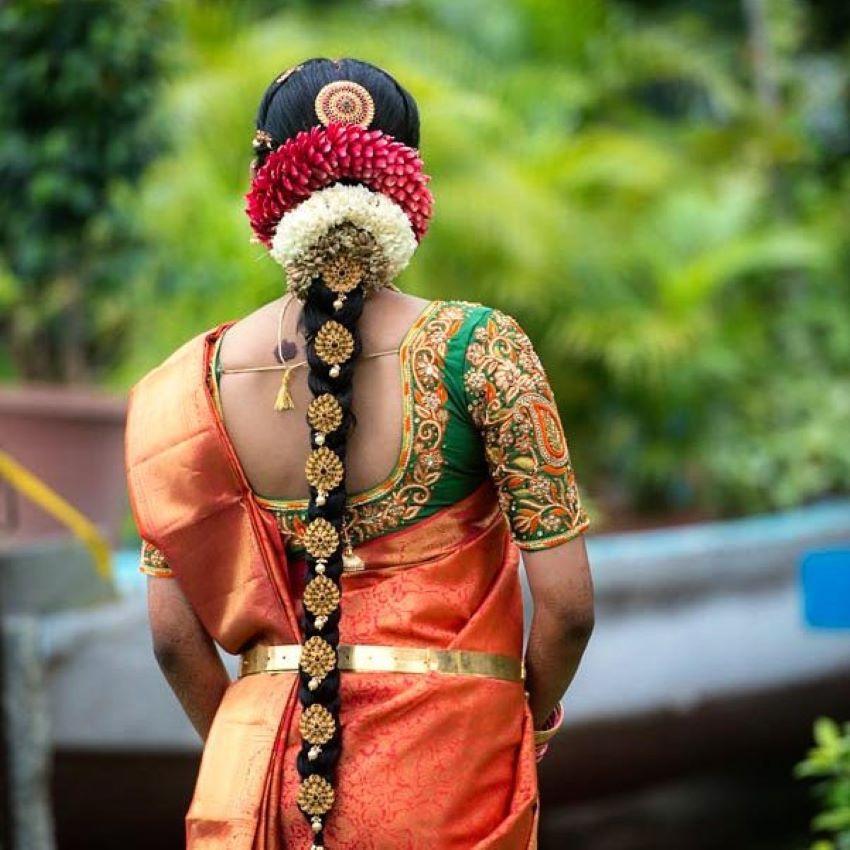 Almost all girls know how to braid their hair, making it the simplest hairstyle ever. Now, some may feel that it is so simple that it would not look great for a wedding look but it is not at all the case. This simple look is extremely popular in South Indian weddings, especially because it allows the bride to wear Billai, the traditional south Indian hair accessories or ornaments worn by Tamilian brides.
The Billai goes from top to bottom of the hairstyle, covering the long hairdo. It accentuates the traditional beauty and makes the bride look absolutely beautiful. This simple Indian hair style is not only easy to pull off but also gives you the authentic traditional look.
5. Add rings to give it a twist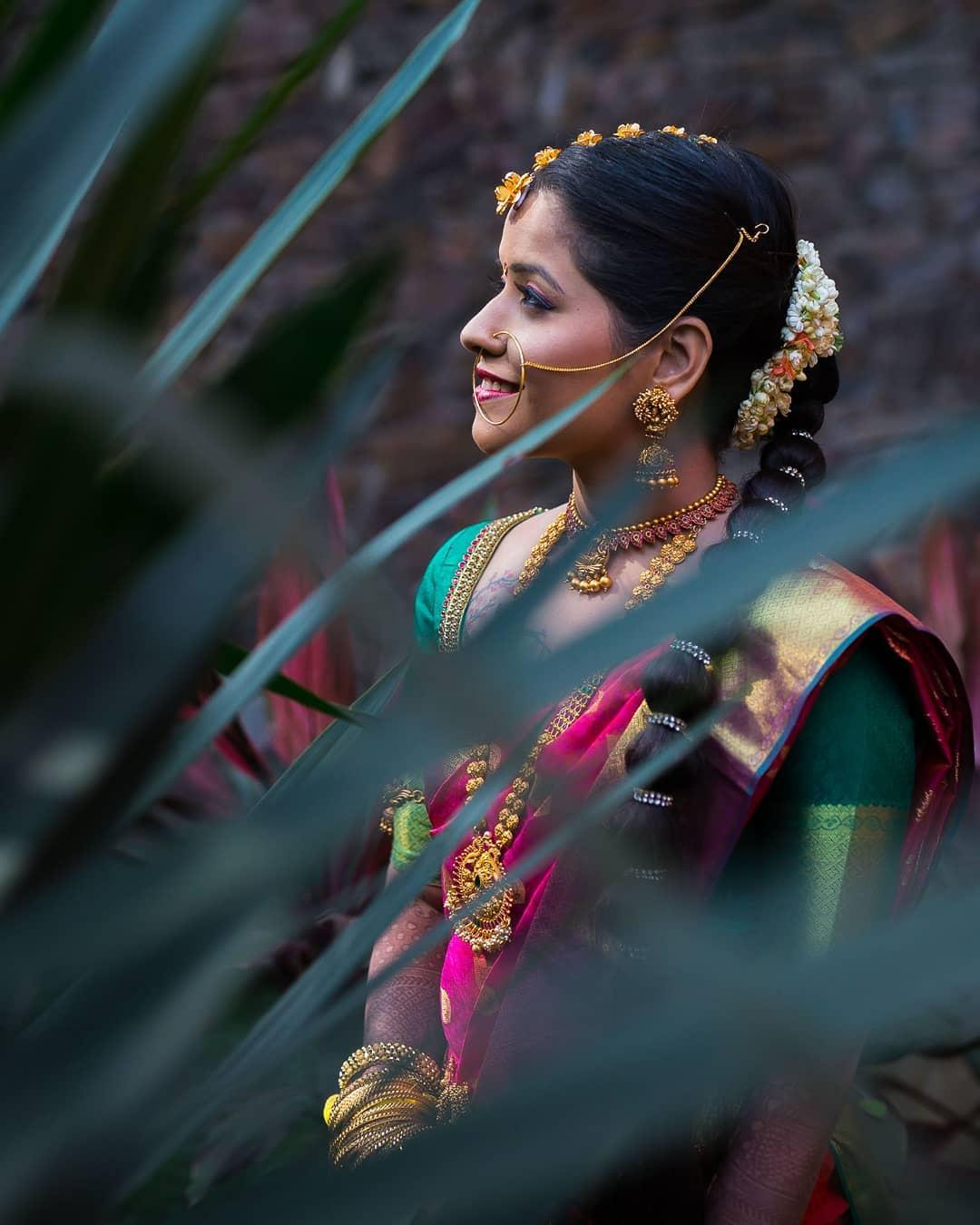 Now, this is an interesting take on an extremely simple Indian hair style. Just fix your hair at the head with some pins and Gajra and then let your long hair loose and a few rings do the trick for you. Comb your hair straight and use multiple rings to hold the length of the hair. Have each of the rings at a distance of 2 inches. The hair gets a clean look, making you look gorgeous.
With so many great ideas, who says that you have to have an elaborate hairstyle to look great at a wedding? Just got for these elegant ones instead!
Get in touch with our professional hairstylists to rock any amazing look!