Essential Tips On How To Make A Bun Look Chic Without Accessories
Your own hair can be the prettiest accessory while creating bun hairstyles. Learn how to make a bun look chic without accessories!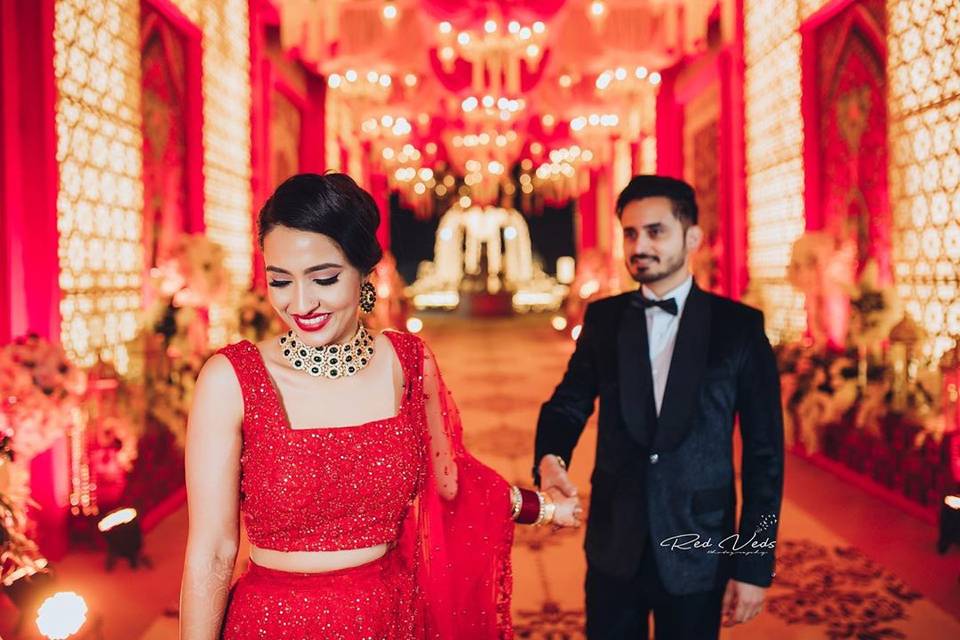 Whether you're looking for a polished hairstyle for a meeting or a quick go-to one to hide those greys, a bun hairstyle can be the best pick. Buns are also the ultimate go-to hairstyle for parties and weddings.
Even though hair accessories add a lot of glam factor to hairstyles they are not always readily available; in fact, they are not always even required to give your bun hairstyles a pretty look. So, get ready to explore some stylish bun hair inspiration for weddings and parties and learn how to make a bun look chic without accessories.
You can master a lot of these how to make a bun hairstyles on your own, especially the messy ones, or show the pictures to your hairstylist to get it right.
1. Braided bun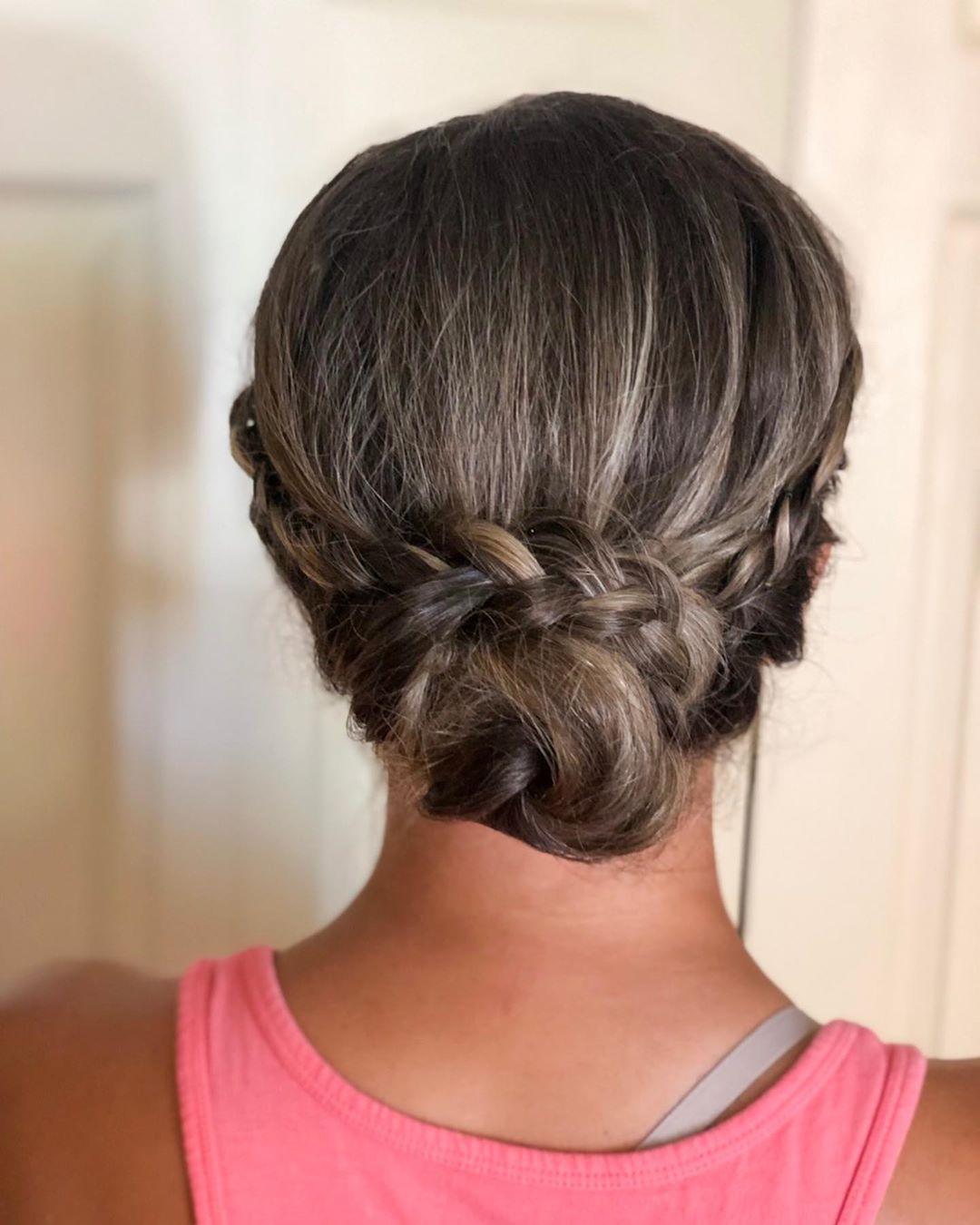 Image Courtesy: Frandina's Instagram
Once you master this braid hairstyle it will barely require a couple of minutes and can be created with even short and medium length hair. This hybrid hairstyle features braids that eventually turn into an effortless low bun.
Here is how to make a bun with braids: tease your hair for some volume, make two or three braids and then form a bun with them with the help of a few bobby pins.
2. Fishtail or French braid wrapped bun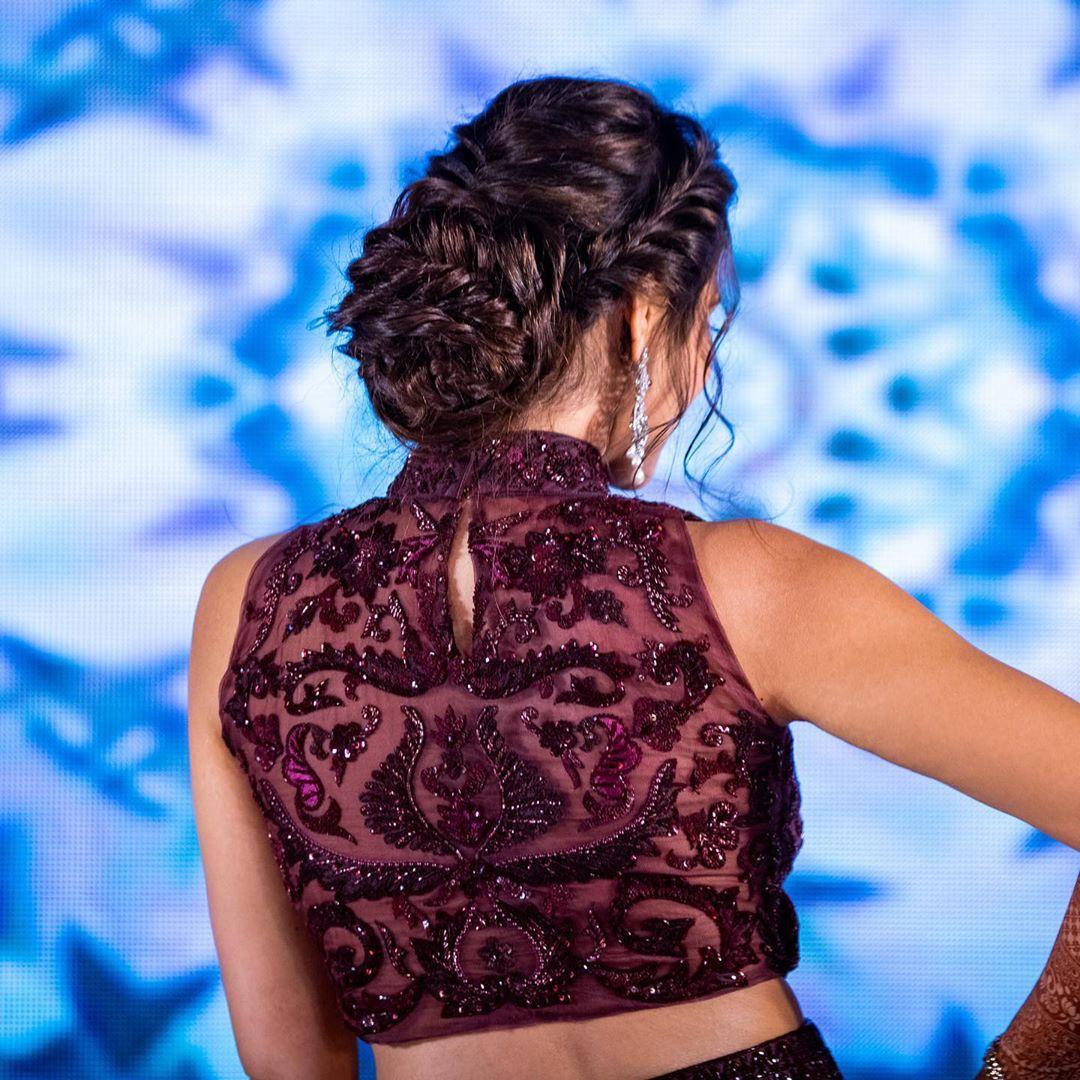 Who needs accessories when the twists and turns created with your own hair solve your dilemma of how to make a bun for a sharp look! All you have to do is to start with a soft braid right from the top, and as you proceed towards the base shape it into a bun, right at the base of your neck.
The low bun gives it a classic and romantic look. With the variation in braids, such as French, fishtail or dutch, the bun can look totally unique each time.
3. Low bun with side parting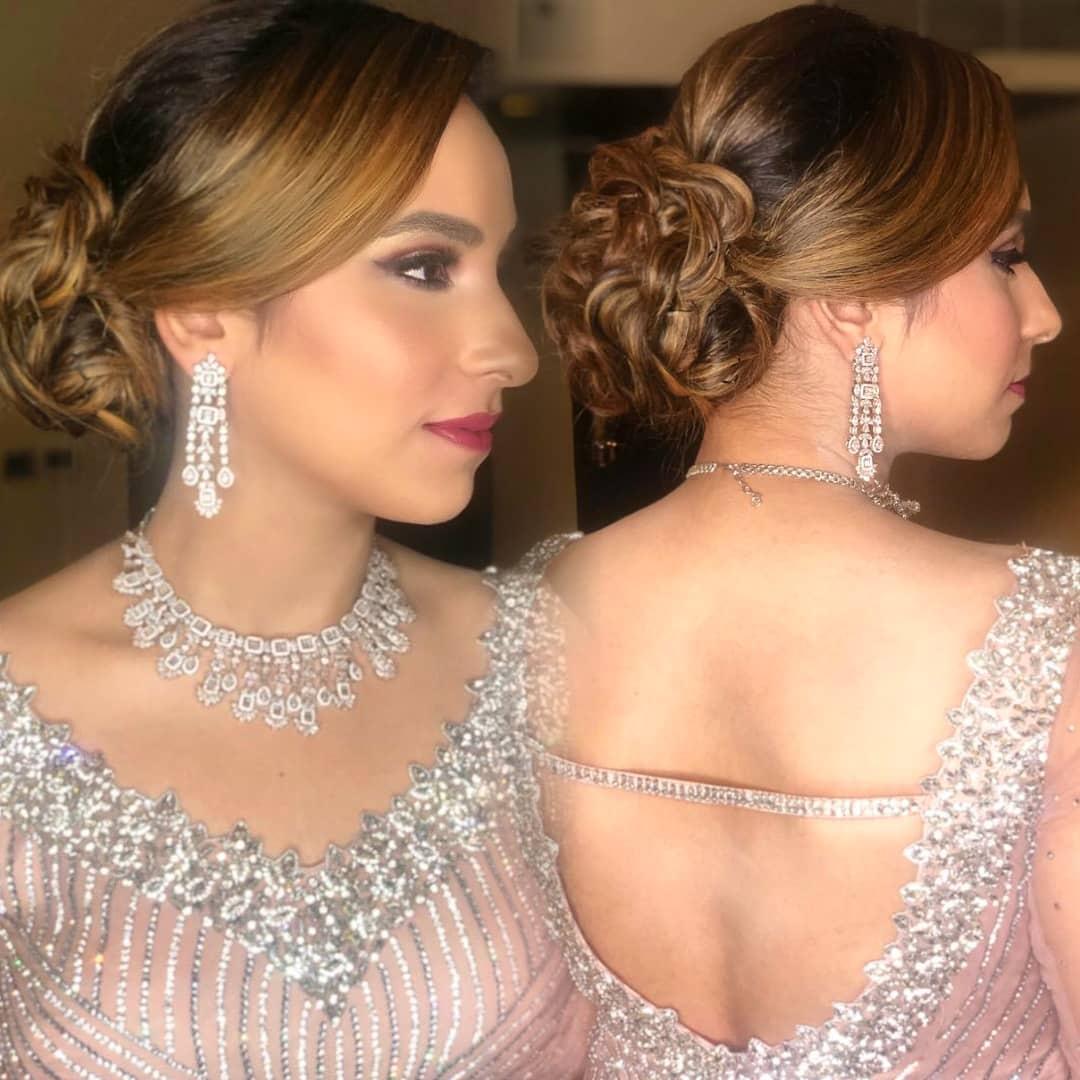 A casual bun, when paired with sleek straight hair in the front, looks chic and sexy. The special element in this bun hairstyle is the side-swept fringes.
Especially suitable for girls with a broad forehead, the sleekness of this hairstyle gives a polished look while the low bun at the back makes it flirty. You can opt for any kind of bun, just keep it low for maximum glam.
4. Basketweave bun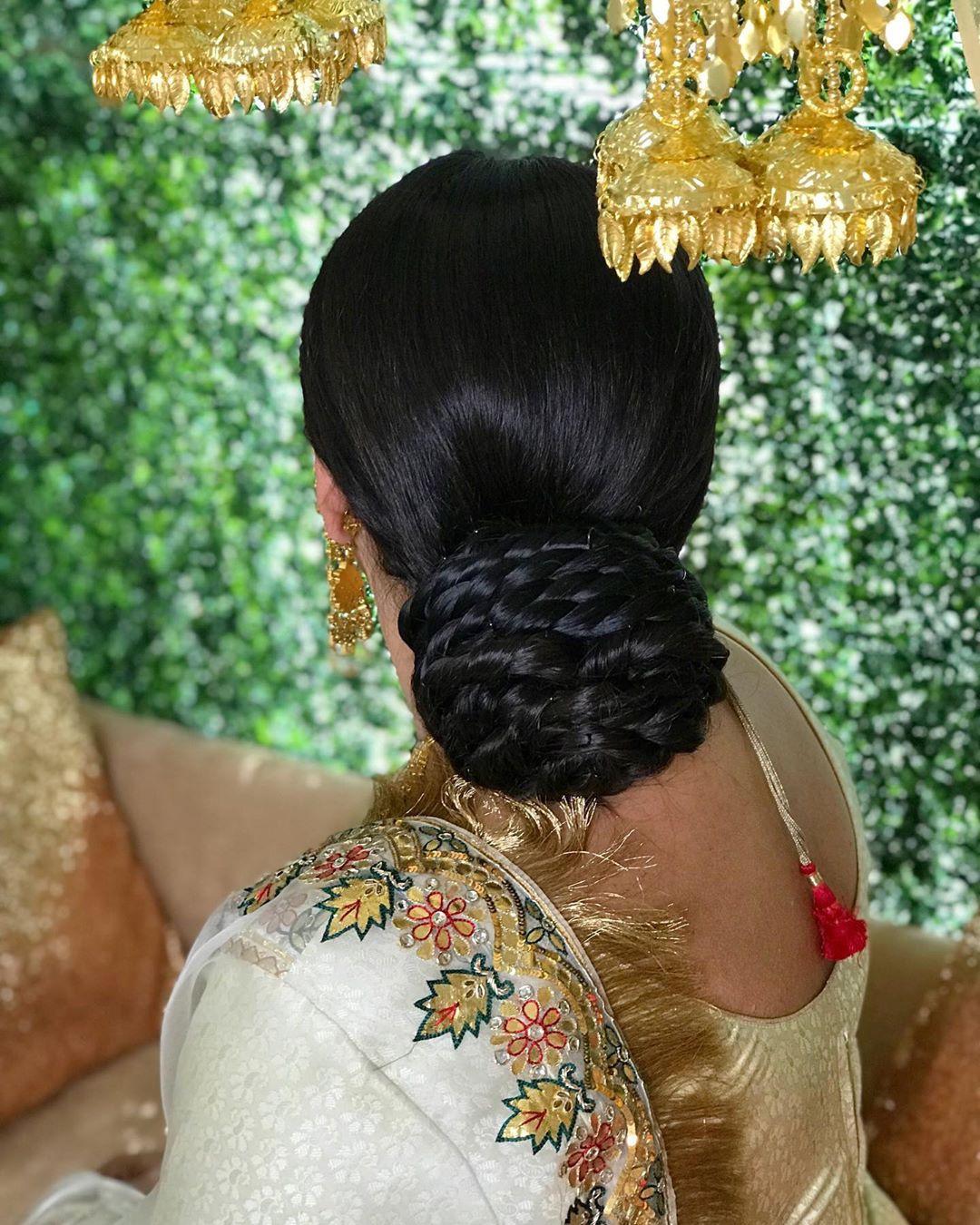 Image Courtesy: Faces by Raman's Instagram
The beauty of choosing a bun hairstyle for a wedding definitely lies in its intricacy and details. This hairstyle requires you to have sleek hair in the front so that the basket weave-like styling of the bun can get all of the attention.
The multiple layers require you to have voluminous locks, so this style is best suited for girls with thick hair else demands the addition of hair extensions.
5. Loose strands in front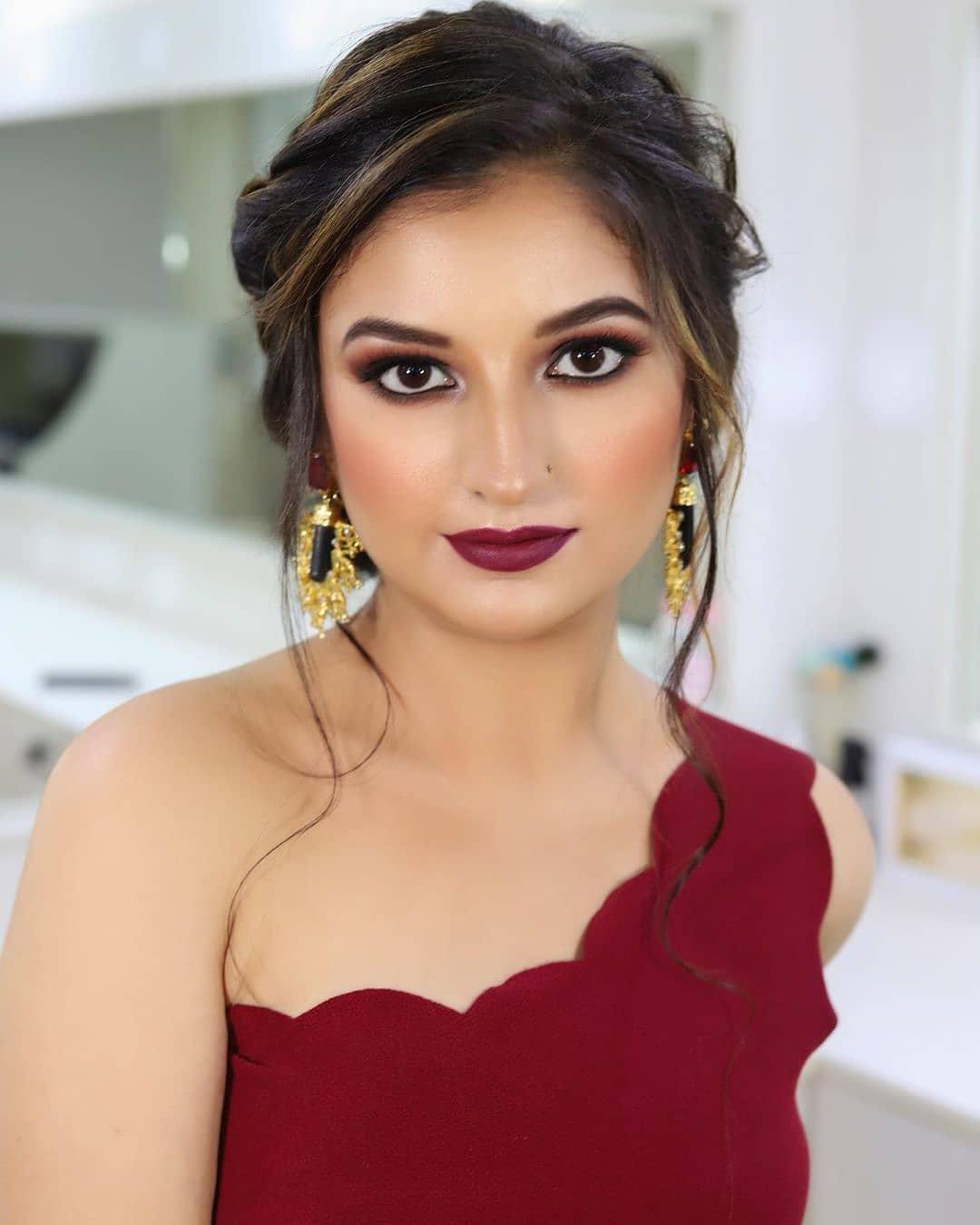 Give any bun hairstyle a romantic look by keeping a few strands loose. This detail adds a finishing touch to messy as well as sleek buns. Wondering how to make a bun look flirty? Just take tiny sections of your hair from the front, curl them slightly, set them with a spray and you're ready. These curled wisps around the face soften the overall effect too, giving a demure look.
6. Middle parting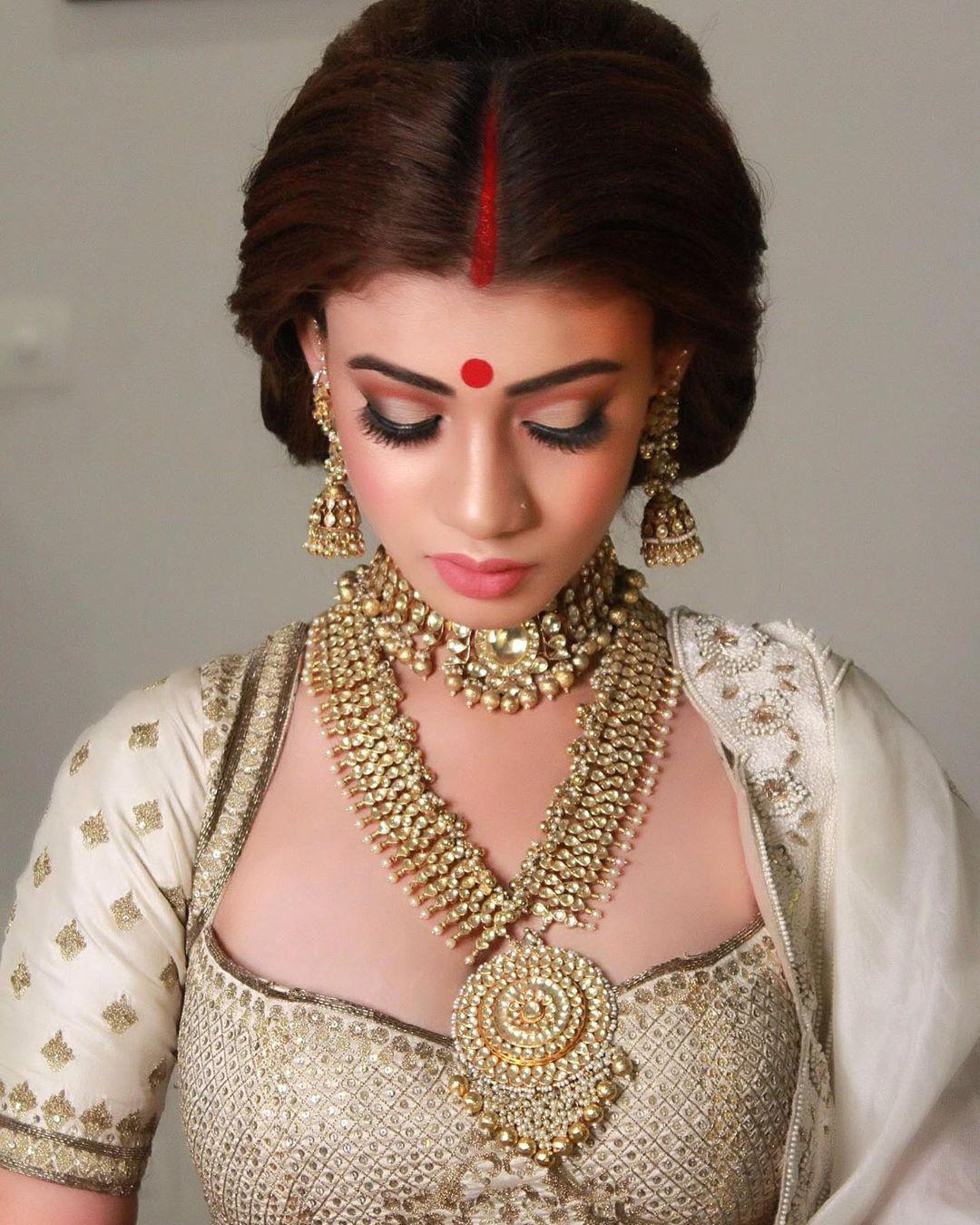 A bun with a middle parting in the front can give you an interesting look. Owing to its versatility, you can keep your hair straight and sleek or tease it for extra volume. Middle parting looks great with finger-combed and curled hair too.
Don't get too flustered about how to make a bun like this, just ensure your hairstylist focuses on finishing. We love how this bride opted for a middle parting and filled it with sindoor.
7. Rose bun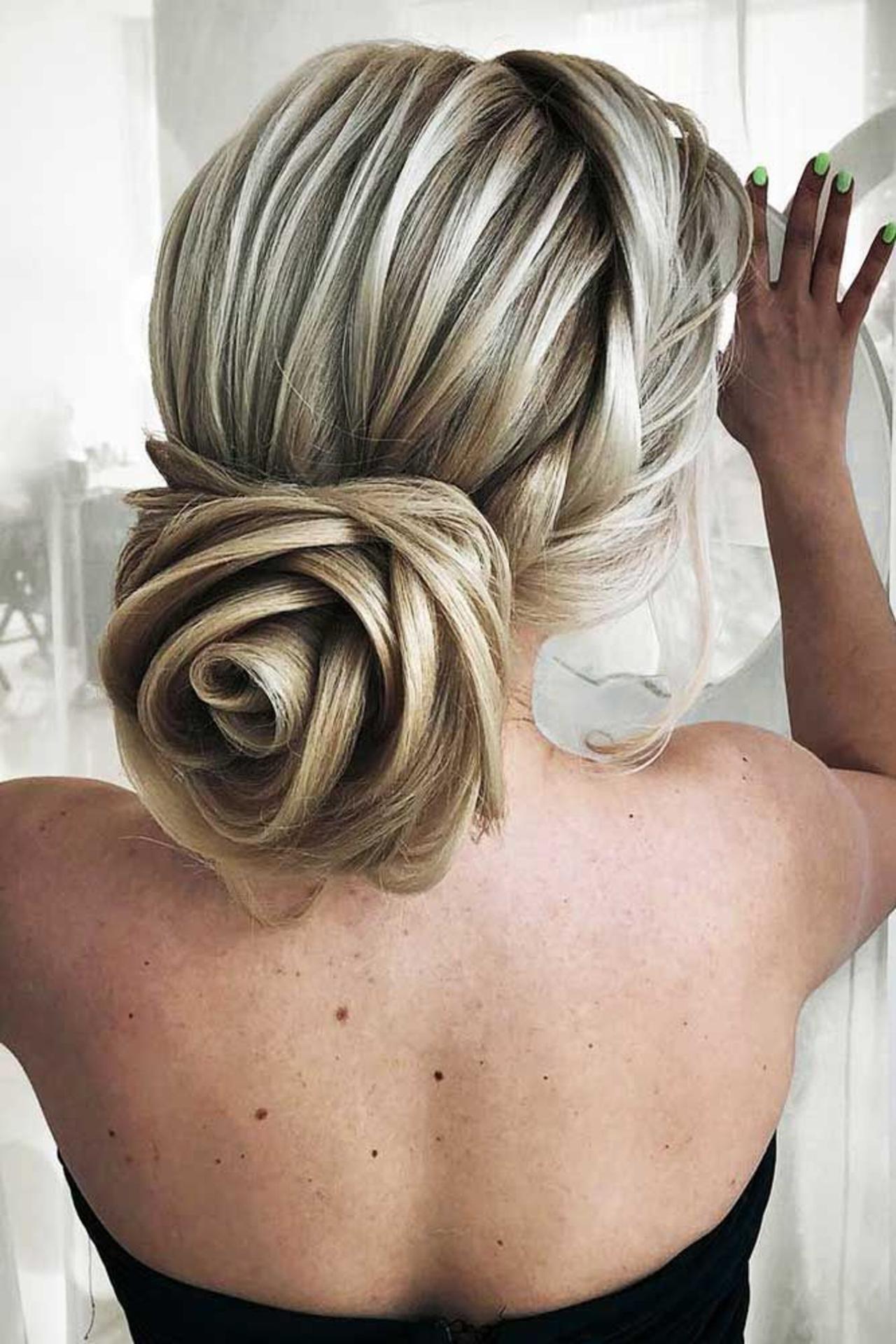 Image Courtesy: Pinterest
Ever wonder how to make a bun look chic when you do not have real roses to decorate it? Inspired by the gorgeous rose flower, this rose bun is a statement in itself. Albeit, the creation of this hairstyle requires a high level of skills, the results are outstanding. The separation is created with fingers leading to a spiralling bun.
8. Side bun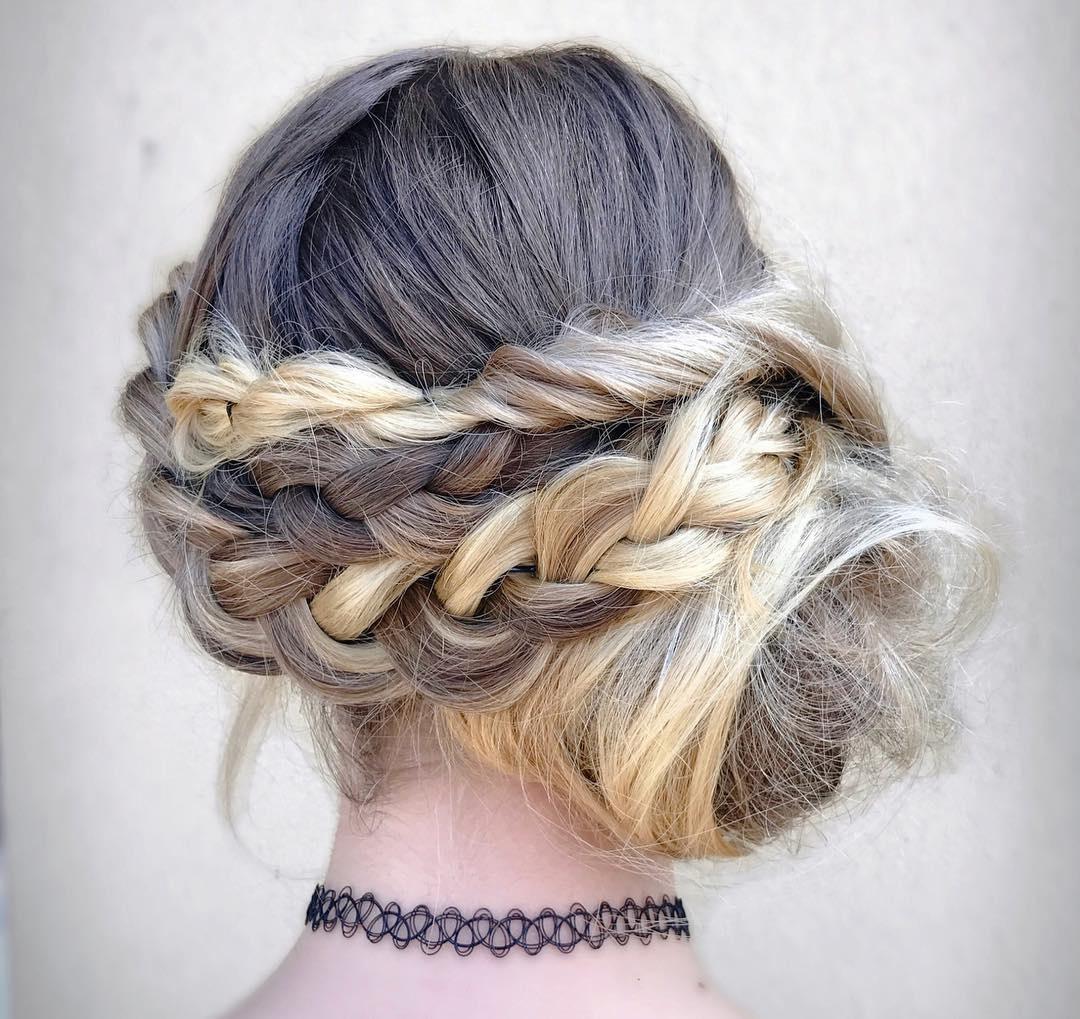 Image Courtesy: Rachel's Hair SPot's Instagram
Skillfully tease and volumise hair, intertwine it into a plait, and cascade towards the side - that's how to make a bun look stylish. This hairstyle gives a quintessential bed head look that's messy but with the right amount of elegance.
You can adjust the position of the side bun to keep it high, mid or low, as per your liking.
9. Elegant and sleek rolled bun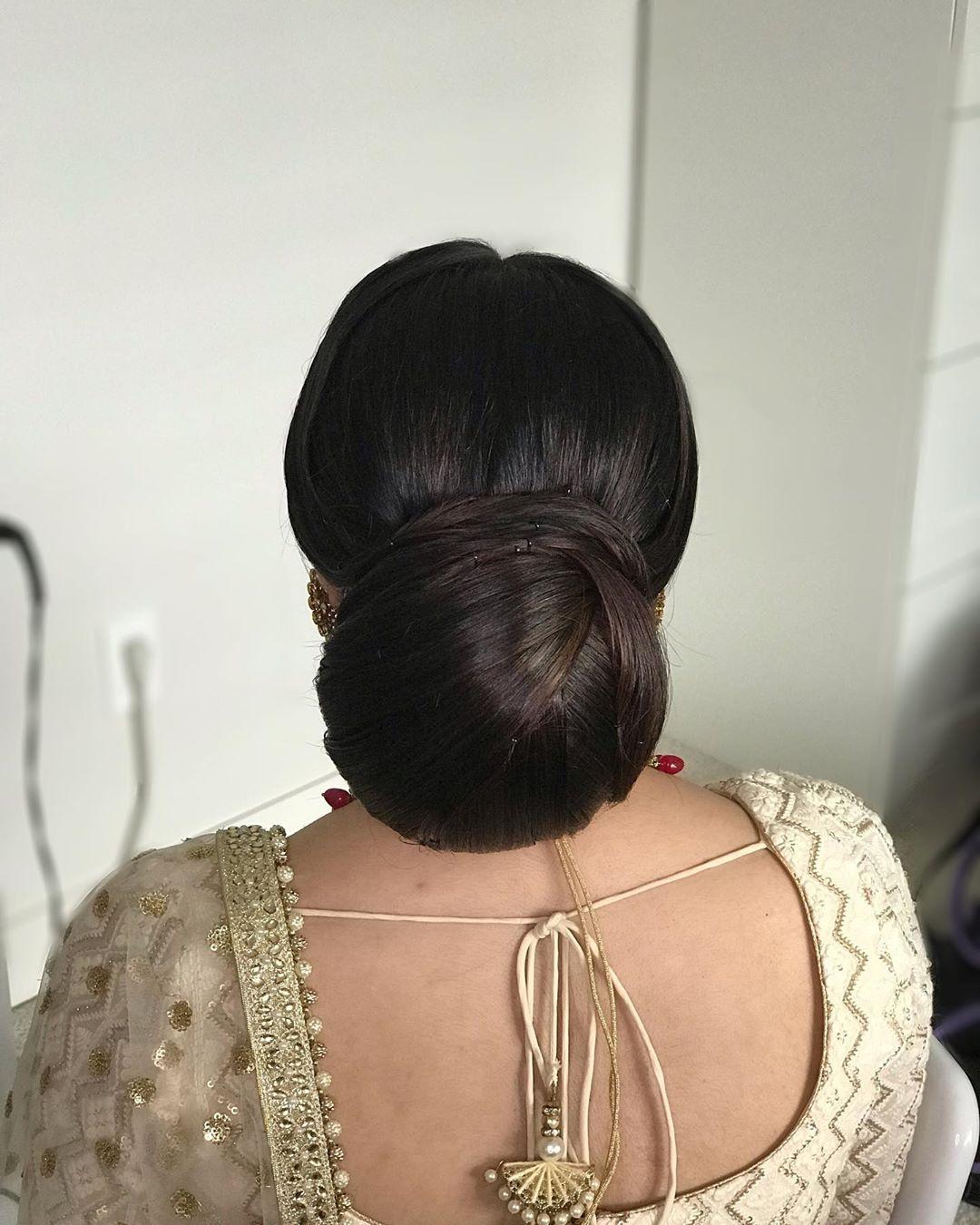 Image Courtesy: Faces by Raman's Instagram
A neatly created lustrous bun can increase the appeal of your crowning glory, your hair. Strategically twisted and rolled hair sections together create this sleek bun. If you prefer neat and polished hairstyle, this one is perfect for you as it eliminates the chances of flyaways. Once created, this look remains intact, hence is quite effortless too.
10. Multi-layered textured bun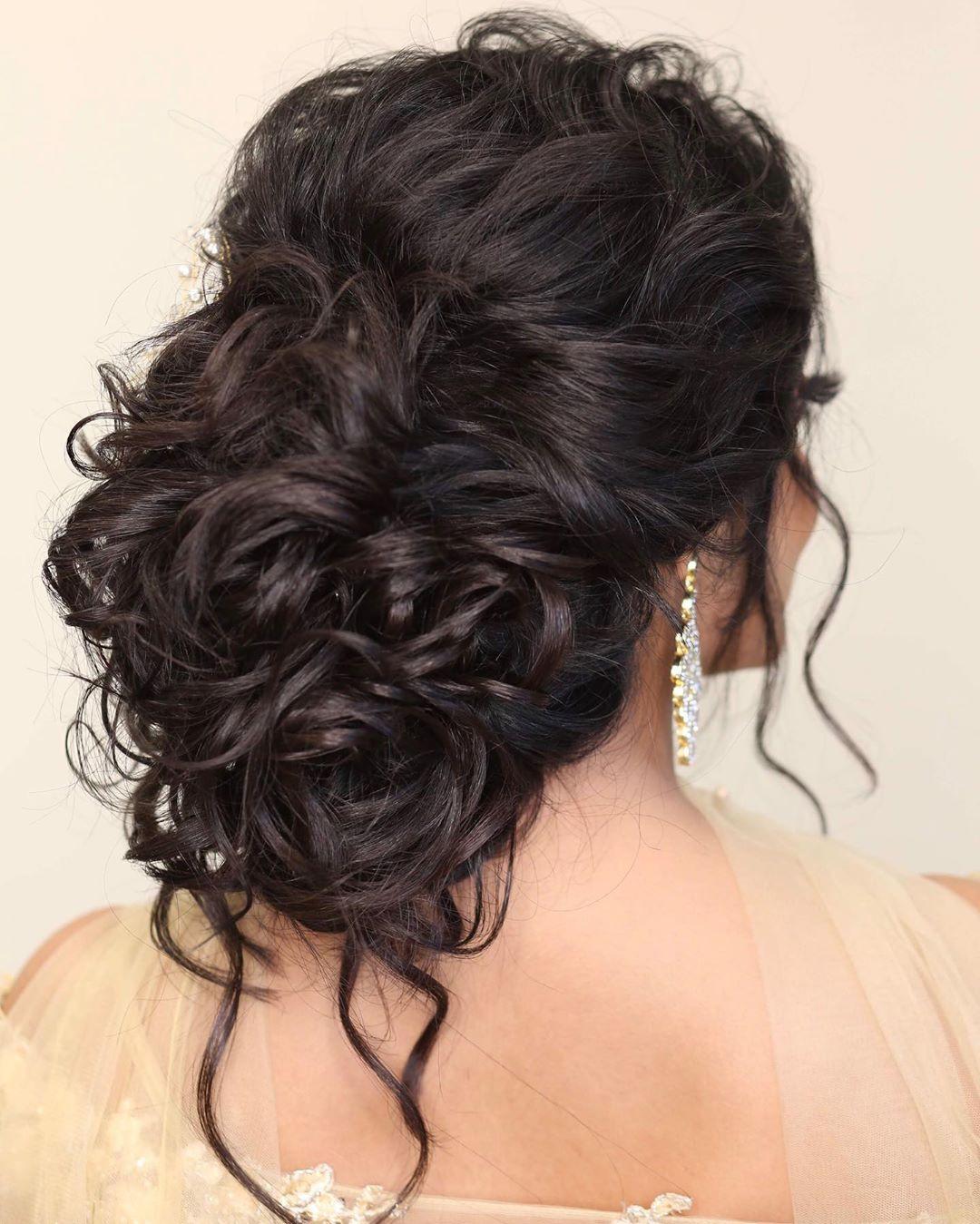 Texture gives enhanced volume to hair and helps highlights the beautiful colours too. Created with the help of curling, teasing and texturising spray, this hairstyle gives results that appear intricate. The hair can be set in different shapes and sizes, further eliminating the need for accessories.
11. Tousled hair with a high bun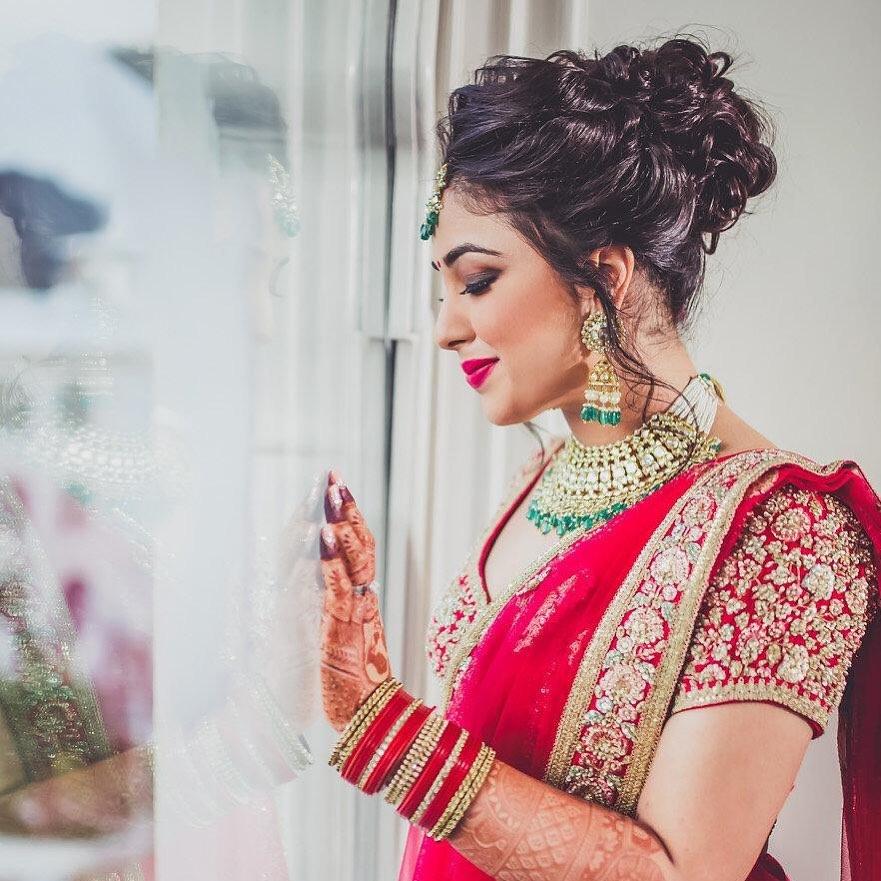 If you are looking for a quick, elegant and chic hairstyle idea, here is how to make a bun with tousled hair. Created with whimsical twists, this hairstyle lets you strike a balance between a messy bun and flirty curls. A great idea is to create the bun high after creating volume in the crown area.
12. Side braid and low bun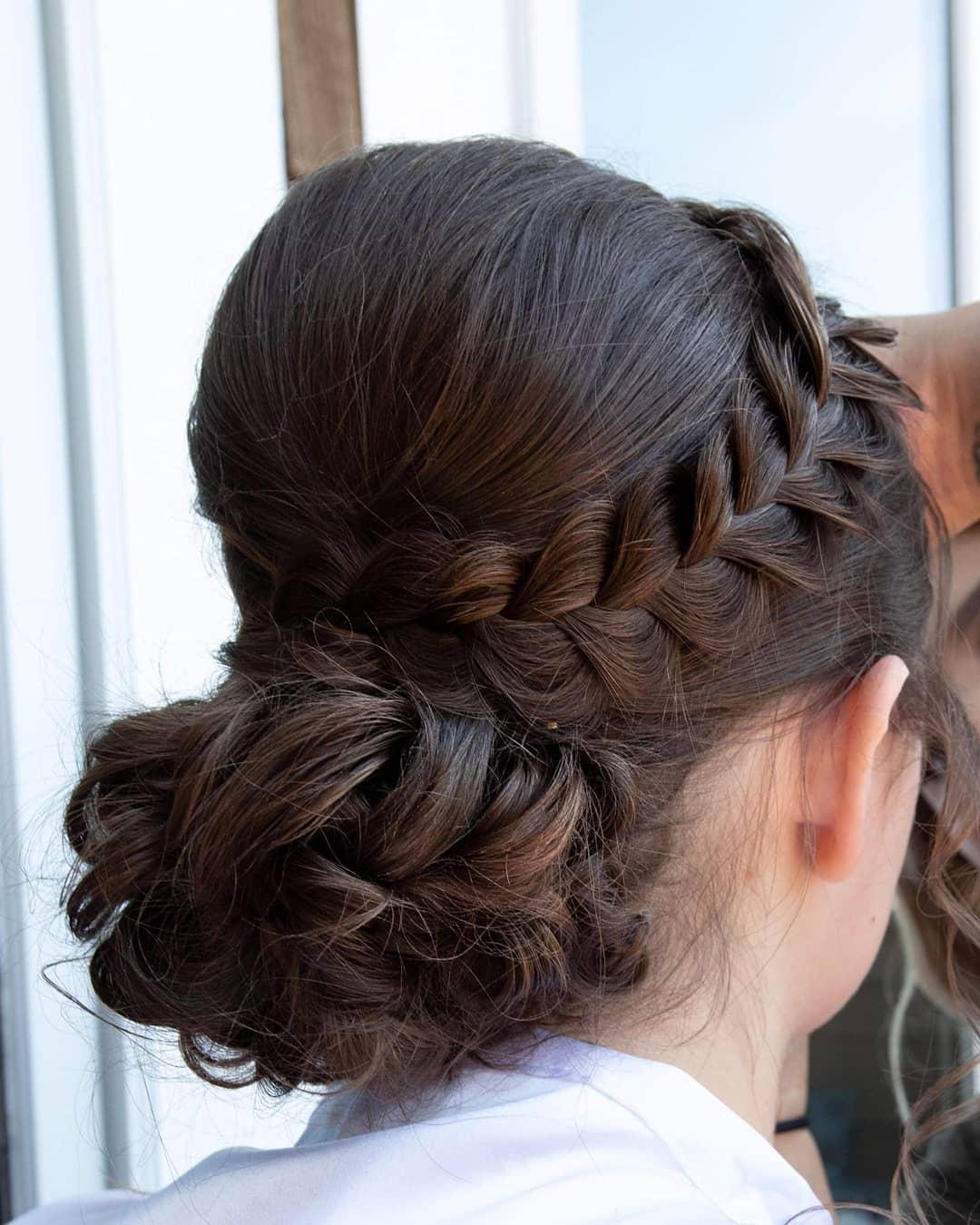 Image Courtesy: Ashley Berglund's Instagram
The addition of a side braid to a bun hairstyle gives it an exaggerated but appealing look. If you desire to perk up even the simplest of buns, go for some teasing and start with a small section of the hair to make a side braid. This hairstyle is especially a great idea for girls with thin and limp hair who always wonder how to make a bun.
Although fragrant Gajras, sparkly hair gems and twinkling tiaras tend to highlight your hairstyles, they are not suitable for everyone. If you're planning to go for a heavily embellished outfit, do not have any accessories handy or just want to skip too many accessories, these hairstyles can prove to be the best pick. These hairstyles are suitable for all hair types, face shapes, occasions, age groups, and outfits. One last tip: before finalising any of these hairstyles, ask your hairstylist to give you a trial to see if it'd work with your outfit.
Do you have more tips on how to make a bun look stylish sans any accessory? Share with us!