Trending Hair Accessories for South Indian Brides
Hair accessories are important for South Indian Brides. It elevates their beautiful long black hair and traditional hairstyles. Read to know about the trending hair accessories-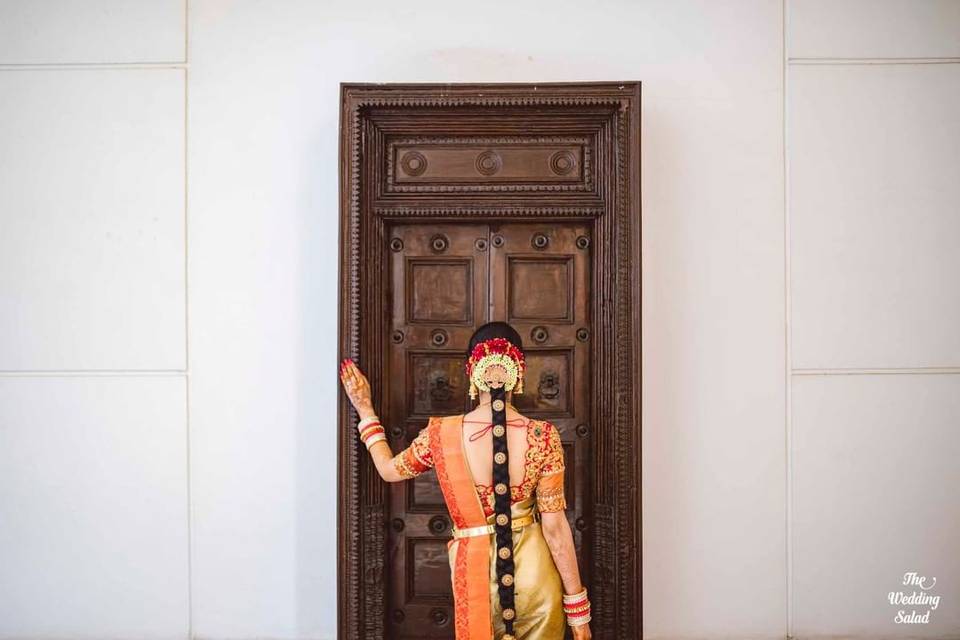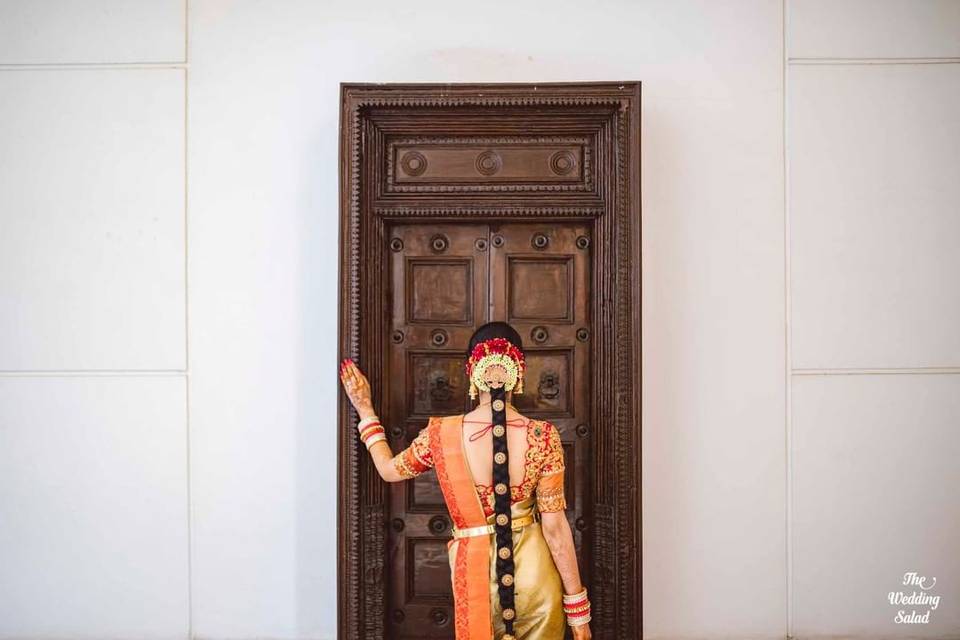 Image Credits - The Wedding Salad
When we envision a South Indian Bride, we think of her beautiful long black tresses adorned with some exquisite bridal hair accessories. These hair accessories vary from the white traditional Gajra to other royal stones engraved on the gajra or long braids. The South Indian accessory further accentuates their hairdos and beautiful facial features too!
We all know that the South Indian brides go for fresh flowers majorly. However, there are other beautiful accessories options other than that too. So what are those traditional and trending accessories to ace the South Indian bridal demeanor? Let's delve into it and find your inspiration for acing your bridal look!
Real Flowers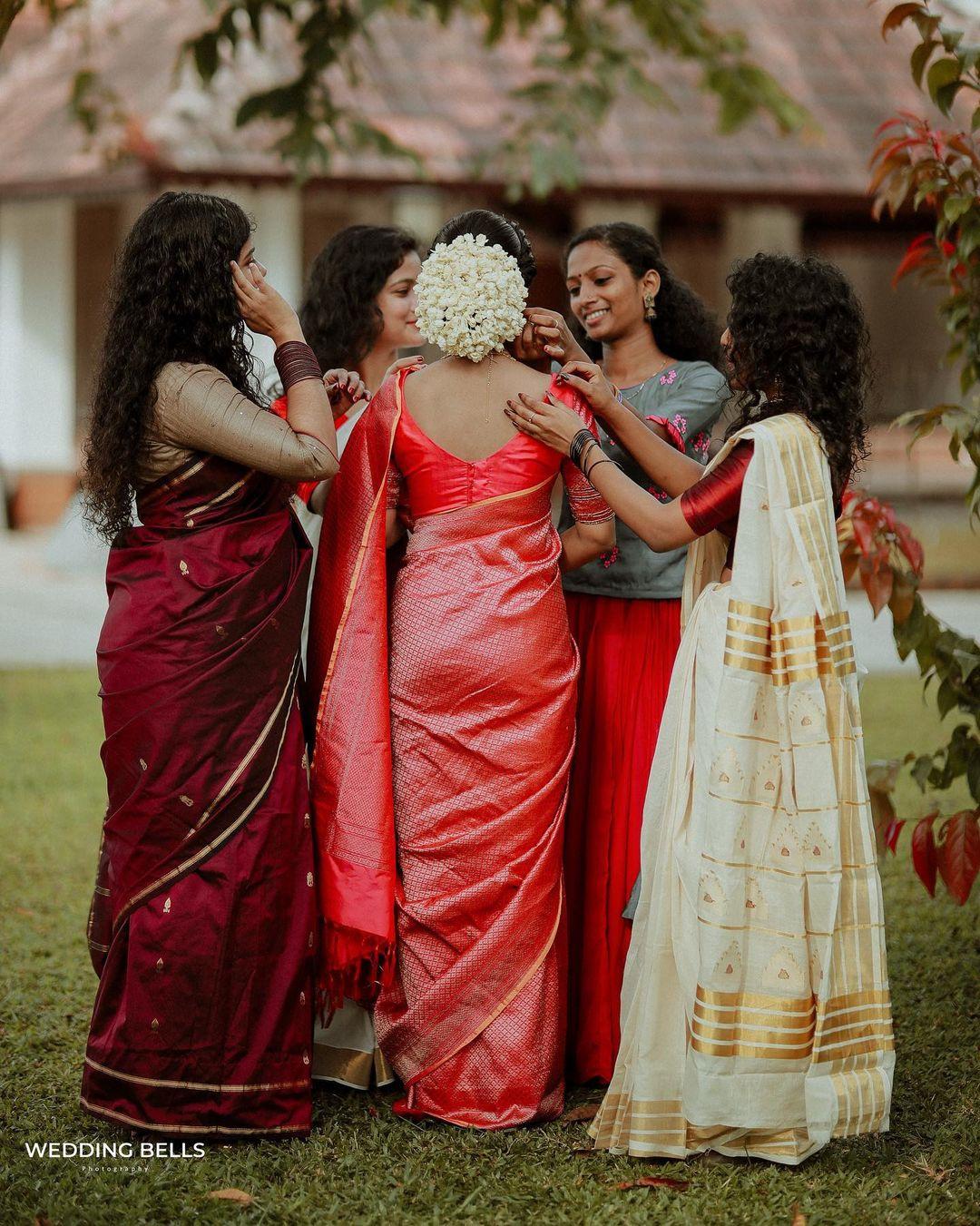 Image Credits - Wedding Bells
White flowers are considered auspicious, traditional and a mandate accessory for South Indian Brides! Out of all the flowers, jasmine is winning hearts from the beginning only. Jasmine is usually cherry picked by the brides and is treated as a good luck charm too. The aroma of jasmine further exudes positivity and proffer calmness. The white gajra flowers are woven intricately over the bridal braid or bun or fixed intricately in loops. Some brides opt for fresh flowers like lilies, roses or any small flower. These flowers accentuate their scintillating traditional attires too. So, if you are not into real flowers , then you can opt for an artificial floral hair accessory!
Hairstyle adorned with a traditional jewelry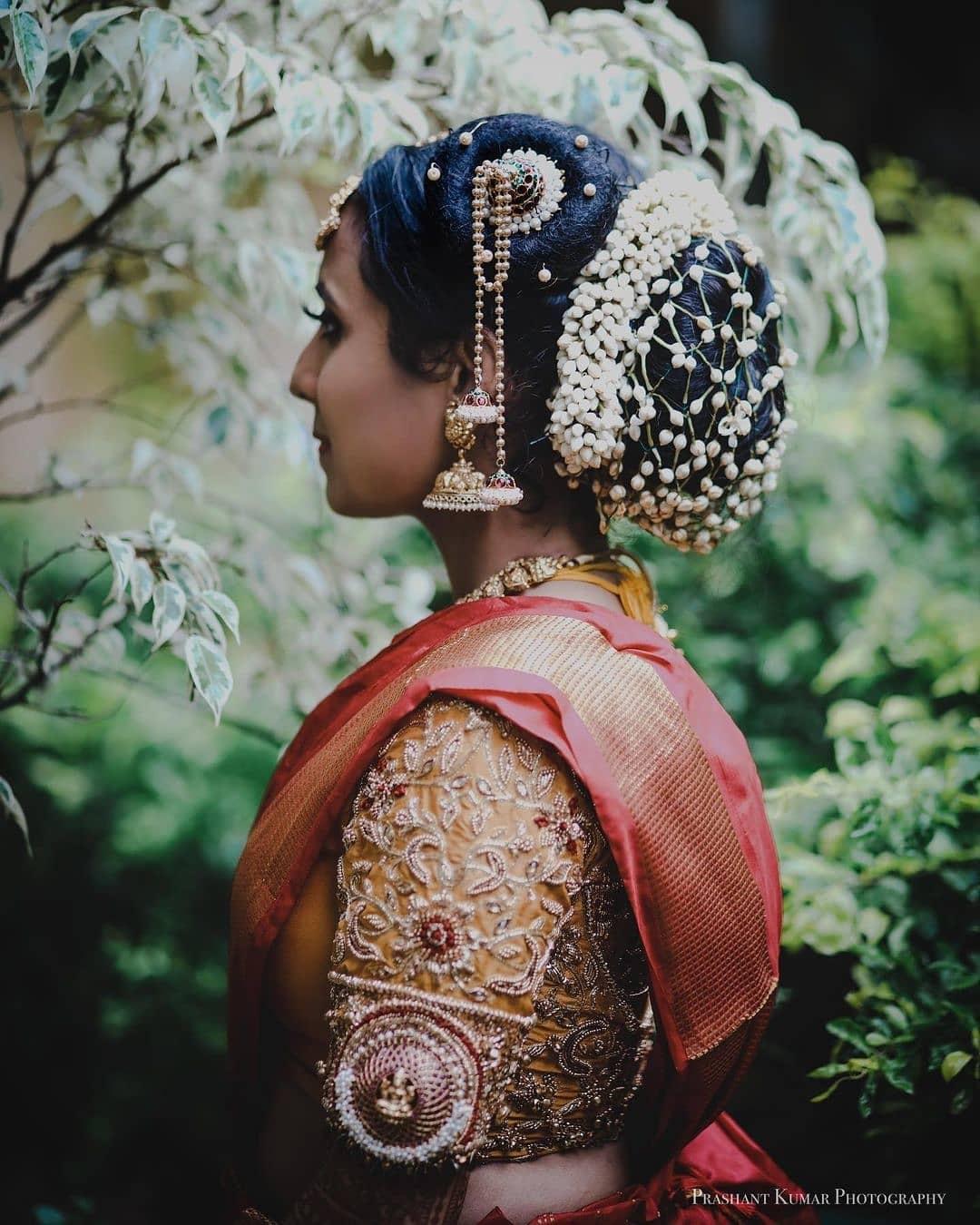 Image Credits - Prashant Photography
We are in awe with this bride who is adorning a traditional accessory. Aren't you smitten by the bride's choice of floral bun which she complimented with traditional jewellery. If yes, then you must go for this hairdo.
Stone Work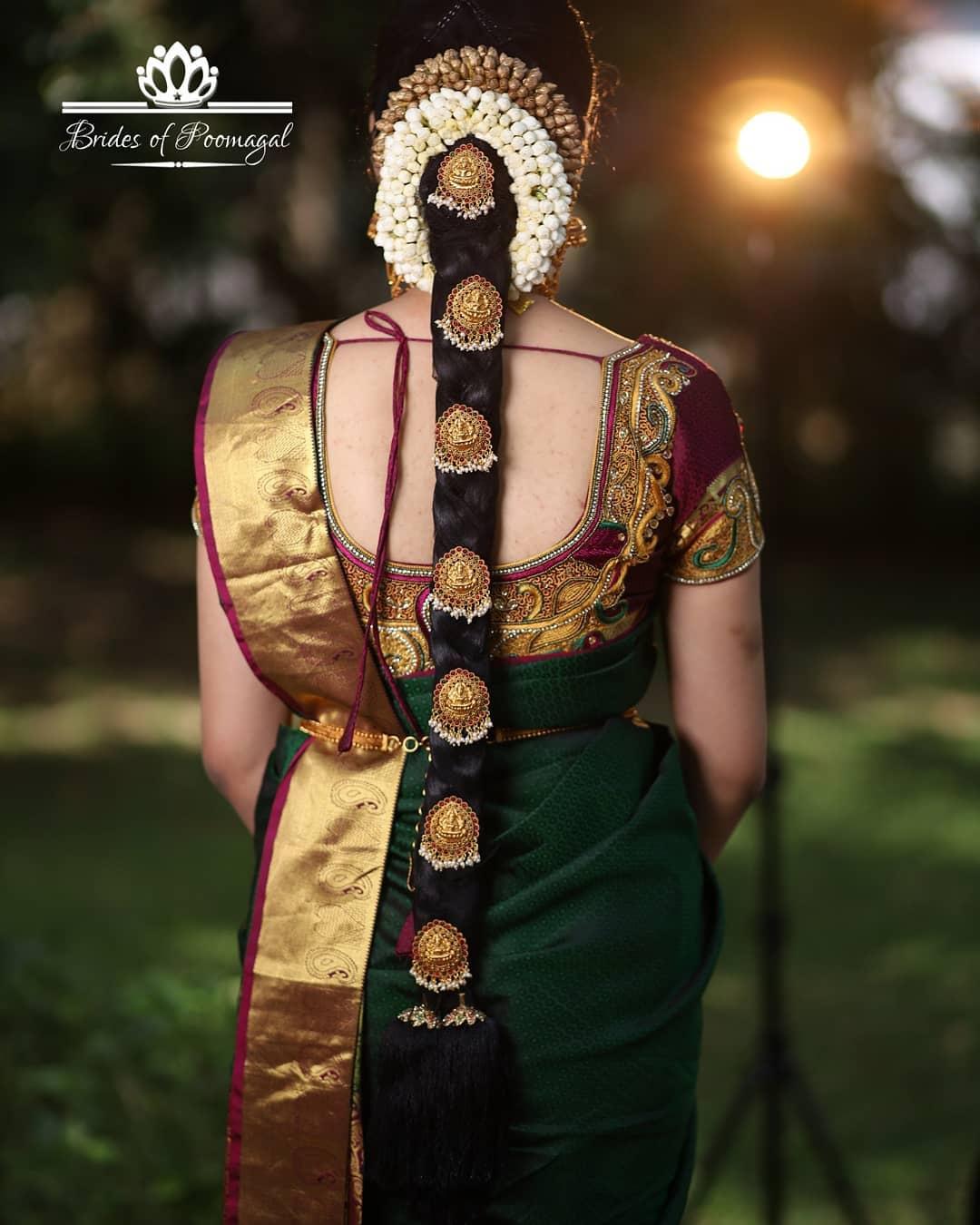 Image Credits - Brides of Poomagal
Also famous as Billas - stone-like jewels are famous amid South Indian brides. These stones add poise to the bridal braids if juxtaposed with the fresh flowers. The variety of these choices for these are endless! You can go ahead and pick a simple gold set or the one with stones. You can add this to each row of your braid from top to the bottom. If you are ordering a 'poolajada' or a 'jada set' you get to customize these billas by adding more flowers, temple jewelry and more (we have even seen baby Krishna adorn these). They look beautiful and without a doubt complement the South Indian bridal hairdo! You get to customize these billas by adding more fresh flowers, temple jewelry and more.
Rakodi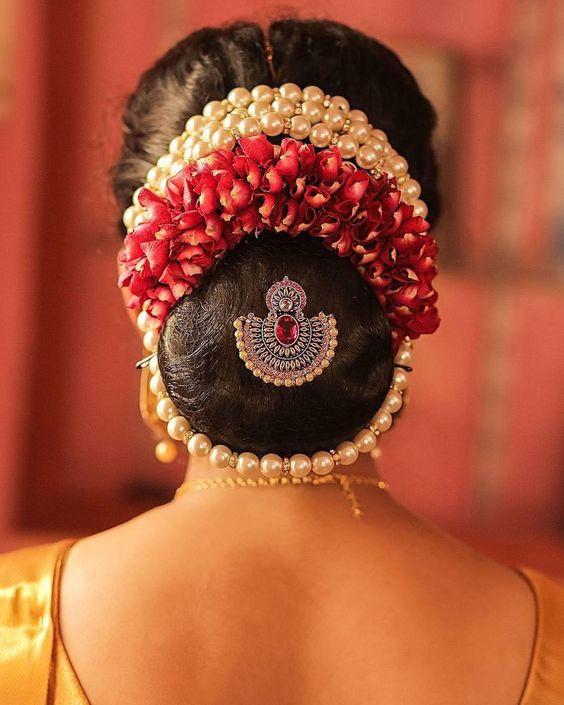 Image Credits - Pinterest
Rakodi is another essential hair accessory for South Indian Brides. It is in the shape of a temple jewelry or it could be in the form of rubies and emerald stones. It is usually placed at the start of the bridal braid. This hair accessory is for those brides who would look to strict to the conventions and yet remain graceful.
Antique Gold Finished Braids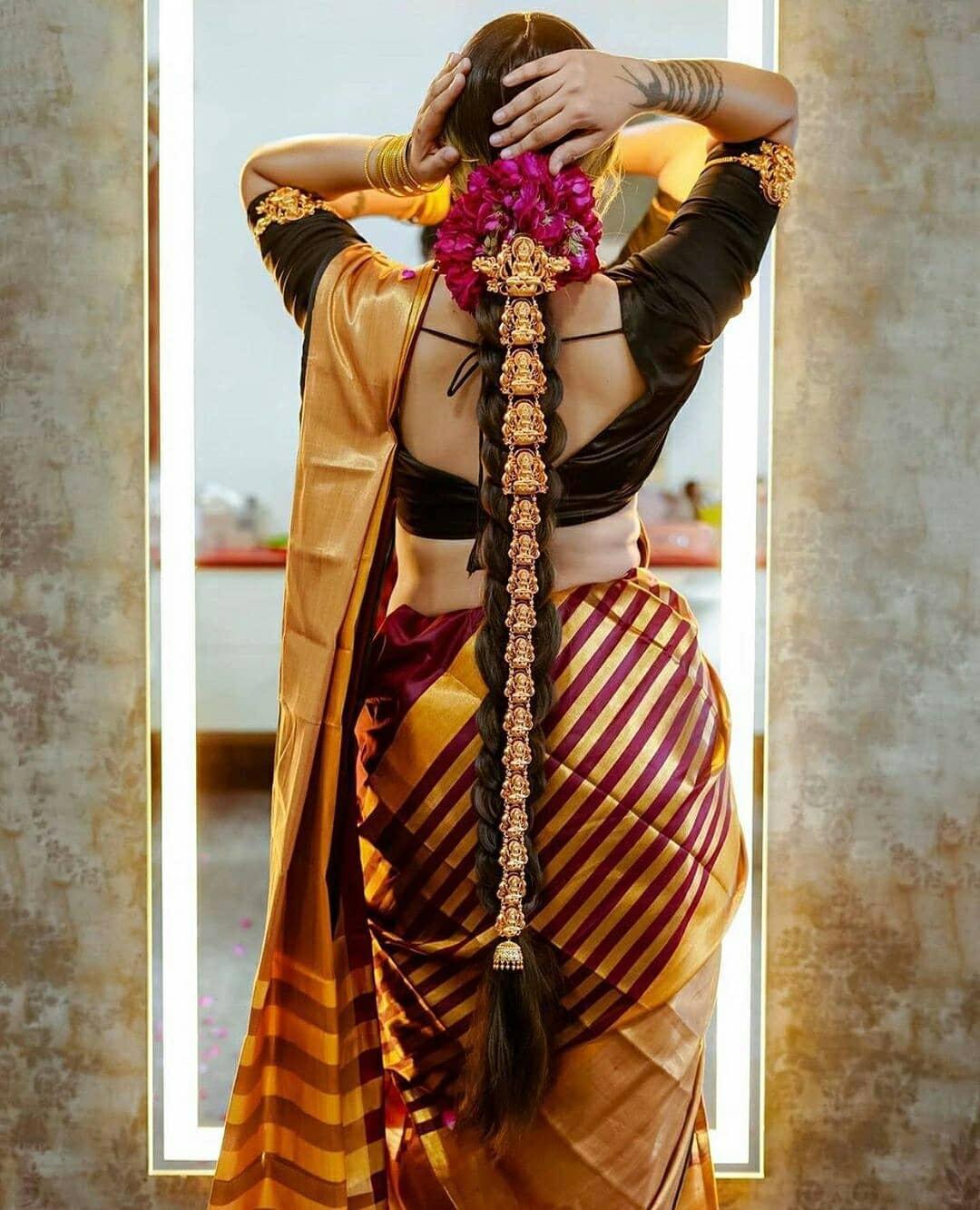 Image Credits - Deep Joshi
These antique gold finish looks scintillating - if fixed on the braids of South Indian brides. This single artificial braid in antique gold will help you to ace the bridal look! Have a look at this antique braid and we are sure that you will bookmark this!
Kunjalam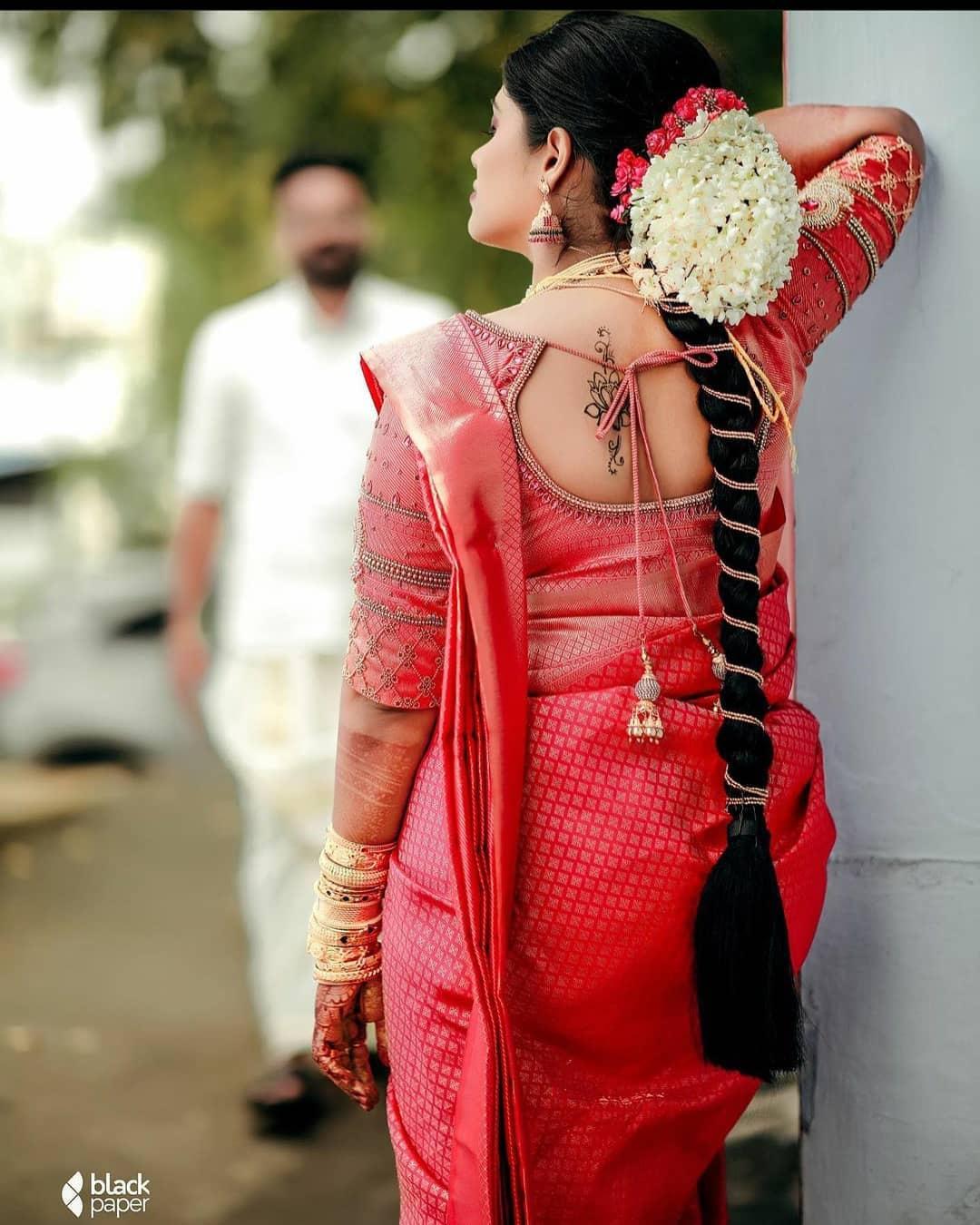 Image Credits- Hair Style by Rukku
Kunjalam are akin to the punjabi parandha for the South Indian brides. They accentuate the bridal braids in a traditional and surreal way. Kunjalam is similar to the colour of the original hair and has caps of South Indian temple jewelry. They look graceful and certainly complement the South Indian bridal hairdo in a traditional yet classy way!
Getting married is a beautiful milestone in duo's life and you should leave no stone unturned whilst preparing for your D-day. We hope that our suggestions about South Indian bridal hair accessories will help you to carefully cherry pick your bridal hair accessories. So start rummaging through fashion websites to bookmark accessories that will be a match to your dress and personality. Also, remember whether you go with traditional theme for your wedding or a contemporary one, you need to evaluate which accessory will look good on you . Also, you would need a lot of hair pins and other hair supporting bridal accessories. These supporting pins should not be too loud to take away the attention from your matching accessory. So make sure that you keep these points in mind.
We are crushing over all the hair accessories! Are you? Rest to know more download the WeddingWire India app to stay updated with latest wedding trends & all the inspiration you need for your special day! ​Karo #ShaadiKiTaiyari with #WeddingWireIndia!