Beautiful Bridal Buns That Are Sure To Give Brides a Break From The Clichéd Ones
Bridal hairstyles are not just about tying the luscious locks but more about making a style statement.  Let's fish out some beautiful and bonny bridal buns that are slightly different from the clichéd ones.

Buns are one of the most obvious choices that brides make for their wedding day. With so much going on with the outfit and the makeup, it just gets impossible for them to go for an open hair hairstyle. While bridal buns are the more hassle-free way out, there is no doubt about how amazing they look with the bridal avatar.
The brides of today wish to make a definitive statement with everything they choose to wear, even their hairstyle. So why go for something usual or simple, it's time they spice it up and choose bridal buns that are not just unusual but also make heads turn. If you're a bride that loves bridal buns then you're going to fall in love with the list of styles that we have curated for you. For the varied ways of styling your buns, this article will undoubtedly fill you up with inspiration.
1. Low Bun with Jewelled Pins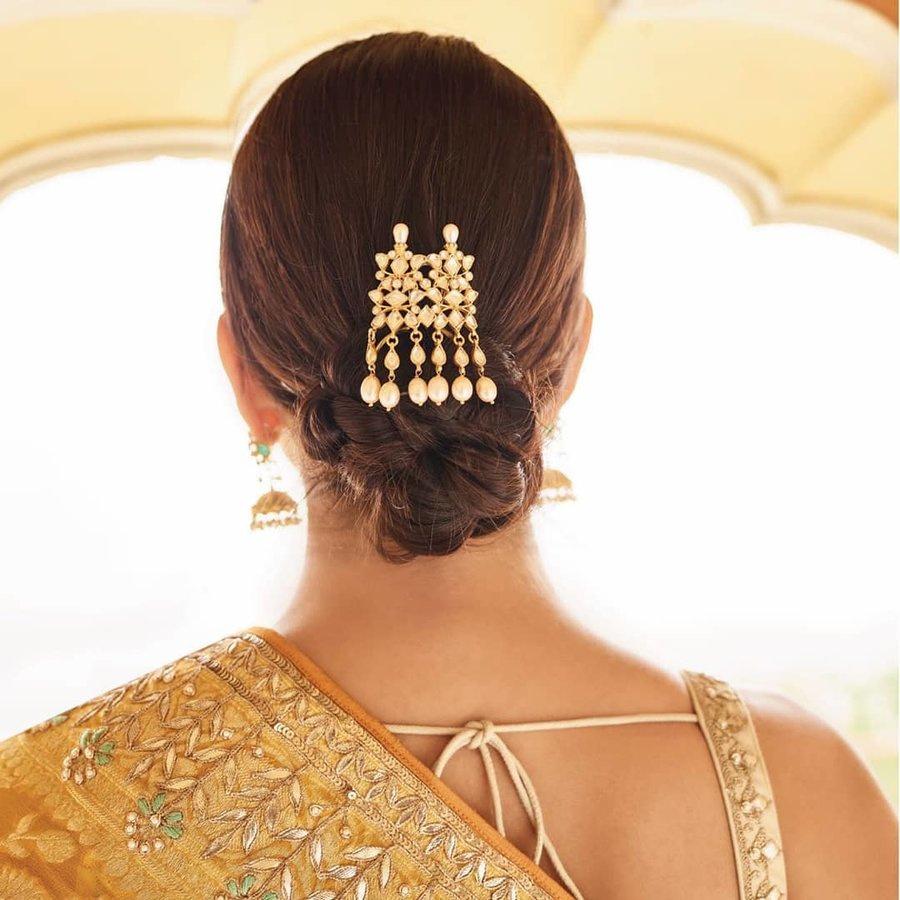 For brides that have straight long hair, a non-messy low bun is something that could really make for an innovative way of carrying it. You can jazz it up with jewelled hair clips to elevate the simple look. The beauty of this pretty bridal bun is that it is going to be light on her head and not poke her with the million pins that some of the bridal buns require. This simple look is a 10/10 according to us for your wedding day as it is going to look beautiful under a netted dupatta with the jewelled pins shining through it.
2. High-Low Bun with Rose Accentuation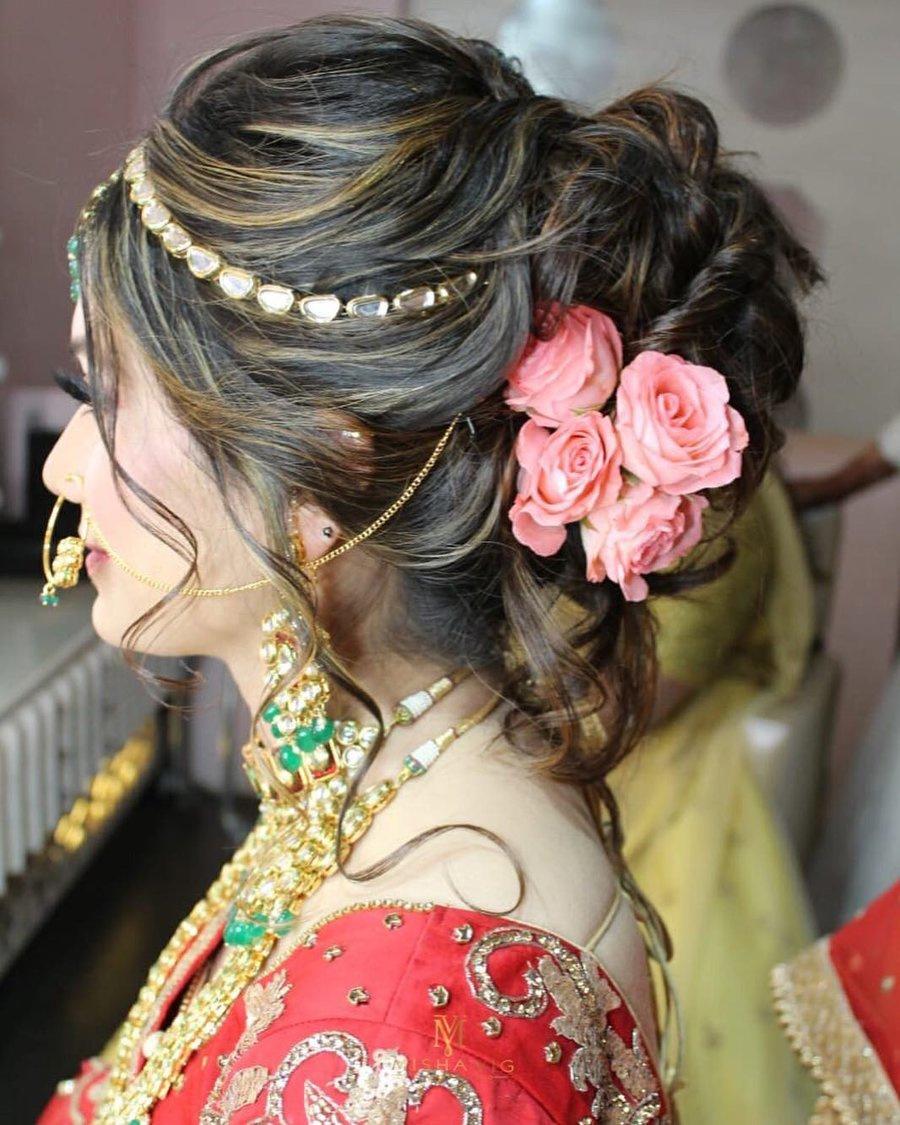 Not a fan of very neat hairstyles? Well, we get you. This one is for the brides that like their hair to be messy and all over the place. As you can see, this bridal bun does not qualify to be called a high bun, and neither does it qualify to be a low bun. Just in the middle, this is a perfect high low messy bun with wavy locks coming all over the face and making the hairstyle look dreamier. The highlight of this bridal bun is the four roses on the side that have been placed immaculately to add volume to this already big hairdo.
3. Big Ballerina Bun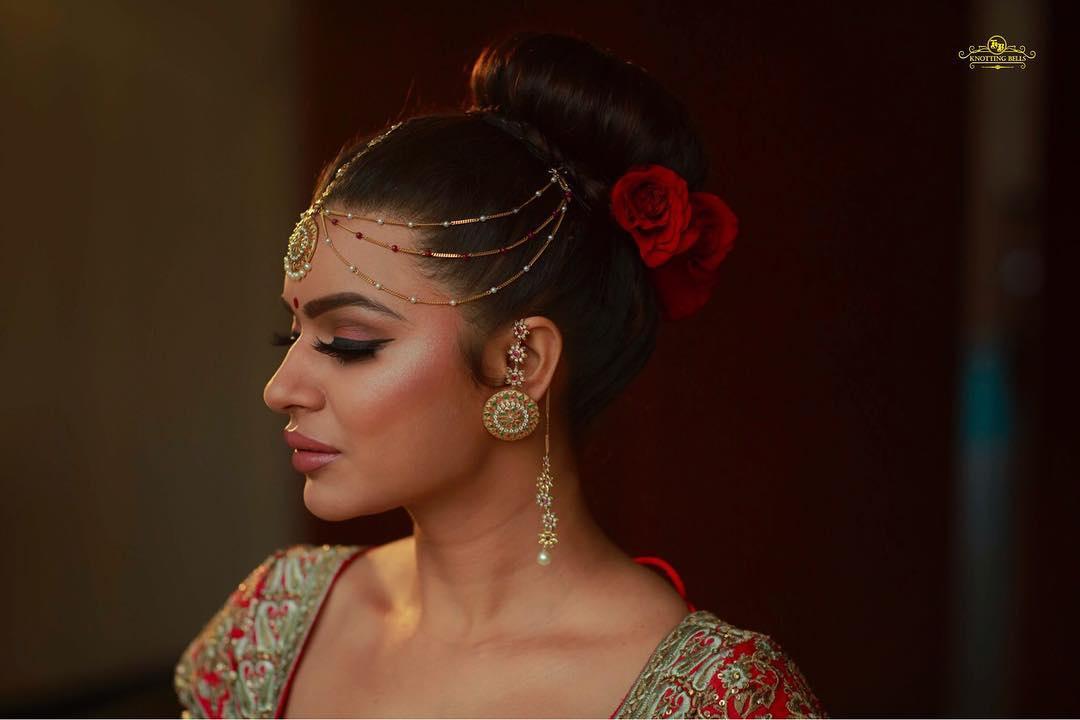 When we talk about bridal buns, there is no hairdo that gets higher points than the big ballerina bun (also known as the top knot). The reason that this updo is a favourite is that it is tight, it is simple; it keeps you hassle-free and is yet extremely appealing to the eye. Brides can choose to accessorise this bridal bun with almost anything they like, from flowers to jewelled pins, to even metal accessories and it still will look as gorgeous as ever. An added benefit of the ballerina bun is that because it is a tightly pulled back hairdo, it gives a great definition to the bride's face, making it look more chiselled.
4. A Low Side Looped Bun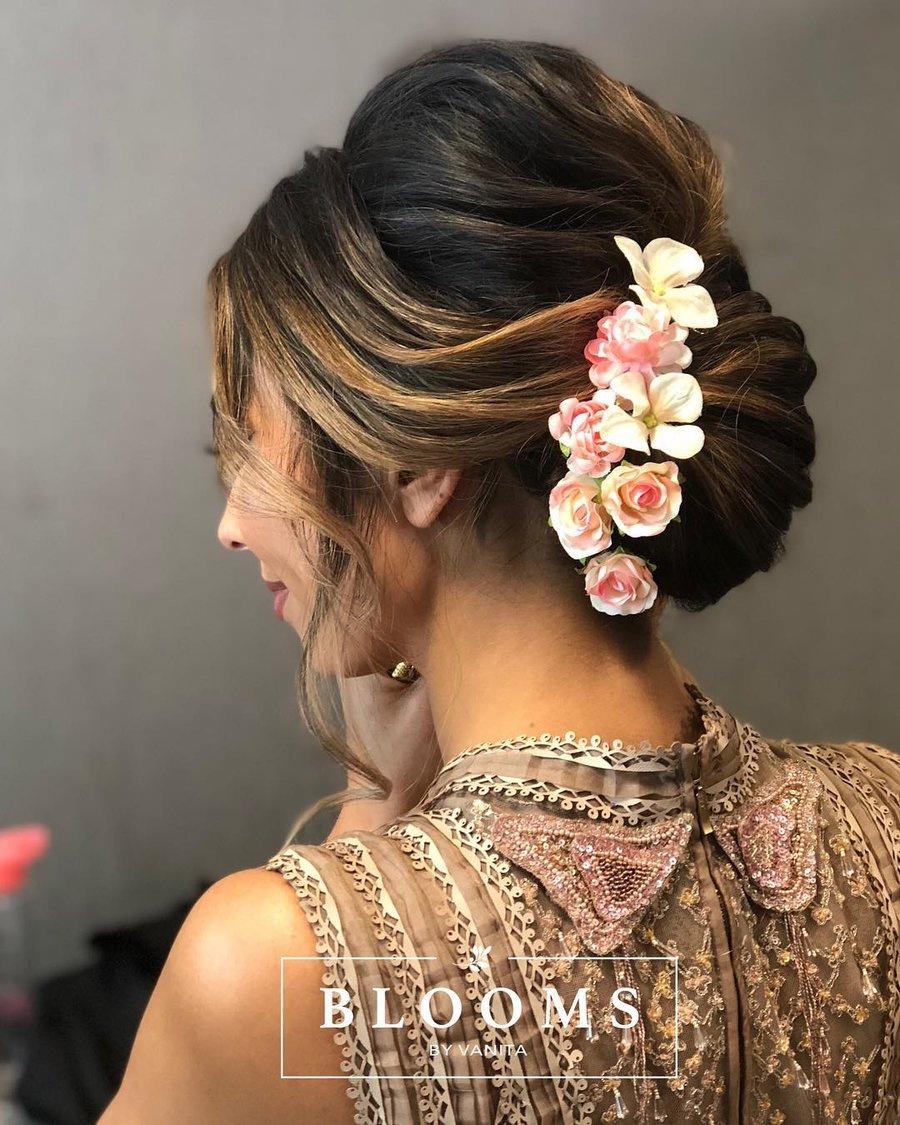 Image Courtesy: Blooms by Vanita
This simple yet elegant low looped bun on the nape of the neck is well suited for brides that do not wish to go for something extravagant. Besides being oh-so-easy to do, the low side-looped bun works well on the hair of any length and can be done in less than 5 minutes. For brides that like the messy look of bridal buns, alter it according to your taste by adding some flicks or curls to this one. As all hairstyles do, this one has scope for accessories too, pin artificial flowers like a hair clip to the angular side looped bun and make it more voluminous than what it already is.
5. High Bun with Rose Crown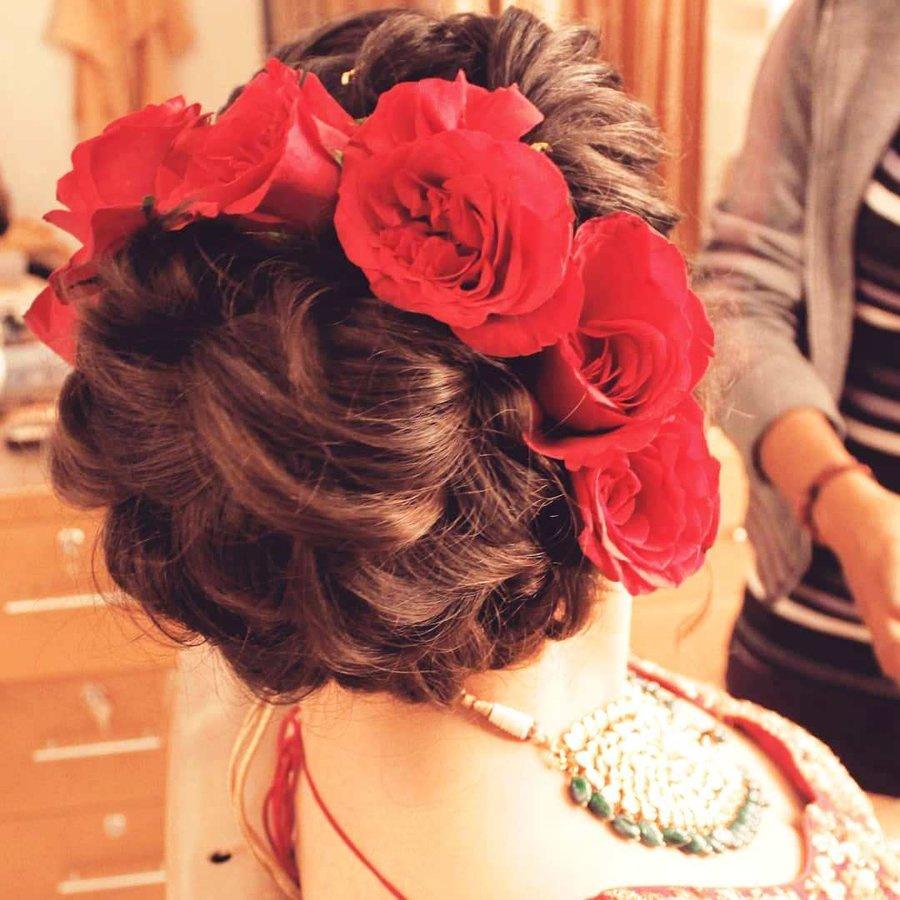 Image Courtesy: Reba Khan
Red roses are every millennial bride's favourite hair accessory, but what amuses us is how each hairstyle uses them differently to create a pristine and fresh look. This bridal bun uses the idea of a jewelled crown on top of a high bun by replacing it with red roses. This is a fairly neat bridal bun with puffed up hair in front that adds a slimming effect to the face of the bride. You can use this look with any other flower or accessory that you like and it will still be an eye-catching one. Just make sure that whatever accessory you choose is big enough to stand out from the top.
6. Braided Low Bun with Baby's Breath Flower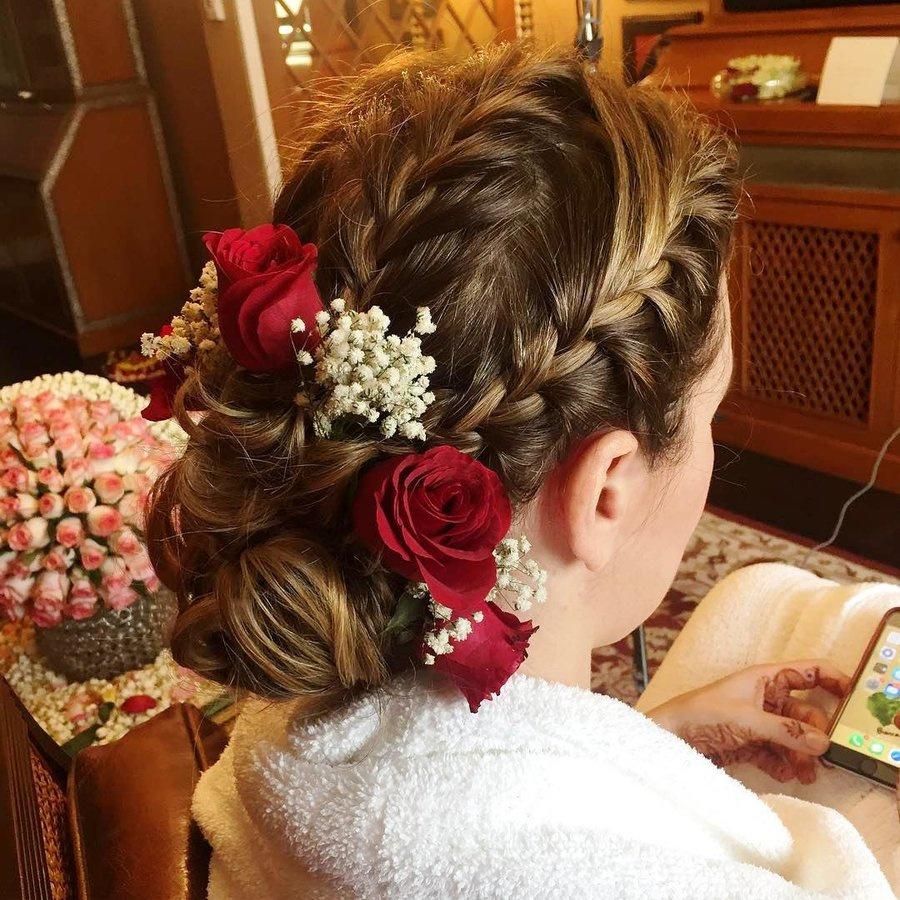 Image Courtesy: Makeup by Smitha
If you're a bride that loves flower accessories on her bridal bun, baby's breath flowers are a perfect choice as it also adds elegance in simplicity to your hairstyle! This bridal bun is softly pulled back with braids and tied low on your back. Accessorize it with a number of small baby's breath flowers and this updo is sure to give a softer look to the eyes. You can even add a number of roses in between to add to your bridal appeal and complement your wedding day outfit.
7. Donut Bun with Gajra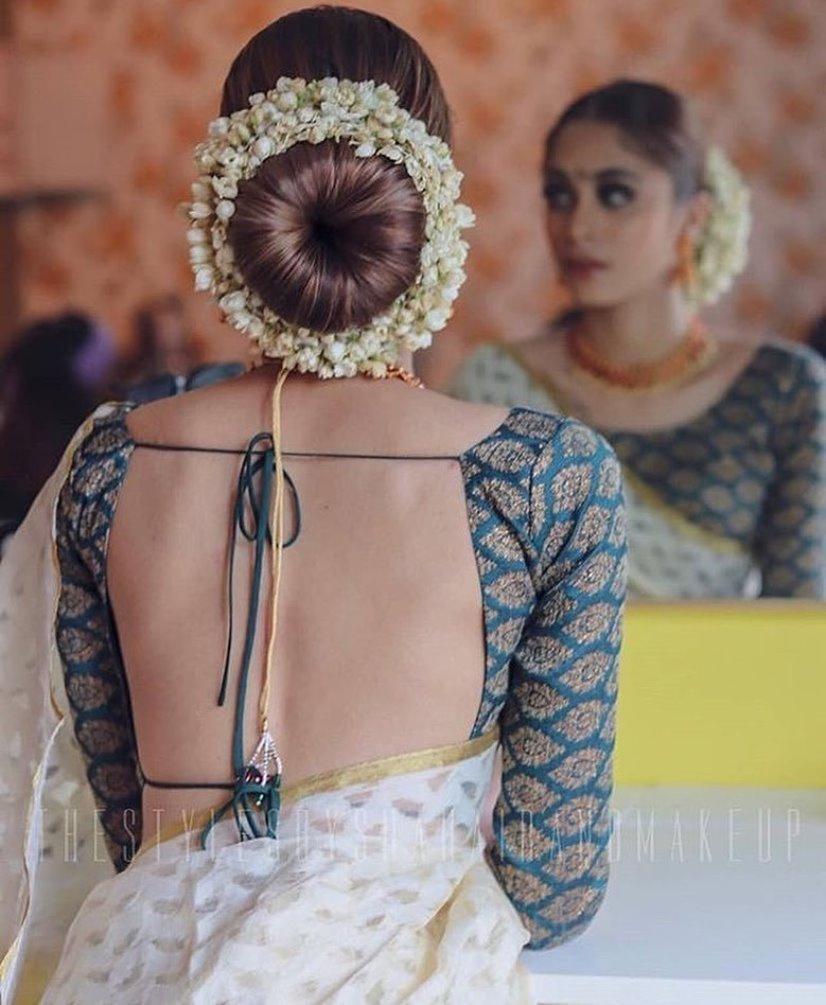 Image Courtesy: The Styles by Sha
One of the easiest to crack, this bridal bun is one that can be attempted by brides themselves. The doughnut bun is so versatile that it can be paired with braids, bangs, or even side swept fringes. Brides can get it done as high or as low as they want, and they can make it as messy or as neat as they prefer. Therefore, getting this bun right allows you to play around and create as many hairstyles as you want. However, the most classic doughnut bun (also known as the chignon bun) looks the best with Gajra around it for your wedding day.
8. Fishtail Braided Bun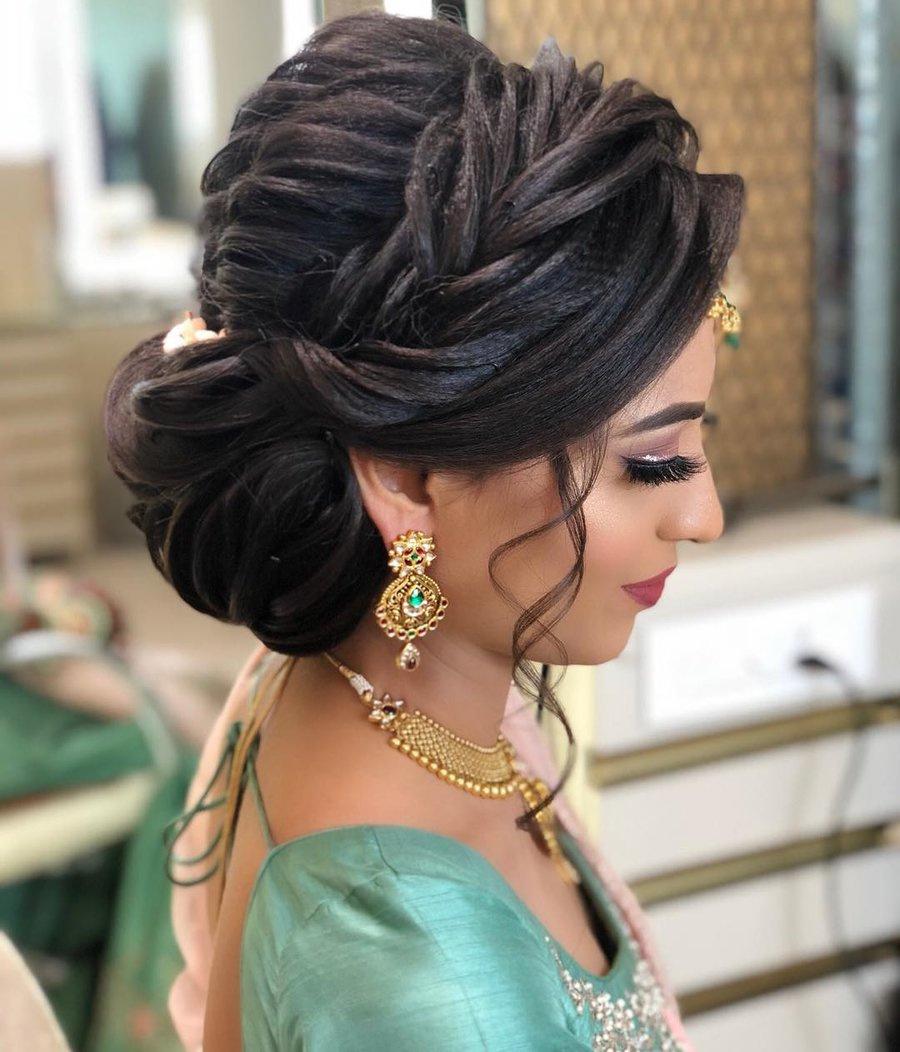 This intricate and messy fishtail bun is simply a stunning piece of art. Don't you agree? With plenty of beautiful strands clipped together in an undone and voluminous way, this bridal bun is just what all brides' need for their big day. If you wish to go for something fancier, then you can just add a small jewelled pin or rose at the centre of the bun and keep the rest of your look simple. And if we were to rate, this could easily be our favourite bridal bun for you.
Have we made choosing a bridal bun even more difficult for you? Well, we are certainly sold over all these ideas. What we loved about these hairdos is that they can be underdone or overdone according to the taste of the bride. All you have to do is your pick your choice and then personalise according to your outfit and look for the day. Try to keep it as simple or as complicated as you think you can handle. You can also keep the accessories as minimal or as over-the-top as you like. However, most of these bridal buns are not very difficult to copy. So for brides planning to do their hair themselves, we've got you covered too!
Liked our ideas? Tell us in comments if our bridal buns inspired you to take cues for your own.