An Indian bride is incomplete without her set of stunning jewellery. Apart from the regular Maang Tikka, earrings, bangles and necklace, the anklet also plays a major role when it comes to bridal jewellery.
Anklets, which are known as Payal or Pajeb in India are one of the most important parts of the bride's wedding jewellery. This gorgeous foot jewellery holds great traditional value for many – so much so, that most brides would not step out without wearing their silver anklets.
Apart from having a traditional essence to it, anklets also make your mehndi-filled feet look all the more beautiful. Bridal silver anklets or payals have the ability to take your bridal attire to a whole new level.
Take a look at these designs and decide the one that you love the best!
1. Traditional Oxidised Silver Anklets
An oxidised pair of beautiful silver anklets is one of the best things you could opt for if you're looking to make your mehndi feet look all pretty for your big day. There are plenty of different oxidised silver anklets available today in various designs and styles. Right from plain, simple chains to elaborate Ghunghroo attachments, you could never run out of options to choose from.
Check out these oxidised silver anklets that have pretty coloured delicate stones attached all around the piece. Perfect for your big day or all your pre-wedding functions.
2. The Stunning Gota Payal
Stunning, isn't it? These silver anklets paired with the floral attachments, make for the perfect foot jewellery you could ever go in for. Gota Patti jewellery, especially Payals are a great option for a Mehndi ceremony or pre-wedding function.
Wearing a yellow outfit for your Mehndi along with pretty Gota Payals like this is a great option. You could also attach beautiful floral attachments just like these and you could look so much more beautiful!
3. Add the Gold Touch!
If you love the gold touch when it comes to your jewellery, then try it out with your silver anklets too. A dainty gold chain on the top of your Payals with tiny Ghunghroos falling on the bottom makes for great wear. Check out this lovely pair of silver anklets worn by this to-be-bride for her pre-wedding shoot is a perfect example of how silver and gold can work well when it comes to Payals.
This pair of anklets matches with her Punjabi suit and Patiala Juttis so well. You could do the same and wear something similar for your pre-wedding shoot as well. A mix of gold and silver is always a nice option when it comes to foot jewellery.
4. Mix up Those Flowers
Want to add a little more style when it comes to your Mehndi celebration? Well, add a twist to your silver anklets and mix them up with artificial flowers and beads. Artificial floral and bead jewellery is becoming very popular these days, especially when it comes to pre-wedding functions. It gives a fun feel to the whole getup, making it match up with the theme of the show very well.
Have a look at these silver anklets that come with the right match of pink and yellow flowers, making it the perfect match for a Haldi or Mehndi ceremony.
5. Toe-Ring Silver Anklets
Are you looking for silver anklets that are elaborate and stylish? How about going in for the toe-ring silver anklet that will make your feet look really pretty. You could choose from a dainty design or even go for the elaborate look just like this image, where the silver anklets are made to perfection.
It also comes with stunning huge stone patterns that make the whole Payal design stand out marvellously. The way the chains are attached to the toe-ring, makes it look even more stunning.
You could go for something like this for your wedding day or even opt for a design like this for any of your pre-wedding functions.
6. Silver Anklets with Ghunghroo
Beautifully made in a broad anklet style, wear this for your wedding day or any grand occasion that calls for strict traditional attire. Silver anklets can be made using big Ghunghroos or tiny, delicate bells that look delicate. The overall look is bound to look stunning!
7. Mirror-work Silver Anklets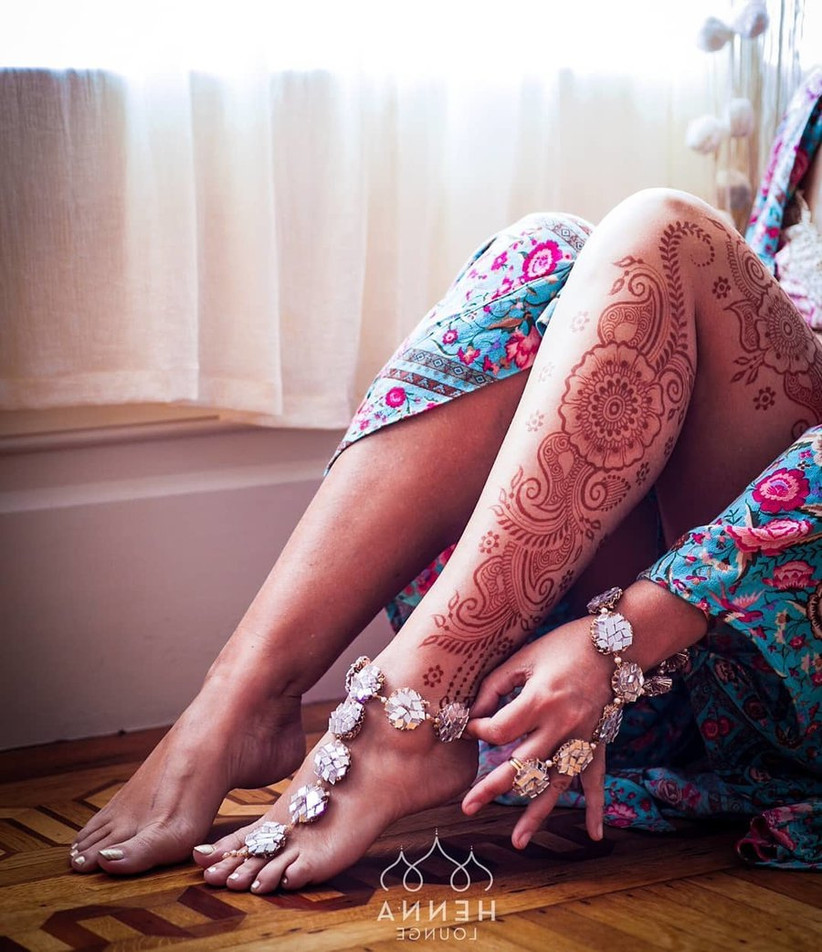 Image Courtesy: Henna Lounge
We know how beautiful mirror-work can be, especially when it's used on traditional clothing, right? Why limit this amazing piece of art to clothing only? Take this a step further and make it a part of your jewellery as well! These amazing silver anklets are intricately made using mirrors to come up with the best design.
Delicate and stylish, you can go for a toe-ring design just like this one. Add another twist to this and make a matching bracelet-ring style design as well to go with your anklet. This can be teamed with traditional wear or even western attire since it's got a mix of western and traditional styles to it.
8. Dainty Stone and Pearl Silver Anklets
Dainty Payals always look stunning. It's not always necessary to go in for silver anklets that are heavy and elaborate. You can even choose dainty, simple designs for a grand occasion as well.
Simple pearls and stonework just like this pair of silver anklets is definitely one of the best things you could go in for if you're looking for a nice set of silver anklets to wear on your big day.
9. Silver Anklets Embellished with Stones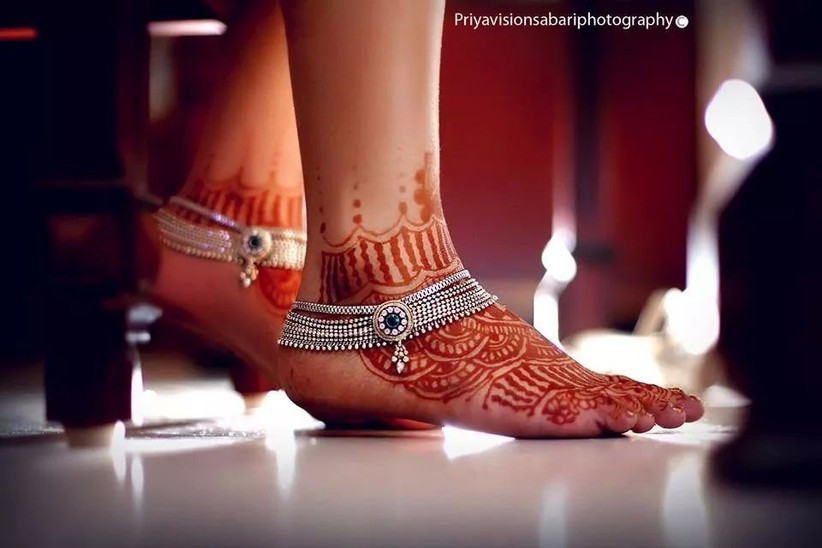 Image Courtesy: Priya Vision Sabari Photography
This is one of the best pieces of silver anklets ever seen. These gorgeous silver anklets come embellished with stones that fall beautifully on the feet. Cut to the right size, these anklets are stunning and elaborate. Perfect for any grand occasion. Emerald stones are pretty and can match up with just about any colour attire, so going in for something like this seems perfect.
Silver anklets could never go out of style at all. Whether you wear it with traditional attire or even western outfits, they can definitely help you look fabulous and stylish anytime.
Hope you liked these silver anklet designs we've listed down for you. These silver anklets will help you design your own perfect anklets for your big day.
Looking to get one of these designs for your wedding day? Contact our jewellery vendors for the latest silver anklet designs.