Pre-Wedding Shoot Time? Here Are Some Cool Love Pose Ideas to Look like the Cutest Couple That You Are
Pre-wedding shoots are a romantic way to capture and portray your love. There are so many concepts and ways in which you can do them right. So get your trousseau finalised and look at some love pose ideas that can make yours a successful one.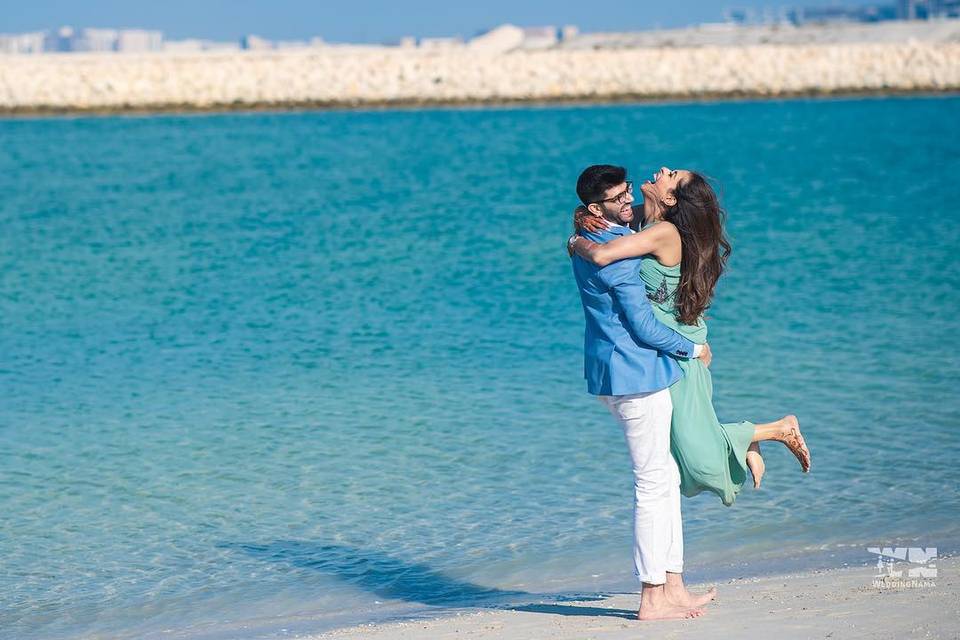 Looking for a reason to go on a honeymoon before the wedding? Get out of town for your beautiful pre-wedding shoot. All you need is a lovely place to get gorgeous pictures and also have a romantic little getaway. And also a huge suitcase filled with lovely gowns and dresses, and your photographer. The makeup artist too...well, the list goes on. Point being, it's a lovely excuse to be cute in front of the camera and fulfil your childhood Bollywood fantasies. Here are some love pose ideas to help you do just that for your pre-wedding shoot.
1. The Back Hug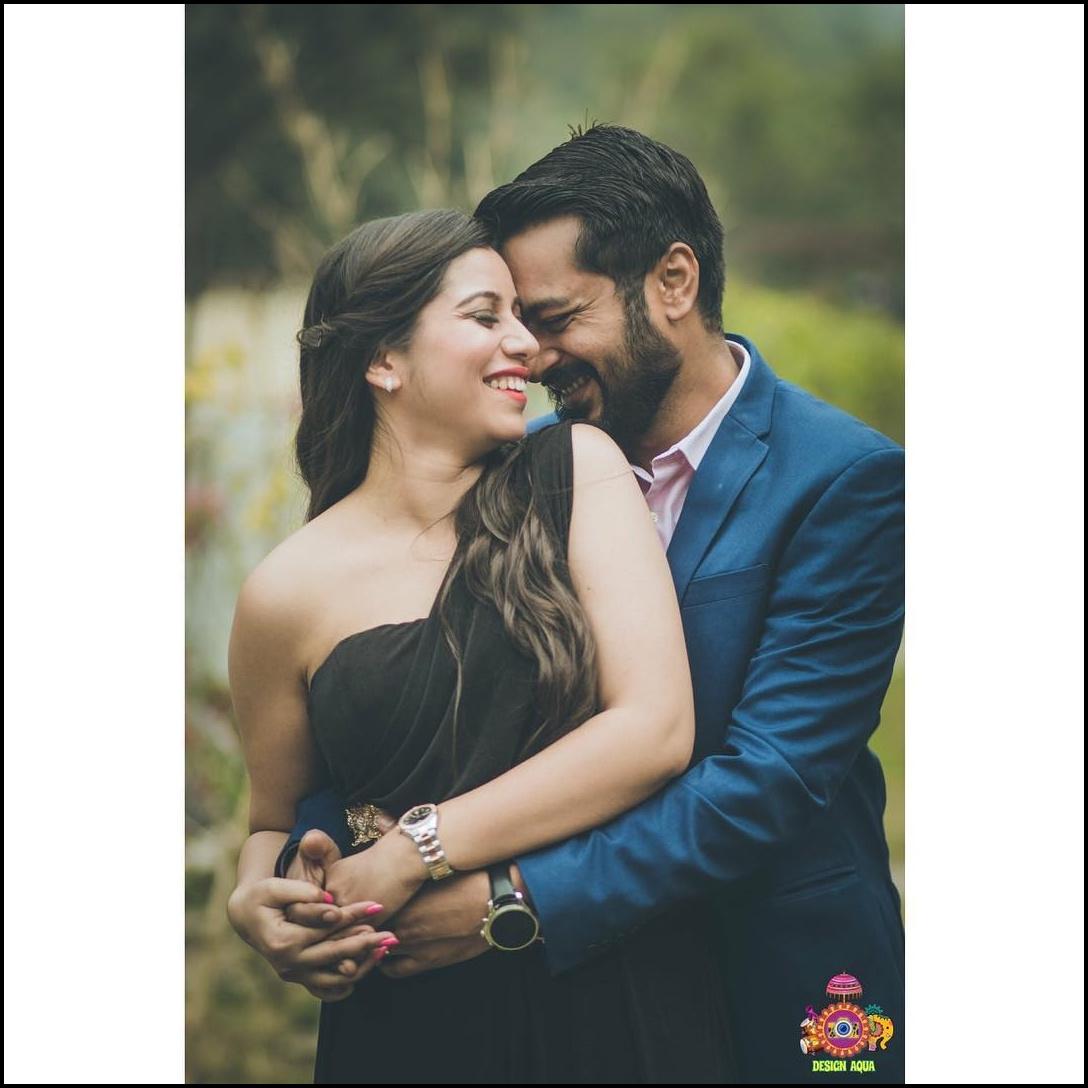 Among one of common love pose ideas, a back hug portrays such warmth in the picture. And if it turns out to be a candid one then nothing better. The couple looks so happy in the picture that we can't help but fawn. The simple dress up of the bride and groom makes it look like such a natural picture and not extra at all. Yes, pre-weddings have the complete potential of getting super extra too, but this is subtle, romantic and just lovely.
2. The Cinematic Pose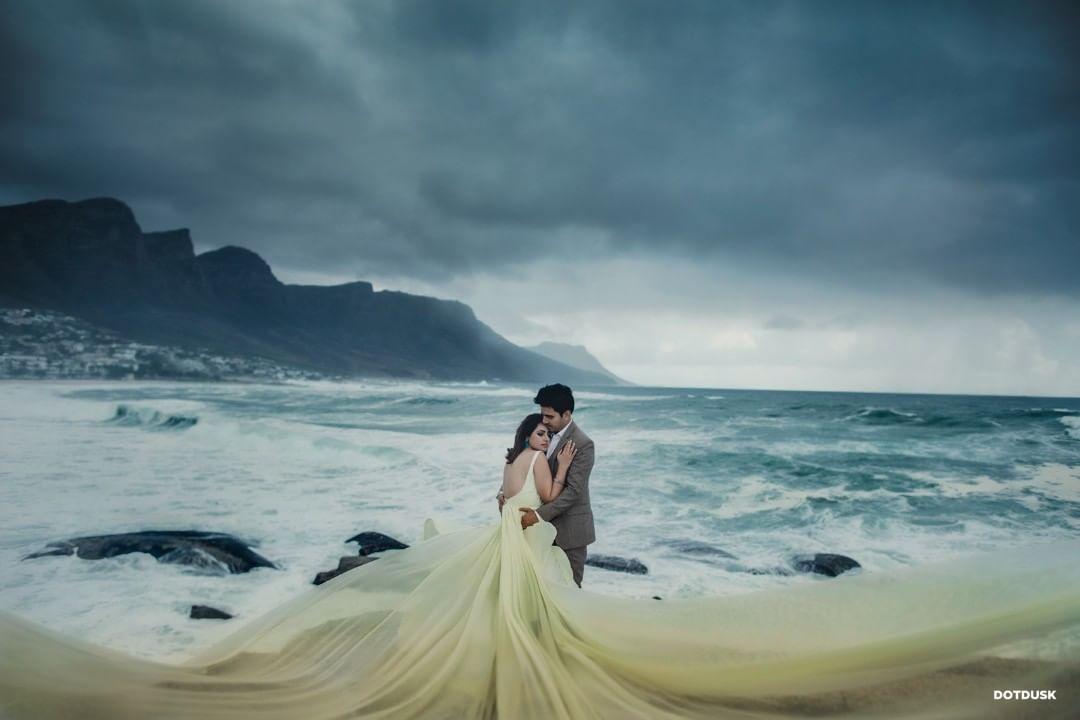 Childhood Bollywood fantasies coming to mind already? The picture gives off a feel of grandiosity especially with the gown's trail leading you into the picture. The backdrop adds such a perfect cinematic element and the presence of the ocean just ties it together. We love the whole "us-against-the-world" love pose that the photographer has tried to create. And rightly so! It is so going to be you two against the world, so make sure you stick to that.
3. Silhouettes & Sand Dunes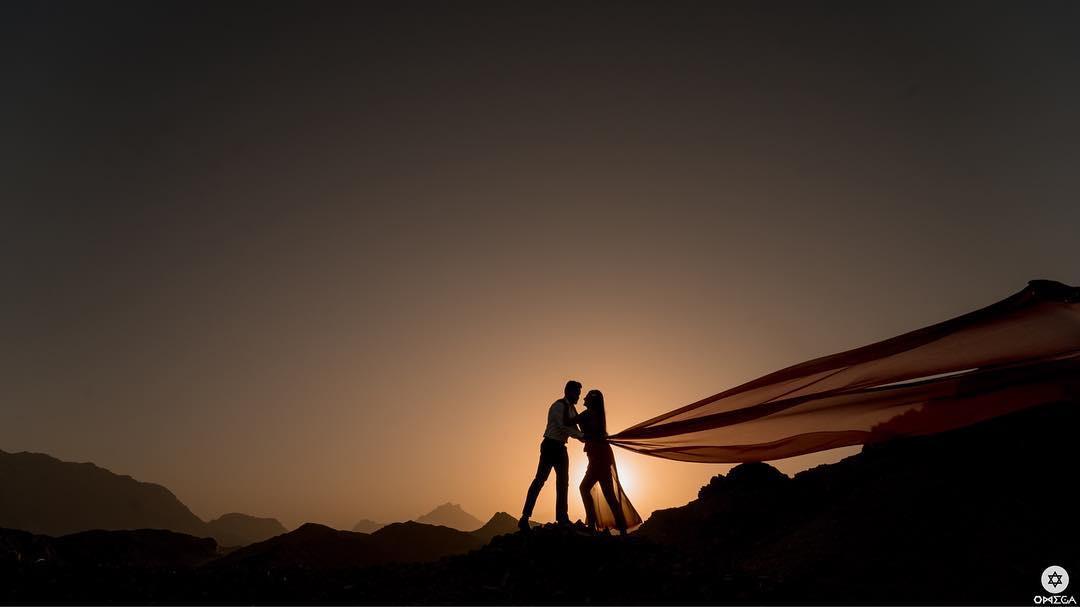 Hitting the desserts? We say that's a brilliant idea. Get a pretty gown ready, preferably with a trail. If you don't have that get a long dupatta and tie it around your waist. The flying trails look perfect against the dipping sun. Moreover, if you do not get a silhouette clicked against the sand dunes then you are missing out. This picture again gives such a cinematic look that we can't stop admiring it for its perfection.
4. The Dance Pose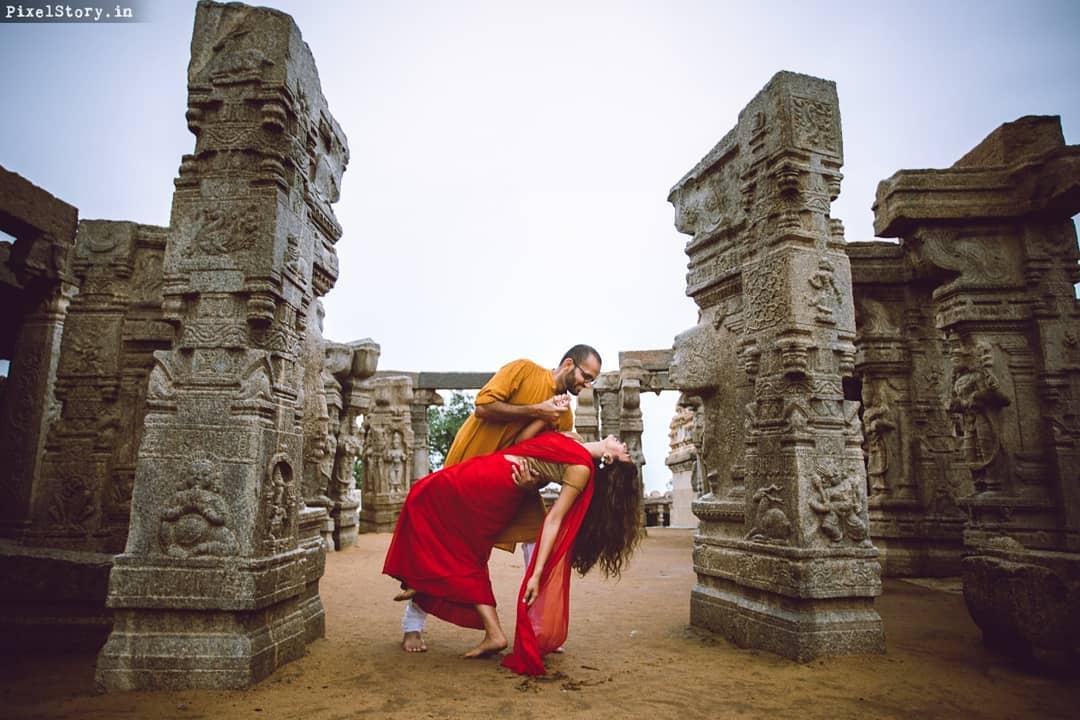 Channel your inner Sridevi and find a lovely chiffon saree for this one. If you guys are a dancer couple than this love pose would be perfect to define your relationship. There's such a sensual element to the whole picture balanced out by the backdrop of a temple. There's also a very carefree vibe about this picture, especially with how the bride's hair has been let loose. So go on and be prepared to be swept off your feet!
5. The Aesthetics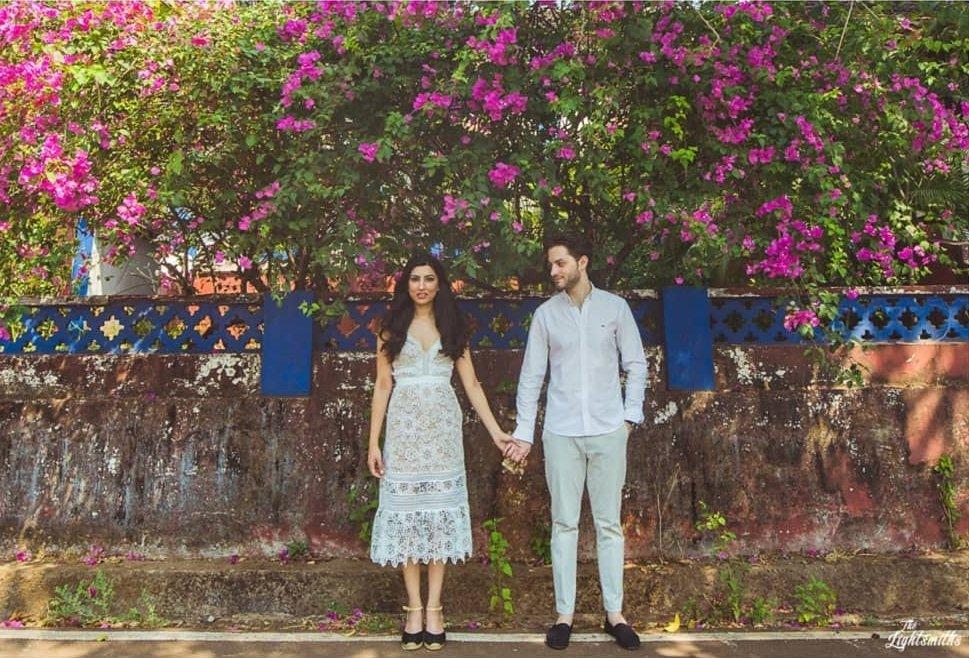 Everything is so simplistic yet attractive about the picture! The couple has colour coordinated their outfits perfectly and matched the blacks and whites against pinks and blues. We are loving the contrasts and the whole aesthetic that this picture captures. Even the scraped-up wall behind them adds a rustic element to the image, making it all the more aesthetic.
6. Lift Her Up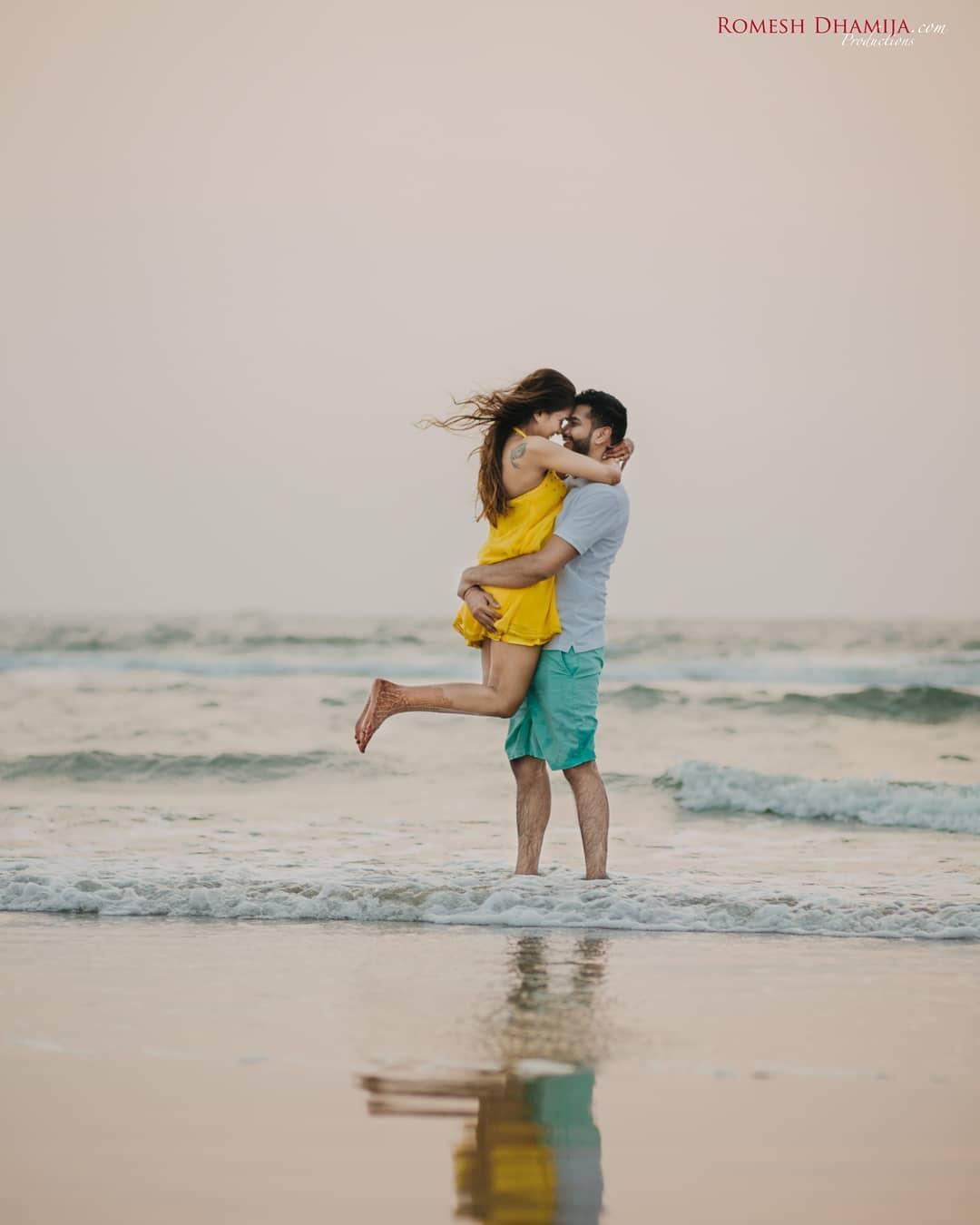 Beach shoots are always a lovely idea because beaches offer a lovely backdrop to shoot against. Also, they are really romantic spots so its easier for a couple to be comfortable and get into the flow of things. The romance is ought to automatically creep up in such a situation. The reflection in the water is an added bonus. This love pose speaks so much and portrays such lovely chemistry between the couple. Just like in this picture remember to always lift her up (metaphorically mostly!).
7. The Underwater Kiss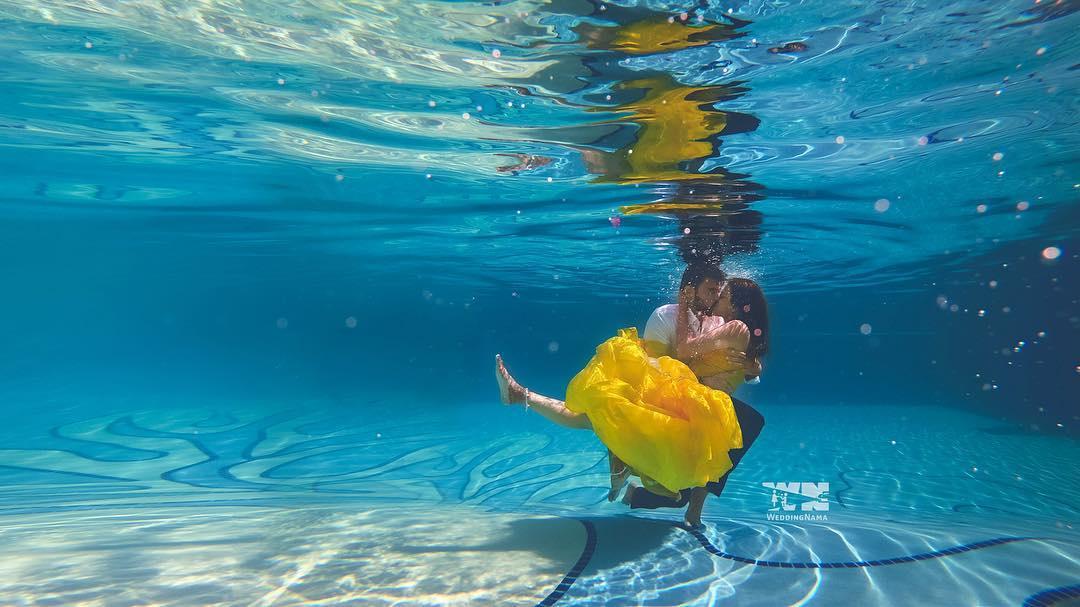 Underwater shoots are an epitome of romance. Apart from being extremely cute, they are also slightly sensual! While being in the water might prove to be a little difficult it's going to be a lot of fun too. Also, who would want to miss an opportunity to sneak a kiss underwater even if for a pre-wedding love pose. So go ahead and do crazy, cute and romantic things underwater and let your photographer create magic with your chemistry.
We hope you are super psyched for your upcoming pre-wedding shoot because you are really going to have fun. Also, make some super cute memories which someone will thankfully capture for you. No thanks to those friends who missed out on taking your cute photos even when you really wanted them to. Well, this is your opportunity to do that and also maybe get some quality time with each other before the craziness starts. Get cracking on the love pose ideas already!
Need a wedding photographer who can capture every love pose of yours? Book one today!
Written by Mehak Arora