Your Ultimate Guide to the Sabyasachi Lehenga Price for the Bride on a Budget
Looking for that out-of-this-world Sabyasachi bridal lehenga? Here's our ultimate list of the designer's best lehengas this season with their prices.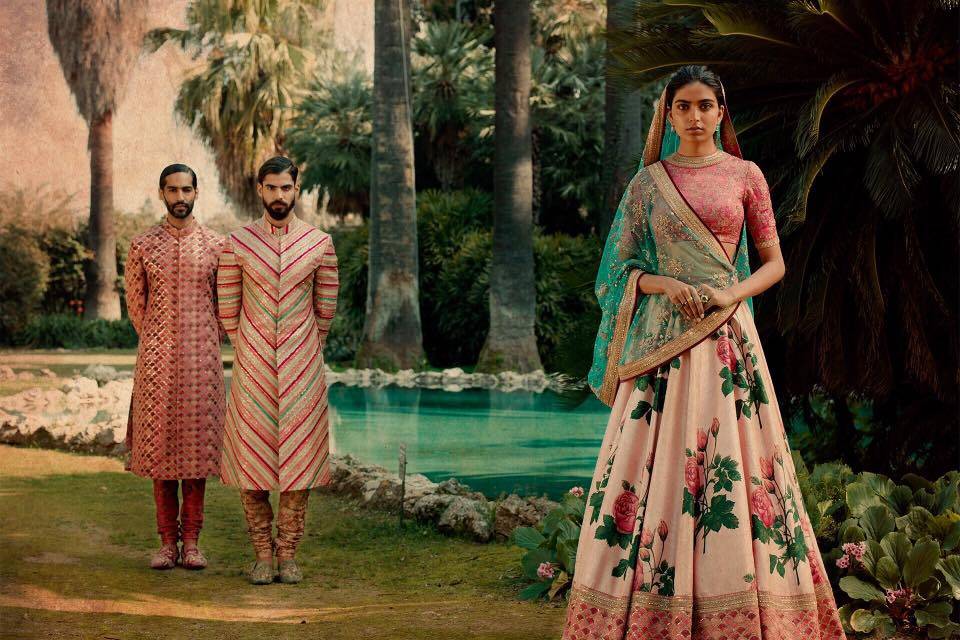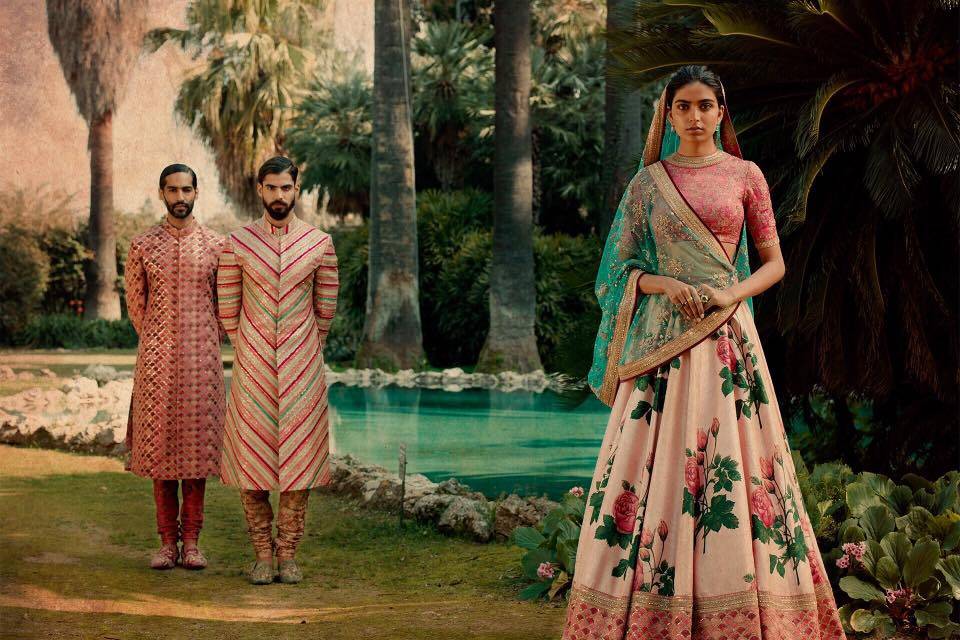 Image Courtesy: Sabyasachi's Facebook Page
From plunging necklines, beautiful embroidery and exquisite silhouettes, Sabyasachi bridal lehengas are the ultimate dream wedding outfit for any bride-to-be and rightfully so. The sheer quality and experimental designs make this designer's outfits a favourite among many brides. But let's not forget about the many celebs from Deepika Padukone to Priyanka Chopra who rocked the designer's lehengas on their special days.
No two lehengas are the same and the Sabyasachi lehenga price can vary depending on the style and design. To help you pick the perfect outfit for your wedding day, we've rounded up our favourite Sabyasachi lehengas along with their prices.
Our favourites
From the classic designs to beautiful colour palettes, there are many reasons why brides love Sabyasachi lehengas. Usually, the Sabyasachi lehenga price can range from ₹3-9 lakhs depending on the fabric, style and design of the outfit. Here's a list of our top Sabyasachi lehengas with their prices:
1.Timeless gold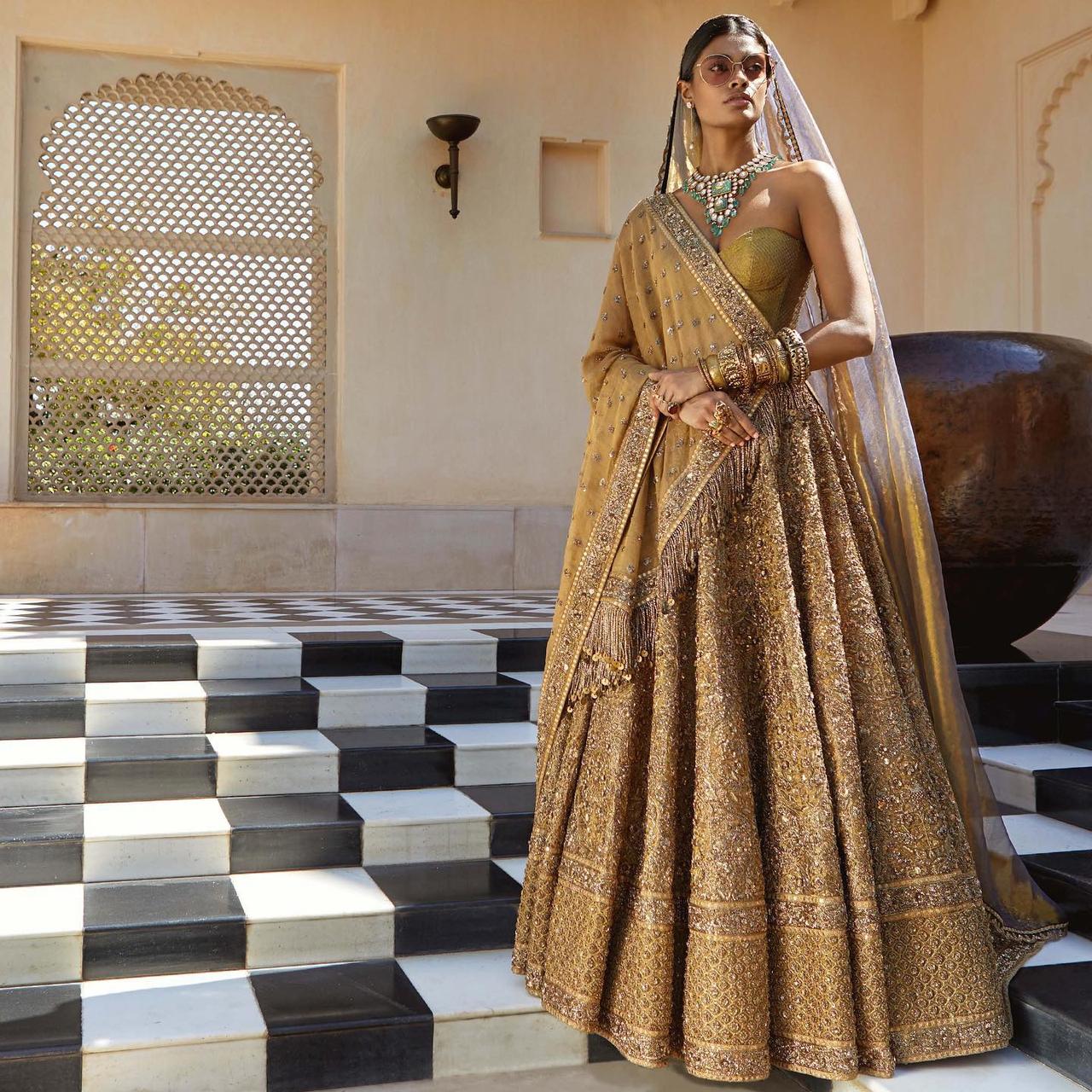 Image Courtesy: Sabyasachi's Facebook Page
This is the perfect lehenga for the ultra-modern summer bride. The lehenga skirt features heavy gold Zardosi work with a sequin motif bordering the base. While the skirt adds a traditional touch to the outfit, it's the blouse that makes this outfit unique. A simple gold tube top serves as the blouse for this lehenga and helps balance out the embroidery on the skirt.
A matching gold dupatta with silver sequins and a Zardozi border complete this exquisite bridal look. For added flair, pair this lehenga with a bright coloured necklace and some gold bangles. Given the splendour of this outfit with its gold motifs and modern style.
This Sabyasachi lehenga price can range from ₹4-6 lakhs.
2. Floral elegance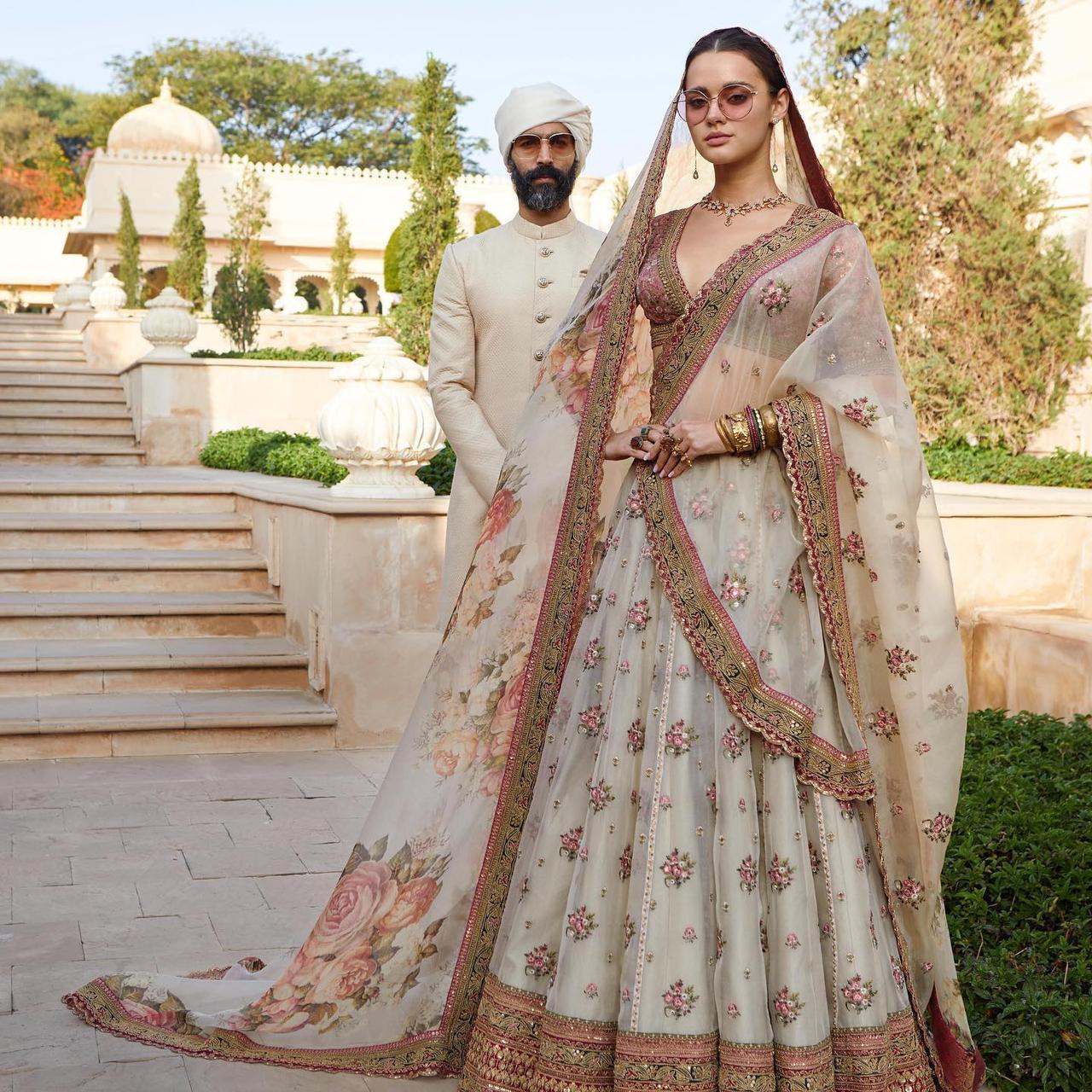 Image Courtesy: Sabyasachi's Facebook Page
For that effortless, flawless style, this white lehenga with floral motives is a bridal favourite. The panelled netted white skirt has pink and white flowers and zari work lining the base. The top is a deep V neck, short crop blouse that comes with
heavy embroidery work. This season, it's all about the contrasts when it comes to Sabyasachi lehengas and we are absolutely loving it.
This floral lehenga comes with a floral netted dupatta that has a combination of embroidered and print floral patterns. The essence of the outfit is minimal so add a simple necklace and a few bangles to complete the look.
This Sabyasachi lehenga price with its contemporary and stylish look can range from ₹2-3 lakhs and is a great buy for the bride on a budget.
3. Ivory tones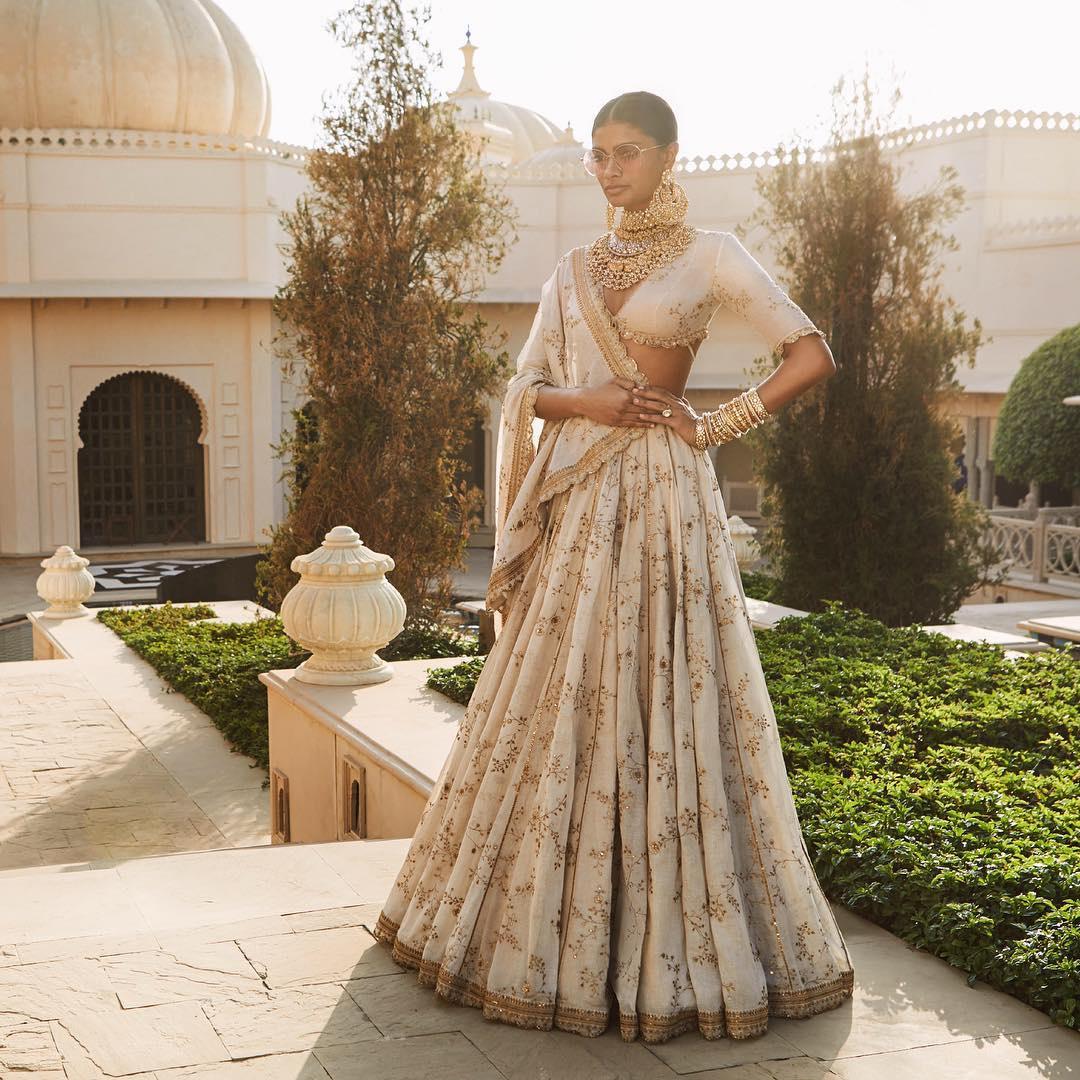 Image Courtesy: Sabyasachi's Facebook Page
For a daytime reception, you can't go wrong with an ivory coloured lehenga. This simple lehenga features a flared skirt with incredible glittering gold motifs and a thin zari border. It is often the designs on the skirt that determine the Sabyasachi lehenga price.
You will look like a true diva in this plunging V neckline that is a staple in all Sabyasachi lehengas this season. You can either leave the neck bare to draw attention to this unique neck design or complement it with a statement necklace and earrings. Either way, this timeless, elegant look is sure to turn heads on your wedding day!
This lehenga comes with a simple design and a sober blouse that adds to the style and cut of the outfit. Given its contemporary look, this Sabyasachi lehenga price is in the mid-range from ₹4-6 lakhs.
4. Pink hues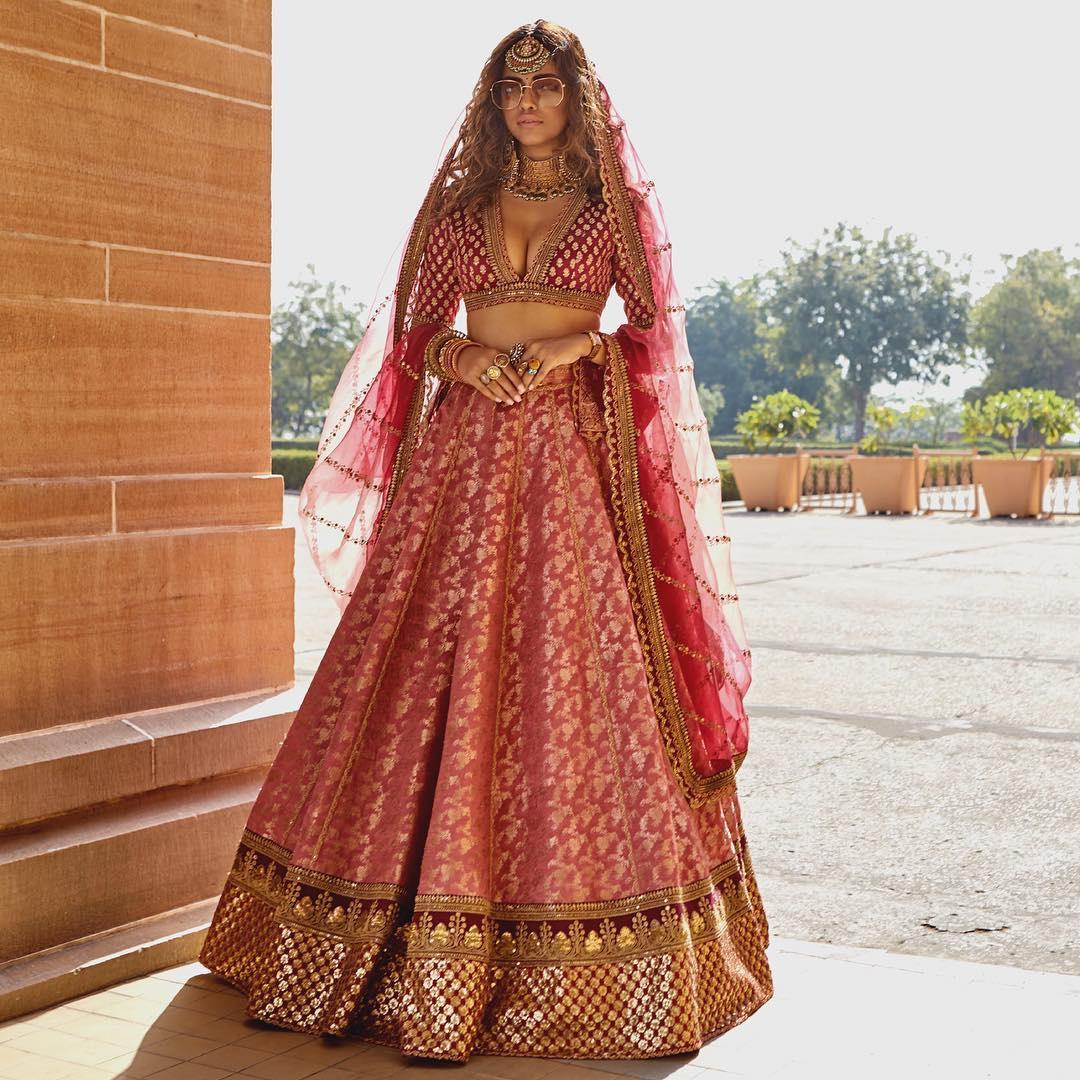 Image Courtesy: Sabyasachi's Facebook Page
For the traditional Indian bride, this classic Sabyasachi lehenga incorporates a beautiful Chanderi pattern against the bright pink fabric of the skirt. This design is present all over the skirt and is accented by some gold thread work bordering the base. The blouse comes with the deep V neck and long sleeves which adds a modern touch to this outfit. It is dotted with traditional gold motifs.
Complete this traditional lehenga look with some Meenakari Jewellery or Polki Jewellery.
This Sabyasachi lehenga price can range between ₹3.5 to ₹4.5 lakhs.
5. Traditional beauty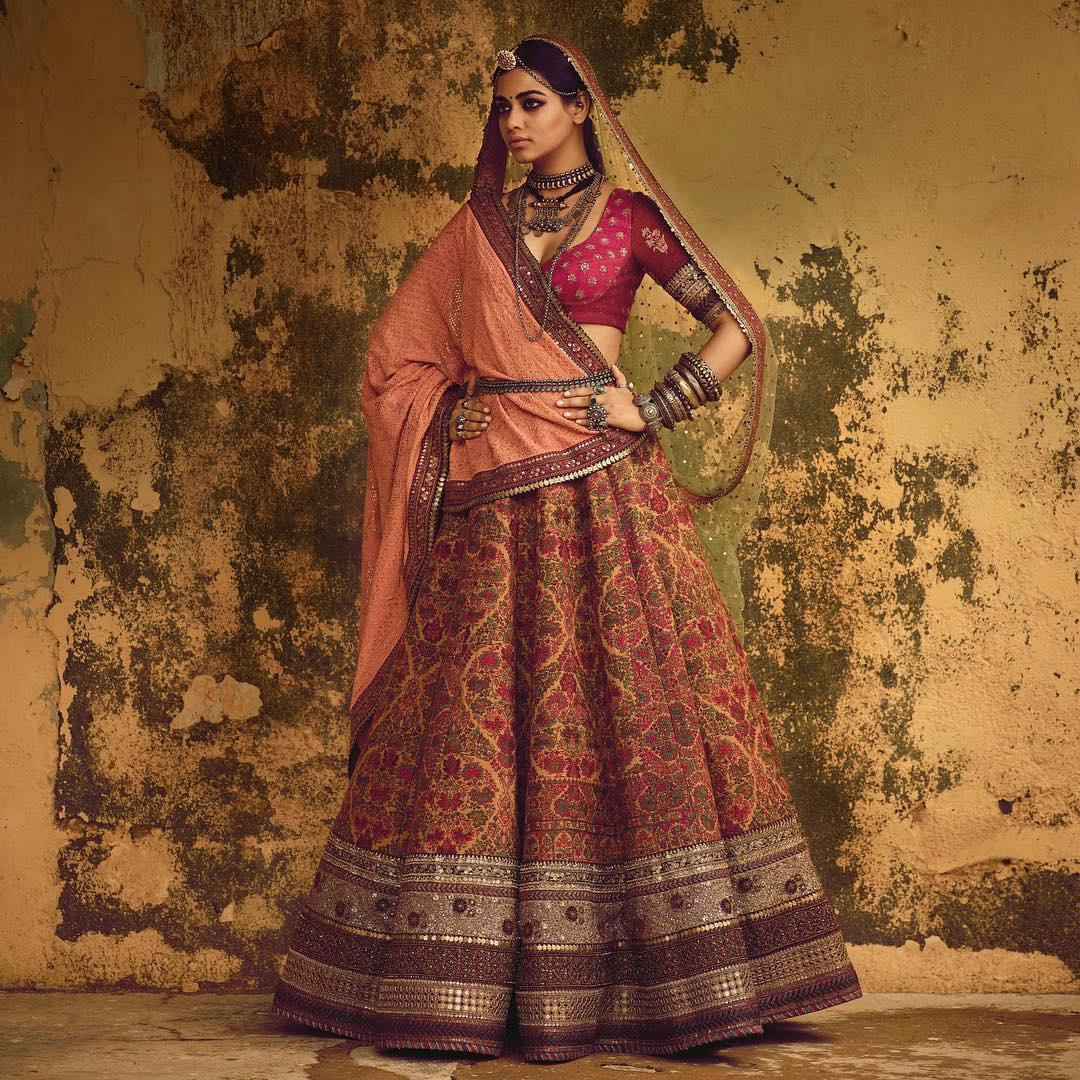 Image Courtesy: Sabyasachi's Facebook Page
For the brides-to-be check out this traditional Rajasthani style lehenga. While Sabyasachi lehengas usually come with modern styles and cuts, featuring embroidery work. This lehenga takes the traditional route with a Kalamkari print on the skirt and an embroidered base.
A beautiful lime green netted dupatta is wrapped around the bride, Rajasthani style. The is complimented with a pink blouse that has a classic Sabyasachi deep V-neck and zari motifs. This classic lehenga style comes with minimal embroidery and uses a combination of prints to add beauty to the outfit.
This Sabyasachi lehenga price can range between ₹2 to ₹3 lakhs.
6. Flower power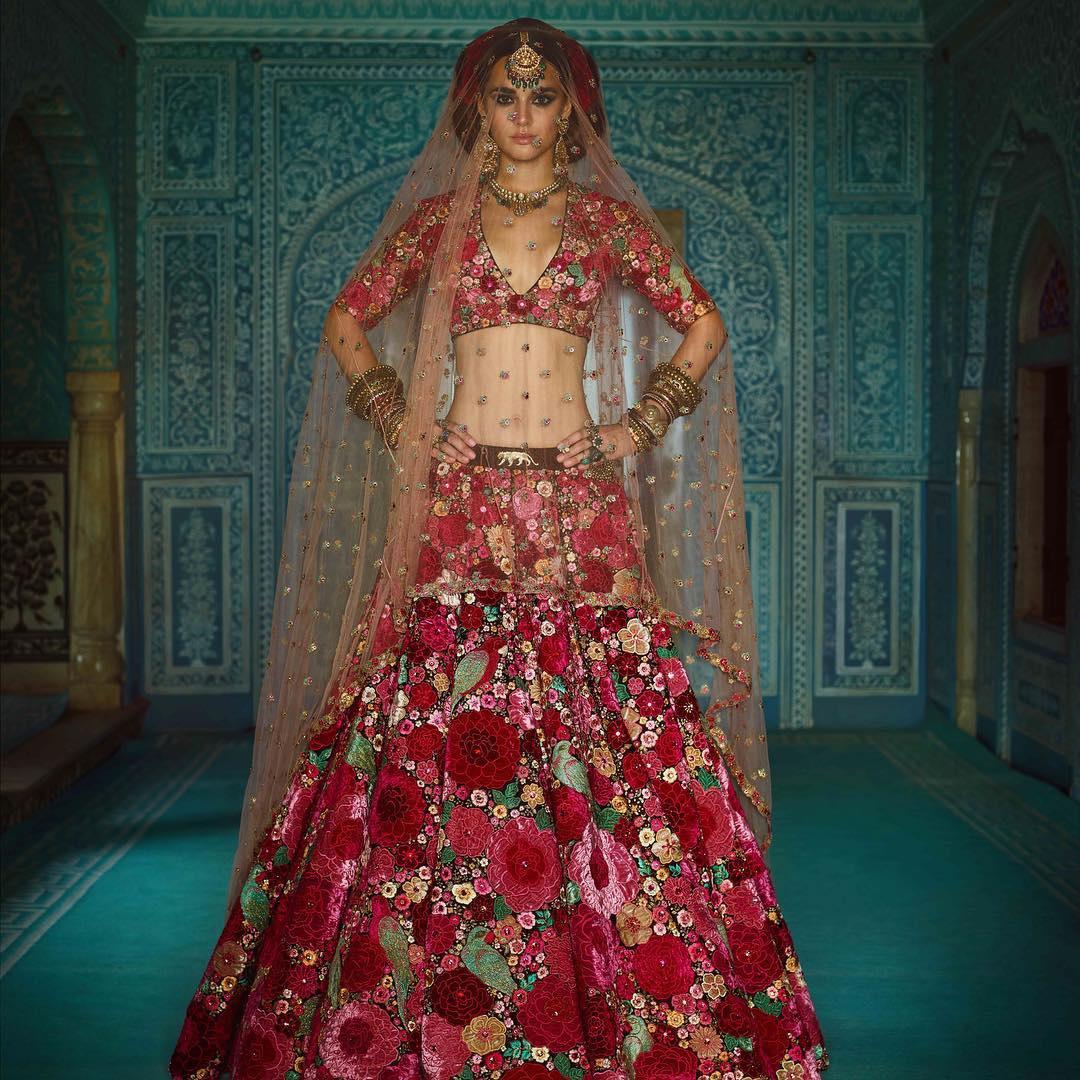 Image Courtesy: Sabyasachi's Facebook Page
Take your lehenga game to the next level with this incredible floral embroidery. This Sabyasachi lehenga is unlike any we've seen so far. Featuring a mix of red and gold roses accented with green birds, this lehenga is quite extraordinary. The bright colours and the sleek cut and style of this outfit is sure to turn heads.
It is also an important factor that contributes to the Sabyasachi lehenga price. The vibrant colours in this outfit require little to no accessorizing, you can pair the look with a Maang Tikka and statement earrings.
Given the modern and sophisticated style of the outfit, along with the statement embroidery work. This Sabyasachi lehenga price is usually within Rs. 3-5 lakh range.
Sabyasachi's lehengas, synonymous with elegance and class, are a household name when it comes to bridal attire. The designer has tastefully created a line of stunning lehengas to suit every bride out there, be it, simple, modern or minimal. While it's the designs are to die for, the Sabyasachi lehenga price also ranges from pocket-friendly to premium depending on your budget. Wearing an outfit designed by the maestro of the bridal world is sure to turn heads on your wedding day. So if you are a bride looking for the perfect wedding dress, we hope we've inspired you with these incredible lehenga styles.
Love the Sabyasachi lehenga designs you've seen so far? Let us know your favourites in the comments below.