A Goa Wedding To Bring Alive The Nuptials Of Your Dreams
For couples who've been dreaming and planning of a Goa Wedding for months, there's good news for you! Read on for tips and ideas to plan a charming Goa Wedding.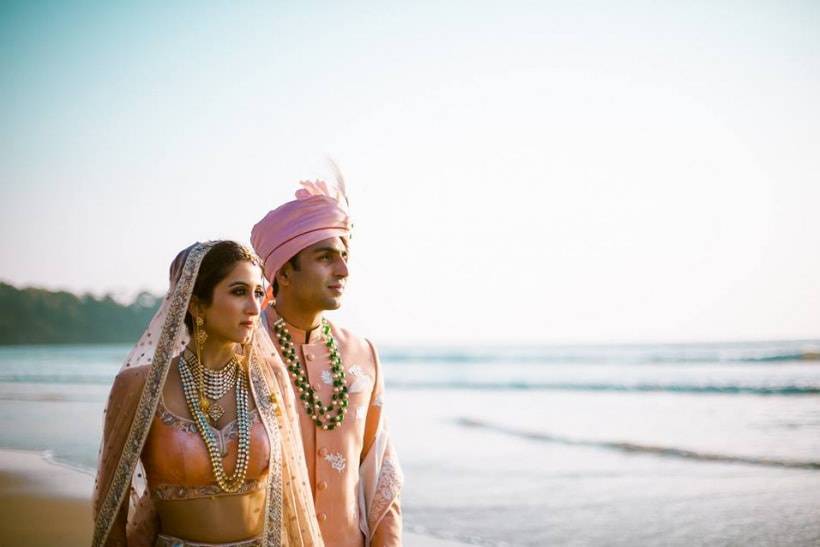 A beach wedding, a sultry affair, a church affair or an extended holiday, it's all possible here. If you're searching for the perfect venue for your destination wedding dream, then it's Goa. With this piece, we explore all the different ways in which you can really have a Goa wedding this year. We have curated for you a galore which will inspire you to bring to life your dream wedding. From picturesque beaches to a sumptuous feast with some lip-smacking seafood, we will help you prepare for it all.
If you have always wanted to take your vows standing on a beach with stunning decor and salty breeze through your tresses, then Goa wedding is the answer for you. A beach wedding does not necessarily have to be an expensive or extravagant affair, but you can have your dream destination Goa wedding without burning a hole in your pocket even. If you are planning to know how you can perfectly plan a Goa wedding, read on to know more about it.
Goa Wedding Ideas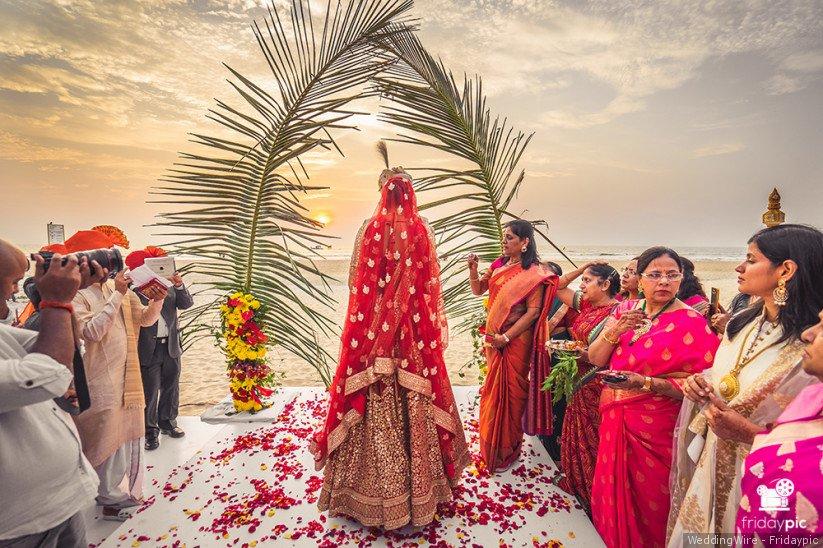 What do you want for your wedding - A Mandap or a setup on a secluded Goan beach? Taking your wedding vows in a beautiful little church in Old Goa? Or an intimate wedding amongst family and friends in a five-star resort? Planning a wedding in Goa has a lot of options, because of the location itself and its open nature of hospitality.
This works especially well if you combine it with the winter months of December and January, which are the peak months for a Goan extravaganza. With the perfect weather conditions, gorgeous landscapes and mouth-watering cuisines, Goa is also an extended party for all of your wedding guests.
While we have explored the cost of a Destination Wedding in Goa earlier, we now bring you three distinct wedding ideas, alongside wedding venues, decorations and food. Take cues and plan accordingly:
When Hosting A Church Wedding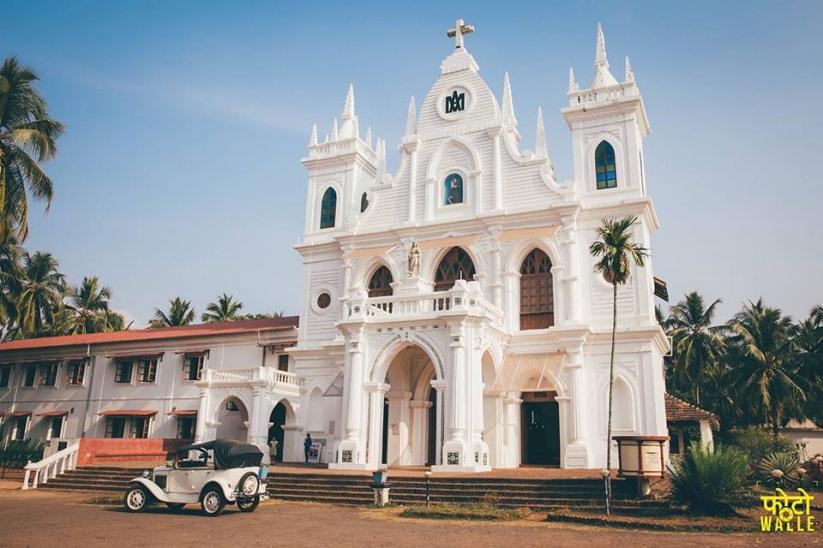 With its distinct Portuguese past, you would find Goa, especially South Goa dotted with beautiful heritage churches. And getting married in a gorgeous church is a dream for many couples. Here are a few things to consider while planning your Goa wedding in a church:
1. Venue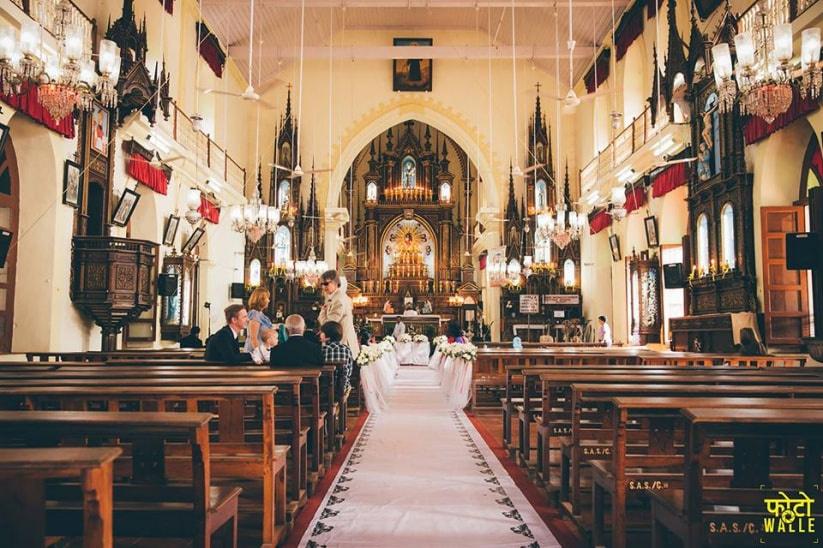 Ensure there is sufficient capacity for the guests while choosing your wedding venue
Have a word with the priest about the church availability, number of guests and date and time of the wedding
Arrange for a cake-cutting venue and reception if it's not allowed within the church premises
Book a venue for your wedding reception party. It is a must.
Select a theme of decoration that would be perfect for your Goa wedding.
Some of the popular venue choices for a Goa wedding in a church are Our Lady of Piety Margao, Penha de Franca Church & Lawns, The Basilica of Bom Jesus and Mae de dues Saligao. The picturesque views and historical significance have led to an increasing number of weddings in these churches.
2. Wedding Decorations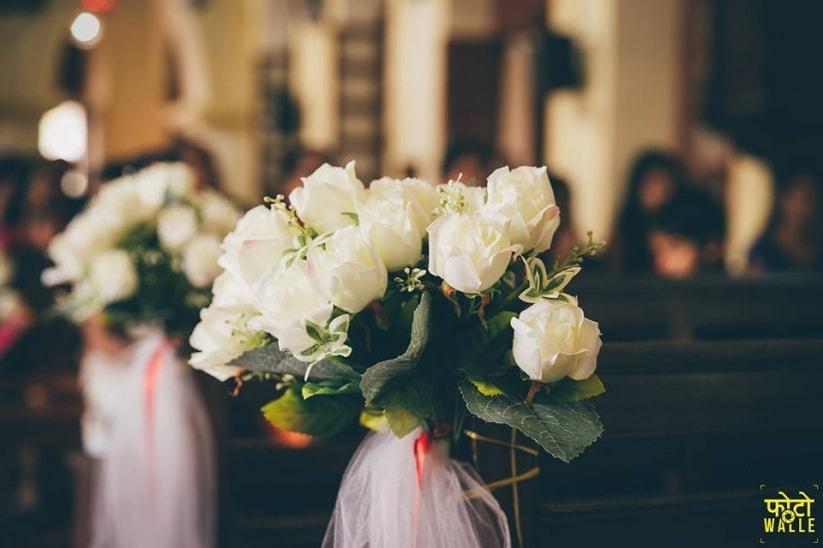 A common wedding decor element for church weddings are flower arrangements. Get help from a local wedding florist in deciding the kinds and quantity of flowers to be used
Consult your wedding planner for colour coordination of flowers with the carpets and drapes inside the church
Check the lights and coordinate with the church over the possibility of extra lighting for your church wedding
You can go all out while decorating the church entrance as well as the venue of your Reception, but the wedding decoration inside the church is kept minimal.
3. Wedding Menu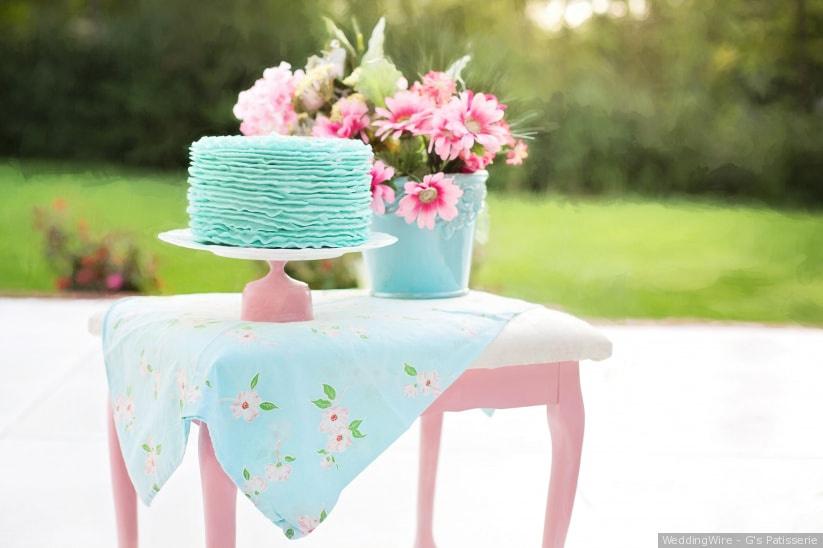 You can go for European, coastal, Goan or Portuguese cuisine keeping in sync with your church wedding. Ask your wedding caterer to give you options for food and drinks to choose from. And then there's always the traditional wedding cake. The biggest take away for any wedding guest is how delicious the food spread or perhaps the desserts were. So, make sure they have something to remember your Goa wedding by for a good reason.
4. Bride and Groom Wear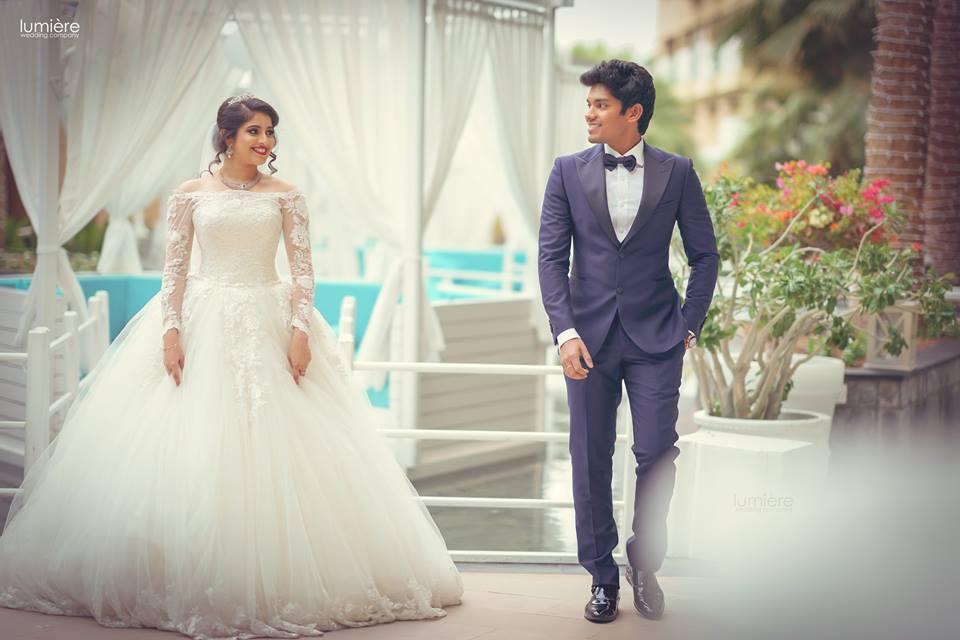 Though a conventional church wedding in Goa is complete with a Christian wedding dress and a veil, you could come up with your own veiled combinations (have a word with the wedding priest on what's appropriate church attire first). For the groom, it could be a dark coloured suit or a colour-coordinated combination with your partner.
When Hosting A Konkani Wedding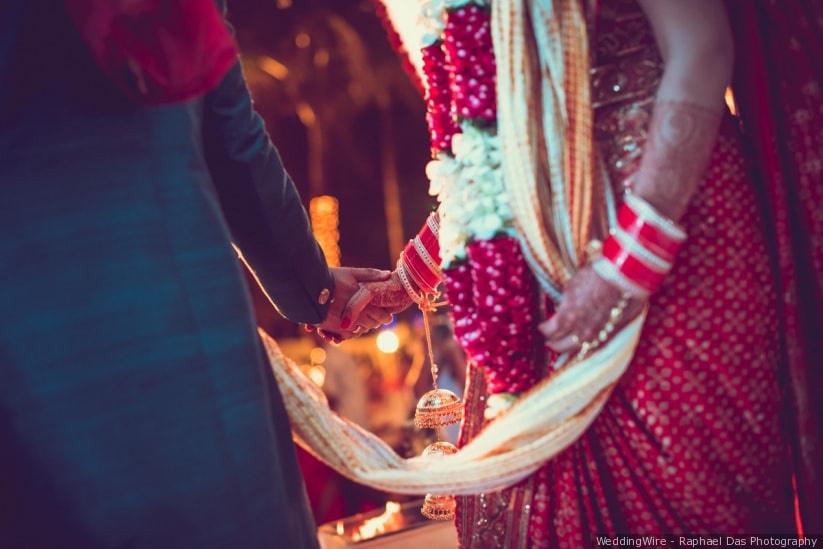 Thinking of a destination wedding in Goa? Then how about getting married in Konkani style for a traditional touch? You can have the best of both worlds by mixing and matching up traditions. For a perfect Goa wedding in Konkani style, you can even draw inspiration from Ranveer and Deepika's wedding. Here are a few ideas to accentuate the fun factor for your Goa wedding:
1. Wedding Venue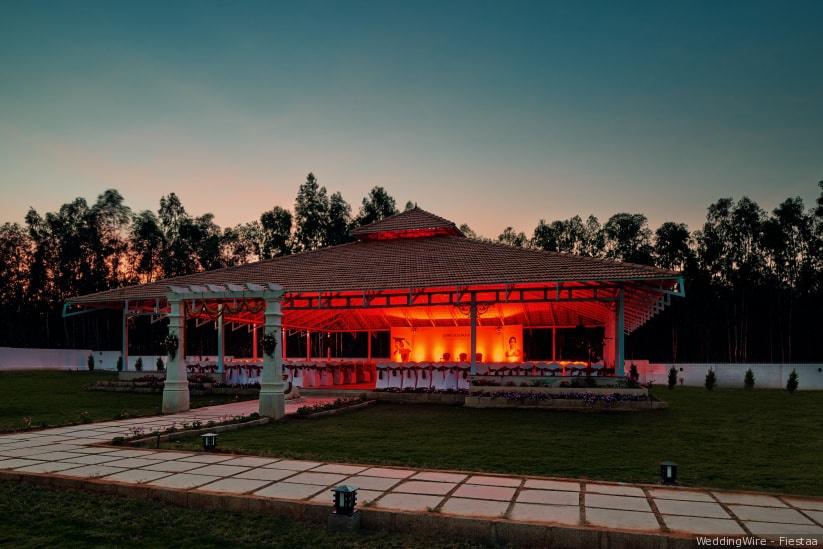 For a traditional Konkani style wedding, you can arrange most of the events indoors
Incorporate Konkani and Mangalorean rituals like Phool Muddi, Udida Muhurat, Kashi Yatra, Mantap Pooja and Varmala. These can all be performed in a large hall or courtyard
Make sure there are enough open spaces if you're adding Mehndi and Haldi functions too along with the post-wedding Konkani games
There is a wide range of hotels and resorts in Goa. Choose according to your budget and requirements.
Here are a few venues which can incorporate your Konkani wedding dreams to life. Have a look at them and get in touch now!
2. Wedding Decor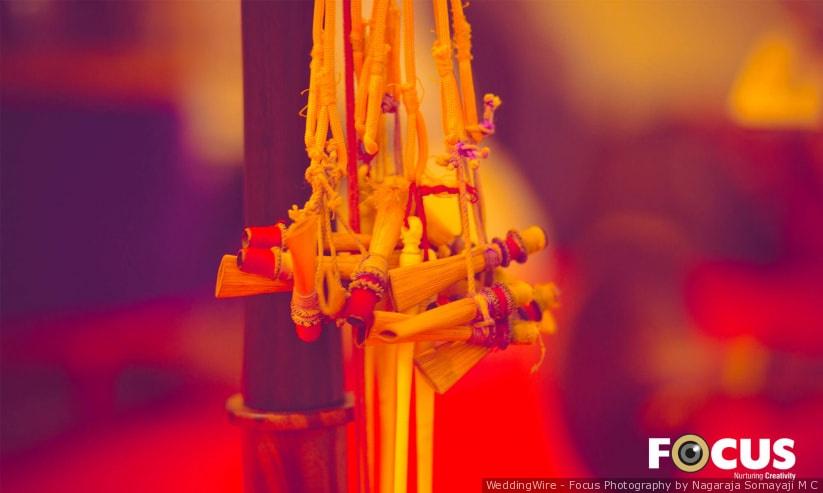 You can go for bells for decorating your Mandap or seating area
Use colourful flowers and sparkling lights for the stage decorations
You can also use traditional Konkani handicrafts or artefacts as part of your wedding decor. These can serve as wedding return gifts too.
Use colour coordinated drapes and stage hangings as per your wedding outfits. Ask your wedding decorator and wedding stylist for help with your stage decorations.
3. Wedding Food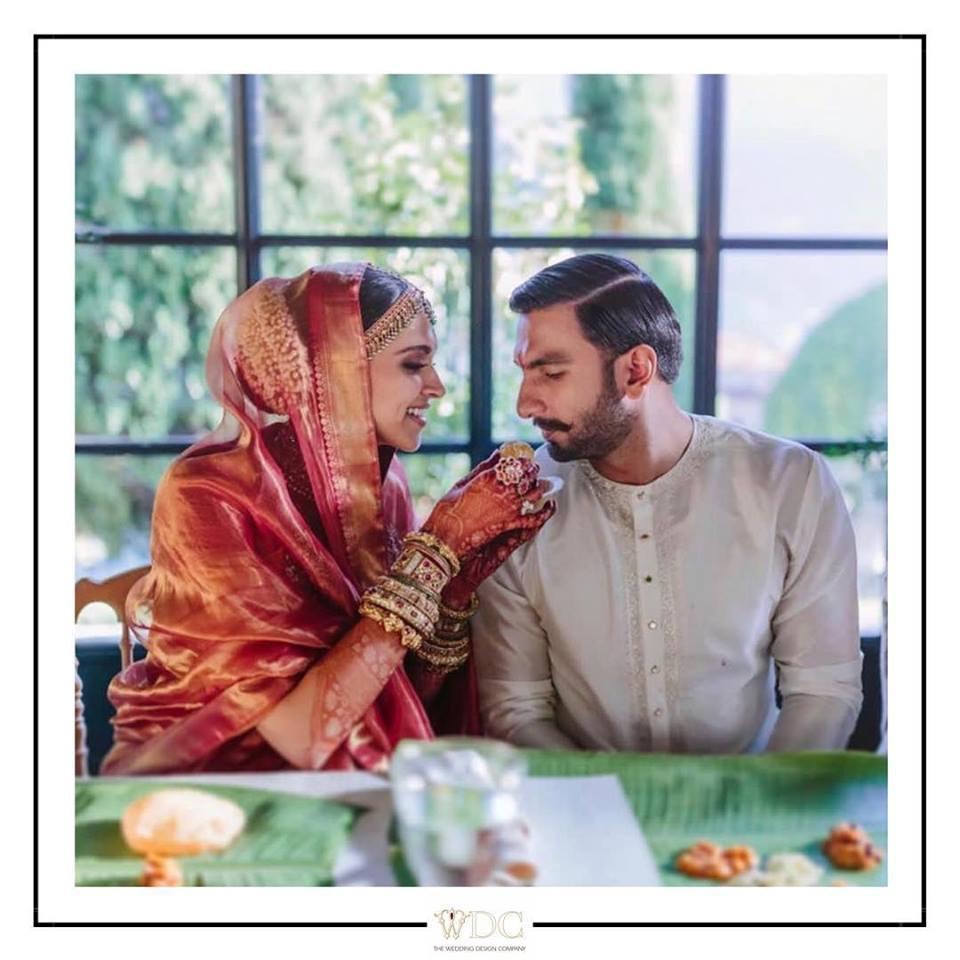 Treat your guests with authentic Konkani breakfast consisting of either Dosai, Vada, Idli, Sambar and Chutney or Phanna Dhoddu and Dodsak. For dinners and lunches go for a variety of prawns, fish and coconut recipes (served with Goan bread) which are essential parts of Konkani cuisine. Dali Thove and Payasa are also must-have dishes.
4. Bridal and Groom wear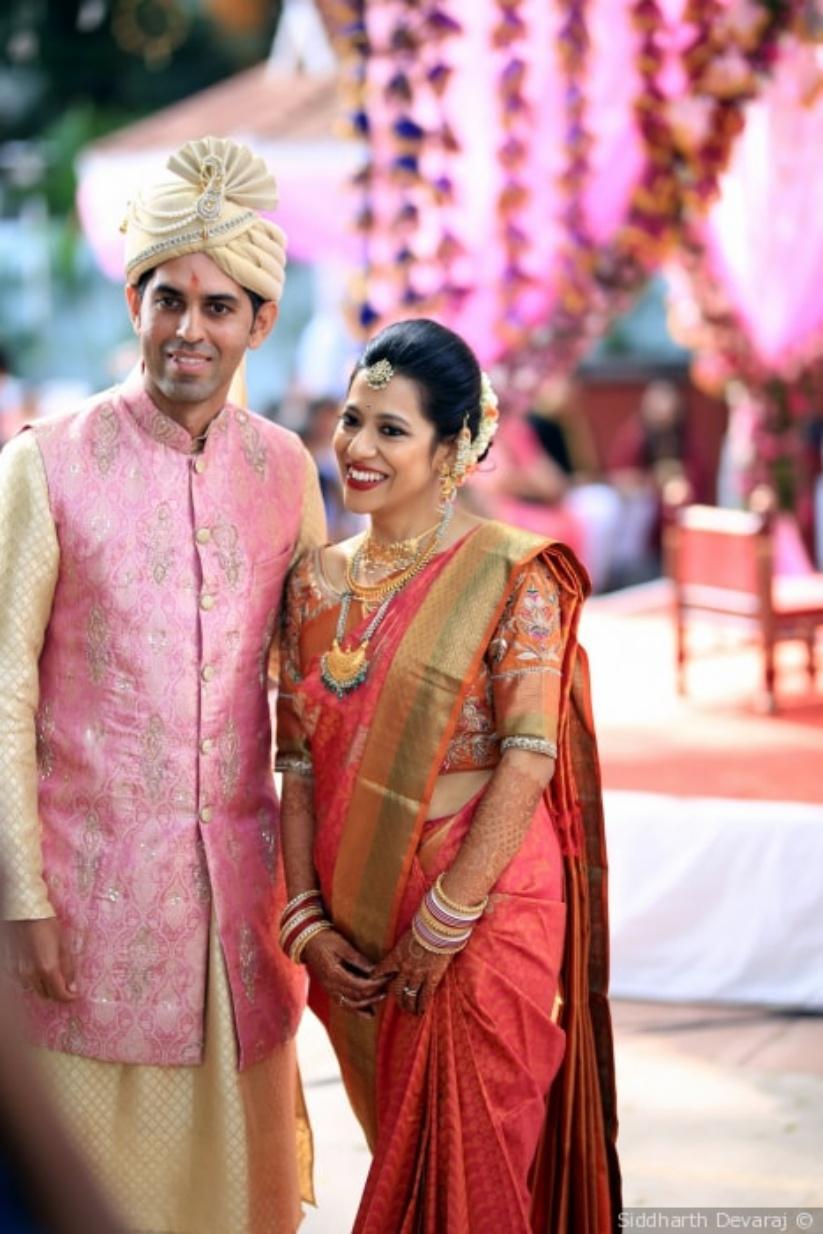 A typical Konkani bride wears her wedding silk sari in a Kachhe or in Marathi style. Her Pallu hangs from her waist sideways and her front is covered with a light coloured fancy Dupatta. The bride wears green bangles and most women wear jasmine flower Gajras. The groom wears a white or beige Dhoti and kurta. But all these traditional choices are getting amped up with contemporary styles and aesthetics.
When Hosting A Beach Wedding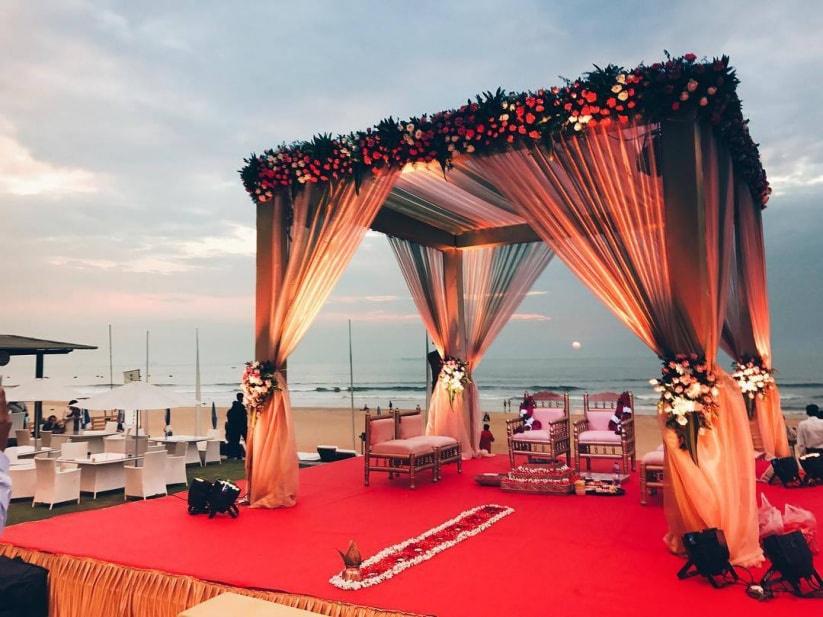 The most sought-after winter weddings in India are Goan beach weddings. The silvery beach, the Arabian Sea and golden sunsets - what else do you need for a ravishing destination wedding? Plan your dream Goa wedding right now with the help of these ideas:
1. Wedding Venue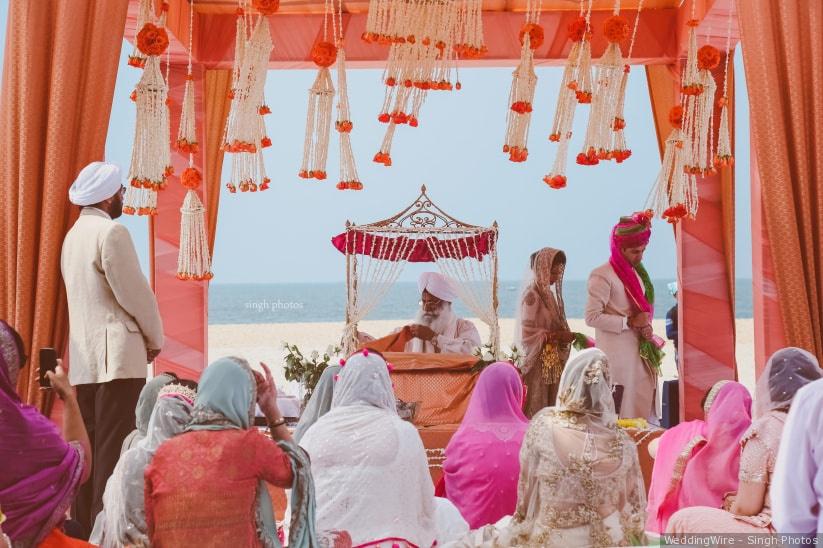 If you're having a winter or autumn wedding, book way in advance, as most of the resorts are booked during the wedding season.
Try to book a beach resort or sea-facing hotel
Get in touch with the local vendors for beach permits that are required for a wedding on the beach
Hire a wedding planner for a hassle-free beach wedding. For example, you can go for Glittering Petals who are quite a famous wedding planner in Goa
Finalise your guest list to choose your venue accordingly
Some great venue options for a beach wedding in Goa are:
2. Wedding Decor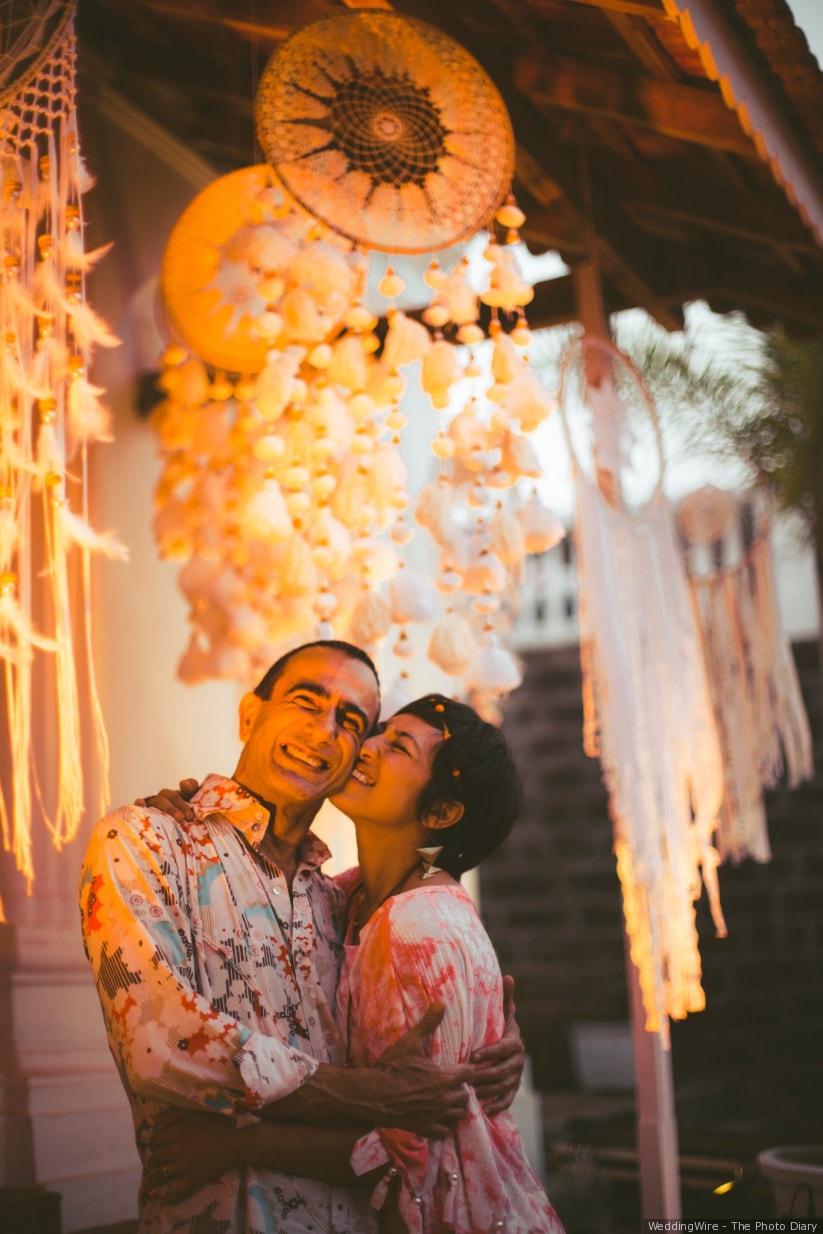 Go for a Boho or Hawaiian theme for your wedding decorations
Use white, pink, peach flowers, drapes and Dupattas in white or sea blue colours to match with your beach wedding theme
You can use flames, candles, torches for evening parties
Go for colourful wooden chairs in pop colours or low floor seating with cushions
A touch of vibrant colour at your Goa wedding will surely make it an event to be remembered for life.
3. Wedding Food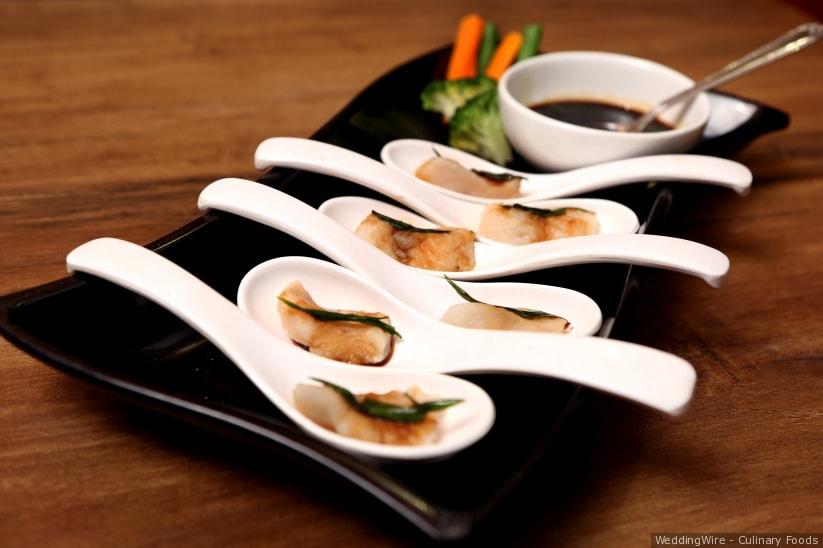 A Goa wedding is a grand opportunity for seafood indulgence. Ask your caterer for extensive spreads of prawns, crabs, oysters, fish and other seafood variety to add to your wedding menu. As for the drinks, you must add Goa's famous Feni as a special cocktail feature for your guests. They won't stop at just one!
4. Bride and Groom wear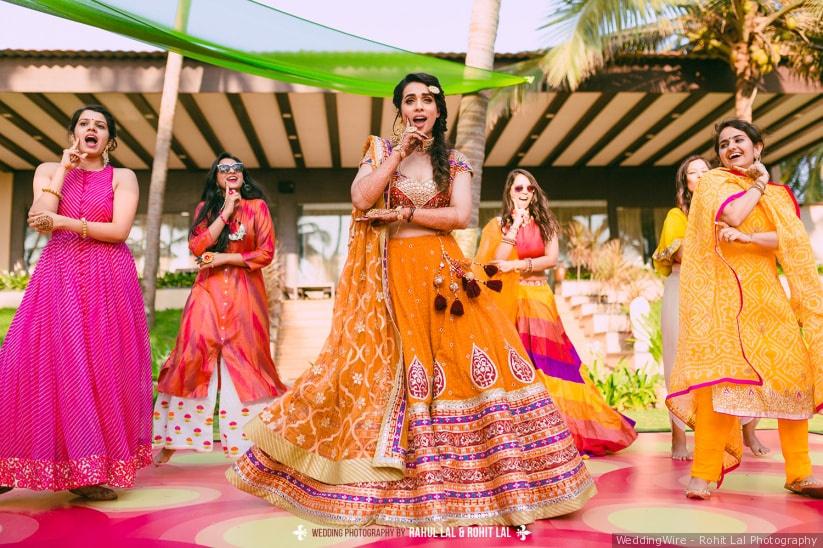 Choose breezy colours and flowery outfits for your Goa wedding events. Go for lighter fabrics as it would be humid during the day and you would not want to spoil your mood by sweating during your wedding vows.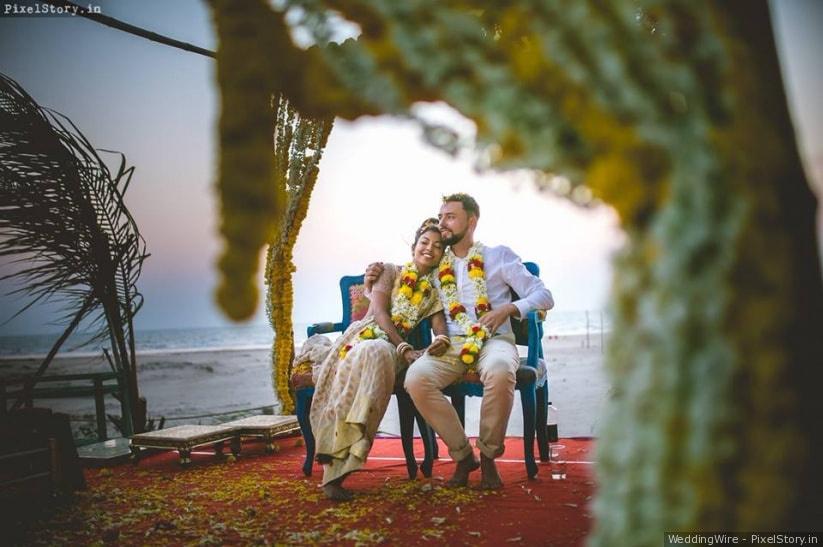 Go for soft pastel shades of bridal sari or Lehenga for your beach wedding. Wearing pastel colours would make your skin look radiant given to wedding functions that you would be hosting in an open space.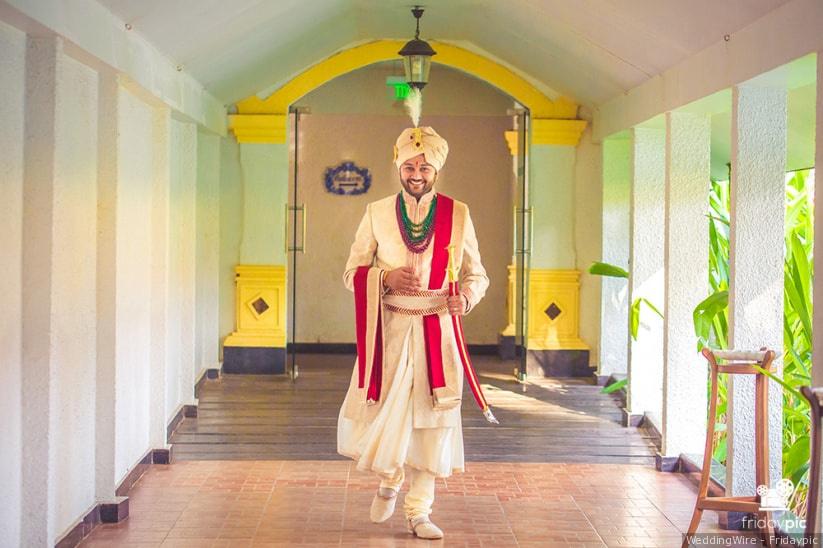 The groom can opt for a cotton or silk Kurta in soft colours.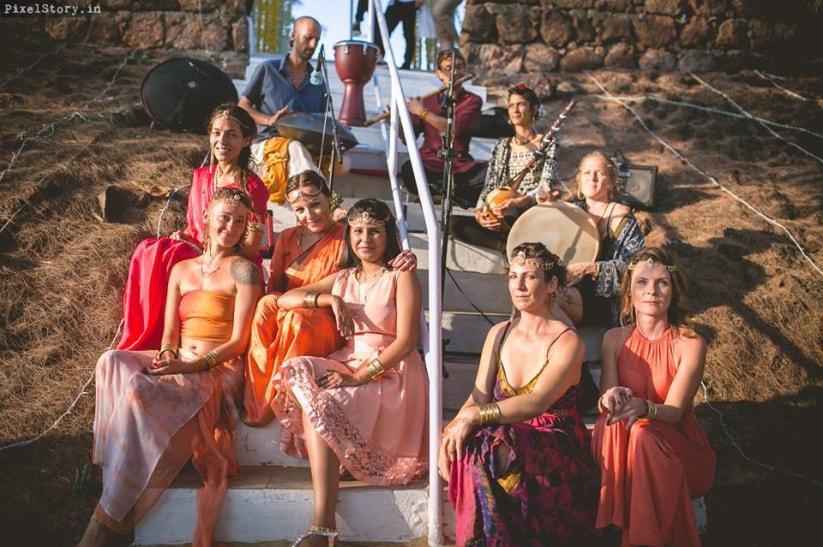 For cocktail and bachelor/bachelorette parties, go for gipsy skirts or dresses with floral headbands to match with the beach vibe. The beach is one location that will give you the room to experiment with your wedding wardrobe. From flowy dresses to long maxi skirts, there is so much that you can do. Or, perhaps a boho chic look? Which would be the icing on the cake and the right amount of drama you need in your wedding pictures.
Goa weddings don't necessarily have to be an expensive affair. Decide your wedding budget and communicate with your wedding planner for the best deals. Also, having a wedding planner onboard will help you focus on yourself as they will shoulder the various responsibilities of hosting a destination wedding for you. There is a whole variety of church, indoor and beach wedding options for everyone. Let your dream Goa wedding be an inspiration to couples who look forward to a gorgeous wedding this year and follow suit.
Need more ideas on planning a Goa wedding this season? Get in touch with our wedding planners for a smooth sail.