Cheer, joy and an aura of togetherness envelop the traditional wedding ceremonies in India, courtesy our loved ones. They have taken the time, put in the effort and blessed the solemn occasion with their presence. And for that, we're grateful! Extend your sense of gratitude by giving your guests something that says, "thank you for being there for us!" We spell out six kinds of Wedding return gifts (with examples), which are simple, yet thoughtful.
Gifts are one of the safest and convenient ways to express your love and gratitude for one another. Be it someone elder to you or someone younger or your friend, gifts have always occupied a special part in all of our hearts coming from whosoever it may concern. A wedding ceremony is a major social gathering with people coming over from different parts of the world to shower their blessings on your new beginnings and to make things, even more, better, they carry their token of love in the form of gifts. It is out of courtesy that the newlywed couple gives these relatives some sort of return gift as a token of appreciation for being present on one of the biggest celebrations of their life.
The selection of gifts is a task at hand that cannot be delayed and selecting the right choice of gift for all is one impossible thing. Instead, you could just group them in different categories according to their ages and then decide for a uniform gift for each age group. Say all your younger cousins can get chocolate boxes that will make them ecstatic or maybe your elders can get good luck charms or things that they can put up in their houses for the sole purpose of decoration.
For the in-laws and respected acquaintances, you can always go for boxes of sweets as sagan and you will have their blessings. In the recent past, the number of chocolates that have been given as wedding return gift is a startling number only proving how loved chocolate is for one and all.
Put some thoughts behind finalising your wedding return gift and it should speak clearly of the appreciation you feel for their presence and the gratefulness.
1. Traditional, Classic Wedding Gifts: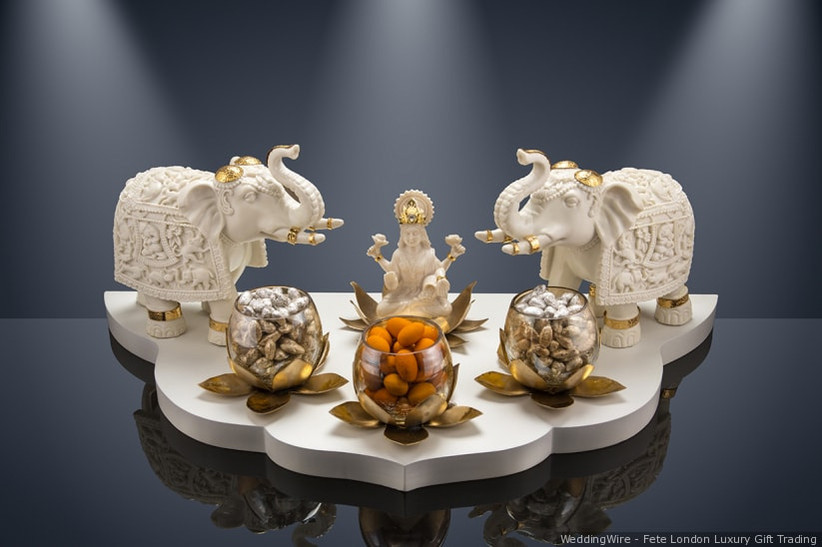 You can never go wrong with the traditional sweets, shagun envelopes and religious icons. Decide on your budget for each return gift and you can find endless options like:
Little Ganesha, Laxmi or any other religious idols, Om or holy cross pendants, Buddha idols
Gold or Silver coins
Box of sweets with shagun
Ethnic Diyas with a box of sweets
Potli bags, Bangles, Kundan Kada, Kumkum, Sindoor box and Mehndi boxes
2. Eco-friendly Wedding return gifts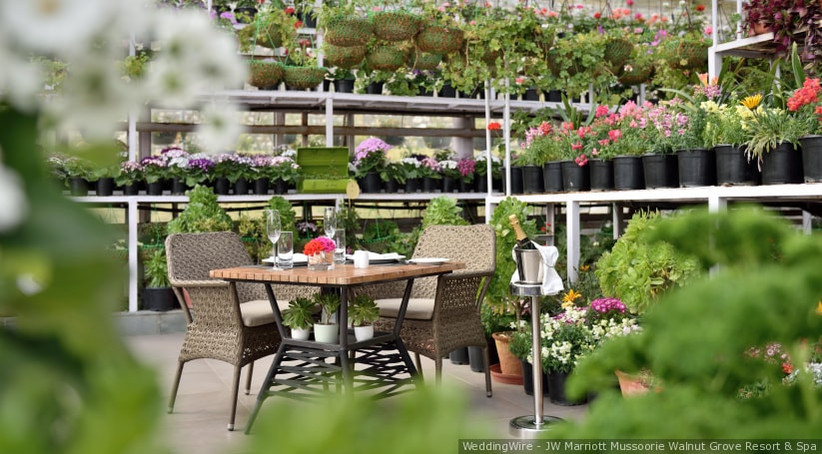 How about gifting your guests with something that would also make our mother nature happy? Go-green with these ideas on Environment-friendly return gifts of your wedding and choose:
Organic fruit baskets made of cane/ bamboo
Plant saplings
Herbal spices and other herbal products
Organic honey basket
Jute bags and boxes, jute and wooden jewellery
Hand-painted earthen lamps and flower pots
3. Contemporary Wedding return gifts
So you don't want to stick to the cliché while choosing your return gifts? You don't have to. Take your pick from our list of modern and unorthodox wedding return gifts in India:
Chocolates, cookies, muffins, dry fruits and candy baskets
Jars of exotic tea and coffee
Embroidered clutches, henna designed candles, incense sticks
4. Good Luck Charms
You can never have too much good luck, right? And gifting good luck charms as your wedding return gifts to the guests would just make you more popular. Here are some ideas:
Little crystal turtle or elephant figurines
Evil-eye pendants, horseshoe pendants/wall hangings
Pair of pish or dolphin tokens, laughing Buddha icon
Bonsai bamboo plants
5. Useful or Aesthetic gifts
Once you get a hint about the tastes of your guests, choosing for their return gifts becomes real easy. Add a little personal touch to each gift and you are sure to become everyone's favourite:
Coffee mugs with the guests' picture printed on them
Classy fountain pens in gorgeous cases, embroidered coin pouches
Silver bowl and a spoon set, silver/ brass fruit bowl, silver tray
Handcrafted pen holders, mirrors, Bangle boxes, candle stands
Gold/silver kamdhenu idols, Kalash string hangings
6. Spread some priceless smiles
You have the power to spread happiness by your acts. Contribute in your own capacity by helping the society become a better place to live in. Here are a few ideas on your wedding return gifts with a beautiful social subtext:
Buy candles, jute bags, soaps and other return gifts from an NGO and help raise money for the less fortunate
Donate to a charity on your guests' behalf
Offer saplings for guests to plant
Organise a mass wedding
Ask your guests to contribute to the betterment of a less privileged couple, child or group
Classic, contemporary, fun, useful...whatever your choice of wedding return gift may be, the most important gift is how you express your gratitude, respect and love to your guests. Every word you speak, every expression on your face must convey the message that you feel blessed to have them by your side and how much their presence means to you. There is no gift more precious than a genuine gesture from your end, which says "thank you!"
Did you find this code to wedding favours useful? What do you wish to do during your own wedding ceremony? Let us know in the comments below.