9 Lip-smacking Rajasthani Dishes for the D-day Dinner Menu
Rajasthan is famous for its extraordinary cuisine and what better place to sample the best of them than your wedding! Here's a collection of nine Rajasthani dishes that should adorn your wedding!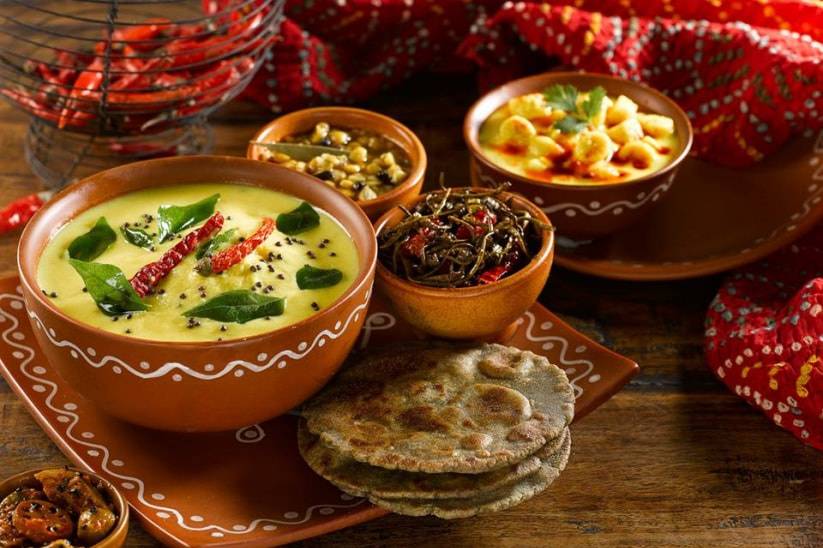 A grand Indian wedding requires grand, majestic fares. When the invites go out to your friends and family and a lot of people are coming over as guests to bless your big day and grace the occasions with their presence, the one thing that is a mandate and abasic necessity is a mouthwatering list fo dishes that will be served to your guests on the feast, because what is a celebration without an unforgettable feast to end it with! The wedding is a grand occasion, so the food spread at dinner or lunch has to be a royal one that includes a variety of courses to keep the grandeur of the ceremonies intact. So, in the end, the conclusion drawn is that food plays a crucial role in the course of the joyous celebrations.
Indian wedding guests may not remember what the bride was wearing or what the groom looked like but they certainly remember the delicacies on the wedding menu. Make sure your guests have the most memorable feast of their lives by adding these authentic dishes from the land of royals to your wedding menu. Your guests will be left licking their fingers after they have made their way to the desserts. These Rajasthani dishes boast of a plethora of flavour ranging from sweet, savoury to delightfully spicy. Rajasthan is also an expert in putting together a toothsome meal.
Appetisers
There always need to be those mouthwatering dishes to start with. A bite or two of these munching delicacies need to get you ready for the next course and the appetisers that the Rajasthani dishes include are to die for. They are lip-smacking good and they work the right way into your taste buds.
1. Mirchi Vada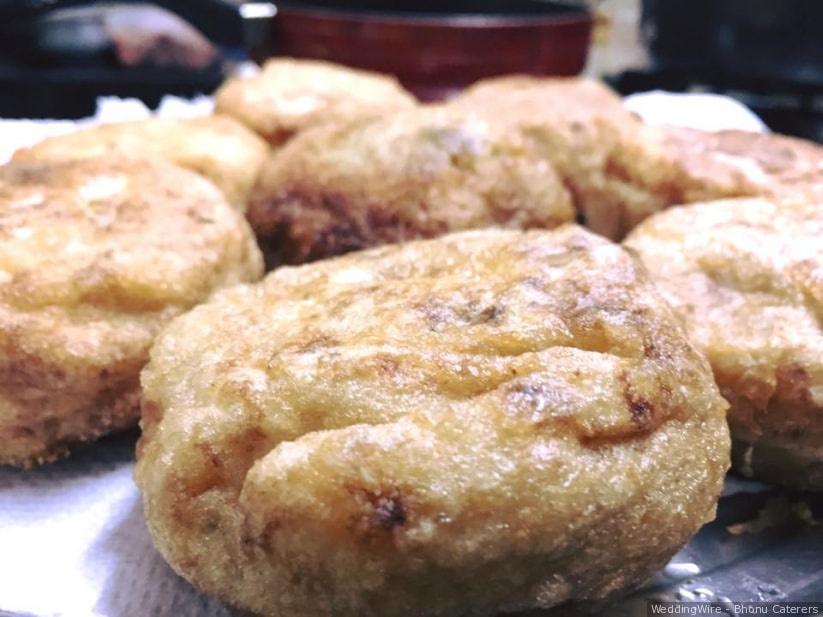 As mentioned before, Rajasthanis love their chillies. So make sure you add Mirchi Vada to your wedding menu. This Jodhpur fiery starter served with Chutney, is made by stuffing chillies with mashed potatoes. These are then covered in Besan batter and then deep fried. Is your mouth watering like mine? All those who have a penchant for spicy food will love it and this Rajasthani dish works for both summer and winter weddings.
2. Pyaaz Kachori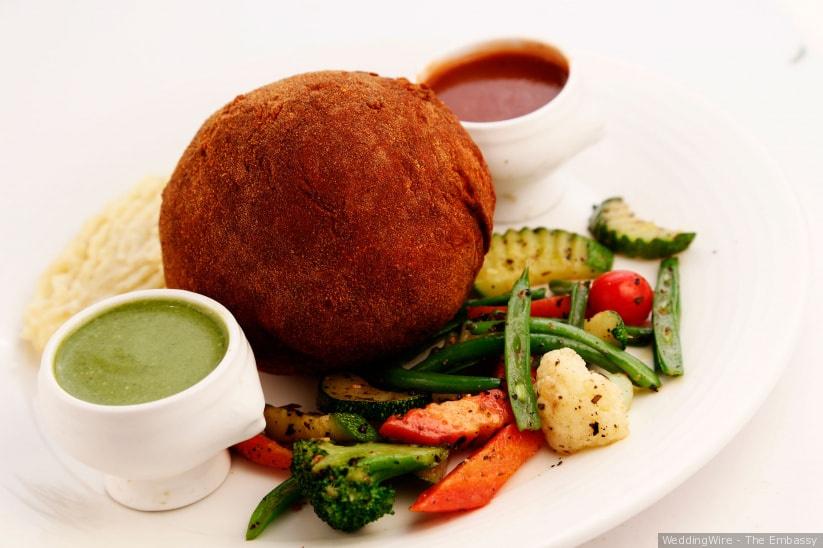 It is no secret that Rajasthanis love munching on Kachoris. Make sure you add Pyaaz Kachori in your Rajasthani dish on the wedding menu. It is one of the tastiest appetisers and will work for both summer and winter wedding. The clash of crispy Kachori and the spicy onion filling is no less than heavenly and we dare you to stop after eating only one. This is one Rajasthani dish that you cannot have enough of.
3. Rajasthani Mogar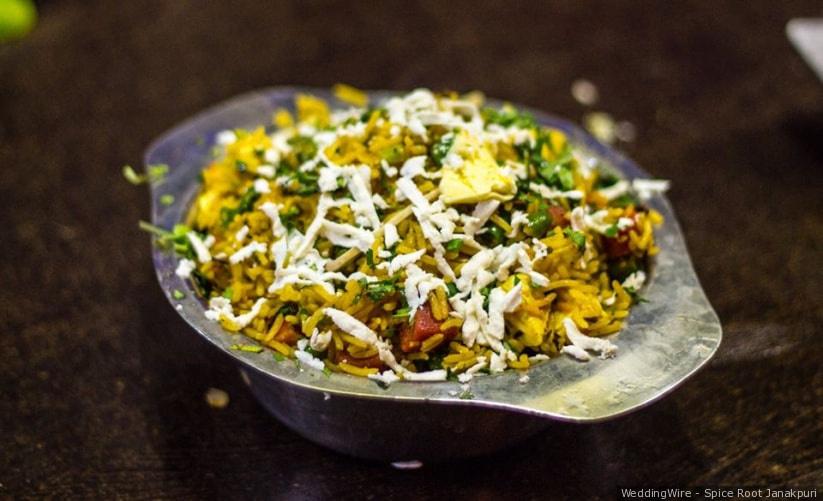 A light summery snack made from moong daal, Rajasthani Mogar is perfect in summer nuptials. Served with Aamras or tangy mango powder, it is easy to digest and will please both the young and the old. This culinary delight is a staple of the Rajasthani dishes that come in the regular diet and can work as an appetiser.
MAIN COURSE
This is one of the biggest challenges in a wedding menu and the Rajasthani dishes that go in the main course are a gastronomical ride that you and your guests will enjoy to the fullest.
4. Daal Baati Choorma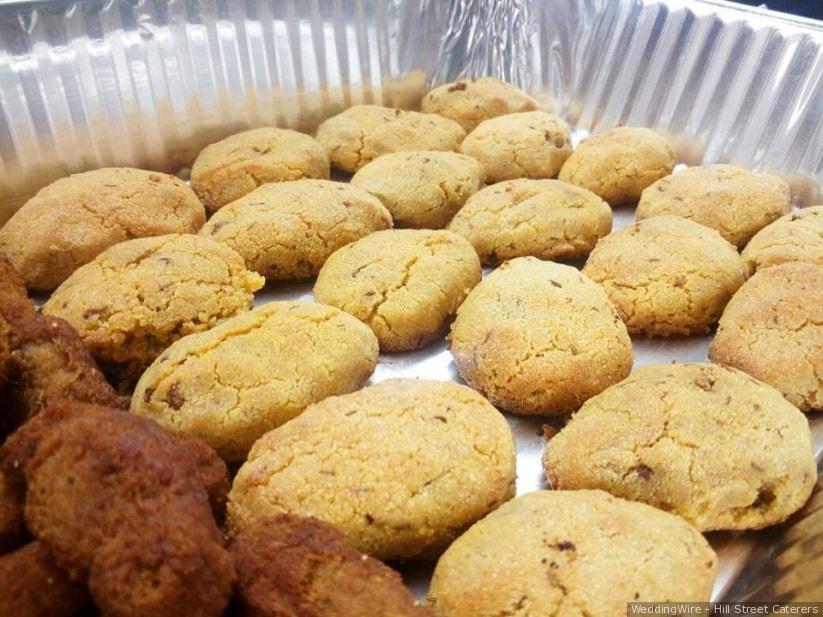 Daal Baati Choorma is undoubtedly the quintessential Rajasthani dish. A lip-smacking combination of Daal, Baati and loads of Ghee, this dish is suitable for weddings taking place in the winter. The sweet and savoury flavours of this Rajasthani dish, balance and complement each other. The spicy daal will tingle your taste bud and warm the cockles of your heart in the cold winter.
5. Laal Maas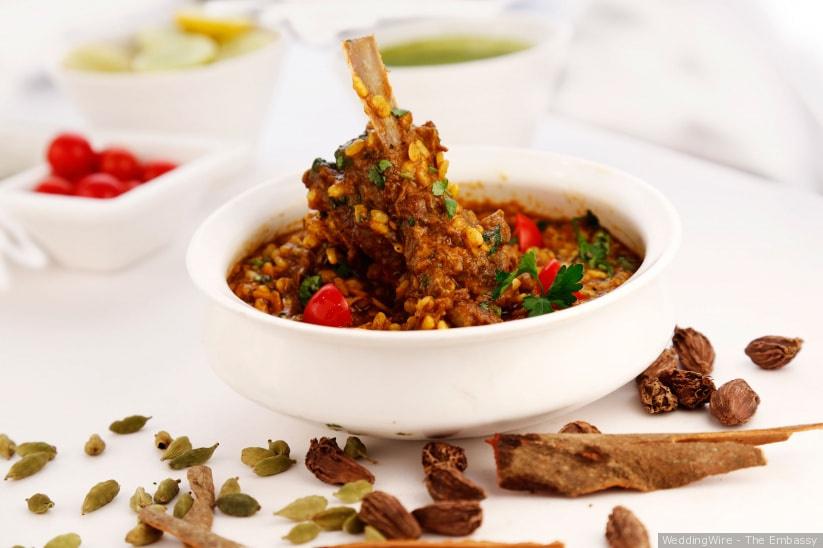 A hugely popular lip-smacking one among other Rajasthani dishes for the meat lovers, Laal Maas literally means red meat. Laal Maas enjoys a royal history as it was traditionally prepared from the meat of the hunter's game. The mere scent of this delectable dish will make your mouth water. An ideal choice for the main course for winter nuptials, this mutton dish is loaded with red chillies - a favourite with the Rajasthani community.
6. Mohan Maas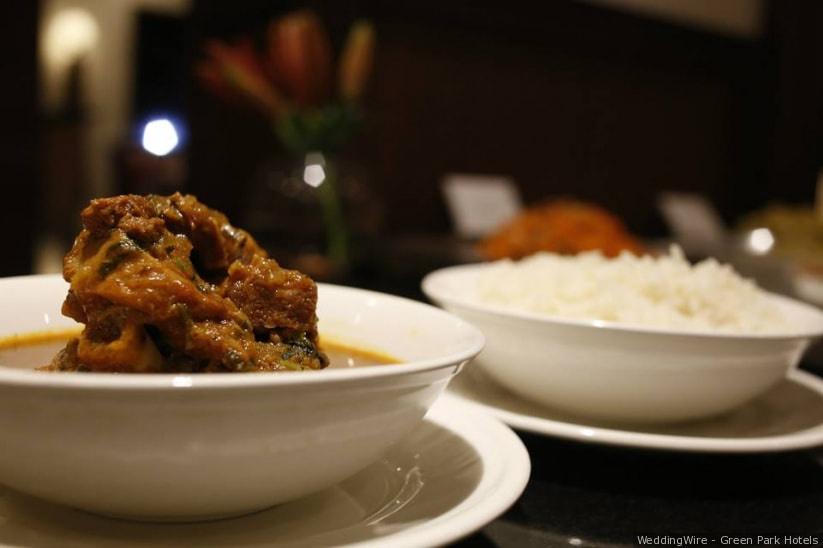 A truly royal dish fit for a royal wedding, this dish is fit for kings. Made from rich, creamy milk and soft, juicy meat Mohan Maas is a must-have in a Rajasthani dish that decorates the table. It is sinfully delicious and a crowning dish for your wedding menu. Suitable for winter weddings, this rich meat-heaven is a decadent main course dish. The tender meat cooked with milk and spices will melt the toughest food critic in your family.
7. Macchli Jaisamandi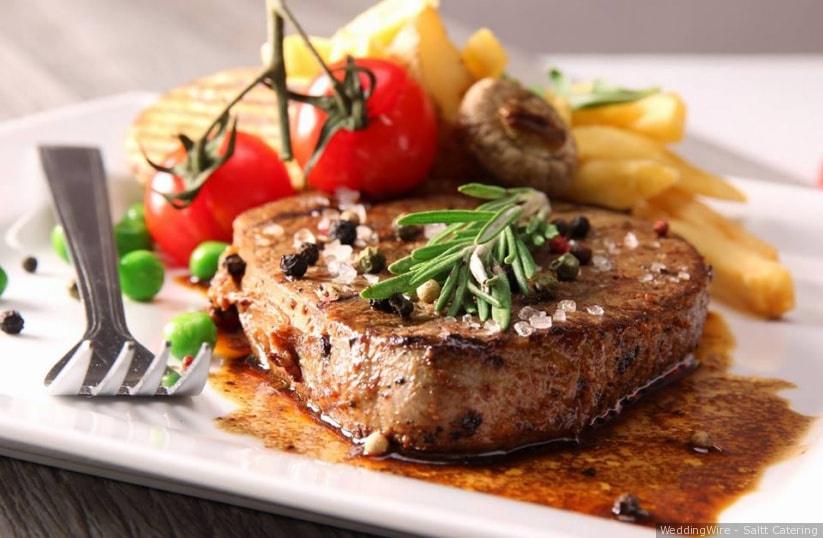 A piscine culinary delight from the desert state of Rajasthan, Macchli Jaisamandi is prepared by marinating succulent pieces of fish in a green Chutney, dipped in a Besan batter and shallow fried. You can taste the magnificence of Udaipur from where this Rajasthani dish originates. Served with rice, this can be a decadent main course dish at your nuptials. It is suitable for both summer and winter occasions.
DESSERTS
Who doesn't wait for a bite of a sweet bomb after the delicacies served before have already got you full? The dessert is that sweet tooth bite that everyone has left a little space for and the Rajasthani dishes in the list of mouth-watering desserts are a blessing.
8. Ghevar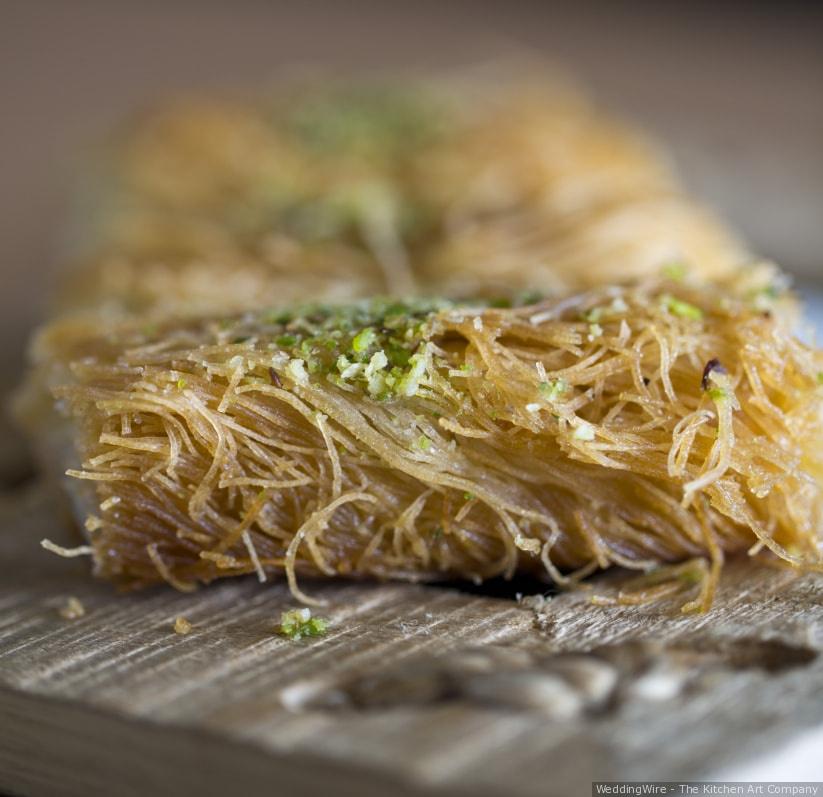 Ghevar is a popular sweet Rajasthani dish prepared during Raksha Bandhan, but it can be a delicious addition to your wedding menu. Made from milk, flour, Ghee and syrup it would be an appetising dessert that will appeal to those with a sweet tooth.
9. Moong Dal Halwa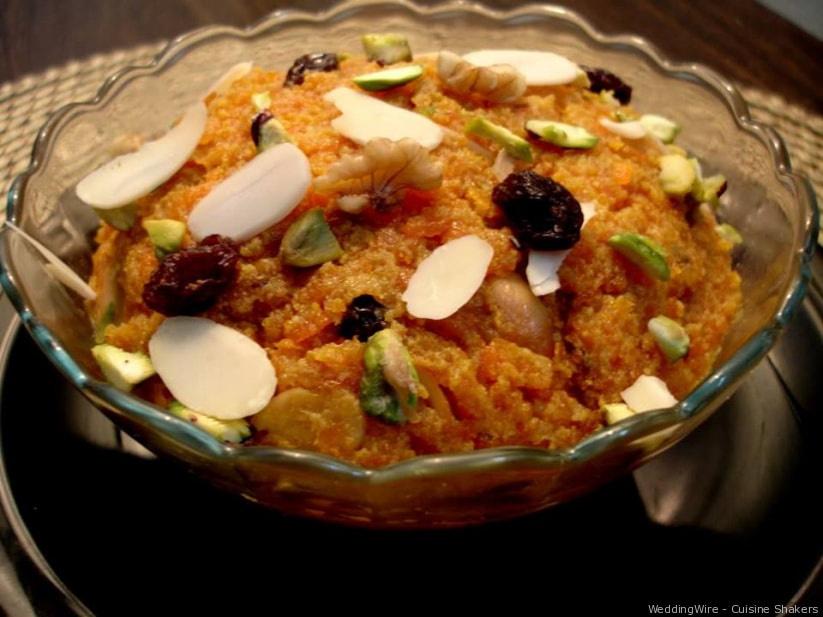 Made from the staple Rajasthani ingredient - Moong Daal, this sweet dish from the land of kings is a popular dessert in North Indian weddings. Made from Moong Daal, Ghee, cardamom and milk it is extremely rich and enticing. Eating Moong Dal Ka Halwa in winter will be a lovely memory to bestow on your wedding guests.
If you are salivating after reading this carefully crafted menu of Rajasthani cuisine for a wedding, like and share with your friends and family.
In case you think there is a dish that absolutely needs to be added to this menu, don't hesitate to mention it in the comments below.