Traditional Rajasthani Recipes: a Gastronomical Ride on Your D-day
If you are dying to try out some traditional Rajasthani recipes, here are our top picks to let your guests at the wedding enjoy a gastronomical ride!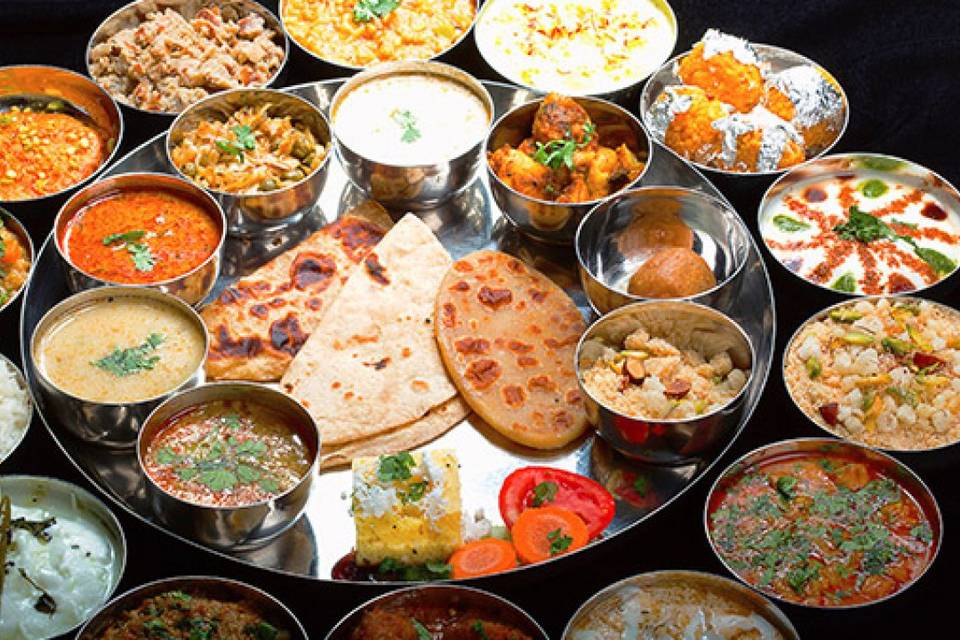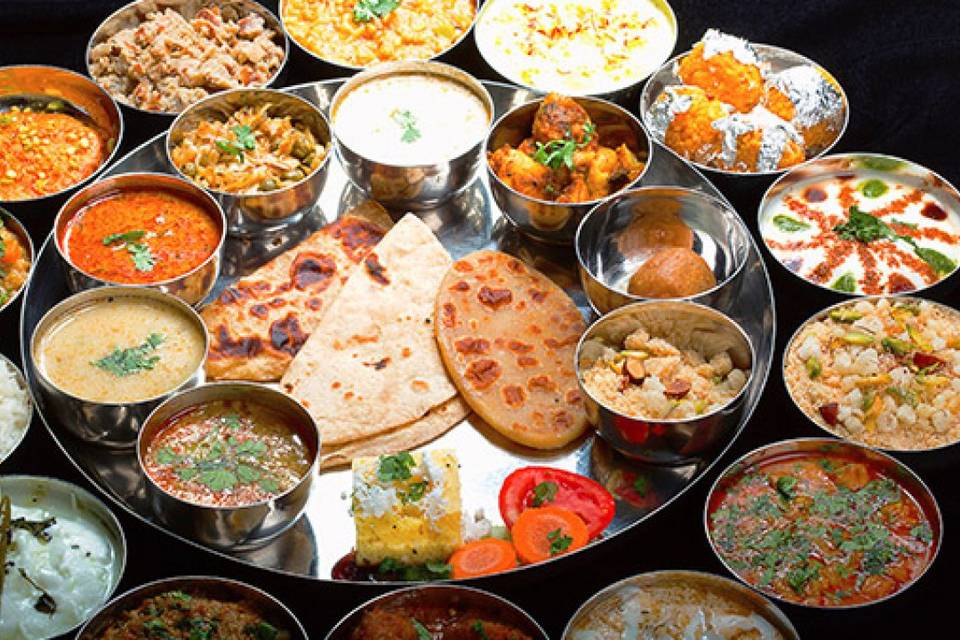 Image Courtesy: FabHotels
Everyone knows what India is famous for – its diversity. Be it the different cultures, religions, 22 languages (official) or the food, there is no shortage of variety here. If you have a sweet tooth, you will love Bengali cuisine and if you are a spice freak, Rajasthani is the perfect cuisine for you.
While the desert land of Rajasthan is known for its kings and forts, the food here trumps all experiences. The delicacies of this cuisine are inspired by the kitchens of the Rajputs and in all seriousness, eating this cuisine feels like there is a party going on in your mouth!
If you are looking for an occasion to try out some traditional Rajasthani recipes, host a dinner party before your wedding and invite-only the close family. Cook these famous dishes for them and they will definitely be a hit! From starters to desserts, check out these recipes and make the best Rajasthani food ever!
Mirchi Vada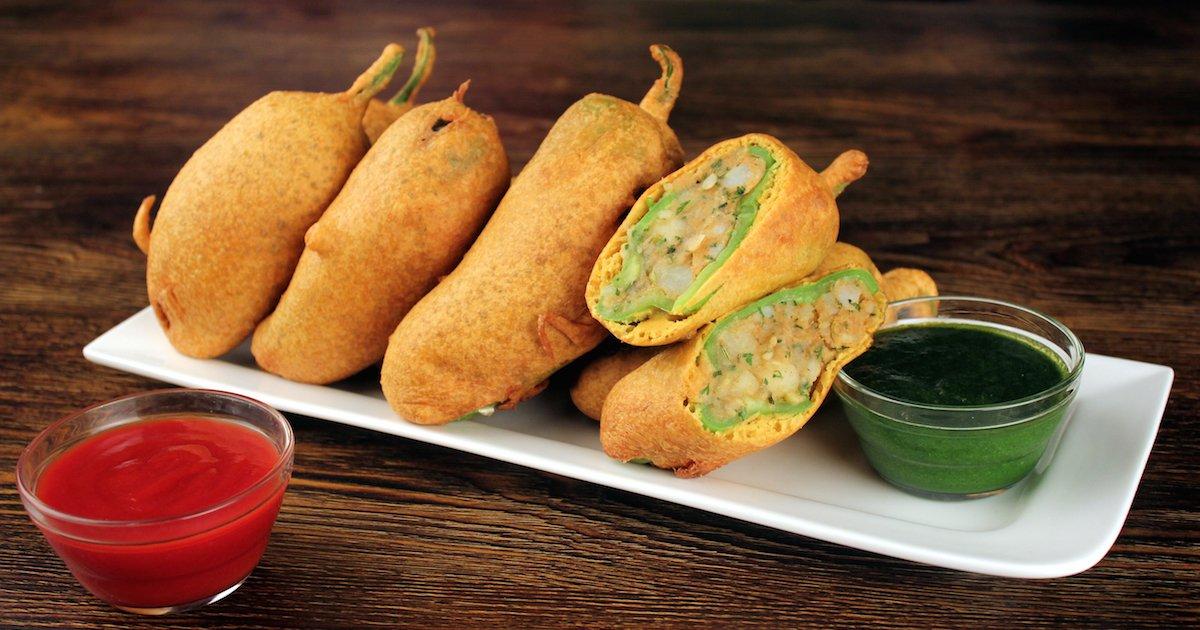 Image Courtesy: Hungry Forever
Mirchi vada, Mirchi bhajiya, Mirchi vada or Mirchi bhaji is a very famous tea time snack made with green chillies. They are deep-fried after adding a potato cheese mixture. If you're looking for traditional Rajasthani recipes that will leave your guests salivating, then here's how you can make this:
Ingredients
12 Bhavnagari chillies
1 tbsp. of Oil
1 tbsp. of coriander seeds
1 tsp of Cumin seeds
3/4 tsp of Turmeric powder
1/4 tsp of Asafoetida
2 tsp of red chilli powder
salt to taste
2 tsp of black pepper powder
3-4 medium potatoes (boiled peeled and mashed)
1/2 cup grated processed cheese
2 cup urad dal batter
Method
In a pan, heat 1 tablespoon of oil and add crushed coriander seeds and cumin seeds. After sautéing it for a minute, add ½ teaspoon of asafoetida, salt, turmeric powder, red chilli powder and pepper powder. To this, add the potatoes and some water. Cook for 2 minutes. Transfer this paste into a bowl and add cheese to the mix. Mix it well and stuff the chillies with it after deseeding them. In a bowl, add the urad dal batter, salt, pepper and the remaining spices. Heat oil in a kadai and fry the chillies after dipping them in the batter. Make sure that they are coated evenly. Fry them until they are golden brown and soak the excess oil in a soaking paper. Serve them hot with tomato ketchup and mint chutney.
Daal Baati Churma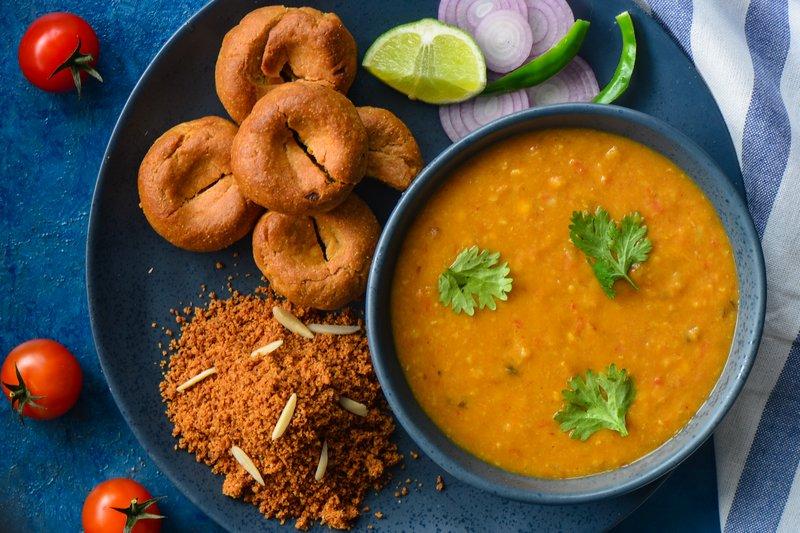 Image Courtesy: Vaya
Everyone has heard the name of this dish and eaten it at least once in their life. It is the best Rajasthani snack as its light and filling at the same time. You can serve it to your guests an hour before dinner so that they have something to munch on while socialising. It is one of our favourite traditional Rajasthani recipes and after making it, it will be yours as well!
Ingredients
Ingredients for the churma:
1 cup of rough wheat flour
1/4 cup of semolina
4 tbsps. of melted ghee
2 tbsps. of almond slivers
1/4 tbsp. of cardamom powder
5 tbsp. of powdered sugar
ghee
Ingredients for the dal:
5 tbsps. of Chana dal
5 tbsps. of toovar (arhar) dal
5 tbsps. of green moong dal
1 tbsp. of urad dal
salt to taste
3 tbsps. of Ghee
3 cloves
2 bay leaves
1 tsp of cumin seeds
2 green chillies--slit
Asafoetida (a pinch)
1 tsp of Garlic paste
1 cup of finely chopped onions
1 cup of finely chopped tomatoes
1 tsp of coriander (dhania) powder
1/2 tsp of Turmeric powder
1 tbsp. of chilli powder
1/2 tsp of garam masala
1 tbsp. of finely chopped coriander
Ingredients for the baatis:
1 cup of coarse whole wheat flour
1/2 cup of Semolina
2 tbsp. of besan
1/2 cup of milk
4 tbsp. of melted ghee
1 tbsp. of fennel seeds
1/4 tbsp. of carom seeds
salt to taste
desi ghee
Method
To prepare the baatis, make a dough with semolina, wheat flour and ghee. Divide the dough and make 8 balls. Using your thumb make a dip in the centre. Deep fry them until golden brown and soak them the excess oil. Keep some balls for the battis and use the rest to make churma. Crush the balls and sprinkle almonds, cinnamon powder and sugar. Your churma is ready.
To prepare the dal, pressure-cook 4 cups of lentils with salt for 3 whistles. In a pan, sauté ghee, bay leaves cumin seeds and other dry spices with onions and garlic for 2-3 minutes. To this, add the powder species and tomatoes. Sauté for some minutes before adding the lentils and water. Cook on a low flame for 5 minutes and serve hot!
Gatte ki Sabzi with Bajra Roti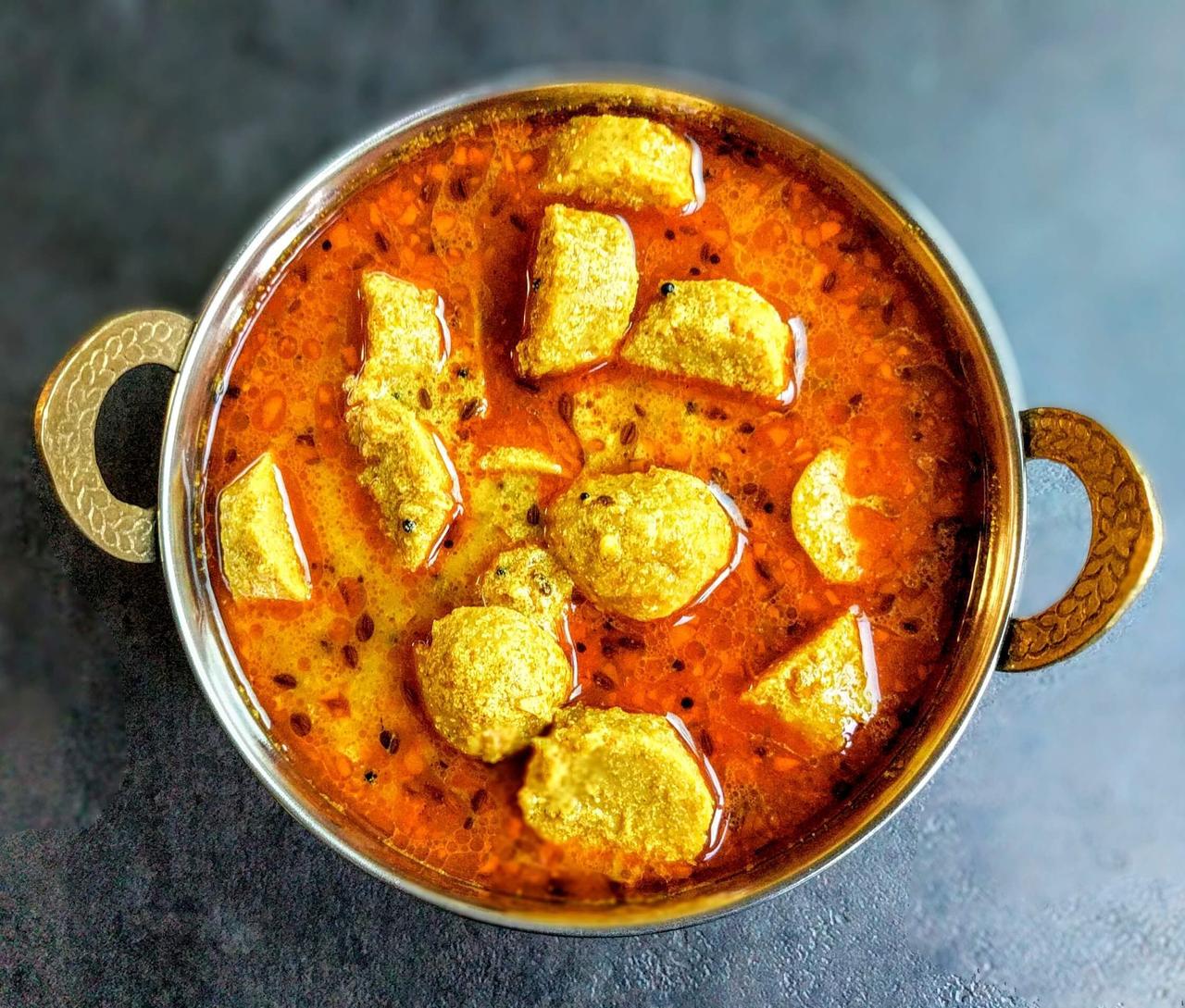 Image Courtesy: VegeCravings
Gate ki sabzi is your first main course dish. It is one of the most traditional Rajasthani recipes, which will leave your guests asking for more. Check it out and tell us what you think.
Ingredients
For Gatte (Gram Flour Dumplings)
1 cup of chickpea flour
Pinch of asafoetida
1/2 tsp of turmeric powder
1/2 tsp of red chilli powder
1 tsp salt or as per taste
1 tbsp. Of ghee/cooking oil
For the curry/gravy
1 cup of fresh curd
3-4 cloves of garlic
1 piece of ginger
2 green chillies
1 tsp of black mustard seeds
1 tsp of cumin seeds
Asafoetida
1/2 tsp of turmeric powder
1/2 tsp of red chilli powder
1/2 tsp of coriander powder
1/4 tsp of garam masala
1 tsp of salt or as per taste
1 tsp of cooking oil
Method
To prepare the dumplings, make a dough using all the ingredients listed above. The dough should be smooth and stiff. Divide the dough into 6-8 balls and add them to a pan half-filled with boiled water. Take the dumplings out when they start floating on the surface. Cut them into small pieces to add to the gravy.
In a hot pan, add oil or ghee and sauté the cumin seeds, asafoetida, coriander powder and black mustard seeds. To this, add a ginger garlic paste with green chillies. Sauté for a minute and add all the powder spices. Add some water so that the spices do not burn. Beat the curd into it so that there are no lumps left. Add water as per your desired consistency. Add the gattas when you see the oil coming on the surface. Cook for 3-4 minutes until a boil and serve hot with bajre ki roti.
Laal Maans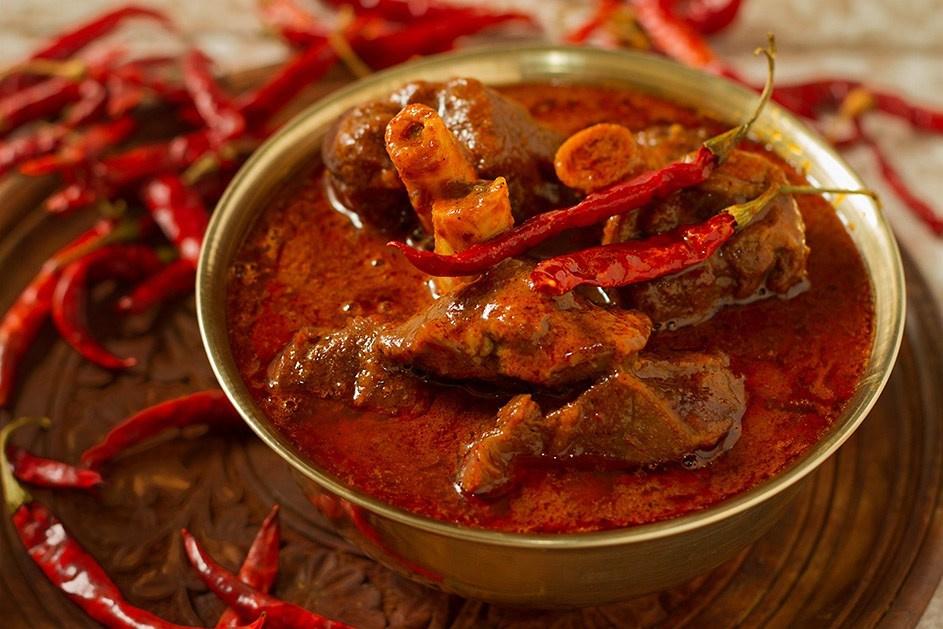 Image Courtesy: Swati's Kitchen
Laal maas is one of the most delicious traditional Rajasthani recipes you can serve as it was considered a dish that was fit for the kings The meat was cooked with red chillies and many spices as vegetables like tomatoes were sparse during that time. The recipe is still the same. Everyone will keep licking their fingers even after they have wiped clean their plates!
Ingredients
1 kg of mutton with bones
4 finely chopped onions
10 dried red chillies
3 tbsps. of coriander seeds
2 tbsps. of cumin
3 tbsps. of crushed garlic
2 tbsps. of grated ginger
1/2 cup of sour curd
1 cup of mustard oil
Salt to taste
5 pods of cardamom
1 tbsp. of black pepper
3-4 strands of mace
2 pods of black cardamom
1 cinnamon stick
Fresh coriander for garnish
2-3 dried red chillies for garnish
Method
Grind a mixture with 10 roasted red chillies, coriander and cumin seeds. In a pressure pan, heat ¾ of the oil and add ginger, garlic and mutton (after a few seconds). Add curd and salt after the mutton browns until the curd is absorbed and oil is surfacing on the top. In another fan, fry some onions until brown with cinnamon, cardamom, pepper and mace. In the mutton pan, add cumin, red chilli, coriander powder and fried onions after the mutton has browned. After 3 to 4 minutes add 2 cups of water and put the lid on. Let the mutton cook for 20 minutes. After the pressure is dropped, pick out the mutton and keep it aside. Grind the gravy and make a paste without the khada masala. Strain the paste again through a muslin cloth so that the flavour remains intact.
In the same pressure pan, add the gravy, mutton pieces, salt and water and let it simmer until the meat is very tender. Garnish with coriander and red chillies and serve with roti or steamed rice.
Mawa Kachori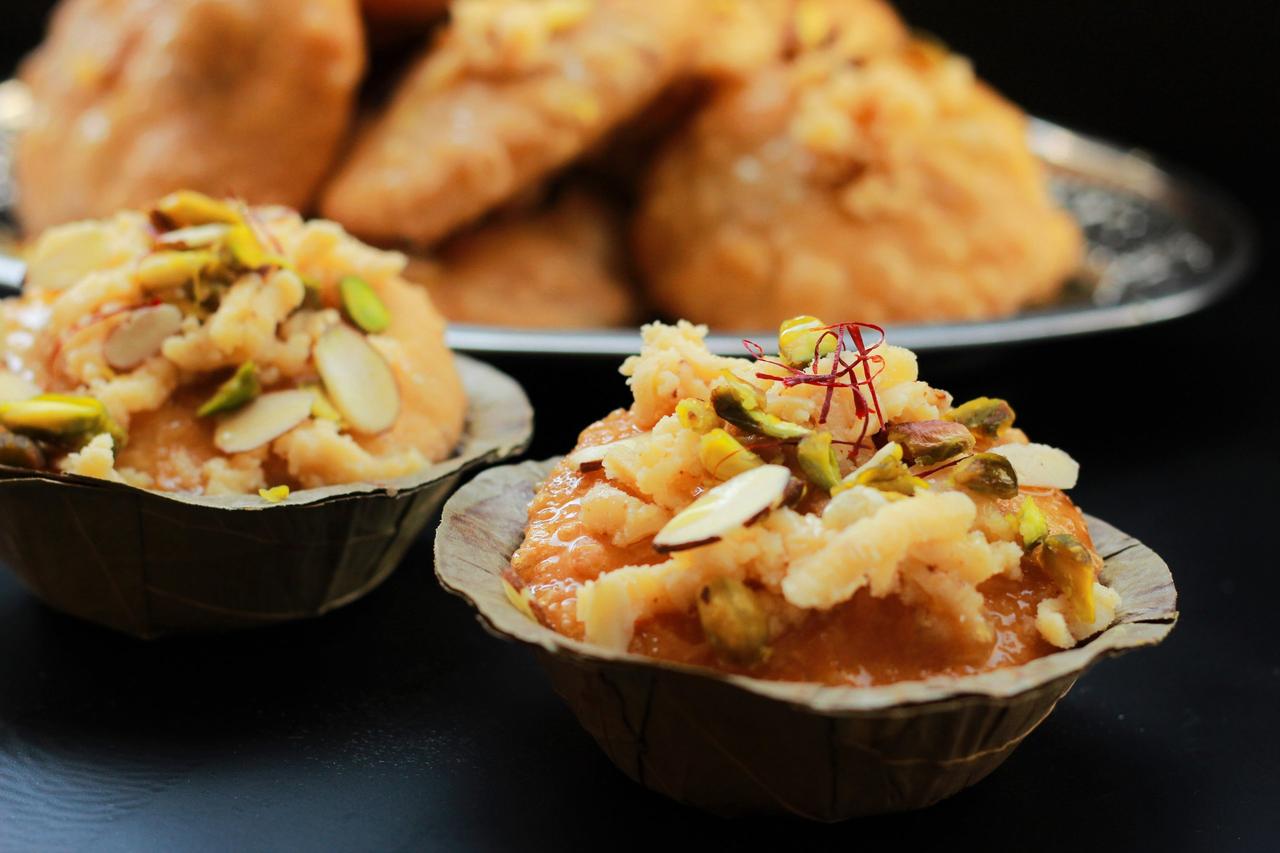 Image Courtesy: More Than Curry
Did you know that in Rajasthan, desserts are not served after the meal? Instead, they are a part of the main course!
For your dinner party, you can serve desserts anytime – during or after the meal. The sweet dish we recommend is a flaky mawa kachori. It is a puff pastry filled with the richness of mawa and nuts, and it will melt in your mouth! Check out this recipe and finish off with a bang.
Along with mawa kachori, ghewars are also great traditional Rajasthani recipes. However, they are a very difficult to make at home so you can just buy them from the market and serve them both for some variety.
Ingredients
500 gms of Maida
100 gms of ghee
200 ml of water
1 kg sugar
Pinch of saffron
200 gms of sweet mawa
15 gms of pista (without skin), chopped
15 gms of almond (without skin), chopped
Ghee (for frying)
Method
Make a dough with Maida, water and ghee. Keep it for rest for about 30 minutes. Make ping-pong sized balls and fill the centre with the mawa and nuts dough. To make this dough, add mawa and coarsely ground nuts in a pan and mix well. After filling the mix into Maida dough, flatten it out and roll between your hands. Do the same with all the balls and fry them until they are golden brown. Keep them aside to cool and make a sugar syrup with heating sugar and sugar until syrup consistency.
To serve the kachoris, make a small hole in the centre and dip them into the warm syrup (not hot)!
This is the perfect Rajasthani themed dinner party menu as its full of the most delectable and traditional Rajasthani recipes. They are super easy to make and taste delicious. Try them out and share with us your favourite dish from these traditional Rajasthani recipes.
Get in touch with our food and beverage vendors for a great menu that'll wow your guests!