Vegetable Decoration Tutorials for Wedding Salad for the D-day Food
Salad decorations look fantastic at wedding buffet tables. If you are looking for ideas to inspire you, we have got you covered with these 6 tutorials.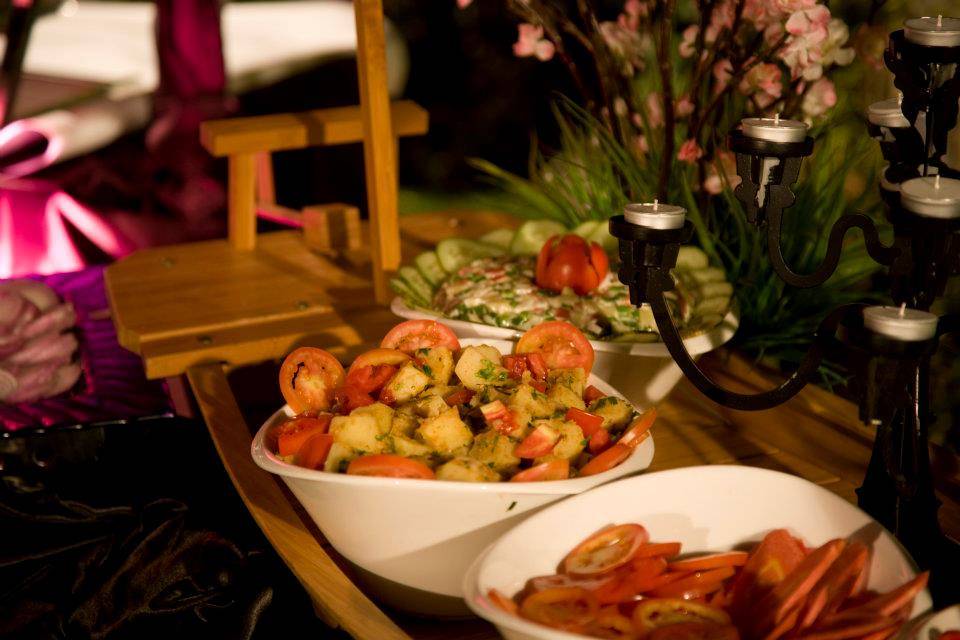 Indian weddings are known for their grand buffets that comprise of not only fried and spicy fare food for guests and desserts but also salads. Salads are not simply laid out in plates and trays but are presented in unique ornamental forms. The vegetable decoration is an art, and there is an umpteen number of ways you can dress up your salad to add a glam look to them.
How about checking some of the best vegetable decoration tutorials to learn how to create stunning wedding salads done by the professional catering service providers? Enjoy!
1. Fish Carved Vegetable Decoration With Radish
In this tutorial, you will get to learn how to create a fish decor using the humble radish. Firstly, the radish is cleaned of its greens and evened out from both ends. Then, two carvings are made in vertical and horizontal using a knife on both sides.
This is done to create the body of the fish. Once done, the skin of the radish is peeled off using a peeler. The head of the fish is carved out by making a V incision. A small portion is then cut out to create the fish's fins. Then, the head and face of the fish are sculpted.
A small black bead is then inserted to create the eyes. The body is then chiselled using a knife and then the wings are created. You can use toothpicks to join the fins and the tail. It's a simple tutorial which is easy to follow.
2. Cucumber and carrot rose flower vegetable decoration
This video teaches how you can create a lovely looking wedding salad using carrots and cucumbers. The design created is rose and heart. Firstly, the carrot is sliced thinly using a sharp knife. These are used as rose petals to create the flower design.
Then, these slices are immersed in saltwater for around 5 minutes. Thereafter, these are dried using tissue paper. Once dried, each slice is placed on top of each other to form a long line.
Once done, the line of slices is rolled over to create the main structure of the rose. Two toothpicks are inserted in the form of a cross. Then, the slices are opened using hands. Afterwards, rose leaves are created using cucumber leaves. The same process is used to make the cucumber flower and the heart is shaped using cucumber slices.
3. Carrot and radish flower salad decor
This tutorial tells you how to create a gorgeous flower using carrots and red and white radishes. Firstly, the carrot is peeled vertically using a peeler. Then, the white radish is peeled. Once done, the peels are put in a bowl of saltwater for a few minutes. Afterwards, a red radish is sliced using a sharp knife. These are put in the saltwater after which these are all dried using tissue papers.
Once dry, the white radish slices and carrot slices are placed on top of a chopping board and v incisions are made on both the ends. In the meantime, a small flower is created using red radish slices. Toothpicks are used to hold the slices. Afterwards, the radish florets are crafted using each slice and inserted into the toothpicks followed by carrot slices. This forms into a large flower. Another carrot is sliced with a design knife to garnish the tray along with cucumber hearts.
4. Carrot rose and onion lotus vegetable decoration
In this video, a lovely looking salad tray is created that can be used at weddings. The decor looks mesmerising and anyone can do it with a little practice. First of all, a large onion is peeled and using a sharp knife, petal shapes are incision at the base. Once done, each layer of the onion is separated and a carrot is peeled and crafted into a flower using the same steps as listed in the above points.
Thereafter, the onion lotus flower is assembled using the peels, and in the middle, the carrot rose is placed. This is followed by presenting the cucumber peels in the middle of the tray. Lastly, a garnish is made with remaining pieces of carrots.
5. Easy cabbage vegetable decoration
The video shows cabbage decor in a very easy way. Cabbage is grated and spread out on a tray. Thereafter, slices of tomato, radish, carrot and capsicum are laid out in the form of a circle. This circle resembles a flower. The edges of the tray are decked up with grated carrot.
6. Vegetable decoration with orange and radish
Here is a very interesting tutorial for a wedding salad that looks gorgeous and very colourful. A few radishes are taken and using a carving knife, thin flower shapes are sculpted. Afterwards, toothpicks are used to insert into the flowers and corns are placed at the middle of each flower. Lastly, an orange is taken and pierced with these flowers along with mint leaves so as to form into a glam looking vase.
These interesting and gorgeous vegetable decoration ideas will not only impress your wedding guests but will also help to beautify your wedding food table. They are fit for any kind of vegan menu too.
Did any of these tutorials catch your attention? If you have any more ideas, let us know through comments.