Check Out These Food Presentation Ideas for the D-day!
If you want to provide your guests a fine dining style culinary experience during your wedding festivities, check out these food presentation ideas!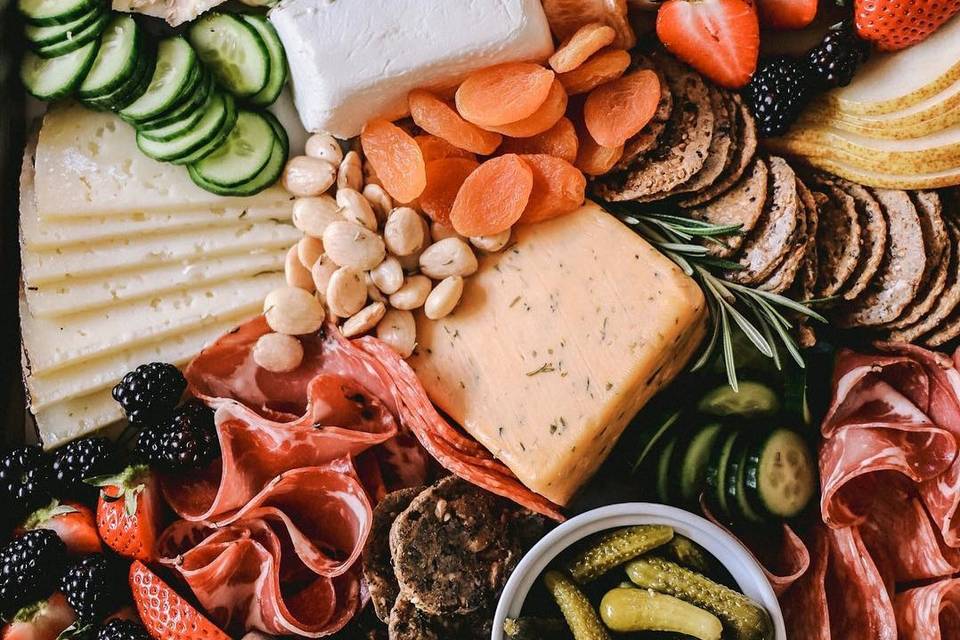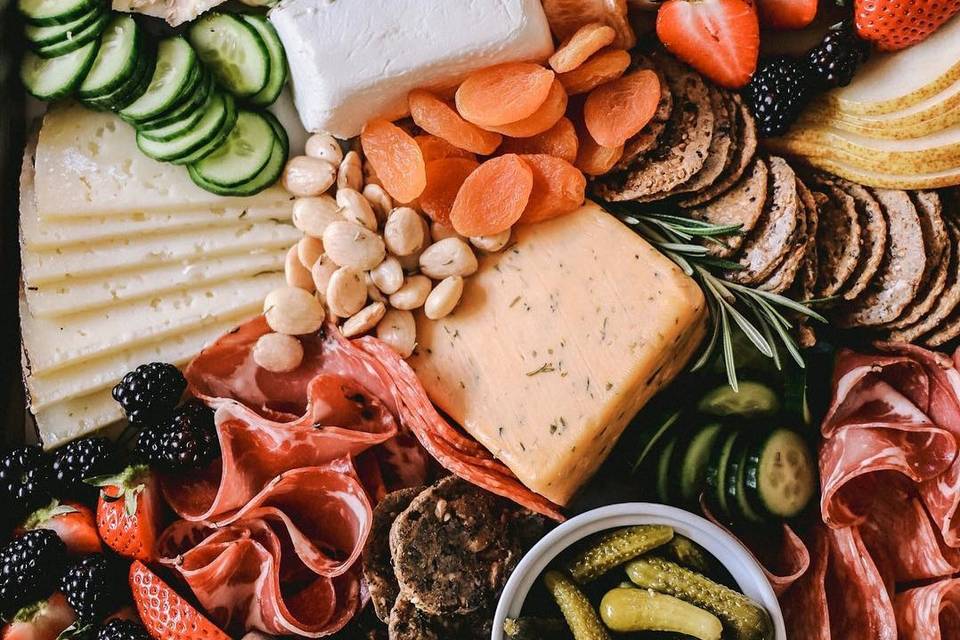 Image courtesy: Honeysuckle
Food is an important part of all celebrations and good food and good catering services is the key to making your guests feel happy and satisfied. At most Indian weddings, there is the usual buffet-style spread with piles of food that is served in a rather unexciting way.
If you are tired of seeing the usual and boring food spread at weddings and want to provide a finer culinary experience to your guests, you can choose to go for a gourmet caterer that can provide a high-end restaurant-style experience to your guests.
The following is a list of food presentation ideas that you can incorporate during the various wedding functions if you want to entice all your guests!
1. Beignets dusted with sugar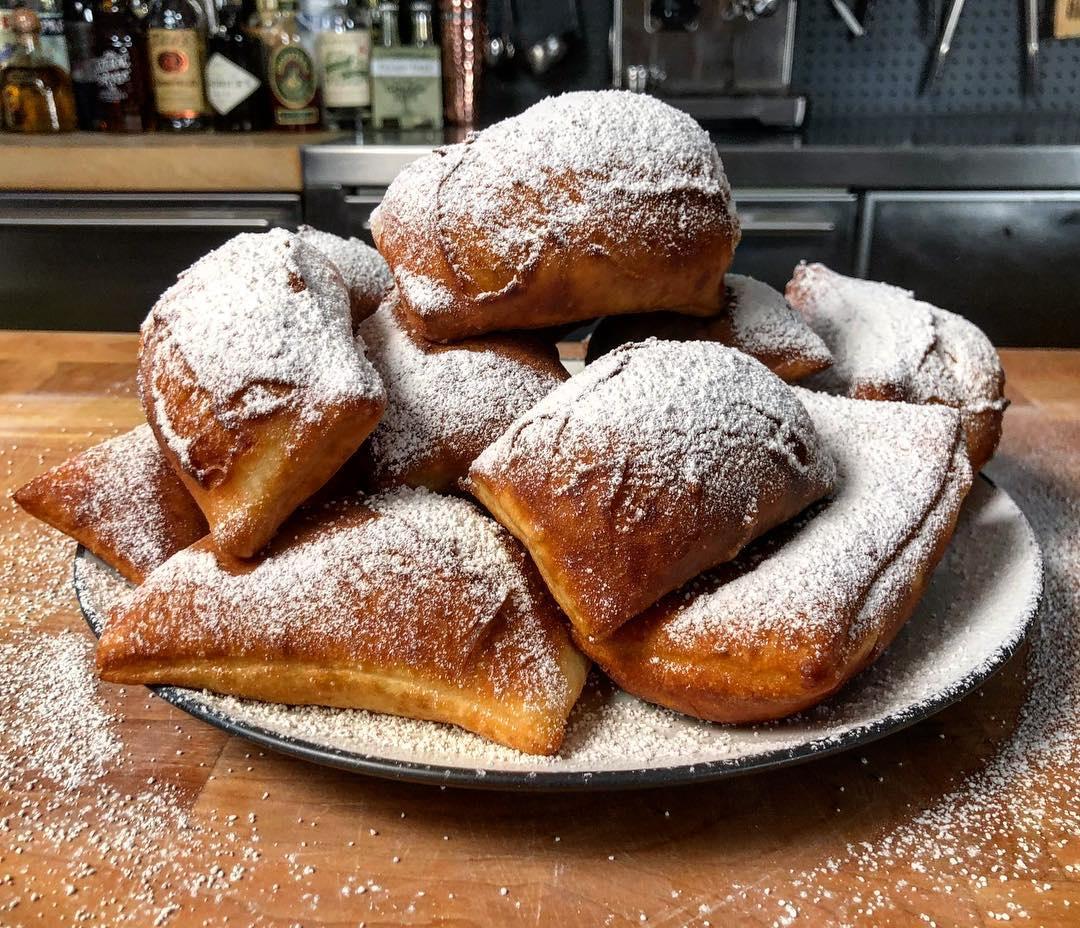 e
Image courtesy: Binging with Babish
The dessert section is the star attraction of Indian weddings. We Indians have the biggest sweet tooth and can't get enough of meetha. Here we have a picture with a pile of beignets on a plate with a snowy garnish of powdered sugar to add to the aesthetic appeal of the dish and making the doughnuts look super tempting.
Apart from relying on snowy sugar, remember that piling certain foods high can be a great way to make them look even more exciting. Such food presentation ideas are often used for desserts, but we wouldn't say no to a plate piled high with sushi!
2. Artsy Portion of Meat and Vegetables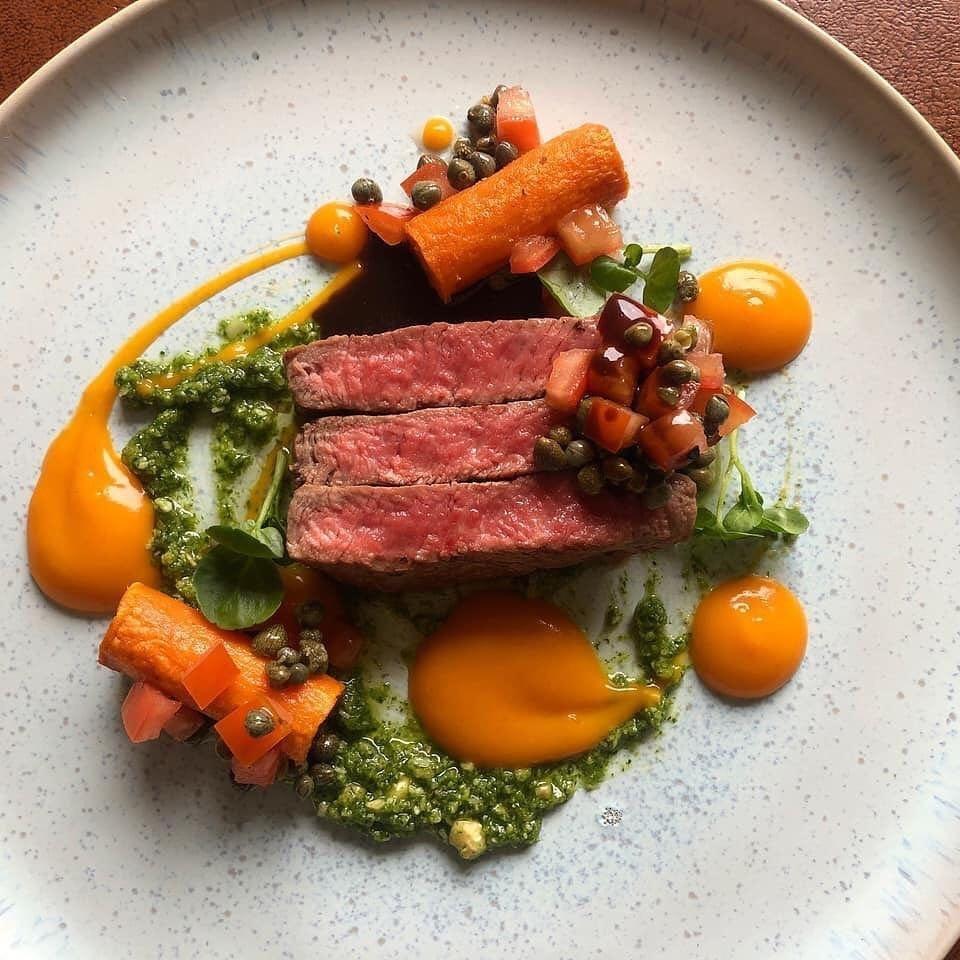 Image courtesy: Chasoldboy
Next on this list of food presentation ideas, we have this plate of perfectly cooked steak with root vegetables and other condiments that looks straight out of a Michelin star restaurant. The small plate contains a plethora of different flavours and different colours that will make your guests salivate before taking their first bite.
Plating is a really important part of food presentation, and you can incorporate artistic plating for the appetisers that the waiters will serve your guests!
3. Another example of plating: Poached sea bass with sweet potatoes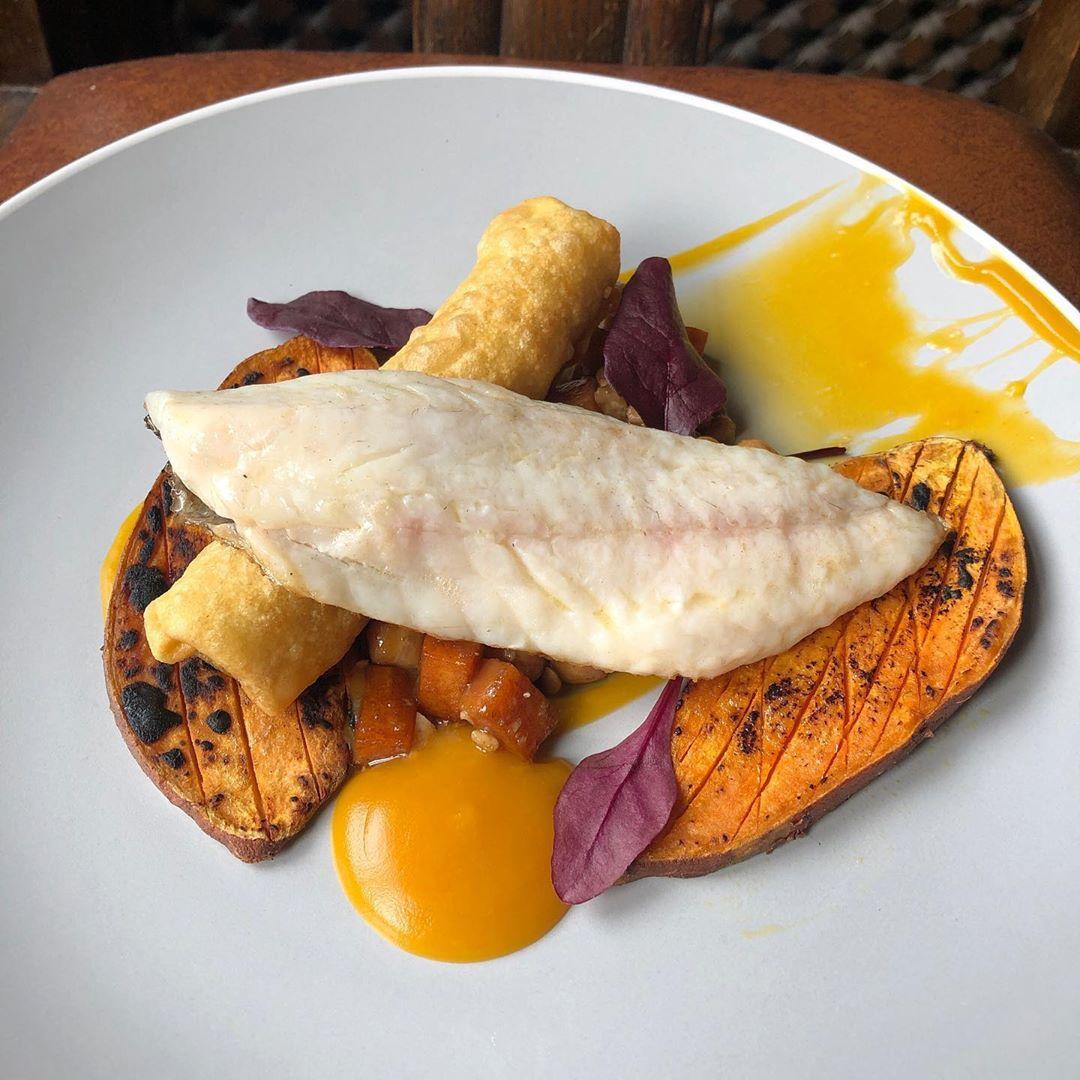 Image courtesy: Chasoldboy
Very few weddings have a fine seafood selection and good quality fish is especially hard to find. This plate of poached sea bass with charred sweet potatoes is a surprisingly fine combination that is sure to leave your guests wanting for more. The plating of the dish is very delicate and intricate letting each element of the dish shine.
4. Use great Curry bowls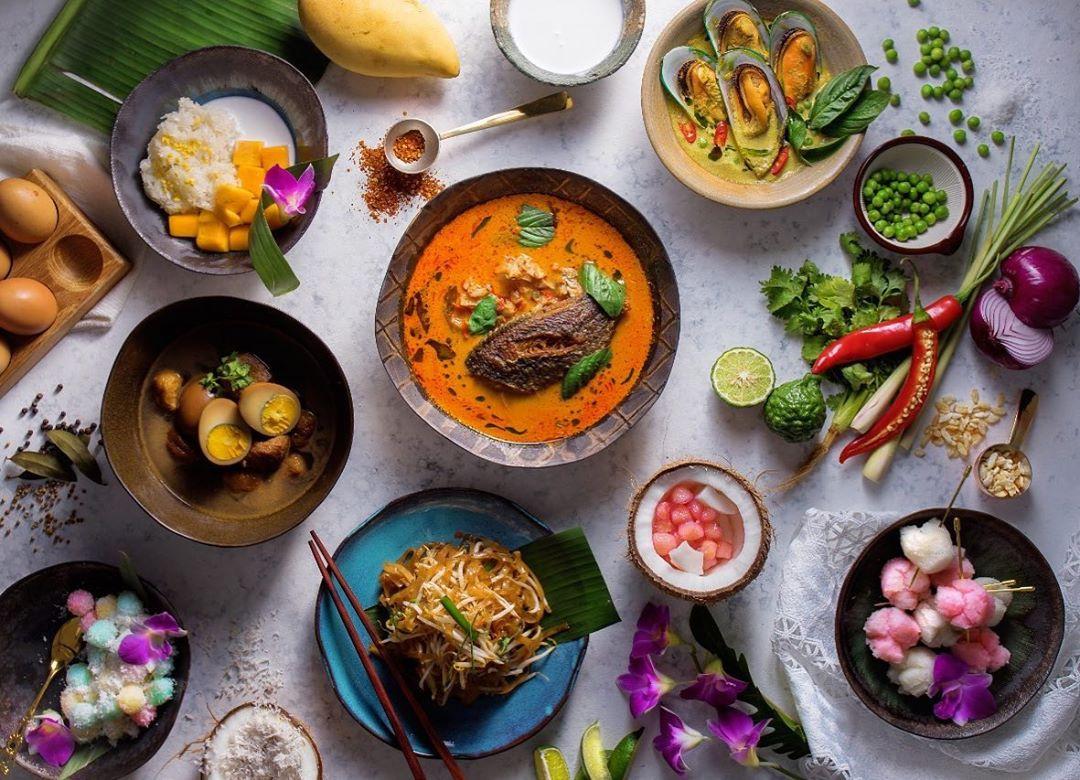 Image courtesy: Foodhall
On smaller wedding functions with a more intimate circle of guests, it is more feasible to experiment with more creative food presentation ideas. In this picture, we have south-east Asian curries and salads served on bright and colourful bowls that make the already careful food look so appetising.
Remember that the material of the bowls used can play a huge role in the way food is presented. Experiment with unusual metal bowls, terracotta ones, and even ones made of bread!
5. Large portions of artisan cured meats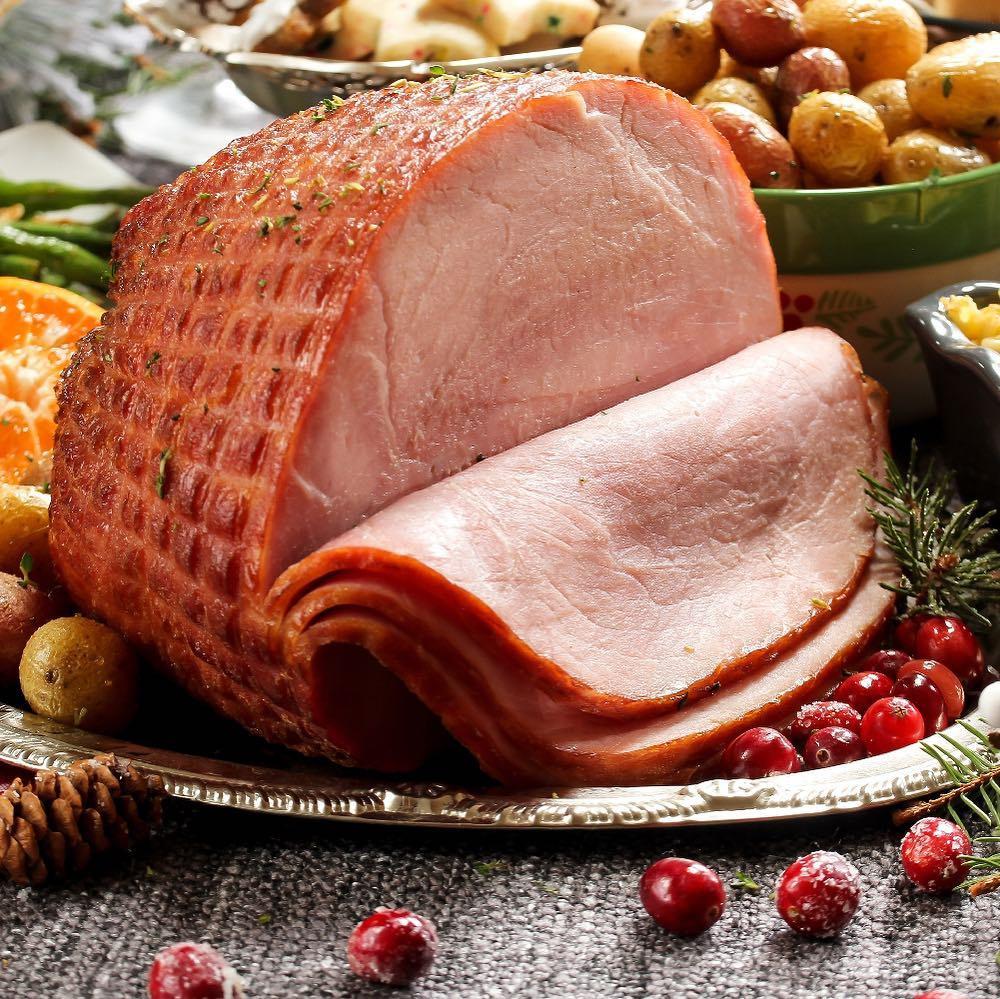 Image courtesy: Foodhall
Wedding feasts call for big portions of meats that are synonymous with feasts. Cured meats like this glazed ham will be strongly appreciated by your guests. When planning the layout of the buffet, just let the colours of the food shine and that is enough to entice the taste buds of your guests.
6. Cheese platters served on wooden boards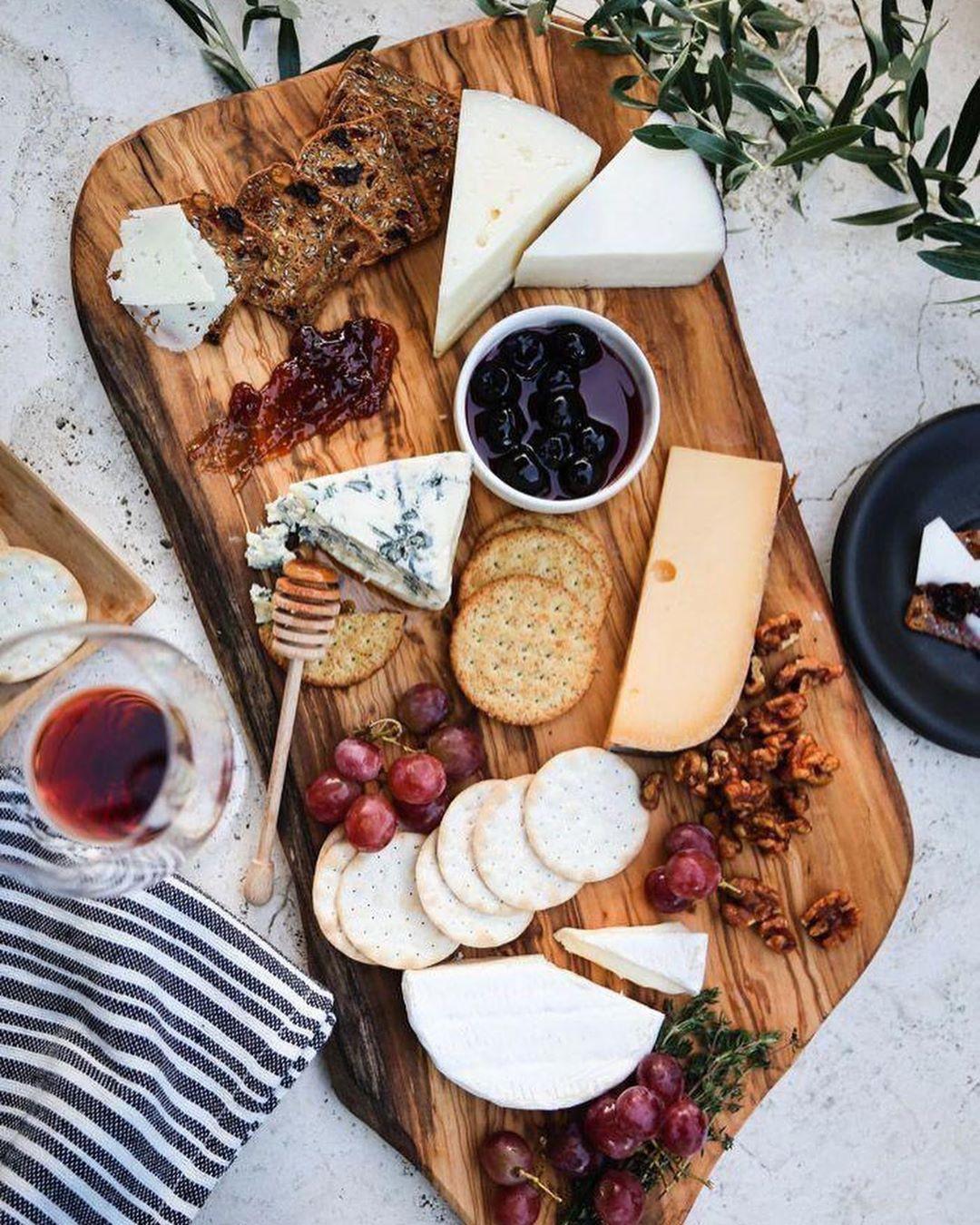 Image courtesy: Foodhall
Food served on large wooden boards looks very rustic and earthy. Such gourmet cheese boards with crackers, relish and cold cuts will offer your guests a fine experience that goes especially well with a glass of wine. Such food presentation ideas work best for a cocktail party. The wood makes all the colours and textures of the food look so appealing.
You can even serve Chicken Tikka like this if you don't think your guests will like cheese!
7. Desserts served in mason jars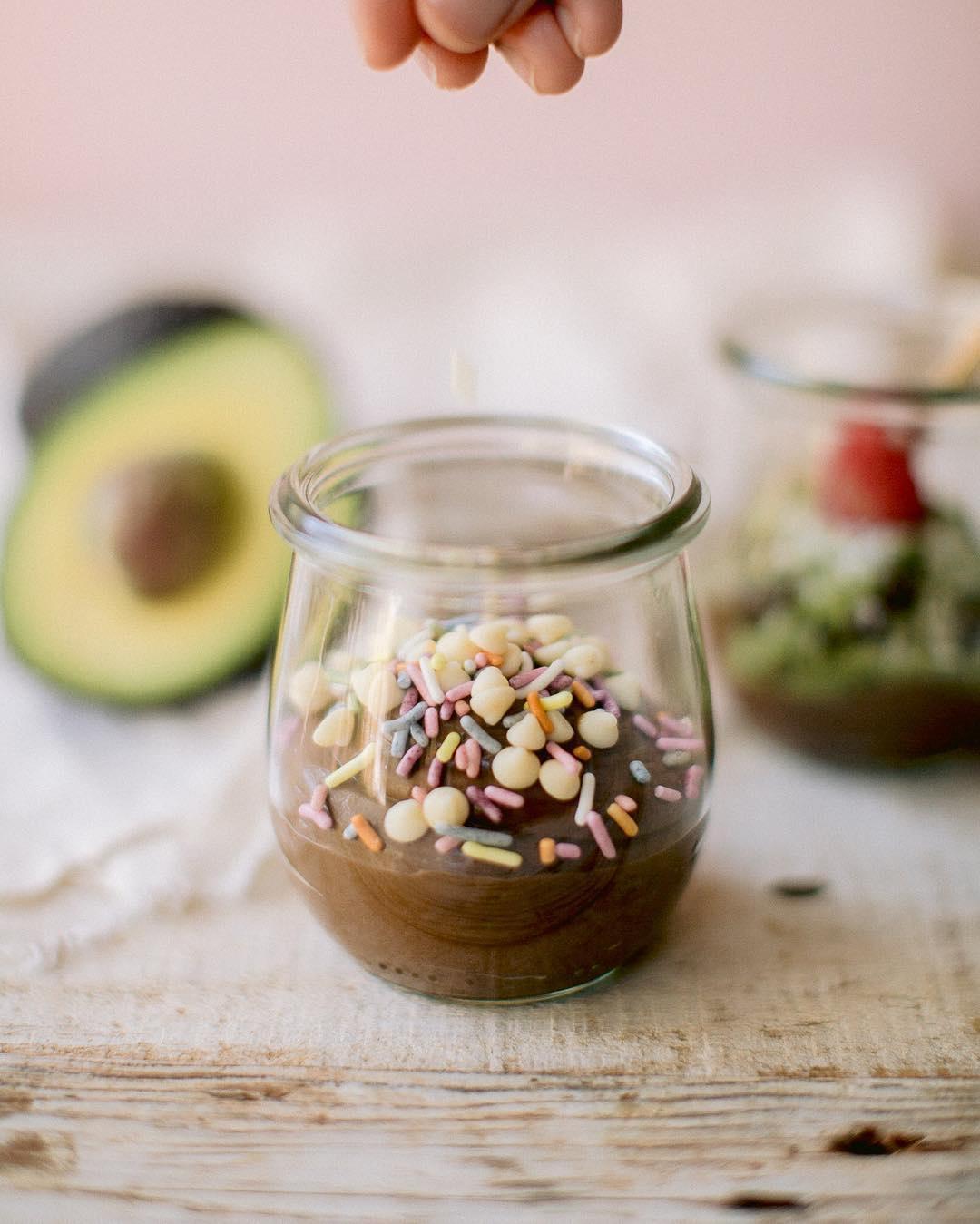 Image courtesy: Honeysuckle
This is one of the coolest food presentation ideas that can be easily incorporated in wedding functions. In this photograph, we can see a small portion of indulgent chocolate mousse garnished with colourful sprinkles and white chocolate chips to add some colour to the dish. The presentation is cute and the portion size is appropriate for one person.
The mason jar adds a quirky vibe to the dessert.
8. Colourful Plating and letting the ingredients shine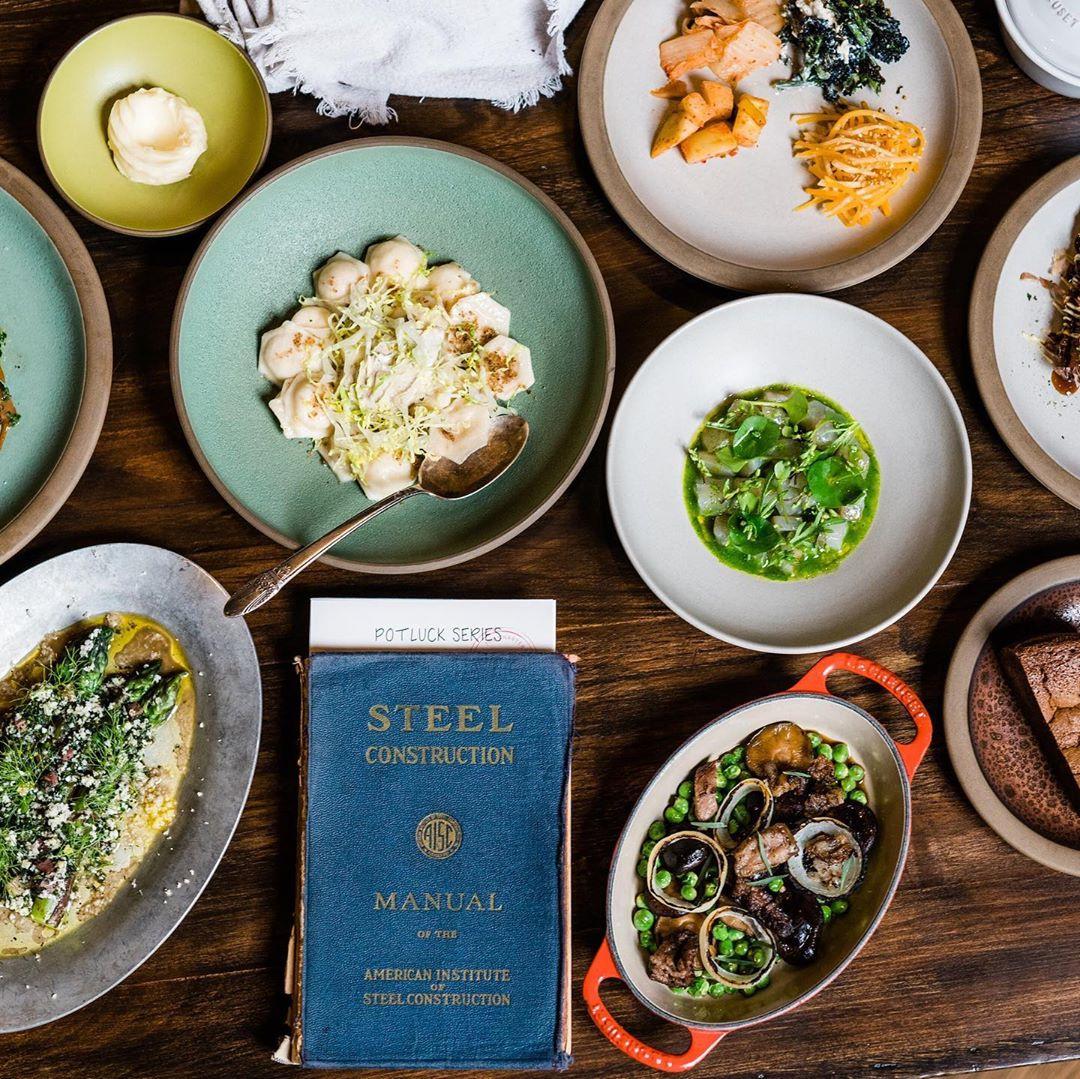 Image courtesy: Le Creuset
In this photograph, we can see an intimate dinner table spread of European food served on colourful plating. The ceramic plates and the simple crockery look minimal and elegant. By letting the colours and the ingredients shine, the food looks so effortlessly beautiful.
While planning your food presentation ideas, do not forget to pay special attention to your crockery as it can enhance the presentation!
9. Whole roast chicken served in a rustic style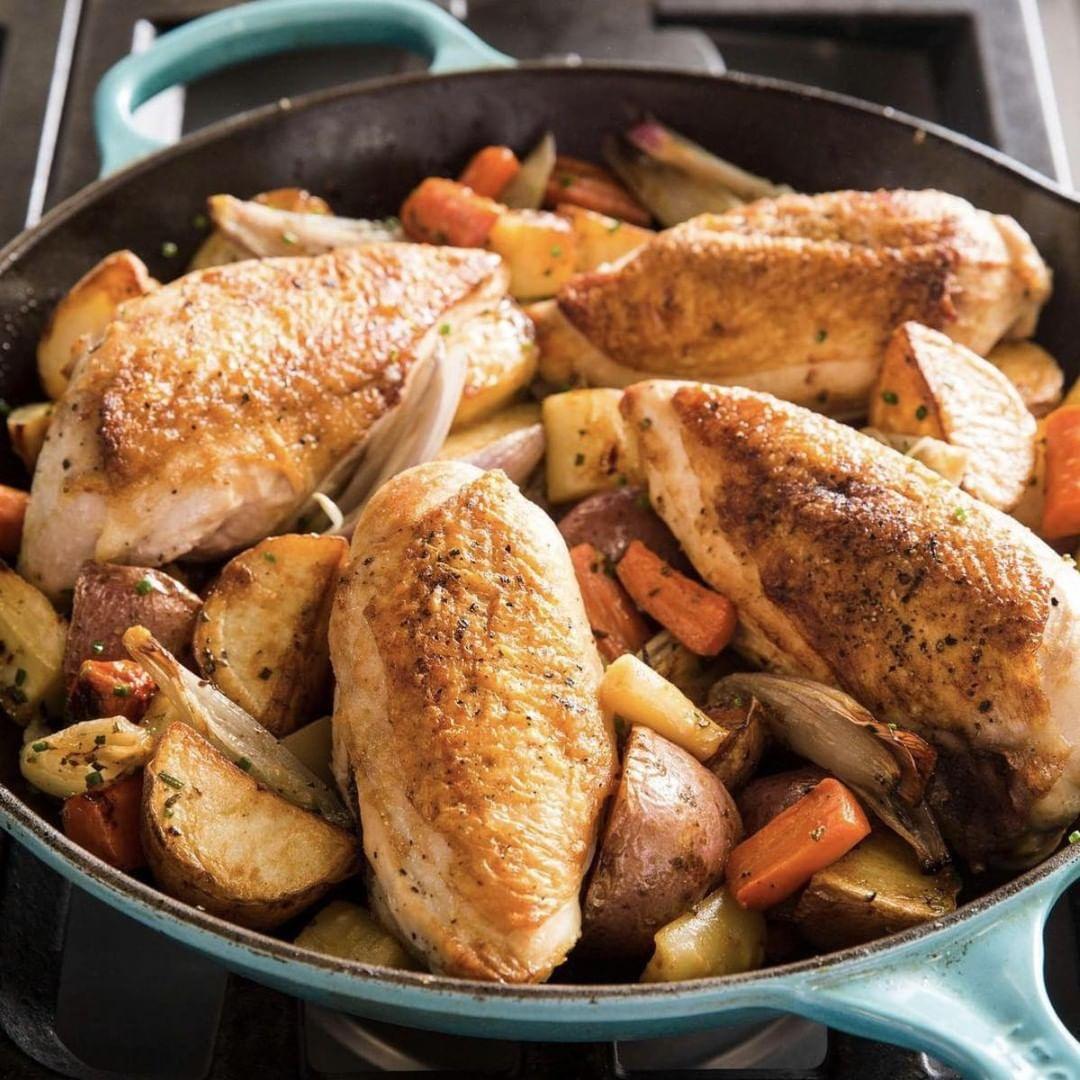 Image courtesy: Le Creuset
Next, on this list of food presentation ideas, we have this big portion of oven-roasted chicken on a bed of roasted root vegetables. The beautifully charred chicken and the colourful vegetables look so inviting and the rustic serving style is in sync with the laid back comforting character of the dish. Something like this works very well if you're going for a traditional buffet style.
But remember, you'll have to carve up the chicken first!
10. Pan-seared scallops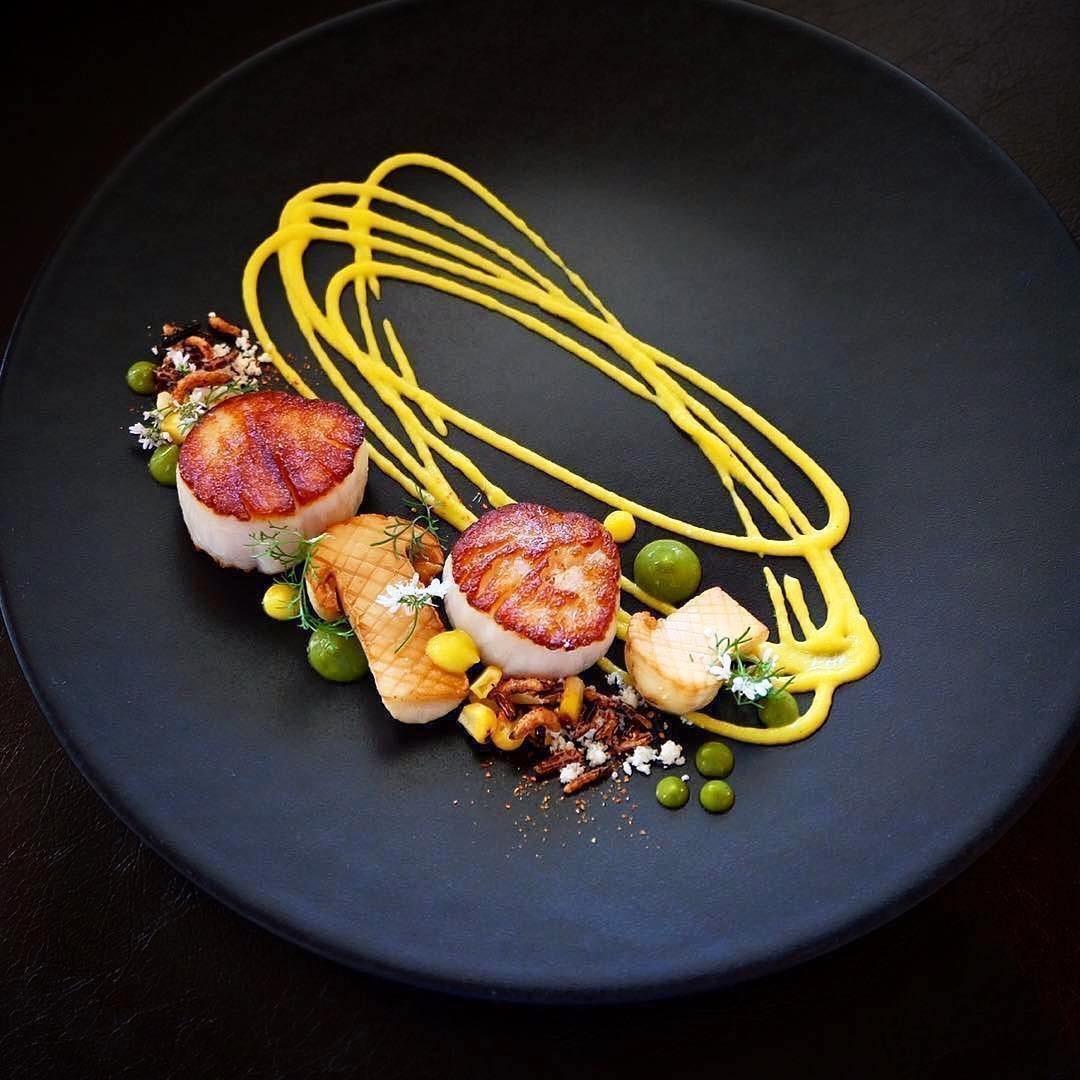 Image courtesy: Purpose Plating
This plate of scallops served with mushrooms and other interesting elements is nothing less than a piece of art. Everything served on the plate has a unique addition both in terms of flavour and aesthetic. If your caterers have their hands on such exotic ingredients and carry the skills to execute such food presentation ideas to your stunningly decorated wedding events, your guests are surely in for a treat!
What you serve your guests at the wedding has a massive impact on how they feel at the wedding. Well, thought off and thoughtfully created recipes served using the most spectacular food presentation ideas are sure to make your guests sing praises of you for a long time!
Speak you're your caterers about these food presentation ideas in detail! Don't have one yet? Check out these caterers near you!