7 Reasons Why Wedding Websites Are a Must for Every New Age Couple
Considering making wedding websites? We've put together a list of reasons that will convince you for it and also answer all your questions.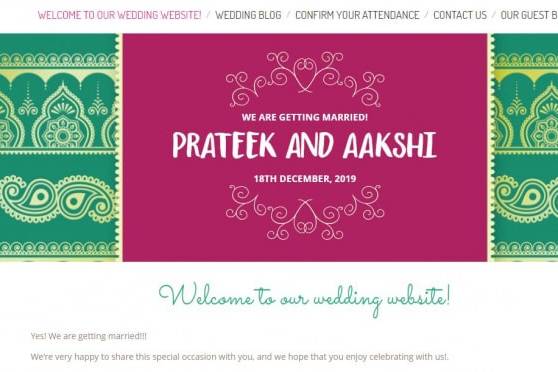 A surprisingly good number of guests these days prefer e-invites to printed ones. Suggesting that digitisation at weddings is accepted and welcomed. Why not take a step further and get yourself personalised wedding websites that will include a lot of helpful features for you and your guests! As many people ask for an e-copy of the invite via WhatsApp or e-mail so that it's easier for them to access all the details of the wedding festivities, wedding websites will be even more helpful in that aspect. If you've thought about it but aren't convinced, then we've put together all the reasons why creating wedding websites is a great idea.
1. One place for all your wedding information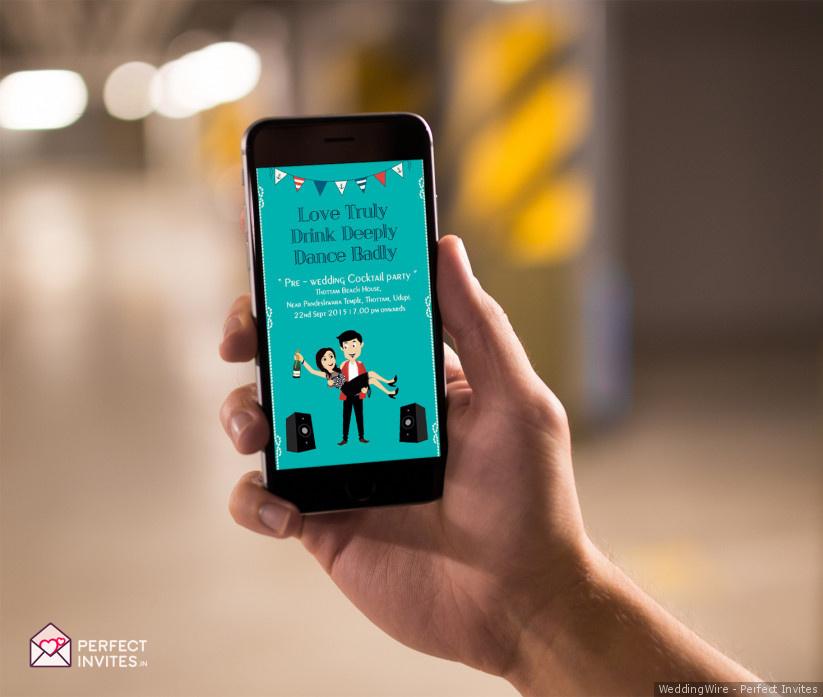 Wedding websites are a perfect way to share all the wedding related information with your guests without the bulky wedding invitation envelopes and is also an eco-friendly way too. You can put up information about all the events, like who, what, where and when. Along with the address of the locations, you can even add a Google maps pin. If you have a dress code for the different events, then you can include that as well. This makes it easier for your wedding guests to keep a track of all the details since web is now more accessible than ever.
2. Include an RSVP page
Creating RSVP pages ensures that the guests who are attending and those who won't be able to make it can easily let you know. You don't have to call people individually to ask which saves a lot of time and effort as well. It also helps you plan better when you know how many people you're planning food and accommodation for. It also makes it easier for them to let you know by making just a few clicks right when they see the invitation instead of finding a suitable time to call you.
3. Create a gift registry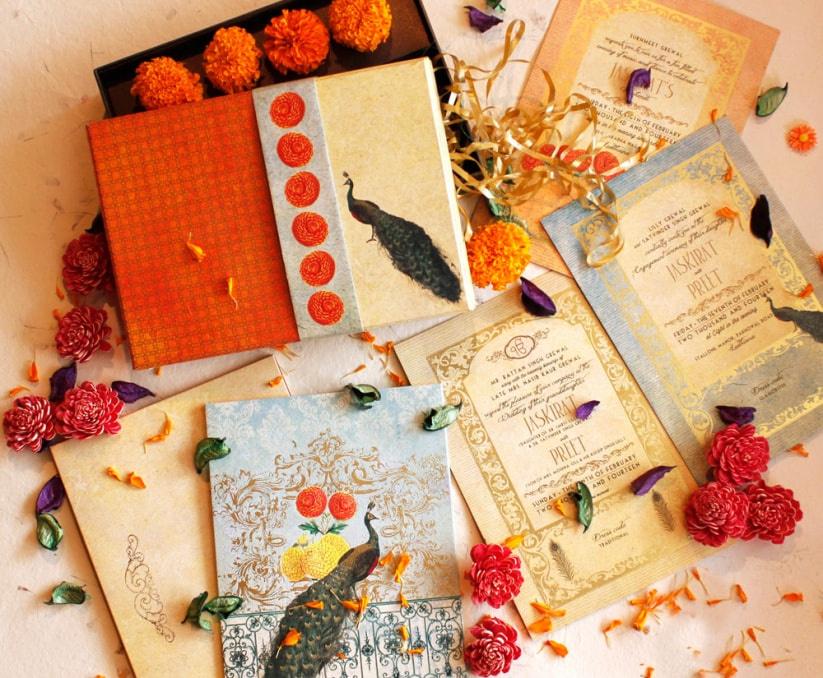 Use the wedding websites to create a registry page where you can list all the gifts that you want and need to set up your new home or, the things you would like to have as you start a new life with your partner. This ensures that you don't get multiple sets of dining ware or tea sets that stay in your cupboards and never get used. This also makes it easier for your guests to pick a gift that is within their budget without having to wonder if you'd like it.
4. Tips for out of towners
Add information that would help people who are coming in from out of town. Tell them how they can get to the hotel or the venue from the airport or and what are the best ways to get around the city. Put together a list of things they can see and do while they're there. Places to visit, shop and eat. Out of towners will love this because they can make the most out of one trip. Making this considerate gesture will also make your guests feel welcomed and cared for on their vacation.
5. Add a personal touch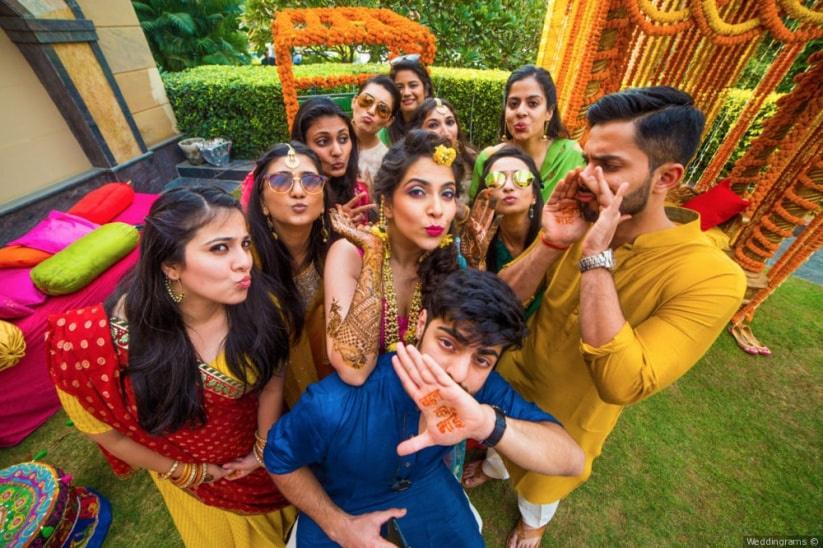 Have a section for photographs and notes that your guests would like to leave. This can be best done through WeddingWire's Wedshots where you can share all your wedding pictures with the guests in a single album. You could add your own photos with your friend and family and tell your guests about your journey together. This will give them a little background on your soon-to-be-spouse. You could also upload the album with your wedding hashtag and request your guests to upload the pictures with the same hashtag. This way you could have a variety of pictures from your wedding under the single search umbrella of your wedding hashtag.
6. It's free
Creating wedding websites is free and easy with the WeddingWire's 'My Wedding Website' tool. You can choose from many pre-existing templates and tweak it to your personal preferences. It isn't time-consuming, so you don't have to worry about taking a day out to set it up. You could keep adding information to it gradually, as and when you have more information. The best part is that when all the celebrations are over then you can always look back at it and relive those memories.
7. Countdown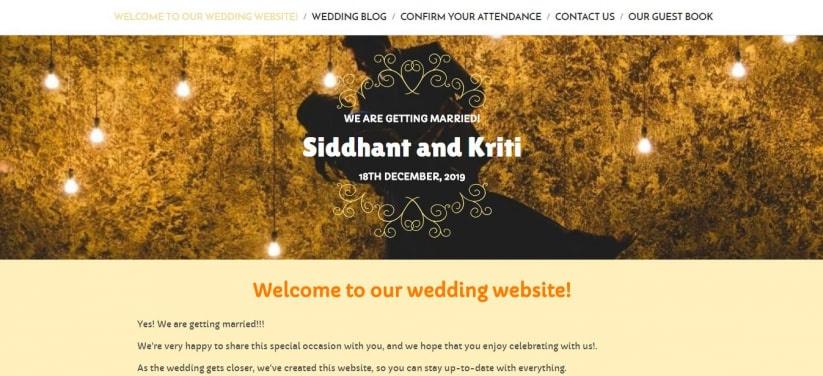 To make thing more interesting, you can display a creative countdown on the wedding websites. Add a slideshow of your pre-wedding pictures that change according to the number of days left to your wedding. Throw in a mix of trivia or wedding quotes related to your love story that can entertain the guests coming to your wedding websites. You can even make this section interactive by posting an Insta activity or voting poll along with it. The idea is that it is a dynamic space instead of just a digital form of a paper invite making more and more wedding guests interested and involved in your wedding.
Every couple has their own style and a wedding websites is a great way to show your guests what your style is, the things you enjoy and like and how you decided to take the plunge. Include a countdown on the homepage and keep posting updates on your website's newsfeed to make your guests feel that you're taking them along on this journey.