Know All About the "What" "Why" & "How" of Wedding Insurance
Indian weddings are mostly huge and extravagant. It's better to be safe than sorry. Know everything about Wedding Insurance for a safe & secured event.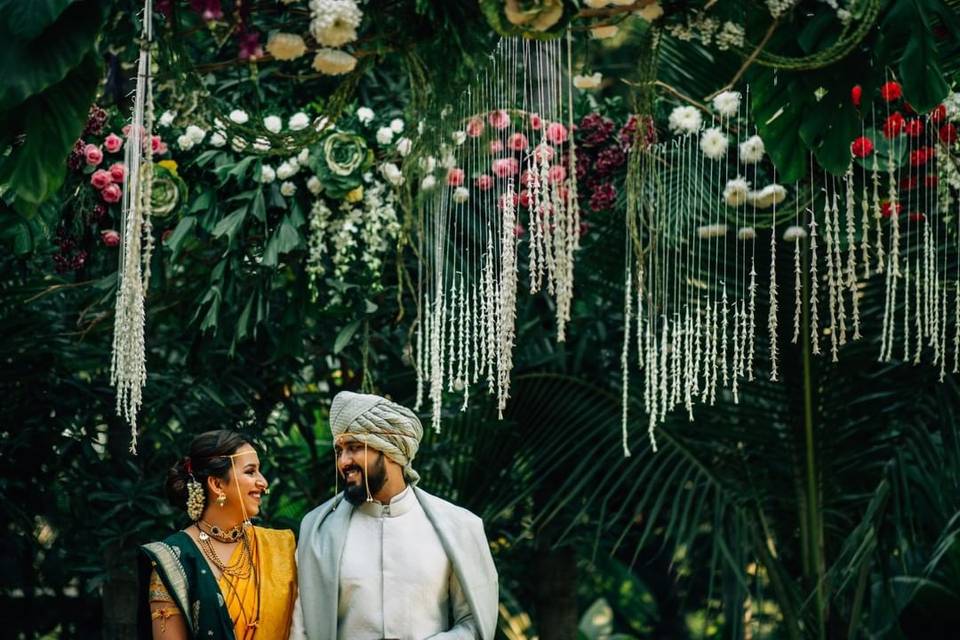 Weddings are happy occasions for everyone. And Indian weddings are more like a week-long celebration for not just the bride and the groom but their families, relatives, and friends too. weddings in India involve a series of pre-wedding ceremonies, loads of fun customs, celebrating with food, drinks, music, games, and so on. And if it's a destination wedding, that just elevates the whole fun factor by a great deal! However, more elaborate a wedding is, more are the expenses. Planning a wedding surely is an exorbitant affair and you might need some stress-relieving tasks. And God forbid if some accidents or mishaps happen due to unavoidable circumstances during the wedding, that simply shatters the entire wedding budget.
Fortunately, there are ways to secure your wedding expenses now in case of such unfortunate situations. This is where wedding insurance comes into the picture. Know everything about it and make an informed decision to secure your wedding expenses.
What's Wedding Insurance- a quick intro
Wedding insurance policies are basically customised plans that secure certain risks related to the ceremonies. Any wedding ceremony carries risks caused by natural calamities, fire, theft, or accidental injuries of family members. If you need to postpone the wedding due to any of such reasons, that's when your troubles start because of the no-refund policies by most of the types of wedding vendors like the caterers or wedding venue providers. This is where an insurance plan saves your day. If your wedding is insured, you can get a huge relief on the losses caused by such accidents.
Why you need a Wedding Insurance
In the case of big weddings involving a large guest list, when an accident happens and your vendors don't refund your expenses, a wedding insurance policy helps you to deal with the financial blow you might face at the time. For example in case of a fire, theft, or accident in a destination wedding (which is a lavish event in itself), with the help of financial insurance security, you can postpone the wedding without having to worry about the losses. The right kind of wedding insurance policy would help you to take your time coping with the unfortunate mishap and reschedule. This is relevant in case your vendors (especially venue) don't provide their own insurance.
When should you get a Wedding Insurance
Usually, most wedding insurance policies let you take a cover for two years. So, it's advisable to get insurance two years before the wedding date. however, if you're getting married in a year, you still can get your reception and other events covered. Speak to your insurance provider for the details.
What does a Wedding Insurance cover
Irrecoverable expenses like function hall, pandits, wedding catering, beauticians, wedding decorators, accommodation reserved for bride/ bridegroom/ guests, wedding music, wedding photography/ videography, entertainment programs transport, or wedding flowers that you may have incurred are redeemable from the wedding insurance companies. Here are the circumstances under which such claims are accepted for cancellation or postponement of a wedding:
An unexpected illness or extreme weather conditions.
Accidental losses or damages to your residential property.
Fire and allied hazards for which you are legally responsible.
Coverage to bride and groom in case of permanent total disability, permanent partial disability, temporary or total disability & death arising due to accident.
Coverage against loss of money from a safe/locker and/or strong room due to burglary or robbery from your home address with bank records with proof.
Coverage against accidental bodily injury to or death, disease, or illness of any person other than an employee or accidental loss of or damage to material property not belonging to you, as a result of food and beverages, supplied to you during the wedding.
What a Wedding Insurance does NOT cover
Here are the situations under which a wedding insurance provider would NOT cover your expenses in case of a postponed or cancelled wedding:
Expected seasonal rains, storms, etc.
Any family disputes among the bride, groom, relatives, or friends.
Loss or theft from unattended venues or vehicles.
Suicide attempted suicide, or self-inflicted injury or illness.
Loss of Money where it is stored other than in a safe/locker or Strong Room.
Bandh or any Civil unrest.
Terrorism, the kidnapping of the named person.
Intentional damage to any property.
Who provides Wedding Insurance in India
Many leading banks in India provide wedding insurance to couples for their own security. Some of the most popular insurance providers being ICICI Lombard, National Insurance, HDFC Ergo, Future Generali, and Bajaj Allianz. Make sure to read and understand each and every clause of your insurance policy to avail coverage without the hassle.
Opting for wedding insurance is a sensitive area especially in India. And therefore it's yet to catch on as a trend. But given the huge amount of money families spend on weddings these days, it's only wise to secure your own money. Usually, the premiums are calculated on the basis of the type of wedding venue, event duration, contingency plans, cost or organising and implementing, etc. Ideally, it's 0.5 to 2% of the sum assured. Which is quite a small amount to pay to protect your finances? So, be wise, even speak to a wedding planner if necessary and get your wedding insured.
What are your thoughts on getting wedding insurance in India? Share with us in the comment section below!