E-wedding Cards Are the New Thang in Town So Create Your Own Too
Yes, e-wedding cards are an essential idea for all millennial couples, be it as standalone invites or alongside traditional invites. Here are some of the vendors who specialise in these invites, sorted by budget.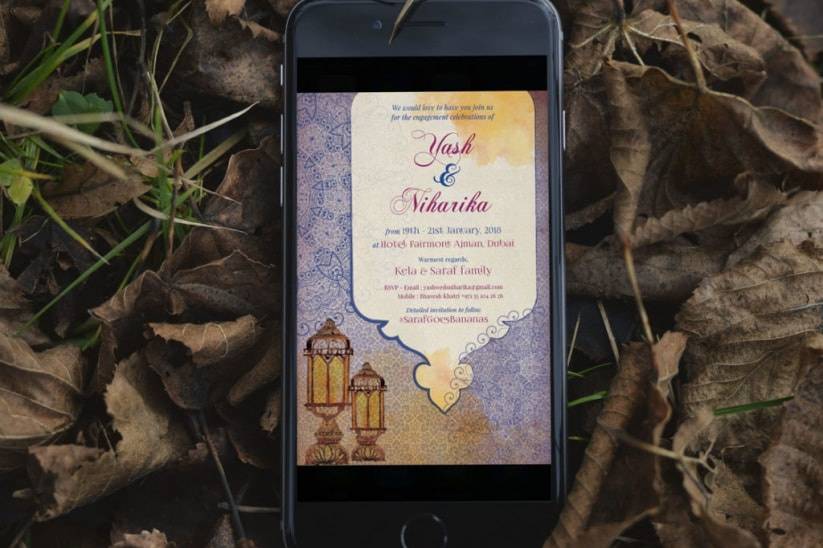 E-Wedding cards are redefining the way couples connect with their guests. They free you by giving you the choice of how you wish to connect with them, replete in your own personal style. With a sea of choices in illustrations, designs and even the number of invites you require, you can even choose to theme it with your favourite show (as seen by several comic inspired couples). Then, send it across without the bonds of a budget, the number of cards or printing styles that vary in style, colour, font, well the list goes on and on. And all through the click of a proverbial button.
While a wedding invitation showcases the love and togetherness a couple has for each other, sharing e-wedding cards or digital cards with your guests is another chance to add a meaningful expression to your wedding day. A lot of couples who are interested in celebrating their wedding by following the footsteps on an eco-friendly wedding, seem to think that opting for e-wedding cards is the best way to return the favour to mother nature and not leaving any trails of carbon footprints. So, deep dive into the world of e-wedding cards and get in touch with these popular wedding invitation designers, who specialise in designing e-wedding cards!
Vendors specialising in e-wedding cards:
Here are some vendors who deal exclusively in e-wedding cards, sorted by different budgets, type for work and level of creativity. Note their work, even as you explore different wedding invitation vendors:
ECONOMICAL VENDORS FOR E WEDDING CARDS
1. Muhurtham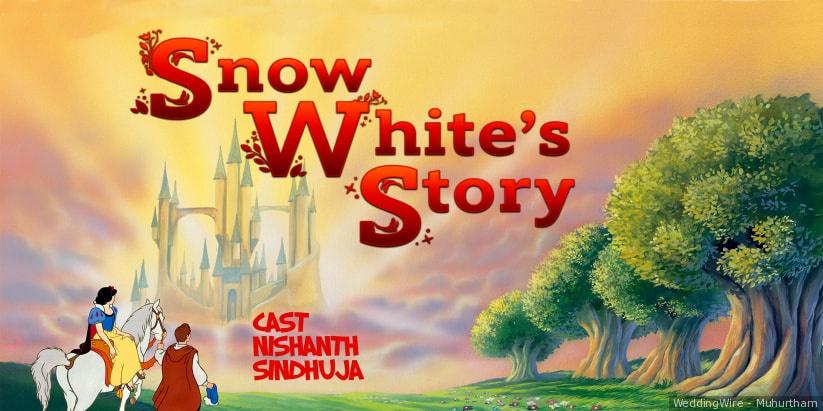 Minimum budget: ₹1,000 onwards
"Your wedding invitation is your guests' first peek into your wedding day, so you want to make an impression. At Muhurtham designs, we've got everything you need to know about this important piece of your stationery. We make sure that your dream e-wedding cards deserve a print large enough to match the grandness of your moment," explains Nishanth Bejgam, Founder of Muhurtham.
Their cards are priced ₹1,000 onwards for any e-wedding card design that you opt for. "Our prices are subject to change depending on the prototype of the card requested or if you request for a story-telling design," adds Nishanth.
2. Pink Whistle Man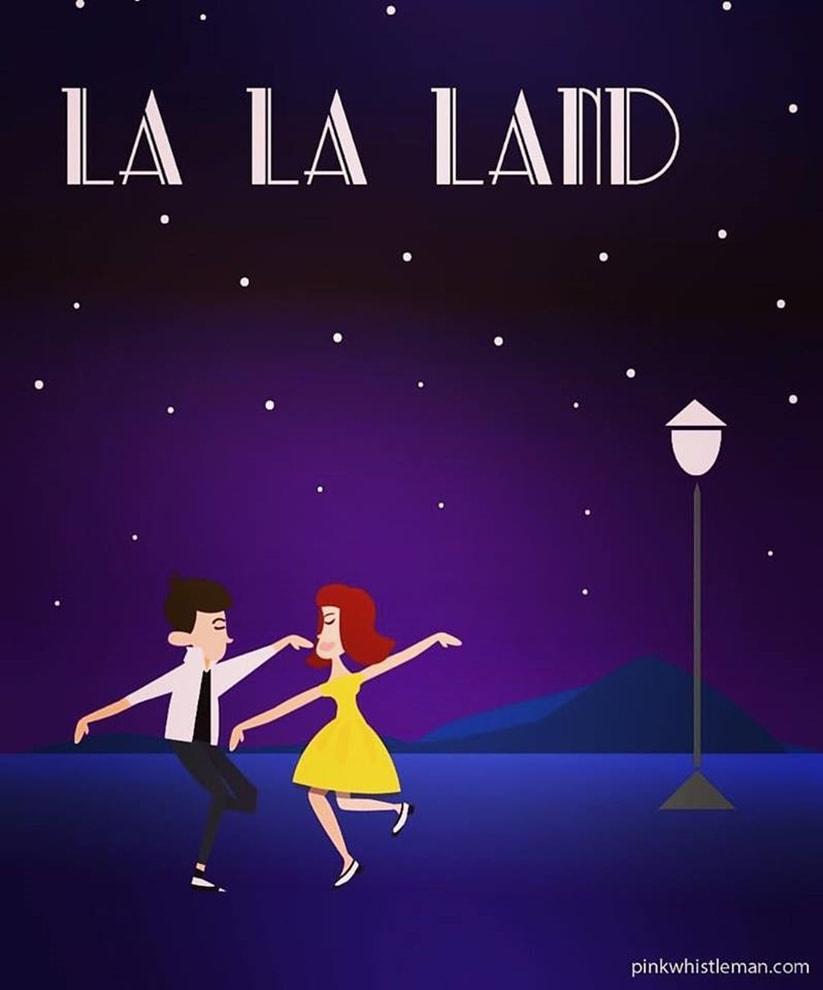 Minimum budget: ₹1,200 onwards
"These days, two types of digital invites work the most. One is static and the other is two-dimensional, but both work well only if they have a strong concept," shares Ranjani from Pink Whistle Man.
"The level of intricacy in terms of illustrations can increase the cost of our e-wedding cards. We usually provide template options to the couple, giving them options to edit these as per their requirement. This way, it is a cost-effective way to personalising your wedding invite," she adds.
The e-wedding cards are priced ₹1,200 onwards. "If the client opts for a new concept, the price can go up to ₹50,000 depending on the number of inserts or illustrations," Ranjani elaborates.
3. Happy Invites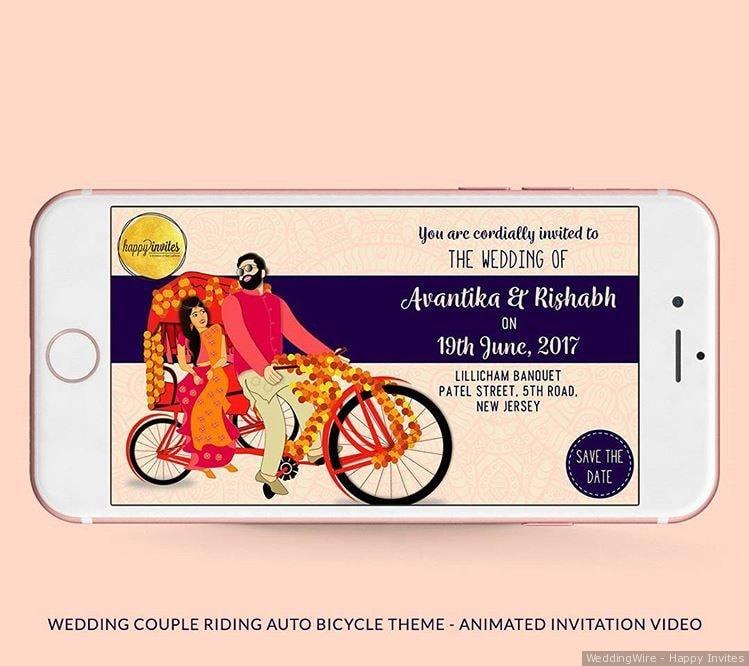 Minimum budget: ₹2,000 onwards
"Even though we specialise in video invitations and GIF invitations, we also design e-wedding cards. Whether it is a Save-the-Date invite or a wedding invitation with all the details; we design them based on the client's preference," shares Saloni from Happy Invites.
"If you have a particular design in mind and want us to work on it from scratch, the cost can be anywhere between ₹3,000 – ₹5,000. The same card in a GIF format can cost between ₹5,000 – ₹7,000. We also design wedding logos, hashtags, Thank you cards, Countdown e-cards, and caricatures among other things," adds Saloni.
"The final pricing can depend on a lot of factors: how urgently does the client require the card, how intricate the design and illustration is, and how many versions are needed," concludes Saloni.
LUXURY VENDORS FOR E WEDDING CARDS
4. Rupali Prakash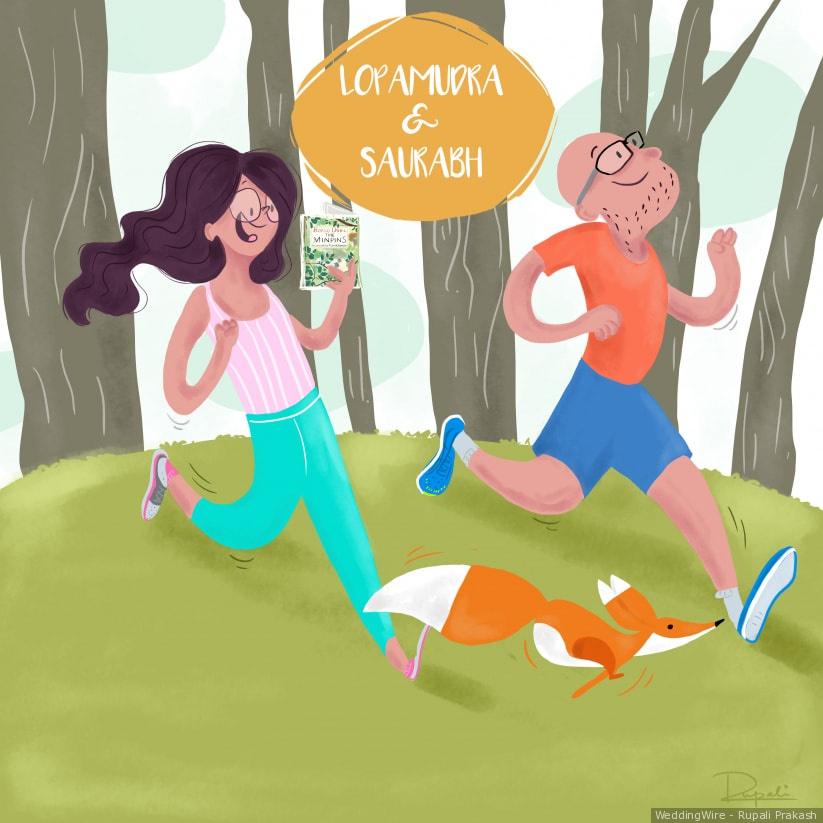 Minimum budget: ₹9,000 onwards
Rupali Prakash is known for making e-wedding cards are based on character illustrations. "This is a wonderful way for couples to bring out their personalities, and share their story with their friends and family. It ensures that the wedding invite is more personalised and special," shares Rupali.
The final cost of the card depends on the level of detail required, the colours used and the number of elements used in the illustration. "Cost of the e-wedding cards starts from ₹9,000 onwards and can go up to ₹15,000," she adds.
5. The Entertainment Design Company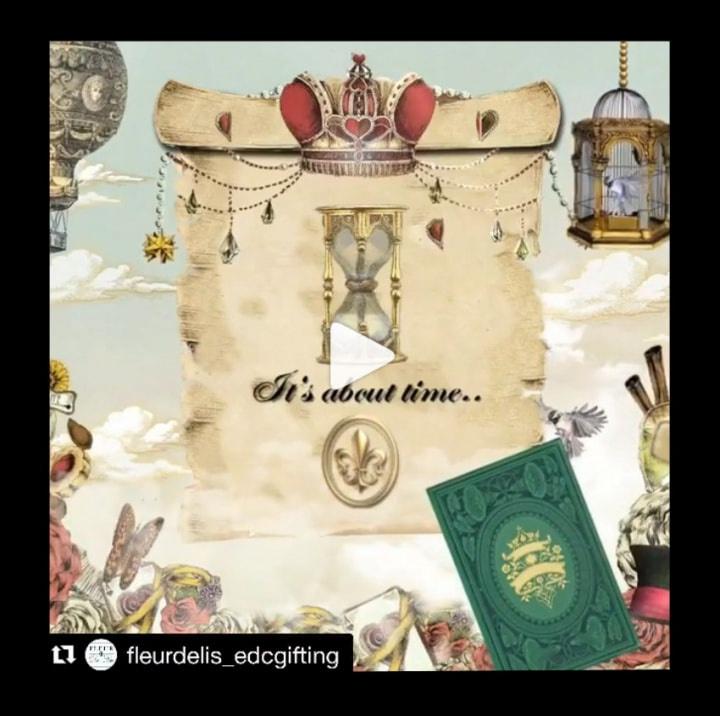 Minimum budget: ₹5000 - ₹50,000
The Entertainment Design Company is known for catering to an elite, celebrity segment with their products. While they showcase their work in paper invitations, boxed invites and the like for the Bachchans, the King of Bhutan, Harbhajan Singh and Arun Jaitley, they also deal with e-invites and digital invites. In an interview with BusinessWorld, Sandy Khurana from the brand had this to say:
"E-Invites are best suited for international invitations in the absence of proper logistics or for 'Save the Date' invitations but sending physical invites for your wedding is a tradition as old as the concept of weddings itself and is very important." Still, he had predicted a shift from traditional cards to digital invites over the next 5 years.
Why should one opt for digital invites in today's time?
Since gen-next couples are opting to go paperless for their wedding invites, brands and vendors are working towards matching their needs. "With more people understanding the importance of going paperless, it is the most logical approach to go the eco-friendly way and opt for e-wedding cards," says Saloni.
Echoing her thoughts, many wedding invitation designers and vendors believe that opting for a paperless invite is good for the environment and also saves you a lot of time and money. If you're going all out, you can track your RSVPs digitally and also set reminders. That's a great way to keep tabs on the RSVPs and if in case you have any last minute changes to notify to your guests, you can just do that in a click of a finger!
So, if you strongly believe in the cause of saving the Earth and do everything in your might to leave no traces of a carbon print, then get your wedding invites curated in the form of e-wedding cards instead!
What would you do? Let us know in the comments below.