Wedding Card Matter Templates for Comic-con Couples Who Love Superheroes as Much as They Love Each Other
Aside from sending out a save-the-date message to your loved ones, why not make the wedding card matter more about yourself and your comic con inspo? We enlist some trending cinematic inspirations to bring to life your inner fandom of DC and Marvel.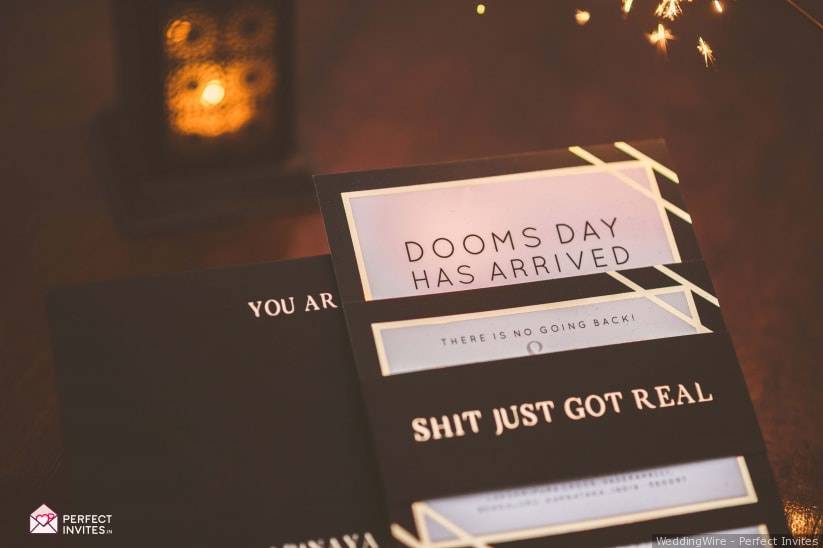 Congratulations on your big decision! We know you're excited but wait up; you still must break the big news to your loved ones. Sending out wedding invites are one of the very first steps you embark upon as a couple. Who says they must be the generic wedding invitations? Why couldn't they reflect the shows or the films you love most?
Are you a Marvel fan or a DC fan? Is your spouse-to-be obsessed with Game of Thrones or Harry Potter? Then, why not let these cinematic adaptations be the very inspiration for your personalised wedding card matter? Just imagine, all your wedding invites, combined with your passion for your spouse-to-be and your binge-watching love, together as one.
Why a unique approach to your wedding card matter?

Wedding card matter sets the tone of your impending function. They are the first-hand information providers for your guests to help them prepare for your wedding. They can be in the form of handouts, cards, save the date videos but the essence remains the same.
Devote ample time to formulate the wording right, they should be something that sums up your passion for one another or things you both love as a couple. Let your invites have phrases that resonate with you as a couple and more.
Here are some examples in which you can bring your binge or comic loves to your wedding invitation (wording or design):
1. For Harry Potter Fandom wedding card matter : Marauders-inspired wedding invite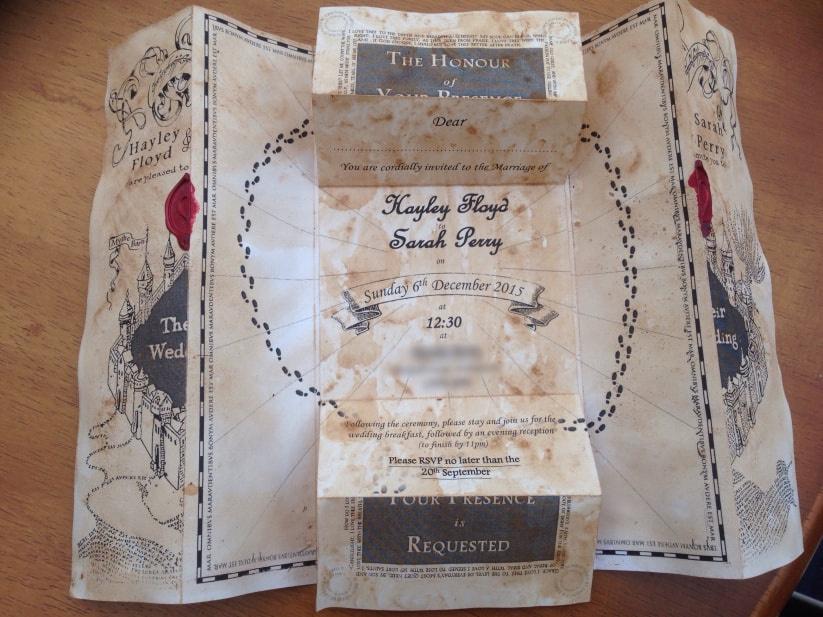 Image courtesy: Imgur
If you're old school and a Potterhead, one who loves all things rustic, then a Marauders map inspired wedding invite has your name written all over it.
Keep your fangirl moment alive as you customised your wedding card matter and seal it with the initials of you and your spouse-to-be with the famous 'Always' quote for the desired emotion. Let the invite have the coordinates of your wedding venue imprinted over it, roll them into scrolls and let the Harry Potter frenzy take over.
2. For Game of Thrones fandom wedding card matter: A Wedding is Coming!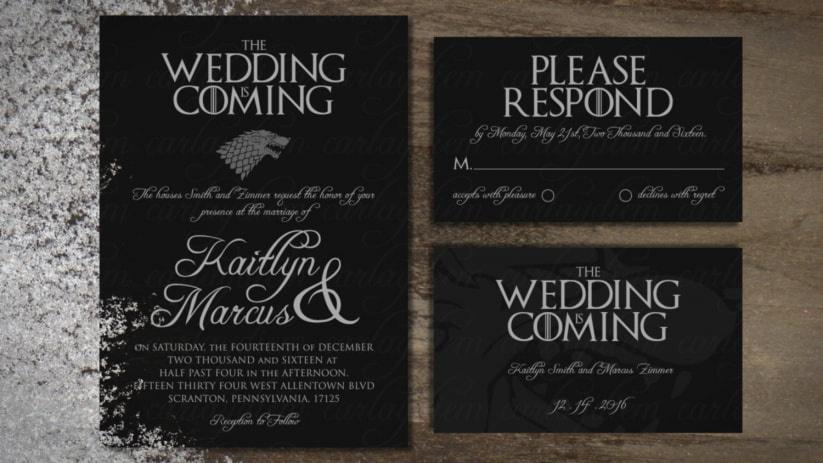 Image courtesy: Etsy
Pick a house you love most or a character you wish you could replace in the series. Design your invite around the chosen one. Incorporate a quotation or two from the show. Design a customised seal, probably a 'Lannister always pays his debts' or 'Winter is coming'. Are you? Your wedding card matter will mimic the essence of the show and embody the love you have for the series and its characters. Your invitation will be quirky and unique and prepare your guests for a ride that your wedding will take them onto.
3. For Marvel fanatics wedding card matter : Deadpool-inspired wedding card matter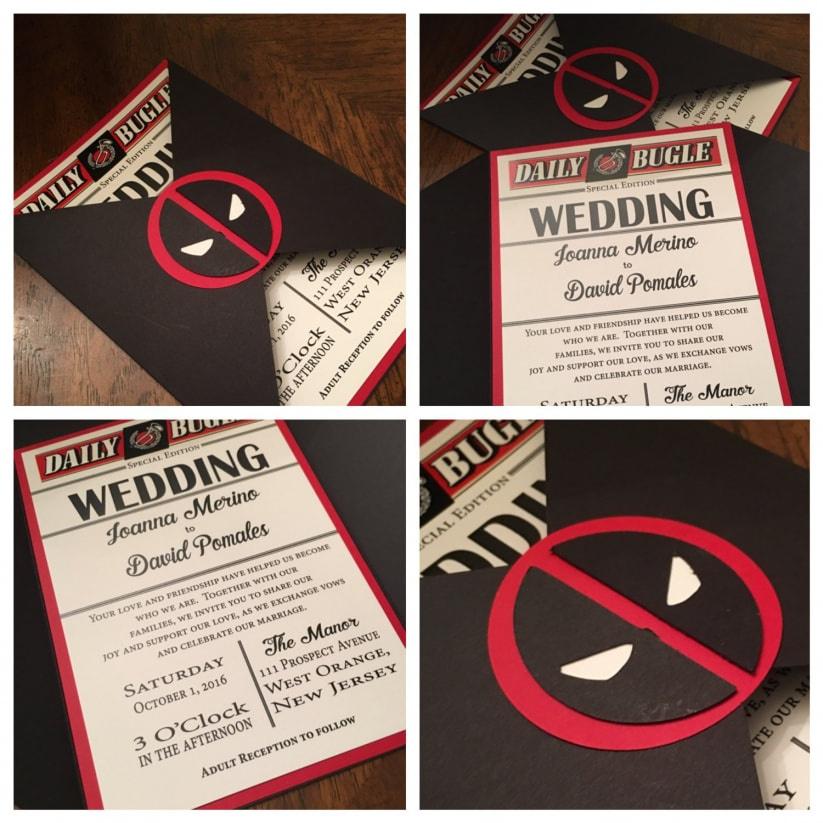 Image courtesy: Etsy
Deadpool being all the rage this season, there is a Deadpool inspired souvenir for all your wedding favours. Wedding invite being the first of those, you can go for a red and black theme to customise your invite or include a personalised Deadpool badge to go along with it. Deadpool is quirky, hilarious, witty and everything that is cool about Marvel and its fandom. From following the overall theme to personalising your invitation while including some quirky quotes by the character, the possibilities are endless.
4. Wedding Card Matter For Batman and Cat Woman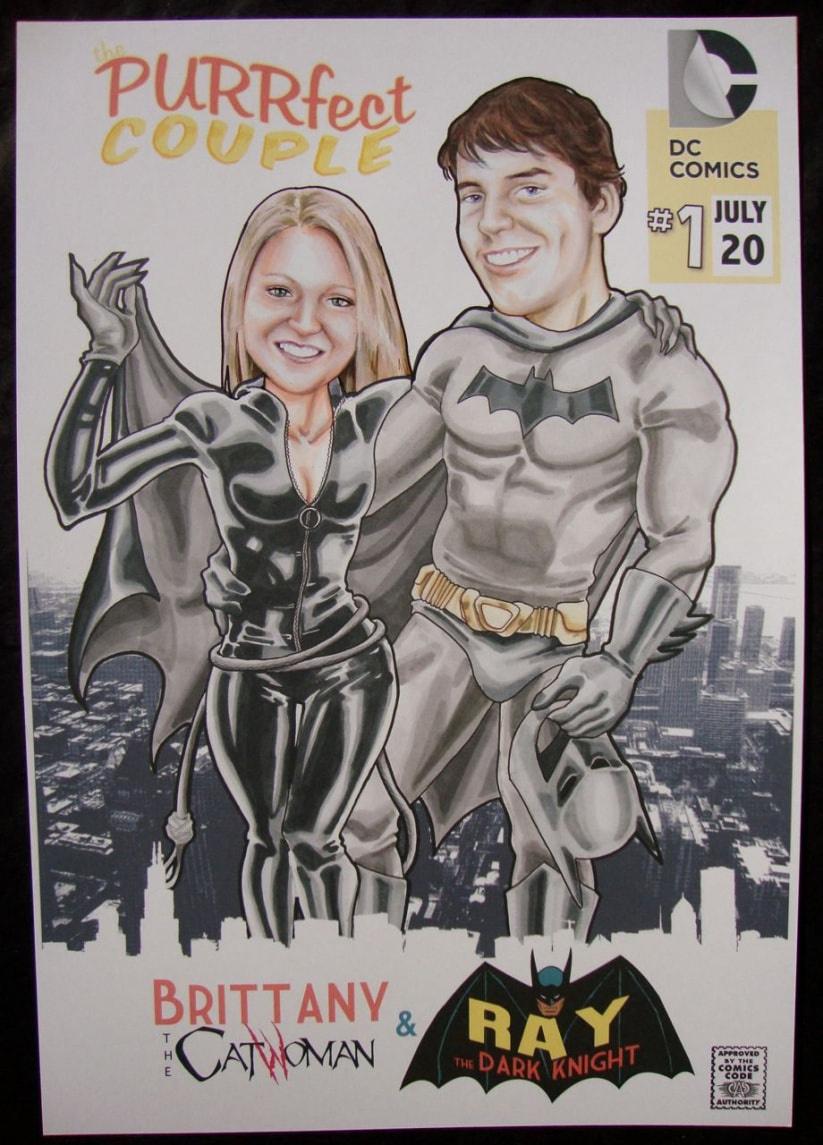 Image courtesy: Pinterest
Let this be the perfect way to break the news. The groom can send out Batman inspired invites while the bride uses Cat woman inspired invitations. Your invitations will set the stage for your wedding theme and gear up your guests to expect a fun-filled wedding celebration. Let the invites have eye masks of both the characters, place them in beautifully handcrafted envelopes and use these for a masquerade wedding function.
5. Toon tale romances wedding card matter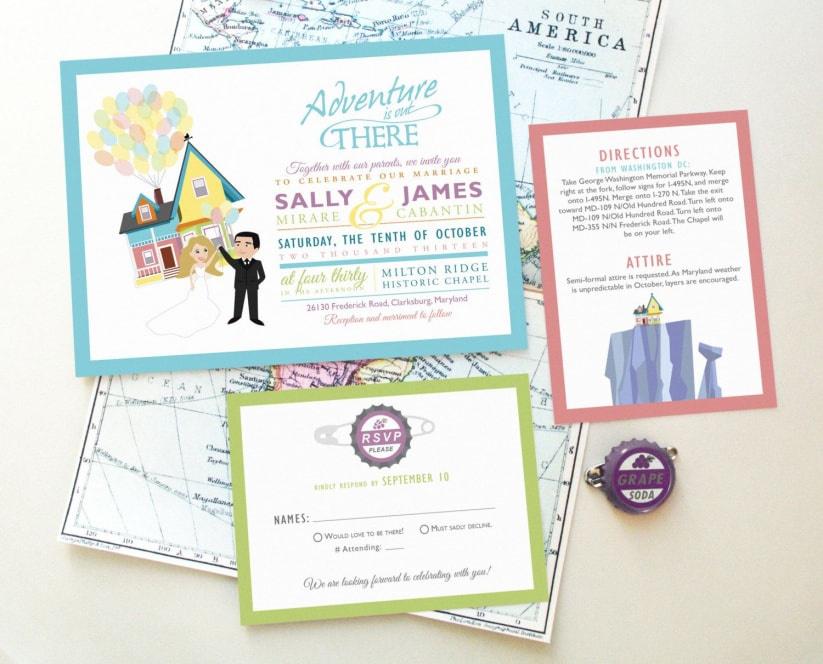 Image courtesy: Pinterest
We'd be lying if we said our hearts didn't skip a beat every time we came across a cute Pixar character. Pixar inspired invites are not only too cute to resist but are also adept for a fairy-tale inspired wedding celebration. From Frozen to Tinker Bell the options are endless. There is a fairy-tale character for each one of us. Let the style and design of your card vary in wedding card matter, stylising, font size and the type of invite you wish to send out. Let them be scrolls or boxed invitations with customised wedding favours for making your beginning a memorable start.
You may also choose to highlight one of your events with a toon-taled invite, like this bridal shower invite we found on Living in a Grown-Up World.
Some Extra Tips to Nail Your Wedding Invite and Wedding Card Matter
Image courtesy: Pinterest
Just because your wedding invitation looks stunning doesn't mean it reads just as wonderful. Every couple must put in an equal amount of thought in curating a wedding card matter that sums up their love story and makes their wedding guest feel welcomed at the same time. The below-enlisted tips will help you get exactly that! Read on and get inspired to have a curated wedding card matter that will breathe romance into your wedding invitations!
1. Include some quotes that resonate with you as a couple. It could be a song, a dialogue or something that just binds the theme of your wedding.
2. Not every wedding guest of yours will know what Marvel or DC is. So, ensure that you have something personalised, a friendly message that makes each and every wedding guests feel closer to you and your journey
3. Make it colourful and use the colours of your wedding theme. There is nothing better than a cohesive mix of different elements that make your relationship the best!
These are but only a few cinematic inspirations we know you'll love. But, there is room for some more. There are endless possibilities and room for you to design your very own wedding invitations. Let that invite be a sheer replica of you and your couple. Be as innovative as you can with your invites as these will be a memento of your love story and soulful romance. Keep them close to you as in future these will replicate your legacy and become an heirloom you can pass down to your children. Design your invites such that your guests cannot keep themselves from being a part of your big day. Leave a word about your process of ideation and design for couples to seek inspiration from.
Share your thoughts in comments and compel others to follow suit by being as quirky as you possibly can for designing your wedding card matter.