Save the Date Ideas to Breathe Romance Into Your Love Story
Save the Date ideas for invites or pictures, are the newest rage amongst modern day couples who like to create memories and impact.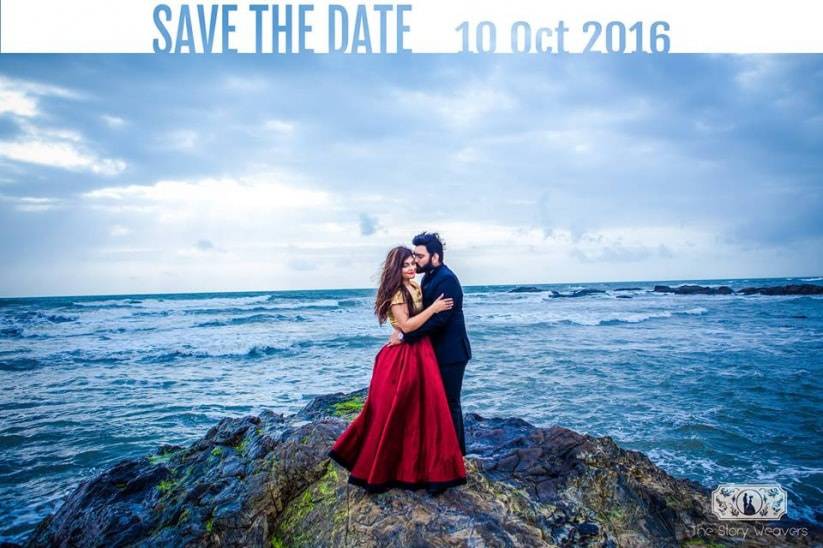 Save the Date photo shoots, invites and wedding pictures are probably the classiest and most appealing way to make the big announcement to the world. Whether you choose social media platforms, messaging groups, e-mails or create a wedding website, a save the date wedding picture will immediately bring the fun, love, happiness and excitement for your special day. Practically, save the date invitations are less expensive, less tedious and much more fun and memorable.
So how do you create the perfect save the date wedding invite? What goes on behind creating a save the date wedding pictures that people remember and you cherish? Before we go on to the actual details of weaving a story to depict, the most important thing is to choose the perfect wedding photographer. Your photographer must be able to not just show the emotions you are feeling but also creatively enhance them and tweak them for 'picture perfect' results. Let's begin!
We present to you 5 uber cool save the date ideas which are sassy, original and spectacular. Use these save the date ideas to make your big announcement and create a statement while you're at it! Make your save the date video or template so unique that your wedding guests feel as much as a part of your relationship s they can. And, also you will forever keep it as a memento of the beautiful journey that you share with your chosen one. So, let's get started right away!
1. Pretty as a Postcard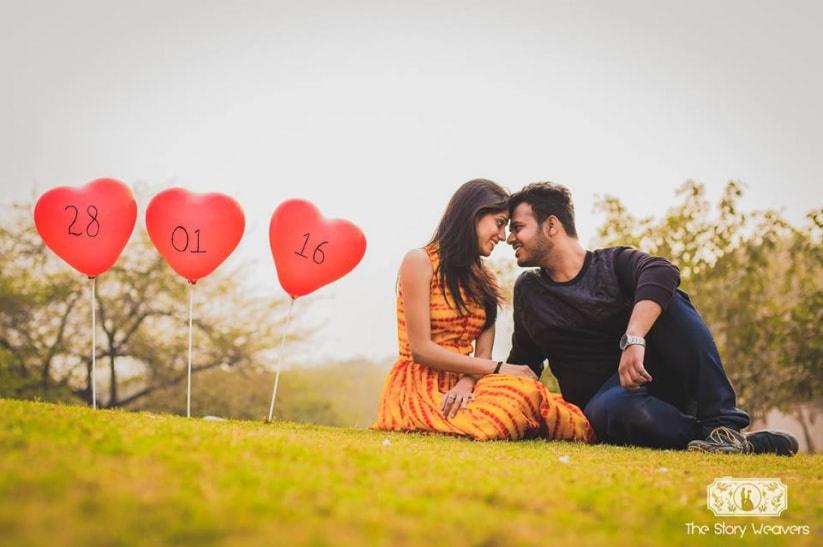 If you are not too sure about the story you want to depict, you can always paint a beautiful picture that looks nothing less than a postcard. Here, you can use different elements of nature like the ocean, mountains, greenery, flowers etc.
The idea is to paint a scenic picture that shows harmony with nature and of course enhances the love between you and your soon-to-be partner for life. This is one of those rare save the date ideas that really speak to the heart and encapsulate perfectly what the heart really feels. And, go all out, the more the merrier, at least that's what we believe in!
2. Cheesy but Cute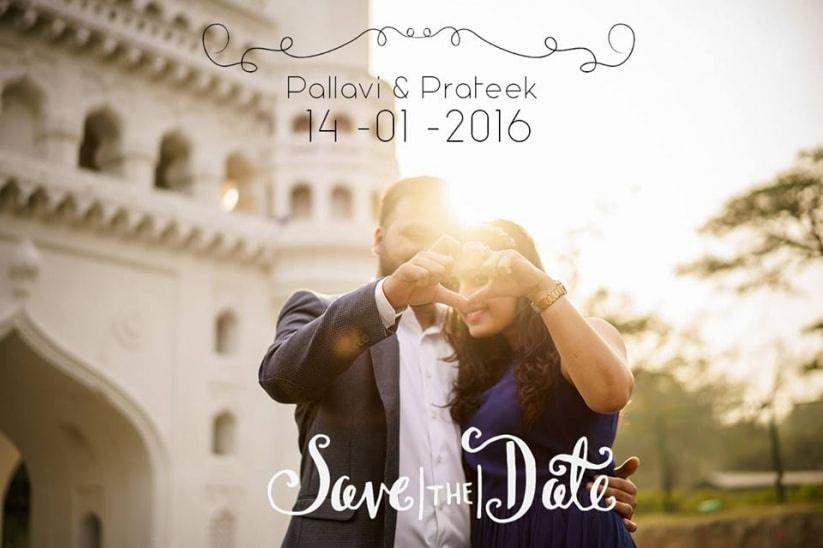 If Bollywood-style postcard pictures are not your style, bring in the cheesy but adorable mush for your save the date wedding invites. You could join hands to make a heart, hold balloons and steal a kiss beneath them, embrace under a sprawling tree or just hold a heart-shaped placard that displays the date. Think cute, think mushy and let your love for each other do the rest.
This is one of those gem-like save the date ideas that not only captures the love that these two shares and the same love it exhumes for others to also get the feel of. Having found your better half is a celebration in its own right and if you plan to tie the knot, then your save the date should not be anything less than perfect! Make this moment all the more special by including some personal anecdote or perhaps choosing the locations as the first place you had your first of many dates.
3. From Shared Interests to a Shared Life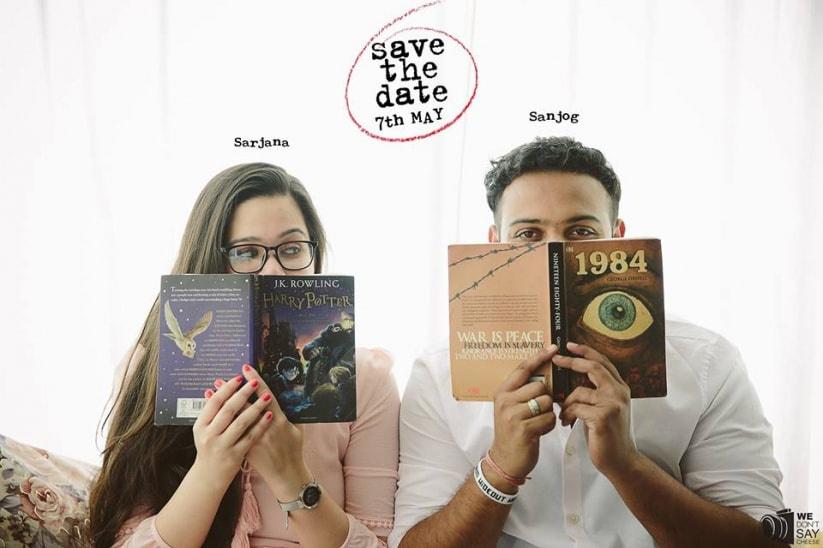 If you and your partner share a common interest, then the save the date idea is right here. Whether it's a sport that you both follow, love for movies or books, or even cooking or painting; bring it into the save the date invitation.
It will portray your shared interests and make for a really original and adorable invite. If you are a nerd just as we are then this save the date idea is definitely yours for the taking. It is cool, innovative and a little edgy(while still being on the nerdy side), a concoction of both love and magic. Also, there is some real magic in sharing the same interests and hobbies with your chosen one. to find things that the two of you enjoy doing together and having that same thing get incorporated in your save the date invites is the best way to go forward.
4. Under My Umbrella!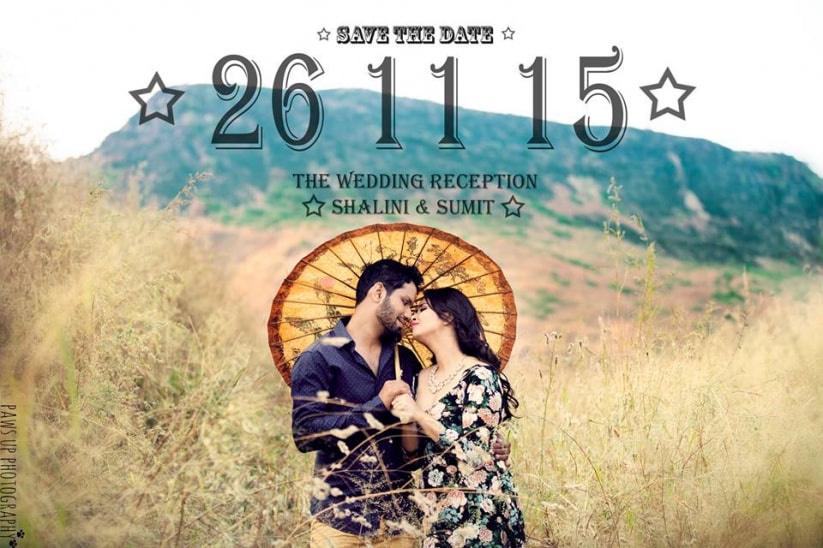 Image Courtesy: Paws Up Photography
Certain props add immense meaning and style to wedding e-invites. An umbrella is one such prop that can be used in many ways. Standing arm-in-arm under an umbrella, using a colourful umbrella to add colour, or even using it in a comical way could really add a lot of beauty and character to the save the date invite.
Other such versatile photoshoot props include a bicycle, balloons, chalkboards, benches, hats and more. This idea is way too cute to be ignored! We love it, how about you? And, having an umbrella will also help you from the mother nature, just in case, she decides to rain on your happy parade of romancing and posing.
5. Keep It Simple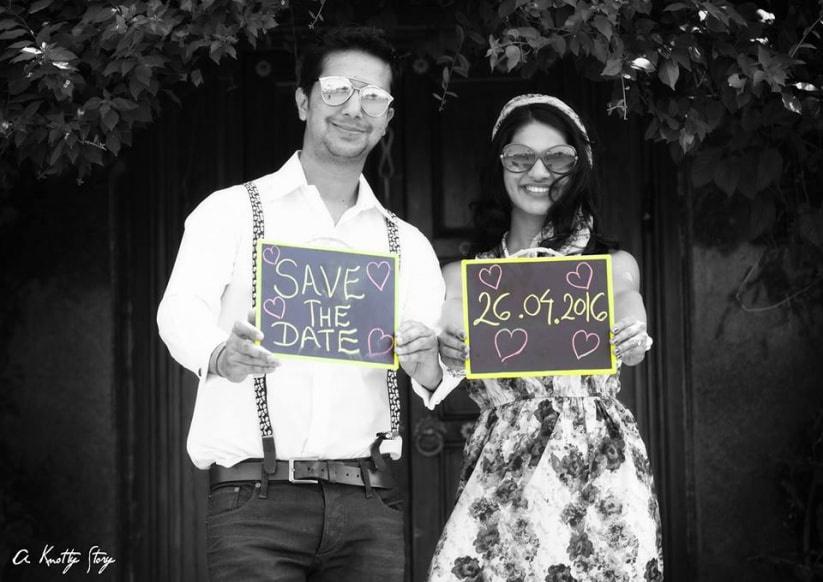 If you are someone who likes to keep it straight, simple and stylish your sparkling smiles, your partner and a good photographer is all you need. You could hold chalkboards or just add text to your happy, bright and stunning couple picture. Simply yet special in its own way!
What's does your 'save the date' wedding picture look like? Weave a story and let the picture do the talking. what did you think of these save the date ideas? There is a lot you can do when curating your save the date message but remember the key is to make it as personalised as possible! Since it is the first official announcement that any couple makes about their union, it is but obvious that it should be nothing less than perfect and should beautifully sum up the relationship of the said couple. So, get in touch with a graphic designer who will help you curate a save the date invite like never before.
Share your save the date on social media and on your wedding website. Also, don't forget to share your original ideas with other soon-to-wed couples in the comments below.