A-List of Light Yet Lively Guest Seating Ideas for Intimate Weddings
If you've decided to go for a 50 guest #LockdownWedding, we've got your seating decor covered. Here are some guest seating ideas for your intimate wedding for inspo!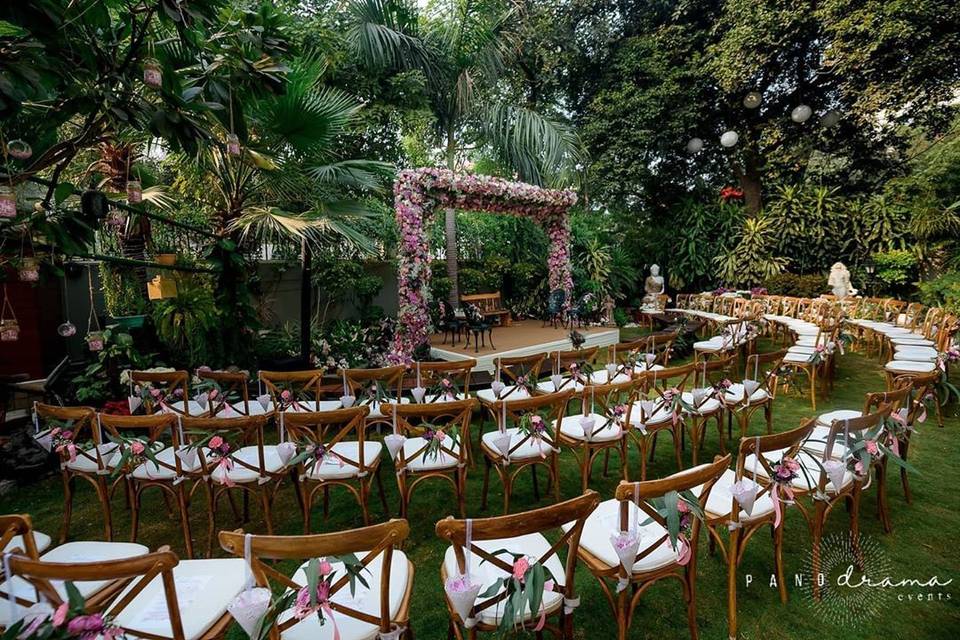 Your wedding guest-list may have been scrunched down but that doesn't mean you need to compromise on the look and feel of your wedding too. We know it's a bummer getting married without having full attendance of your guest list which you had so fondly decided upon before the global pandemic of COVID-19 hit the world, but it is what it is now. Intimate weddings are stealing the show on the wedding trend radar in 2020 and will mostly continue to be so in 2021 too and so, decoration ideas for small weddings have been making rounds on the internet and how.
While you're sure to get small wedding decor ideas in abundance, choosing the seating decor for your guests can get a little tricky depending upon where you're getting married. So, whether you're having your wedding rituals in your living room, your backyard or a public wedding venue, guest seating cannot be fully strike-off from the decor plan.
Fret not, we've handpicked some amazing guest seating ideas for intimate weddings. Be it an Anand Karaj or a Hindu wedding, these guest seatings ideas will come in super handy and definitely shoo away the COVID-19 blues, at least on the day of your wedding!
Scroll below and let the bookmarking begin!
Backyard Floor-seating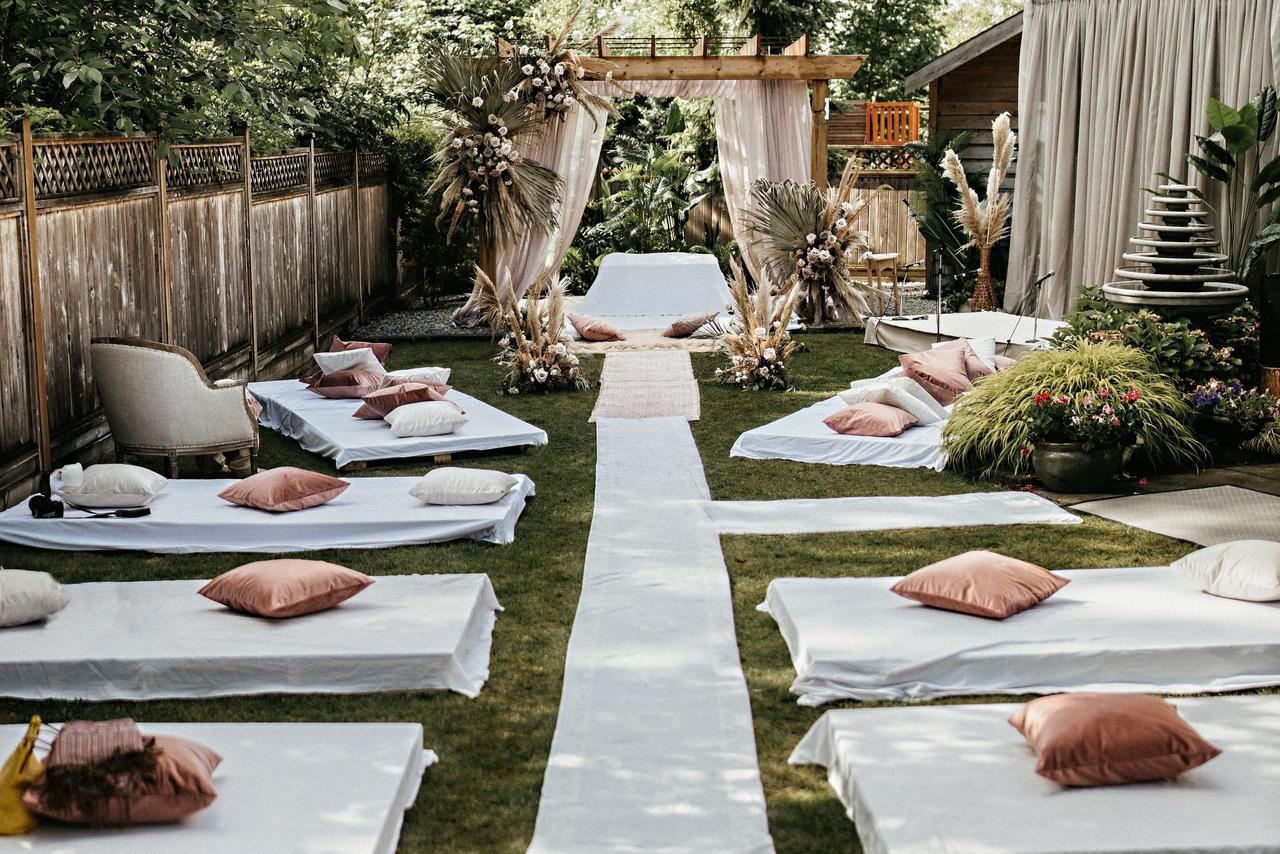 Image Courtesy: Amrit Photography
Originally a decor idea from an Anand Karaj ceremony held in Canadian Provence, British Columbia, this rustic floor seating idea is a total steal for an intimate wedding taking place in the backyard. This is also a super DIY-able seating option where you can place mattresses covered in a single colour across the length of the backyard; prettified with lush silk pastel-coloured cushions. This particular idea is a total steal! What do you think?
Foliage Chair Decor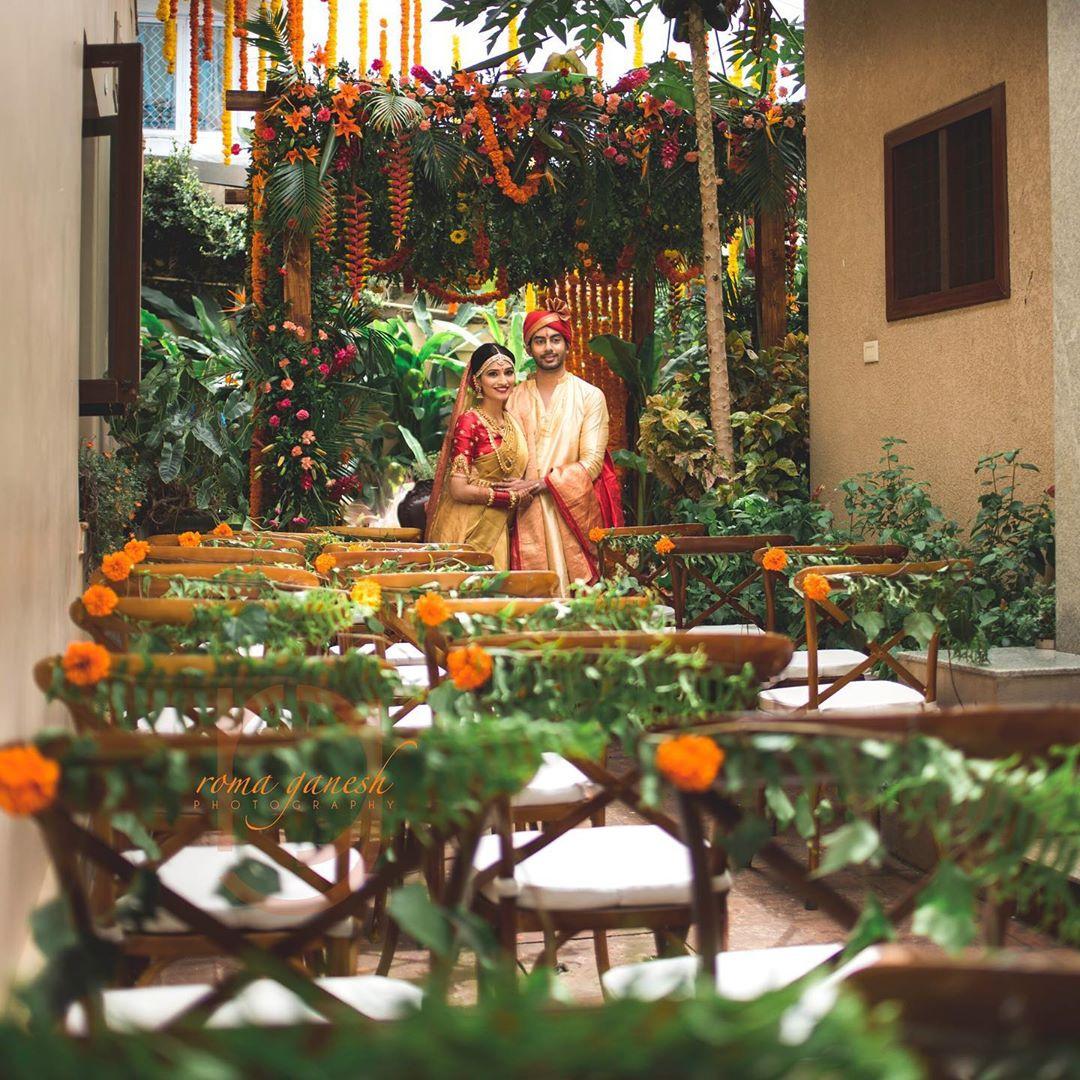 Foliage decor is like the new floral and there's nothing not gush-worthy about them. With vibrance and charm in abundance, foliage is super eco-friendly and one of the next big decor trends in Indian weddings. Because they're so neutral and balmy, they add the perfect flounce when added in abundance; like on the chairs placed for guests. A pop of colour can be added by placing Genda Phool or roses on both the corners of the chair.
Canopy Seating in the Garden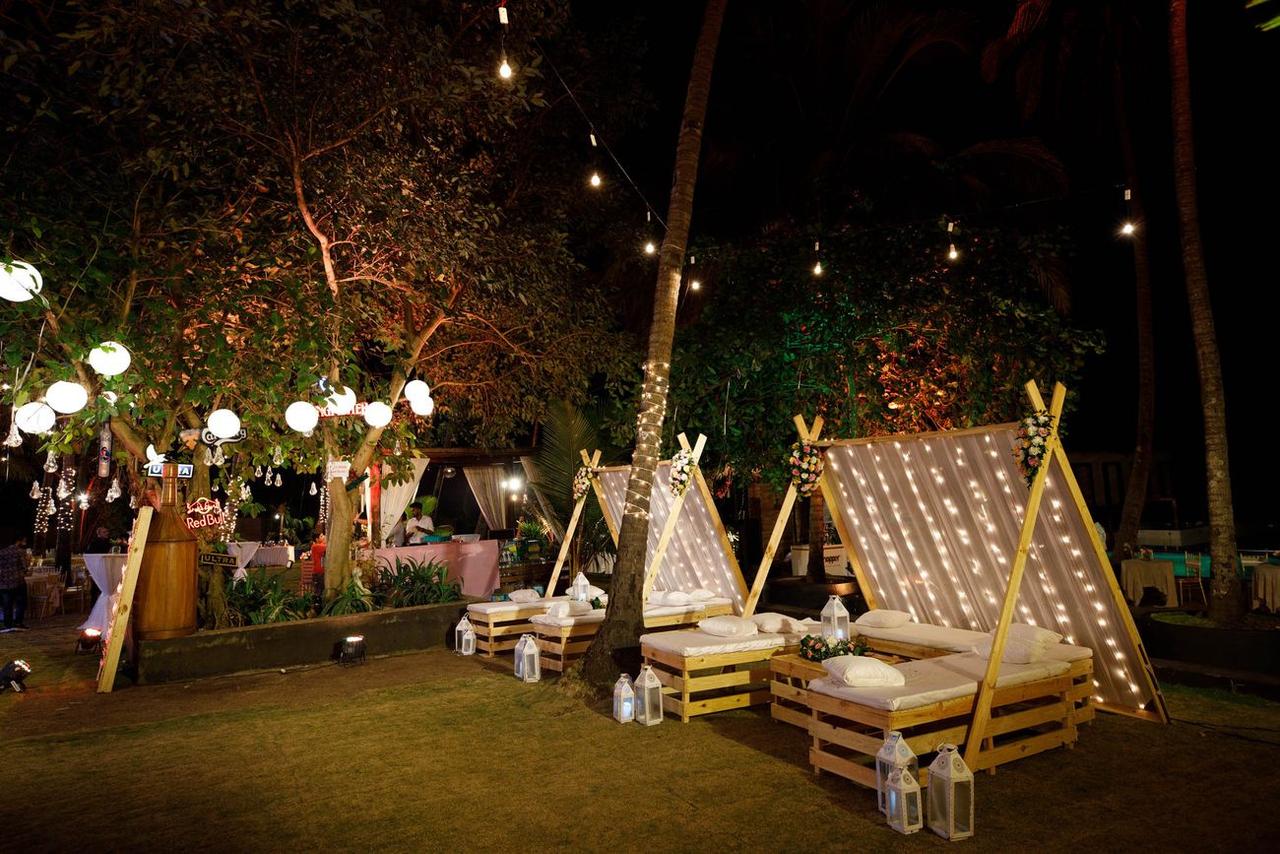 Looking for dreamy seating ideas for your intimate wedding? Look no further. We've got you the most whimsical decor idea ever. This canopy-style seating in your home garden decked up with fairy lights, floral bouquets, lantern lamps and bulb strings will light up your guests in a jiffy. It's like having a little wonderland of your own for your special day!
Poolside Chill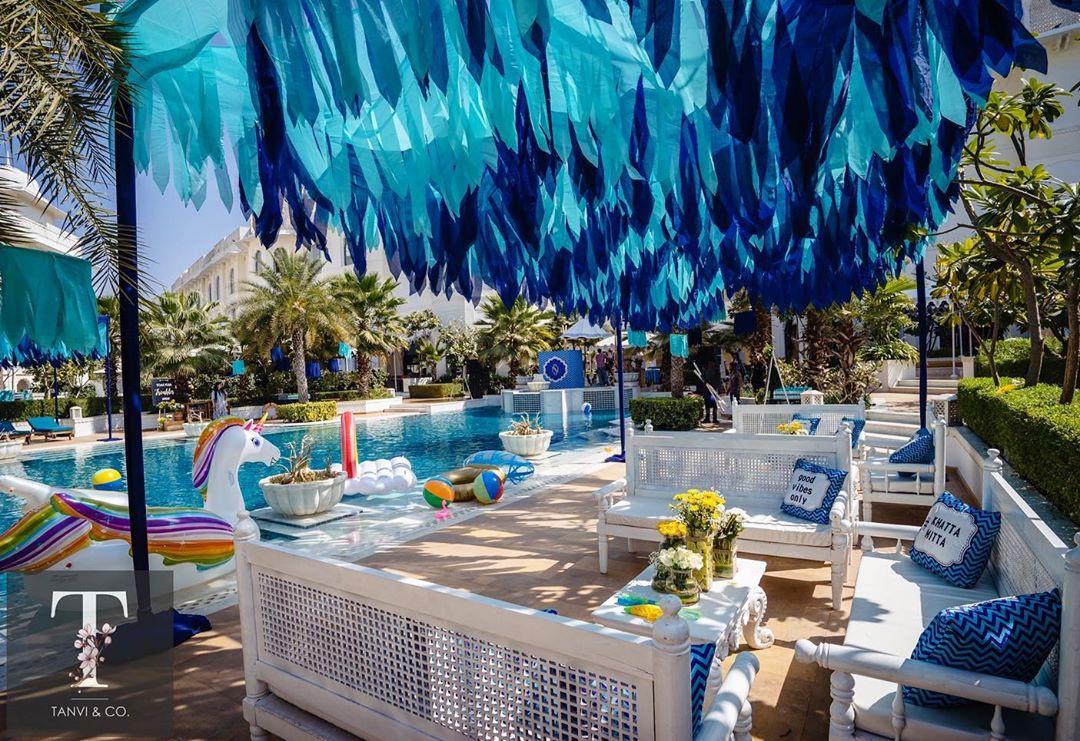 If you're getting married in a property where you have access to poolside, there would be nothing more refreshing than seating your guests in a nautical setup. Fashioned with long wooden benches with customised cushions and scattered with pool props, your guests will find it hard to leave this seating area for hours. Keep the snacks and cocktails circulating!
Simple Foldable Chairs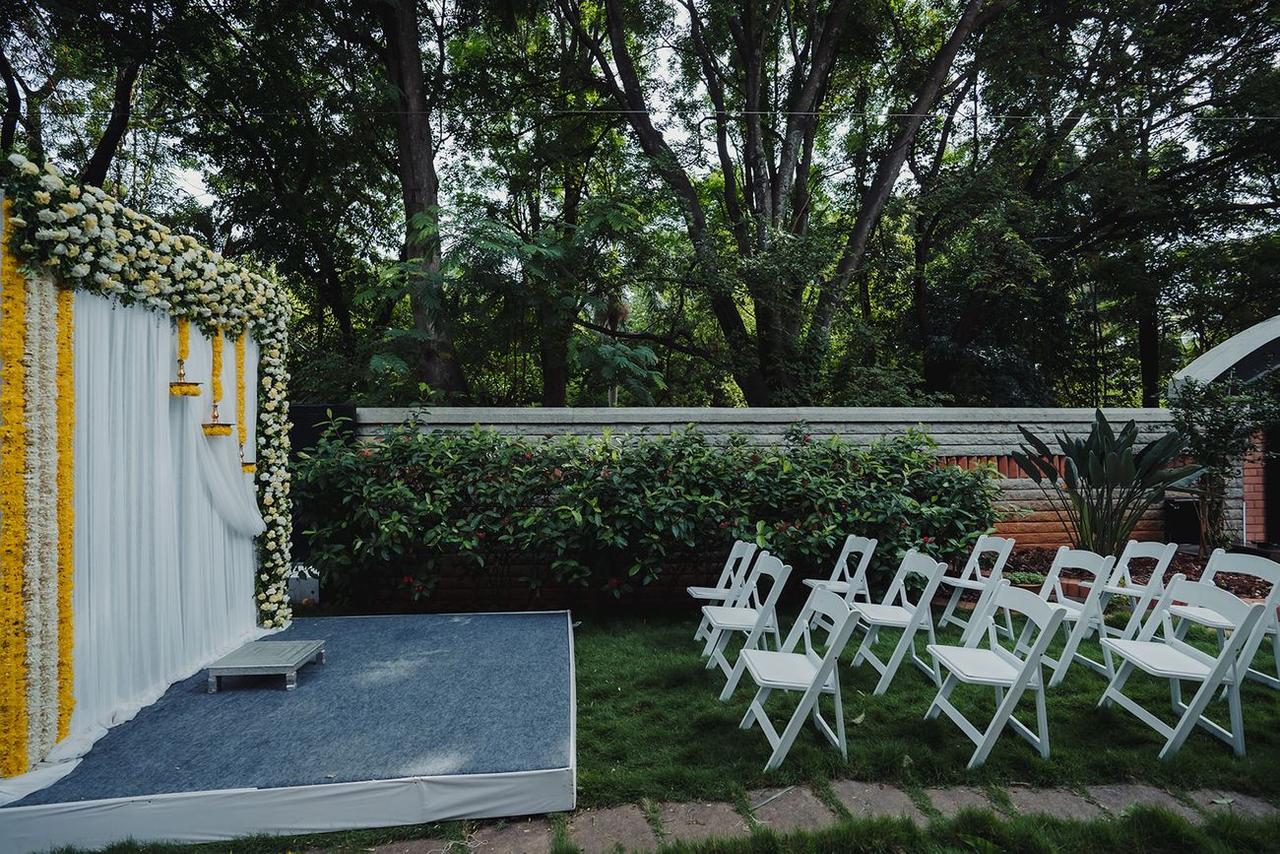 If you're looking for quick wedding decor ideas for your intimate wedding, these foldable plain white chairs are such an ingenious option to choose. They're compact, look super elegant and would cost next to nothing. And the best thing is, you can get these painted in any colour you want to match with the theme of your intimate wedding. You can also rent these out and save like crazy!
Minimal Wooden Chairs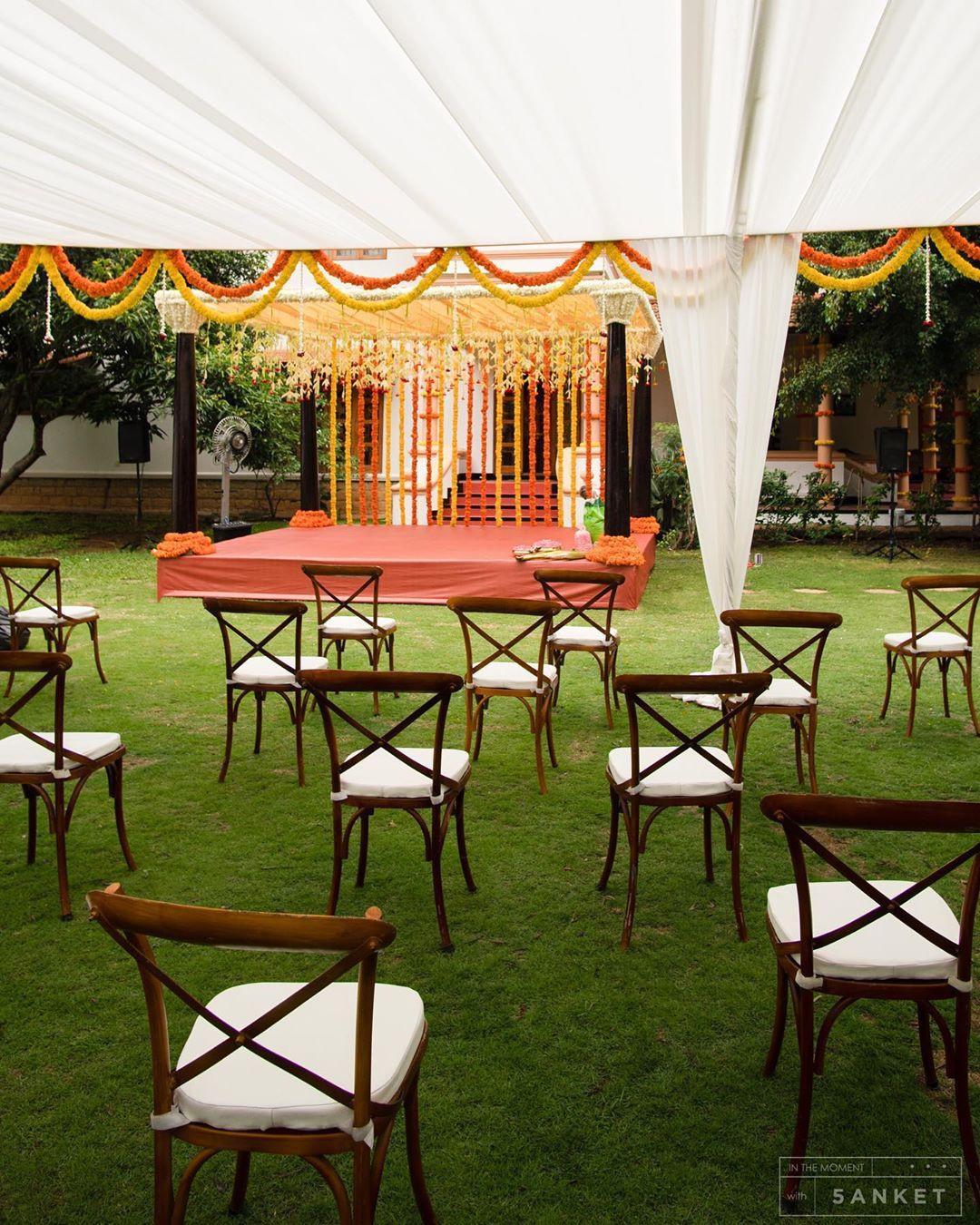 Placed uniformly keeping notable distance, this guest seating idea for intimate weddings is totally nailing the social-distancing rule. Even though, it is not compulsory to maintain social-distancing while at a wedding, it is also advisable to practice if at all possible. And if you can have a socially-distant wedding seating plan, what's the harm in it! The space looks breathable and absolutely refreshing!
Colourful Haldi Seating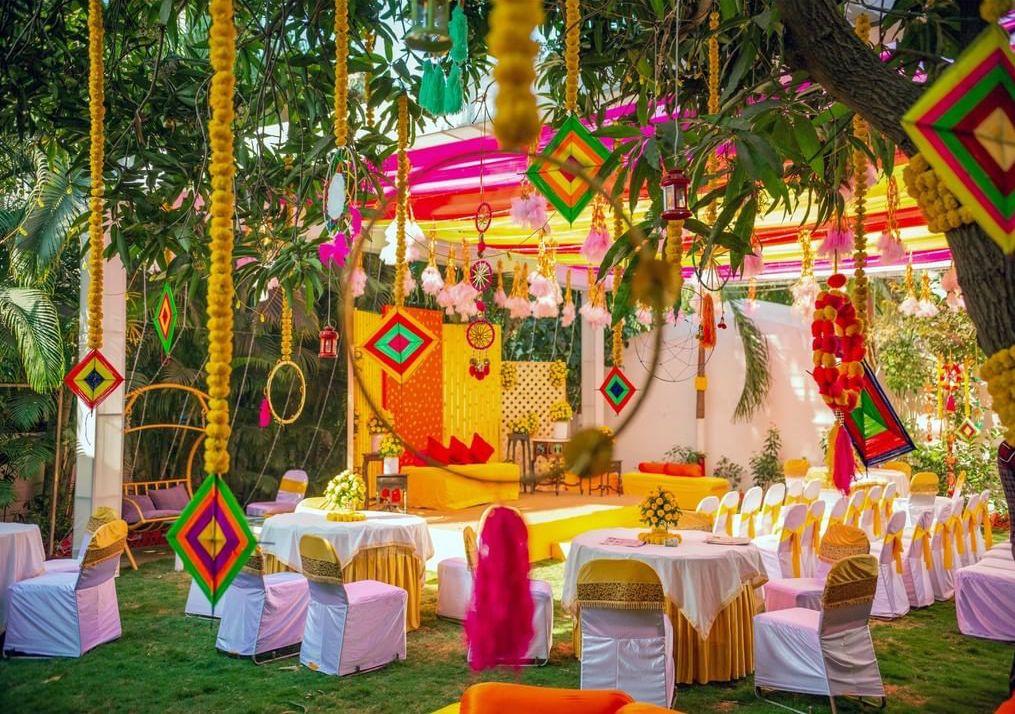 Image Courtesy: Pro Create Events
Having a Haldi ceremony at home can be quite a task since the ceremony can turn out to be super messy (in a fun way, obviously!) and so having a separate seating for your guests is sort of important. This traditional guest seating idea with fabric-covered chairs and round tables is not only a perfect option for intimate weddings but is also in total sync with the vibe of the ceremony.
From rustic chic to colourful, these are all the stunning guest seating ideas for intimate weddings which you can consider for your homely wedding. Don't forget to stack up sanitisers and masks for your guests because being safe is better than being sorry. Ensure all your guests are consciously maintaining a certain distance along with having a ball at your wedding.
Which guest seating idea did you like the most for your intimate wedding? Share with us in the comments below. Also, book the best wedding decorators to bring your wedding vision to life.