We're living the unfathomable and we are taking each day as it comes. The global pandemic of COVID-19 has justified one thing, there is no right and wrong when making decisions about your wedding during the pandemic. Currently, all that matters is every individual's contribution to control the contamination of this virus by practising social-distancing and undertaking respective measures to limit its spread.
As a matter of fact, many weddings in India and across the globe have been put on hold or been called off completely until there's a ray of hope of everything coming back to normal. A lot of plans have gone off the tracks and every day is being spent to figure out the best possible solution to the given situation.
If the postponement of your wedding too comes after the wrecked up situation caused by the novel coronavirus, we understand what you're going through. You're mostly scrambling to find new wedding dates for the later months of the year, getting in touch with your wedding vendors and trying to bring yourself in acceptance of all of the above. While it's important to take your time to put things together, it's also important to align everyone with your plans and by everyone, we mean all the people who you invited to your wedding – the guests. We know you've been thinking about how to break the news to your guests and the right way to go about it. and so, we had to ensure we stay with you in this and guide you through.
Here is a step by step guide for you to follow, to break the news of your wedding postponement to your guests:
Who all to Inform & When?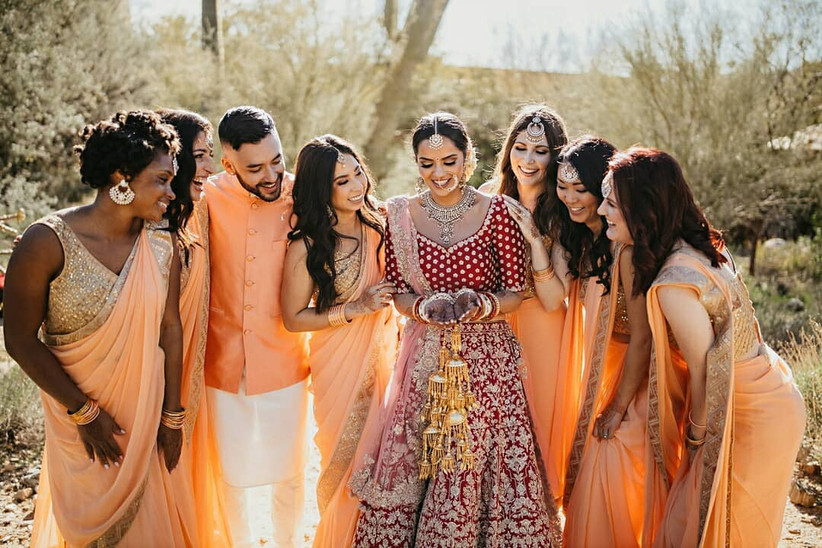 Image Courtesy: Amrit Photogrphay
First things first, making a list of people who need to be informed is very important. Given the size of the usual Big Fat Indian Weddings, you'll need to classify your guest list in 2 parts–A & B. List A should include all the guests who you're close to–your families, your friends, your first cousins and your colleagues. List B must include people who reside in other countries or states and were planning to travel for the wedding celebrations. Since most travel plans have been adjourned for now and there is no clarity on its timeline to resume the operations, informing your outstation guests will help them manage their flight credits/refunds, etc.
How to inform?
Whatever you feel is the fastest way of communication. Period. Once you've decided the list of people who need to be informed and when to inform them, you can start the next step of how to inform and you should do this immediately.
Since calling everyone and dropping a private message is not something you'll be willing to do given your fragile and overwhelmed state of mind and moreover, it will take you forever to call people individually. We suggest you further break the initial 2 lists–A & B, into more lists on the basis of the mode of communication that you think would suit them. Allow us to break this into simpler chunks for you.
Team Talkers
This team will consist of mostly all the older people in the family who deserve to know your plans in-depth, your first families, your best friends, bridesmaids & groomsmen. Also, be kind to yourself when you shortlist the list of Team Talkers, you don't want them to give you a lot of uncalled for advice. In case you feel the call durations are exceeding than what you expected, subtly tell them that they will receive all the information soon.
Team Texters
This team can include your cousins, relatives and friends of friends who would understand your state of mind and wouldn't mind if you didn't call them personally. You can also simply attach a wedding postponement e-announcement to make it quick. We've added some quirky templates below, go check them out.
Team Mailers
The fastest way to communicate important things like such is ideally by sending bulk emails and it works best in case of guests from your workplace. All of your colleagues-cum-guests will actually appreciate you breaking the news in their inbox than over a phone call, given their busy schedules. You can always use more personal means of communication in case you are really good friends with someone from work. If you wish, you can also attach your entire guest list in here, even the people you called and messaged earlier. It's just super convenient.
Team Social Media & Tech Junkies
All of us know the people in our family and friends' circle who are social media junkies and who you'll always find active. Upload an Instagram story or a post and let the social media platforms help you out in announcing your wedding postponement news in a jiffy. You can additionally update your wedding website with the important details of your postponed wedding–the new dates, timing, dress code, travel details and all possible specifics and share the URL with your guest list. Also, don't forget to add photos of how you celebrate your original wedding date and cheer your guests up with an overdose of love and positivity.
What to inform?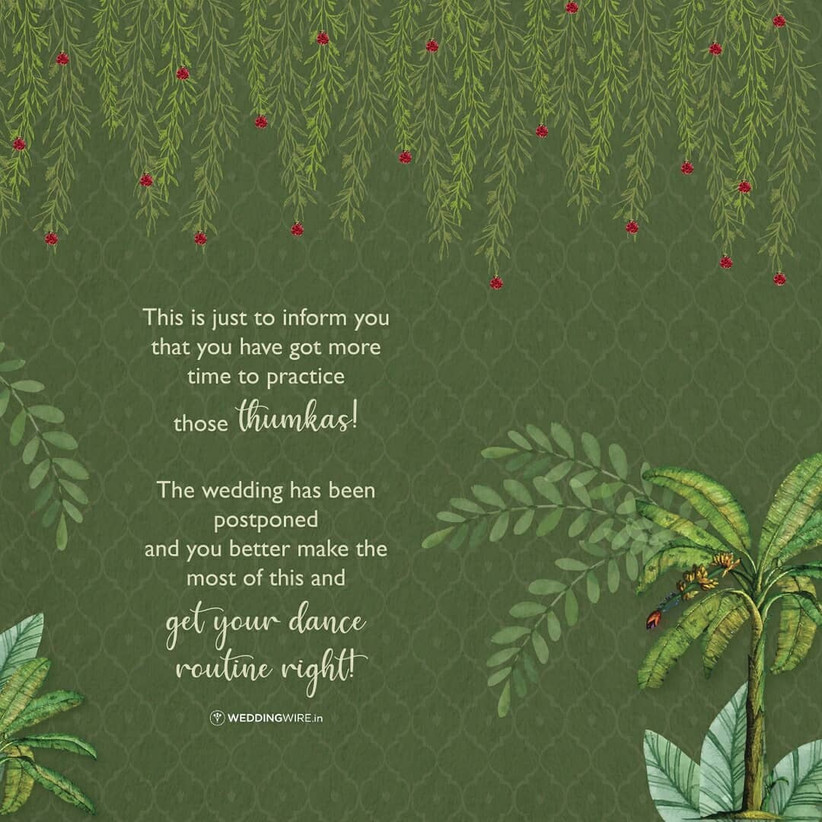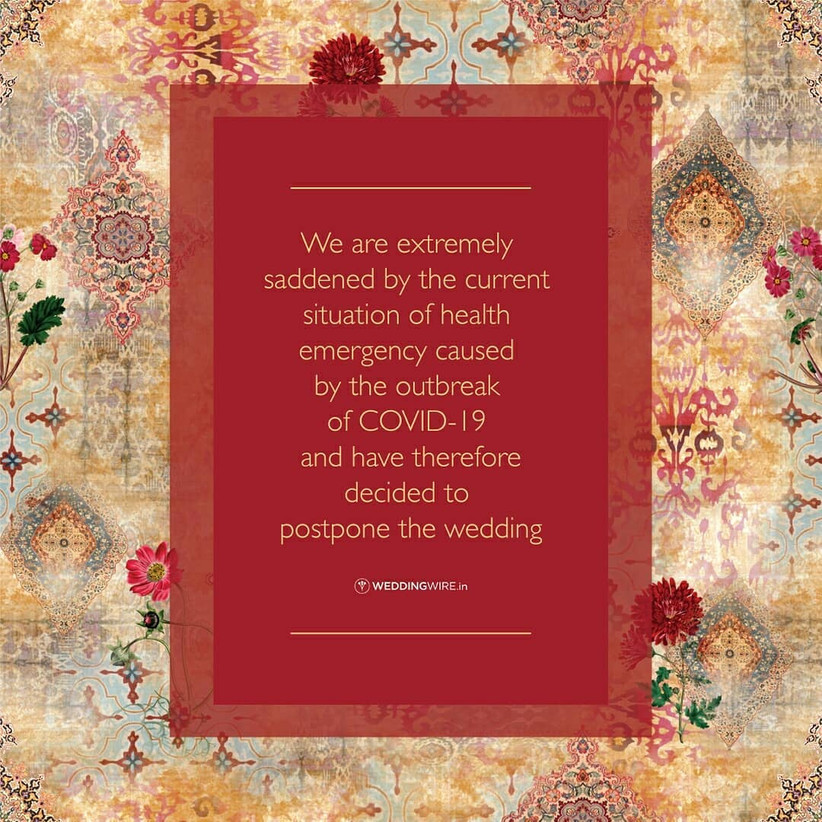 There is so much you want to say and there will be so much your guests would want to know but it's important to keep the communication short, crisp and light. You can choose to go simple or add a dash of quirk if you want to. We've curated some templates to help you straighten the communication. Pin them to your gallery and feel free to attach them with your messages and emails. You can also use them for your social media announcement post, they're equally aesthetic.
Keeping your guests on top of your priority list is as important as letting your vendors know about your plans. So follow this step-by-step guide to inform your guests and help them change their plans accordingly. Remember to stay patient and flexible throughout this because everyone is dealing with the pandemic and they do have a lot on their mind. Stay empathetic and communicate the needful.
Hope we made the complex task of informing your guests a bit simplified for you. Until next time, stay calm and stay positive!