Postponed Your Wedding? Here's How to Inform Your Guests!
Do you want to announce the news of postponing your wedding to your guests due to the pandemic, but don't know where to start? Here's a step by step guide to help you through this.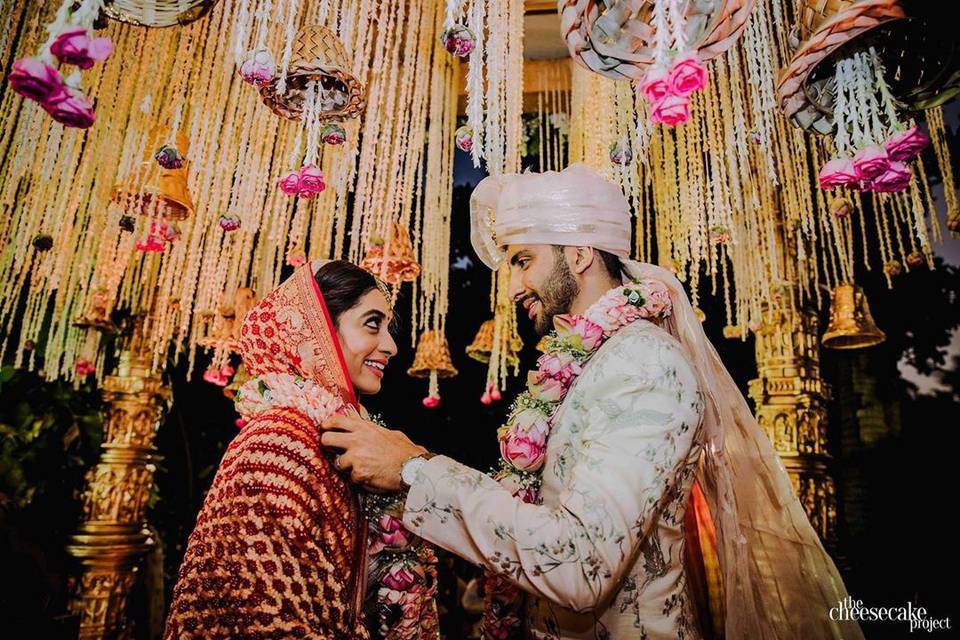 We're living the unfathomable and we are taking each day as it comes. Almost 2 years into the global pandemic of COVID-19, it has justified one thing, there is no right and wrong when making decisions about your wedding during the pandemic. Currently, all that matters is every individual's contribution to control the contamination of this virus by practising social distancing and undertaking respective measures to limit its spread.
With the rising cases of people infected with the Omicron variant or the Delta variant, authorities have yet again put forth restrictions to keep the public safe. As a matter of fact, many weddings in India have been put on hold or been called off completely until there's a ray of hope of everything coming back to normal. A lot of plans have gone off the tracks and every day is being spent to figure out the best possible solution to the given situation. Many couples and families are hosting intimate weddings with their close family members only to prioritise the health and safety of their guests.
If you had to postpone your wedding due to the wrecked up situation caused by the novel coronavirus and its variants, we understand what you're going through. While it's important to take your time to put things together and plan your postponed wedding keeping everyone's safety in mind, it's also important to align your guests with the new plan. We know you've been thinking about how to break the news to your guests and the right way to go about it, and so, we had to ensure we stay with you in this and guide you through.
Here is a step by step guide for you to follow, to break the news of your wedding postponement to your guests:
Who all to Inform & When?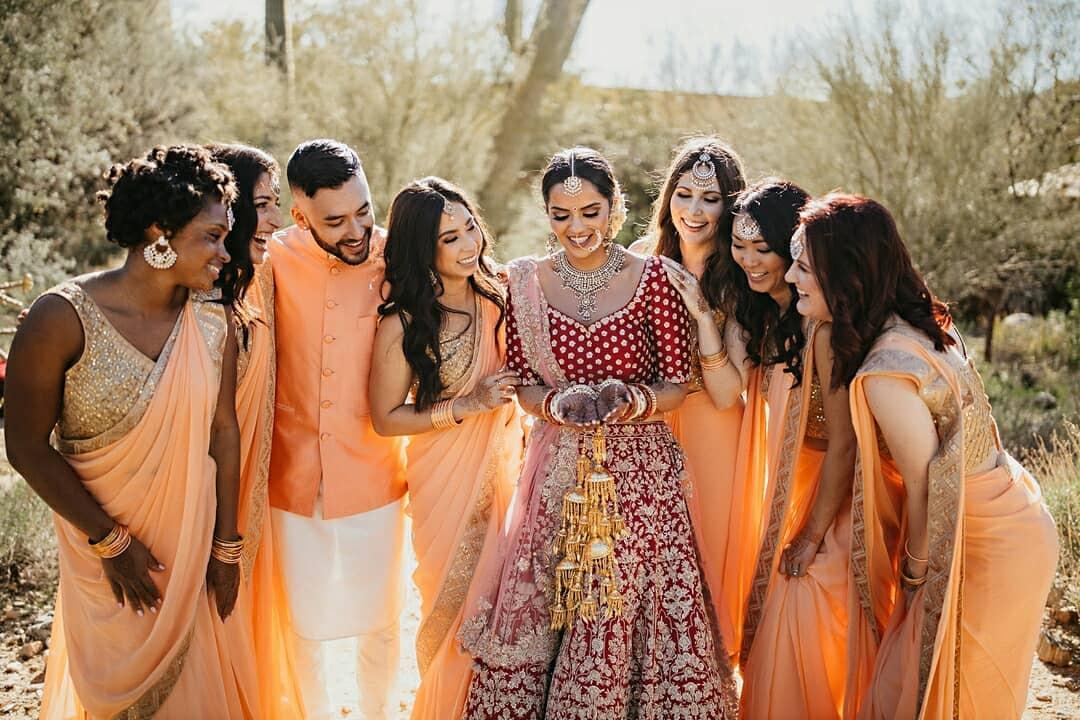 Image Courtesy: Amrit Photography
Consult
Once you realise that you need to postpone your wedding you need to consult your family and VVIPs of the wedding - people who are invested more with you in the process. It could be the family members or relatives who have added to the wedding financially or emotionally, it could be the friends who are in charge of certain planning elements - you need to get their advice before taking the next step. Especially if their calendars affect your wedding planning and new wedding dates that are yet to be picked, you might need to have a thorough conversation with them. Consulting your near and dear ones will also help you navigate your wedding planning stress right.
Give Notice
First things first, making a list of people who need to be informed is very important. Given the size of the usual Big Fat Indian Weddings, you'll need to classify your guest list in 2 parts–A & B. List A should include all the guests who you're close to and cannot settle for them missing out on your wedding –this ideally means your families, your dearest friends and closest relatives/cousins. List B must include the rest of the people from your guest list. You would obviously want everyone to be there, but for the guests travelling from abroad, the elderly ones or ones with infants it might be tricky right now. Given the circumstances, you should be open to a change in your lineup. Give enough notice.
However, if you have very little time in hand because your wedding is in 15 days or in a month or so - you can start sending the postponement message in bulk and maybe get all hands on board to speed up the process before your guests start to wonder.
Also Read: COVID-19 Weddings Advice Guide
How to inform?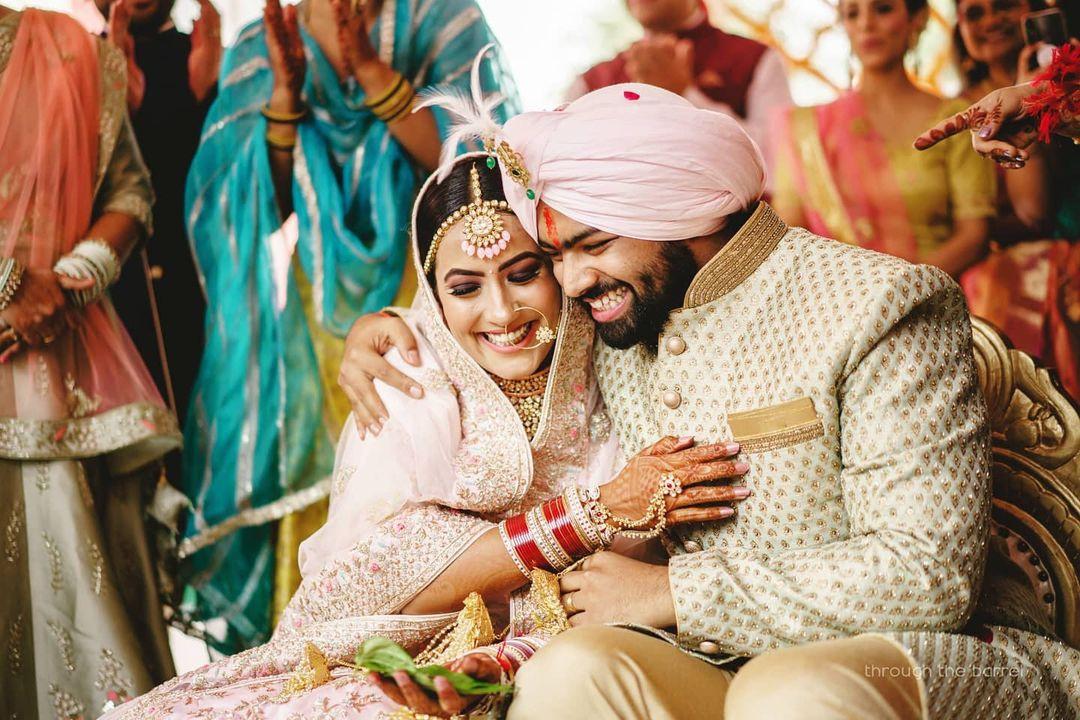 Use whatever you feel is the fastest way of communication. Period. Once you've decided on the list of people who need to be informed, you should ideally start informing them as soon as possible. You might need some time to process the situation yourself, but make sure to give proper notice to your families so that they can plan everything better. Now you can start the next step of how to inform.
We realise that calling everyone and dropping a private message is not something you'll be willing to do given your fragile and overwhelmed state of mind adding to the fact that it will take you forever to call people individually. You can provide a separate announcement that need not necessarily be a formal new Save The Date. It should be an informative one but with a positive note.
We suggest you further break the initial 2 lists–A and B, into more lists based on what the mode of communication should be. Do not take all the tasks upon yourself solely - let the fam help you. Allow us to break this into simpler chunks for you.
Also Read: The Ultimate Guide to Attend a Wedding During COVID–19
To-be-Called List
This list will consist of mostly all the older people in the family who deserve to know your plans in-depth and are not very much in touch with other mediums. Apart from that this should include your first families, your best friends, bridesmaids and groomsmen too. Also, be kind to yourself when you work on this list, you don't want them to give you a lot of uncalled for advice. In case you feel the call durations are exceeding what you expected, subtly tell them that they will receive all the information soon.
With the current situation where the third wave and new variants are approaching expeditiously, the list of people to call might be longer than any other way of communication. Especially if your wedding is around the corner, take your time and ask your family and friends to help you inform everyone by making those calls.
To-be-Texted List
This list can include your cousins, relatives, and friends who would understand your state of mind and wouldn't mind if you didn't call them personally. You can also simply attach a wedding postponement e-announcement to make it quick. We've got some quirky Change the date templates with us to help you through this phase.
To-be-Mailed List
Another way to communicate these changes can be by sending bulk emails and it works best in the case of guests from your workplace or acquaintances. We suggest using emails as the primary means of communication because it later comes in handy with the unlimited to and fro conversations like RSVPs, guests wanting to know more about the situation, sending new Save The Dates, etc. To be able to do it all in one place will be a blessing and keep the mess at bay, however, calls and texts are inevitable especially with family members who are not very active on emails.
See if this is applicable under the current circumstances, or you could stick to texts and calls only.
Apart from these conventional methods, all of us know someone in our family and friends' circle who are social media junkies and who will always be active on these platforms. Upload an Instagram or Facebook story or a post and let the social media platforms help you out in announcing your wedding postponement news in a jiffy. You can additionally update your wedding website with the important details of your postponed wedding – the new dates, timing, dress code, travel details and all possible specifics and share the URL with your guests. Also, don't forget to add photos of how you celebrate your original wedding date and cheer your guests up with an overdose of love and positivity. You've got this!
Also Read: How to Create a Free Wedding Website on WeddingWire & Why?
What to inform?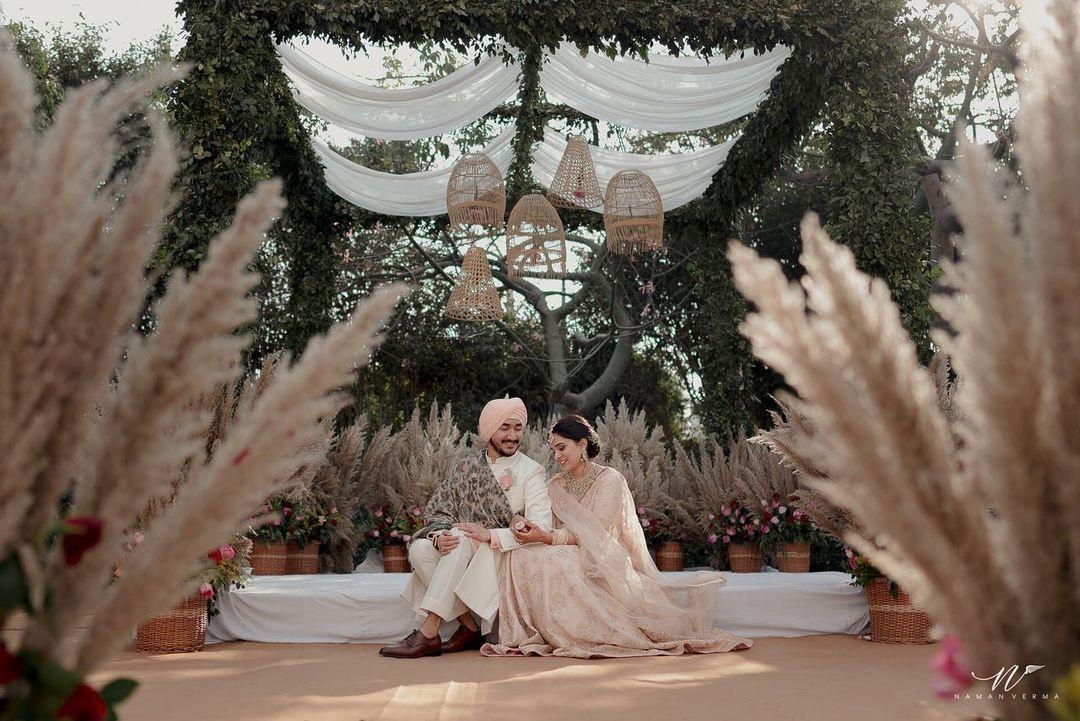 There is so much you want to say and there will be so much your guests would want to know but it's important to keep the communication short, crisp and light. You can choose to go simple or add a dash of quirk if you want to. You could use some fun new Save The Date ideas to straighten the communication.
Pin them to your gallery and feel free to attach them with your messages and emails. You can also use them for your social media announcement post, they're equally aesthetic.
Pro Tip: Keep the theme of the Change The Date templates similar to the original Save The Date or the original invitation. For instance, if you had sent out a tropical themed card earlier, you must try to be in sync with the prior choice of colours in the theme and avoid sending a matte black card this time. This tactic helps ease the shock element that comes along quite involuntarily.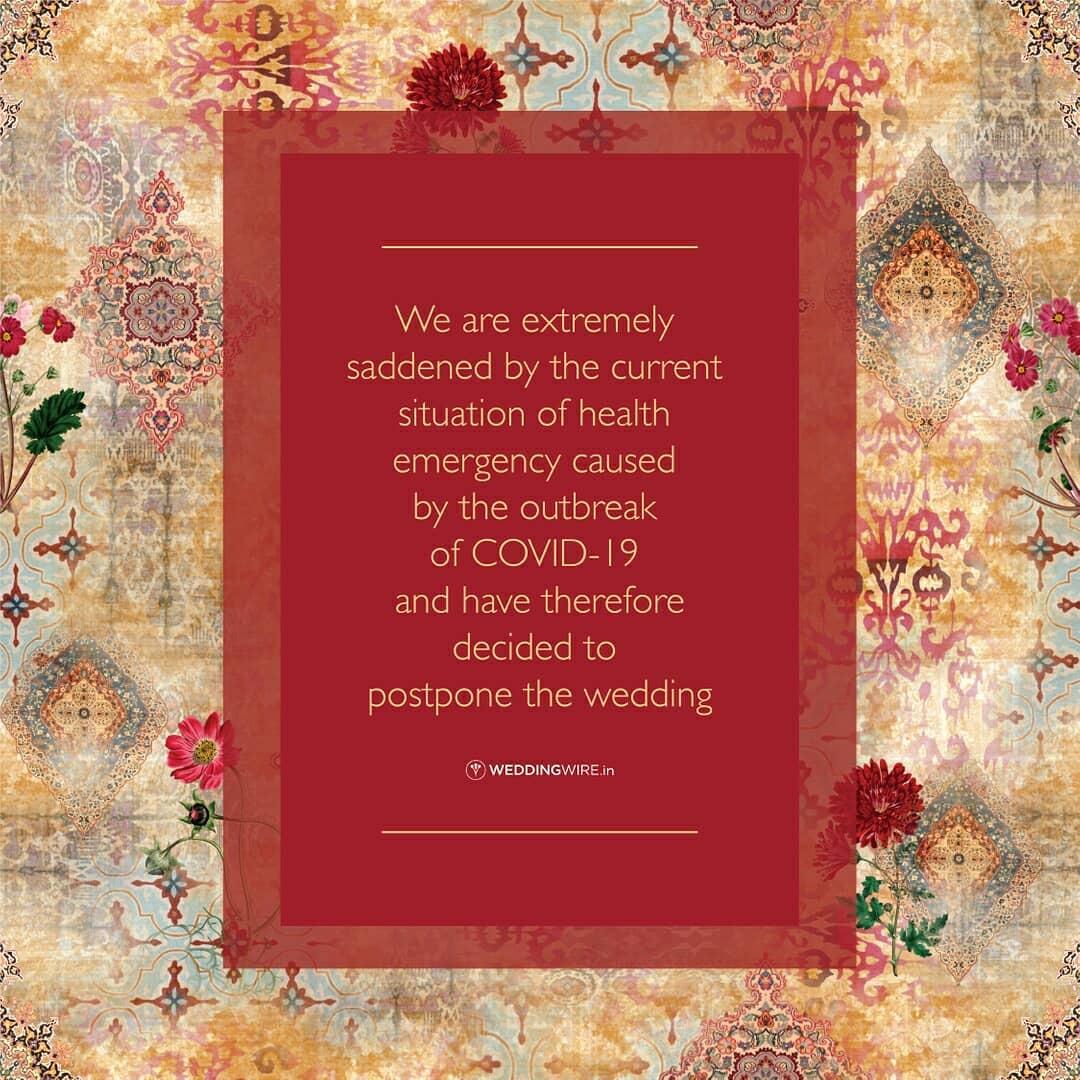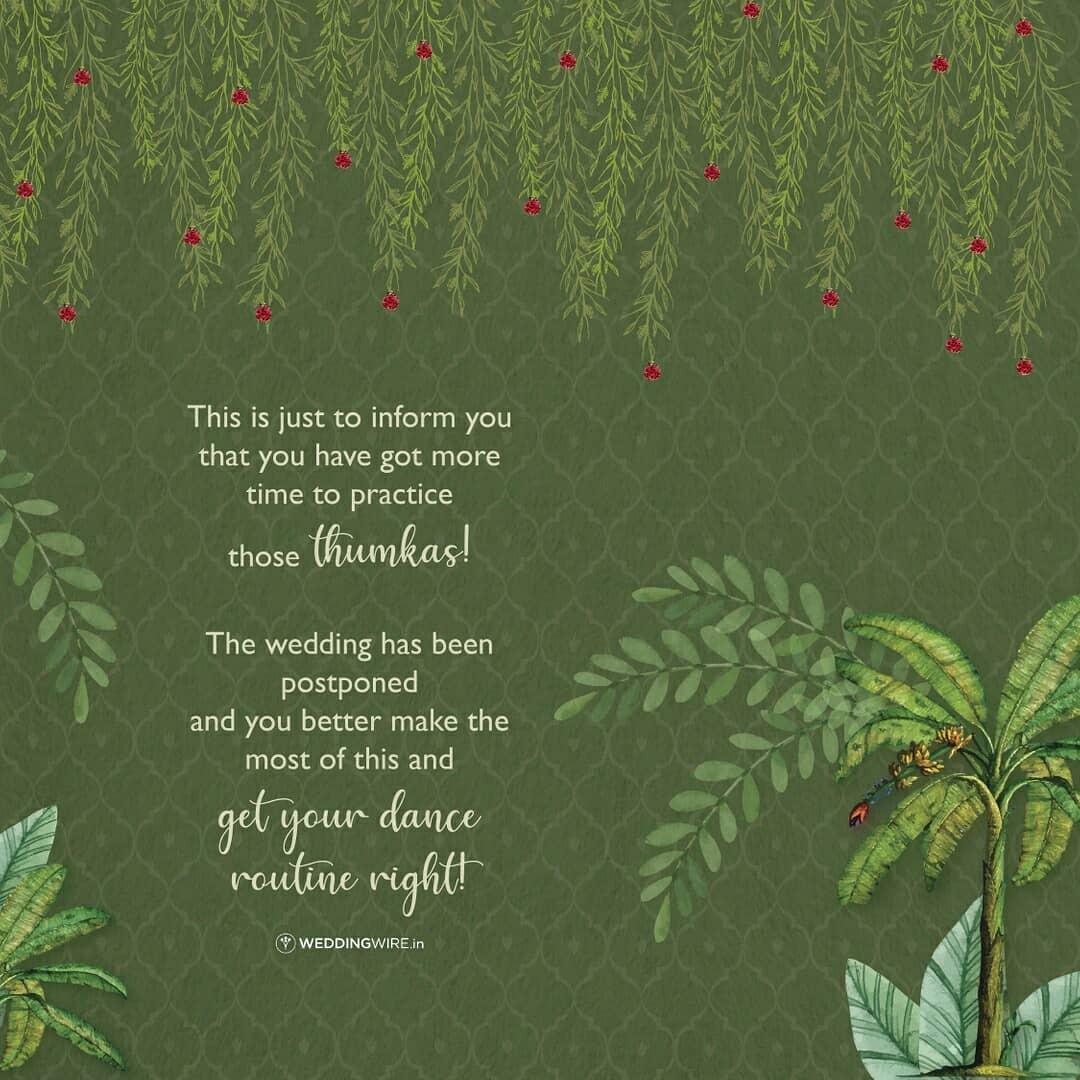 Also Read: A Monthly Guide to Help You Postpone the Wedding
Keeping your guests on top of your priority list is as important as letting your vendors know about your plans. So follow this step-by-step guide to inform your guests and help them change their plans accordingly. Remember to stay patient and flexible throughout this because everyone is dealing with the pandemic and they do have a lot on their mind. Stay empathetic and communicate the needful.
Hope we made the complex task of informing your guests a bit simplified for you. Until next time, stay calm and stay positive!
Read More -
Mehndi Design | Proposal Lines | Simple Finger Mehndi Design | Arabic Mehndi Design | Propose Day Quotes for Boyfriend | Wedding Anniversary Wishes for Sister | Change Aadhar Card Name after Marriage | Tamil Wedding Calendar | Simple Mehndi Design | Pre Wedding Quotes | Engagement Anniversary Wishes | Funny Wedding Wishes for Bestfriend | Blouse Design | Rangoli Design | First Night Tips for Bride | Wedding Anniversary Wishes