Make Marriage Invitation Card Designs More Personal In These 10 Ways
Whether as an e-invite or a physical one, marriage invitation card designs say a lot about your wedding. Here's how you can make them much more personal.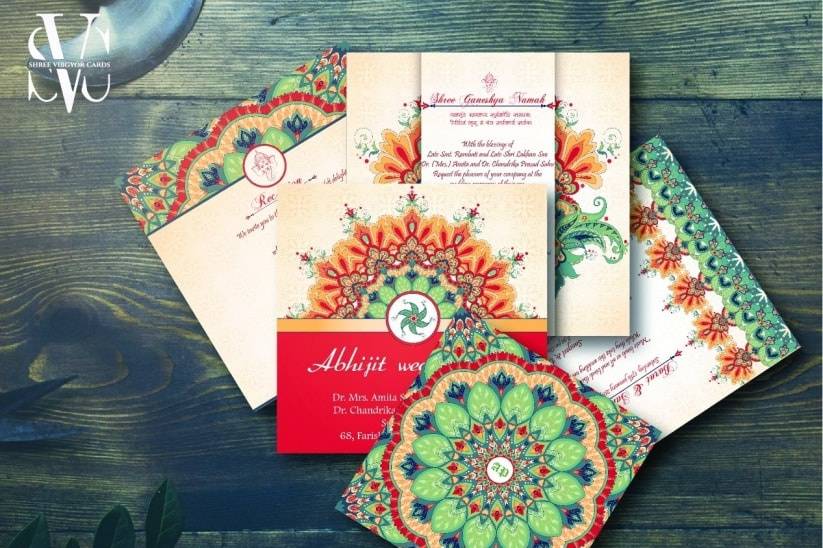 Weddings are an occasion to celebrate, one that is incomplete without your close family and friends. While their presence is of utmost importance to you, your wedding invitation is equally awaited by them. With the changing times in the digital world, the trend of physical wedding invitation is decreasing.
Although it has a lot of advantages in terms of saving time, money, material, as well as efforts, it does have a flip side too. With a culture as rich as ours, there are a lot of things that we attribute a wedding invitation to and while we do not disagree that e-invites are a way forward, there are some significant things about a personally handed over marriage invitation card that your guests are surely missing.
In the last decade, we have seen a gazillion new and brilliant ideas of marriage invitation card designs that have blown our minds away. Though the trend of surprising the guests with quirky, out-of-the-box ideas still continues, there are some things that an e-invite will never be able to compensate for.
1. The Joy of Receiving an Invitation Personally Addressed to You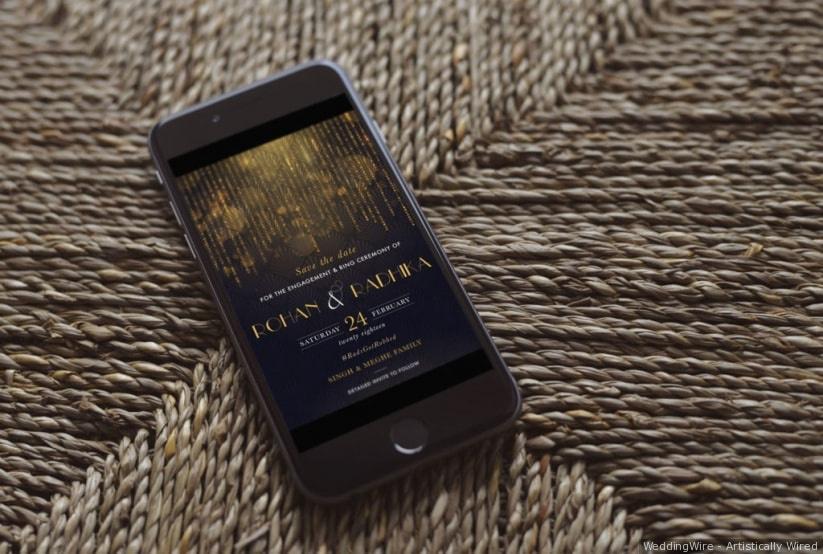 A marriage invitation card design with your name tag on it feels different than an e-invite. Although it is an extremely small gesture but is one that holds immense importance in letting your guests know that you have taken the time to remember them individually. While many families even believe in handing over the card personally to their guests, the individually addressed invitation card works well too.
E-invites, on the other hand, are very frivolously shared on WhatsApp groups and everywhere else, reducing its value as well as failing to create a personalised impact on the guests.
2. Multiple Leaflets of a Marriage Invitation Card Design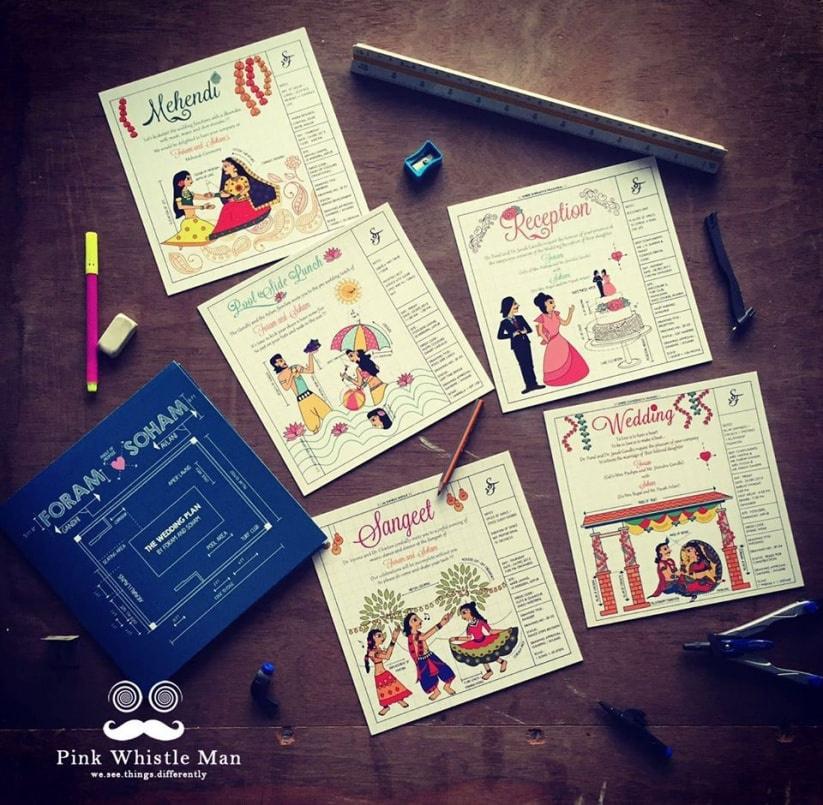 Flipping through a 6-page e-invite is easy, but nothing beats the excitement of unravelling the multiple leaflets of a marriage invitation card designed corresponding to the different ceremonies about to take place at your wedding. Each leaflet is known to have a little caricature or drawing of the ceremony being performed.
A physical wedding invitation evokes a strange feeling of joy and excitement like a sneak peek into all the fun and madness that is to follow with the wedding.
3. Fancy Invitation Box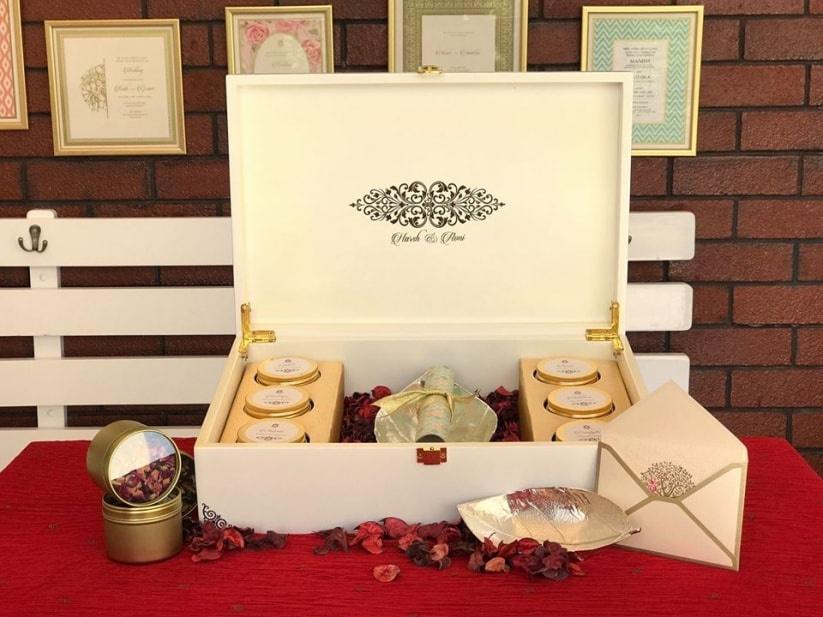 While many like to keep it simple, some have to do something extra and go all in when it comes to their marriage invitation card design. The fanciest ideas usually come in a fancy invitation box that excites the guests more than any e-invite does.
4. Complimentary Chocolates/Dry Fruits Packed With The Invitation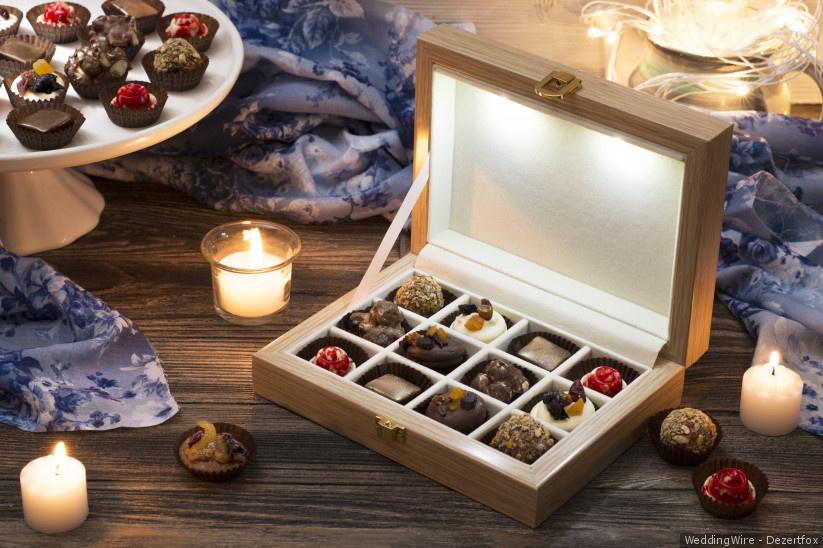 While a fancy box does emulate the feeling of excitement, it is the invitation with homemade chocolates or dry fruit jars that people are surely missing in the era of e-invites. While the idea is common these days and as much as you call this a formality, the dry fruits or sweet jars sent with the invitation card is as Indian as it can get, and you know everyone loves it.
5. Motifs on the Wedding Invite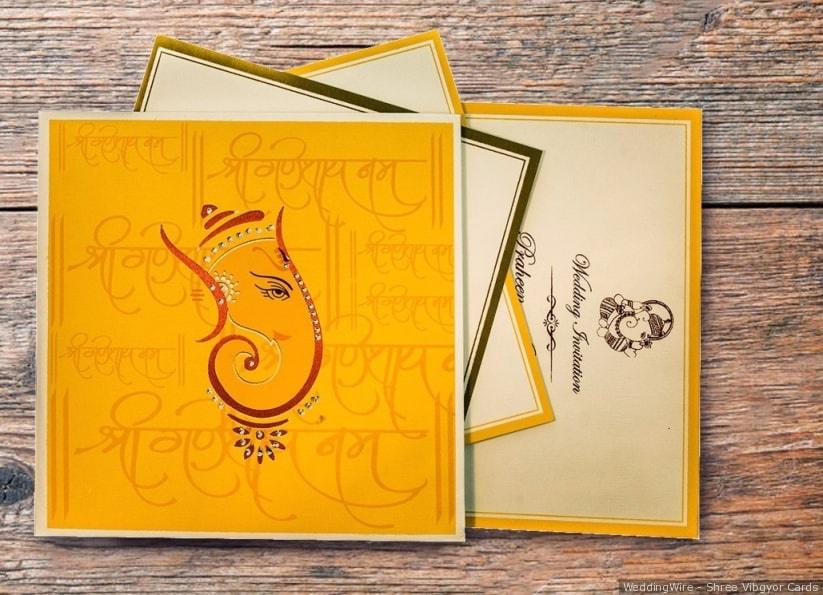 Motifs are an indispensable part of marriage invitation card design and the most common motif is that of Lord Ganpati. With the world getting digitalised the ideas of e-invites are getting modern too. These motifs are not only known to make for an auspicious start to the celebration but also gives the invite a very traditional feel that the guests will surely miss in an e-invite.
6. Latkan and Tassels on the Marriage Invitation Card Design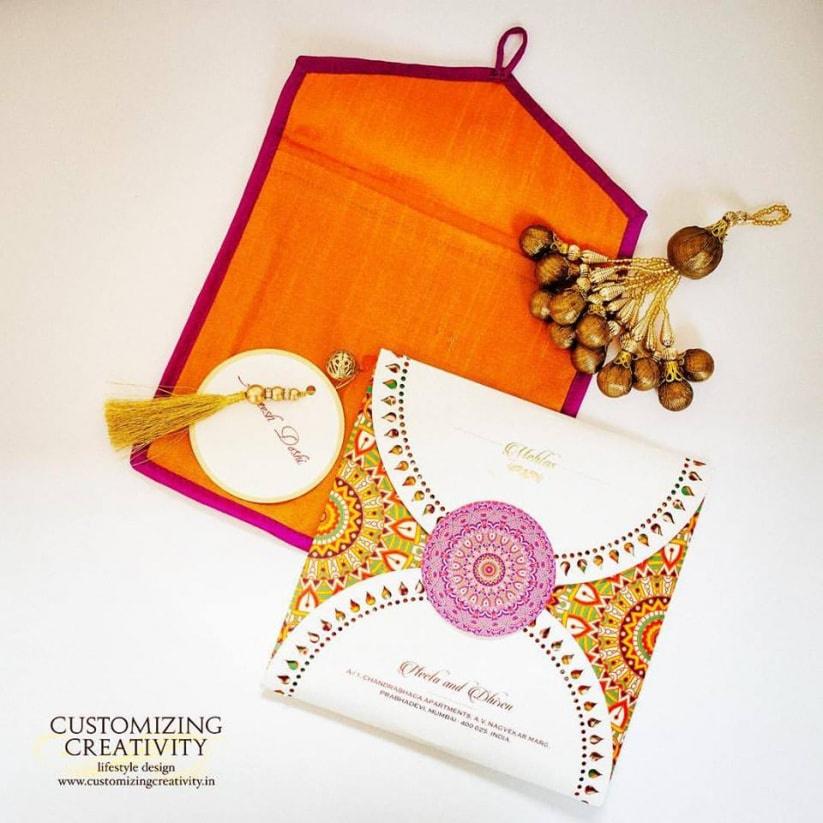 These latkans or tassels on the cards is as traditional as it can get. It is something that makes the marriage invitation card design more authentic. Even if some people find it too traditional, the truth is that it does add beauty and charm to the marriage invitation card design that the e-invite lacks.
7. Storytelling Element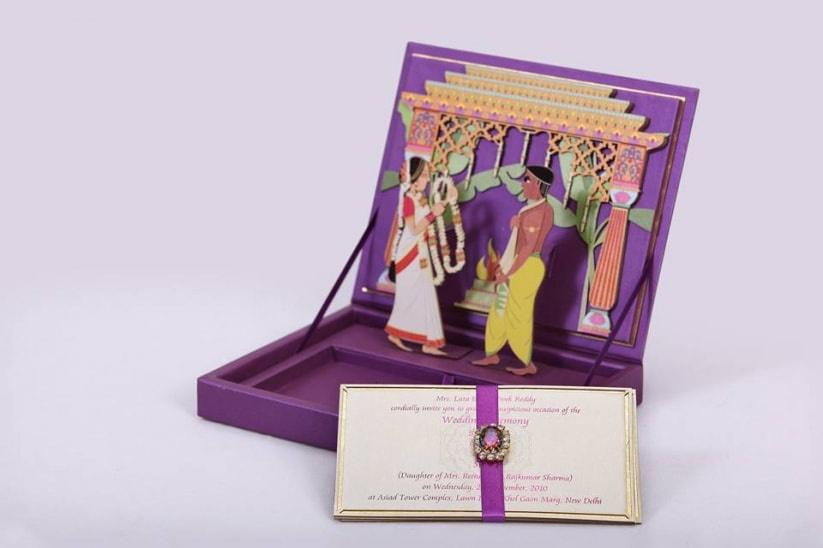 In today's times where brides even personalise their blouse designs by getting their wedding hashtag embossed on it, marriage invitation card designs are sure to have elements of storytelling that make the invite extremely personalized for the bride and groom. While e-invites have scope for personalisation too, a marriage invitation card design can have so many elements to describe the journey of the bride and groom or their fairy-tale wedding that is about to happen.
8. The Gift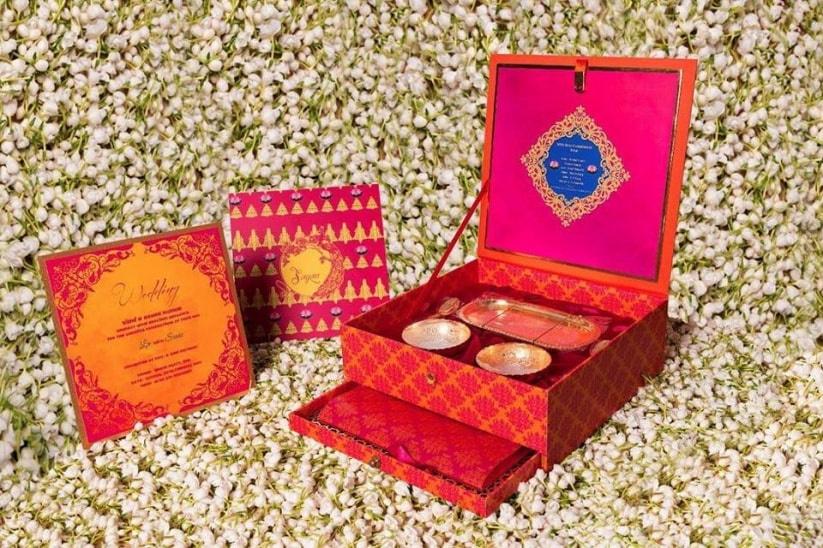 Some cultures in India believe in the tradition of circulating gifts along with the wedding invitation to the near and dear ones. Well, we'd say lucky guests! However, the more important point is that with the trend of e-invites being circulated over messages, we are missing out on many such traditions and many beautiful gifts like silverware too.
9. Add a monogrammed seal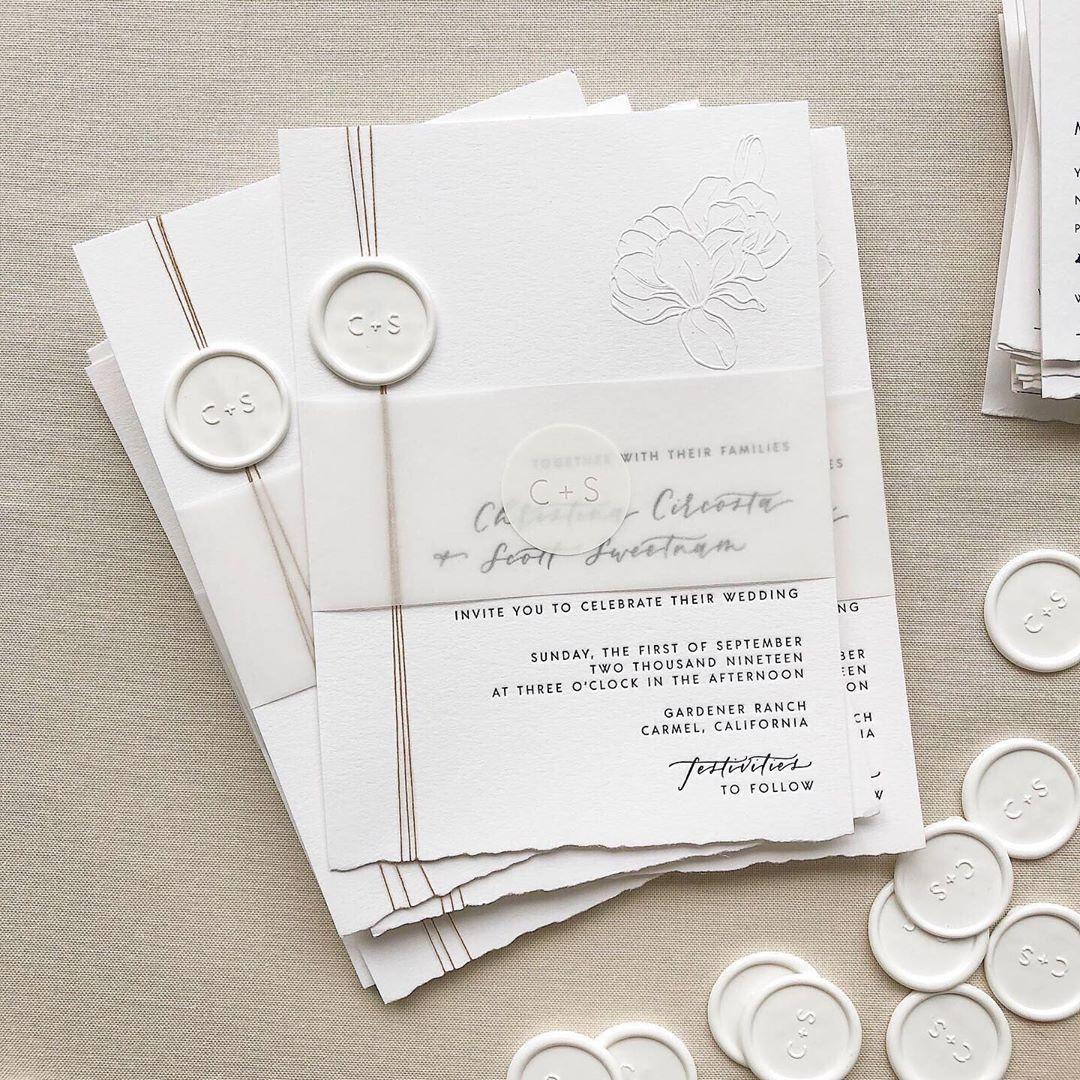 Image courtesy: Wax Seals on Instagram
Gain a handmade, piece of self as part of your marriage invitation card design with an authentic wax seal, that carries a custom monogram of your couple initials on it. Victorian much? As your guests open the wax seals on their envelopes or thumb over them as they open your special wedding invite, the touch would lend a moment of individual attention, considering the painstaking way in which you applied it on the card.
To add more ethos, choose more custom variations of the seal - be it in colour, design and the letter chosen as part of the monogram.
10. Add a hand-drawn map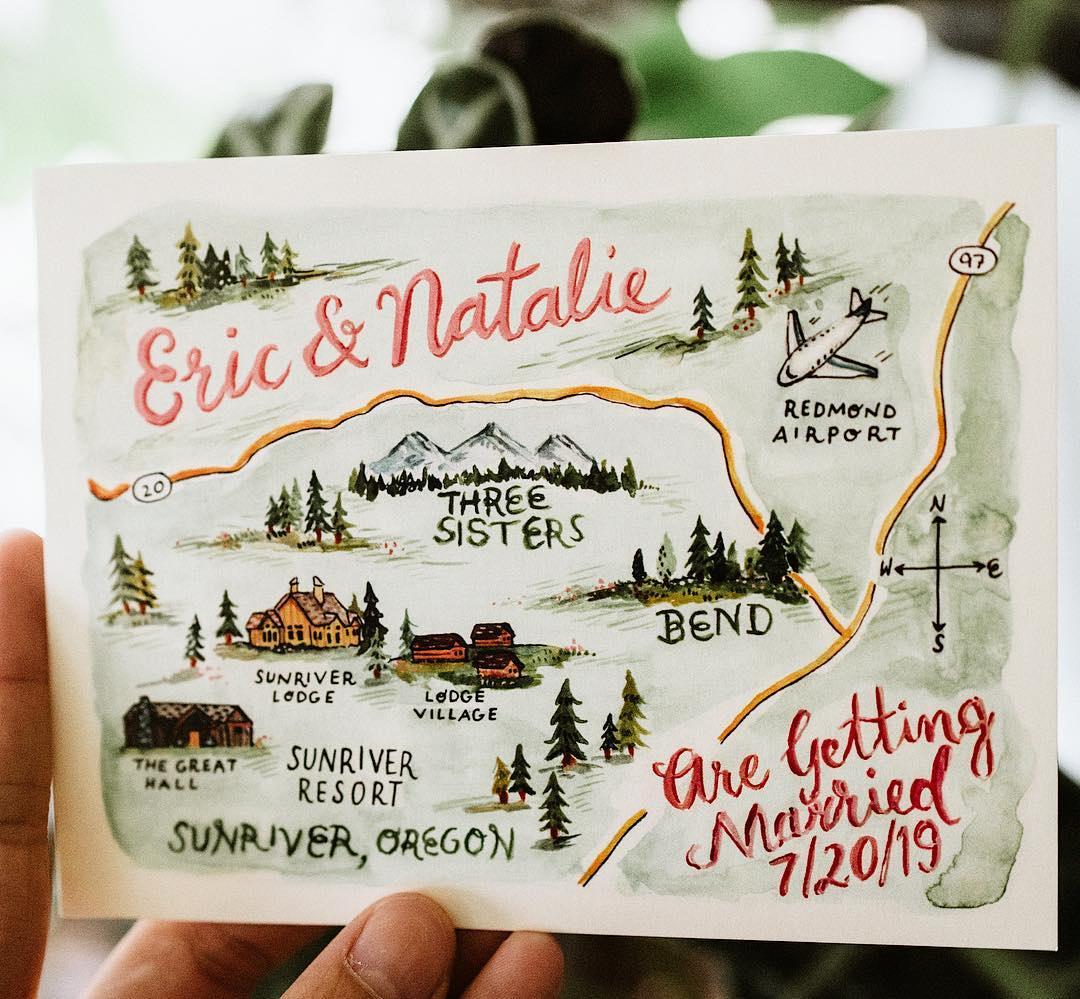 While adding location details to a marriage invitation card design is now a given and established course of action, you can give it a personal touch by making these maps handpainted and in a medieval style. Think about the Marauders Map back in Harry Potter for inspiration. Such styles make these maps as memorable as goodness be.
Even if you've gotten them printed on your wedding cards, the style gives a handpainted feel, which would have your guests motivated enough to attend the occasion.
E-invites undoubtedly have way too many advantages in the current times, but you cannot deny that there is something about wedding invitation cards that make our hearts melt. While the choice is always yours, we just thought of reminding you of the elements of a marriage invitation card design that we love and miss in the changing times.
Write to us in comments and let us know if you agree with us.