Make These Stunning Lehenga Images(HD) The Inspiration You Need
Dearest Banno, we have curated for you a galore of lehenga images(HD) for all your wedding festivities. Surf through, choose a design and get the lehenga.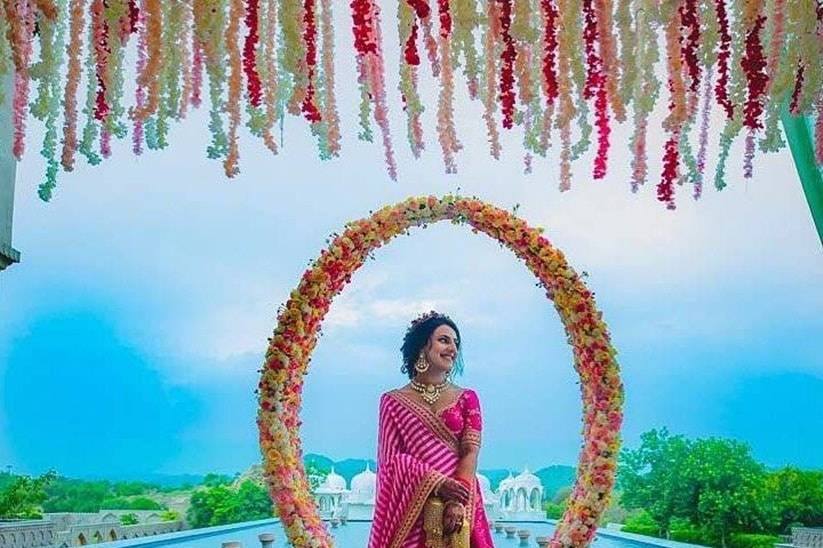 Tv Pe Breaking News Haaye Re Mera Ghagra Haaye!
To keep up with the image of being a millennial bride it is necessary that you are up-to-date with the current fashion trends. A bridal lehenga is a quintessential outfit that each bride-to-be or and the bridesmaids wear at least one of the pre-wedding, wedding and post-wedding festivities. Some of these lehengas are old school, but evergreen and truly a classic. While some are a fleeting trend, which you cannot help but pay attention to. We bring for you a galore of lehenga images(HD) spread across different colour schemes which are ideal for all wedding festivities.
1. Graceful Ivory with a Glinting Smile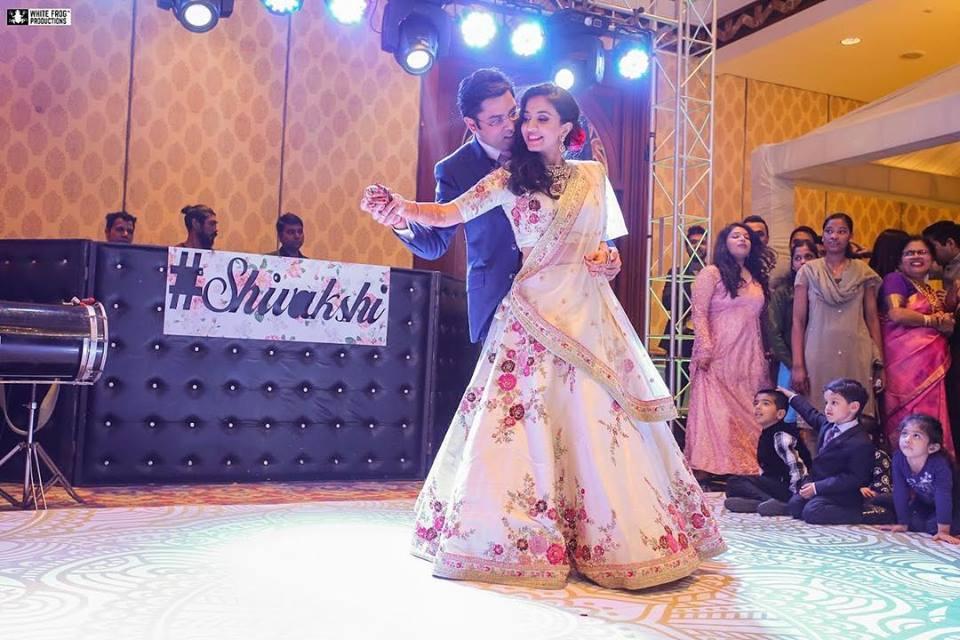 Let us begin which the softest colour there is in the colour palette, ivory. For a sultry wedding affair, you have to own a pair of lehenga which mimics the one shown above. It has a soulful embroidery on it in golden threads which subtly adds the right amount of bling that is needed to make this bridal outfit the one to rule the hearts of all.
The real beauty lies in its simplicity which makes it so eye-catchy. Also, for that extra edge and statement, take inspiration from the latkan design this real bride is sporting. We totally love it, you will too! This is one of the lehenga images(HD) is making us swoon!
Perfect for Occasion: If you are planning to host a destination wedding which has a theme then, this lehenga would be the ideal choice. For a daytime wedding celebration or an engagement function, we suggest you put your hands on this beauty.
2. Hues of Beige to Get Engaged In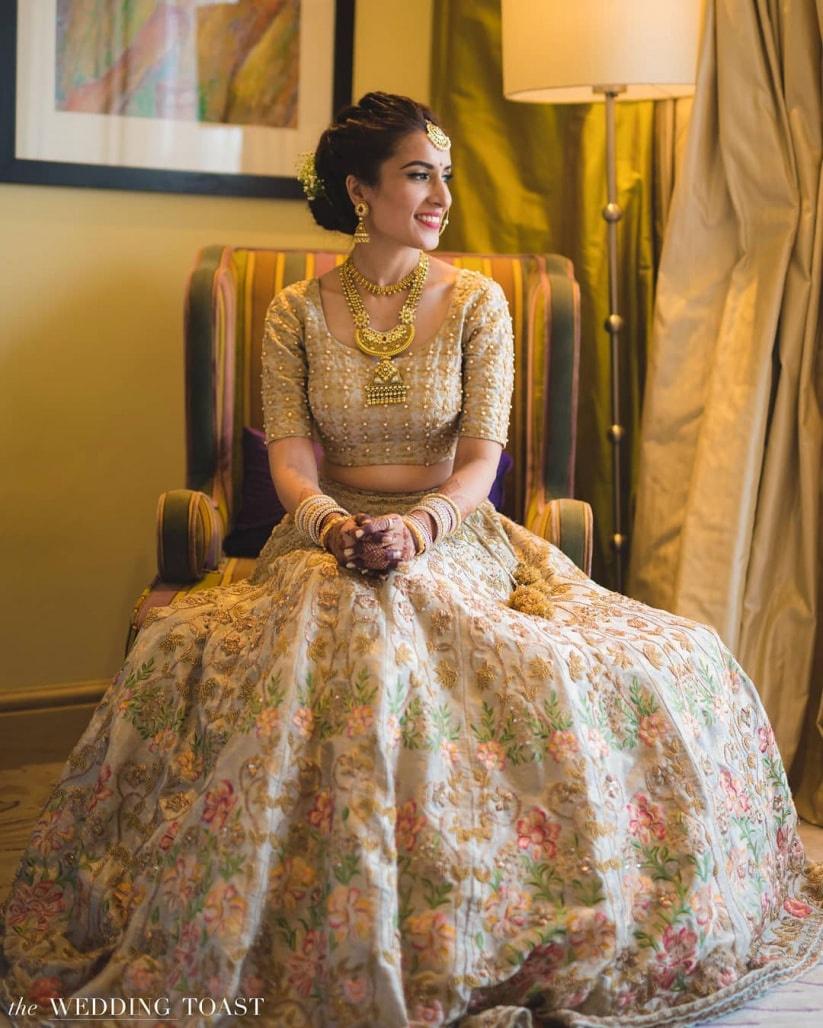 Image Courtesy: The Wedding Toast
A full Kali lehenga, with a statement gold jewellery set and some wedding bangles and you'll look like a true vision. A beige colour scheme with some colourful floral pattern embroidery is a bride's favourite combination when it comes to finding a bridal lehenga. This combination is a true concoction of traditional meeting the millennial.
With fashion trends changing so fast, this quintessential piece has been a rage for many wedding seasons in the past as it continues to be so even today. Among all the lehenga images(HD), this one is truly phenomenal.
Perfect for Occasion: For an engagement ceremony or the wedding itself, this bridal outfit is the ultimate choice for both. It is both heavy but light at the same time which makes it a perfect choice for all wedding occasions.
3. Elevate Your Fashion Game in This Champagne Lehenga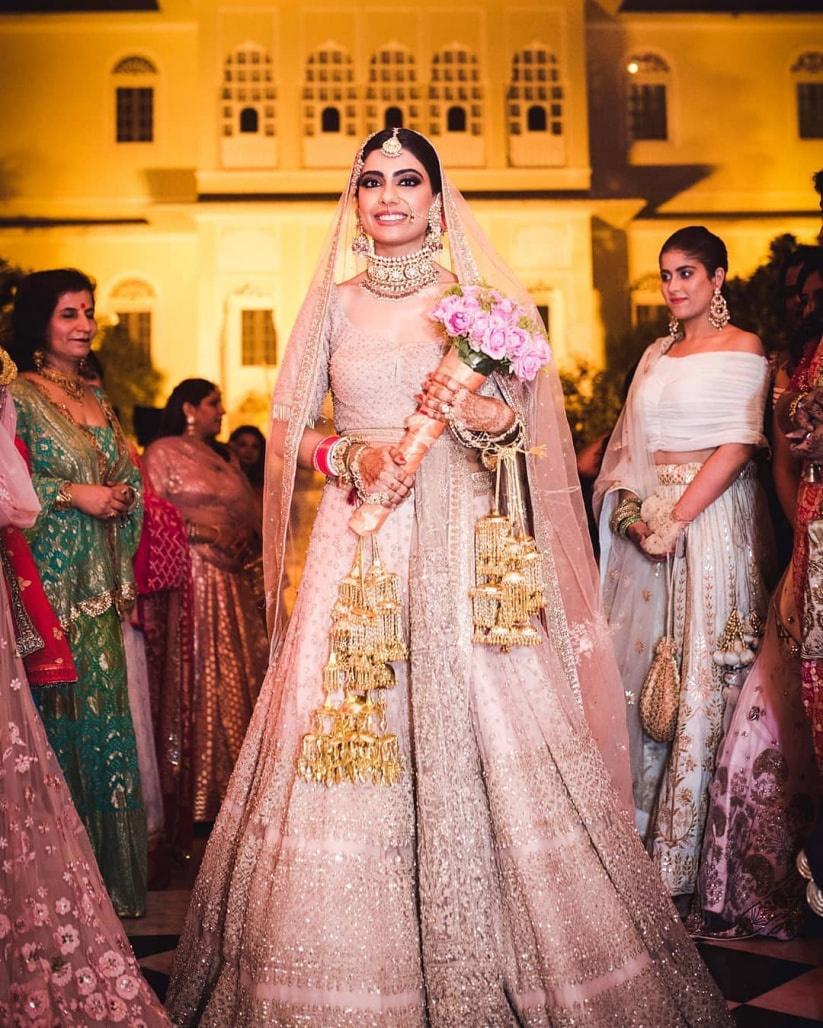 This colour is one of the most trending ones this wedding season. With Swarovski embellishments holding the beauty of this outfit in place, all you need to bring it all in is a dash of makeup and some diamonds for that bling. With bare minimum skin show, this outfit will fit on your body like it was specially made for you.
Also, her bridal Chura is beautiful and is making this real bride look like a walking dream. This as well as the other lehenga images(HD) will provide you with the right amount of inspiration.
Perfect for Occasion: Engagement ceremony, the wedding itself or the reception party, any bride would look splendid in this silhouette. Also, this lehenga is apt for the bride's sister too.
4. Put a Ring on It as I Sway in This Pink Lehenga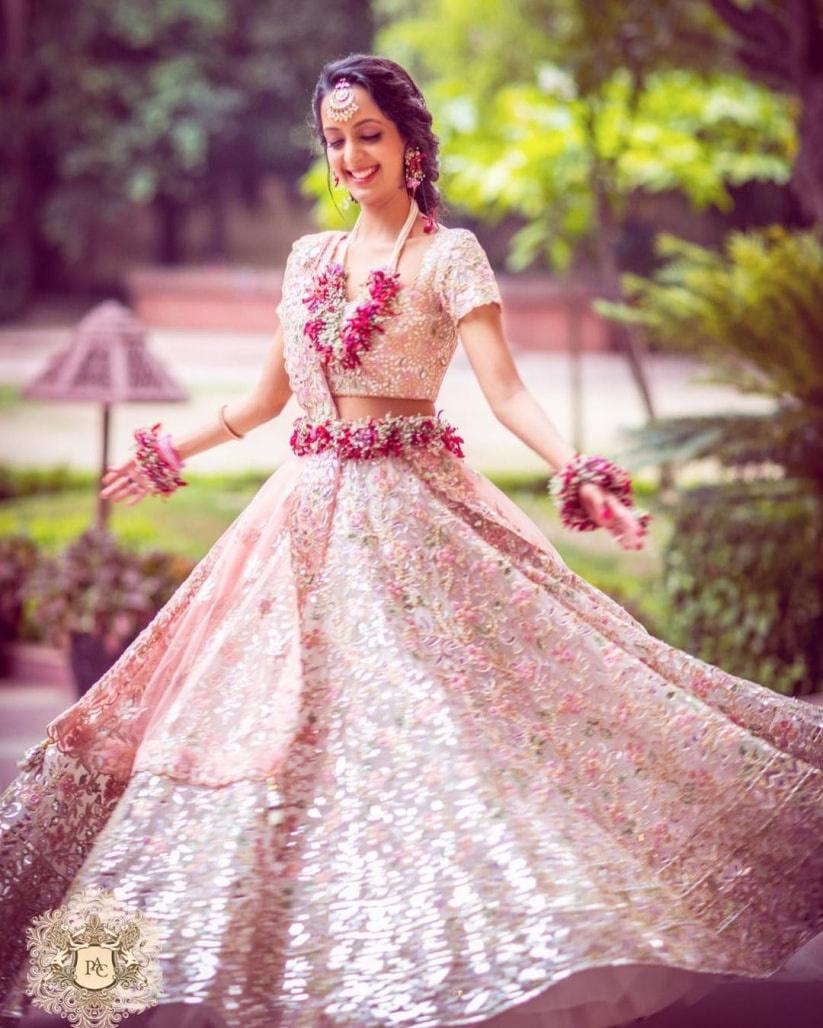 Gulabo zara itar gira do! You go, girl! This breezy pastel pink lehenga with embellishments and sequins on the hem of the blouse and the lehenga itself is what makes this stunning bridal outfit a masterpiece. This is one of those extraordinary lehenga images(HD), that reminds us of Disney days where pink was all that ever mattered.
You too can live your long dreamt fairytale moment in this lehenga and pair it up with some statement floral jewellery pieces.
Perfect for Occasion: This outfit is perfect for a Haldi ceremony as it is celebrated during the daytime which makes this wedding outfit a hit. It's bright, it's light and it's blingy at the same time. And, as for the bridesmaids, this is one of the options they can consider for their BFFs wedding or reception ceremony too.
5. Say It out Loud with Magenta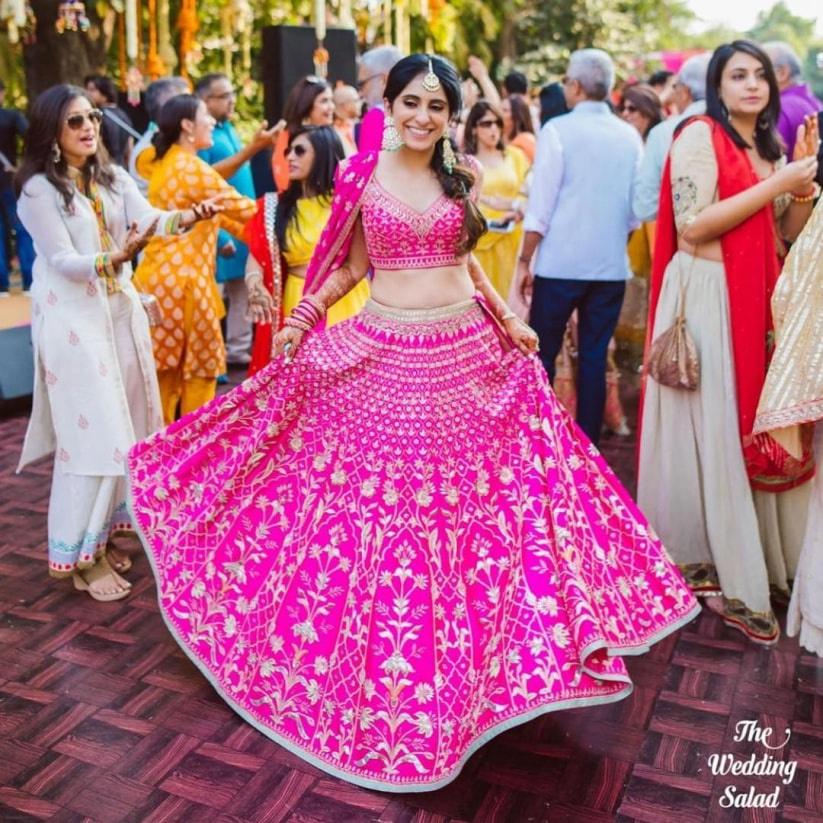 How happy and bright does this real bride look in one of the most phenomenal lehenga images(HD)? For a happy go lucky bride who is unafraid of wearing a bold colour lehenga, this outfit choice is apt. You can never go wrong with this one.
For that extra edge, you can mix-match the colour of the Dupatta or go for a contrasting colour blouse. This will make you pop and result in some stunning pre-wedding photographs.
Perfect for Occasion: Haldi, Menhdi or Sangeet there isn't a pre-wedding ceremony this lehenga wouldn't look ravishing on. This is the bonus of going for a bold colour as it works perfectly for a daytime or a nighttime celebration.
6. Aquamarine and Olive Green for the Queen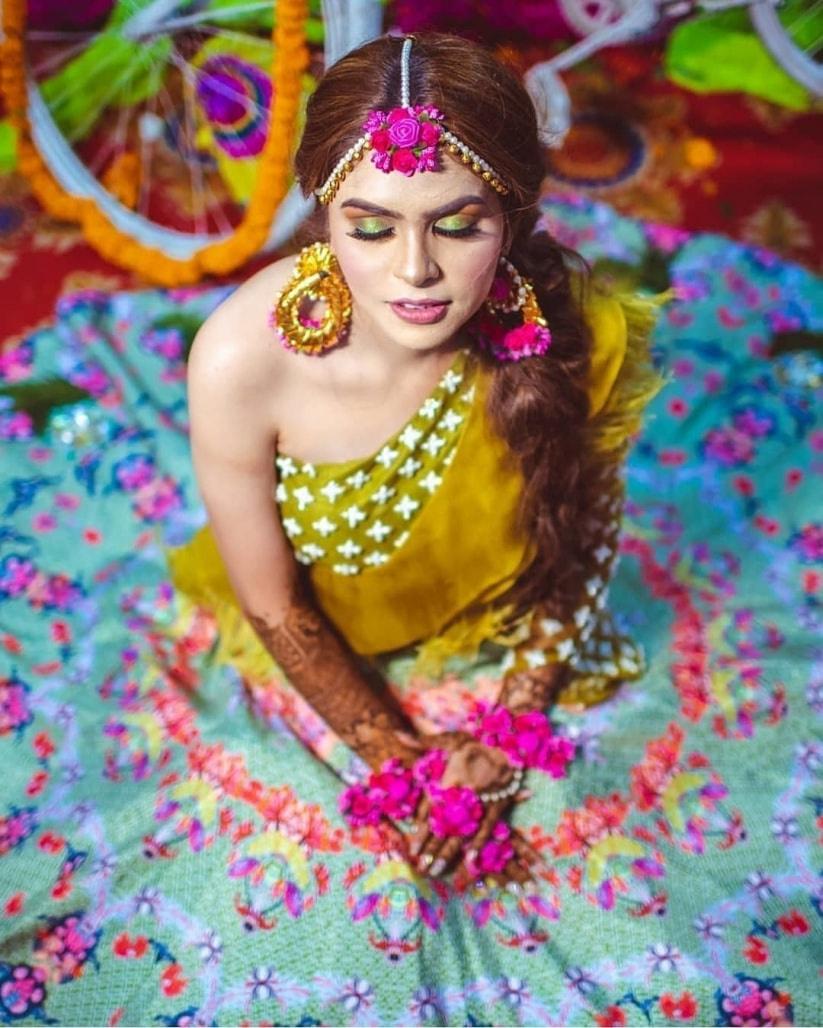 If given a chance we'd keep staring at this one in the catalogue of lehenga images(HD) for hours and hours. An aquamarine shade with an olive green off-shoulder blouse, this outfit is a piece of sheer brilliance. You can sport a similar look and go for a customised piece.
Perhaps, get your wedding story weaved on the hem of the lehenga or go for a personalised print. The options are endless. Whatever you do, you will never go wrong with an outfit as chic as this.
Perfect for Occasion: Haldi, Mehndi or Sangeet this is a front-runner for all occasions. And, the best part of owning such a stunning piece is that you can re-wear it post-wedding aswell. Probably a family function or a Diwali party, you can totally rock your look in this one.
7. Velvet Beauty in Wine Red and Gold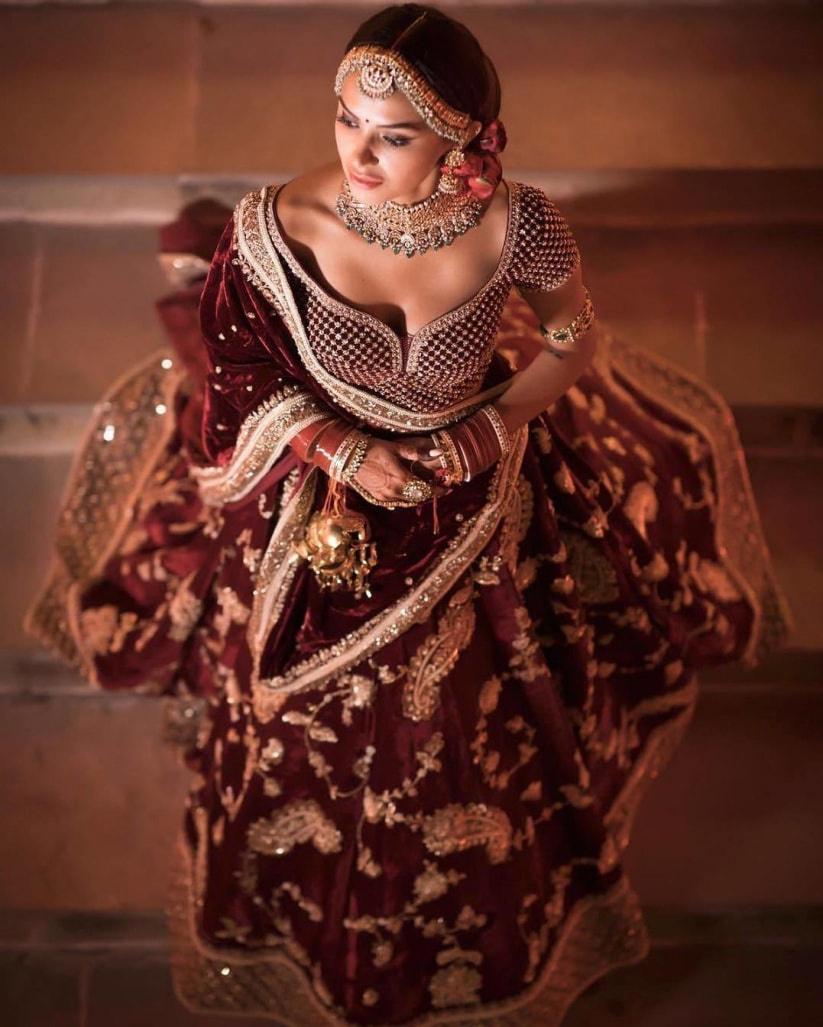 Image Courtesy: Sabyasachi Facebook Feed
This is a stupendous one in the list of lehenga images(HD) and it oozes charm and renders royal vibes. From Sabyasachi to Manish Malhotra Brides, real brides have been ruling this silhouette. Remember Anushka Sharma's maroon Sabyasachi inspired velvet saree? We certainly do.
There is a certain sense of elegance in this fabric. With the right amount and kind of embellishments, this outfit will help you slay. What makes this picture one of our favourites is the blouse and its neckline. It is exquisite, bold and will make you look like a bombshell.
Perfect for Occasion: Hands down for the wedding. An outfit this great deserves to be worn by a bride on the most special day of her life. Every bride deserves to look like a Queen on her big day. And, this lehenga will do it right for you.
8. Deep Red, Blend of Maroon and Zesty Silver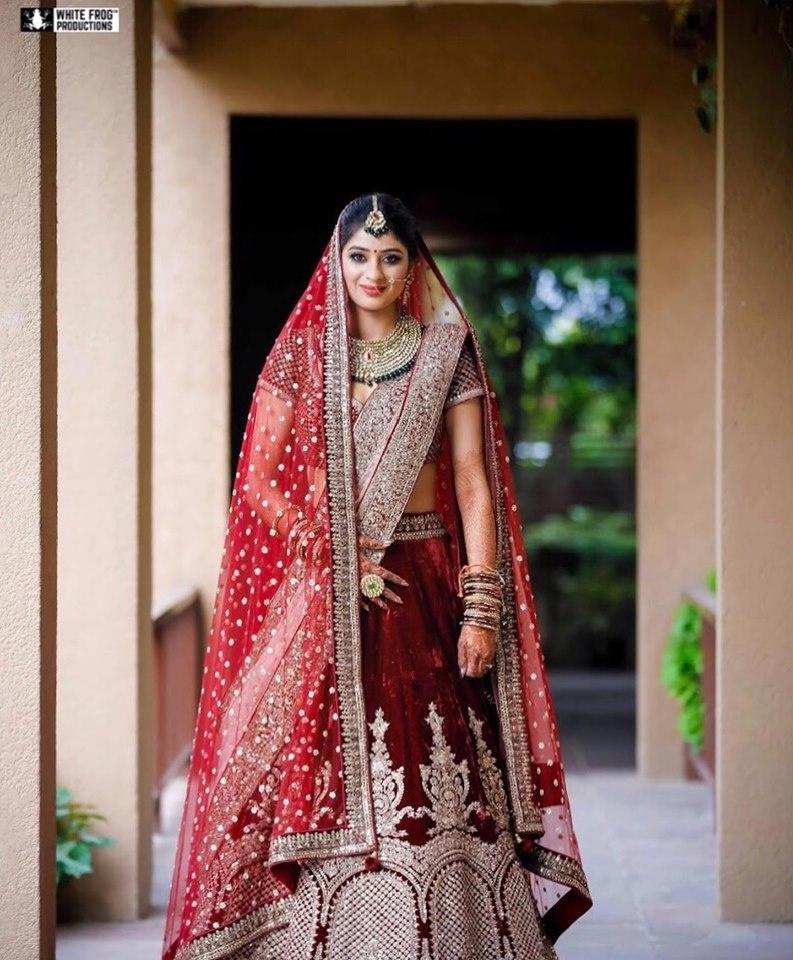 Now, we come down the most worn colour by the brides. Red or shades of red have forever ruled the hearts of brides-to-be. There is something about this hue. It is symbolic of love, power and purity of this sacred relation.
Be it a pre-wedding function or the wedding itself, there isn't a woman who doesn't own an outfit in this particular colour palette. The lehenga images(HD) each tell a story and this particular one features a coy bride with a glinting smile. For us what binds, this looks together is the belt with which she has placed her Dupatta. It adds charm, sophistry and a certain artistic vibe to her overall look.
Perfect for Occasion: You can totally pull this off like a boss at your wedding. All eyes would be on you as you make your way to the wedding stage where your husband awaits. You can also re-wear this beautiful ensemble a year later, celebrating your first Karwachauth as a couple together.
9. Quintessential Red Lehenga for the Boss Bride

A concoction of traditional and royal, this one is for the go-getter bride who is bold, beautiful and fierce. The red lehenga images(HD) in our photo gallery will surely win some hearts especially this one. You can never go wrong with red and golden embroidery.
Perfect for Occasion: It is perfect for a bridal outfit as it's heavy yet subtle. If you haven't purchased a wedding outfit yer, the invest in a piece similar to this one. You will resemble a dream, a beauty who is out for serving looks.
10. The Traditional Bride Slaying In Red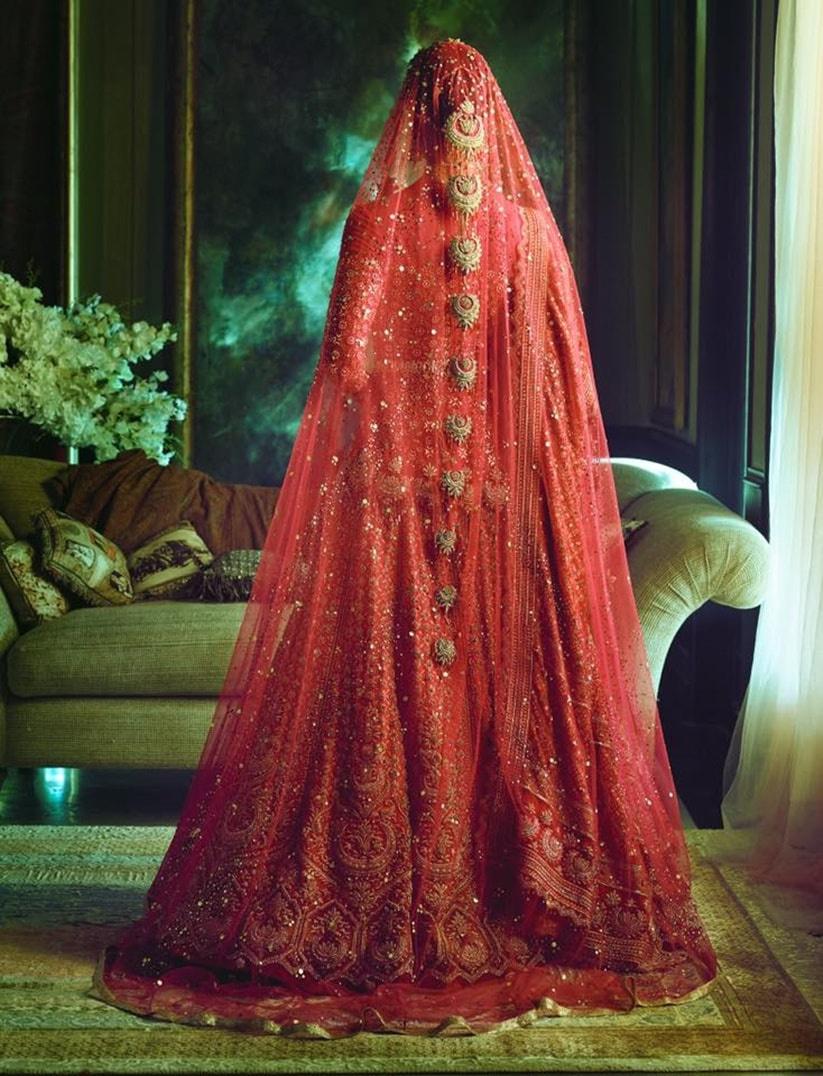 We're at a loss of words after looking at this real bride, her stunning lehenga and this unbelievably gorgeous Dupatta studded with bridal Jadai. Tarun Tahiliani truly is an ace designer who can turn any bride's dream into a reality. If you're a lover of all things luxe, then you have to wear this lehenga at least once in your lifetime. The intricacy of design at the hem of this lehenga speaks volumes about the craftsmanship and the mastery of design.
Perfect for Occasion: For a destination wedding at Jaipur or a palatial wedding ceremony, this bridal outfit is exactly what you need to turn your royal side on. Visit Tarun Tahiliani's store now and get an easy fix on any wardrobe problem of yours.
Ace Your Lehenga Images(HD) with Style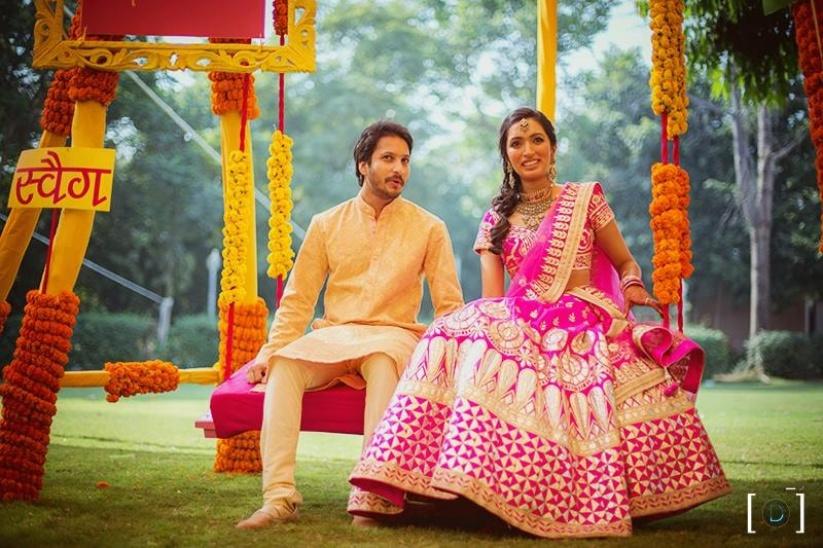 You can add variation to your traditional attire just as easily and will surely help you ace your look for your wedding festivities. Choose a lehenga style that you are comfortable in and your grace and confidence will surely ensure that you look picture perfect at all times. Some of the variations that you can choose from include:
Monochrome - Red or Ivory, which colour should your bridal lehenga be? Choose a colour and you can break the monotony by choosing a contrasting colour or theme and accentuate your look with the help of your makeup or jewellery. This will certainly add glam to your entire look.
Multi-Colour - A multi-colour lehenga is perfect for Indian skin tone as it carries a blend of bright and subtle colours. To get the perfect picture in this attire, continue the rhythm of your attire with similar jewellery.
Pastels - Pastels are the most popular choice for the wedding season. They have more grey undertones in a particular hue which can sometime's make you look dull. The best way to carry is it by contrasting it with a warm makeup look.
Red - If you wish to go with the traditional wedding colour of red, make sure to wear a hue that suits your skin tone. You can accentuate your look with wearing contrasting jewellery that would highlight against the crimson look as well as a warm makeup that would complete it.
So, we have thoughtfully curated for you a galore of lehenga images(HD) to seek inspiration from. So that it is one thing less for you to stress about! Bookmark the ones you love most and get going.
We hope you liked our lehenga images(HD). Want to add a look or two? Tell us through comments.