Stunning Butterfly Mehndi Designs To Let Your Titlis Dazzle On D-day
Weddings can become very boring for kids with all the traditional rituals, which takes hours to complete. Butterfly mehndi design are an interesting idea to make sure all the kids have fun.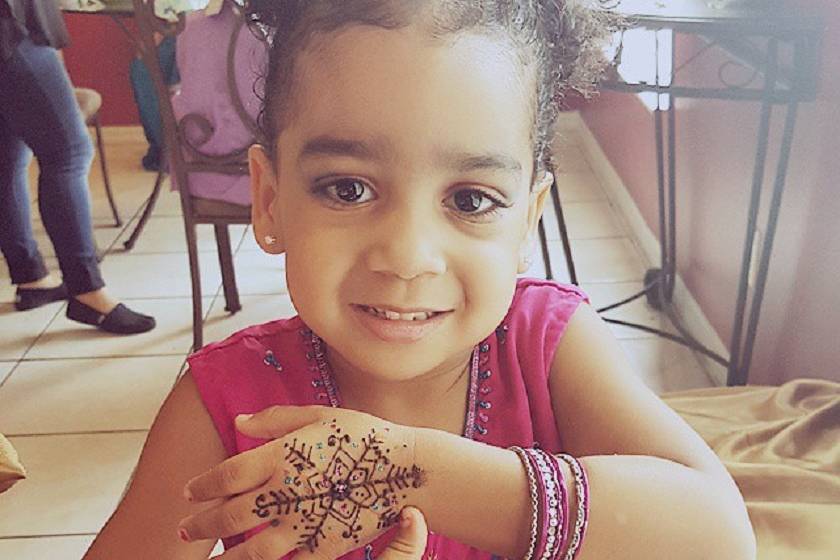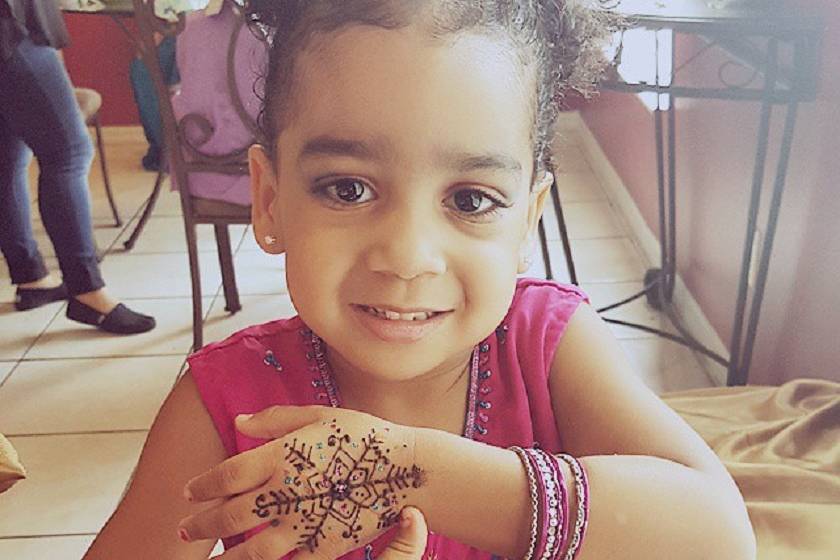 Image courtesy: Henna by Priya
Children are a huge part of a wedding, with their cute antics adding a flavour to these special days. However, keeping them occupied during the long ceremonies is a task by itself. One way to do so is to get them to sit down for their own hennaed hands. For this, we recommend the latest mehndi patterns in the market - a set of Butterfly mehndi designs.
Mehndi designs are the perfect way to engage children and let them be creative. They can have a butterfly design anywhere on their body and then compare designs and marvel at them for hours, letting the adults have their fun too! Children can get a full mehndi design or a small butterfly tattoo, depending on their age. Every child will love their designs and also let their mothers get mehndi on their hands in peace!
However, do make sure you ask your mehndi artist beforehand if she knows how to make a butterfly mehndi design as they are relatively new and not everyone can master them.
Here are some butterfly mehndi design ideas to increase the fun quotient at your wedding for kids and even adults.
1. Butterfly mehndi design for your leg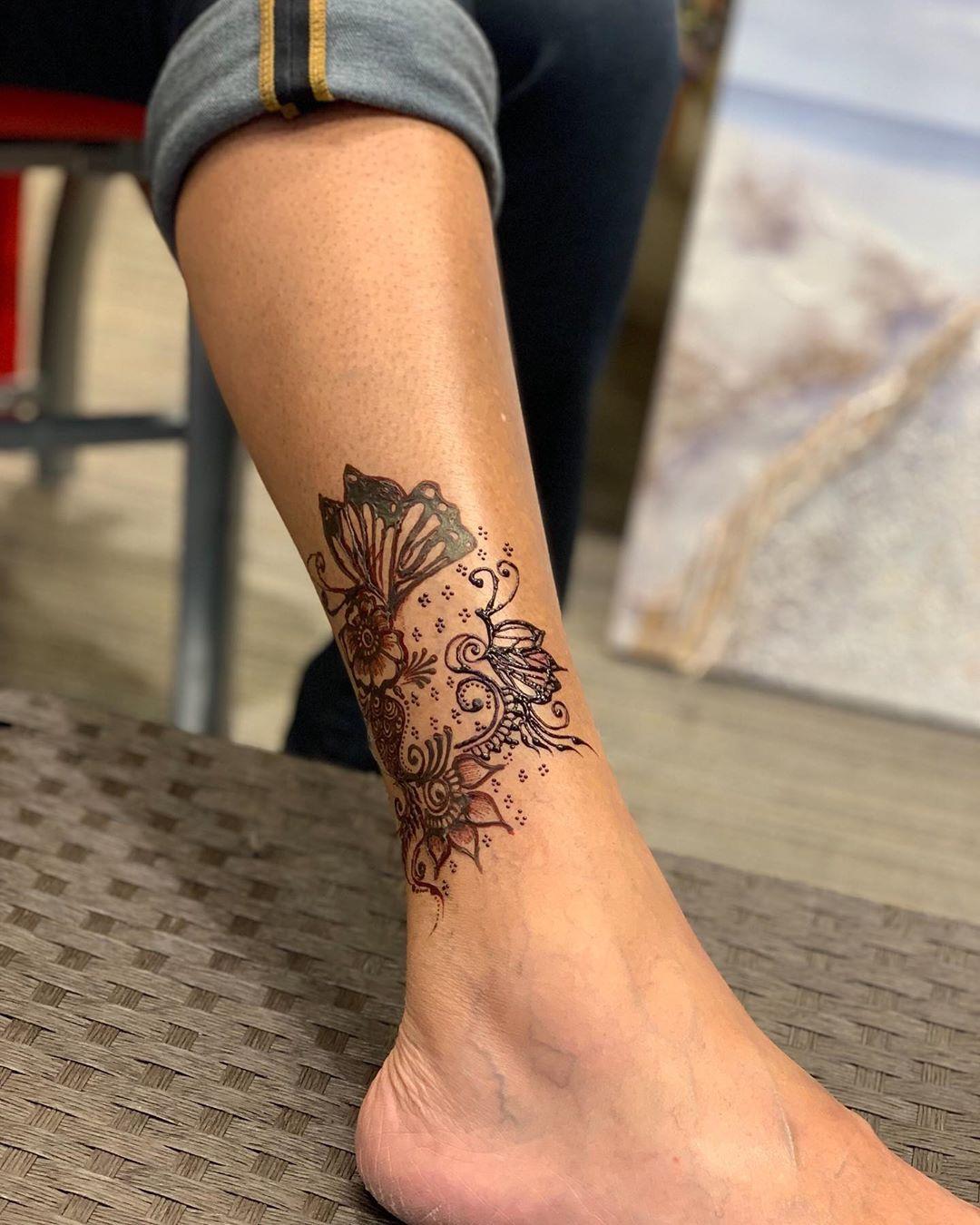 Image courtesy: Henna And Brow on Instagram
Mehndi tattoos have become quite a hype in the last decade or so. They are trendy and stylish, and not permanent at all. Teen girls would love to get a mehndi tattoo on their legs, just above the foot. Adding butterflies in the mix is like a cherry on the top of a cake for them!
Pro Tip: Remember to make your child wear a knee-length dress if you want to get a henna tattoo on their leg, so that it is easy to make and dries off without issues.
2. Coloured butterfly mehndi design ideas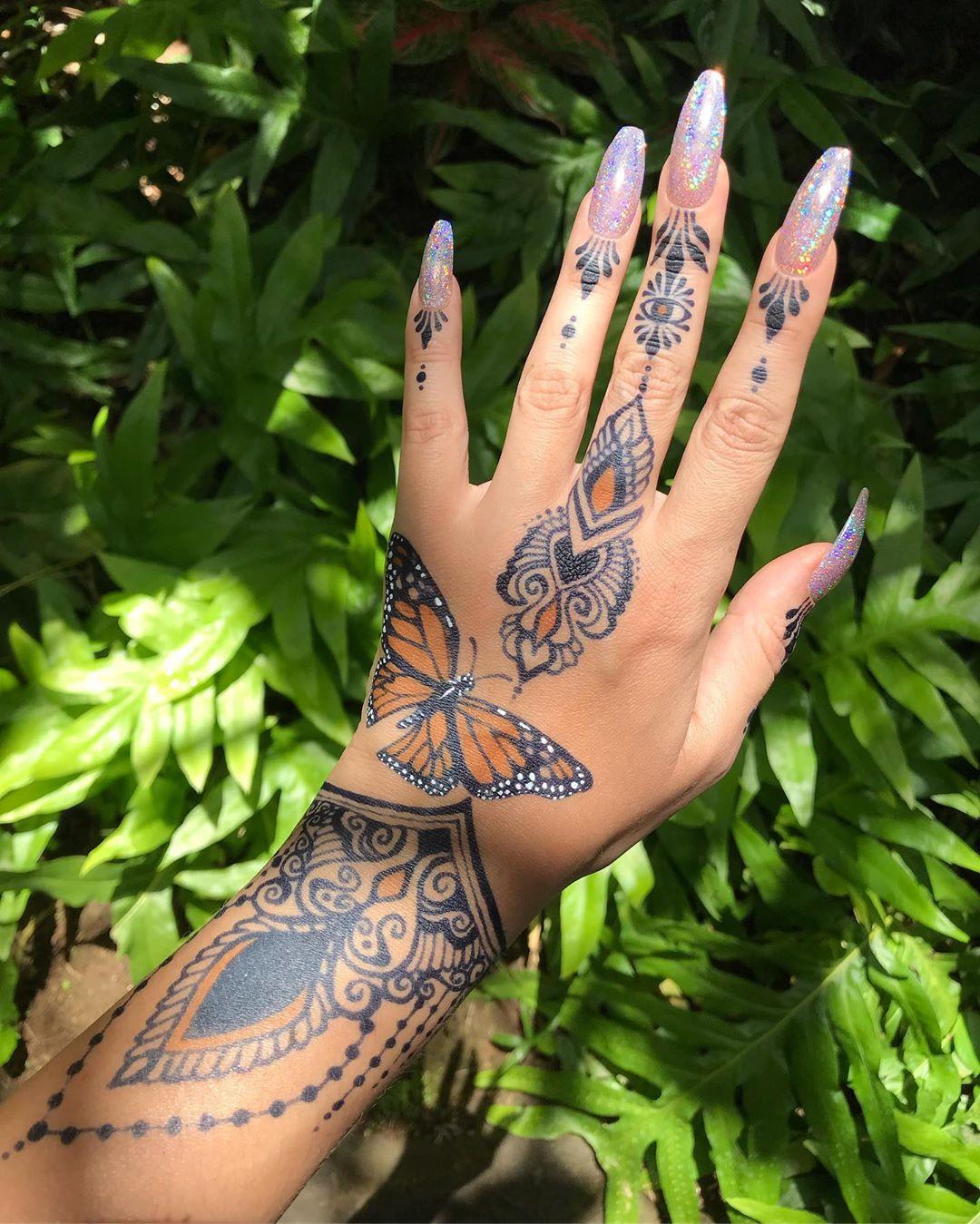 Image courtesy: Honolulu Henna on Instagram
Coloured mehndi is a millennial trend that is popular within the mehndi industry. It is quirky, chic and perfect for girls of any age. This butterfly mehndi design looks like a real butterfly is sitting on your hand. The detailing is complex and not every mehndi artist is capable of making it.
Pro Tip: Make sure that the chemicals used in the coloured mehndi do not have any harmful chemicals in them as these can harm a child's skin.
3. Mehndi design for the back of your left hand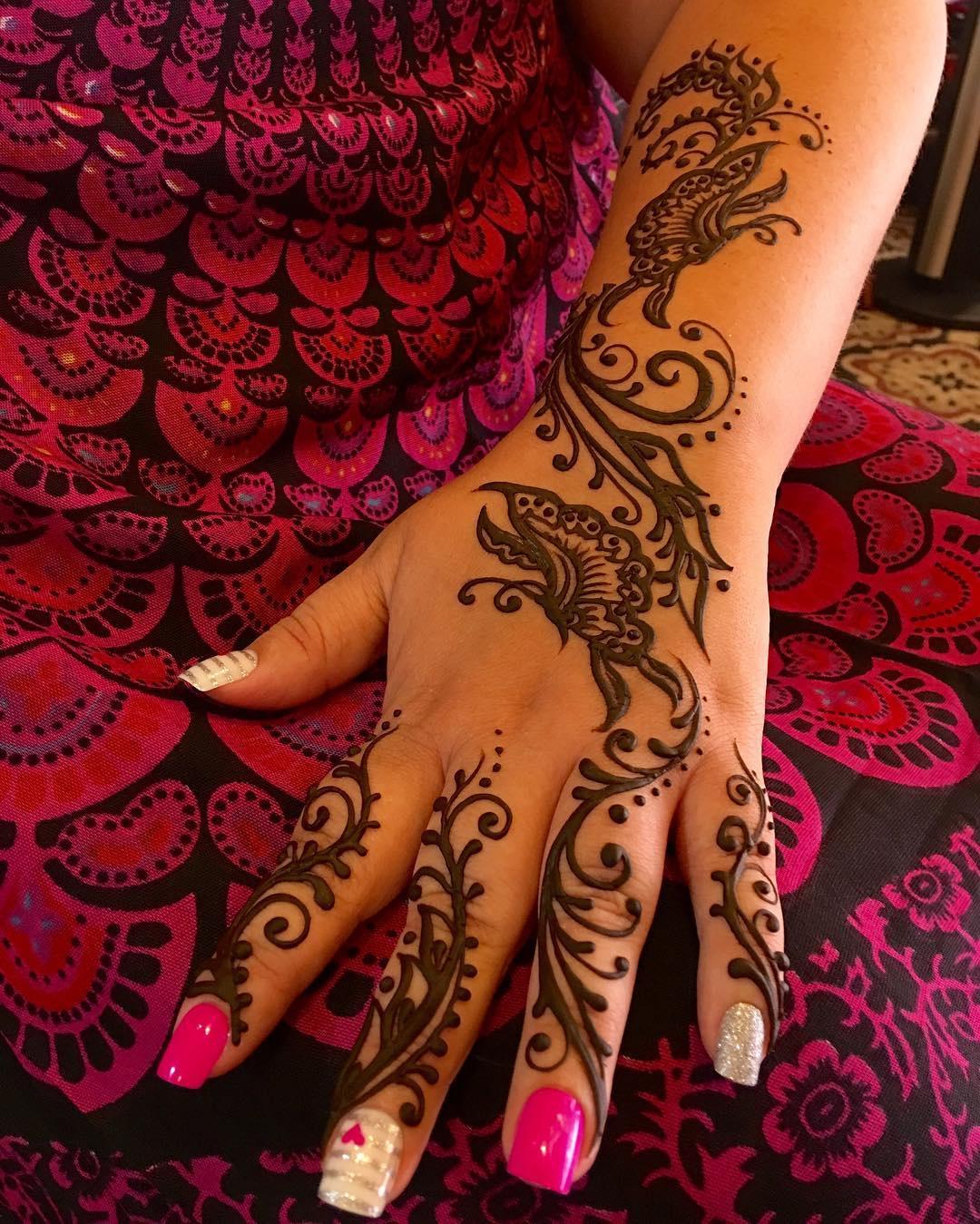 Image courtesy: Kona Henna on Instagram
The back of your hand is equally as important as the front of it. The back design should complement the palm design. It should also be different so that you can enjoy some diversity in designs. This butterfly mehndi design is perfect for children and even adults.
Pro tip: If you have a child who hates sitting still, just get this backhand mehndi design so that she doesn't smudge it!
4. Butterfly mehndi design for the back of your right hand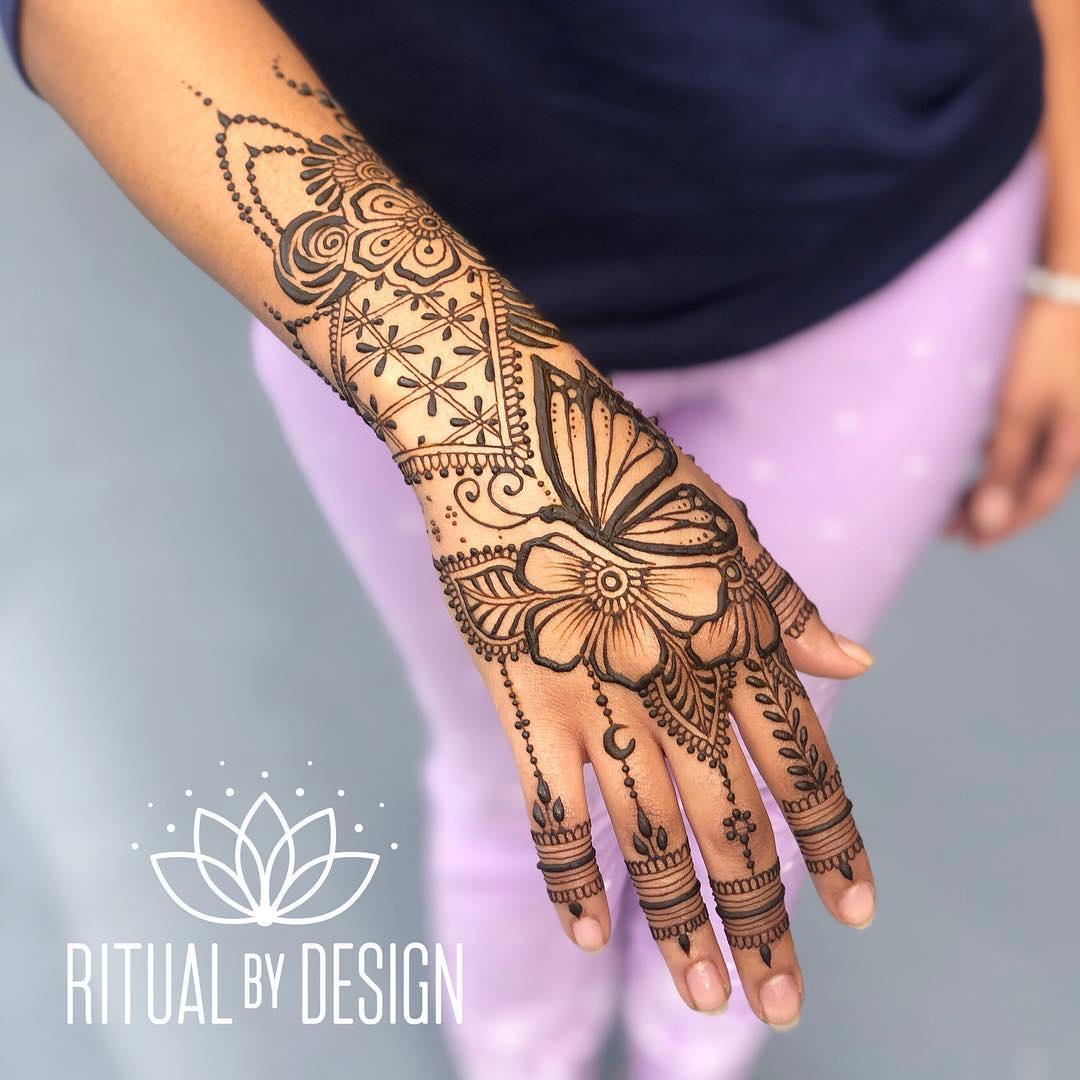 Image courtesy: Ritual by Design on Instagram
Butterfly mehndi design can be combined with a lot of different patterns and designs. They are so dainty that they will complement any mehndi pattern, be it flowers, checks, or even chains. Together they create an intricate and full design for the back of your right hand. This design is very versatile and can even be used for the front side.
Pro tip: Make sure your child knows not to touch the mehndi while it's drying!
5. Tattoo for arm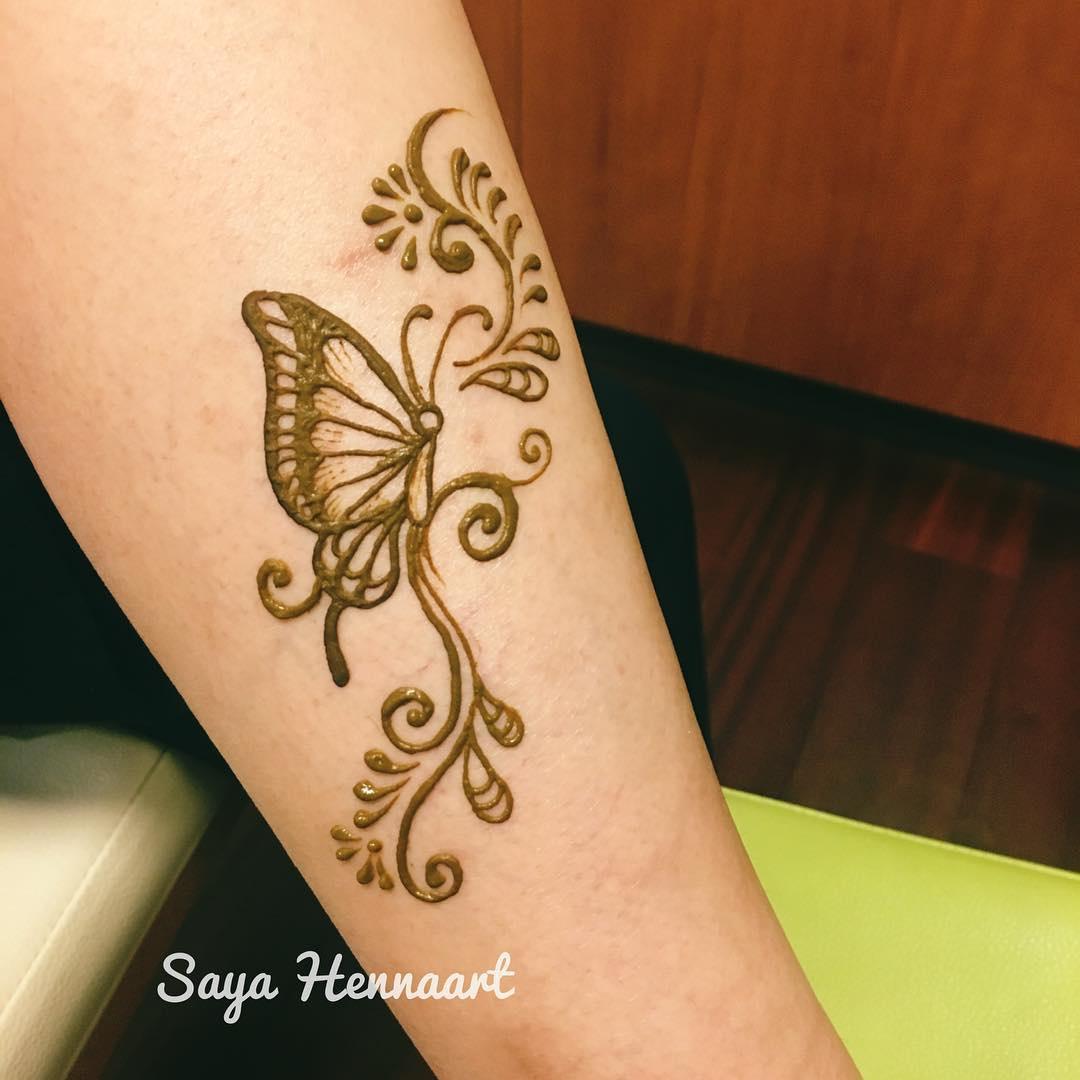 Image courtesy: Saya Henna on Instagram
For small children, mehndi designs for full hands are not a good option. They will either ruin it or their clothes! This butterfly mehndi design tattoo is small and perfect for the arm, just above the hands.
Pro tip: You can even get something like this made on the shoulders to prevent any messes!
6. Big tattoo for arm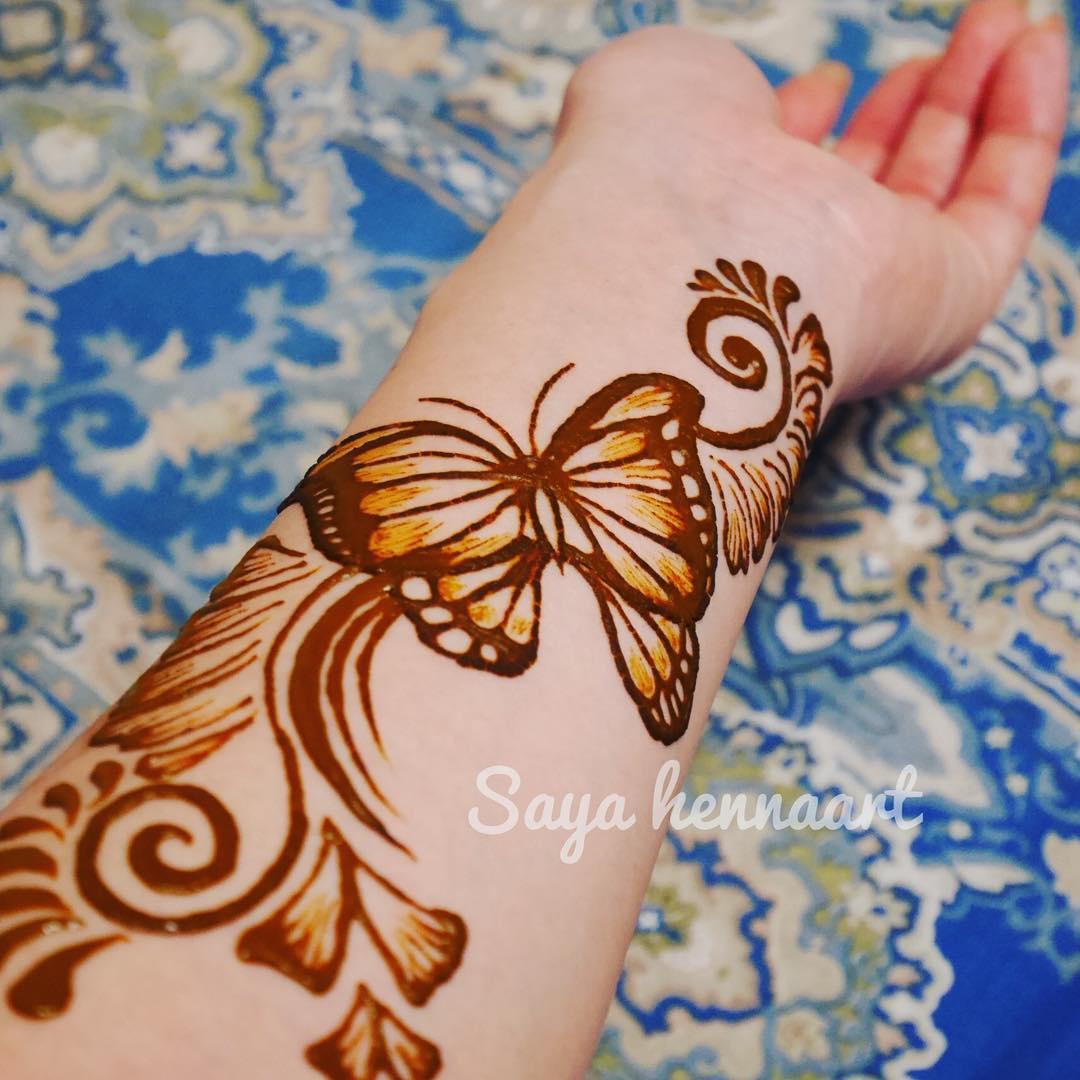 Image courtesy: Saya Henna on Instagram
Another butterfly mehndi design tattoo for the arm is this one right here! Slightly longer than the previous one, it is perfect if you want to cover the whole arm of a child.
Pro tip: Such designs are ideal for children over ten as they are less likely to spoil them!
7. Butterfly mehndi design for the whole palm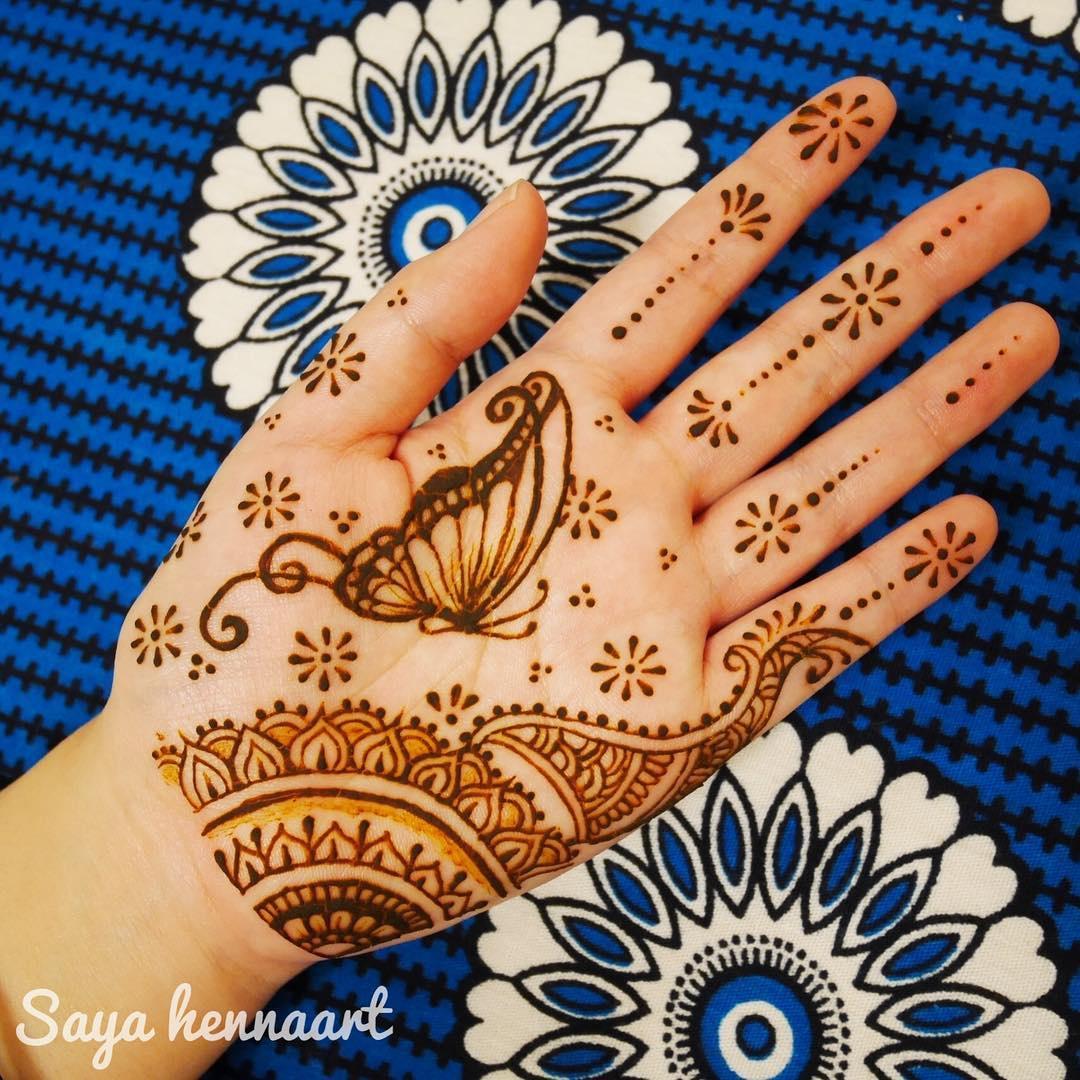 Image courtesy: Saya Henna on Instagram
Kids have really small palms and creating an intricate pattern sometimes proves to be difficult. This butterfly mehndi design is perfect for kids who want to cover their whole palm. Butterflies add an age appropriate pattern, which is fun at the same time!
Pro tip: Your child may start to get fussy if you don't allow her to get mehndi all over the palm – ask the mehndi artist to just create one simple motif that's large so that even if it gets slightly smudged, it won't look bad!
8. Mehndi design for arm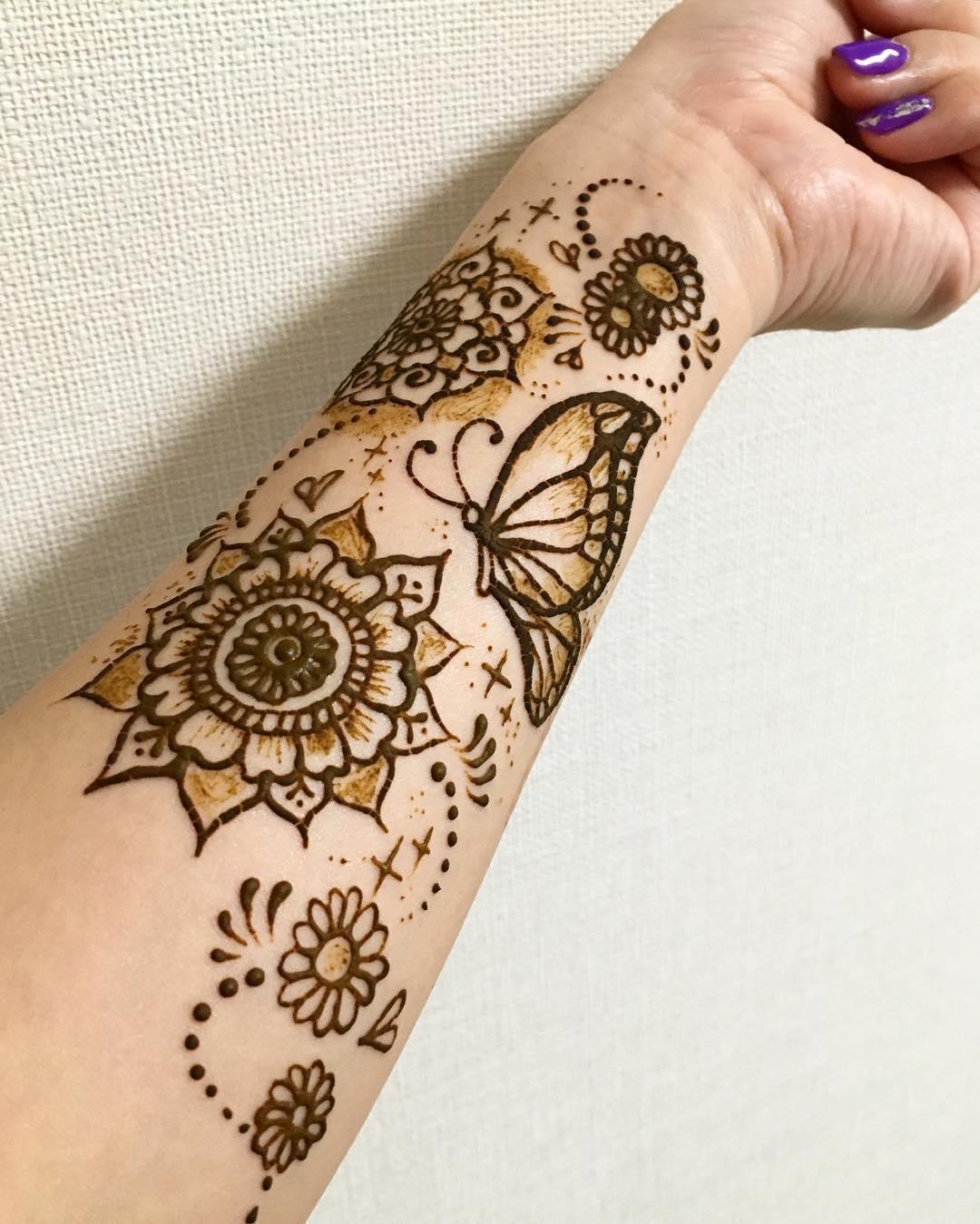 Image courtesy: Saya Henna on Instagram
If you get confused about how you can add a butterfly to the hand above the palm, this is a perfect option for your kid. Big bold designs will suit your kid's personality and look their age.
Pro tip: Teach your child about darkening the mehndi colour for some additional bonding moments!
Butterfly mehndi designs and gaining popularity every day. They are not only perfect for kids, but also the bride. Butterflies represent freedom and the bride can choose this design to signify that getting married does not mean she is giving up her freedom! She is spreading her wings and flying off with her soulmate!
Get in touch with our fantastic mehndi artists today!