11 Super Stylish Khafif Designs That Will Add Glory to Your Mehndi Function
Khafif designs are all about bringing intricate motifs together to weave a complete story. Here's why this style of Arabic mehndi is stealing the limelight.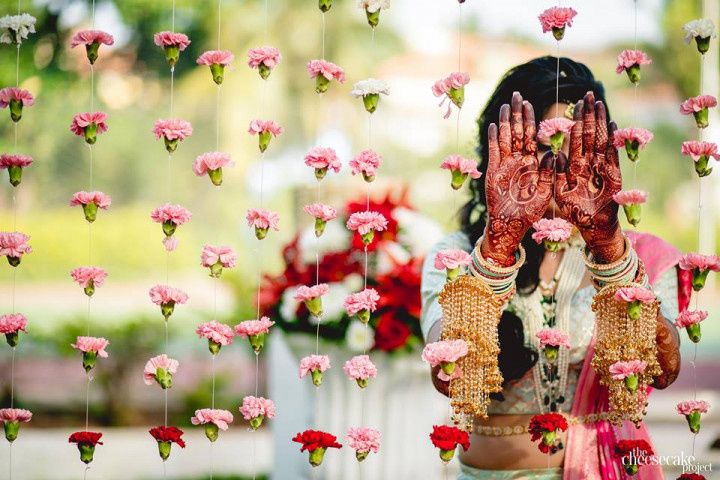 The internet space, especially Instagram, fills up our lives with various beautiful mehndi designs every day. Although, these are stunning beyond words the numerous choices can leave us confused. One such style of mehndi that's trending is called khafif design. The word 'Khafif' originated in the Arab world and means intricate. The khafif designs require an extreme focus on detailing and decoration of each motif. This style uses a very fine tip cone, hence the results appear very dainty and feminine. Let's find out more.
Khafif mehndi designs call for excellent handwork, so make sure you take a trial first, if picking this design for your wedding. This style of mehndi can be applied on palms, back of hands, arms, feet and on other body parts too. Since this design oozes an ornamental appeal, a lot of times khafif designs are created on fingers or neck in the form of jewellery. Another interesting factor that sets Khafif mehndi designs apart is that these are usually not applied all over your hands or feet. Oftentimes brides chose to have khafif designs drawn over just their fingers or likewise.
Unique elements used in Khafif designs:
Khafif designs feature a vast array of swirls, strip borders, floral elements (especially roses and lotuses), checks, blocks and shading. This gorgeous technique of mehndi application uses patterns that are abstract and contemporary. Hence, these designs appear fresher and trendier than traditional Indian ones. The motifs used are accentuated by creative use of spaces and detailing. More features that make the khafif designs stand out are symmetry, peacocks, backhand, lace style etc.
Trendy khafif designs you must eye:
1. Roses and leaves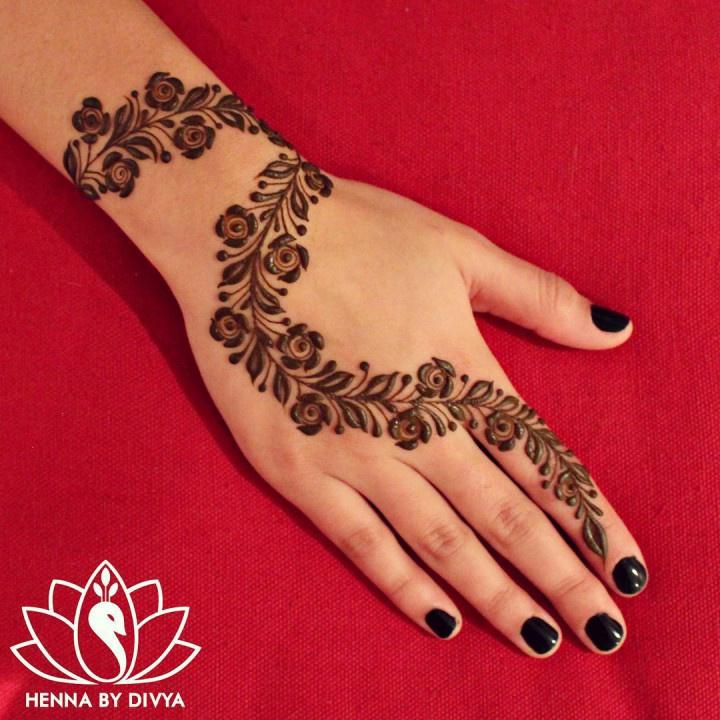 Image Courtesy: Henna by Divya
This creeper or vine style design is simplistic yet attractive in every sense. Created with a unique use of rose and leaf motifs, this design is producing a poetry-like beauty at the back of the hand. We're digging the curves created to accentuate the shape of the hand.
2. Florid feet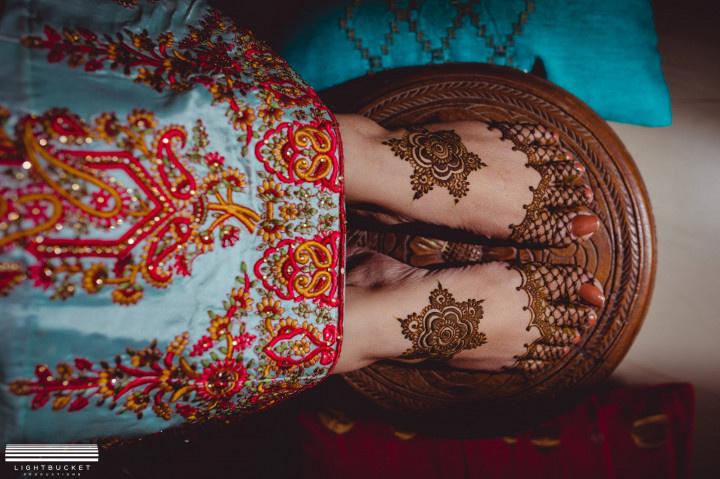 This mehndi design is enhancing the beauty of the bride's feet with its intricate details. The toes have been decorated with mesh-like motifs and the middle of the feet feature a mandala-inspired floral design.
3. Khafif body art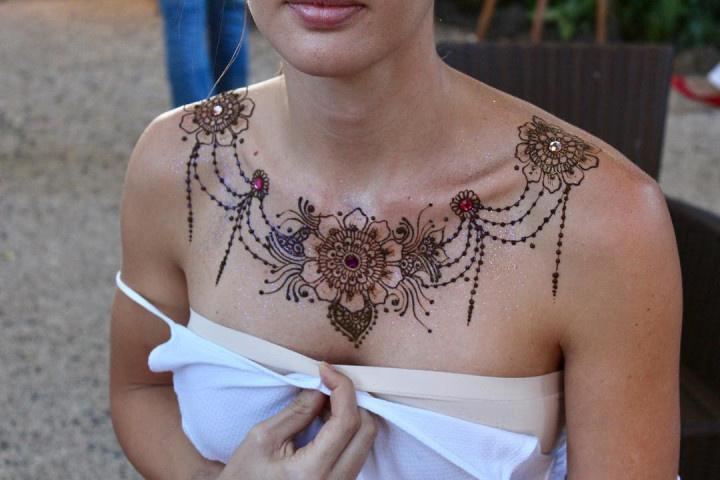 Image Courtesy: Beyond Henna
This body art design is gorgeous beyond words. Made with khafif style this design features so many gorgeous elements such as flowers, shading, swirls and dots. This design is further enhanced with the use of glitter and stones, giving it an almost chandelier-like appearance.
4. Thick and Thin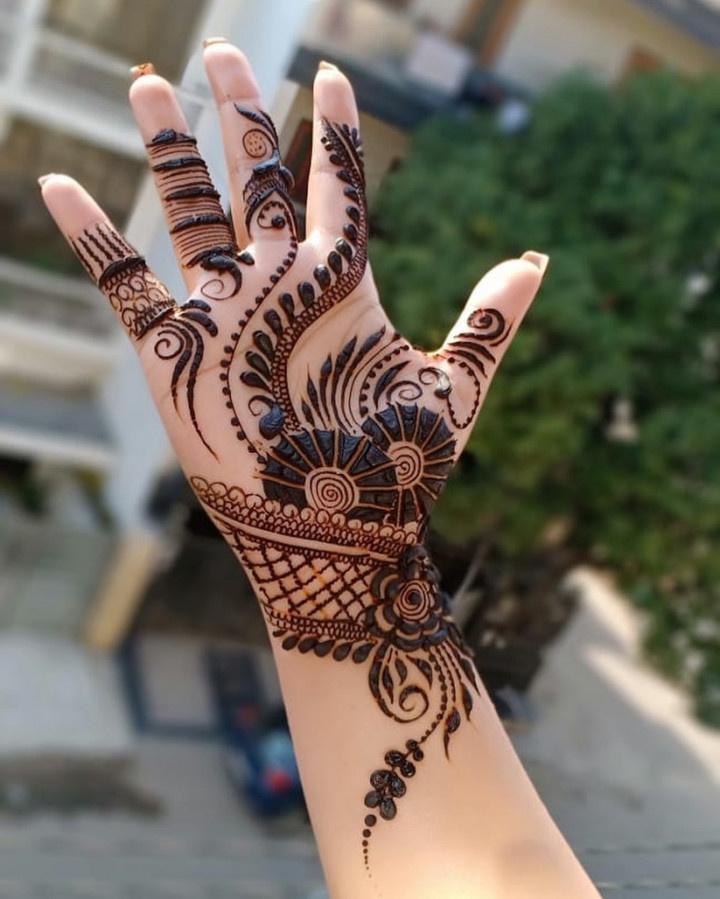 This design features a mix and match of thin and thick lines that are coming together to create a dainty yet statement-making design. The application of mesh, swirls, flowers and leaves are enhancing the design further, making it look enchanting.
5. Splendour of peacock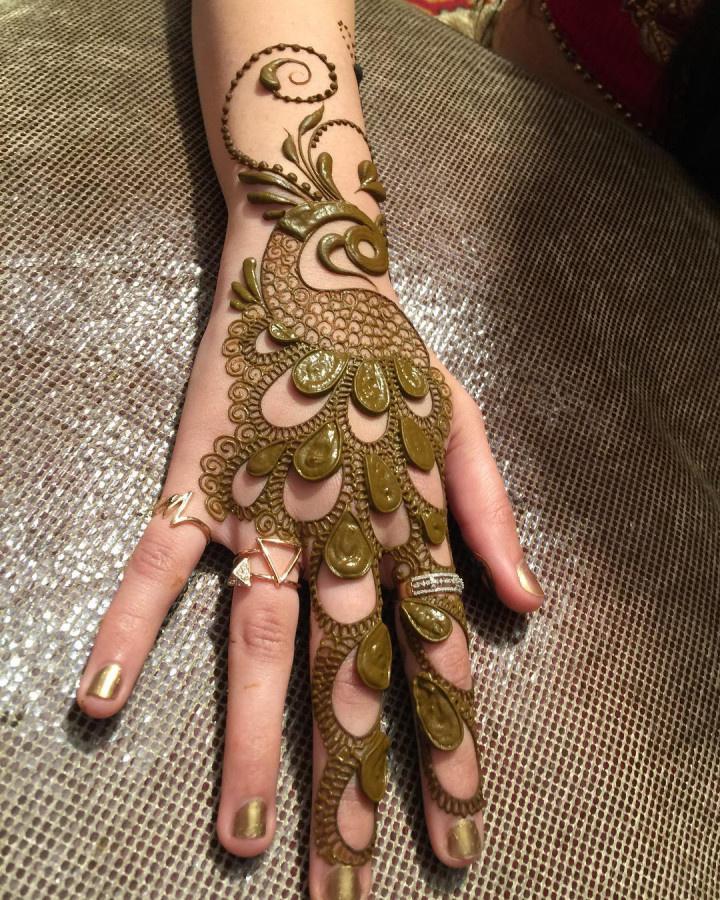 Okay, so now we might be short of words at describing the precision and beauty of this peacock design. Created with the use of simple yet intricate elements, this design definitely stands out. We see ample use of leaves, swirls, paisleys, teardrop and dots to create this breathtaking peacock.
6. Lines and shading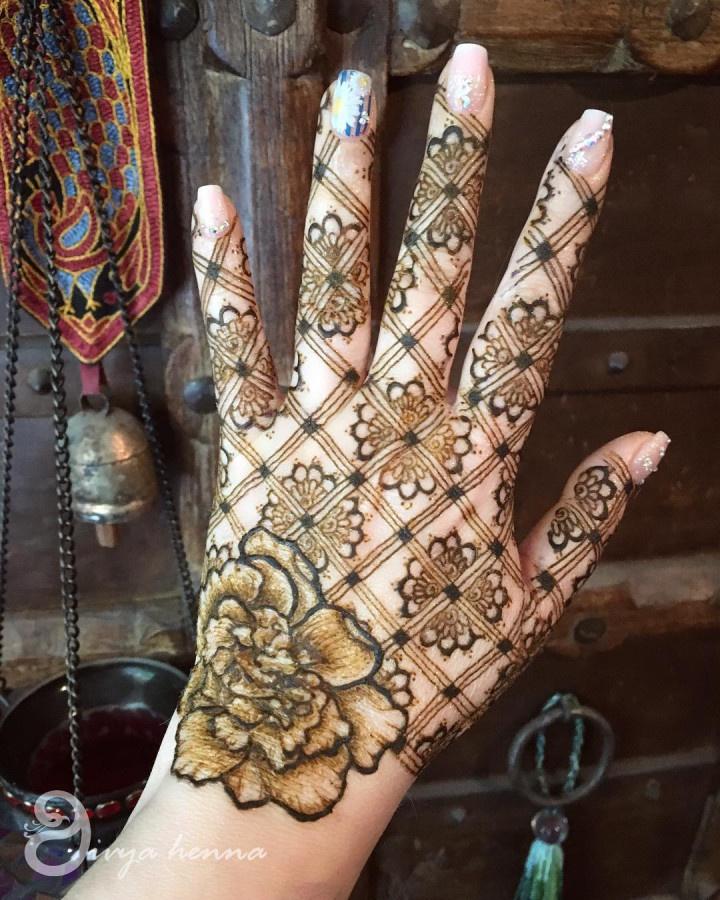 Image Courtesy: Divya Henna
Many believe that only those mehndi designs look gorgeous which cover the entire hand and not let even a hint of skin peek through. But, this particular specimen of khafif designs proves them wrong. Created with the use of strategically placed lines and floral motifs, this design is so impressive. The shading technique is adding more beauty and depth to the composition.
7. Shaded garden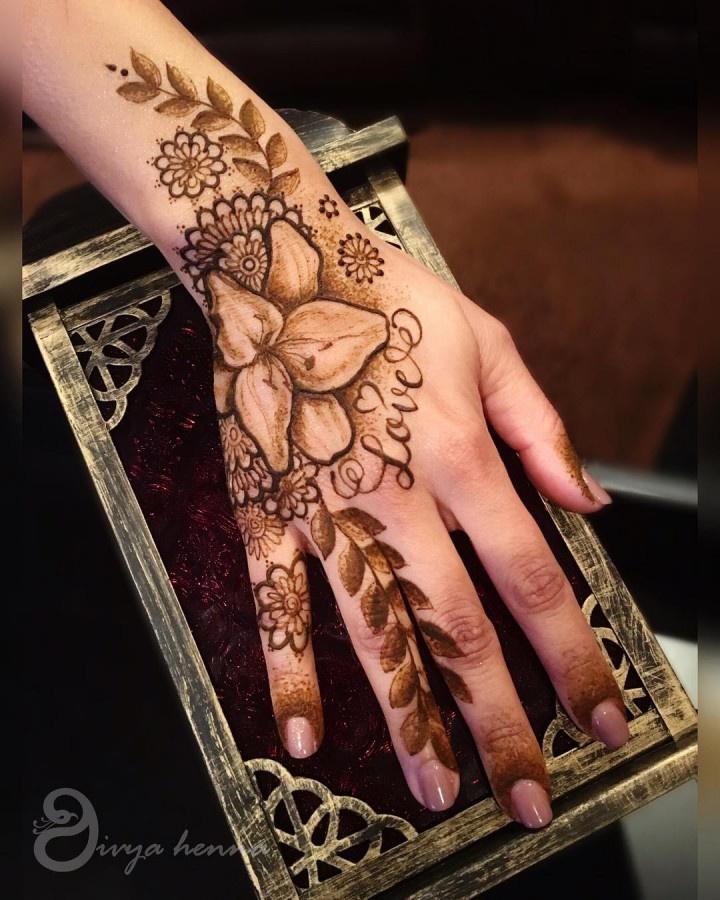 Image Courtesy: Divya Henna
The henna artist has created a garden on the hand of this lady. With extensive use of shading technique, the artist has created leaves and flowers to add a delicate touch. The word 'love' is giving this design a tattoo like charisma. Will definitely be loved by girls who like non-conventional designs!
8. Hand harness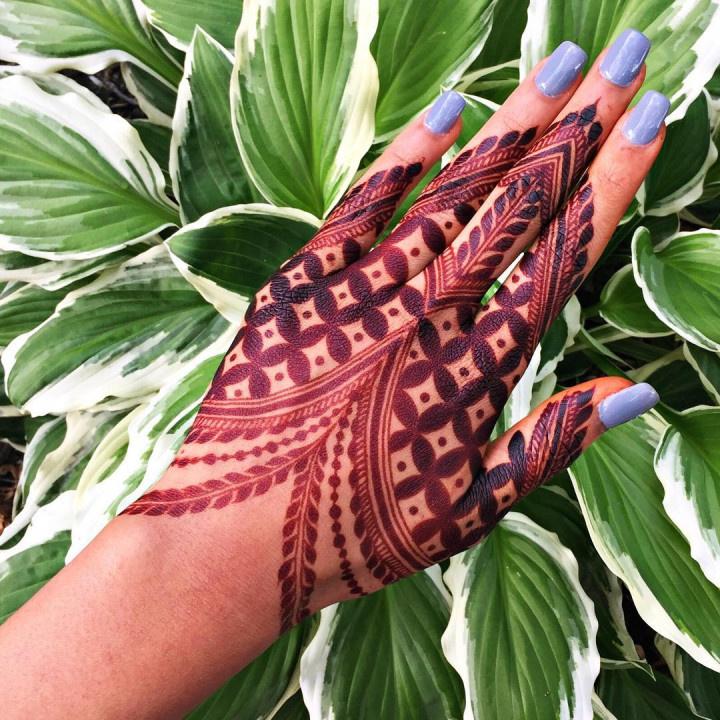 Image Courtesy: Henna by Divya
This design is giving the back of the hand a hand harness like glamour. This design uses very simple elements such as lines, leaves and dots. This design is not as intricate as others yet yielding the hand a rich look. Love the accuracy and the deep, dark stain that henna has left behind.
9. Exquisite look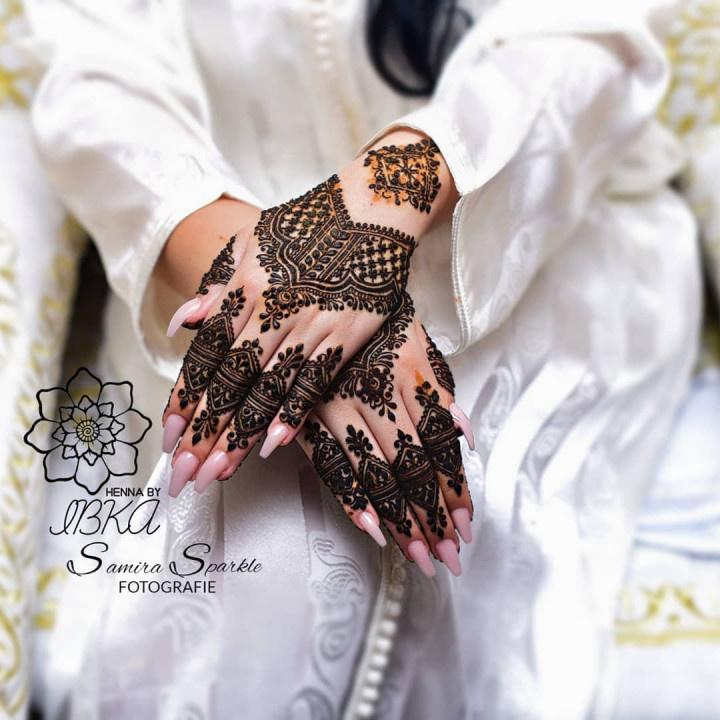 Image Courtesy: Henna by Ibka
This design gives the illusion of a bracelet, a hand harness and finger jewellery, all at once. Yet again, the creative use of simple leaves and flowers and technique has created a design that's perfect for brides.
10. Shaded fingertips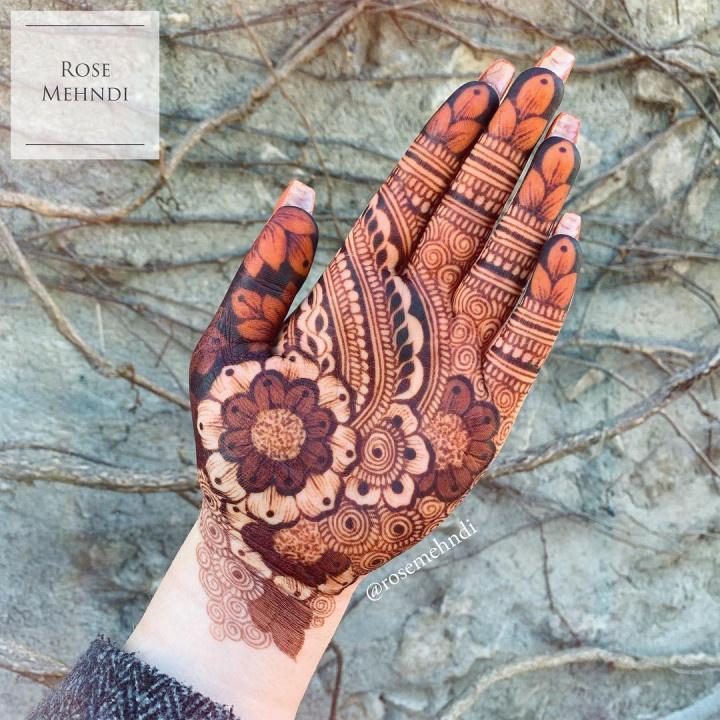 Image Courtesy: Rose_Mehndi
Unlike traditional Indian mehndi designs, the khafif designs let the fingertips stay bare or decorated with an element. This design is all about flowers, leaves and swirls created with shading.
11. Well-thought spaces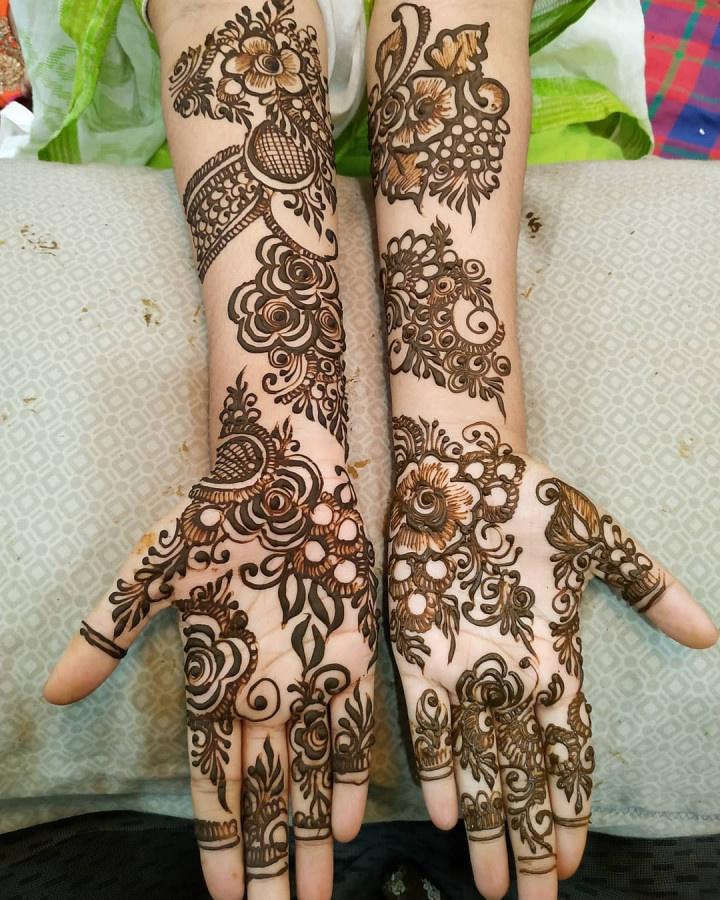 Image Courtesy: Sadia Mehendi Artist
The khafif design focuses on creating beautiful elements without completely covering the hands. Strategically placed clusters of mehndi components give this design an unusual appearance.
Notice how all elements are coming together to create a gorgeous rose garden on the hands. Perfect for festivals as well as weddings, khafif deigns have slowly made their place in henna-loving women's hearts. If you are bored with traditional mehndi designs or would like to experiment, go for a khafif design next time. These designs are the perfect way to add an Arabic flavour to Indian weddings. We hope to explore these images made you excited to try out these unique, appealing designs on the next wedding you're planning to attend…even if it's your own wedding.
Do you have a favourite style of Mehndi? Tell us in the comments!